Heavenly Church Conversions
We've almost all grown up with churches, whether you are religious or not. Some in a traditional form with arched stained glass windows or in a more simple church design. But more and more of these churches are no longer being used as religious places.
The big open plan spaces lend for pretty much all uses and luckily instead of tearing these wonderful architectural places down, churches are converted into other uses such as homes, hotels, restaurants and as you can see if you scroll down even a skate park!
I'm really glad these places are being preserved for future generations. I'm happy these churches are getting a new life, as long as the conversion is done with respect for the heritage of the building. I've selected amazing church conversions for you. The big and small churches have been converted into modern homes, hotels, airbnb's and even a skate park.
St. Jakobs Church in Utrecht converted into a modern home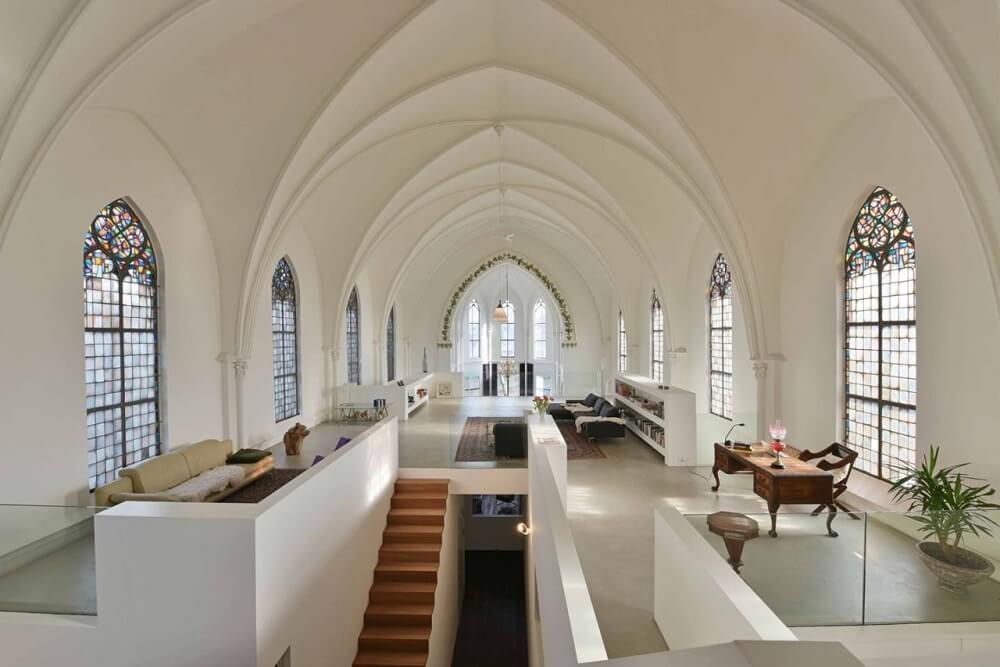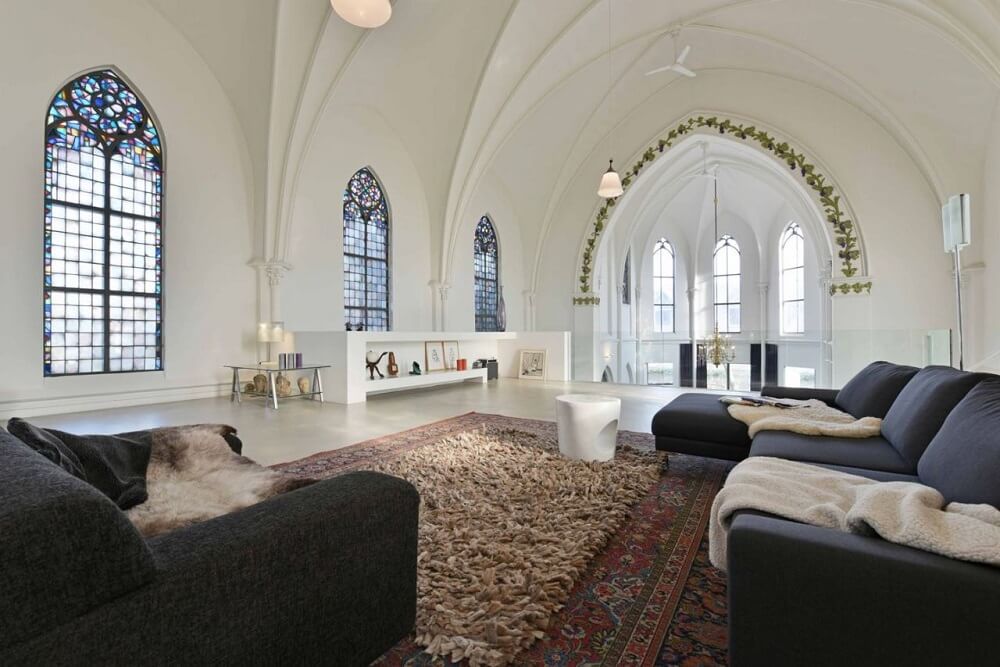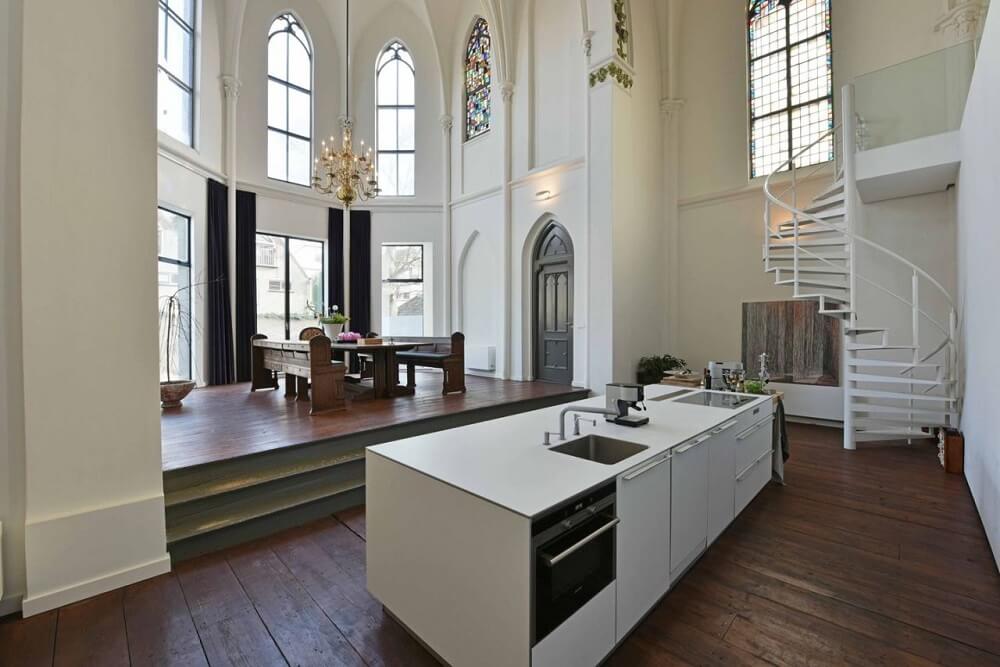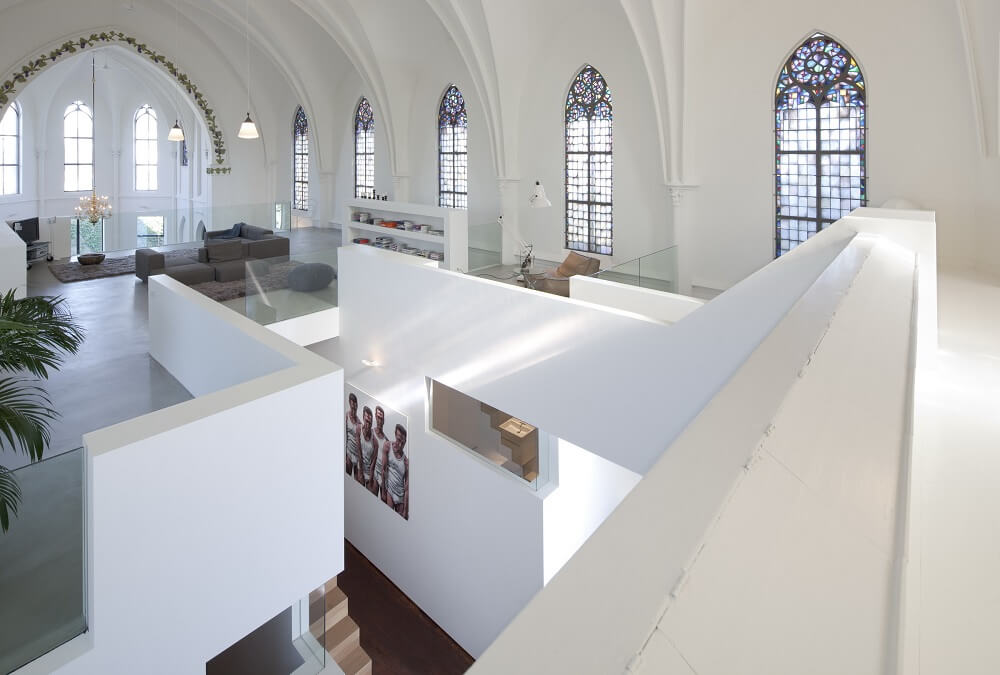 Zecc architecten have made a name for themselves transforming churches (another one of their designs is down below). Despite this looking a rather drastic transformation the entire white block is not attached to the walls of the church so in reality they haven't touched the original architecture too much.
The floor is still the original wooden church floor and of course all the stained glass windows have remained. I love the contrast of the minimalistic white block with the historic architecture.
A Chapel Conversion in Sweden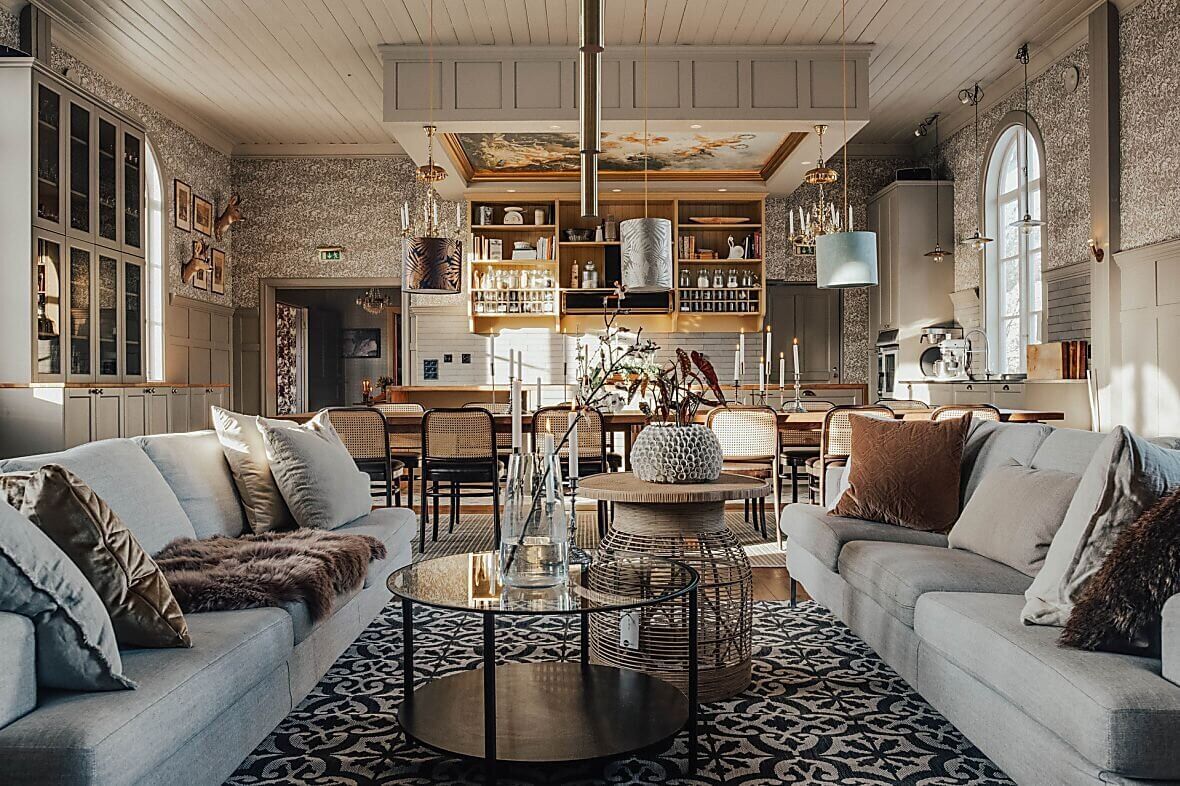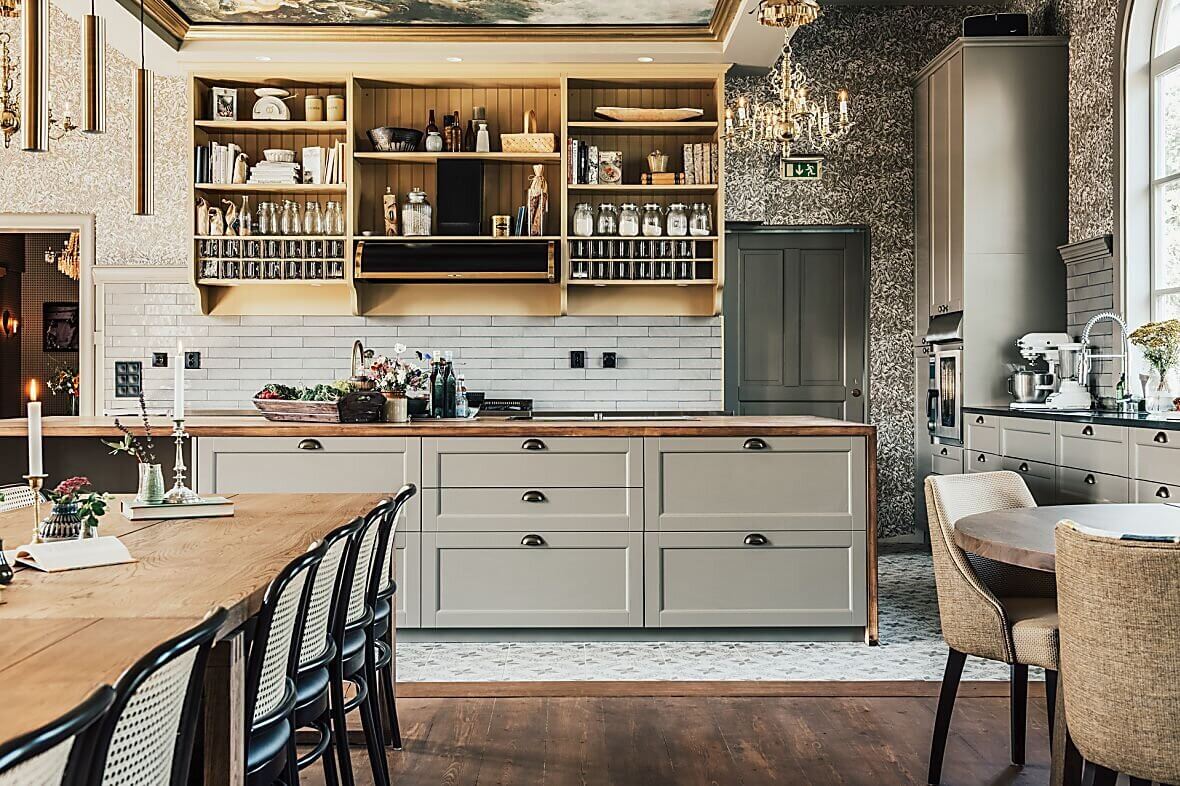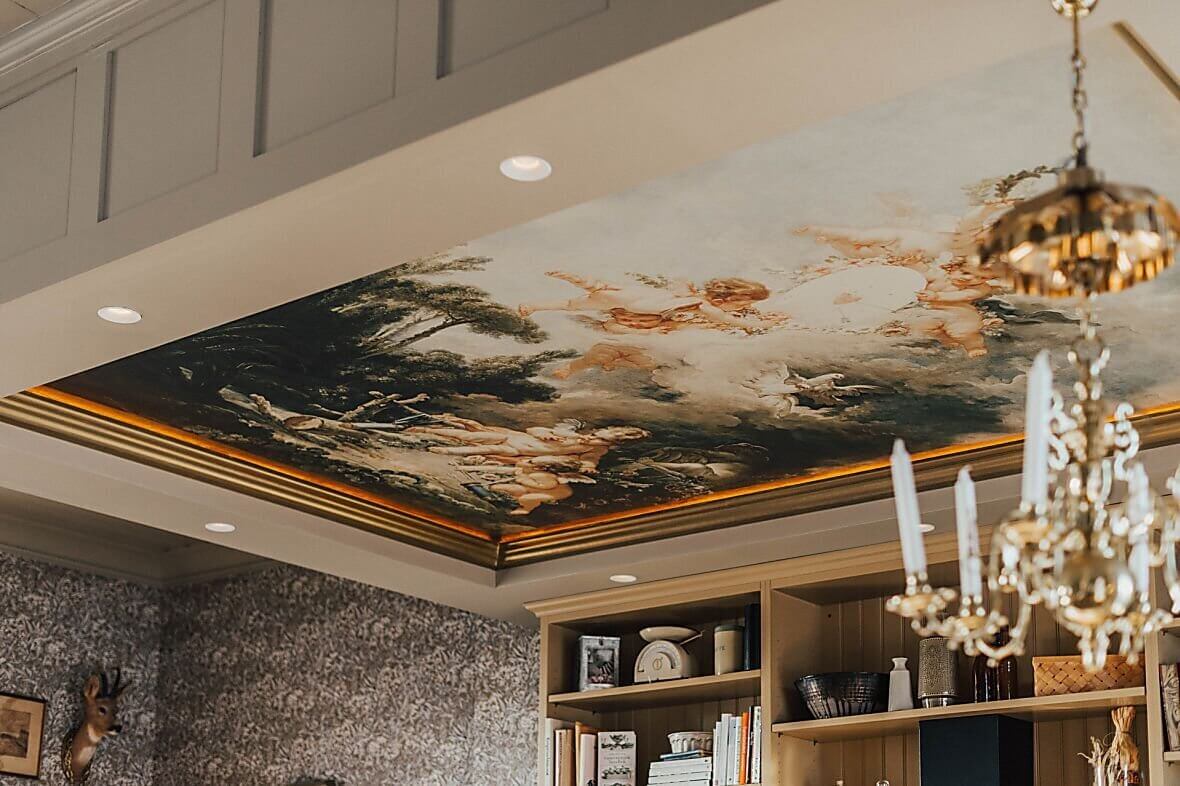 In the Swedish town Kumla stands this former chapel and rectory that has been lovingly restored. The chapel is now being used as a restaurant (Egastronomi) whith a light 2-bedroom apartment in the wing.
You can see a full tour of this chapel conversion here
A church conversion in New Orleans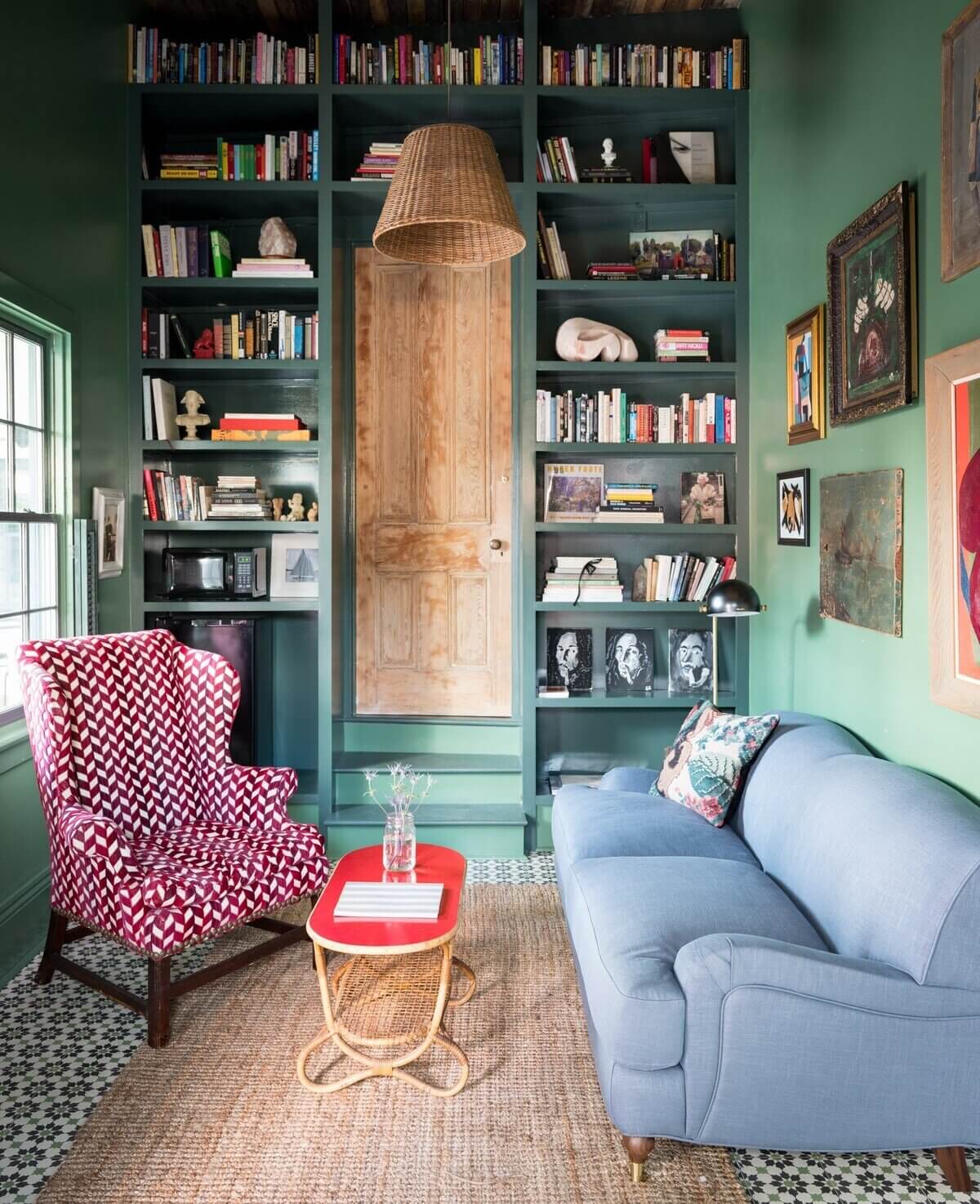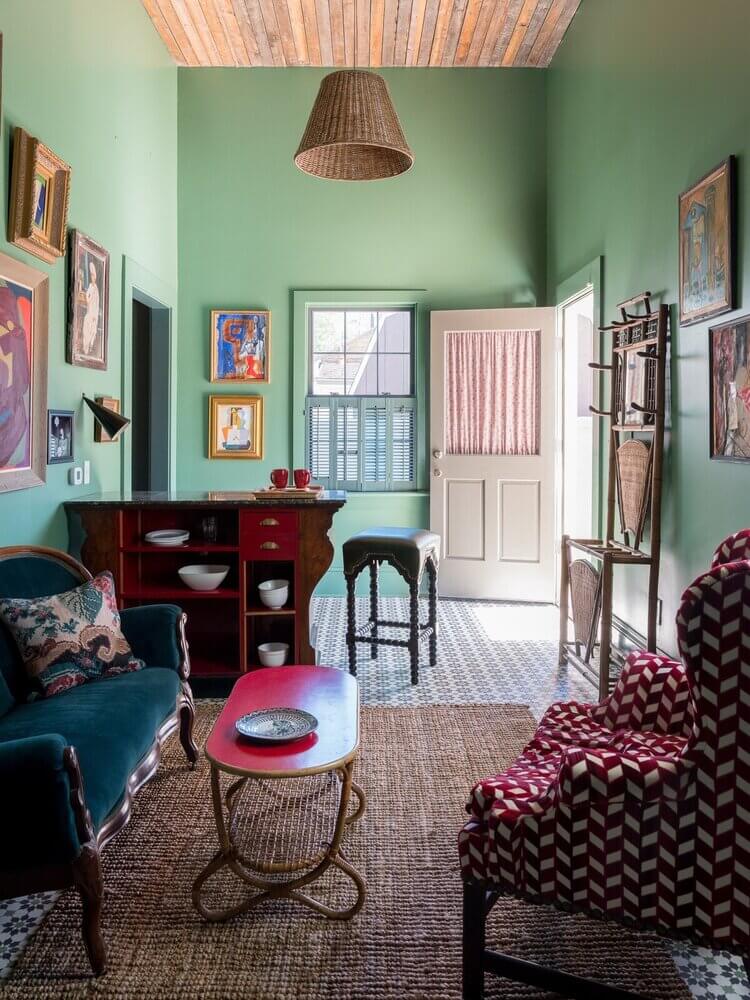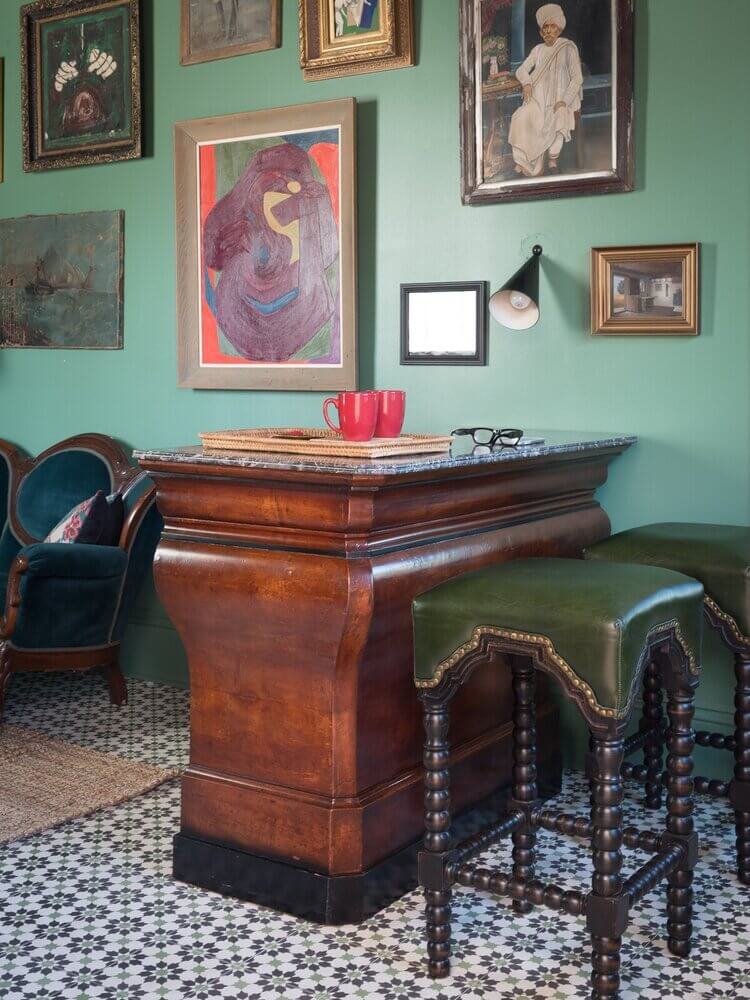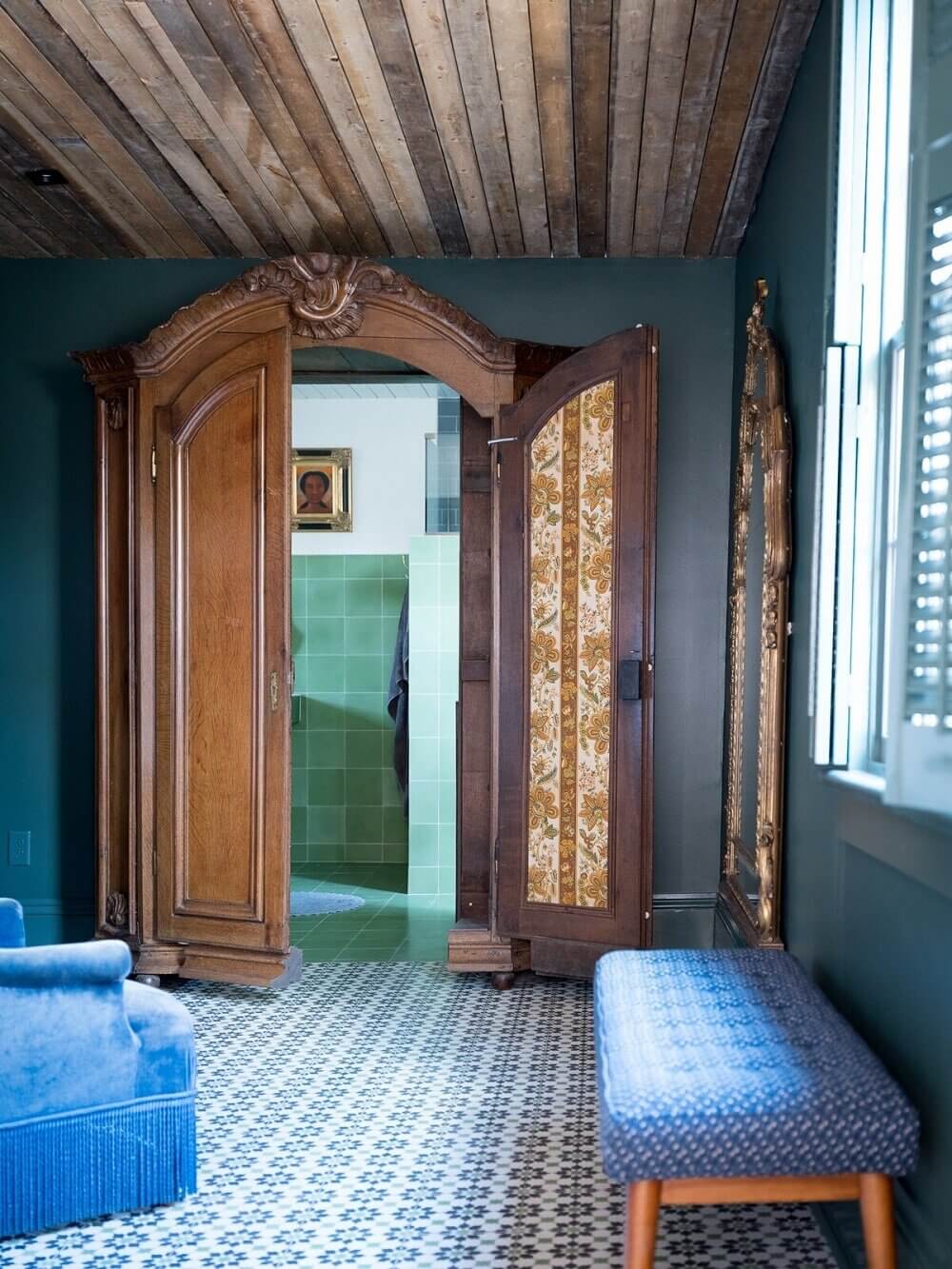 A 19th-century church in New Orleans has been converted into a lovely home. You can rent this home filled with antiques on Airbnb
A church conversion in Jersey City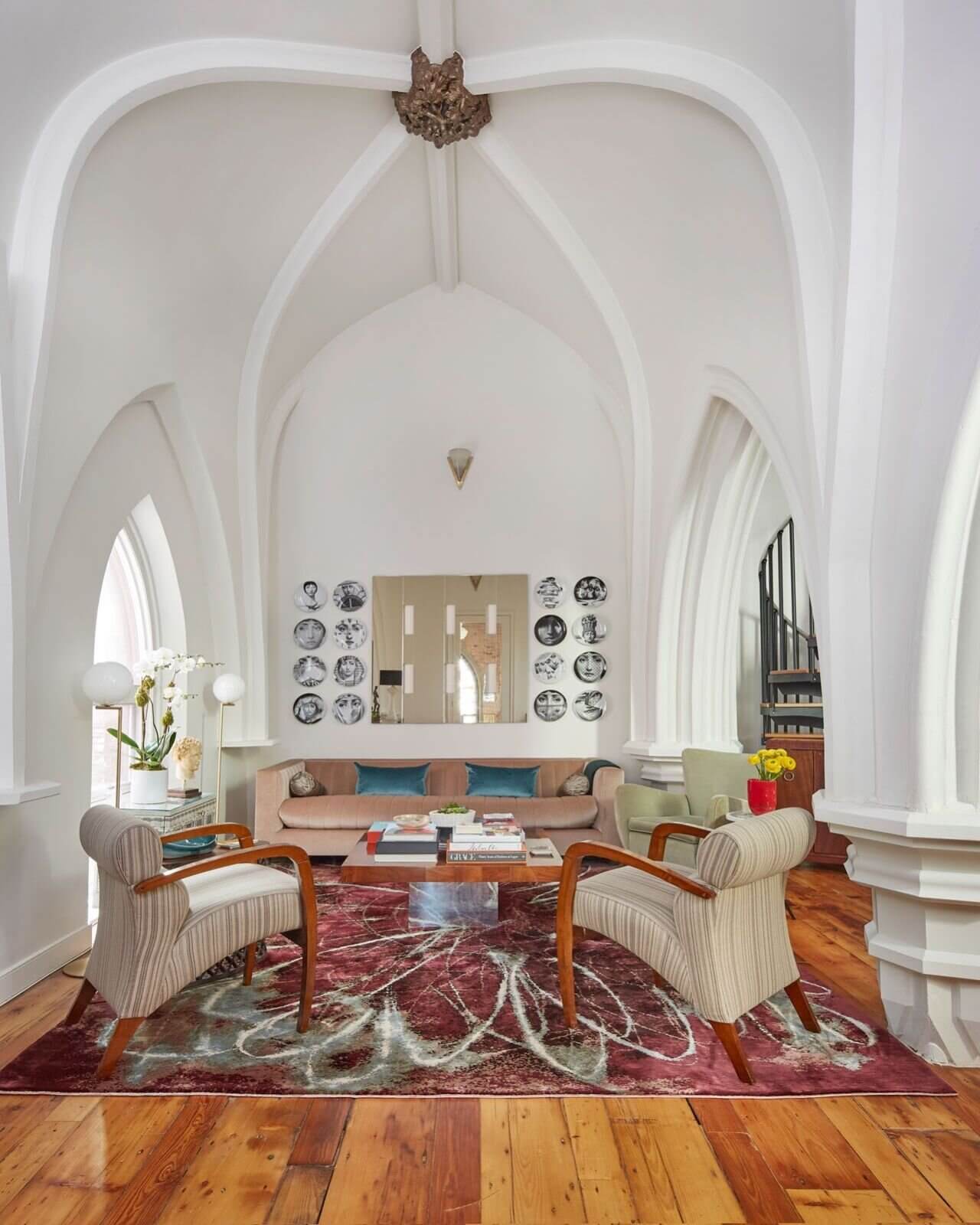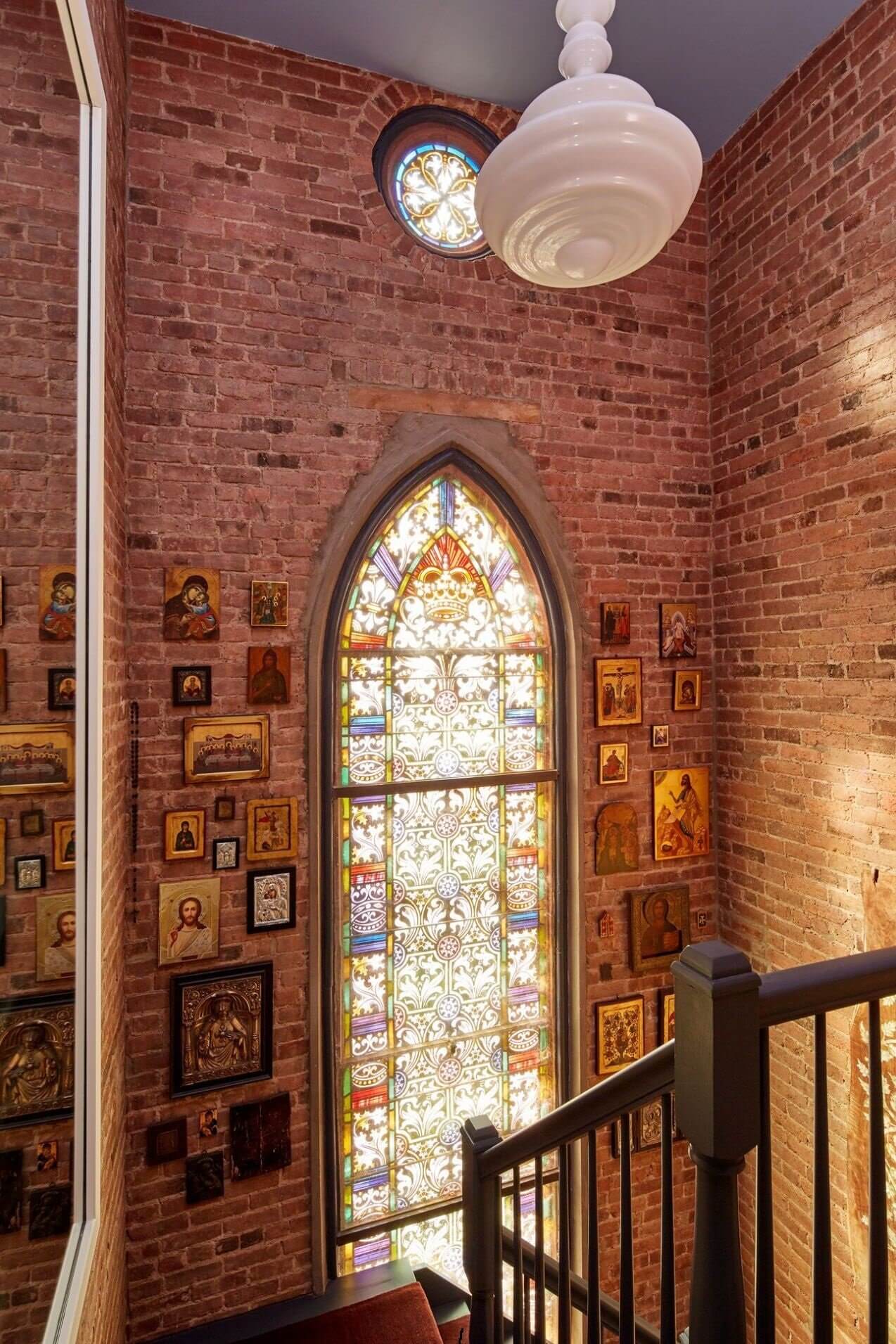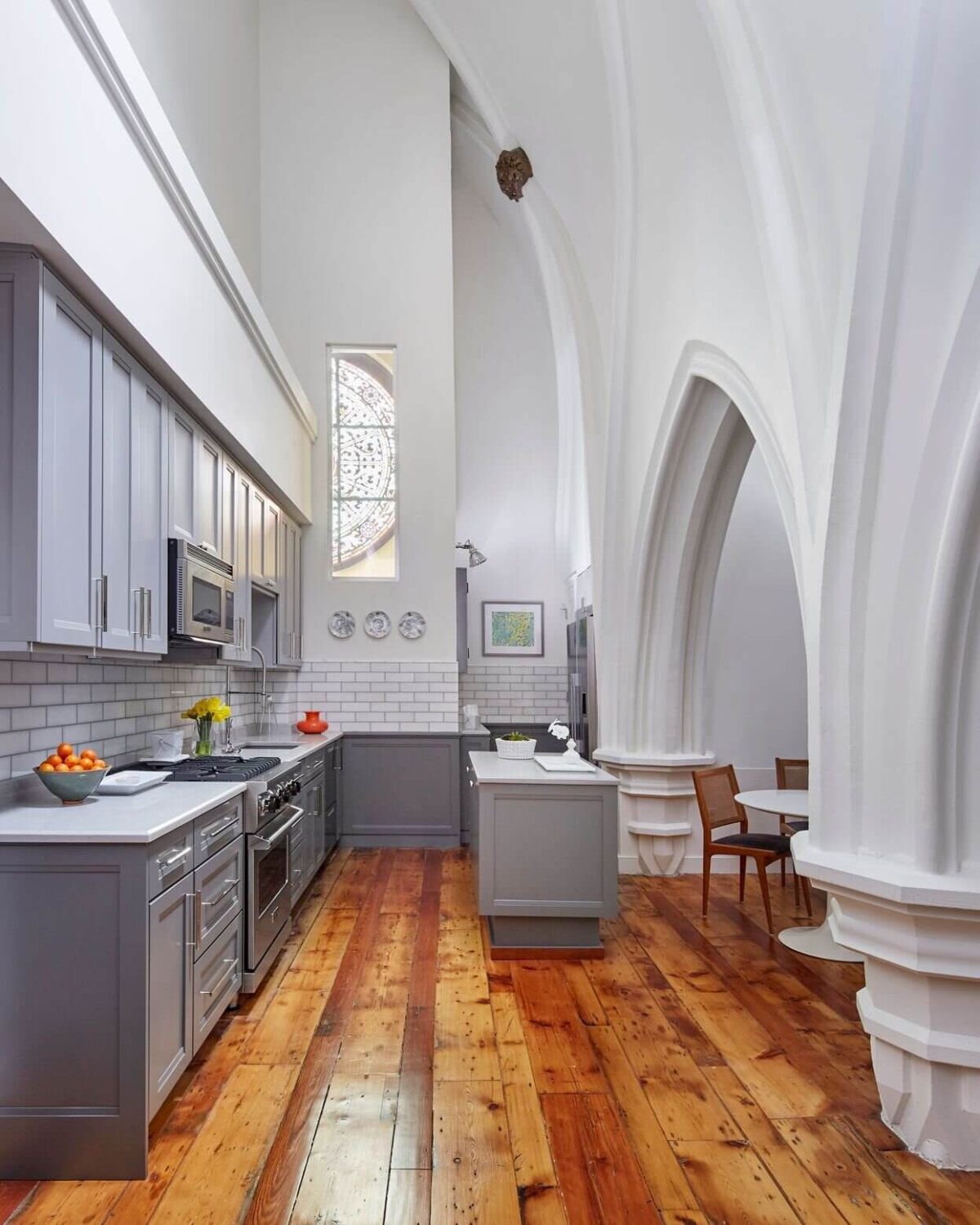 Impressive vaulted ceilings in this Gothic-style church in New Jersey. The church has been converted by Paul Melo and Tom Walko into a beautiful architectural home (photo: Jacob Snavely)
A chapel conversion in Sweden
The early 20th-century Långbro chapel in Älvsjö (just outside Stockholm) used to belong to the psychiatric hospital. Architect Andreas Martin-Löf transformed this chapel into a modern home with some historic touches. In the beautiful living area with heigh ceilings and chapel windows also has the original stone floor.
You can find the full home tour here on The Nordroom
Chapel on the Hill in England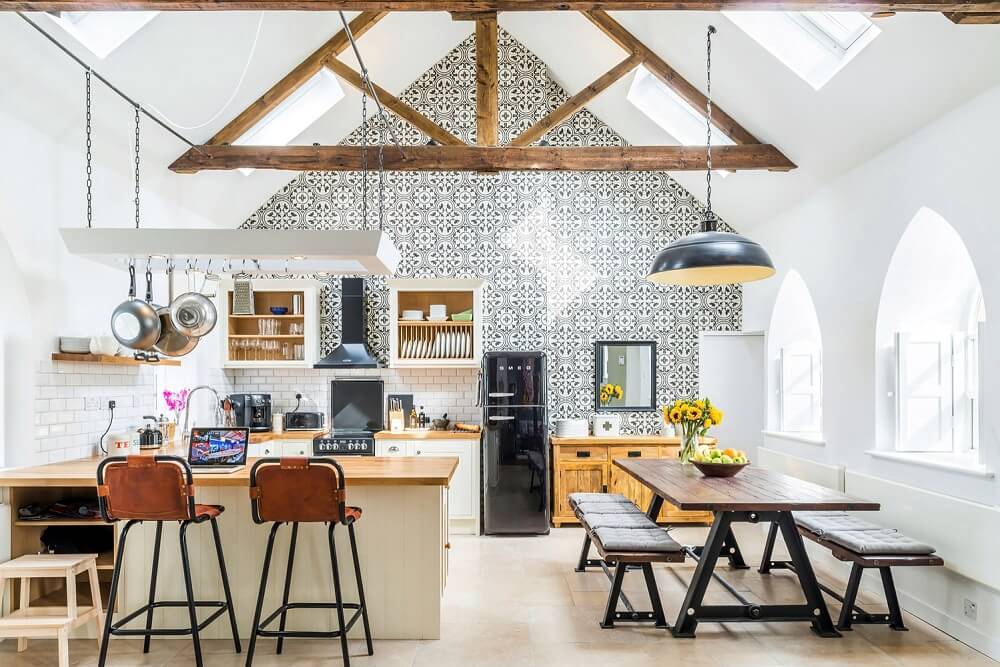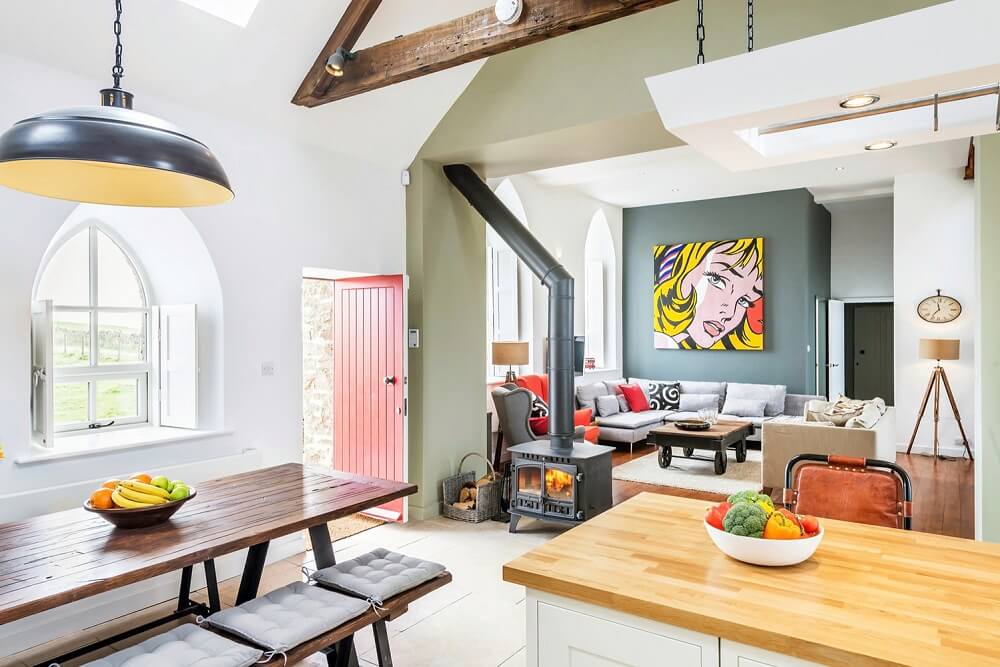 This former methodist chapel in Forest-in-Teesdale, County Durham in England has been lovely converted by Evolution Design into a holiday cottage that you can rent on Airbnb.
A church conversion in Sweden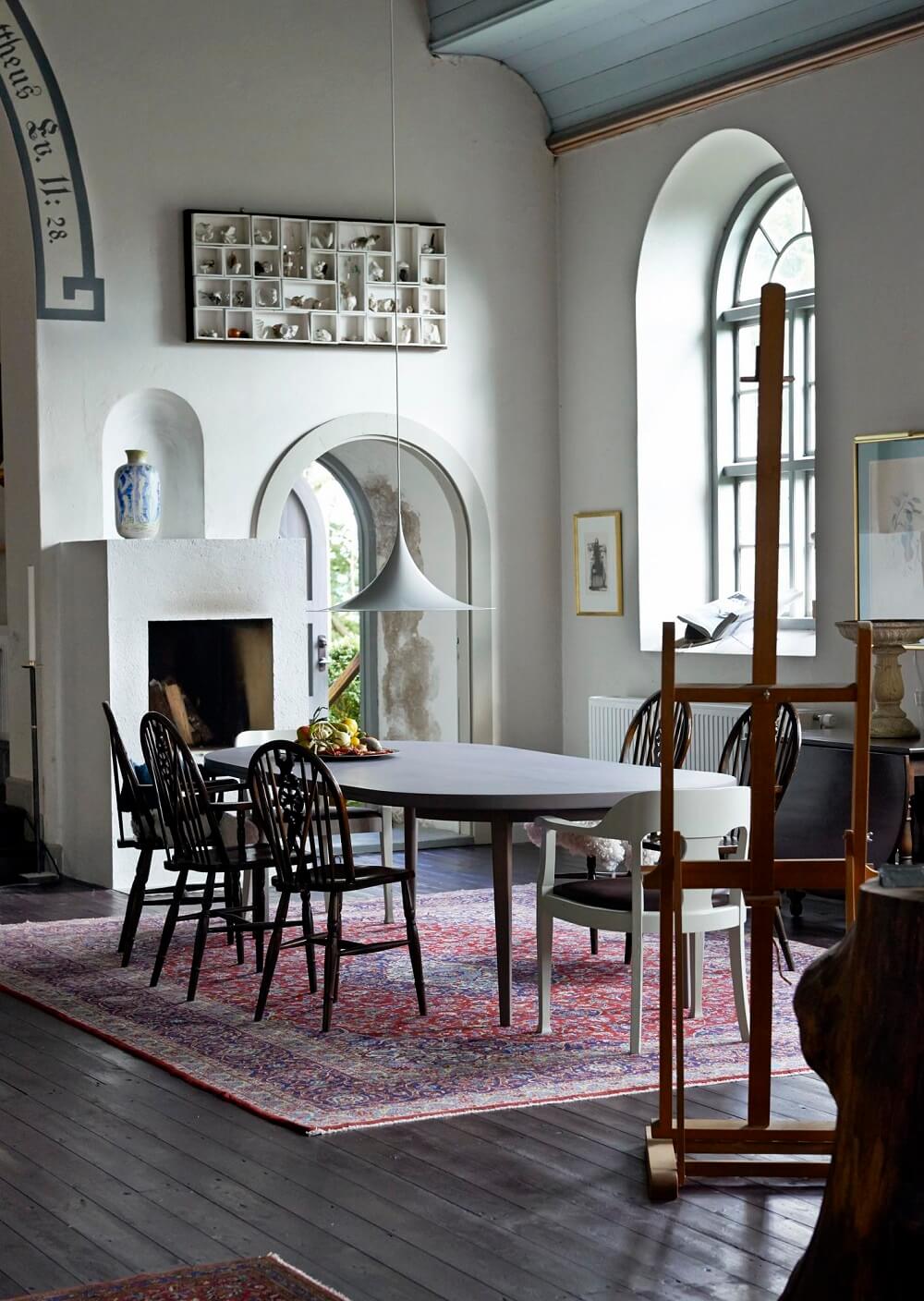 I don't think many people have such an impressive and dramatic kitchen. A beautiful blue arched ceiling and the wall mural and text are still reminders of this former church in Sweden. You can see more pictures of this home from the sales listing here | photos by Helene Bernstone
Catholic Church Conversion in Utrecht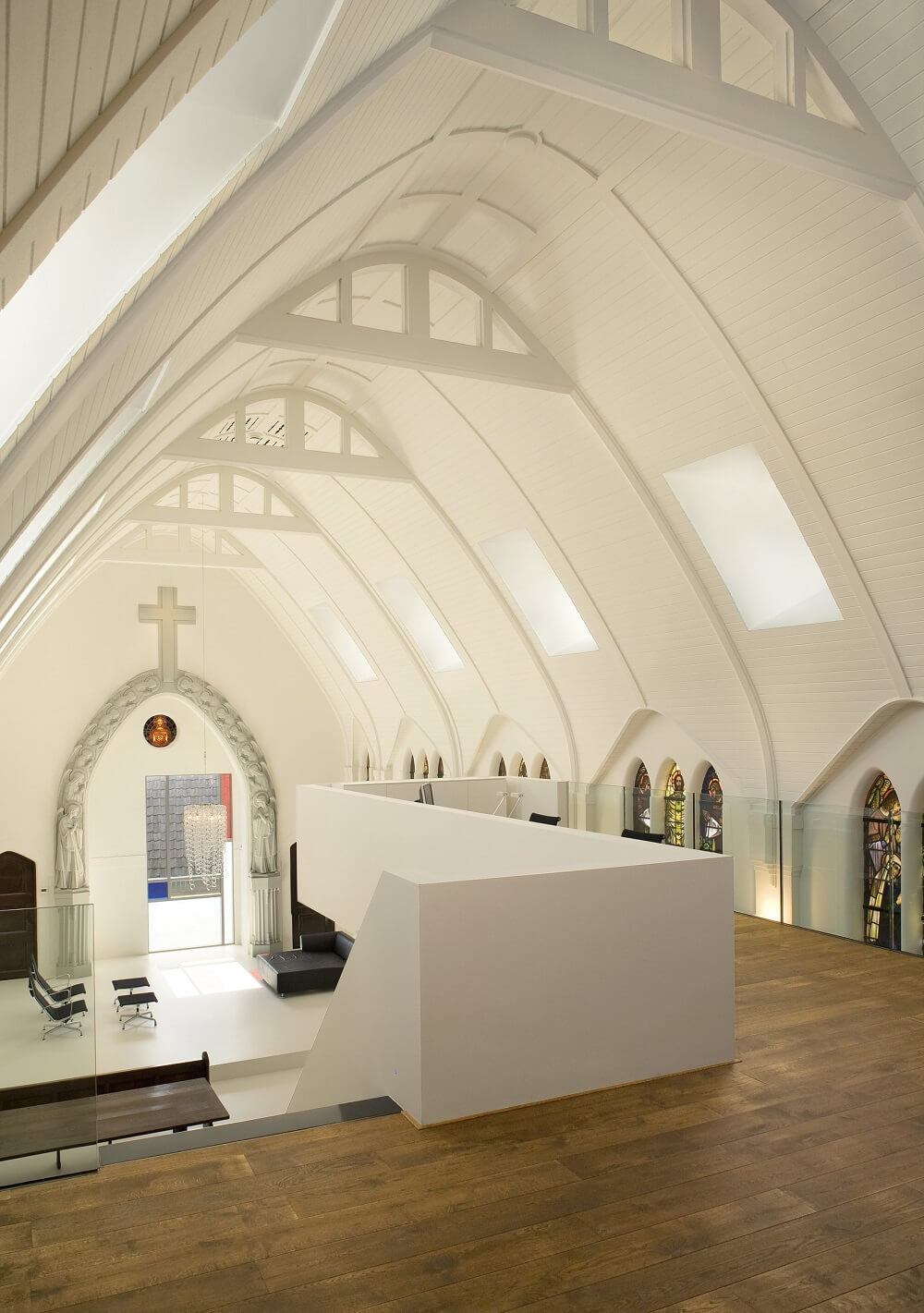 Here is the other church conversion by Zecc Architecten in Utrecht. It has a slightly similar vibe with the white interior. The've added skylights for more natural light so the old stained glass windows were preserves thankfully. Nice contrast with the white living space in that dramatic grey bathroom. | photos by Cornbread Works
Church conversion in The Netherlands
This church in The Netherlands was built in 1904. In 2010 the church building has been converted into a modern home (photo: Redres de Bouwkunstmakelaar)
A small chapel conversion in Colerne, England
Just outside Bath in a small village called Colerne stands this lovely small chapel that's been converted into a home by Jonathan Tuckey Design. The double height living space is in the former chapel in which you still see the original details of the chapel. They added a new black cladded extenstion to the chapel that works very well with the old building. You can see more pictures here | photos by Dirk Lindner
Salvation Army Church converted into boho home
This former salvation army church in England is transformed into a cozy, slightly boho home. It was for sale through The Modern House. You can see more pictures here
Church conversion in London
Apart from the architecture there's not much left of this former church in Kensington, London. Inside the church is completely transformed into a modern home.
A fun church converson in The Netherlands
You can be respectful towards the former building ánd have a little fun. That's what the architects of LKSVDD of this church in The Netherlands must have thought. Big focal point is the bright red multifunctional stairs/room divider also called the 'Stairway to have fun'.
Modern home in a former church in Chicago
You can still see the former life of this church in Chicago by the stained windows but other than that this church is converted into a very modern home by Linc Thelen Design
A church conversion in Byron Bay
A church conversion with very modern interiors is something you see a lot as you have already seen above. But this small church in Byron Bay preserved the historic feeling of the church and now they have a beautiful cozy little home | photos by Dominic Loneragan
A church conversion in England
This 19th-century church in Faverham was closed in 2000, afterwhich is was sold and turned into an impressive home. The church conversion retained its architectural features. (photo: The Modern House)
Simple church conversion in Canada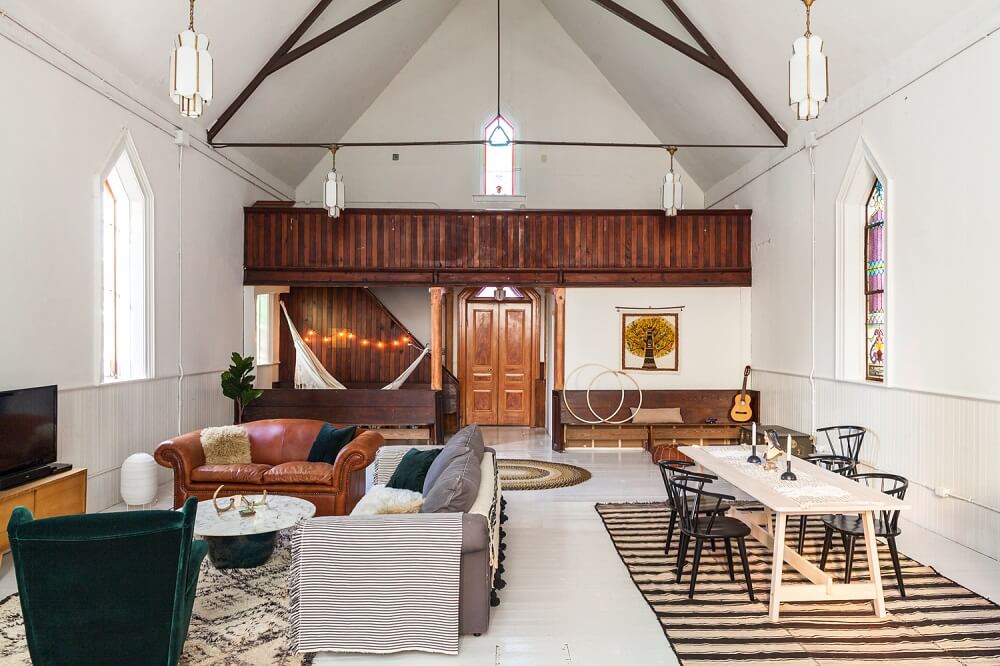 This lovely 140-year old church in Canada has been transformed into a bright home where the original features of the church are still ver visible. Church conversion can be expensive but this one was done on a budget and they still created a lovel home | photos by Lauren Kolyn
At the Chapel in Bruton
At the Chapel in Bruton, England is a chapel transformed into a restaurant and small hotel of 8 rooms. The dining space is certainly impressive and also in the hotel rooms you can see the arched windows of the original church
Santa Barbara transformed into Skate Temple with murals by Okuda San Miguel
This is not your average church conversion. Santa Barbara church in Asturias, Spain was built 100 years ago but hasn't been used as a church for quite some time. A collective of skate loving friends called The Church Brigade bought this former church and transformed into a skate park. Spanish artist Okuda San Miguel then painted the church with amazing colorful murals. | photos by Elchino Pomares.
Duddell's Restaurant in St. Thomas Church in London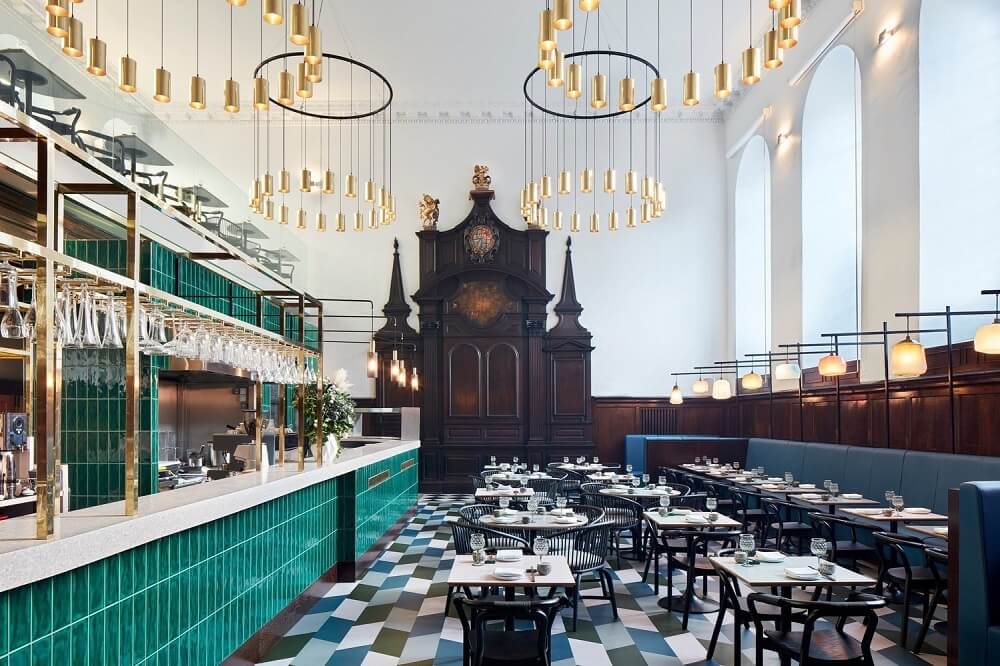 Michaelis Boyd transformed the belfry of the Grade II* Listed St Thomas Church in Southwark into a 100 cover Cantonese restaurant. 
The Jane in Antwerp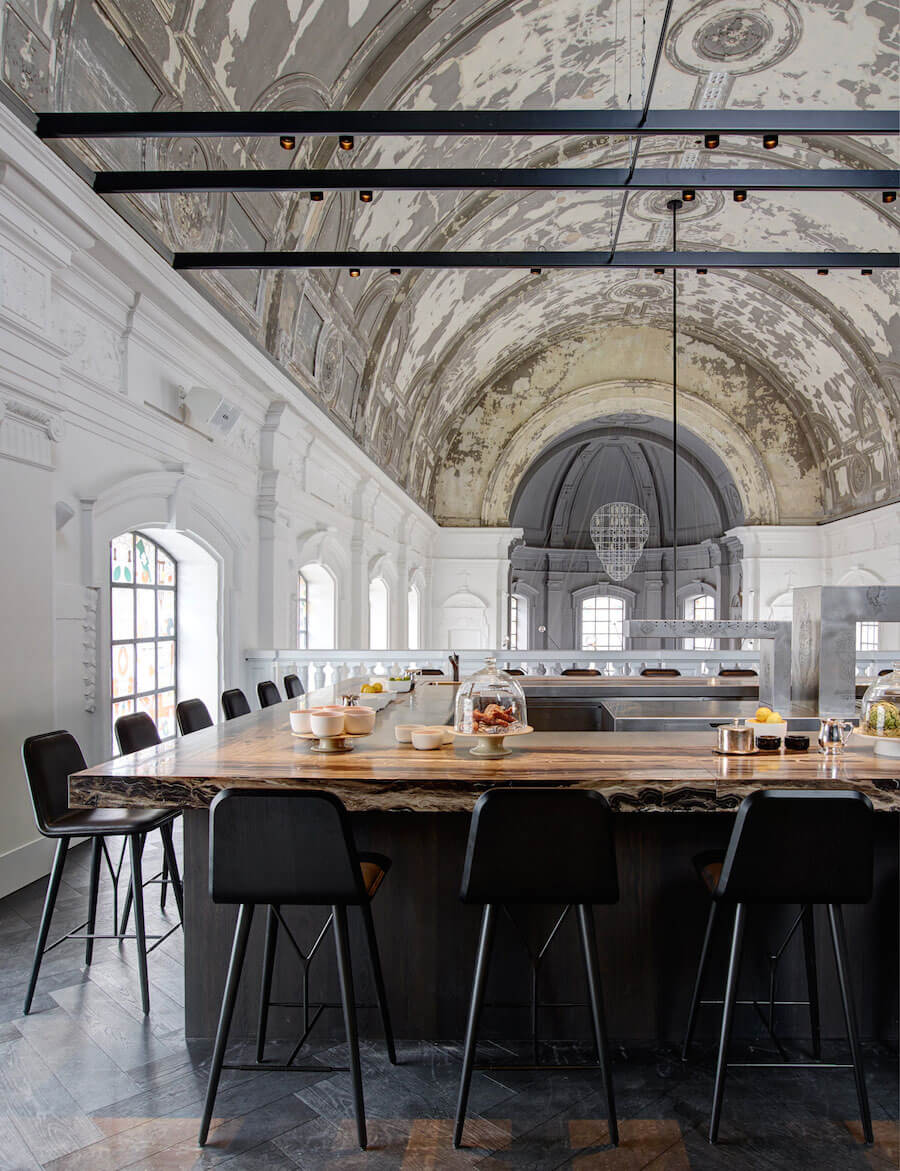 Restaurant The Jane is located in a former church and military hospital in Antwerp. The interior of the restaurant is designed by Dutch designer Piet Boon
Which church conversion do you like the most? Do you prefer modern design in an old chuch or more traditional? I'm not sure I can choose looking at all these wonderful church conversions.
Pin me for later!