A Small Scandinavian Loft with Skylights and Brick Wall
Living in a small space comes with its challenges. And living in a small home with slanted ceiling is extra difficult. But when you have a small home or room with slanted ceilings you have to be smart with the space you do have.
In Sweden we find this small loft apartment on the top floor of an apartment building. As the home is on the top floor, the spaces have sloped ceilings leaving the owners with even less space that you can properly use.
To provide enough storage in the home, the central block that also houses the kitchen has a site-built custom storage system. As the closets and the upper cabinets of the kitchen are in the same color and material, this feels like a seamless continuation of the kitchen.
The Scandinavian loft apartment is only 30 square meter big, but the home has been decorated in a typical stylish Scandinavian style.
The sitting room is big enough for a seating area and a dining table. Two skylights bring natural light in this attic room.
The best feature of the sitting area is the raw exposed brick wall. It givs the home plenty of character plus a brick wall is a classic feature for a loft apartment.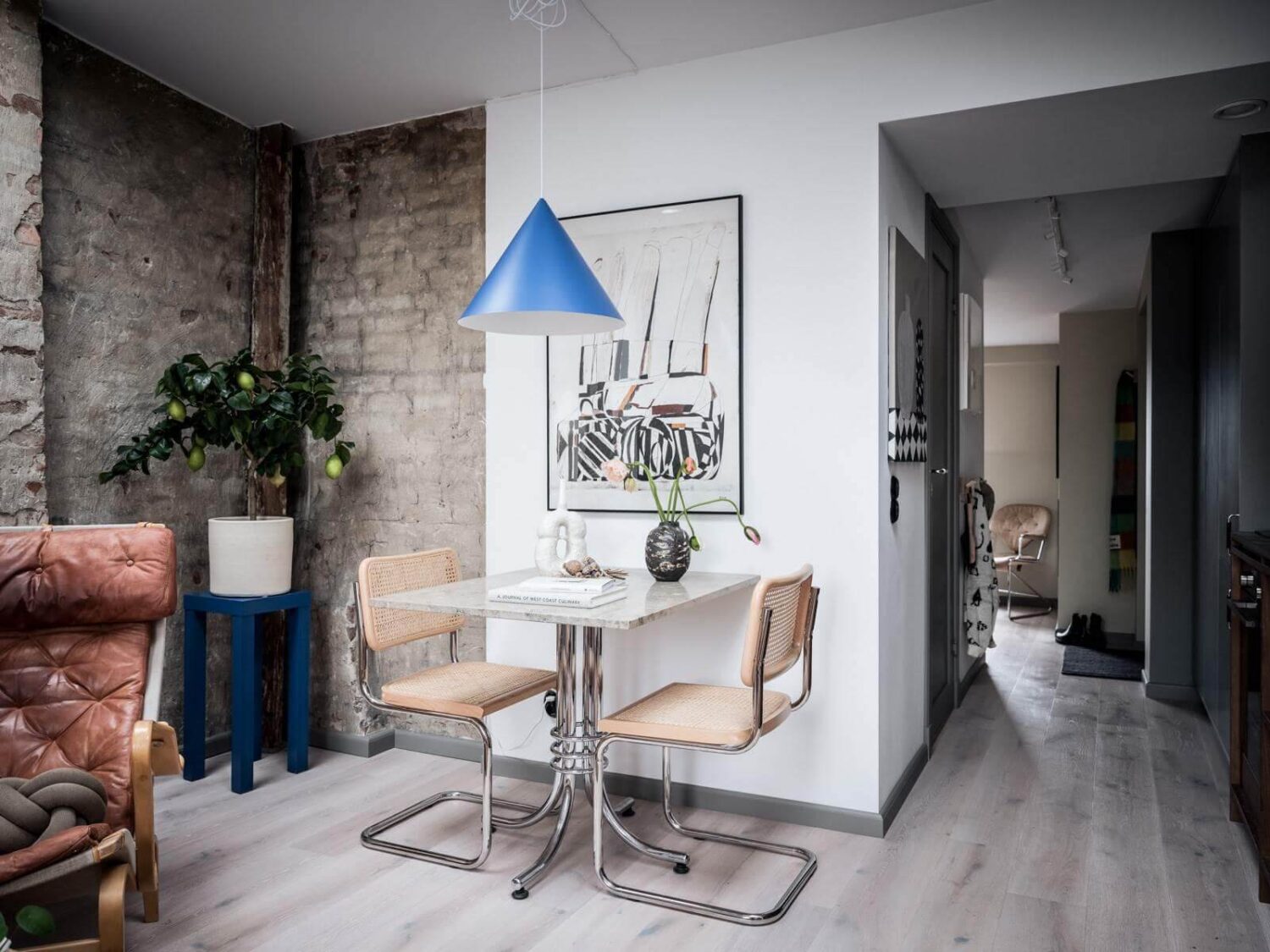 White-pigmented oak parquet runs through the entire home.
Between the living room and the bedroom stands the kitchen. The kitchen is from Nordiska Kök and it has dark stained oak cabinets. The upper cabinets are painted in the same gray shade as the wall behind.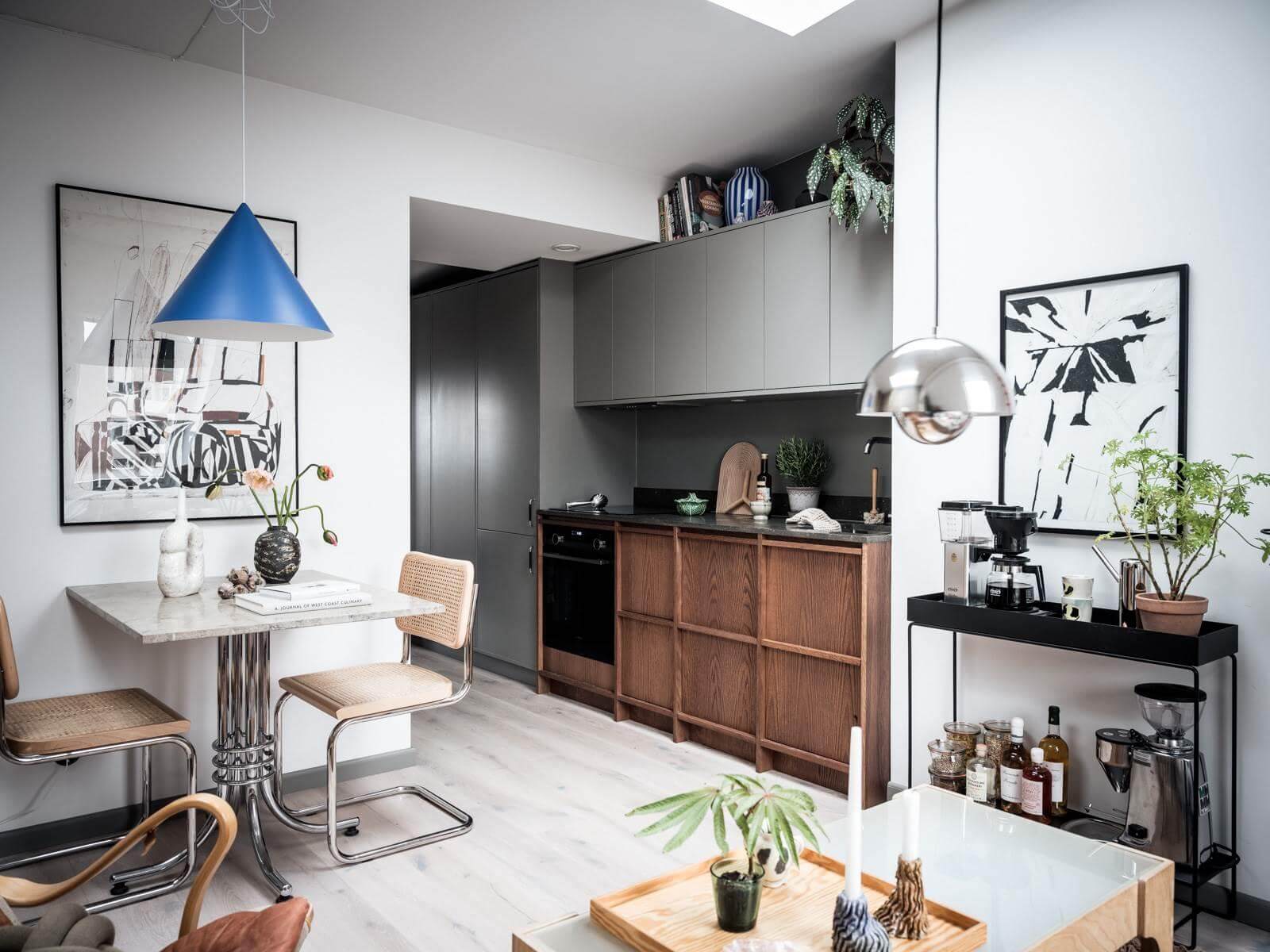 Here, you can see that the gray kitchen cabinets run seamlessly into the built-in wardrobes that provide storage in this small home.
On the toher side of the hall you reach the bedroom. Even though the loft is designed as one big open space without any internal rooms (except the bathroom), thanks to its layout you feel as if you have a one bedroom apartment.
The walls in the bedroom are painted in a soft beige tone called "Humble Yellow" by Jotun.f
There is no need for a nightstand, a clever designed ledge in the bedroom serves as a nightstand and display shelf.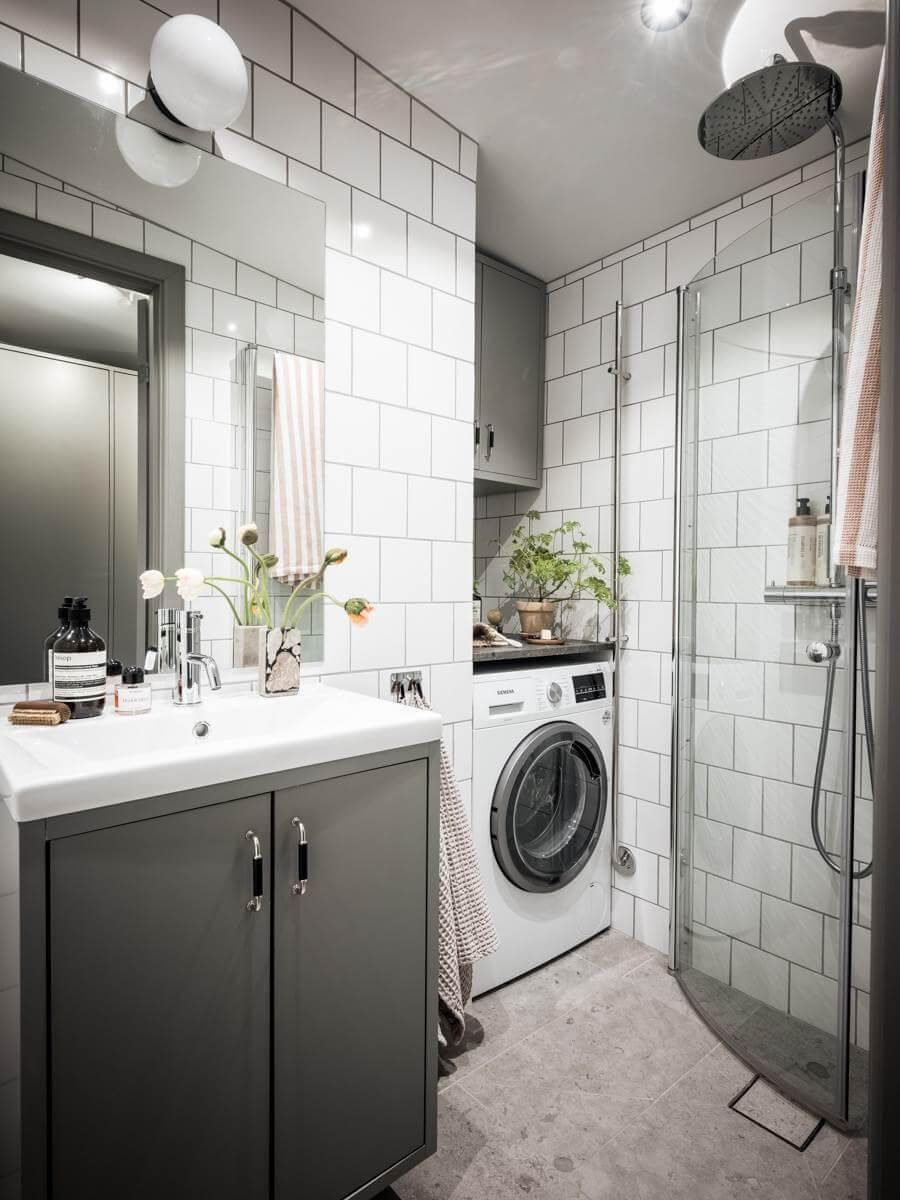 The bathroom is small but perfectly designed with storage under the sink and above the washing machine. A niche has been created to make room for the washing machine next to the shower.
photography via Nya Kvadrat