A Serene Design Apartment in Tulum
In the most famous building in Tulum, Altar Tulum, you can find this beautiful design apartment that uses light colors, natural materials, and sculptural forms,
The apartment is designed by Eduardo Valdes and Alexander Landsberg of Terreo Studio who created a serene haven that can now be rented as an Airbnb rental in one of the most popular cities in Mexico.
The apartment has one bedroom, but in the living room they created a combined living room and bedroom so it has two double beds. The design of this living space is very clever by raising one area to create a sunken living room with a built in sofa that has views of the charming outdoor space.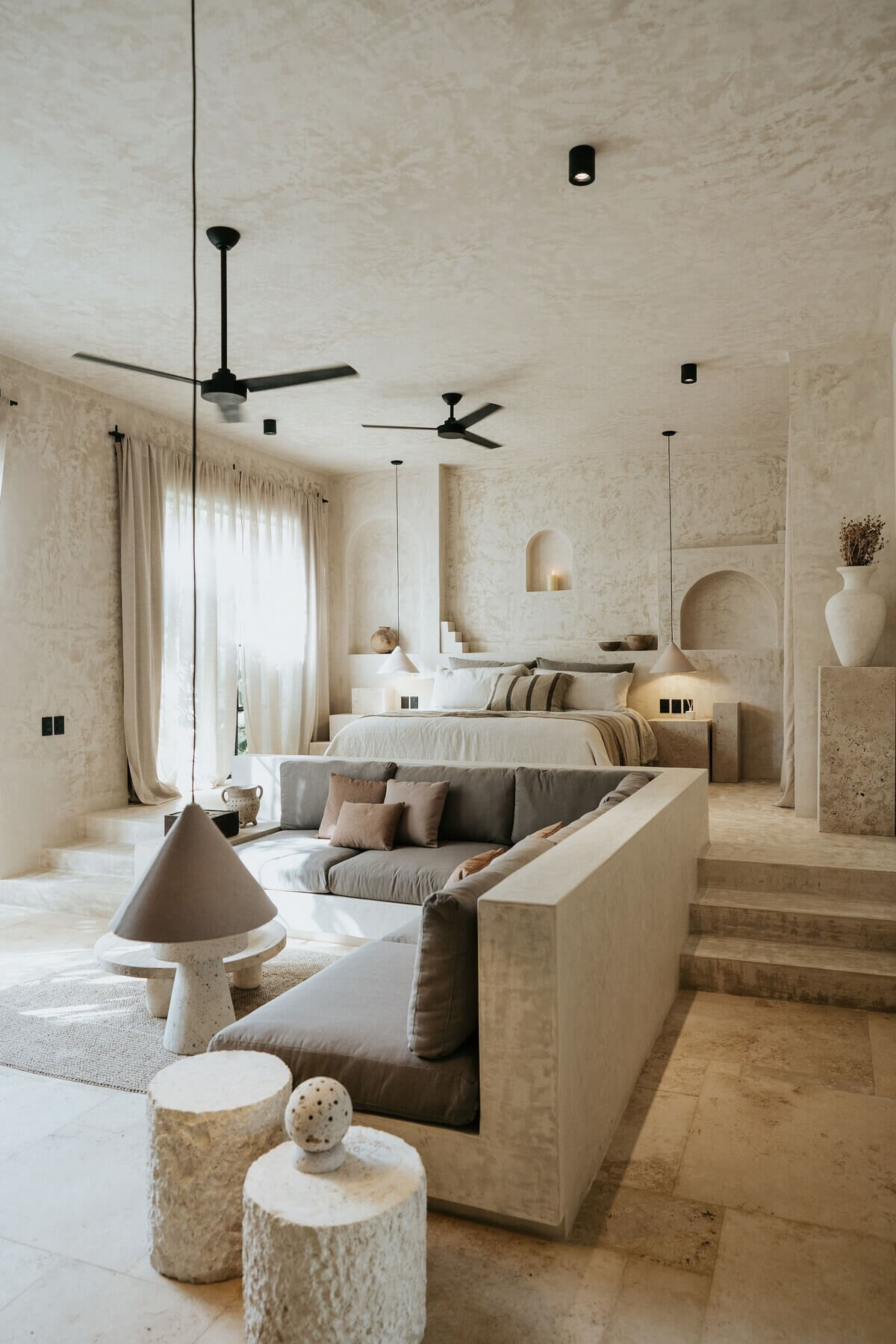 When you live in a one-room apartment this Tulum home is a perfect source of inspiration as to how to design your home. The designers of this home managed to create a shared living room and bedroom space that is stylish and functional.
Beside the impeccable interior design, the main reason why this room is such a succes is that they have managed to create two clear zones: a living room and a bedroom zone.
There are no barriers like a wall, curtain, or bookcase to separate the two parts. Instead, they raised one area of the space to create a sunken sitting room with a built-in sofa for a clean look.
A wardrobe is hidden in a niche beside the bed. A beige curtain is used to hide the wardrobe from view while also adding some texture and softness to the space.
What I love about this bedroom space are the niches. The arched niches are a nod to the apartment complex that features a lot of arches and they add a great architectural feature to the interior of the apartment.
But they are also super handy to provide some storage space or to use as a display shelf.
A small kitchen is fitted on the other side of the room. The wooden cabinets add a warm tone to the room. Black is the accent color in this apartment, you can see it in the light fixtures, the kitchen worktop, and in the bathroom fittings.
This apartment is made for indoor/outdoor living. From the living room and the bedroom, there is access to the private secluded outdoor space with a small swimming pool.
From your bed straight into the pool, that is what a holiday is supposed to be like.
The bathroom is small, minimalistic, and very stylish. With a double walk in shower and black fittings.
The apartment has a small outdoor space filled with greenery and very secluded thanks to the stone walls surrounding it.
The outdoor space has a small salt water swimming pool.
You can rent this beautiful apartment in Tulum, Mexico on Airbnb
photography by Conie Suarez Bravo: @coniesb @conie.weddings @spacesbyconie