Great Living Room Bedroom Combo Ideas (Layout Tips + Styling)
When you're living in a small space with a living room bedroom combo (also known as a studio apartment) you face certain design challenges. How can I create separate spaces? How do I make the most of my small space? And where do I store all my belongings without cluttering up the room?
These small apartments with an open floor plan require careful planning. Luckily, there are many ways to create a functional and stylish small home where you won't feel like you're living in your bedroom or in a dorm room.
This post will give you layout tips and decorating ideas to create your dream living space.
Every space is different, so there is no one layout fits all solution. But these room designs with a combined living room bedroom all have diverse layouts and small space solutions that will help you decorate your own space.
How To Create Separate Zones in a One Room Apartment
Ideally, you want your small home to have clear zones for living, sleeping, and eating. While you may have to do some concessions, you can often incorporate all these functions in a living room bedroom combo.
There are many ways to create separate zones in your small home. From affordable or simple options like a smart-placed rug or furniture. To more expensive and permanent options like a glass wall.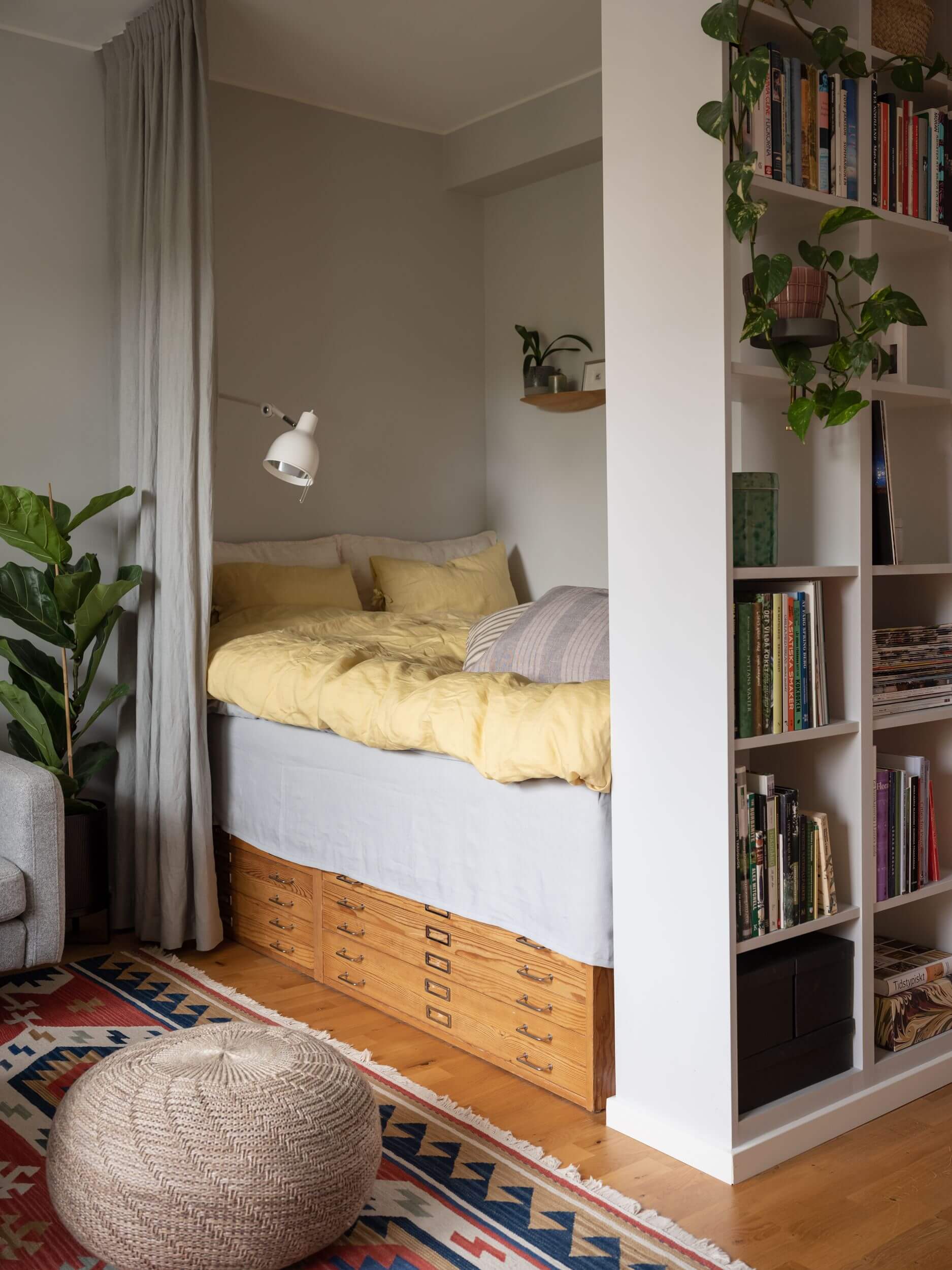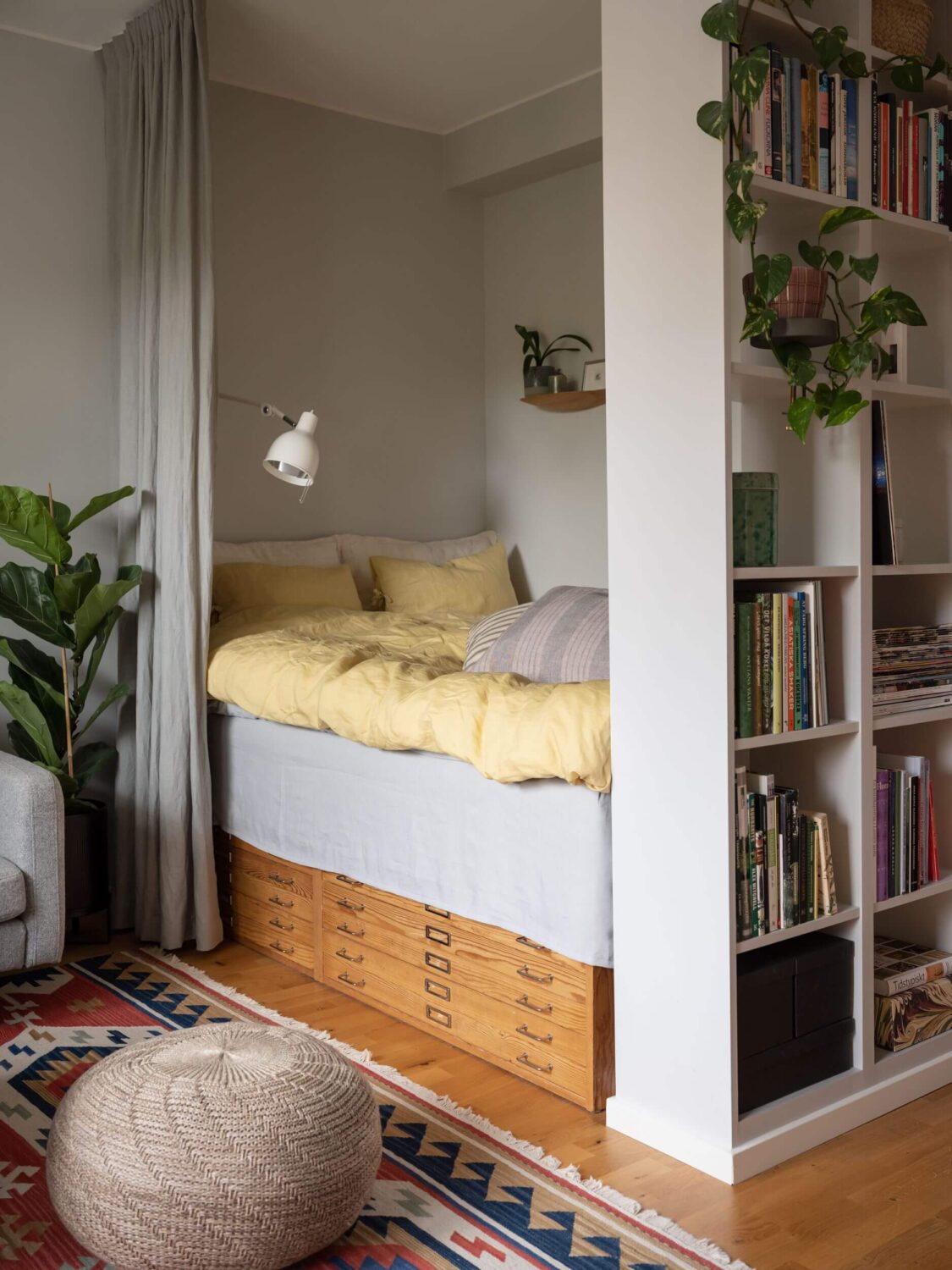 This midcentury studio apartment in Sweden combines several great ways to divide a studio apartment. They created a cozy bed nook using a bookcase and a curtain. On top of that, the bed is made of vintage architecture drawers that provide storage.
Screens
A folding screen is a diverse furniture piece that can be used in any way you want. If you want to hide a certain area of the room it's easy to place a screen. And when you want to create a more spacious feeling in your small home it can be folded up and put aside.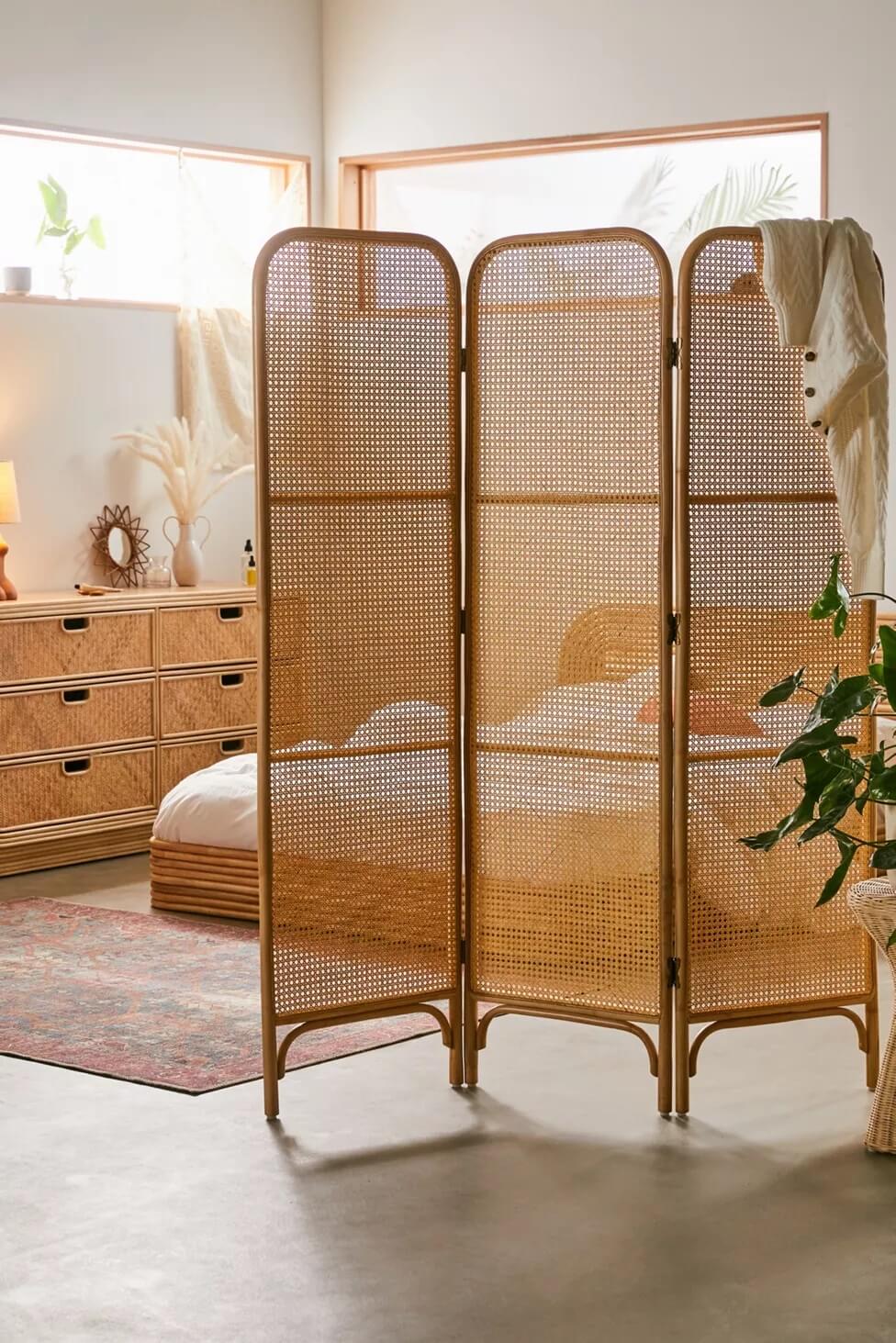 The Ria Room Divider Screen by Urban Outfitters is a great example of a room divider that will suit a one-room apartment. The rattan screen is light, it lets through light, and it's super stylish.
Curtains
Curtains, and especially sheer curtains, are a great décor piece to use as a dividing element in your small home. A sheer curtain lets through light, which is especially important if the natural light in your studio only comes from one side. This way you don't end up with dark, gloomy areas in your home.
Another benefit to a curtain as a divider is that you can slide it back when you want to open up the room. An easy way to be able to choose between closed off and open up.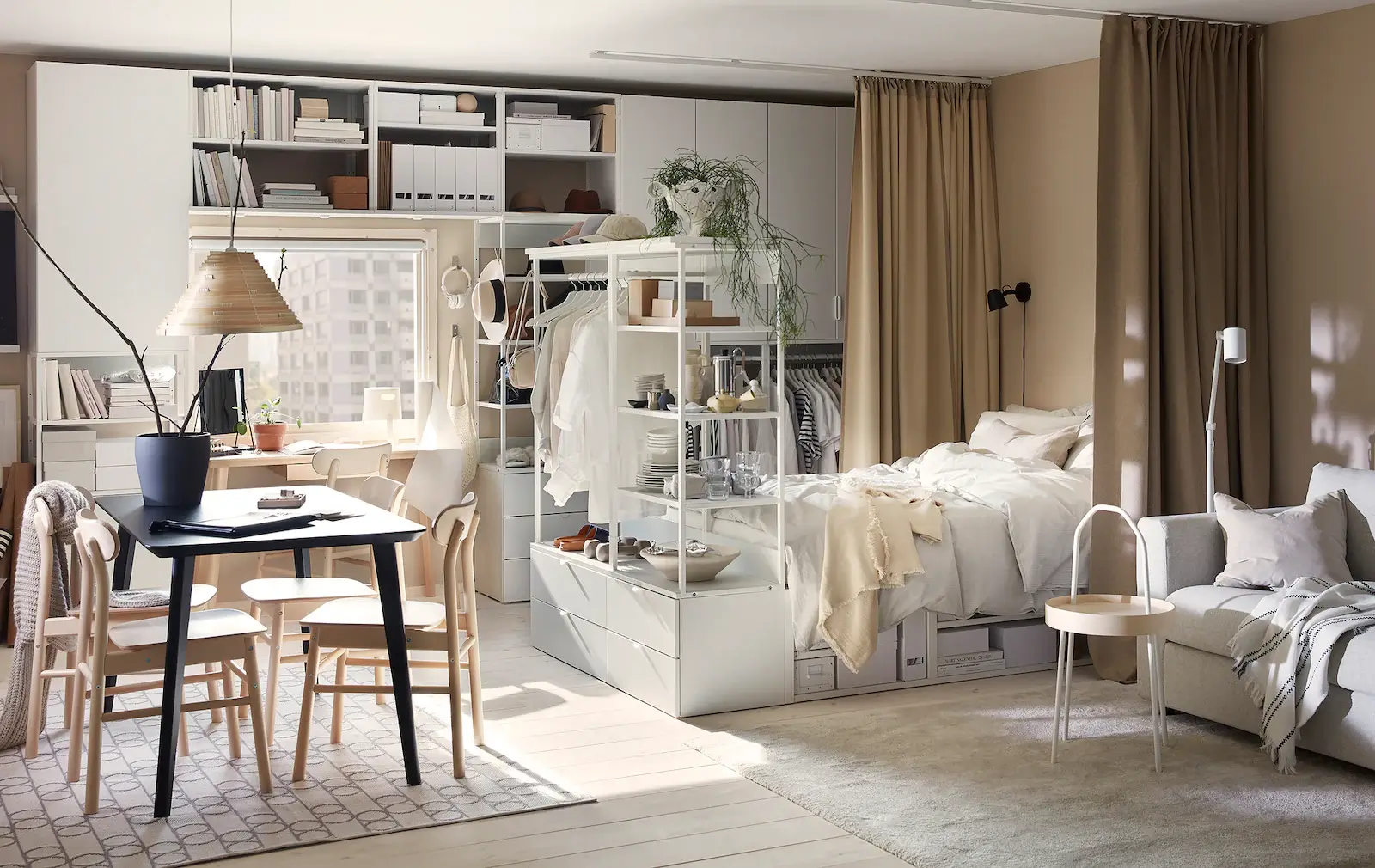 The queen of small-space design is IKEA. This one-room apartment has so much storage space with floor-to-ceiling cabinets, a separate work area, a dining area, a living area, and a sleeping area. And next to the bed they placed two curtains so it can also be hidden from view.
Bookcases
The reason why bookcases are so popular as room dividers are that they also provide storage. Living small, you need to have furniture that can serve multiple purposes.
You don't want to clutter up your room with many cabinets so a large furniture piece that can serve as a room divider and storage space is most welcome.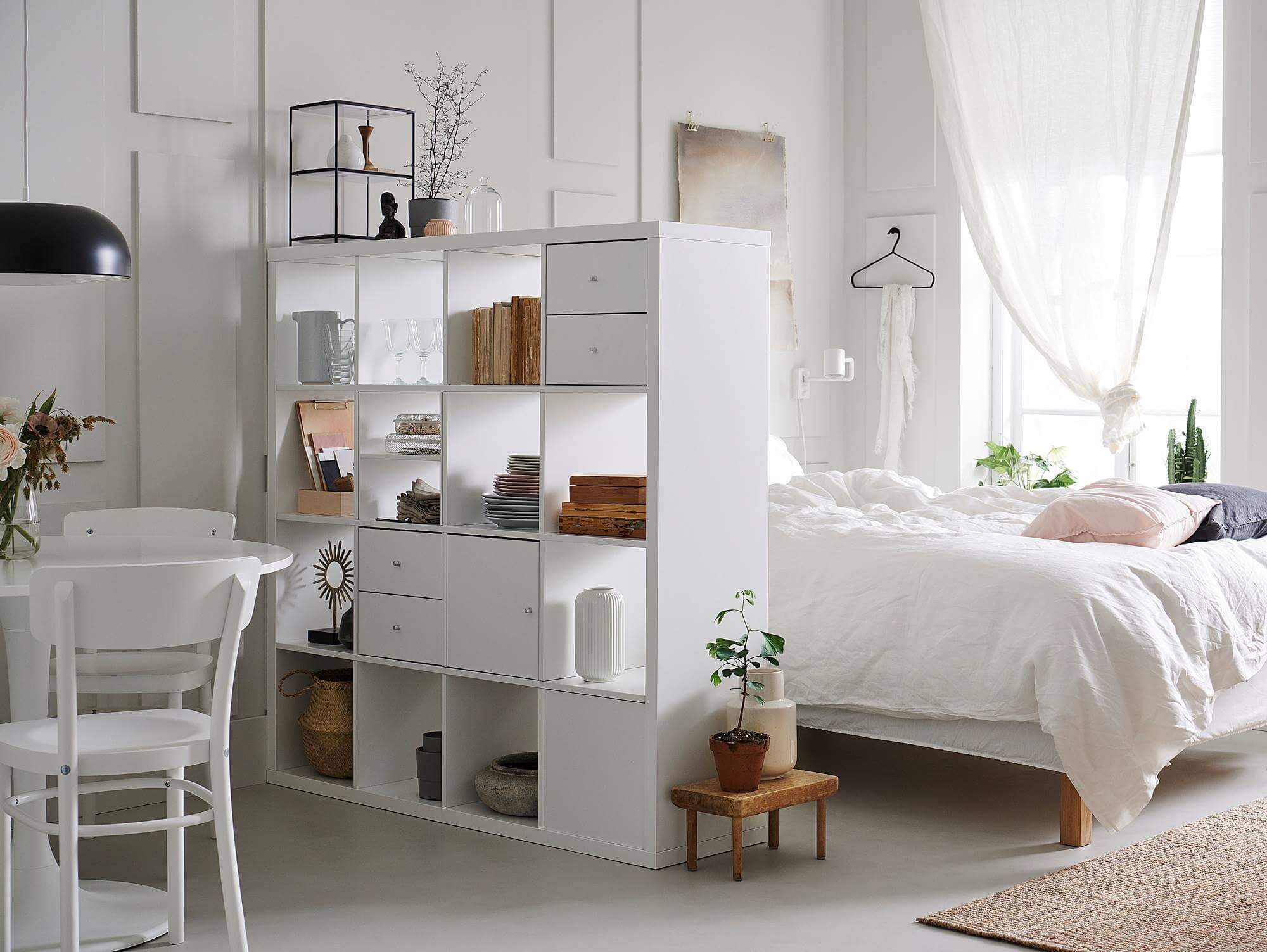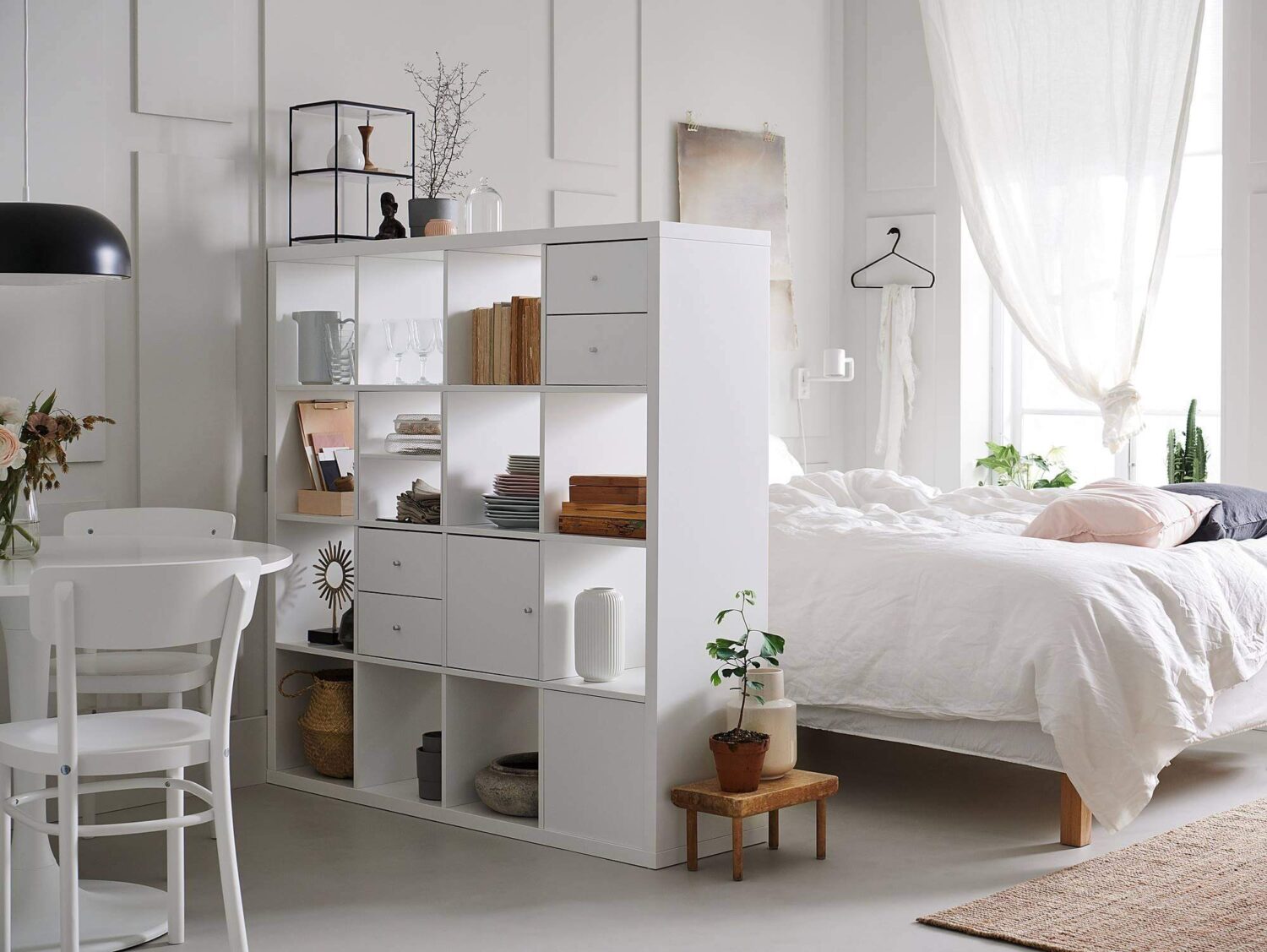 The king of all room dividers is the IKEA Kallax. It has open and closed storage so it lets through light but you also hide small clutter from view.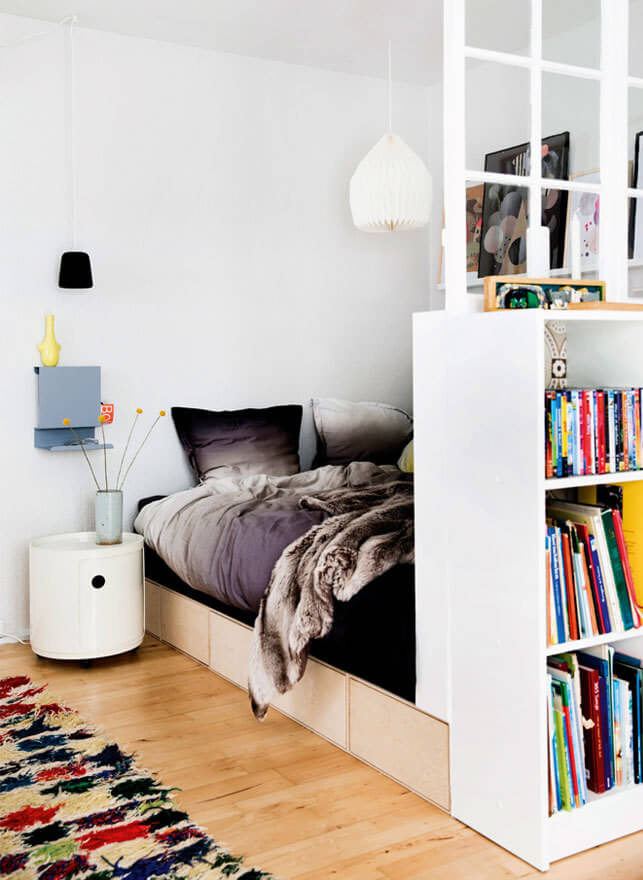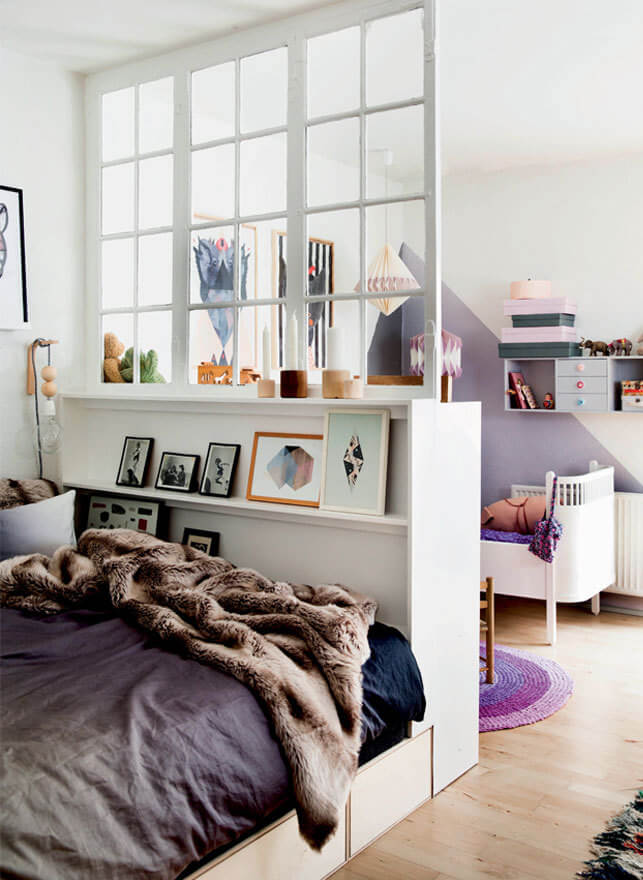 This bedroom features a bookcase/glass wall as a partition . In this case, it divides the room into an adult bedroom and a kids bedroom but it can also work in a studio apartment.
Rugs
It's understandable if you don't want to make divide the room into even smaller areas. An easy but effective way to create zones in one room is by defining an area with a rug.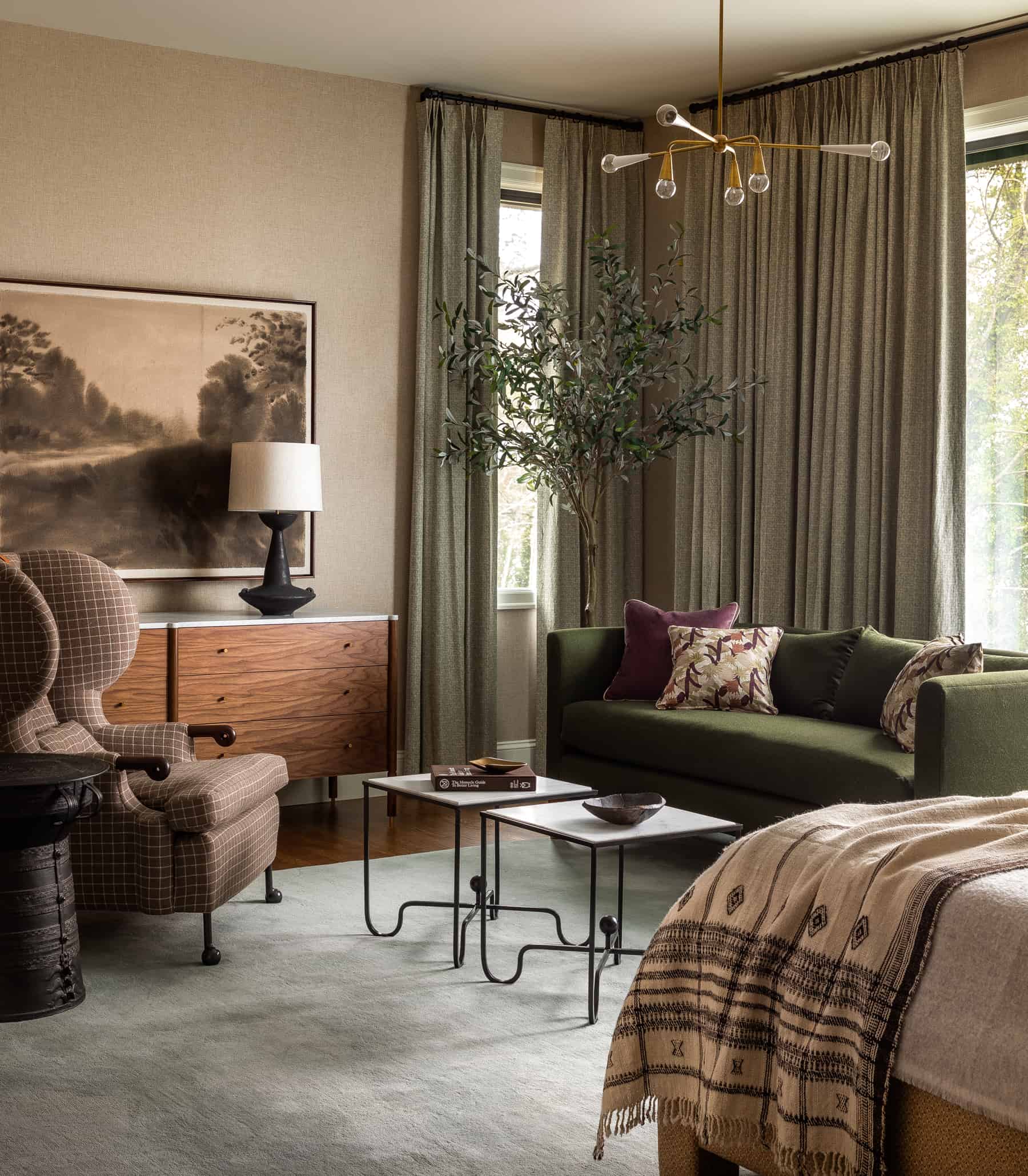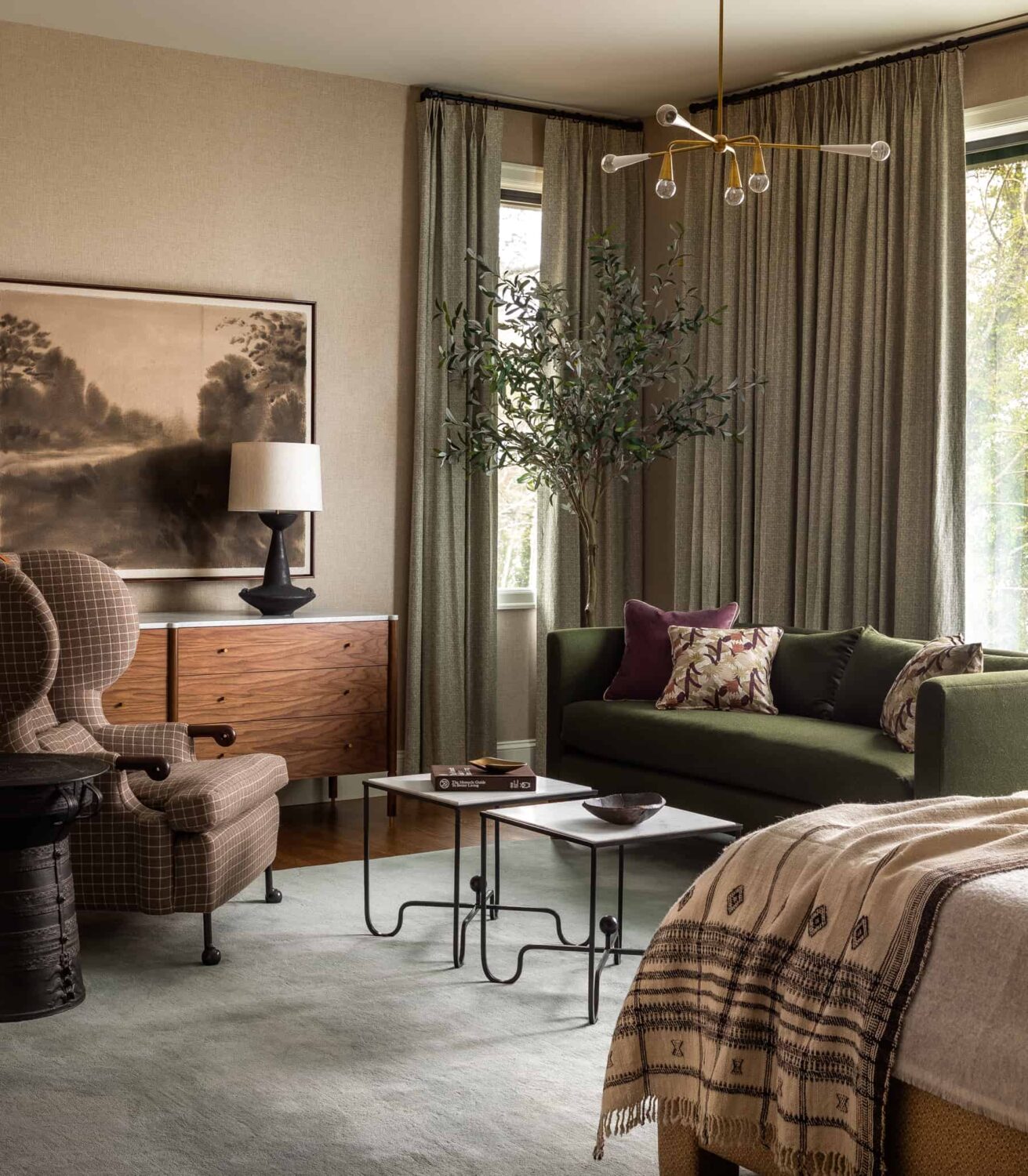 Interior designer Heidi Caillier is the best at creating warm layered spaces. This room is actually a master bedroom in a Fox Island family home but it's also great inspiration if you need to combine your living room and bedroom in one room.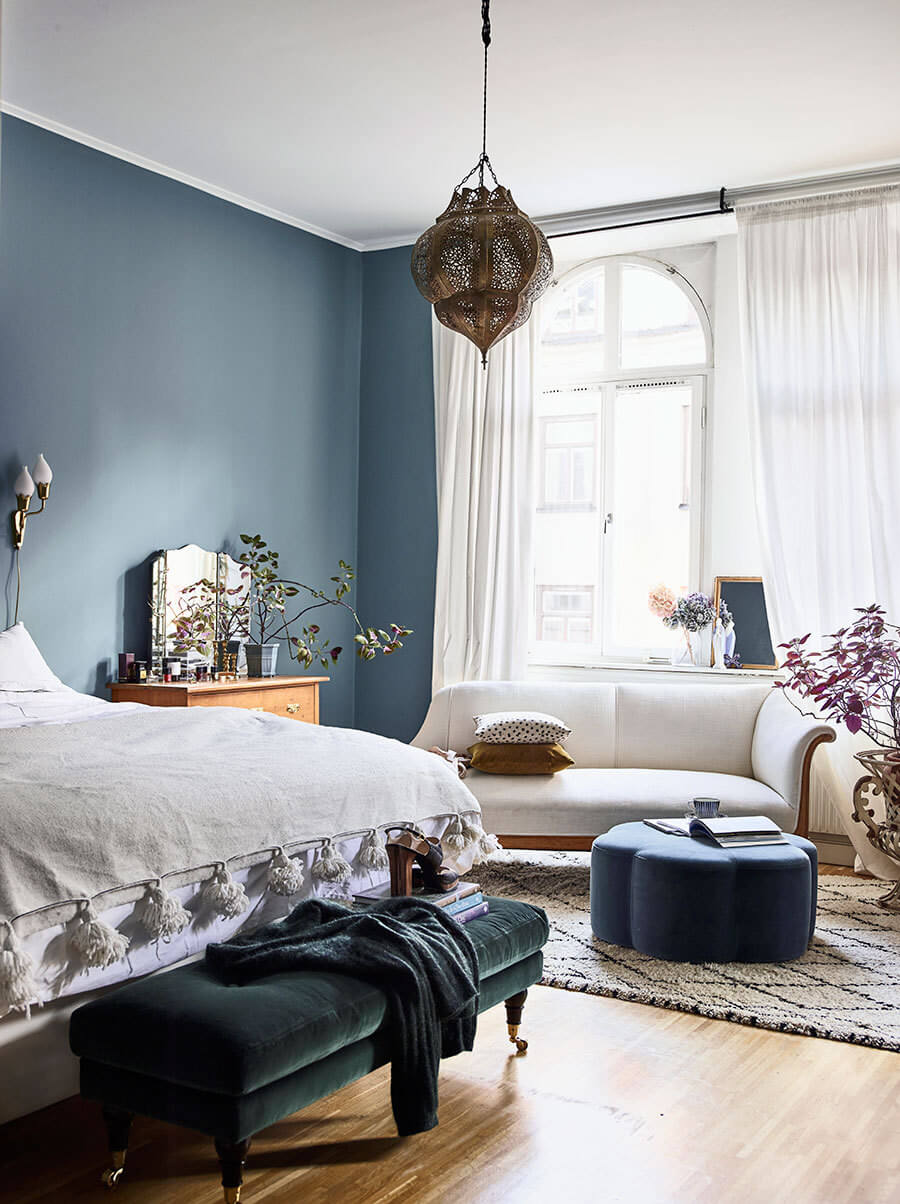 The rug defines the seating area in this room. By placing the sofa at an angle you are not looking at the bed when you're sitting there. I would also choose a storage coffee table.
Usually, the rug is placed in the seating area but in this tiny home, it's the opposite. A large black and white rug is placed next to the bed.
Bed Headboard
The headboard of your bed doesn't have to be placed against the wall. You can place your bed in the center of the room with the headboard as a divider between the living room and the bedroom area.
Loft Bed
Do you have high ceilings? Make the most of them! You free up so much of your floor plan if you have a loft bed. You will have a clear living area and sleeping area. And the best thing is that your bed is not in view when you have guests.
A tiny house in The Netherlands has a comfortable seating area with an l shaped sofa and in the loft, they created the bedroom area.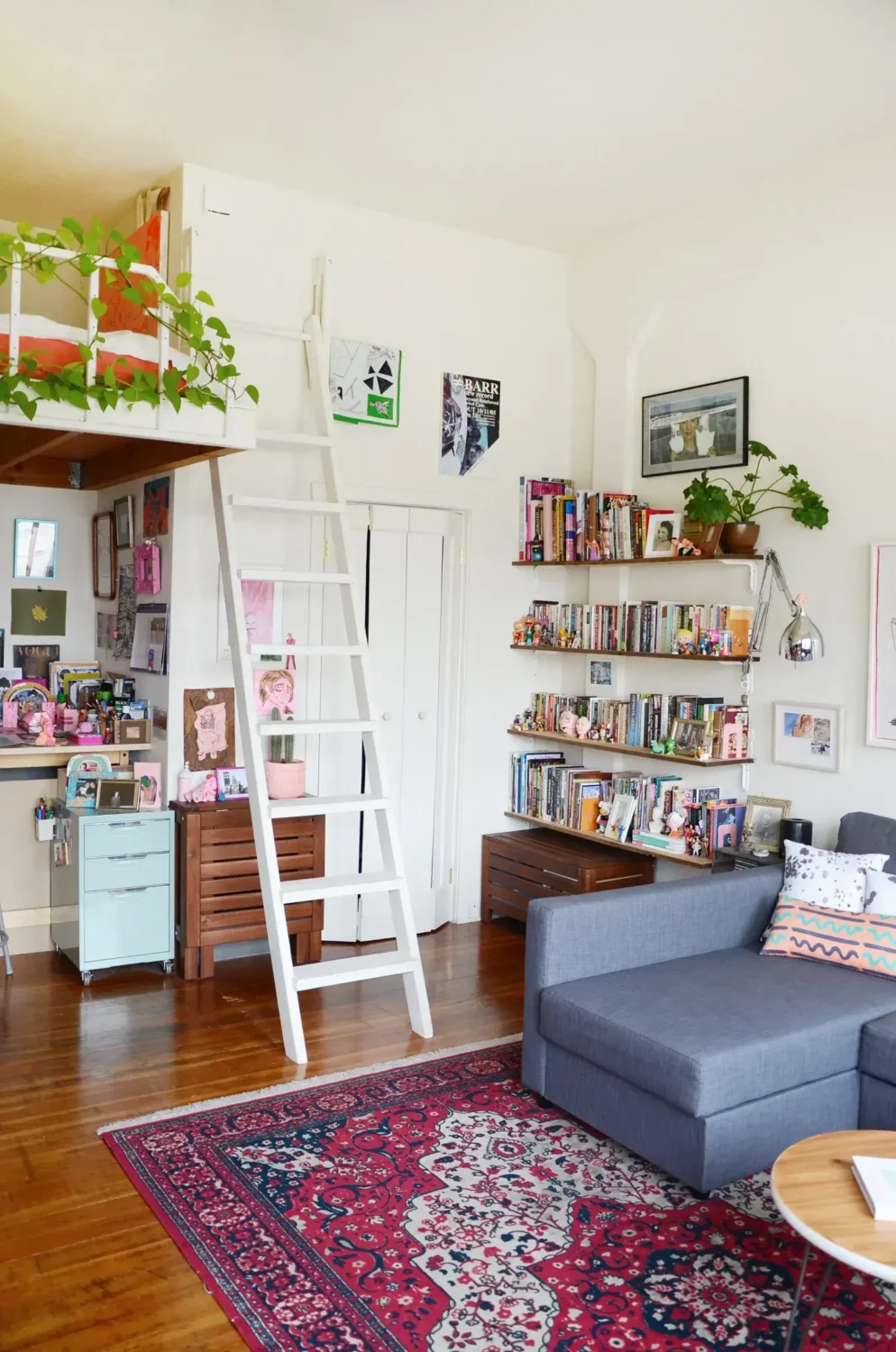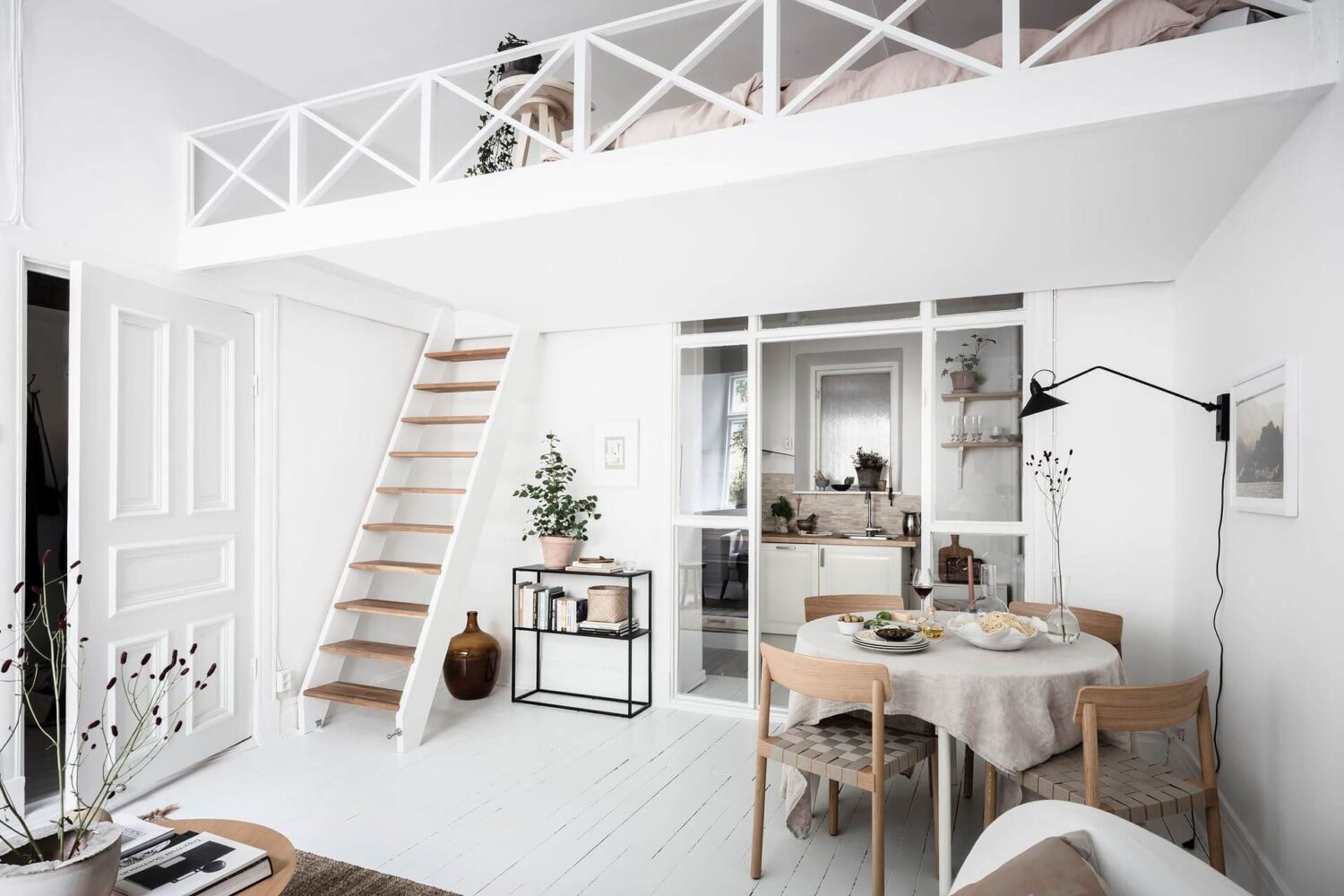 A white studio apartment in Sweden has a loft bed above the dining area.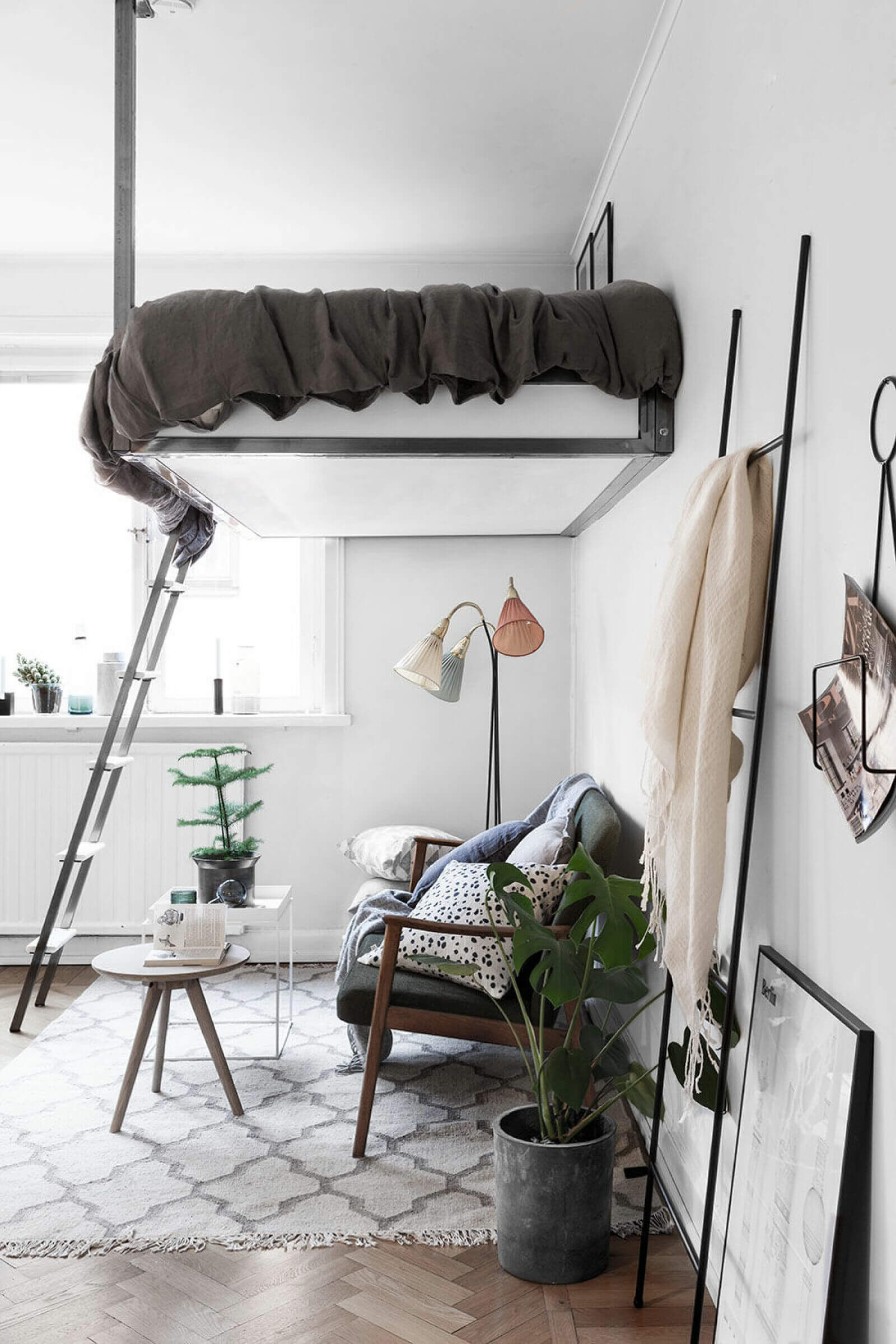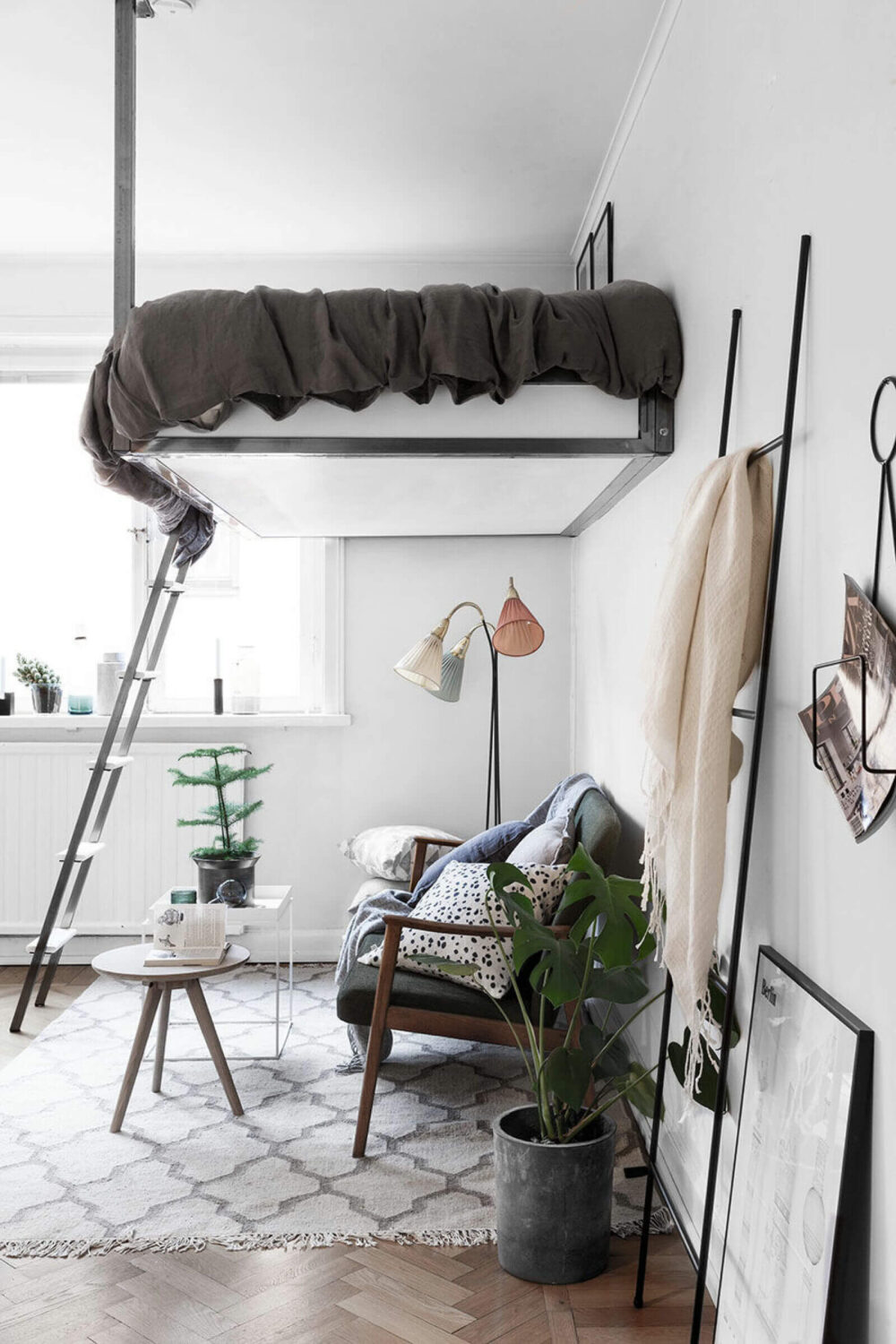 That a loft bed doesn't have to look clunky and big shows this floating bed in a Nordic home.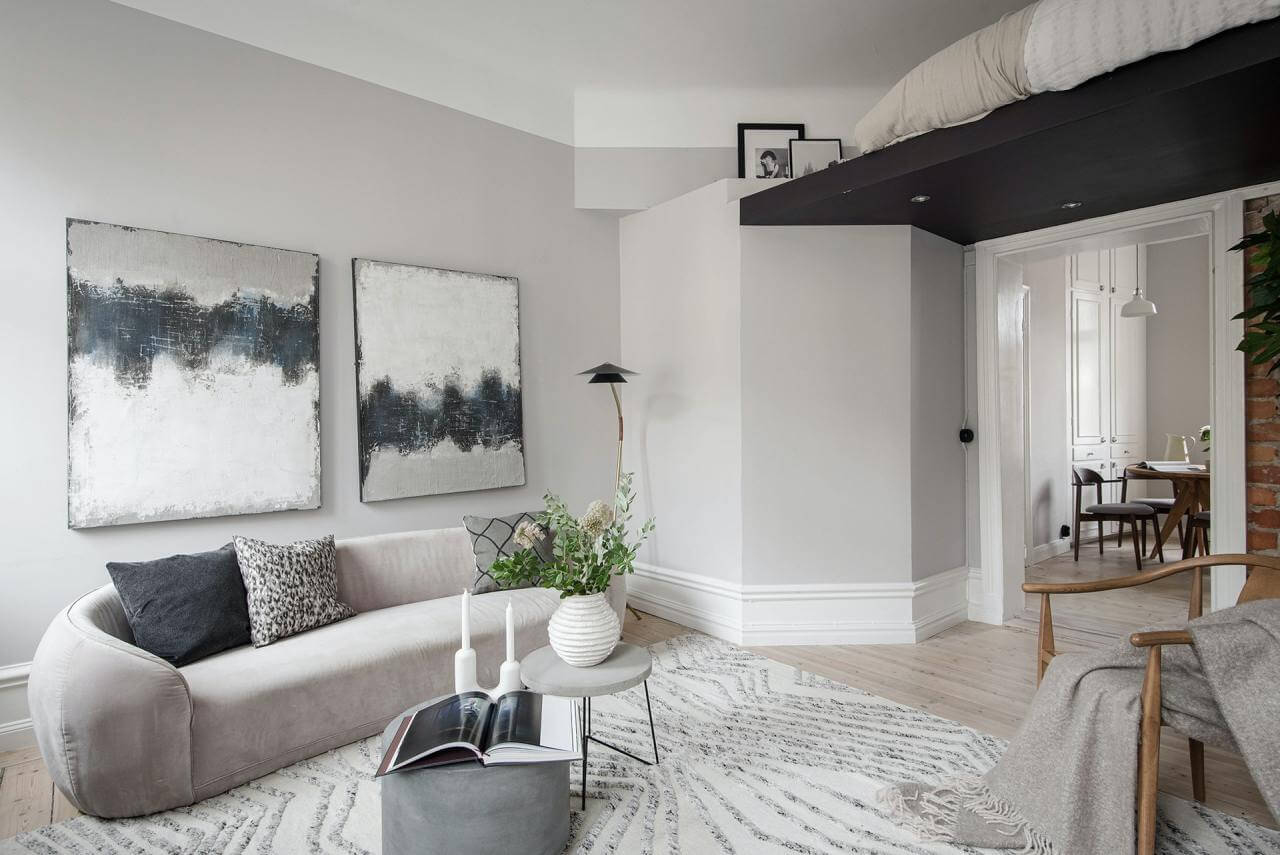 Partition/Glass Wall
A more permanent option for dividing a one-room apartment is by adding a glass wall or a partition wall. The benefit of a glass wall is that it still lets through light, you can even add a curtain if you want to hide your bedroom area from view when you have guests.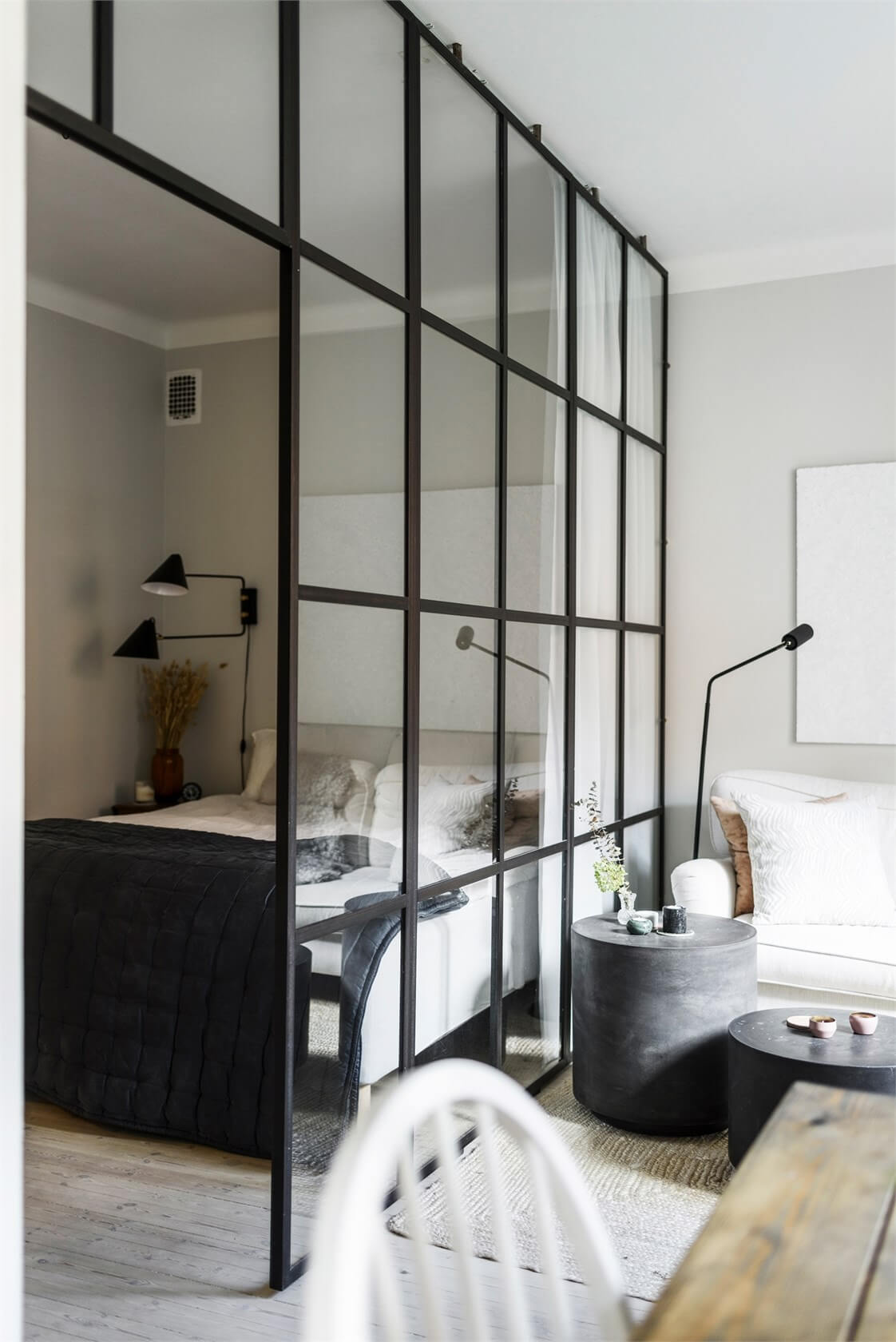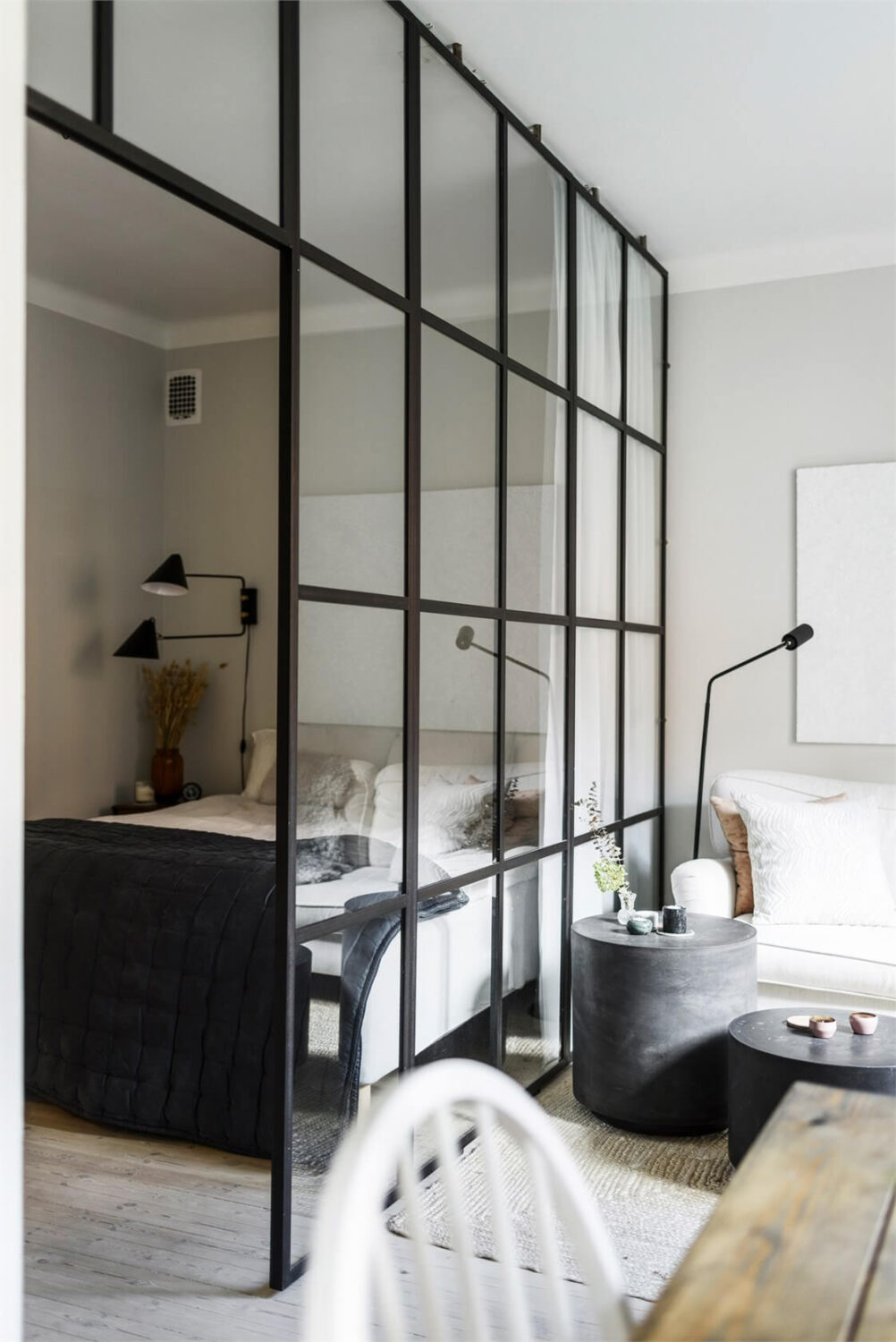 A steel and glass wall has been installed in this one-room apartment to define a clear seating area and bedroom area. They also added curtains so the bedroom area can be closed off completely.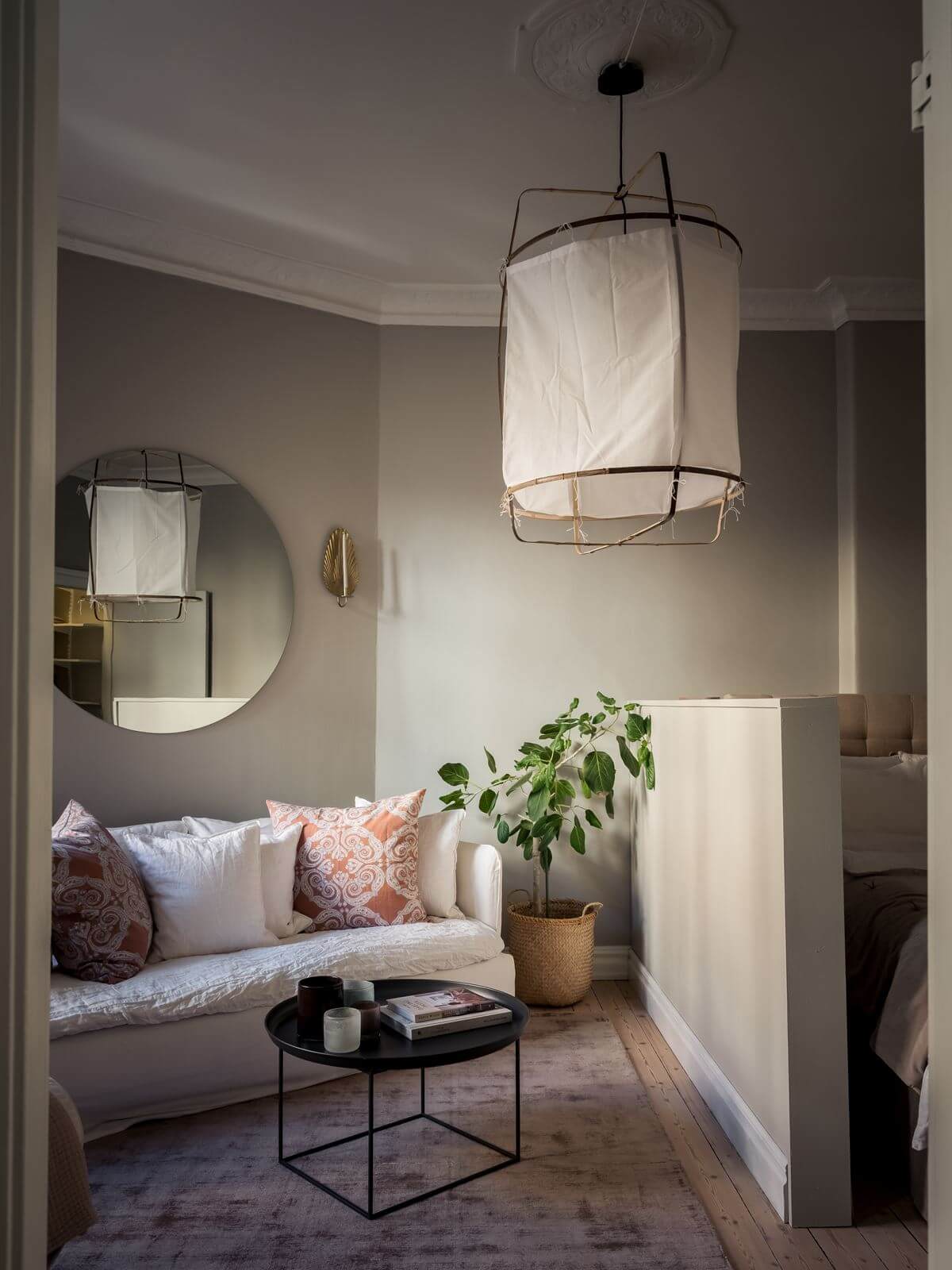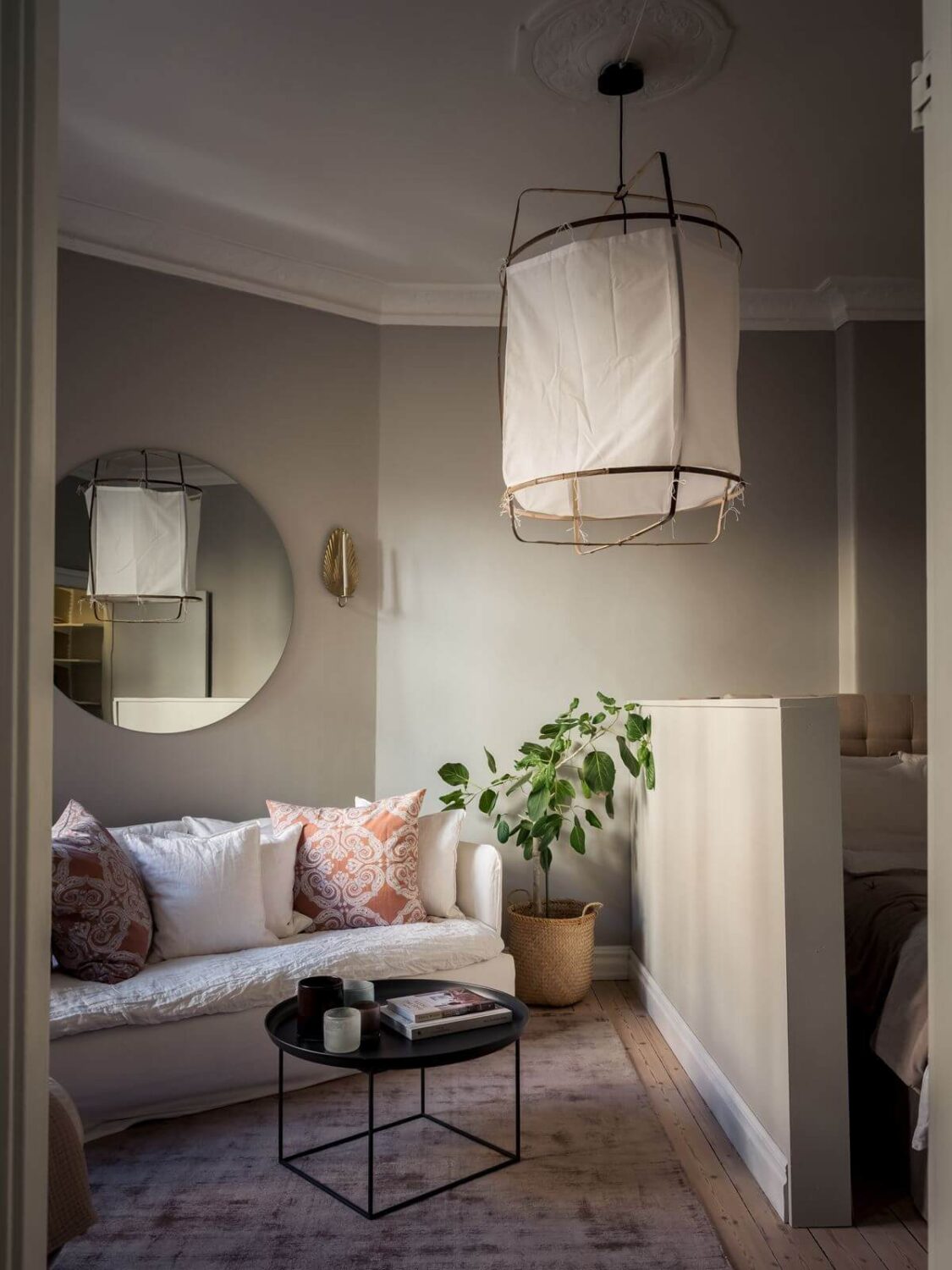 Instead of a glass wall, you can also opt for a half-high wall to create a division between living and sleeping. The bedroom area still gets some light and a half-high wall doesn't feel cramped like a normal wall. This tiny room shows how you can add such a wall.
By adding a wall you create a clear living room feel. The large round mirror is placed as a focal point on the wall behind the sofa. Not only is it a great statement piece but it also reflects light. As the spaces are now so small, it's a great choice to opt for a gray color scheme which gives the room a calm look.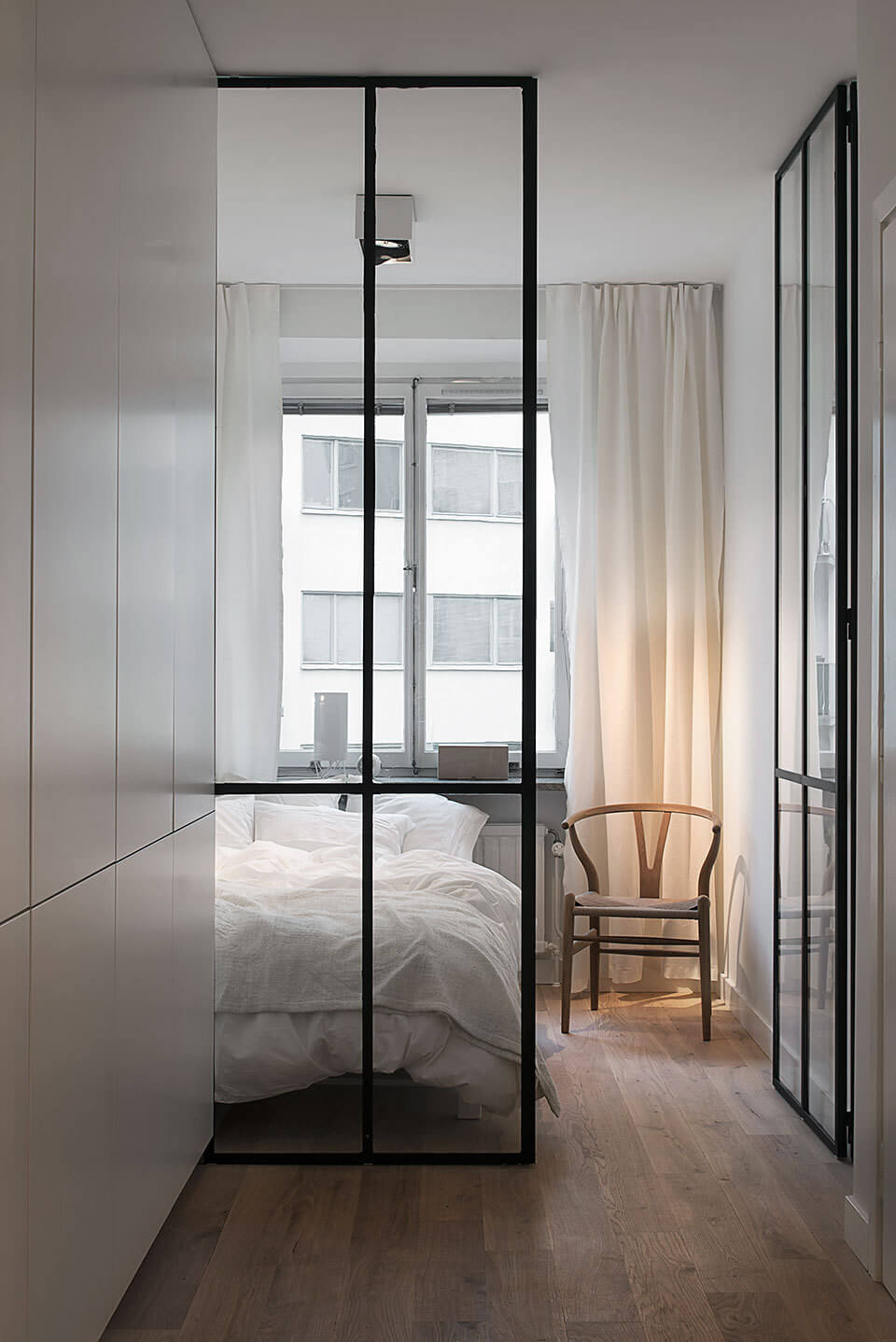 Another steel and glass partition wall to separate the bed. Also not the floor-to-ceiling cabinets on the left, One big storage system looks neater than multiple small cabinets.
Use the Room Layout
If you're lucky, your apartment has a layout that helps with creating separate zones. For example, your room may have a niche, or the room has an l-shaped floor plan. Use this advantage to create your studio.
The large windows in this garage-turned-studio apartment create an open-plan a natural sleeping and living room. The dormer window turns an awkward space with slanted ceilings into a bright open plan studio with much space to move around.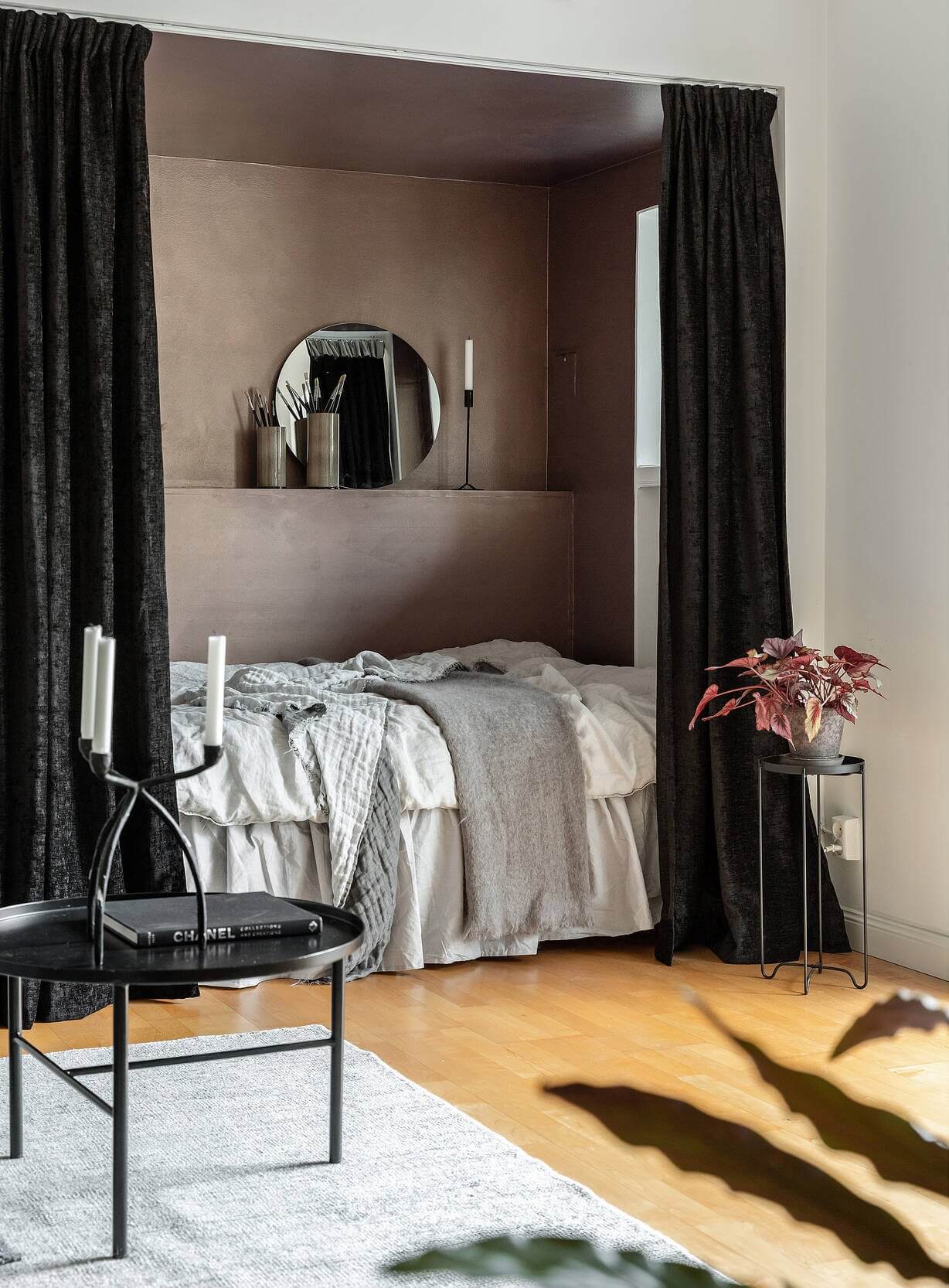 A niche in this one room apartment is a great place to put the bed. It's painted in an earthy pink shade to make it a clear separate area in the room plus it adds a cozy vibe. Dark curtains make this area even more cozy plus the bed can be hidden from view during the day.
The owner of this apartment is lucky to have an l-shaped room. With the arch and the blue tone of the wall, they created a clear bedroom area. You can even put curtains behind the arch, that way you almost create a one-bedroom apartment.
This luxurious l shaped one room apartment has a clear living room space and a bedroom area. The dining table is placed in the center of the room for a more playful look.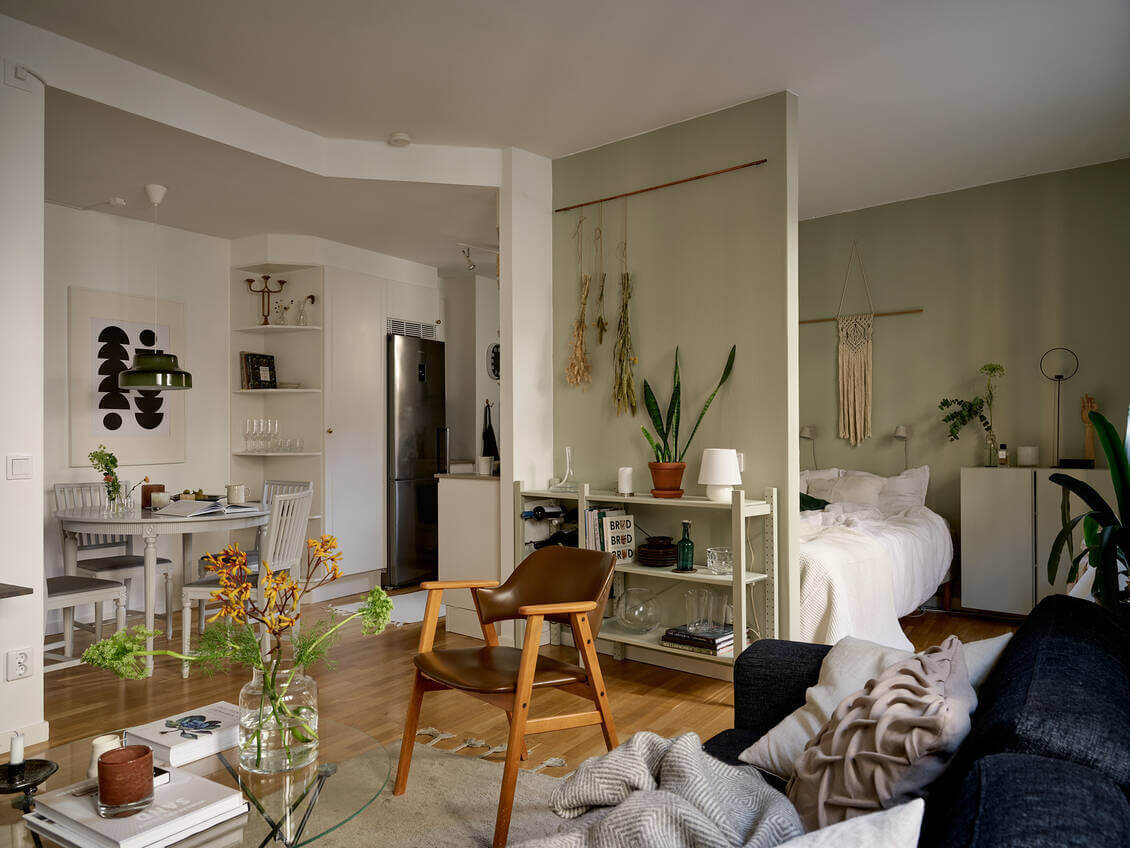 This Scandinavian one room apartment has very clear areas. The bedroom area sits behind a wall, and the kitchen is also hidden from view from the living space.
One-Room Apartment Layout Ideas
We've already seen great examples of one-room apartments. As mentioned earlier, there is no one perfect layout that fits all homes. But there are some key layout tips that can help you design your apartment.
Place the seating area behind the bed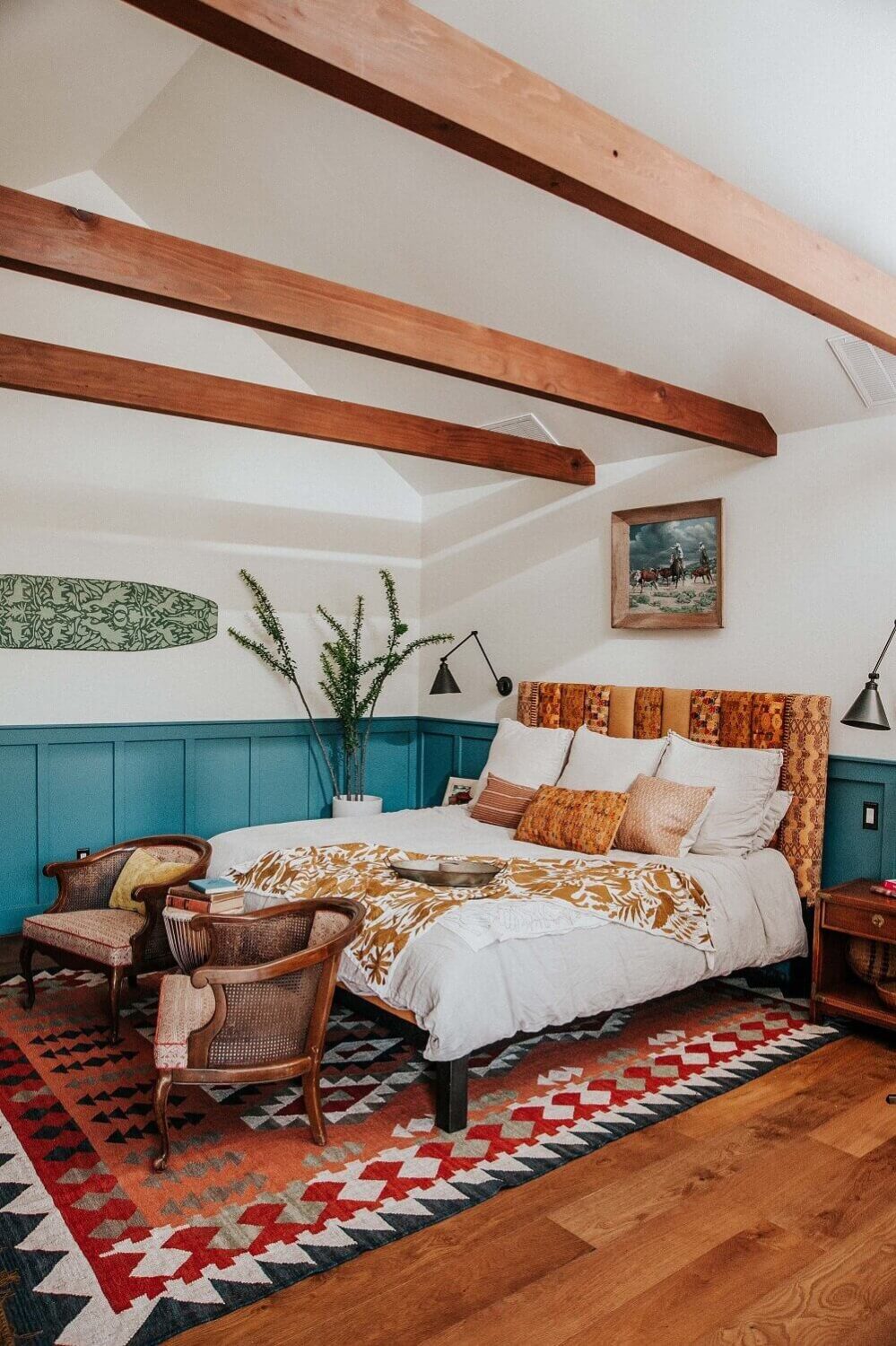 Interior designer Claire Thomas transformed small home into a one room guesthouse. In the combined living room and bedroom she placed two vintage armchairs at the foot of the bed with a side table opposite for a television. This seating arrangement is a great way to design your own home if you live in a narrow studio apartment.
Place the seating area next to the bed
A rectangular space is the most common in a studio apartment. So placing your bedroom area and living area side by side makes the most sense. And by placing your furniture this way you can also easily divide the room into separate spaces.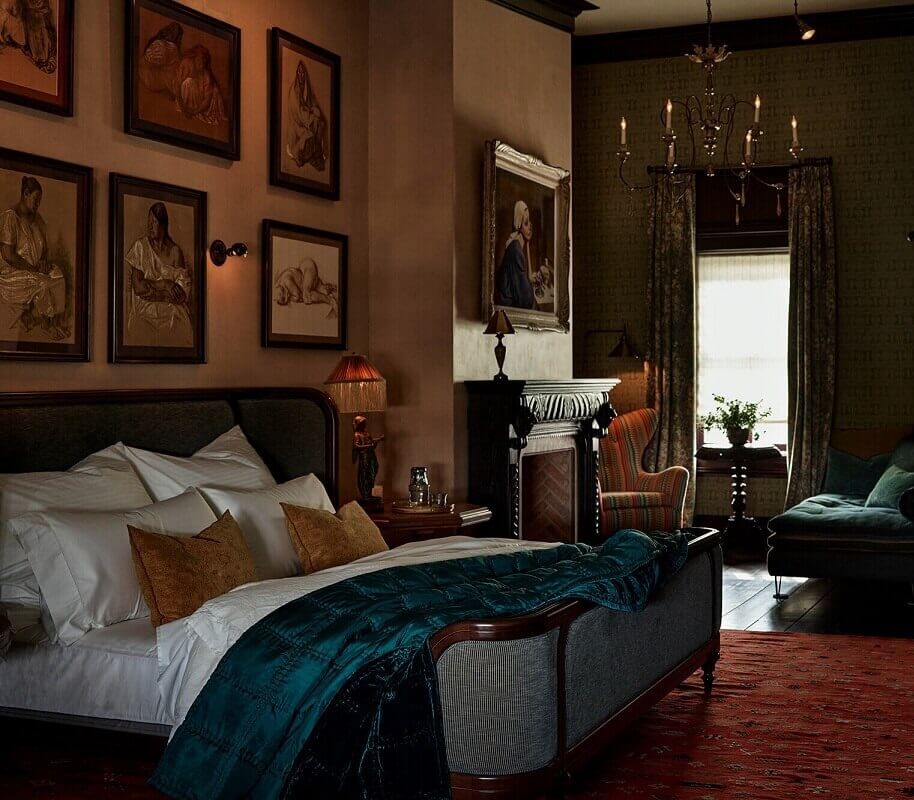 We often see spaces that are designed with contemporary furnishings but this room by The Maker Hotel is a great exception. You can look at normal houses for inspiration for your own home but you can also look at hotels for inspiration as they often have a seating area.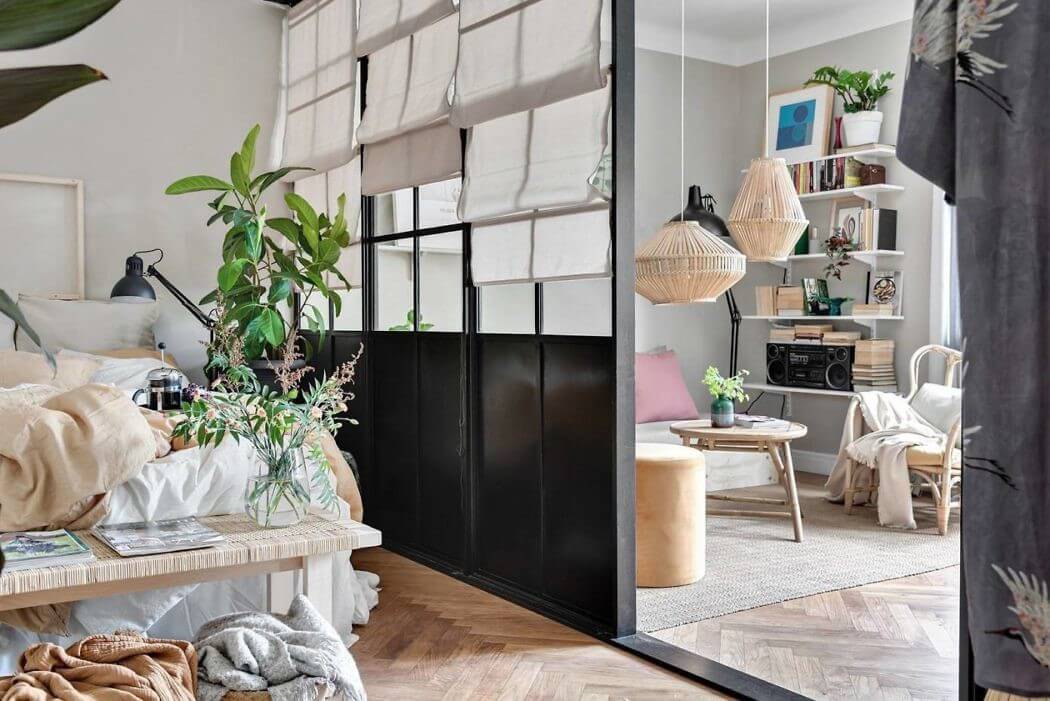 Place your living area under the bed
With a loft bed you free up much space to create a proper small living room.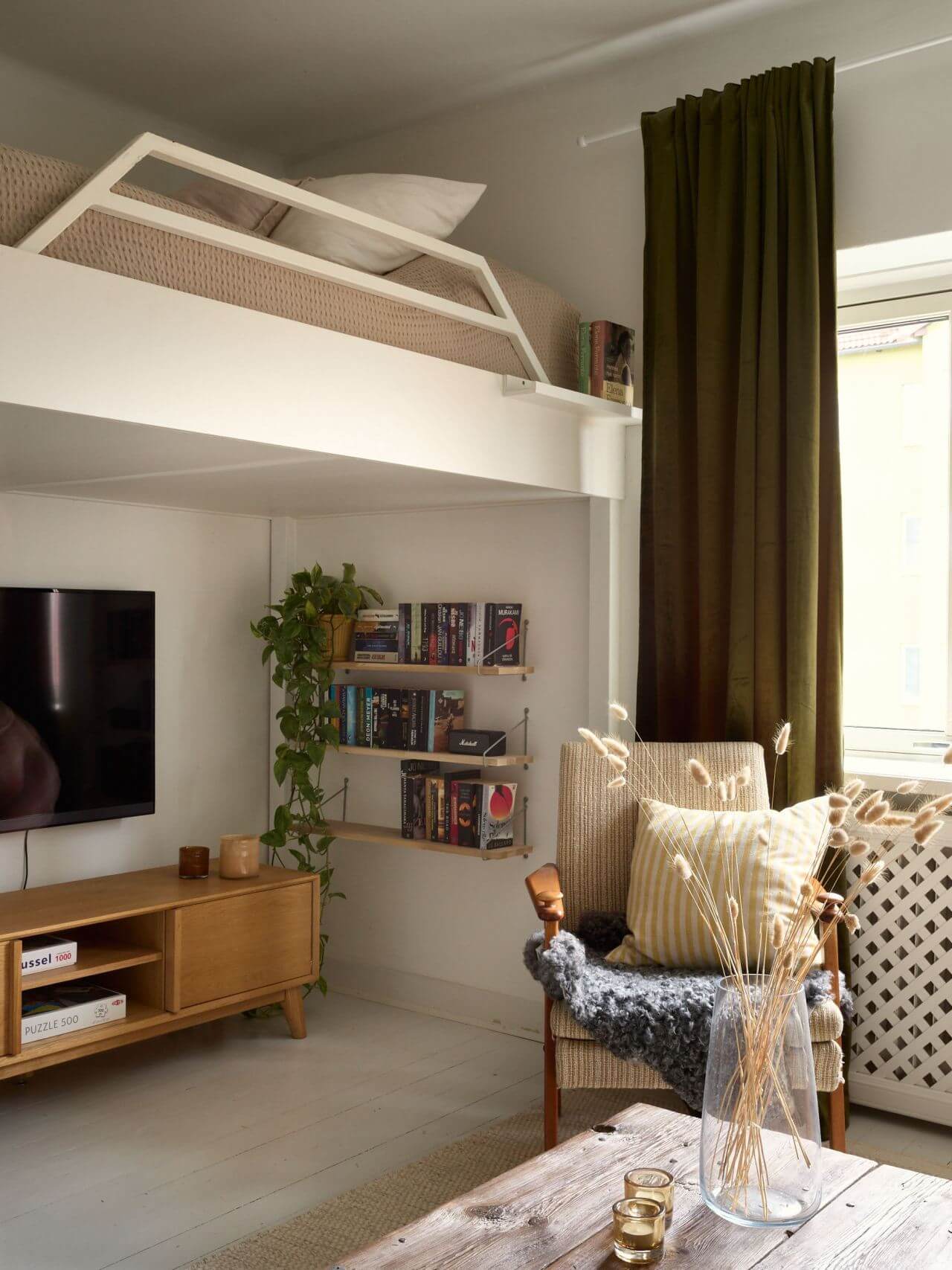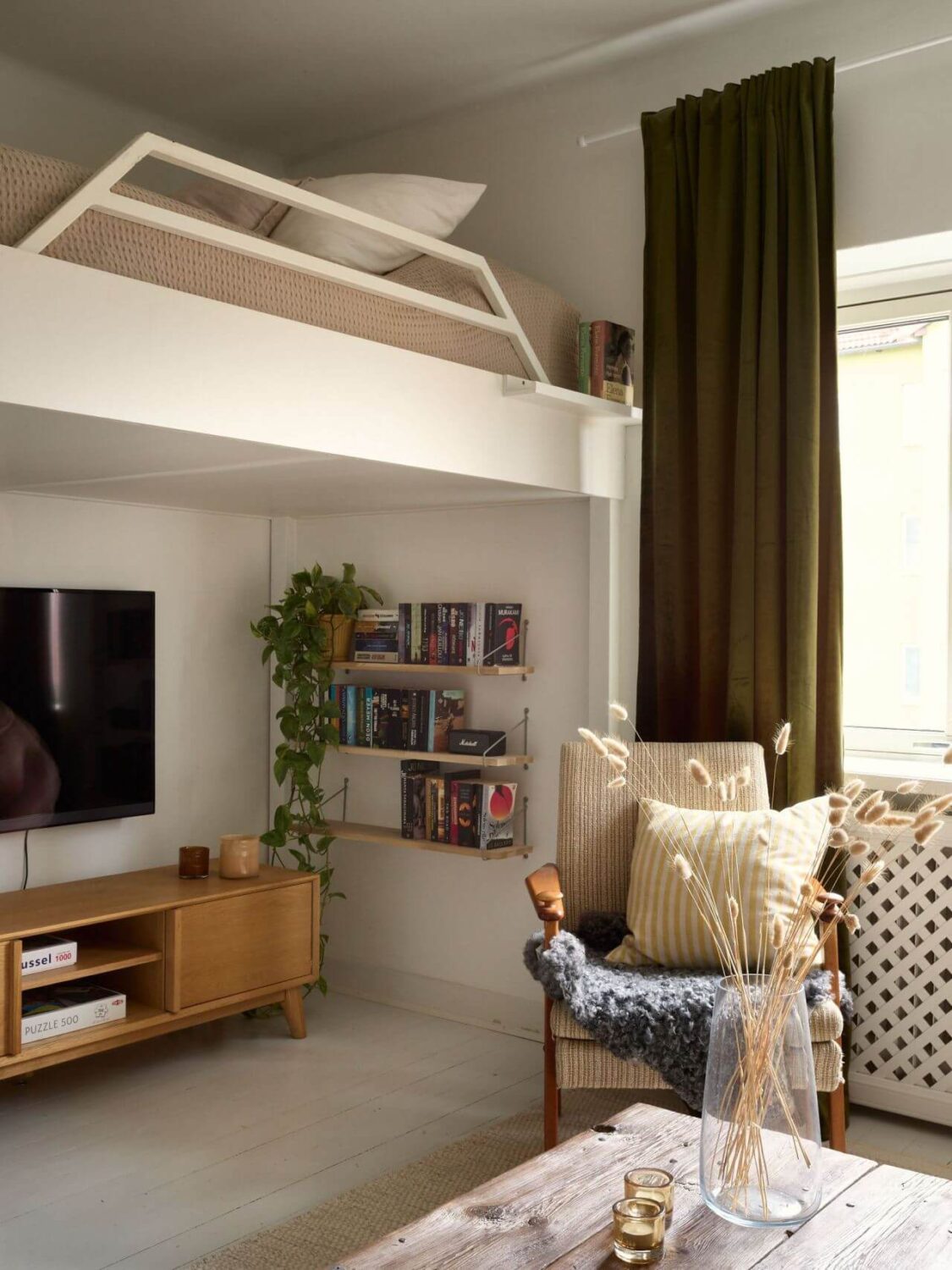 Add a raised area to the room
By using height differences in the room you create natural areas. In this studio apartment by Terreo Studio they placed the bed on the raised area.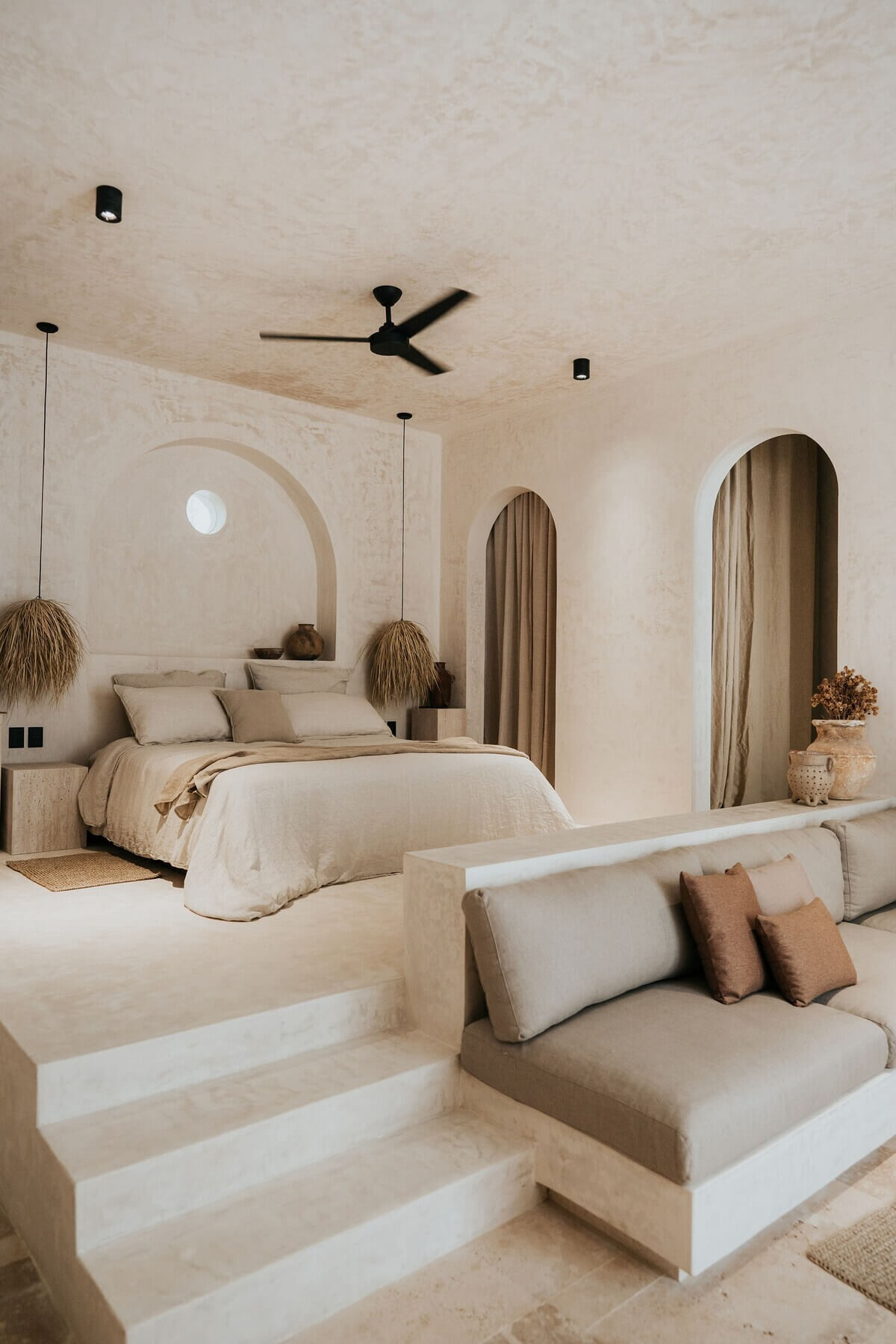 Place your furniture on an angle
Setting up all your furniture pieces in one line might be a bit boring. So if your room is big enough you can place your furniture on an angle to each other for a more playful look.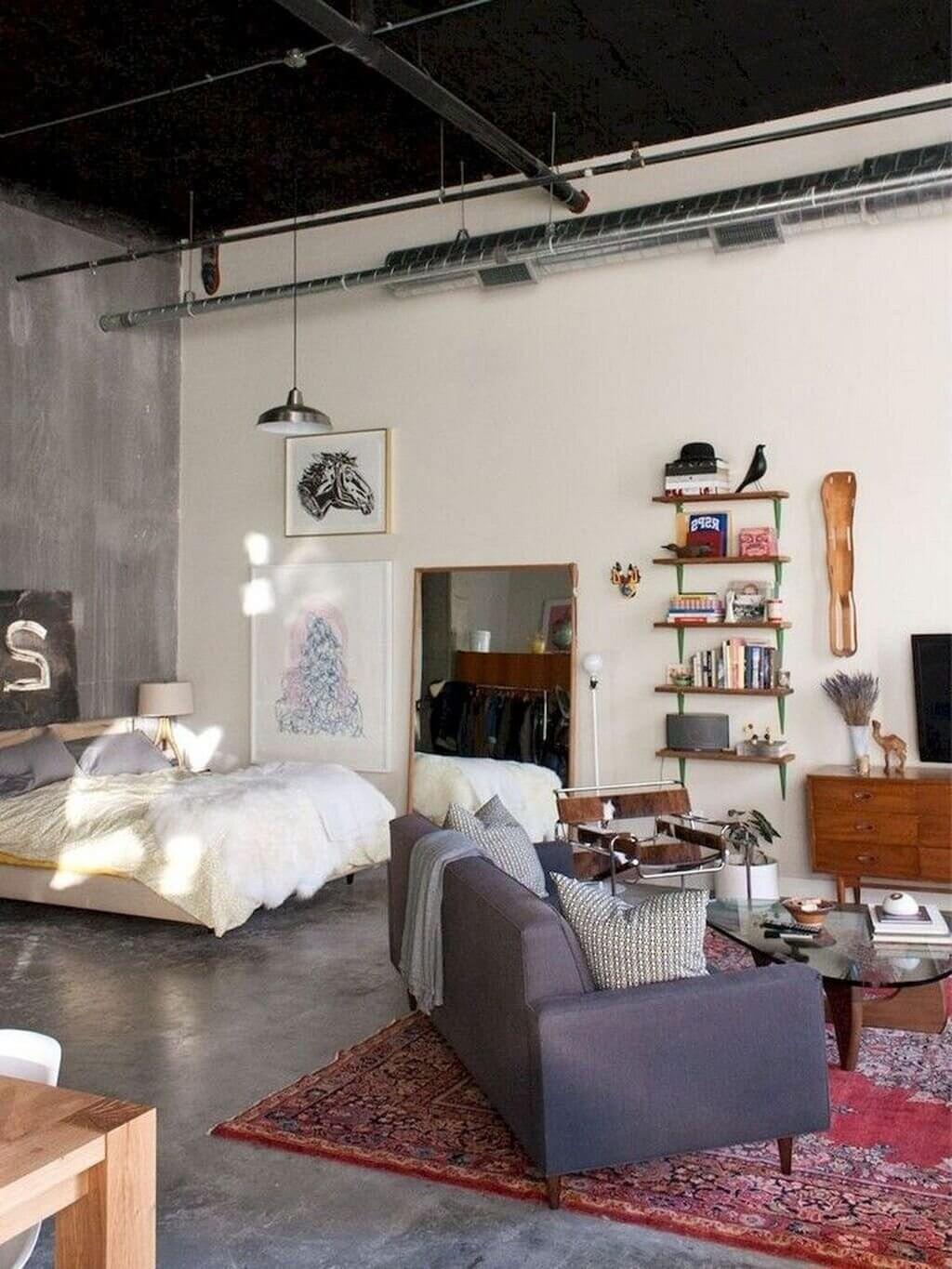 Place the bed and sofa on opposite sides of the room
A bed and sofa next to each other may look a bit stiff, so you can also place these two biggest furniture pieces on opposite walls.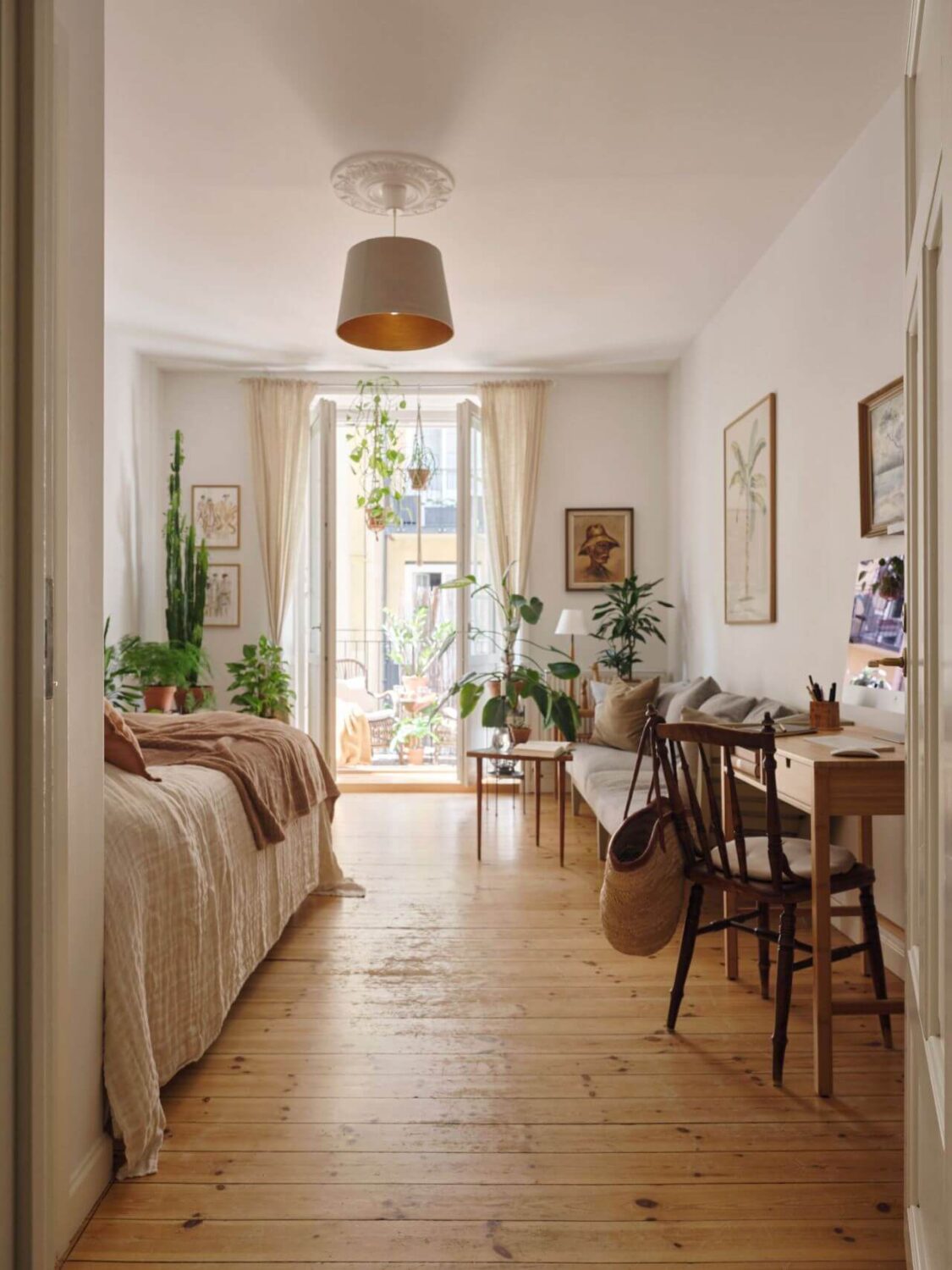 This natural studio apartment has beautiful wooden floors and plants. The sofa and bed are placed on the opposite walls creating a more dynamic floorplan.
How to Save Space in a Living Room Bedroom Combo
Living small means that you have to be clever to not make the home cluttered and messy. There are ways to save space in a one room apartment.
Sofa Bed
Multifunctional furniture is always a good idea in a small home. With plaids, pillows, and throws you can easily transform your bed into a sofa during the day.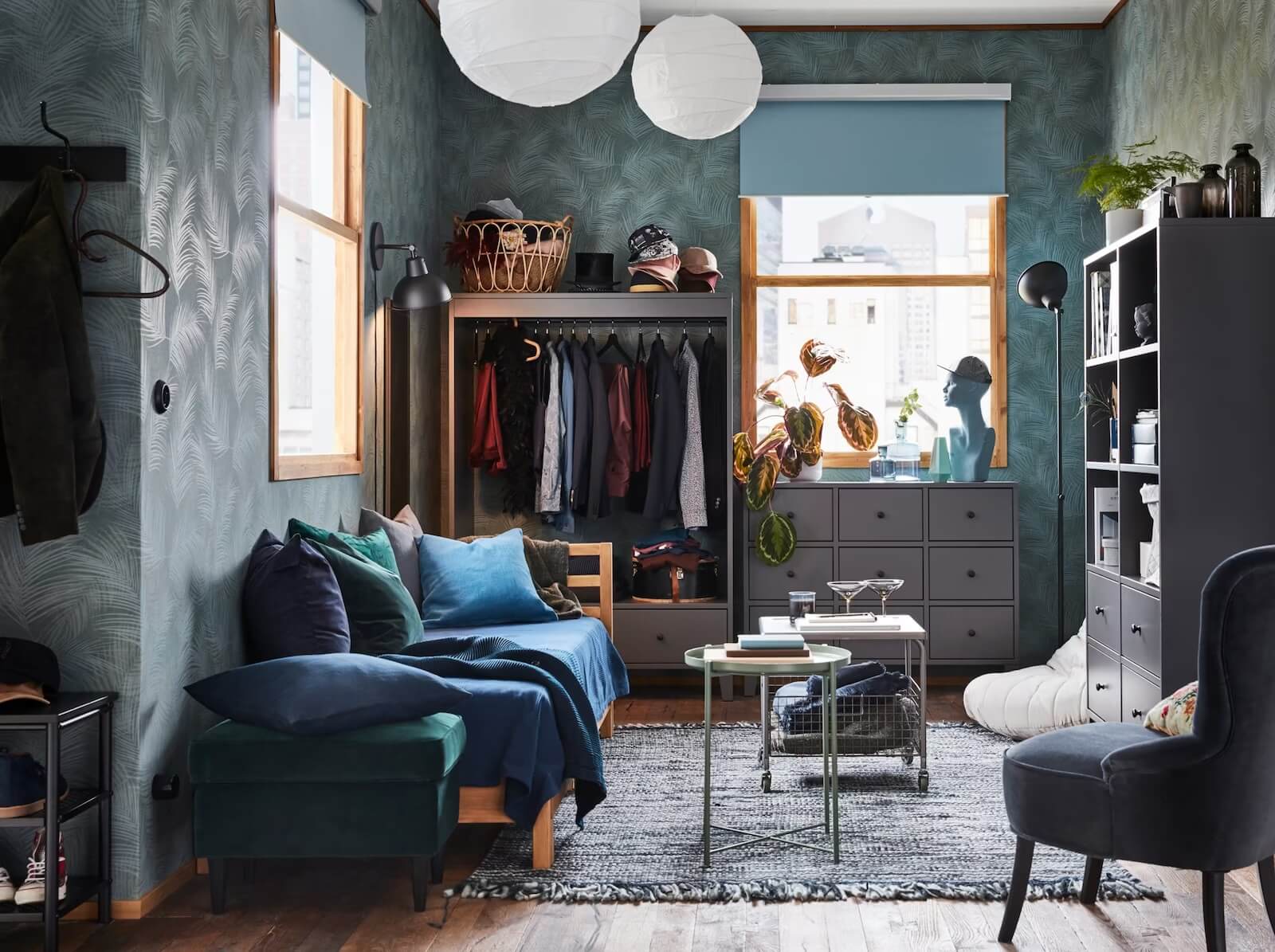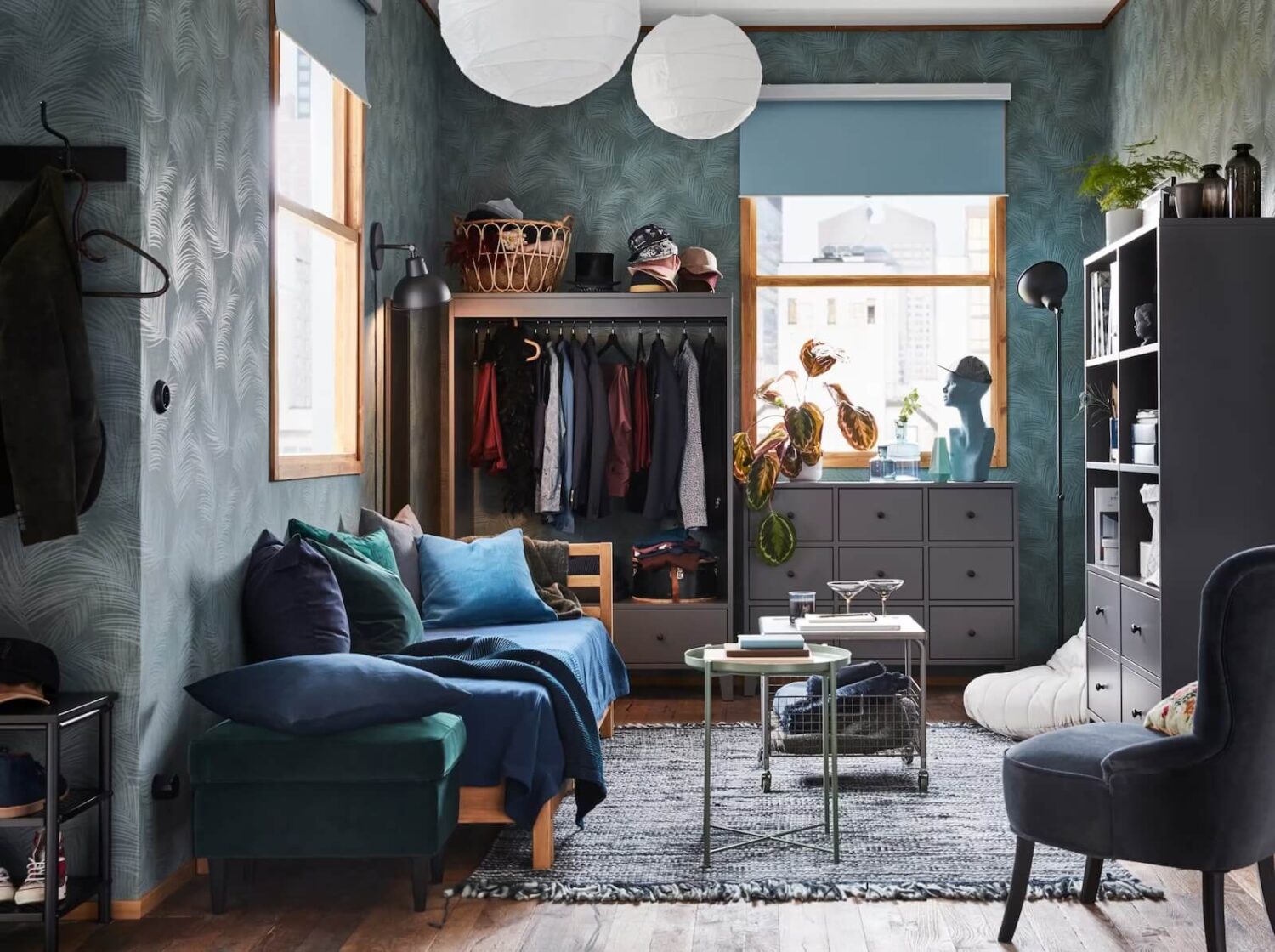 IKEA is the master of small space design and this is a perfect, warm living room bedroom combination. They used the TARVA sofa bed in combination with cabinets from the BRYGGJA line (these are no longer being sold). By using a blue and gray color palette and furniture from the same line they created a calm small home.
The coffee table is another great small space furniture piece. It has wheels underneath and storage space so it's easily put away when you need the space for a bed and it holds throws to make the room cozy. And next to the bed/sofa they placed a storage ottoman which has different uses: it can be used as a nightstand, it's extra seating when you have visitors, and it is a storage piece.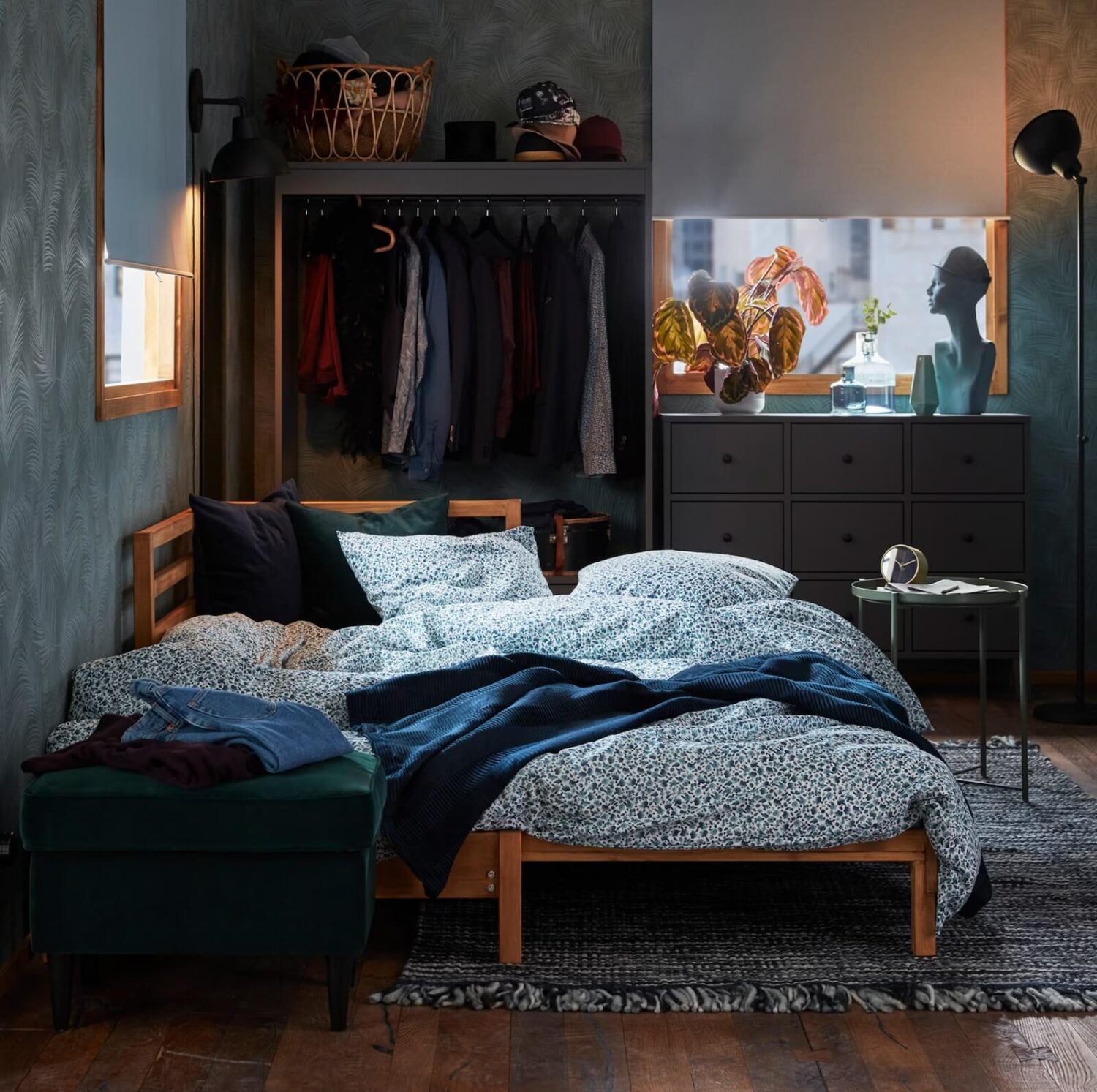 Murphy Bed
A murphy bed is a great option if you don't want to have your bed in view during the day or if the room doesn't have much floor space that you need the space to move around during the day.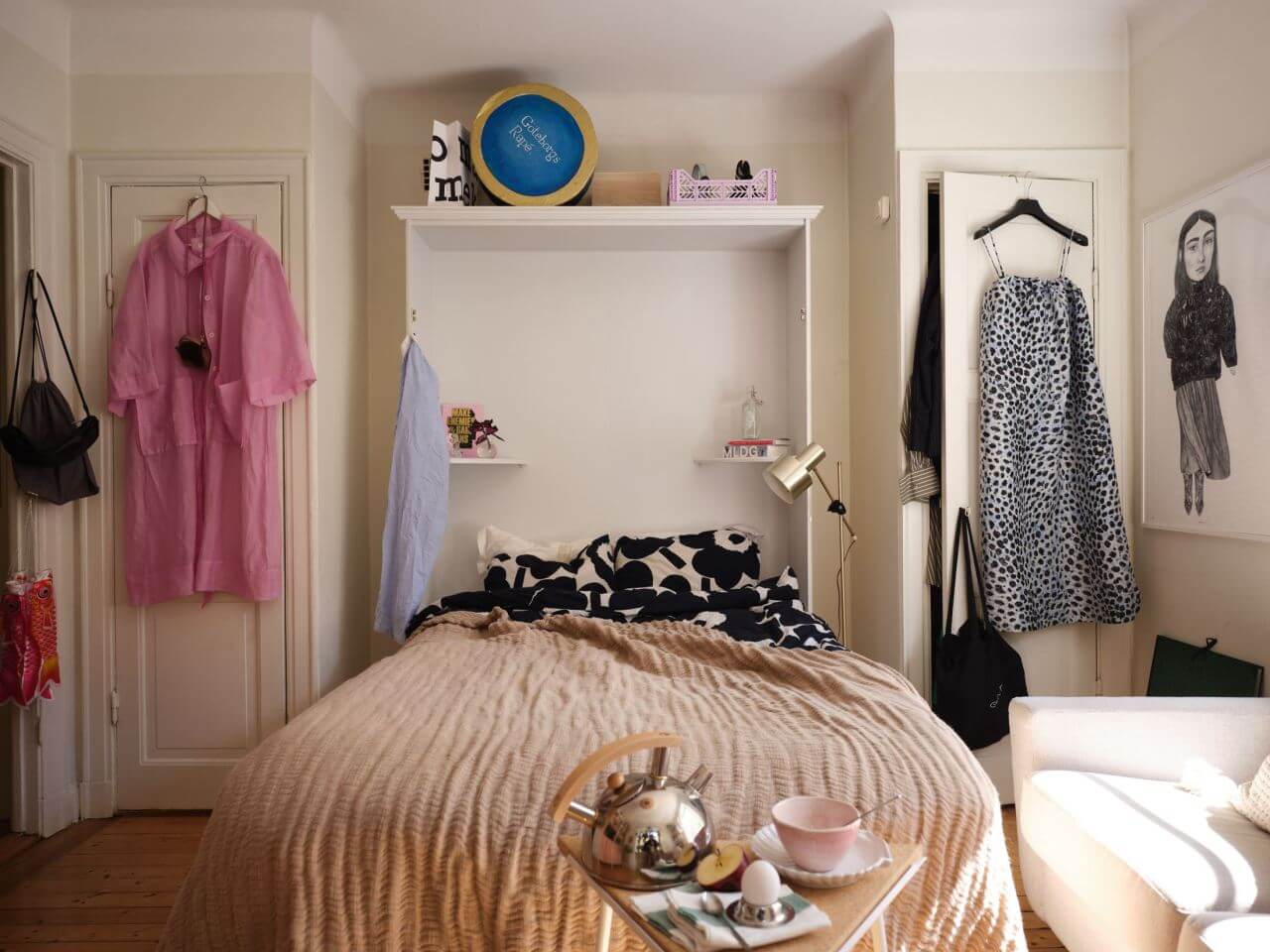 Multifunctional Furniture
As mentioned, multifunctional furniture is key when living in an apartment with limited space. A bed can be a sofa, a dresser is also a nightstand, and a nightstand can also be a desk.
The wall mounted desk and shelf system also functions as a nightstand and side table.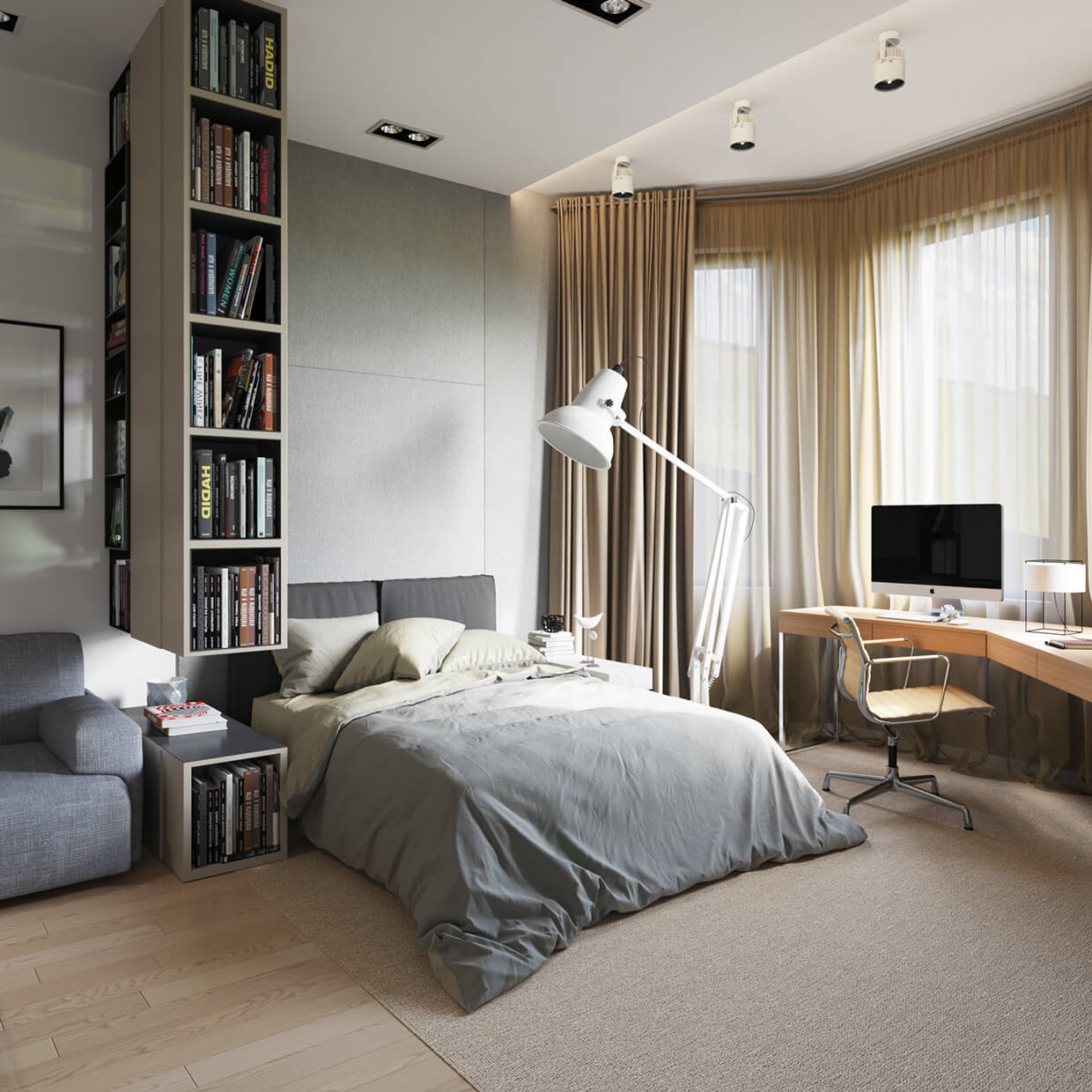 A sleek modern one room apartment with a floating cabinet between the bed and the sofa. It functions as room divider and storage. I also like that the work area is prominent in this space.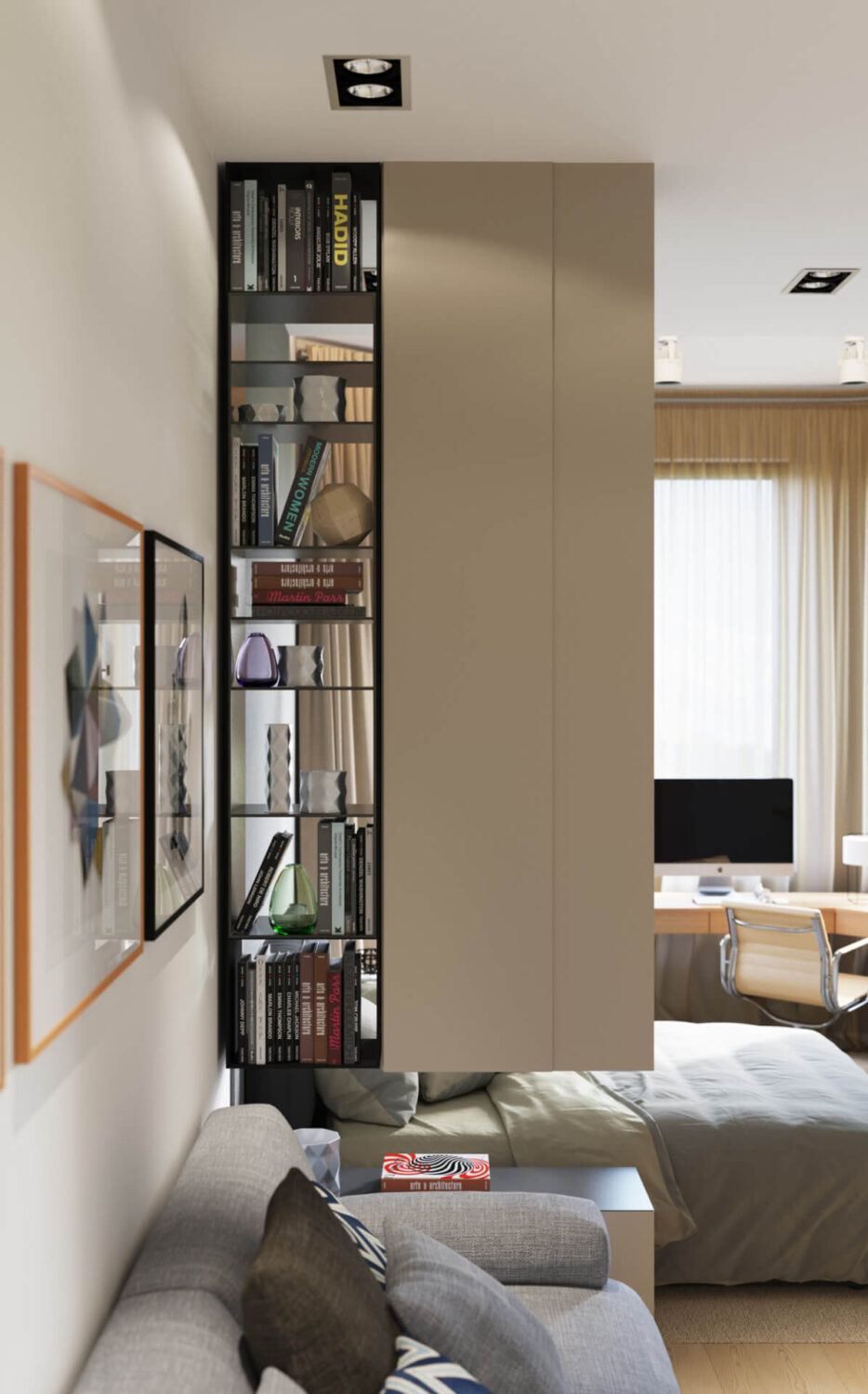 Storage Furniture
A small room needs to be kept clean for it to function well. Make sure there is enough storage in your room. Find storage space in spaces you usually forget such as under the bed or above the doorframes. And one large piece of furniture that provides storage is often better than several smaller ones.
This storage unit creates a separate bedroom zone and it provides plenty of storage. Make sure to use the height of the room to add storage.
This gray IKEA room features a sofa bed and an IKEA storage unit hangs above the bed to provide much storage.
Color Palettes For A One Room Apartment
The most common thought for a small space is to use lighter colors. A light color palette with neutral colors can make a room look bigger and as a one-room apartment isn't usually very big this might be one of your priorities.
However, you do not need to add light colors if you live in a small space. Dark colors add a cozy look to your home and if you prefer dark blue over white why shouldn't you use it?
Blue and Gray
As the room is already small, it's a good choice to choose a calm color palette. Blue and gray are two timeless, calm, and neutral shades that work perfectly together into creating a serene home.
That a one-room apartment can look luxurious shows this Swedish apartment. The color palette of blue and gray in combination with historic architectural features and high-class materials create a stunning and calm home.
Black
Can I paint the walls black in a one room apartment? Yes you can opt for a black color scheme. This gorgeous studio in Australia is painted completely black. Interior designer Rebecca Jansma created this cocoon like space where black is combined with earthy textiles and wood.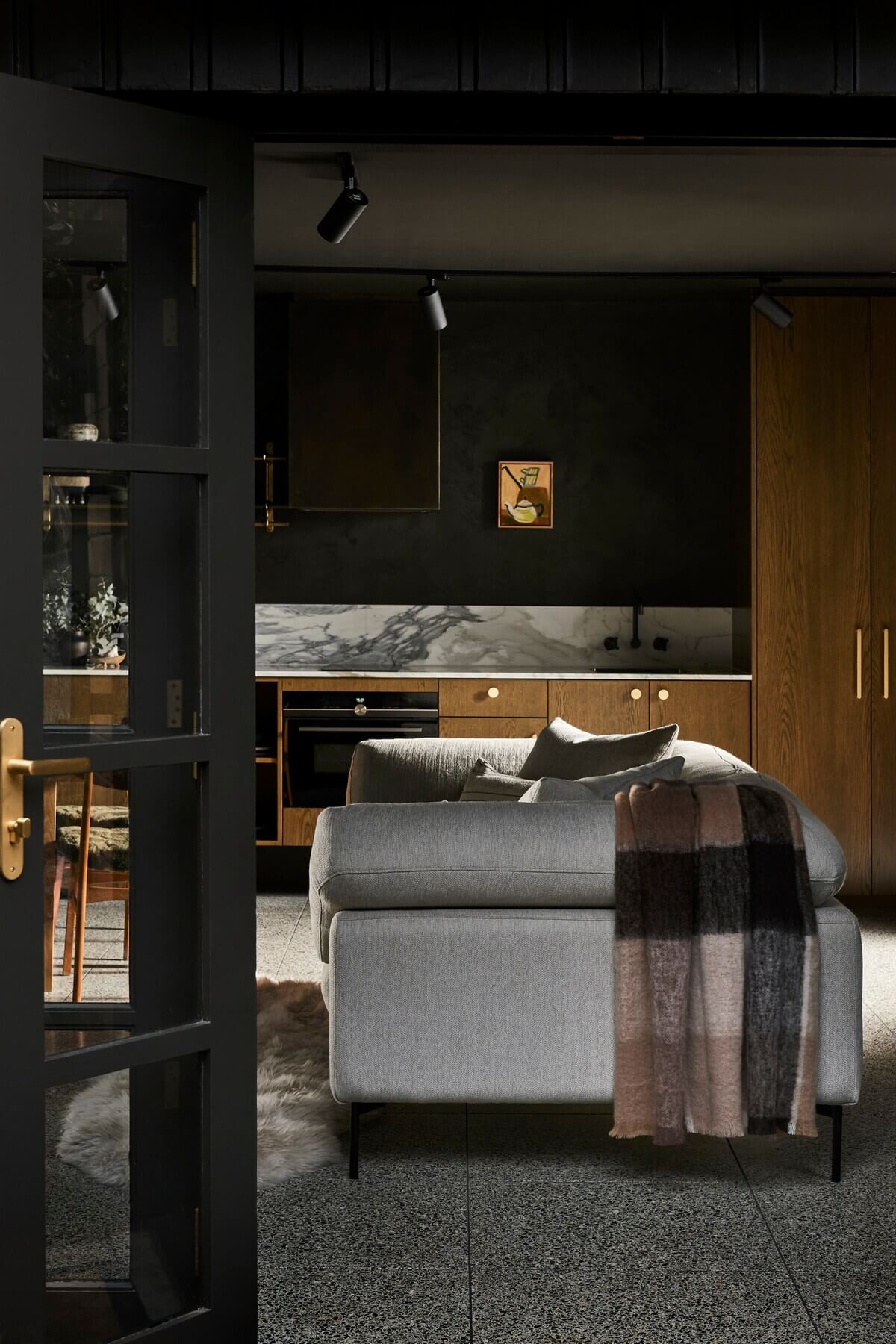 White
You can't go wrong with a white color palette. White is timeless and makes a room feel brighter and bigger. You can add color with decor pieces or you can opt for a neutral white palette by combining white walls with wood and natural materials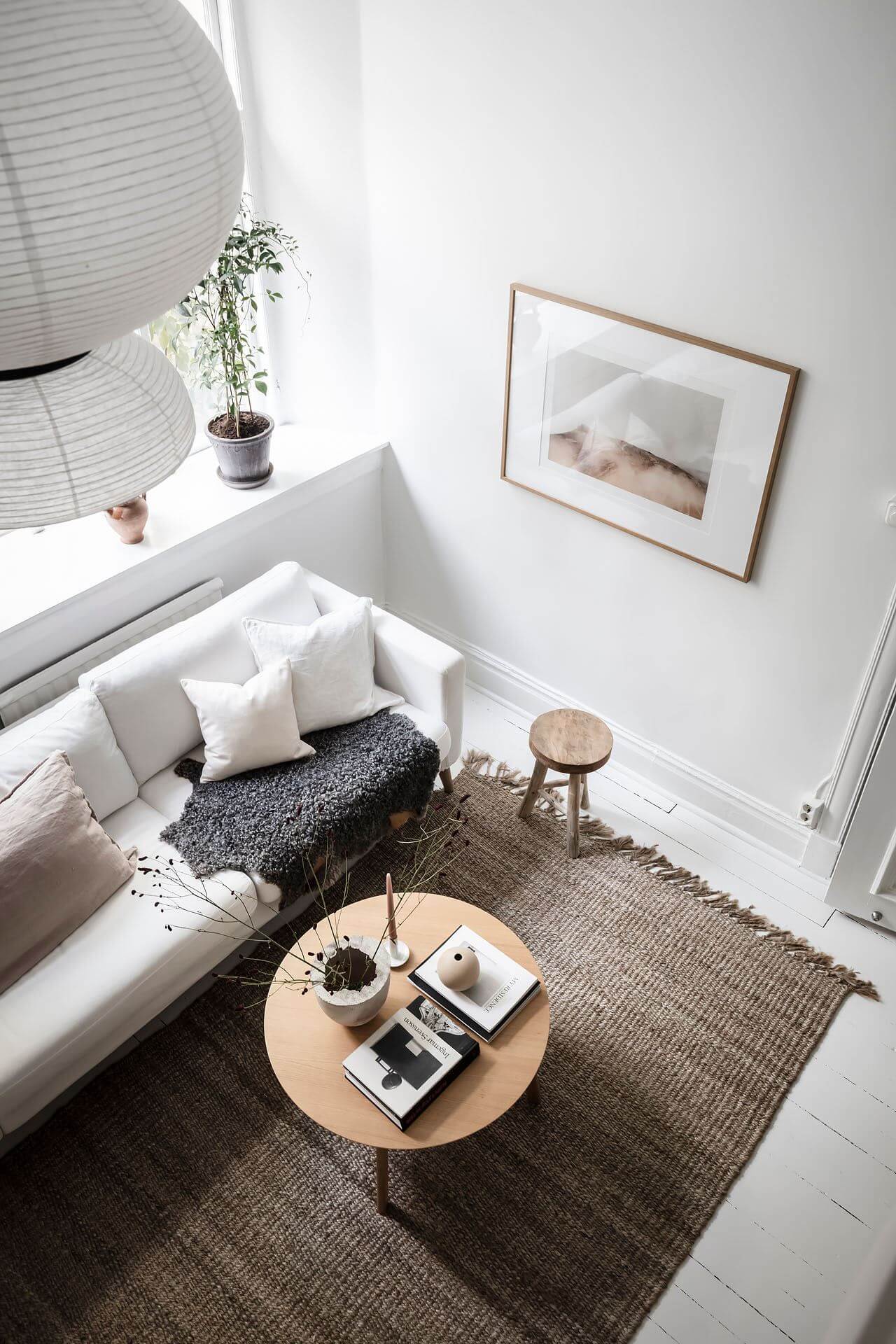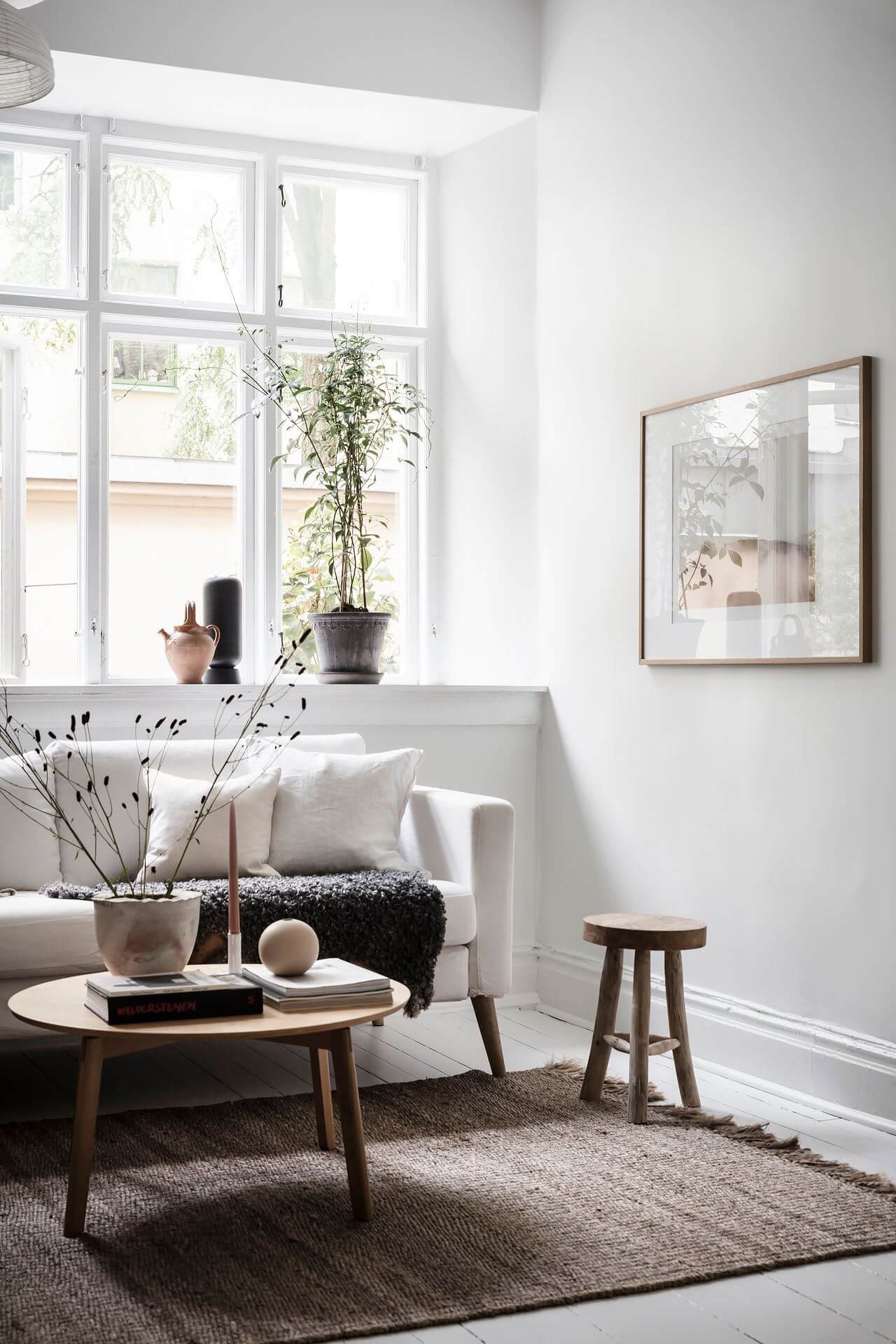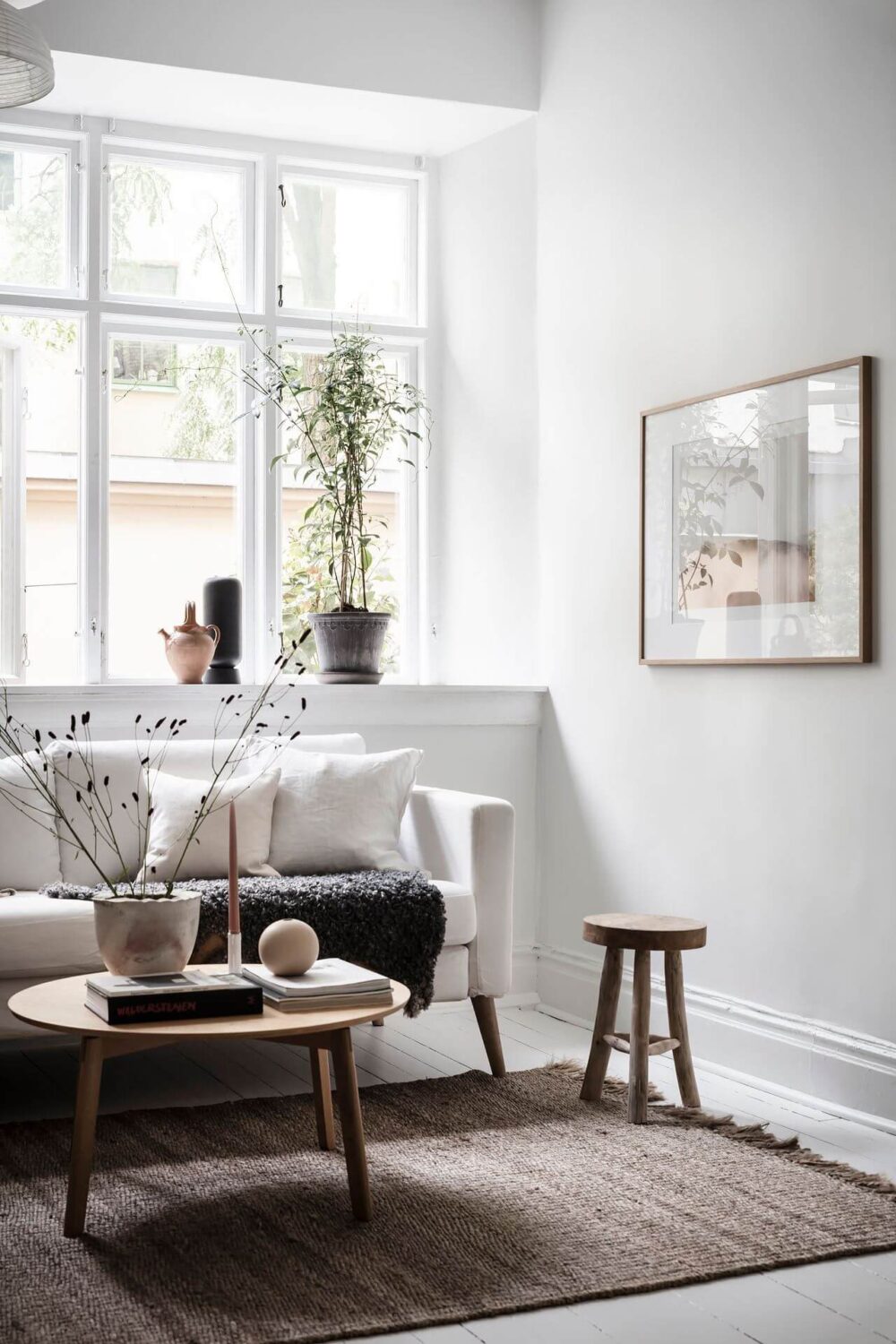 Light and Dark
Light and dark is always a great paint idea. For example in a studio apartment you can choose to have a light living space and make the bedroom area a cozy cocoon by adding a dark paint color.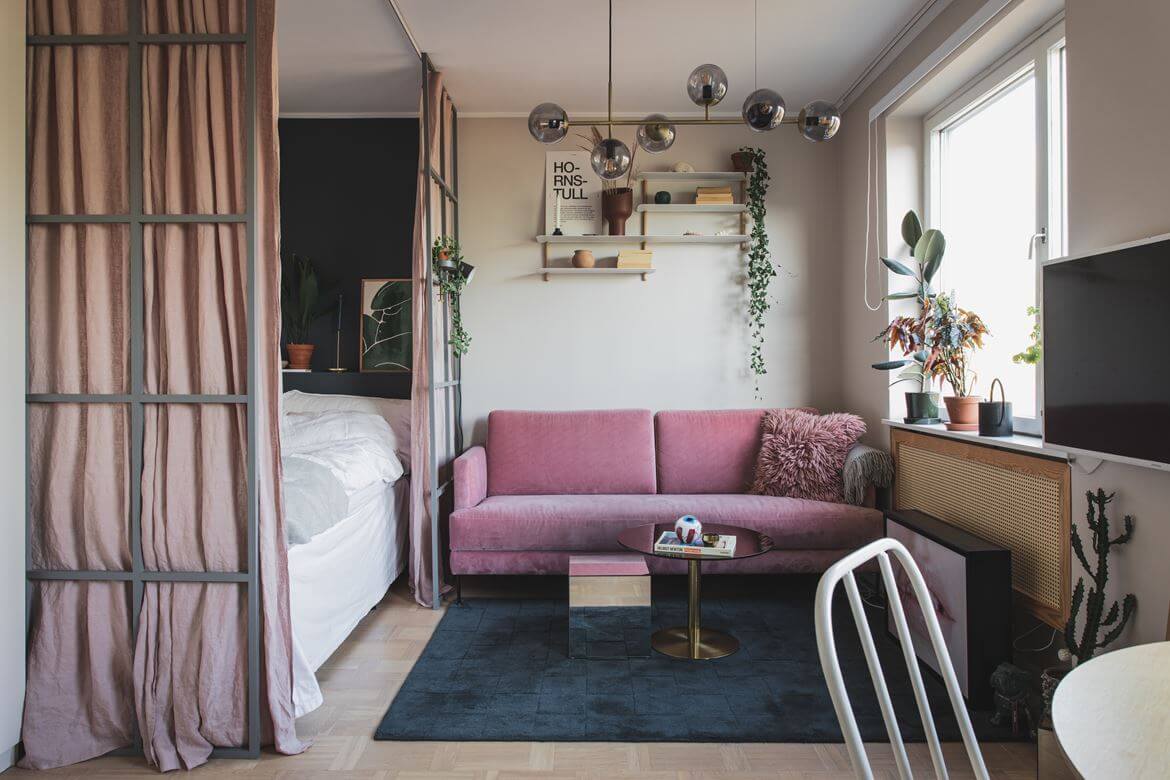 The bedroom is a different zone in this tiny space. The steel frames with curtains already show that, but the dark blue wall accentuates that.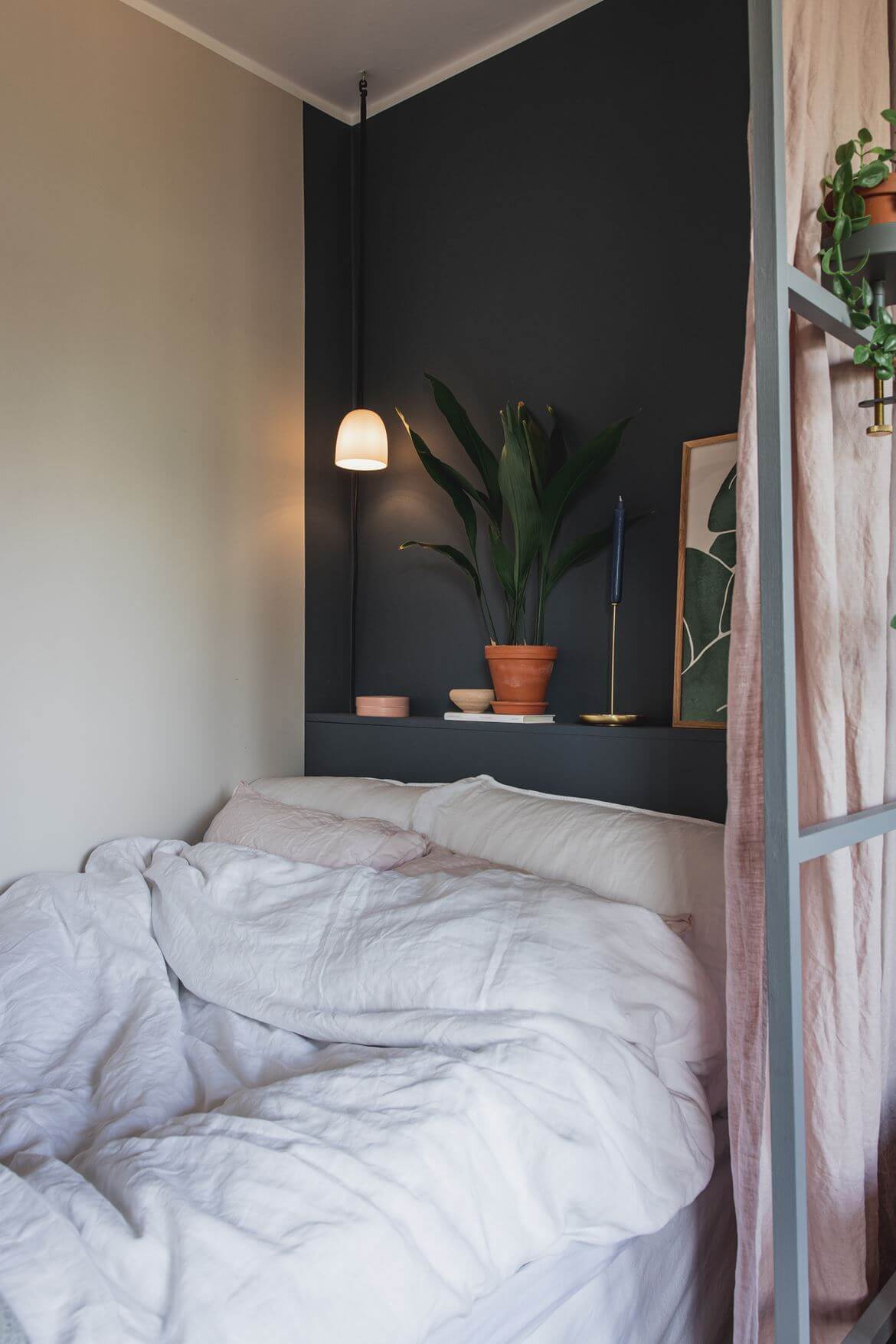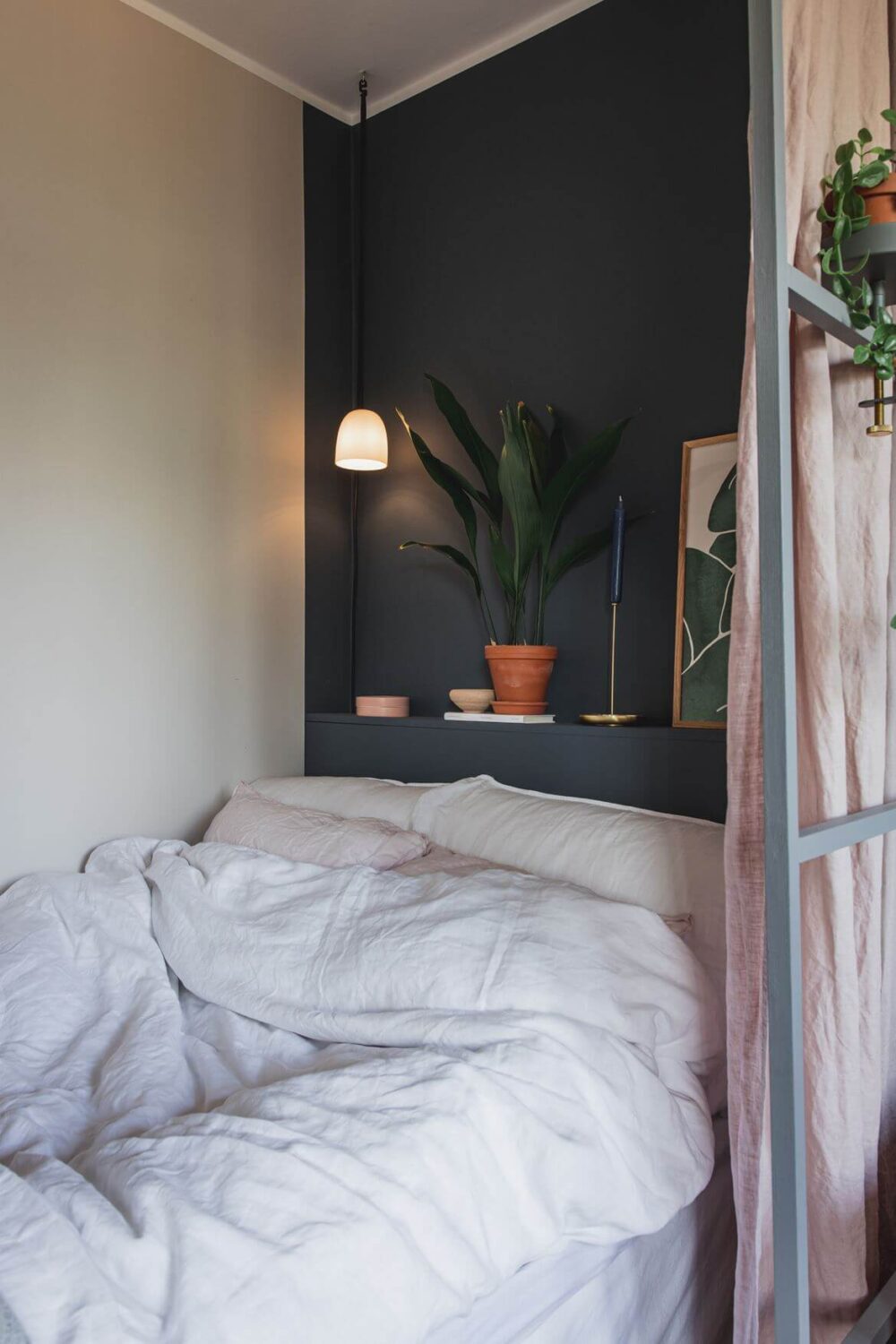 Also note the little ledge that works as a headboard and nightstand in one.
Calm and Vibrant
Pick and calm base color like gray or white and spice this up with a vibrant shade that you can use as accent wall.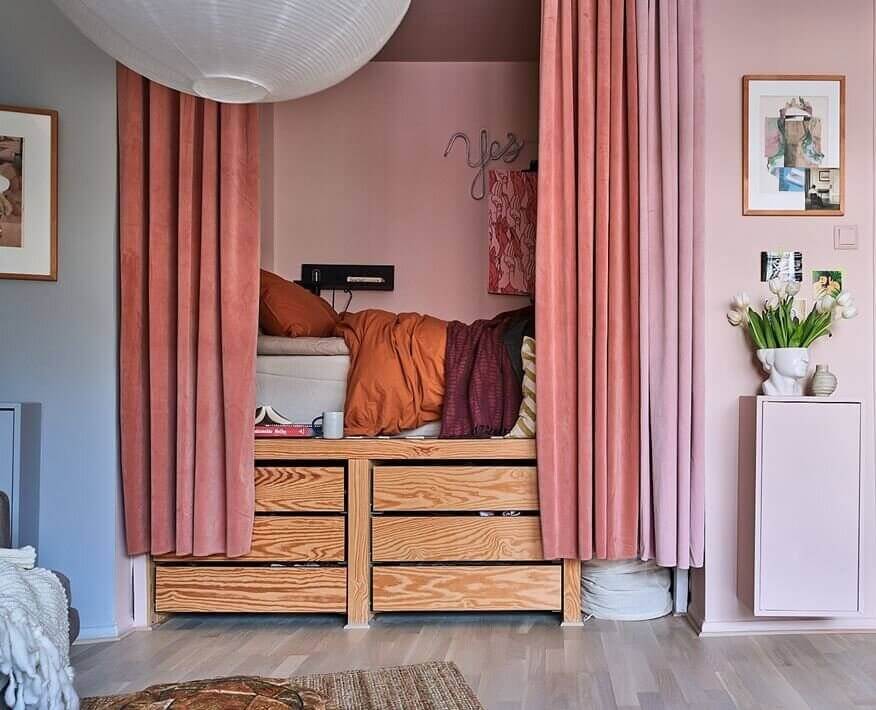 The main color in this one room apartment is gray. But for the bed nook they choose to add a cheerful tone with dusty pink walls and curtains and earthy colored bedding. This small home is a perfect blend of warm and cool color tones. the bed nook also has bookshelves (not pictured here) for extra storage.
There is no one color scheme that works the best for a living room bedroom combo. It greatly depends on your own style but also the light in your house. The main thing is that you don't have to be afraid of dark colors in a small room and go bold if you feel like it.
Pin Living Room Bedroom Combo Ideas for Later