Glidden & PPG Color of the Year 2023: Vining Ivy
Glidden and PPG have chosen Vining Ivy as their Color of the Year 2023. Vining Ivy is a versatile teal color, its bold, yet calm green–blue tone can be used in every room of the house.
While technically PPG and Glidden by PPG are two separate paint brands. The color experts have decided that Vining Ivy is the it–color for 2023. The "bluish-greenish-something-in-betweenish" color tone is a trendy addition to contemporary designs while also adding a vibrant color pop to your home.
Ashley McCollum, the color expert at Glidden, says: "Consumers are seeking to simplify as the past two years have shed new light on the importance of serenity and little moments. Vining Ivy embodies this vibe perfectly. It is energizing yet grounding, and it works in literally any space. Its versatility takes the guesswork out of design, leaving consumers with more time to indulge in the things that matter most to them."
Glidden & PPG have chosen four color palettes that work perfectly with Vining Ivy. Whether you want to create a vibrant color look or opt for more earthy tones. This teal color can be added to your home in any way you like.
This post shows how to decorate with teal like PPG's Color of the Year Vining Ivy.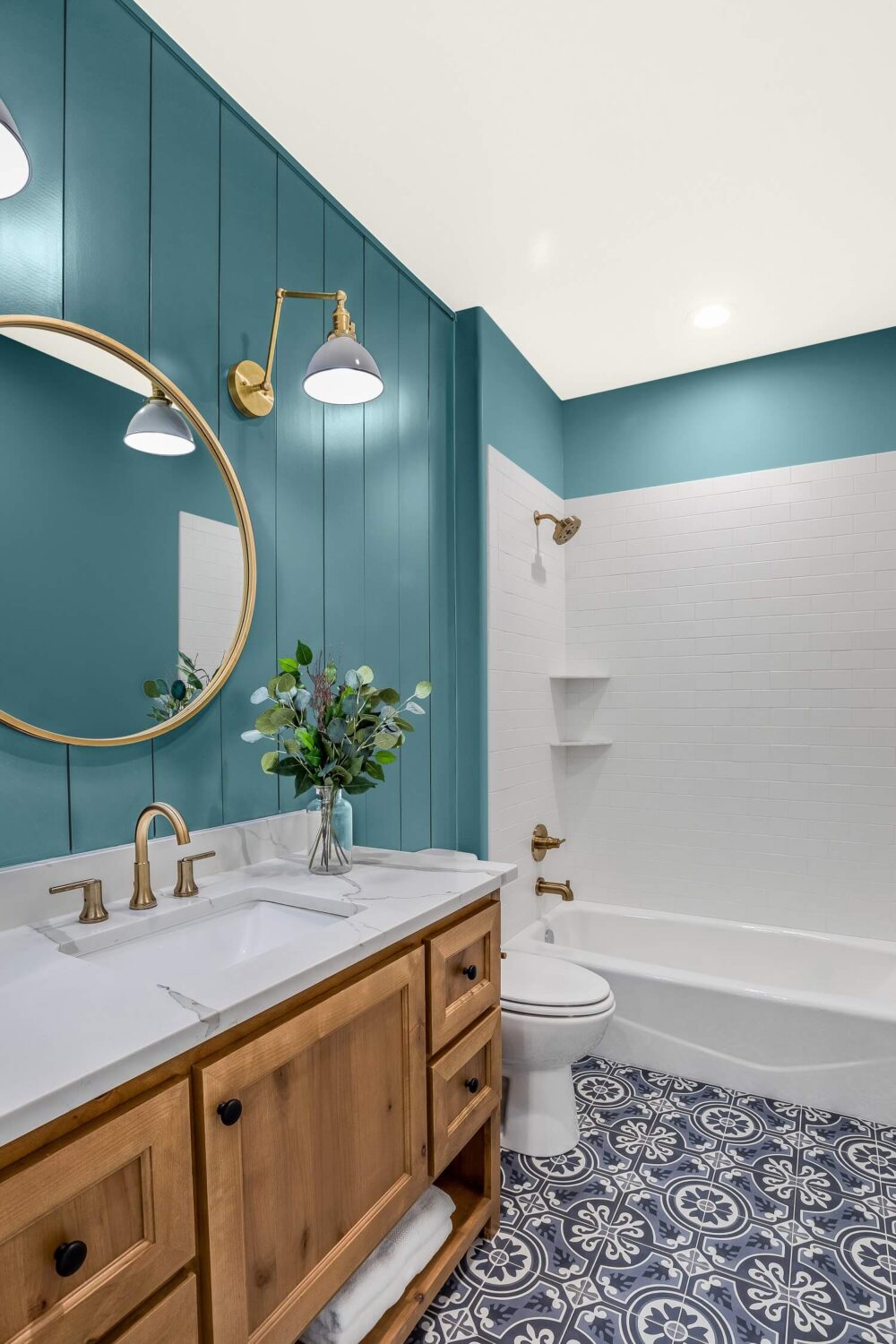 What Colors Go with Teal?
PPG have created three complimenting color palettes for Vining Ivy and Glidden has created one complimenting color palette for this teal hue. From light pastel tones to bold blue, green and red tones. See which colors go with teal to create the home that you love.
Serenity: Teal with Soft Pastels and Light Neutrals
In this day and age we like to simplify our lifestyles, prioritze the important things in lift and take precedent to find internal peace. With this color palette you can create a quiet, playful, or tranquil home style.
The bedroom of artist Jan Skacelik has a half-painted teal wall that is combined with soft pink, ochre, and warm red tones in the rug.
Origin: Teal with Earthy and Natural Colors
With this well balanced palette of earthy and natural colors you can create a safe home style. If you want to design your home inspired by nature you can use the green, blue and, brown shades. Or you can opt for the cosmic colors like purple, ocean blue, and granite.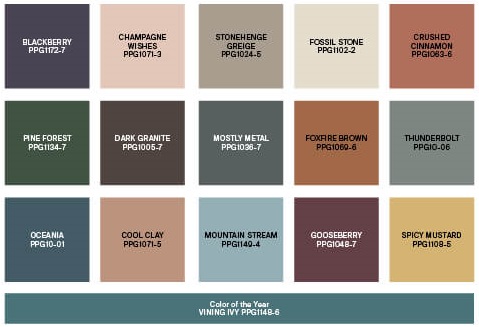 Megan of Kit & Co. combined a teal shade on the bedroom walls with mustard yellow and white accents in the headboard, bedding and curtains. Also note the lovely mixture of patterns in the textiles.
Duality: Teal with Contrasting Colors
This color palette of neutrals and bright colors will help you break with traditional design rules and create a home style according to your own rules.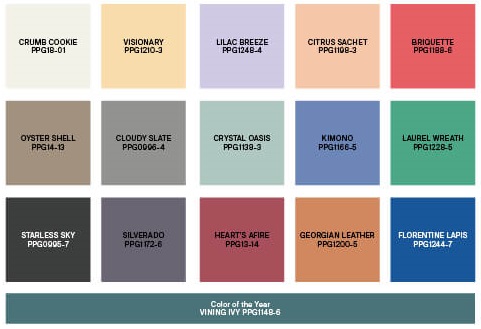 Teal with Earthy Colors
The Glidden color palette combines the teal Vining Ivy with earthy colors like brown and mustard yellow. This will give your home a calm, natural look with a nice pop of color.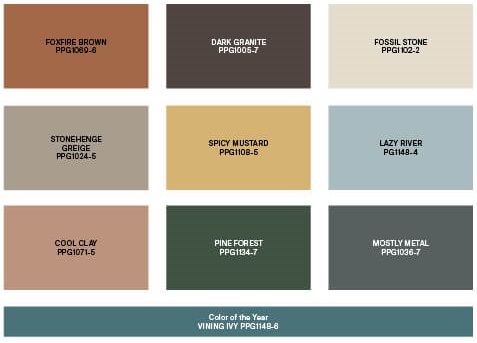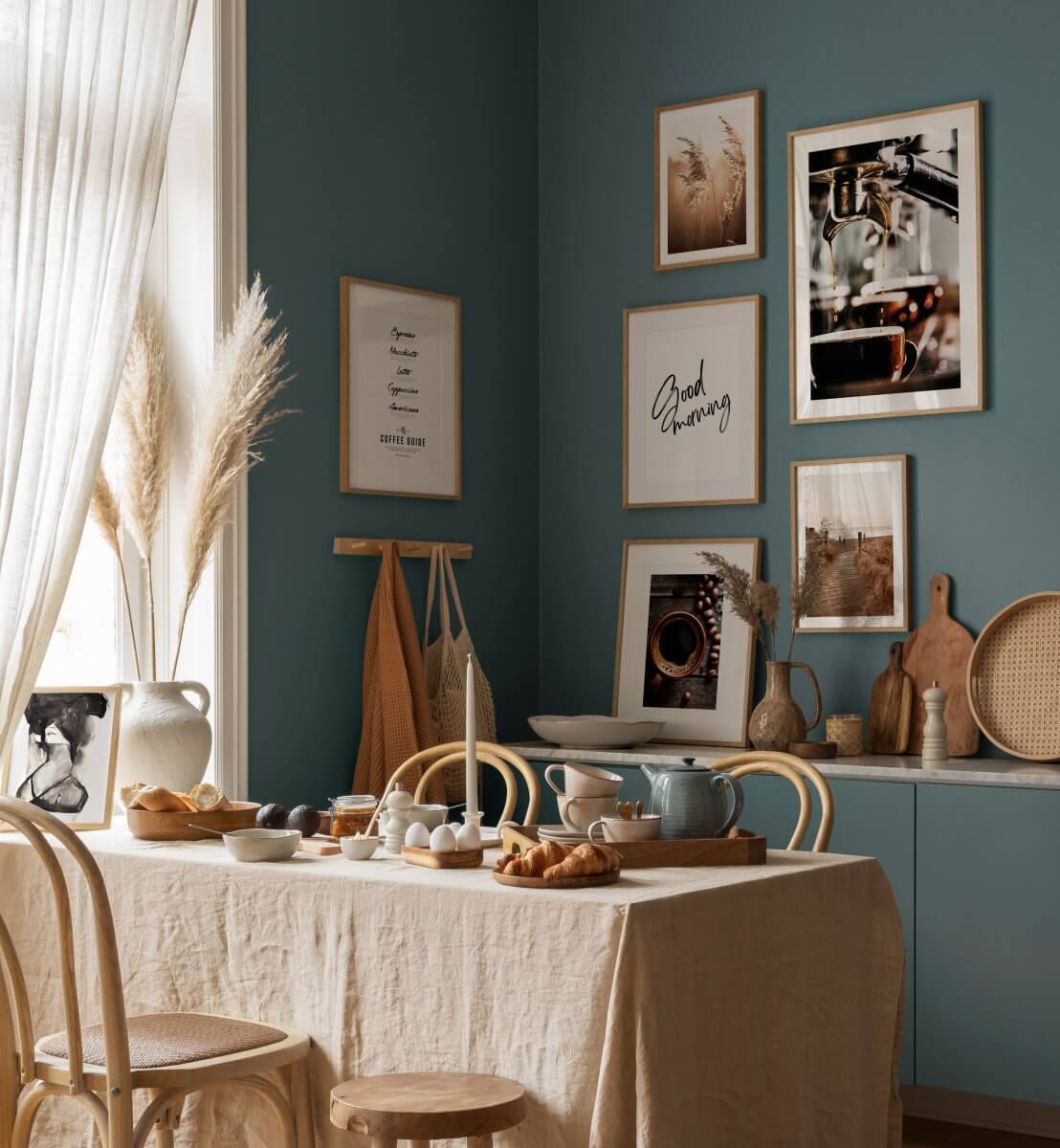 Teal Wall Paint Ideas
While teal is a strong color it looks beautiful on your walls for example as an accent wall or on the ceiling. But when you're feeling bold you can chose to paint all your walls in this color. These teal wall paint ideas will show you how to add this hue to your home.
This studio apartment gives a bold statement with every wall painted teal. This is combined with a calm light wooden floor and pink color accents in the decor and textiles.
The kitchen dining nook in the home of Molly Britt and Eric Olson has a wonderful bluegreen accent wall. This is combined with vintage art and striped pillows.
Another home where the bedroom walls are painted in teal green. Sofie of Three Boys and a Pink Bath didn't just paint the walls in this vibrant color but also the fireplace and the built in wardrobes. The teal walls are combined with a pink bedframe and bedding.
In this attic bedroom they doubled up on the teal with both the walls and the bedding in this stunning color. The golden bedframe adds a glamorous touch to the room while the earthy rug adds warmth.
If an entire wall feels too much for you, why not add a half-painted teal wall? In this room, the teal wall is perfectly combined with pastel-colored artwork.
Teal Wallpaper
Instead of painting the walls you can also a wallpaper to your room with teal color accents. It's a great choice if you love the color but you think an entire teal wall is too much of if you want to add some texture and pattern to your walls.
The floral "Prairie Rose" wallpaper by Borastapeter adds a whimsical teal touch to this bedroom. The colors of the wallpaper return in the bedroom furniture and textiles.
The Borneo wallpaper by Graham and Brown adds a classic tone to your room. The bananaleafs shimmer on the teal green background add warmth to any room. And as you can see in the bathroom mirror, the opposite wall is painted teal as well.
Teal Tiles
In the kitchen or bathroom you can also add teal color accents in the tilework.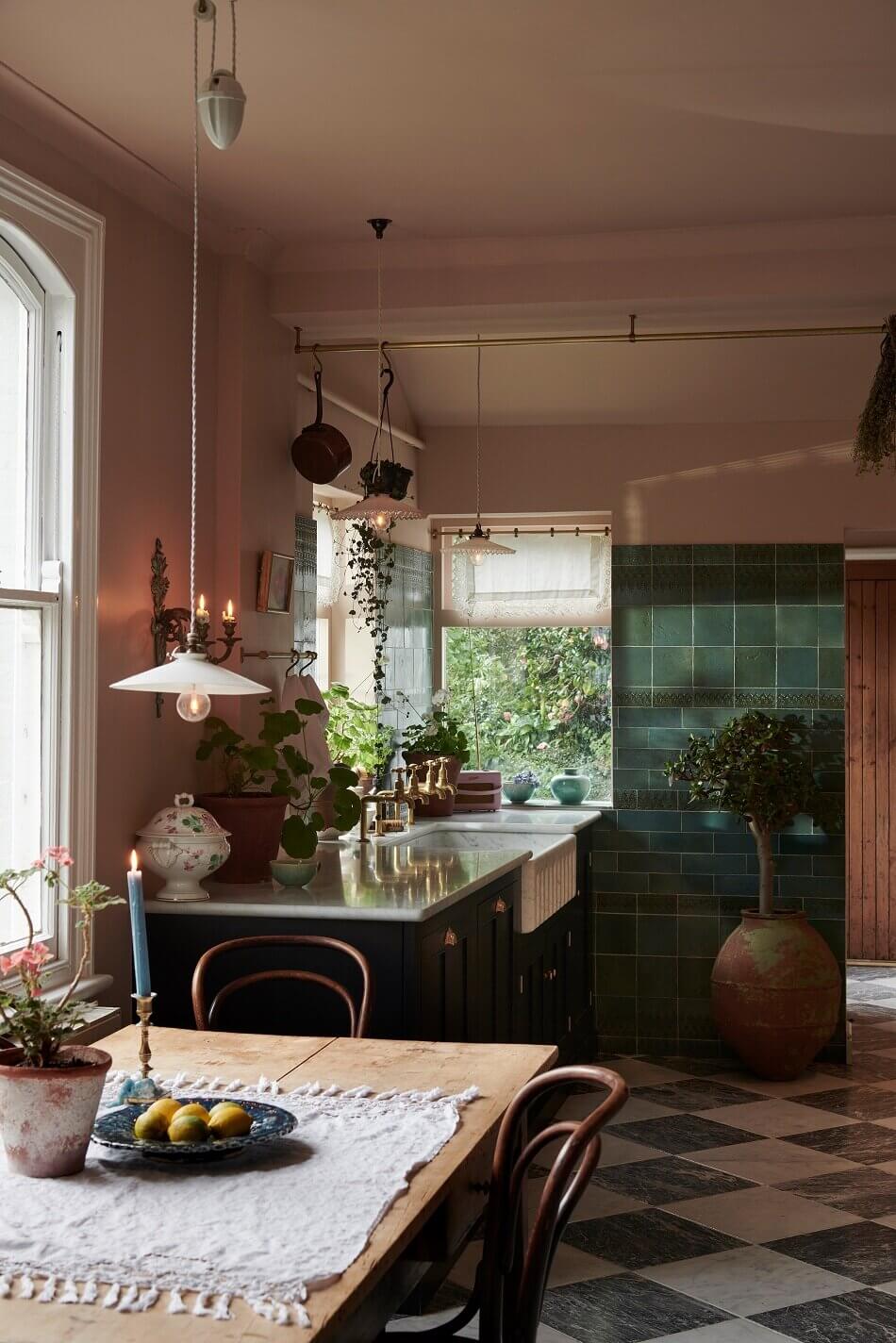 Helen, the Creative Director of deVOL Kitchens, added deVOL's Vintage Teal Lace Market Tiles to her Mediterranean style kitchen. It gives this kitchen a historic and color touch and the lace texture adds an extra element to the room. No tile is the same, so some tiles look more green while others more teal. This adds a playful touch.
The teal Lampas Peacock Tile adds color and shine to your bathroom (and it would also work great in a kitchen). We've already seen that pink is a great complimentary color to teal and in this bathroom they added a round pink sink.
A calmer bathroom look with teal tiles can be seen in this modern bathroom with freestanding bath. No tile is the exactly the same color which adds a nice element to the room.
Teal Furniture and Kitchen Cabinets
Teal is also a great color for furniture like a velvet sofa or a painted cabinet. But you can also take a step further by adding a teal kitchen to your home. This way you make the kitchen not just the heart of the home but also the star of your house.
Teal is an amazing color for kitchen cabinets. This kitchen designed by Joanna Gaines shows just that. And when you combine it with white tiles and wooden accents you create a wonderful bright, modern rustic kitchen.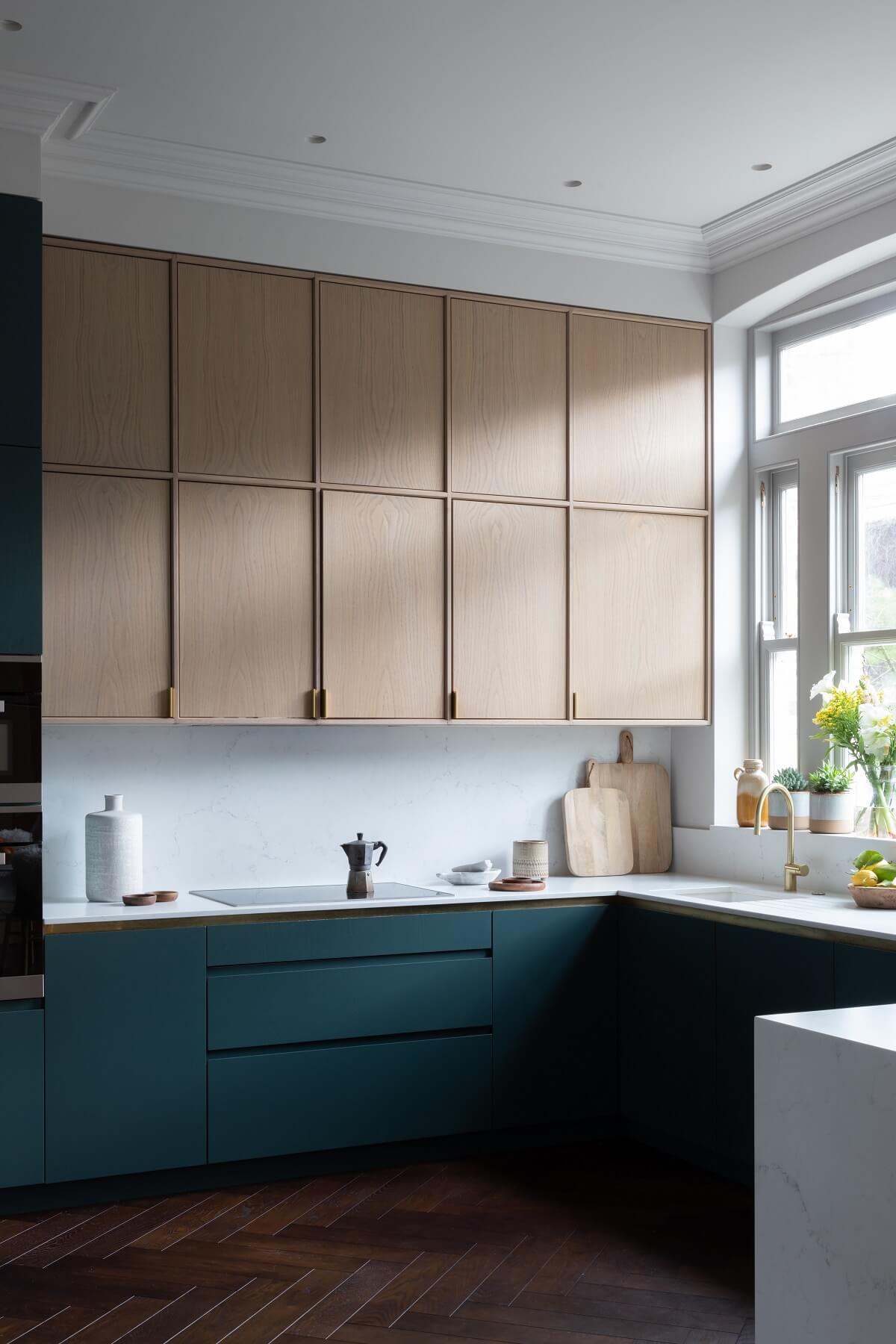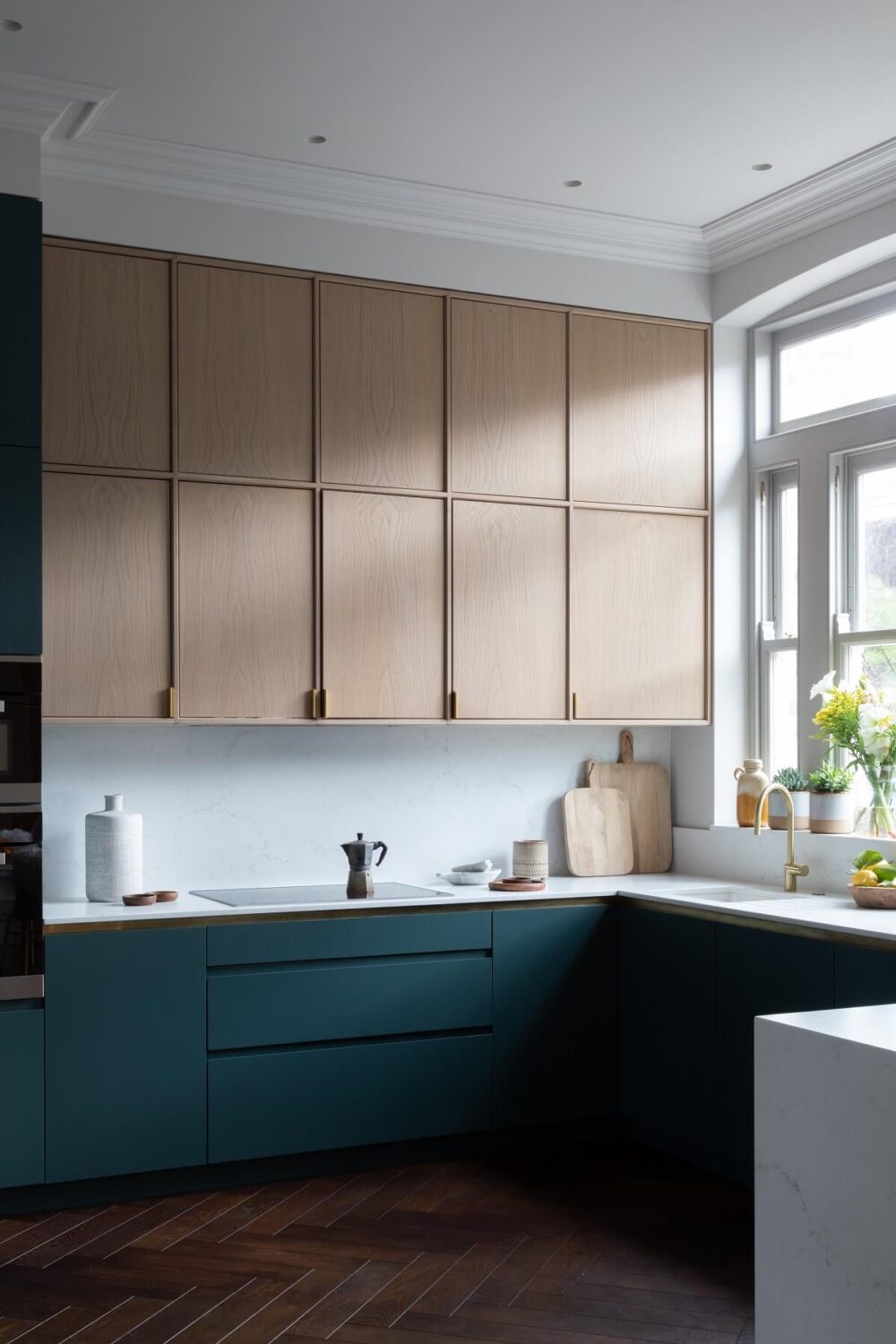 This Victorian home designed by Frank & Faber has teal kitchen cabinets. Only the lower cabinets are painted in this vibrant hue. They combined it with neutral wooden upper cabinets to keep a calm look.
The proof that teal also works very well in old houses is this living room with teal velvet sofa in a historic cottage in England. The vibrant teal is combined with softer earth, pink, and gray tones.
You can also opt for a more subtle teal color accent in your home. The Targue Inlay Coffee Table by Anthropolgie has original Moroccon tilework with teal color accents and a brass base. In this living room they choose to combine this beautiful round coffee table with a vibrant orange/red sofa.
Make it teal, and give it a little extra. Wow this kitchen is amazing and not just thanks to the color of the cabinets. An extra design element is added by using ribbed kitchen cabinets which is then combined with terrazzo worktops. You would think that this combination is too much, but the blue/green shade (a bit lighter than the PPG Color of the Year) is actually rather peaceful which makes it all possible.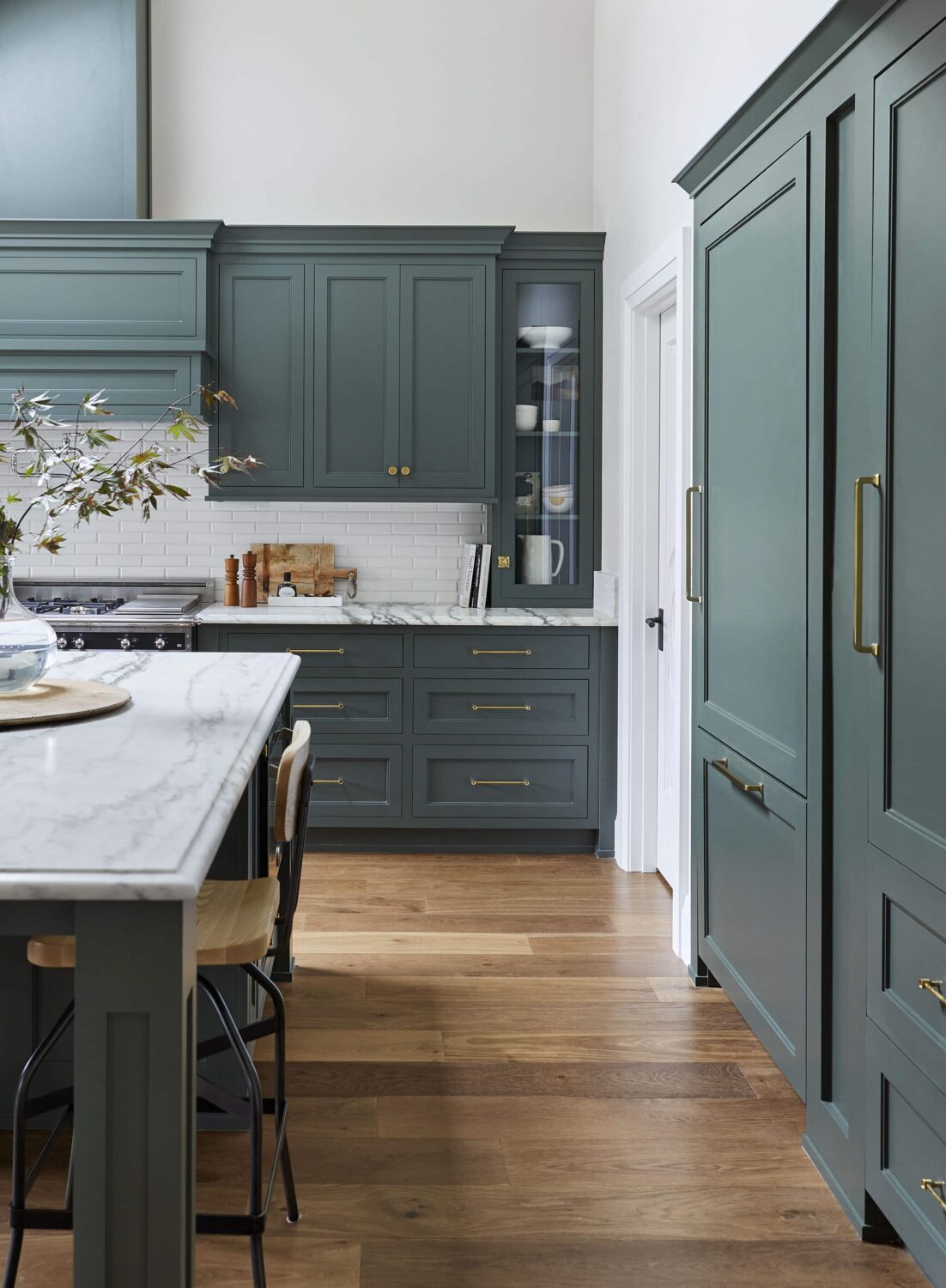 A laundry room can be stylish and colorful too and this one, designed by Blissful Design Studio, has teal painted cabinets.
Teal Home Decor
The easiest way to add new colors to your home is by changing your home decorations like pillows, vases, and artwork.
We've already seen in this post that ochre yellow and teal are a great color combination. In the sitting rom of Jan Skacelic an ochre yellow armchair is spruced up with a teal throw. Together with the plants and artwork (also by Jan Skacelik) you get a vibrant bohemian home look.
A subtle color accent in this window seat by using a teal velvet pillow.
This bedroom space by H&M home has a light color base but a teal color accent is added with the duvet cover. This is combined with pastel yellow and lavender pillows.
Now you see how you can style the PPG & Glidden Color of the Year 2023. This vibrant but also calm & natural color is a versatile color that can be combined and styled in many ways.