How To Decorate A Bedroom with A Slanted Ceiling
Decorating a bedroom with a slanted ceiling (also called an attic bedroom or a bedroom with a sloped ceiling) can be tricky. You want to use every inch of space in your room with a sloped ceiling, and therefore you have to be more creative.
In this post, you will find bedroom ideas with sloped ceilings. With tips on how to make the most of your attic rooms with sloped ceilings, layout ideas, and decor tips for a bedroom with slanted ceilings.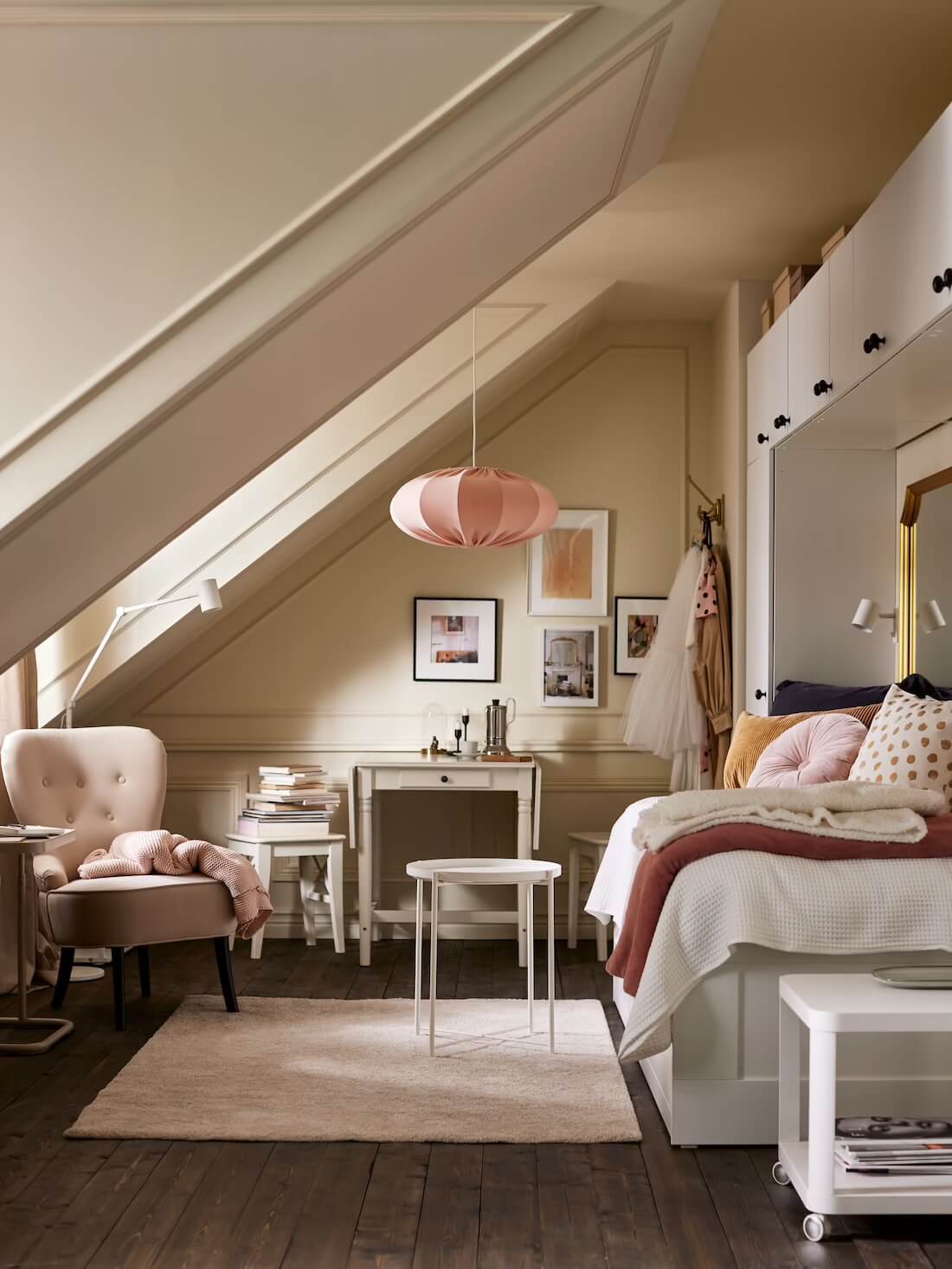 Layout Ideas for a Bedroom with a Slanted Ceiling
The hardest part when you design a bedroom with a sloped ceiling is where to place your bed. But actually, there are multiple ways you can design your bedroom with a slanted ceiling.
Place your bed under the sloped ceiling
If the slanted ceiling isn't too low, you can place your bed under the sloped ceiling. You can do this with the headboard under the sloped ceiling, or with the long side of your bed.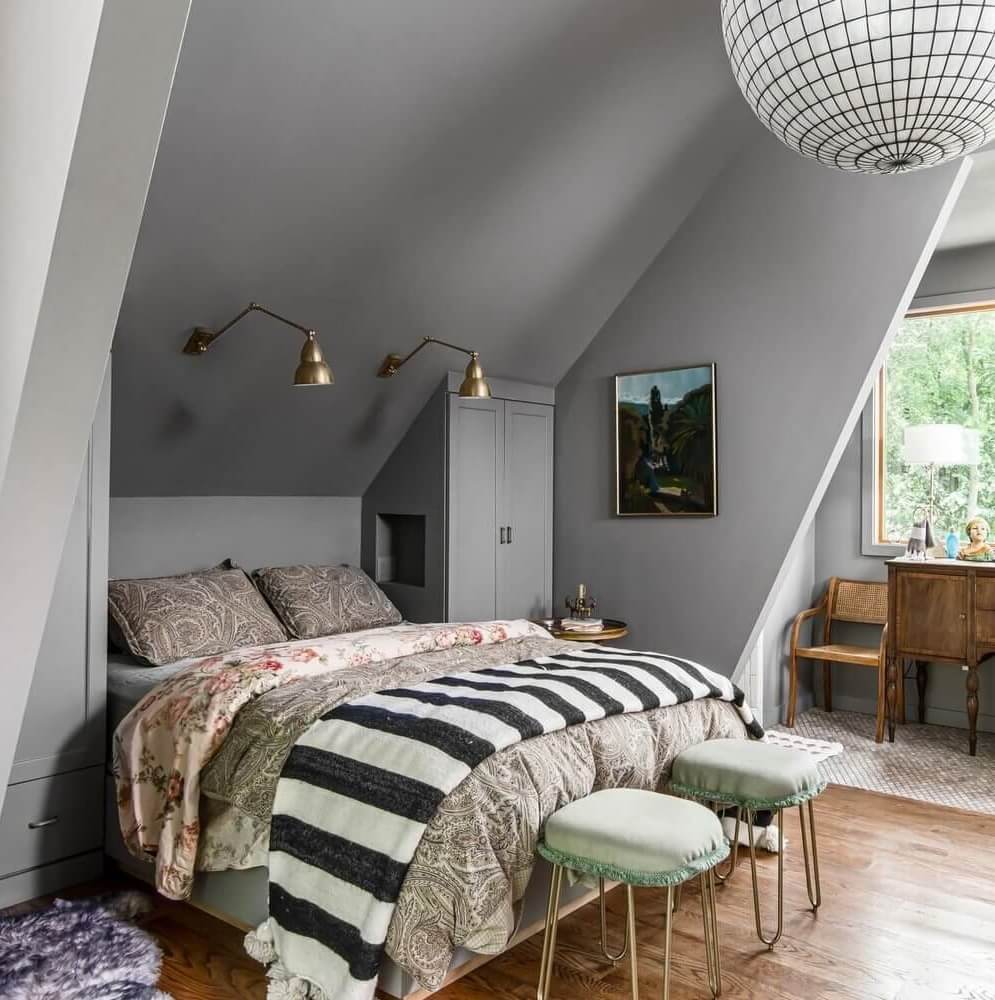 An attic bedroom in the former home of designer Louisa Pierce. The bed is placed under the sloped ceiling and two built-in wardrobes have been added next to the bed. These cabinets also have niches that work as nightstands.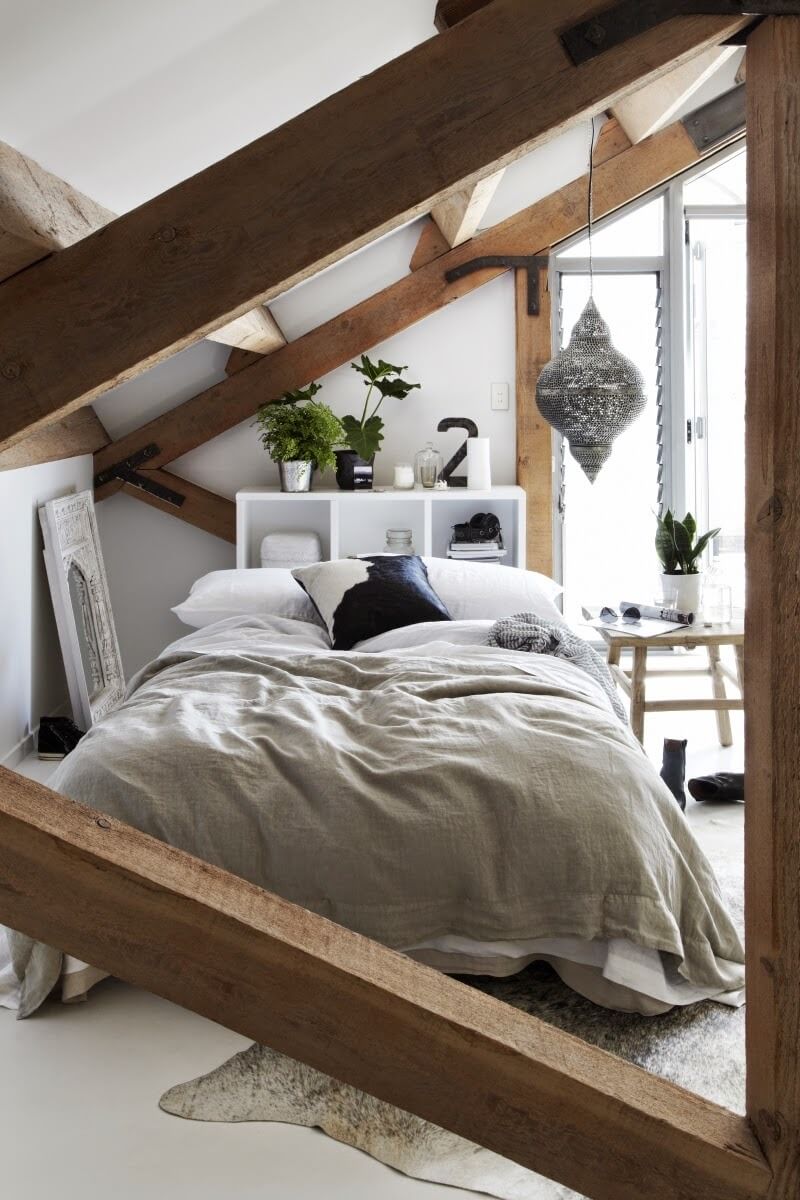 Chose a headboard with storage so you don't need to add a nightstand.
A custom made bed (with storage)
Custom made is the way to go if you want to adapt fully to the layout of your room. This small attic bedroom has a custom made bed with underneath storage that makes the most of the available space.
Don't put your bed against a wall
When you have a large bedroom, you can be more creative with the placement of your bed. Think outside the box by placing your bed in the center of the room. The space under the slanted ceiling can be used for storage.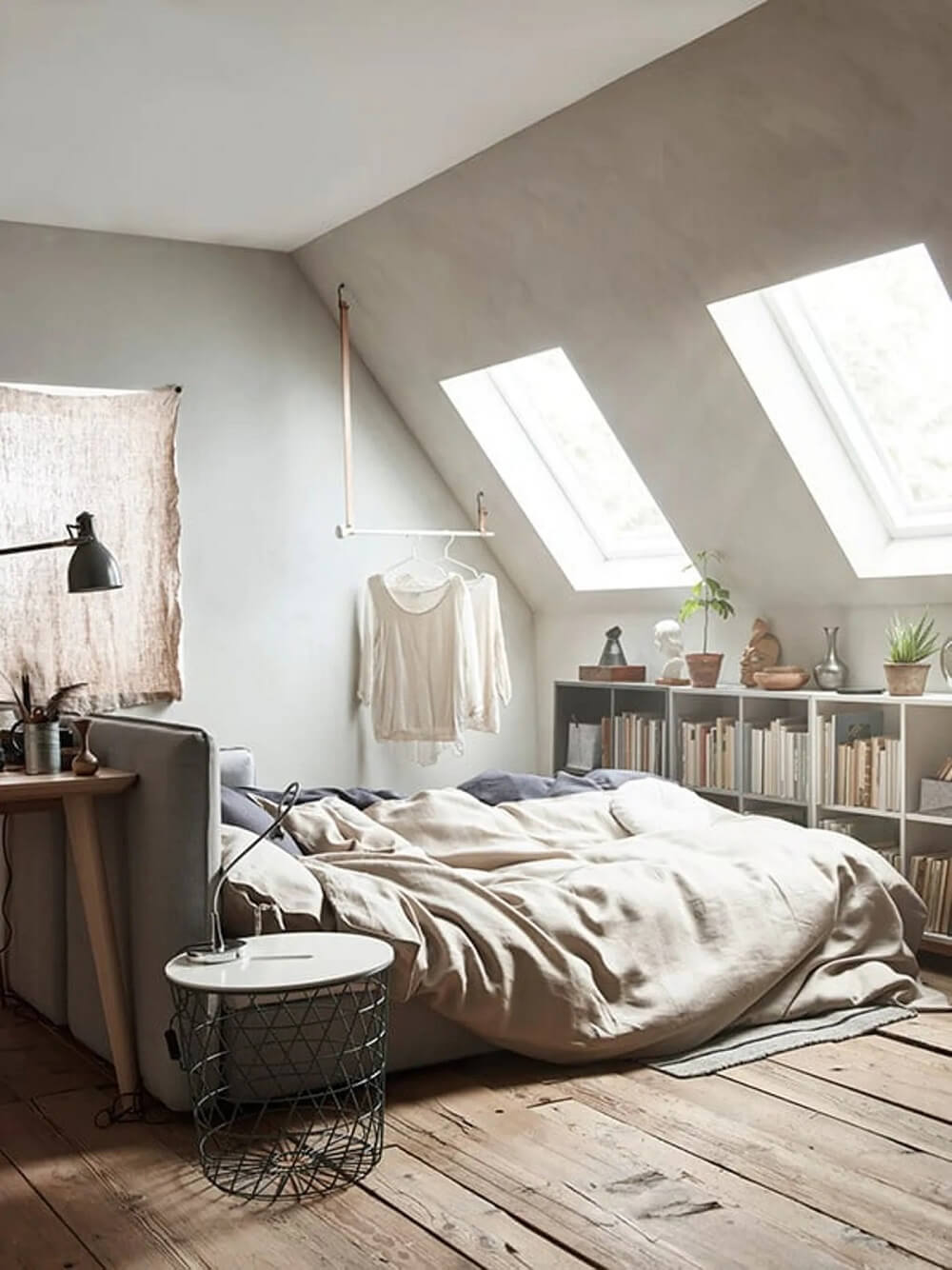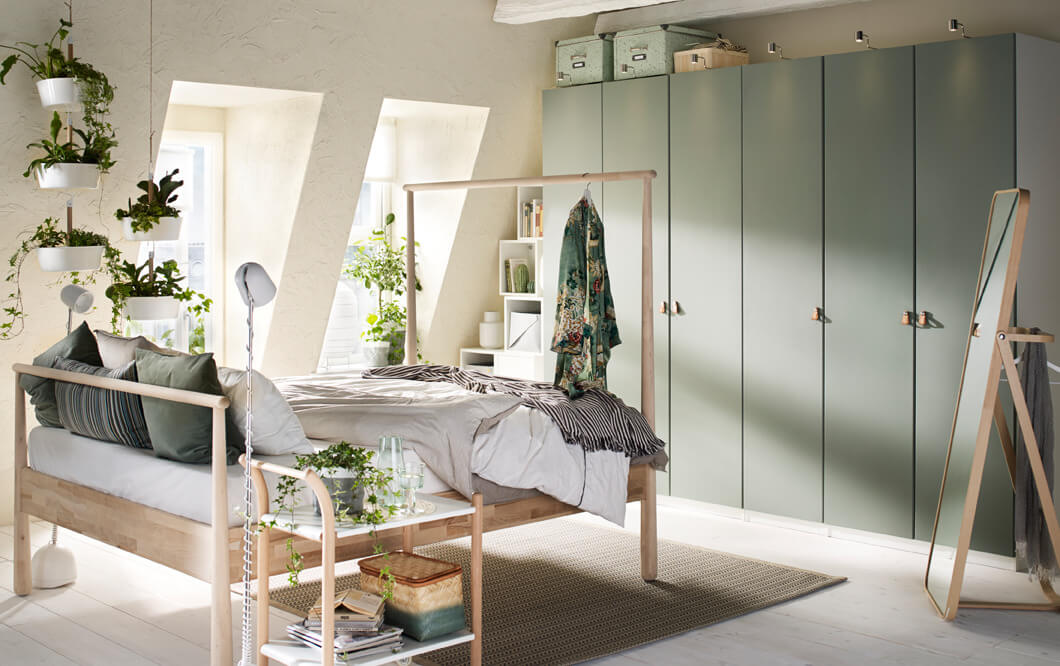 Place your bed under the window
If you're lucky there is a "straight" window in your bedroom. Not only will it flood your room with natural light but is also gives more opportunities when you decorate your bedroom with sloped ceiling.
You can put your bed under the window to have more space above your head. The window sill can be used as a nightstand.
Add wall mounted cabinets
If the bedroom has one straight wall, you can chose wall mounted wardrobe cabinets. You can place your bed under the wardrobes and this frees up space for a desk or a reading nook.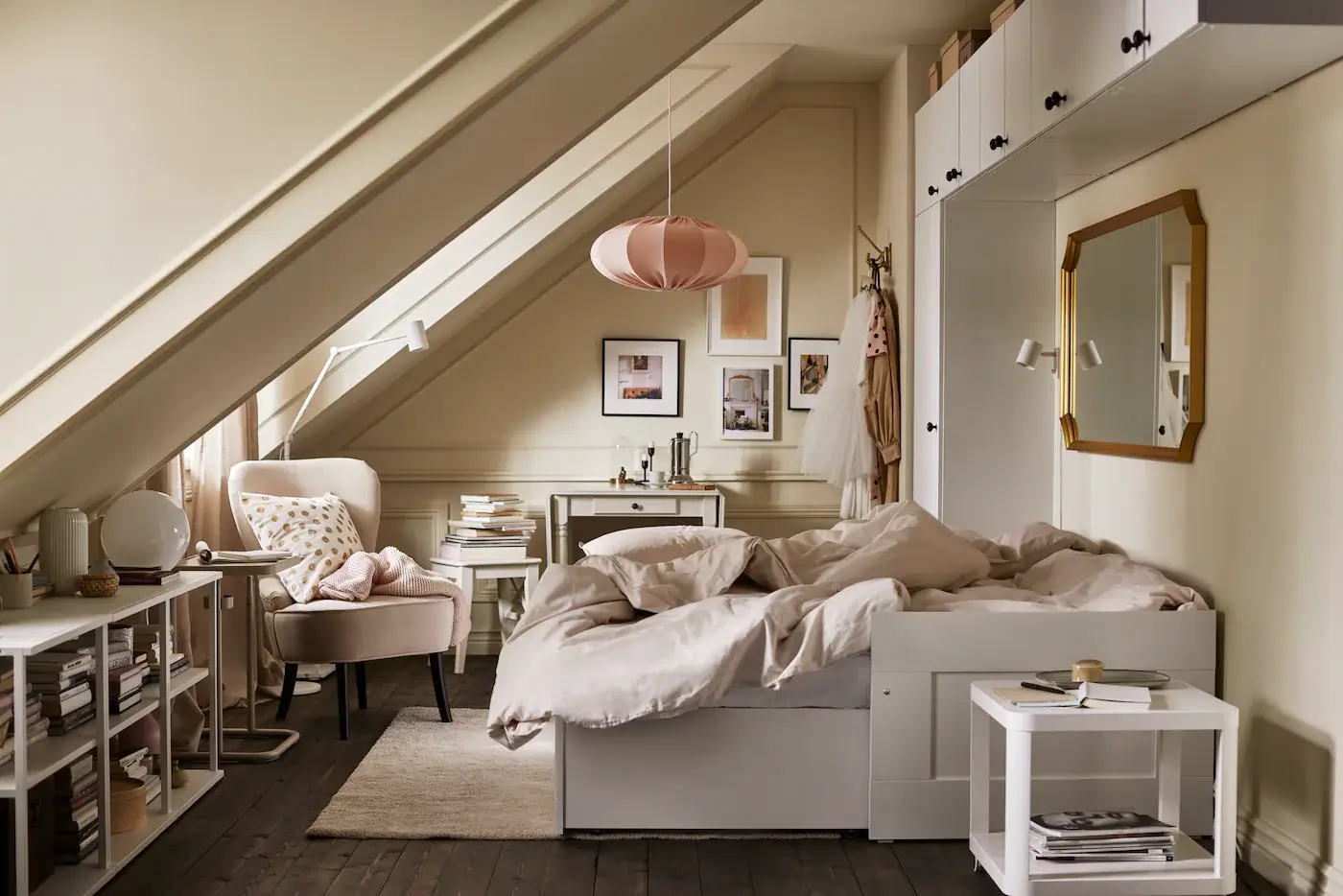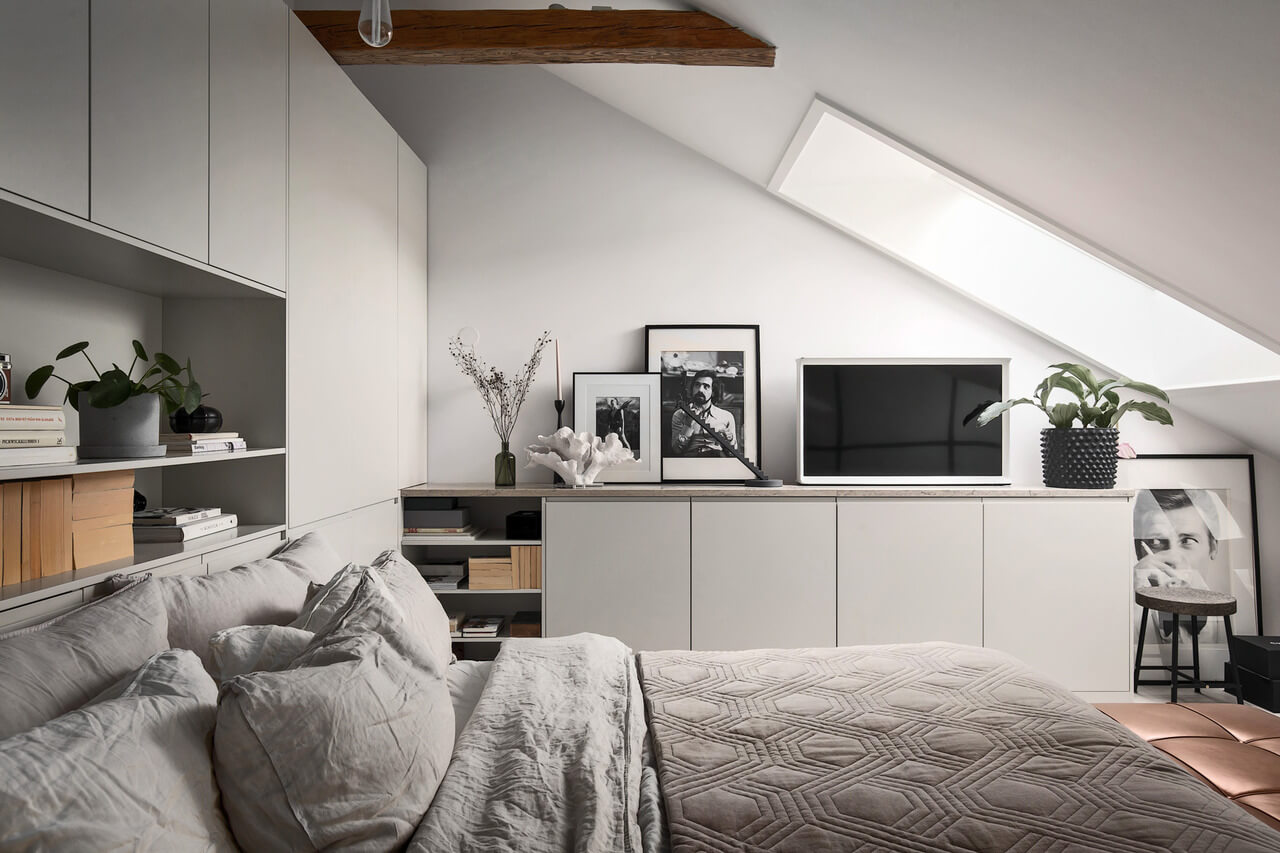 This Scandinavian attic bedroom may have slanted ceilings but it's packed with storage space. The bed is placed against the wardrobe with open storage above, so you don't need nightstands. This bedroom with sloped ceilings is the perfect example of how you can add storage to your attic bedroom.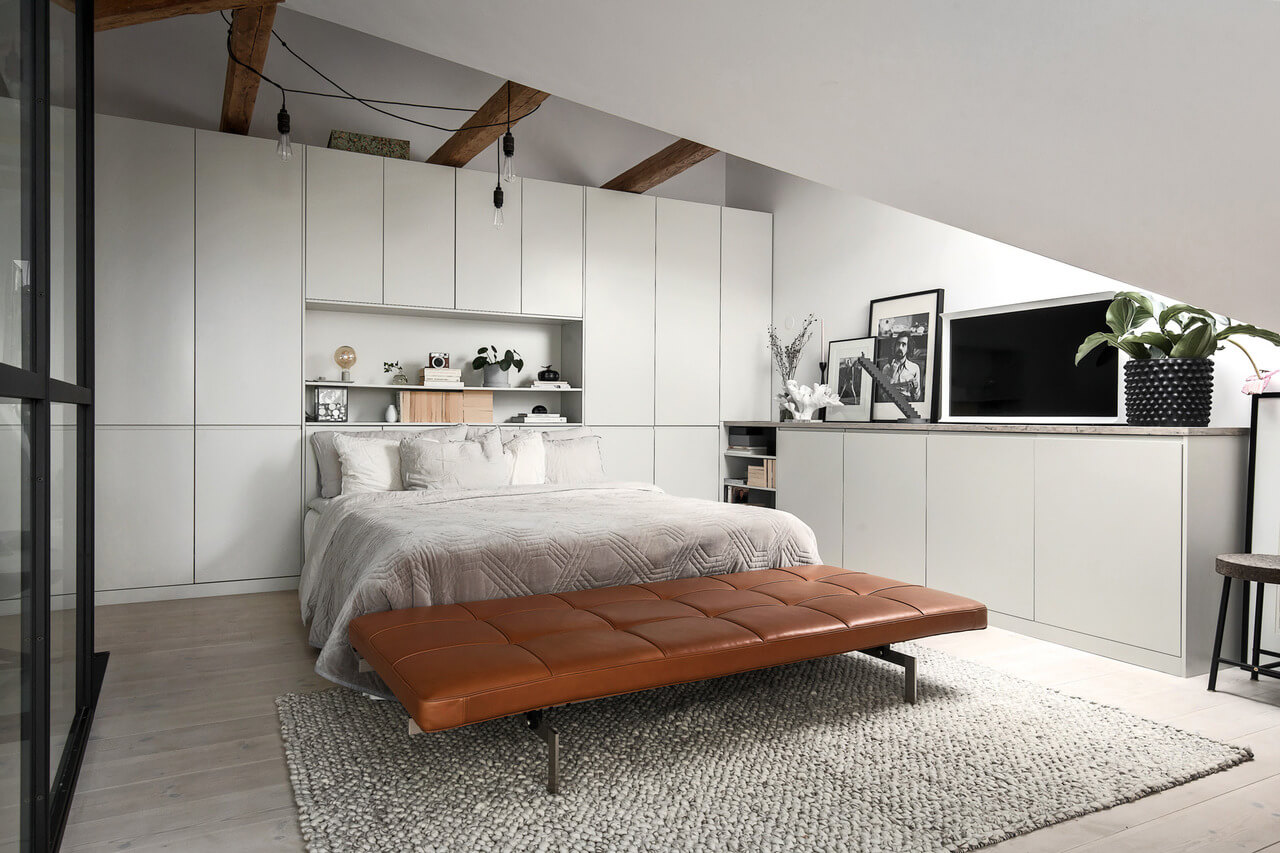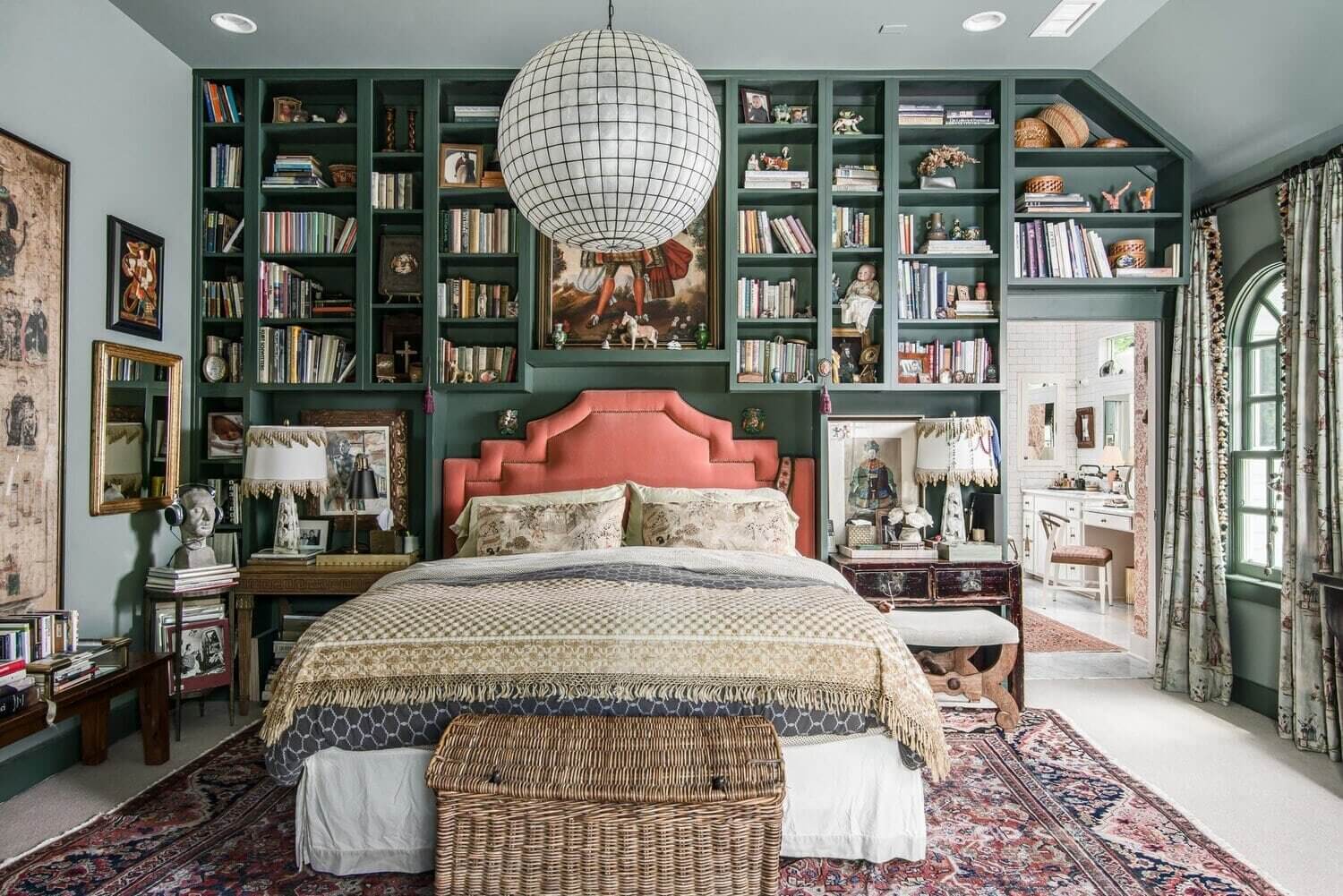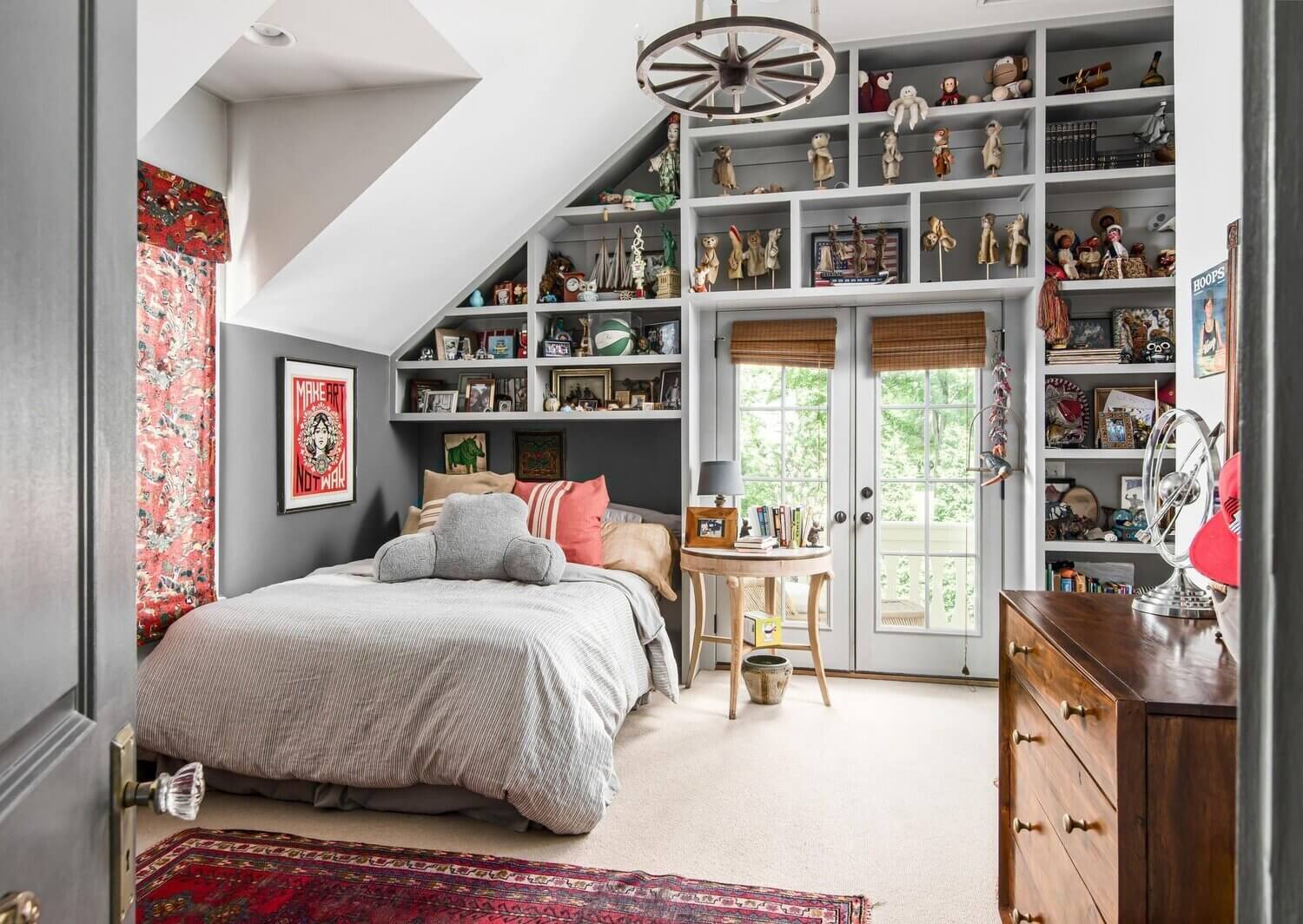 Only slightly sloping, but these bedrooms in the (former) home of designer Louisa Pierce are a great example of adding built-in cabinets to a bedroom with slanted walls.
Add storage space under the slanted bedroom wall
The space under your slanted bedroom wall is not wasted. These awkward spaces can easily be used for your wardrobe, bookshelves or other storage solutions.
Place your wardrobe under the slanted bedroom ceiling
Custom made wardrobes
A custom made wardrobe is the most stylish way to add a wardrobe under the sloped ceiling. There are no awkward left-over spots above the cabinets.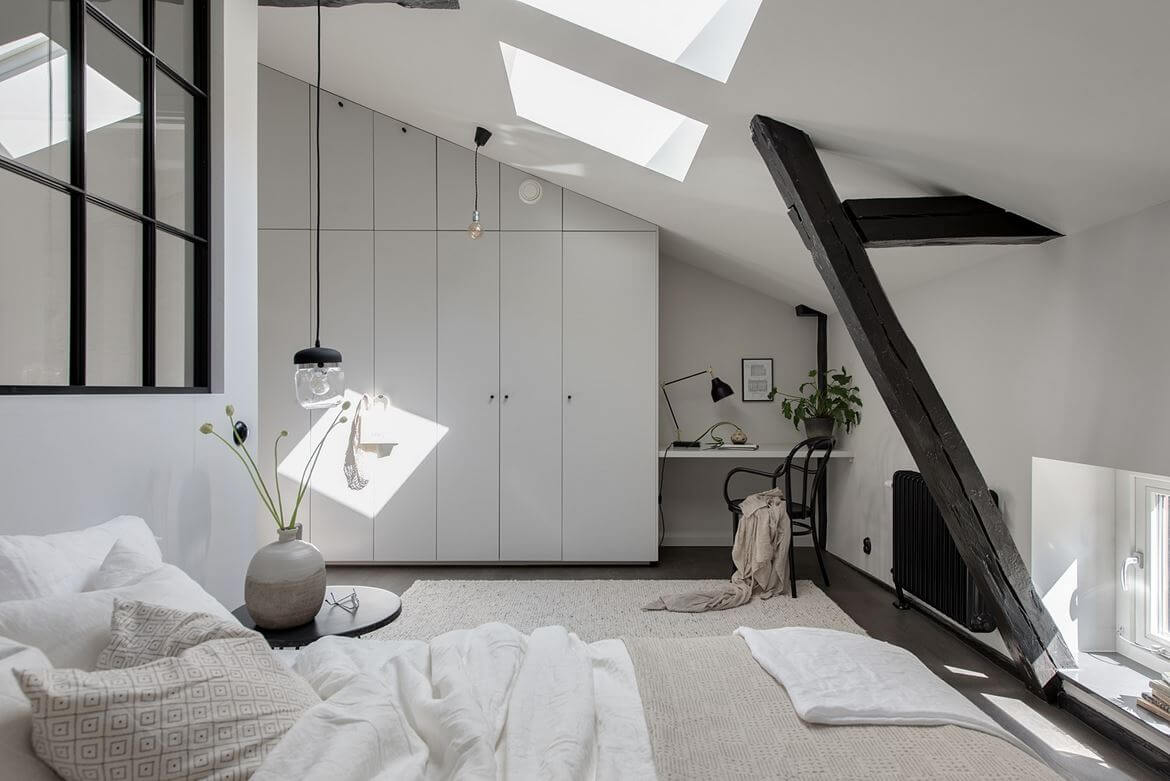 Open wardrobes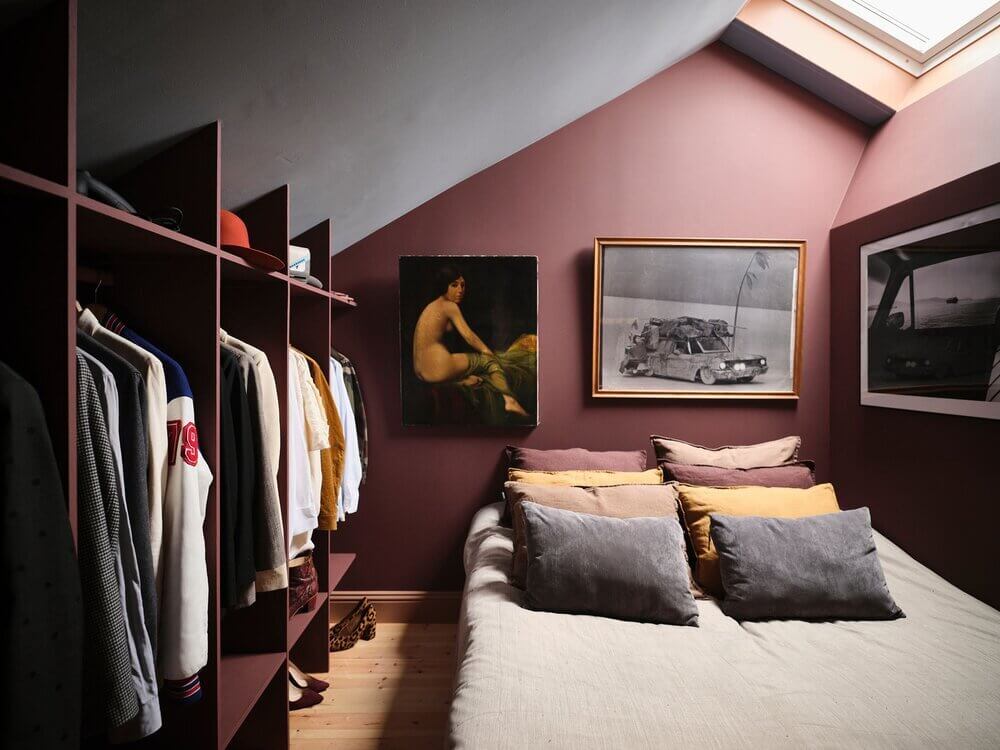 In this bedroom a DIY open wardrobe has been added to the attic bedroom. By painting it in the same color as the rest of the bedroom you create a harmonious and less cluttered look (even though it's an open wardrobe).
Wardrobe system
Some wardrobe or cabinet systems come in different heights. These can be placed under the slanted ceiling. It creates are more playful but still harmonious bedroom look. And the "leftover" space above the cabinets can still be used for home decor with storage boxes.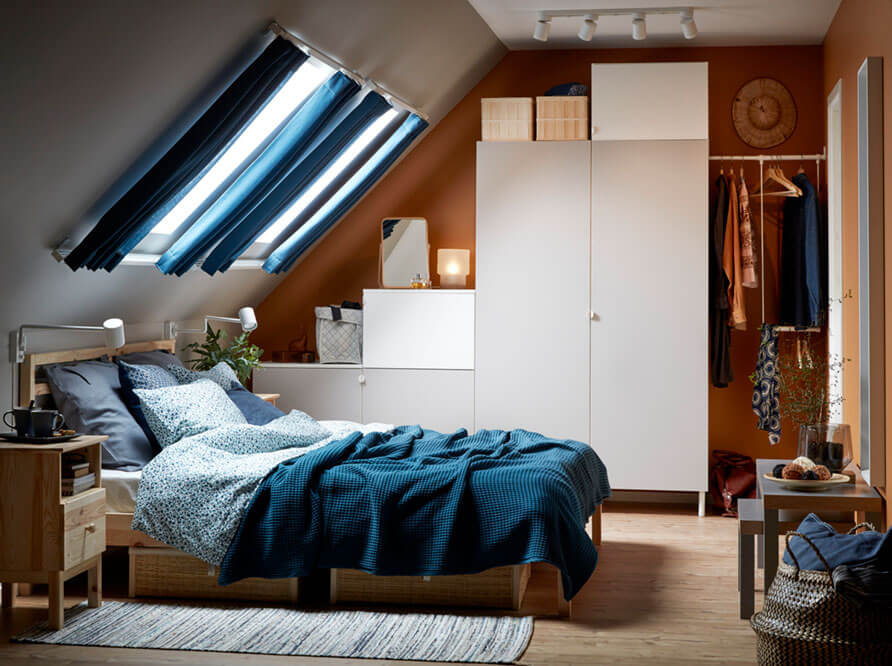 Hanging clothing rack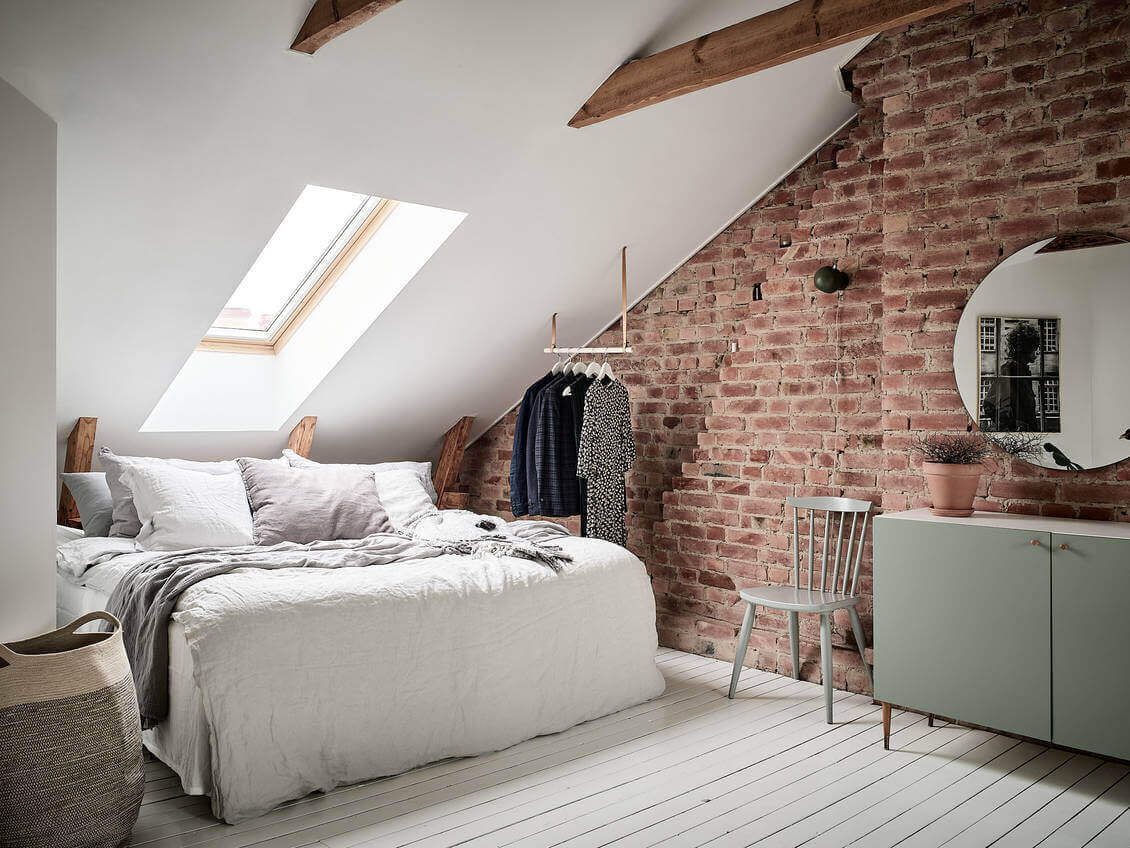 A DIY clothing rack is hanging from the sloped ceiling next to the bed. It creates a more open and minimal clothing storage instead of cabinets.
Bookshelves under the sloped bedroom wall
It's the same principal as the wardrobes, but the space under a slanted wall is also perfect for bookshelves. You can either make the bookshelves yourself, or find furniture that fits snug under the eaves.
Put your desk under the slanted ceiling
The space under the slanted ceiling might not be high enough for standing, but sometimes it is high enough for a work area. You can also combine the desk with a custom made wardrobe as you could see earlier in this article.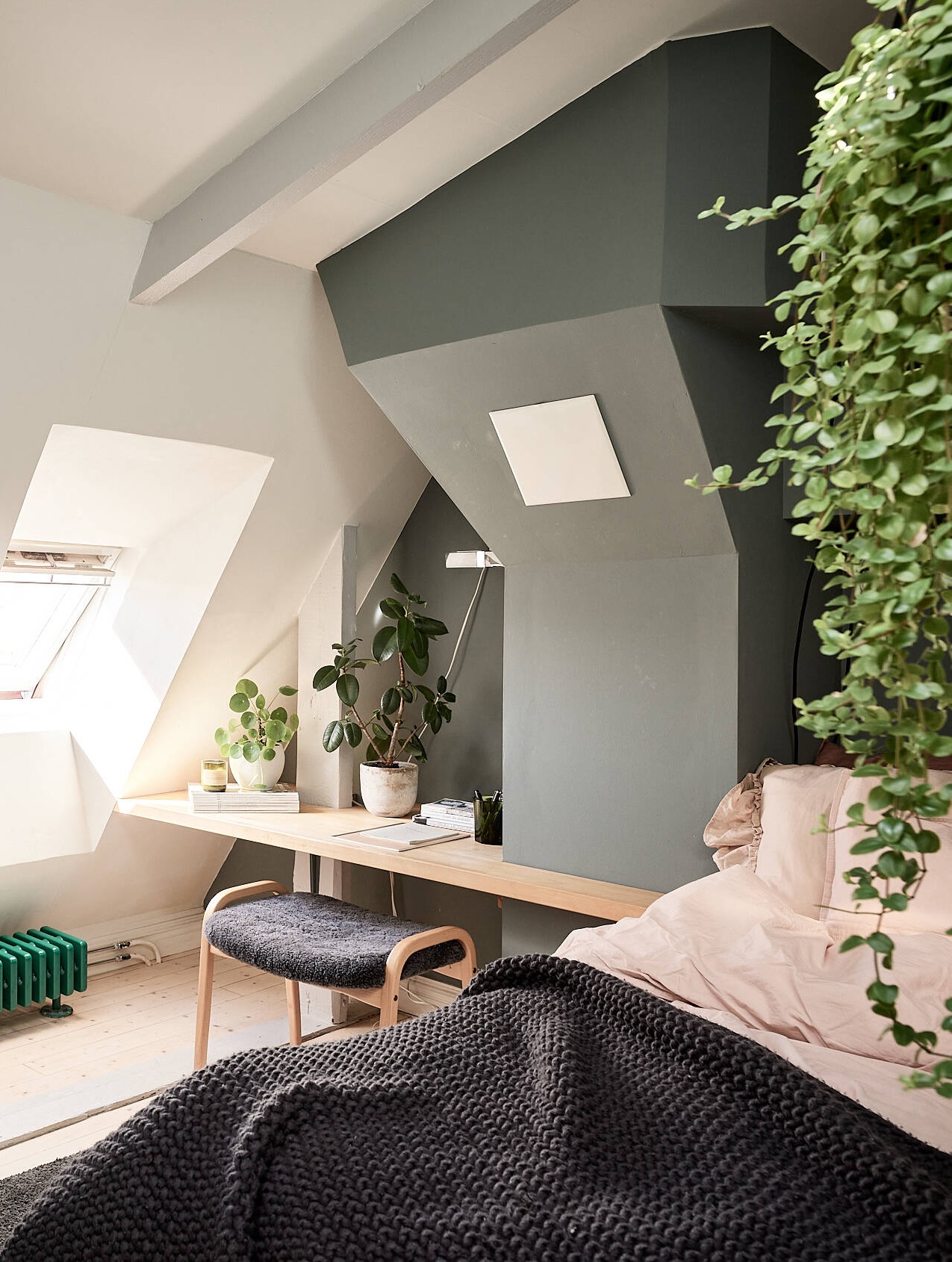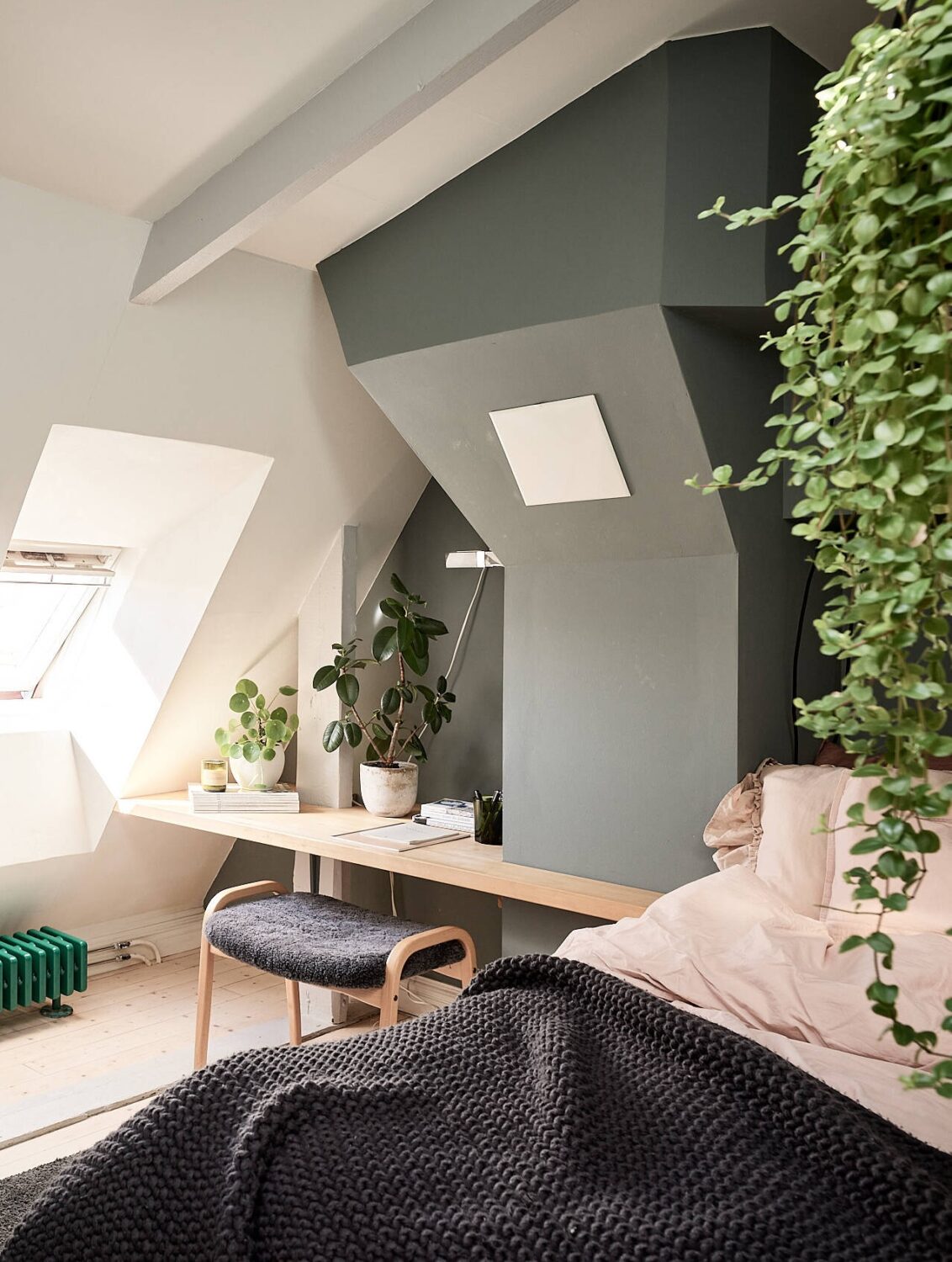 This bedroom not only has a slanted ceiling but also an awkward structural element that makes decorating even harder. The owners of this home added a custom made desk that also serves as a nightstand.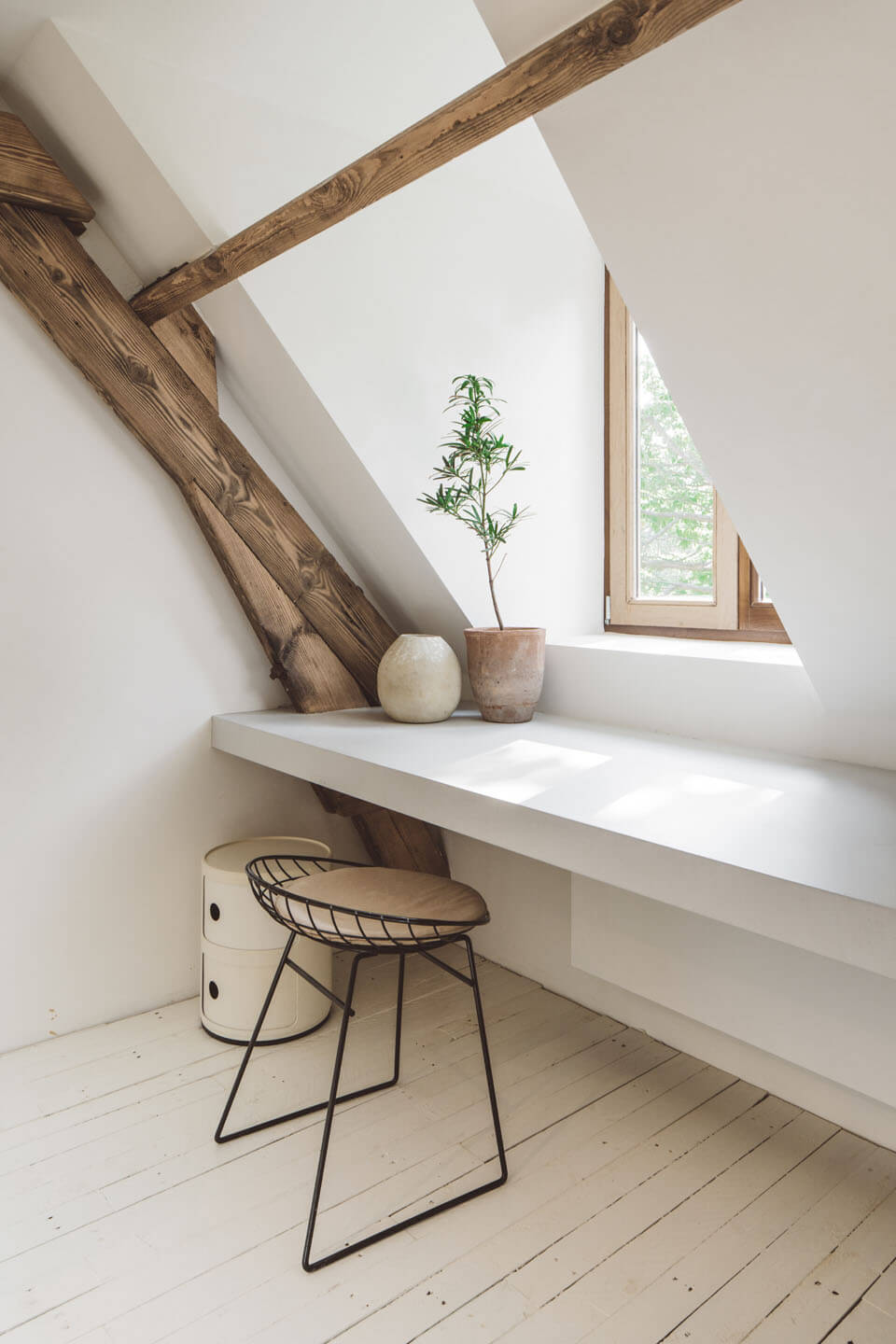 How To Style a Sloped Wall in the Bedroom
Don't be afraid of color
Don't be afraid to use color in your attic bedroom. For the most cozy look you should paint the walls ánd the ceiling.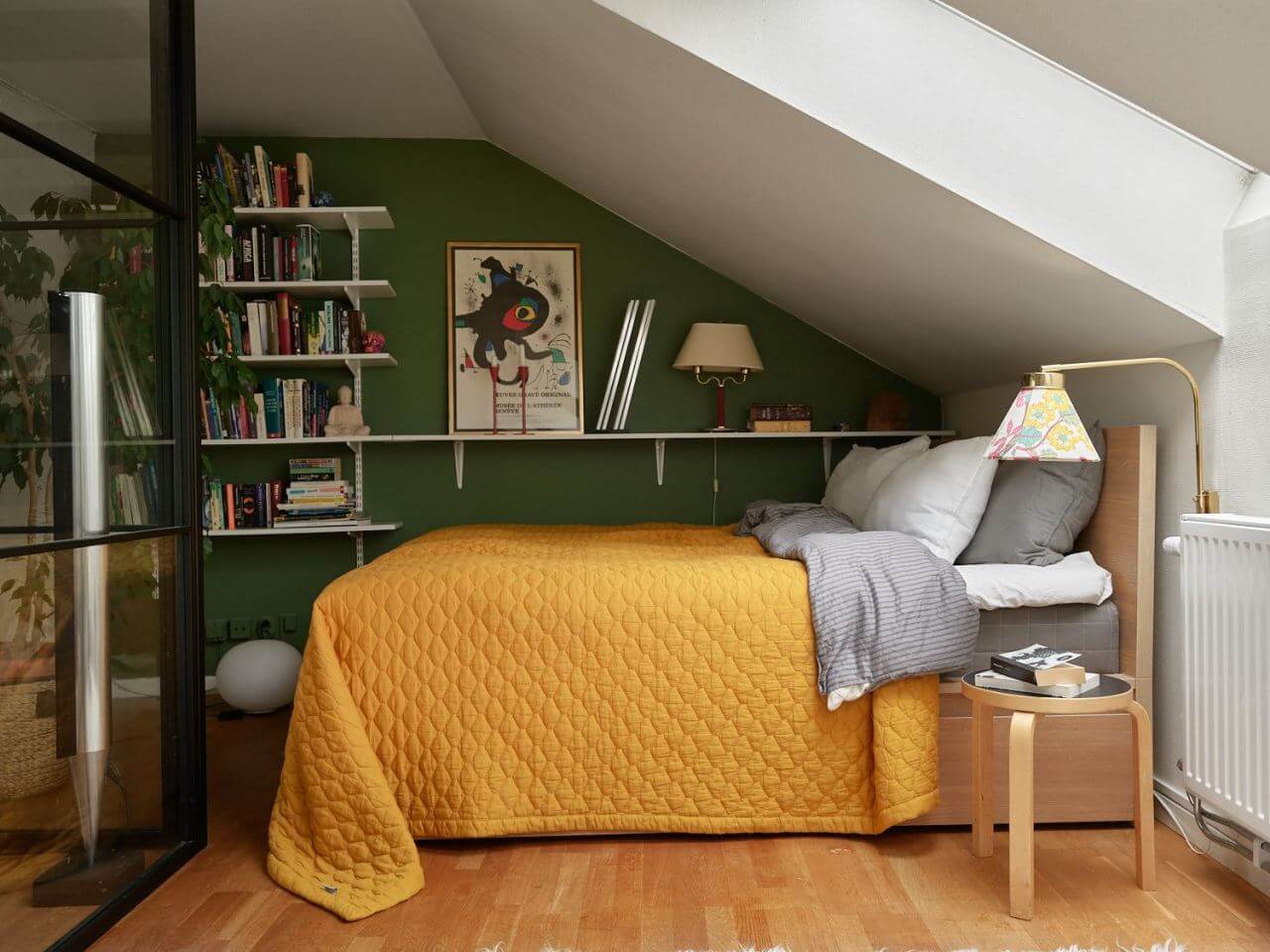 Embrace the architectural features (and use them to decorate with)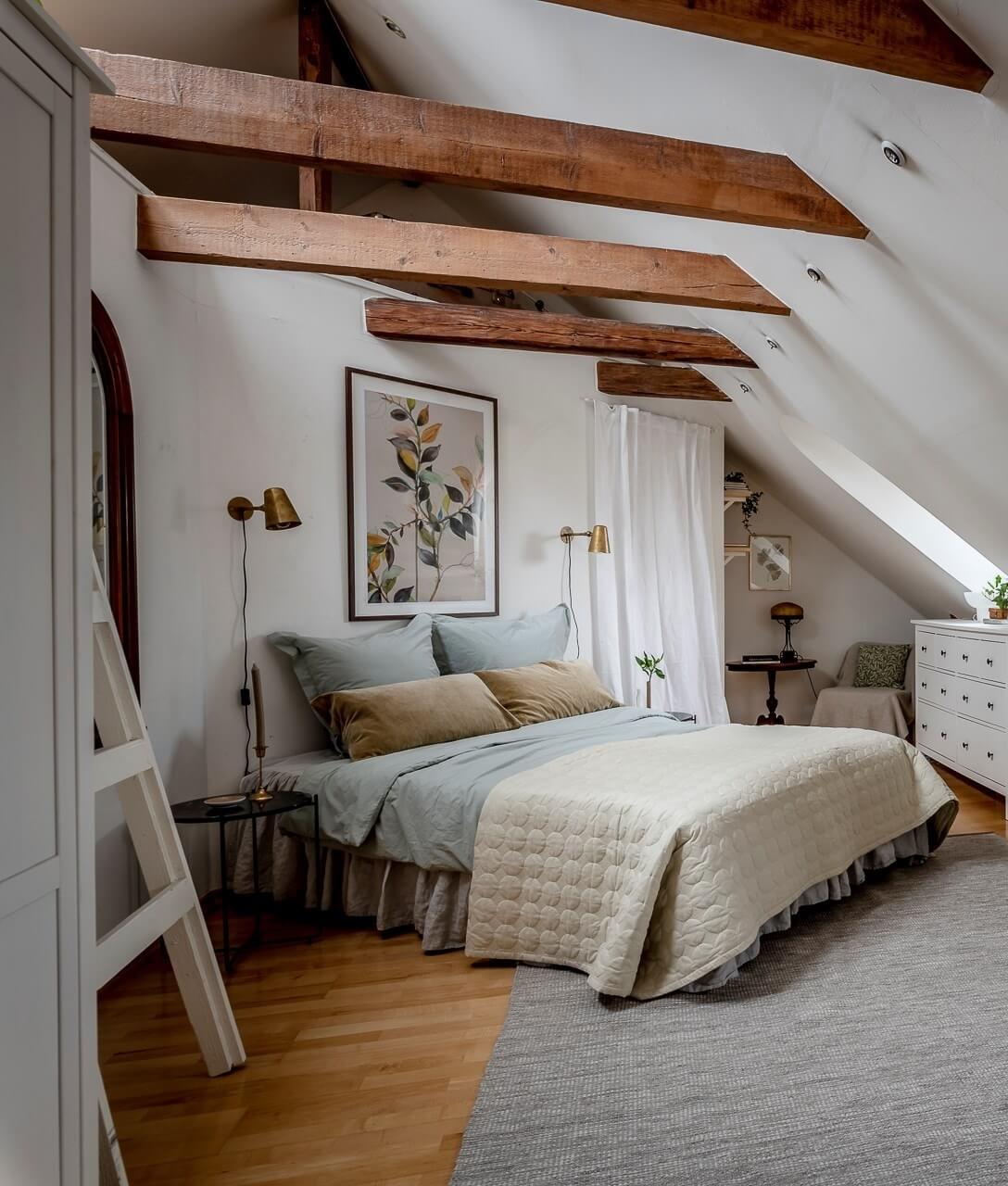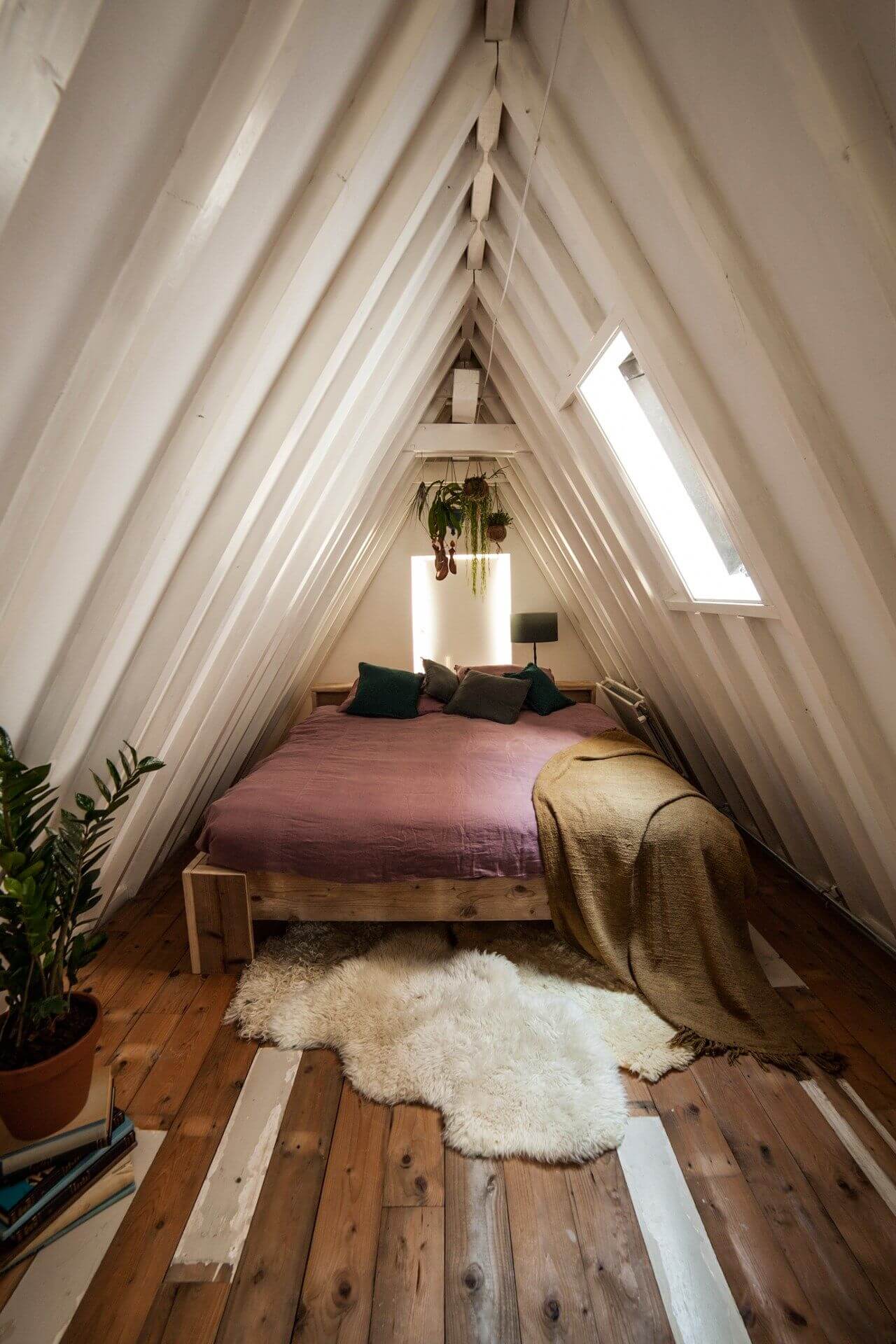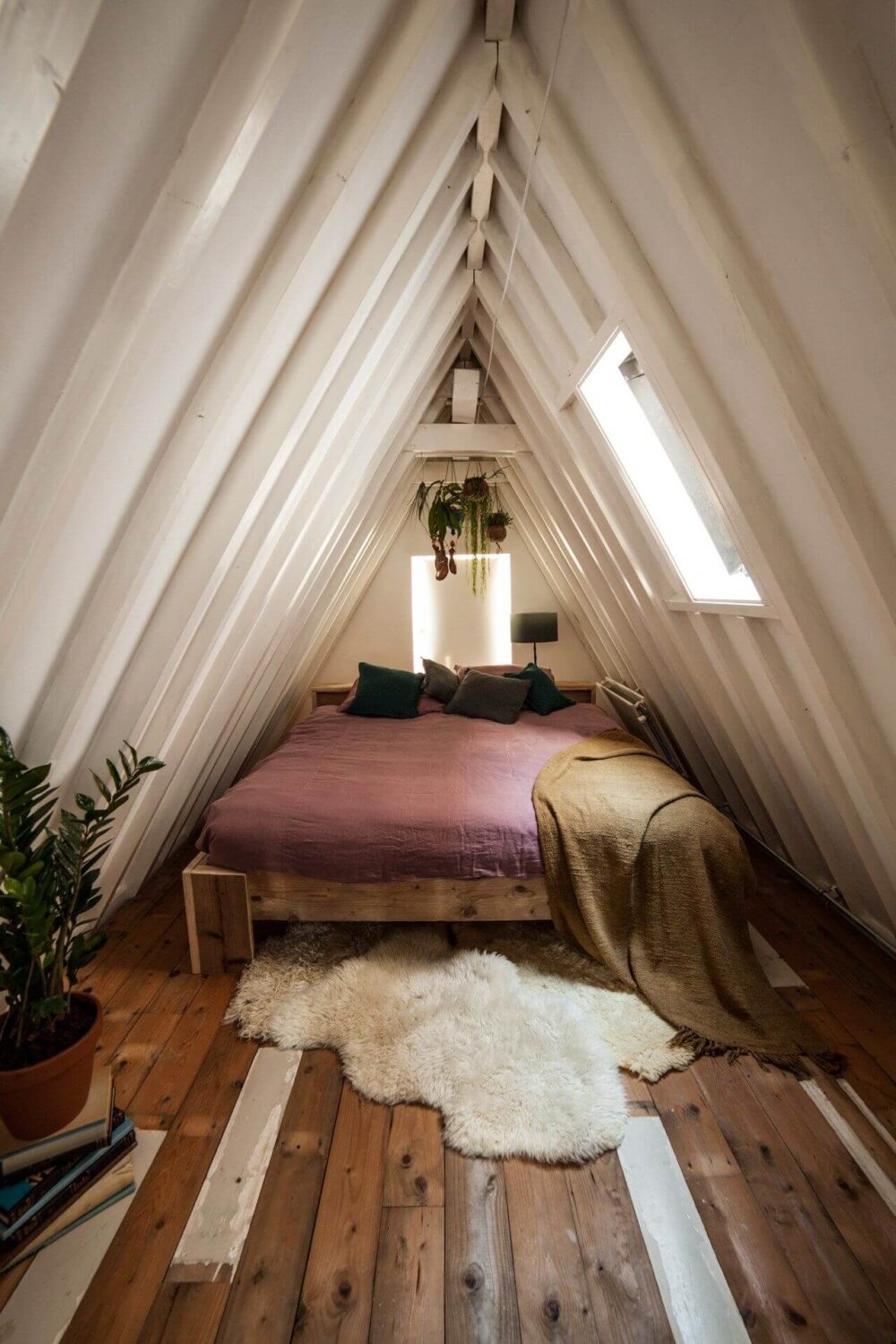 A bedroom doesn't need much decor if it has such expressive architecture. The bedroom above has been kept natural with some plants hanging from the beam above the bed.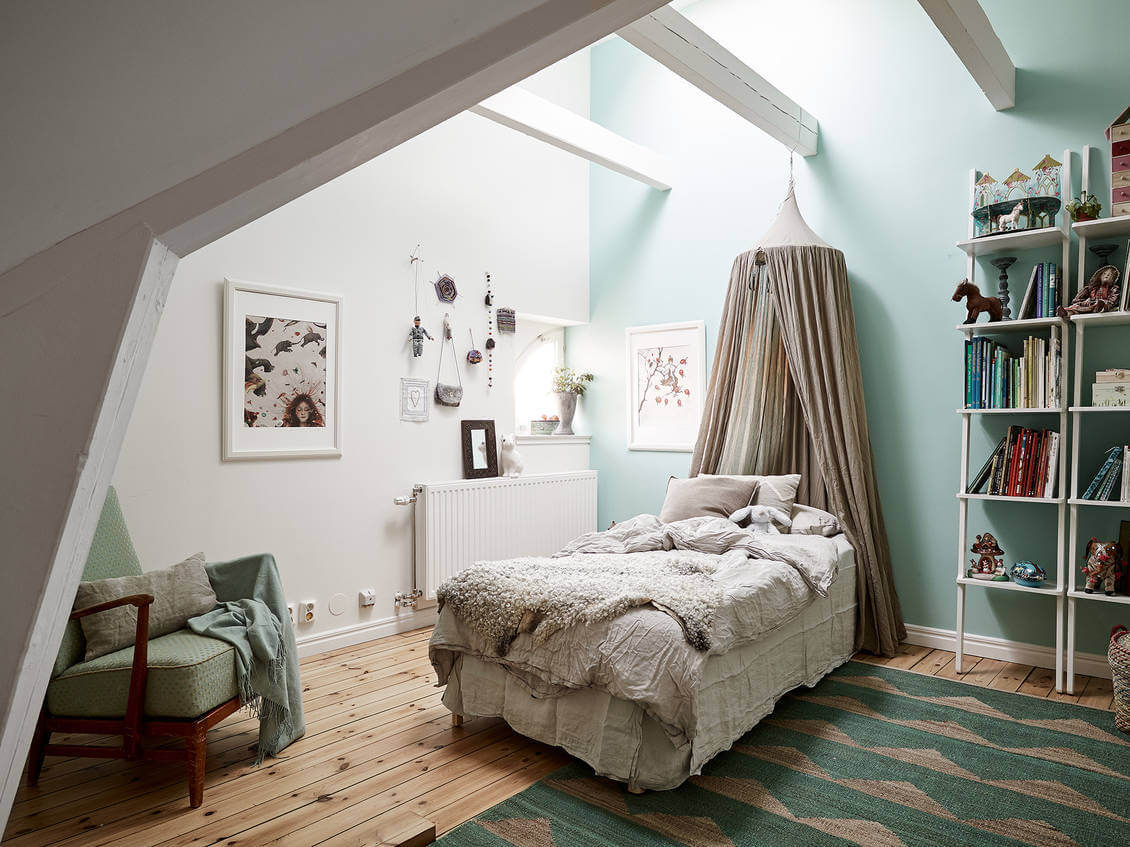 Add string lights to create a cozy bedroom
The two best tips to create a cozy room is to use strings lights and layer up with textiles. String lights create an almost magical look to your room.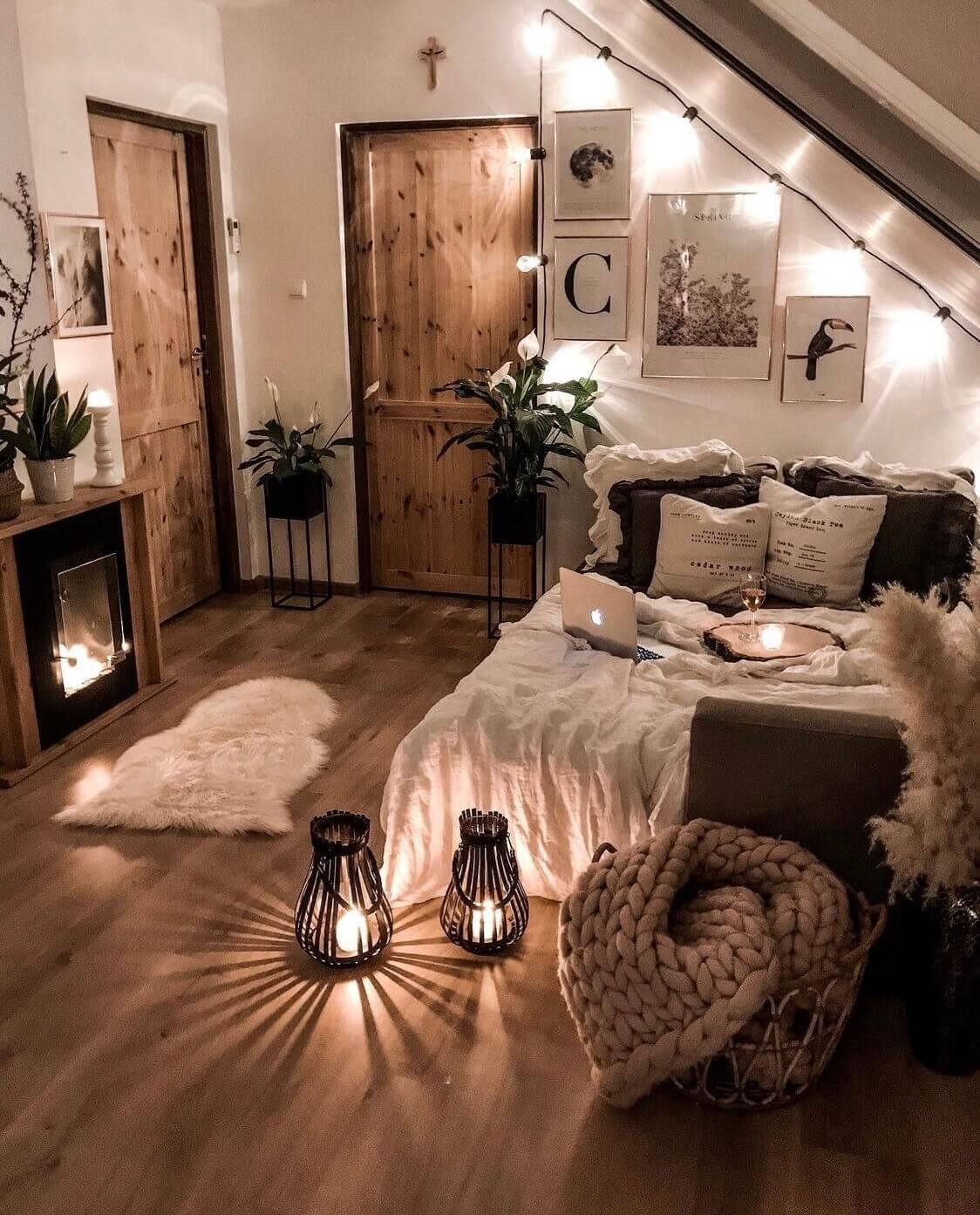 Add a niche to add extra storage
Storage can be tricky in an attic bedroom, but niches are a great and minimalistic way of adding more storage to a bedroom.
Layer up with textiles to create a cozy nook
The best way to add coziness to a room is by layering textiles. Fill your room with pillows, throws, and rugs to create a cozy look. You can also add textiles to your (slanted) wall for ever more warm vibes.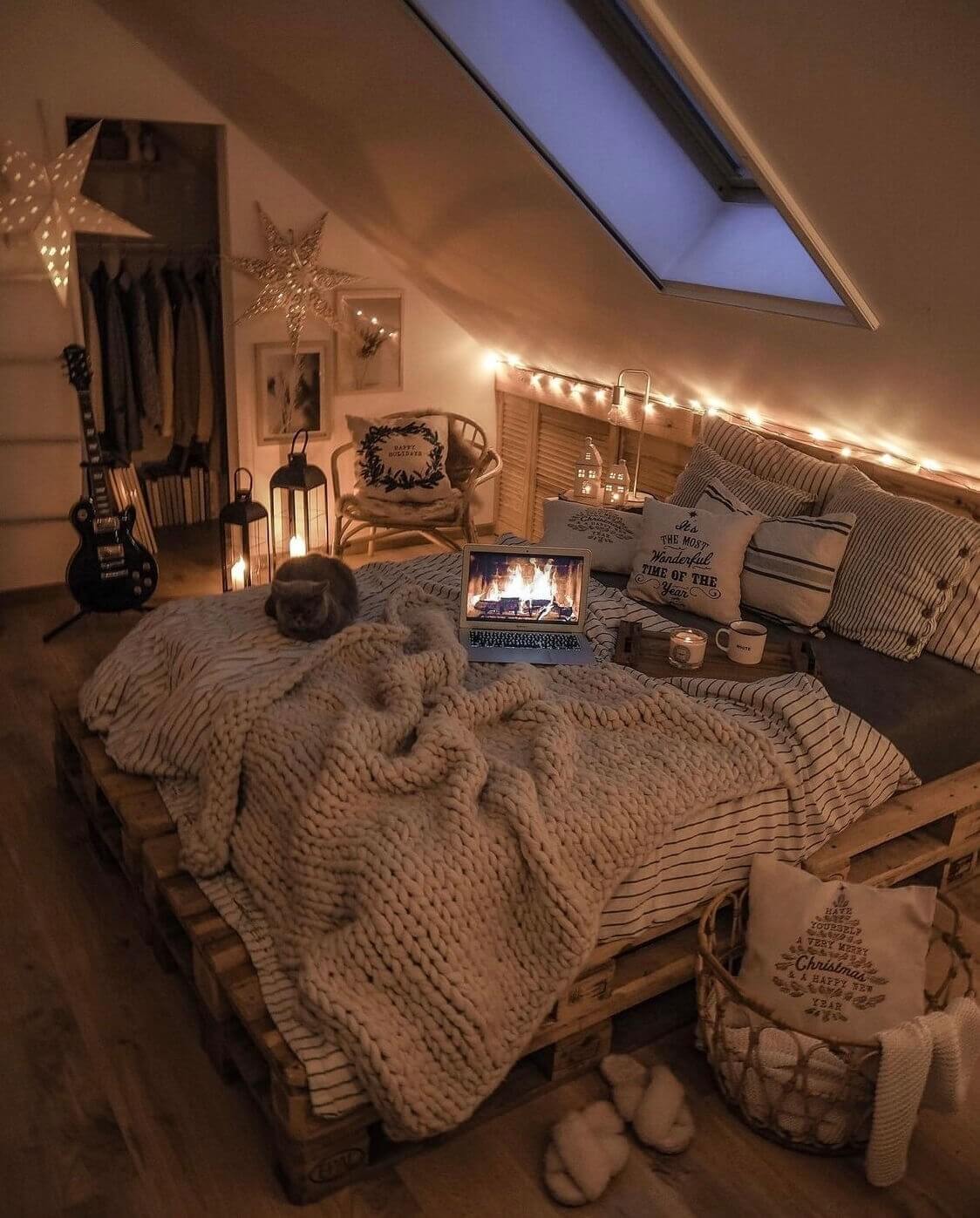 Keep the bedroom minimalistic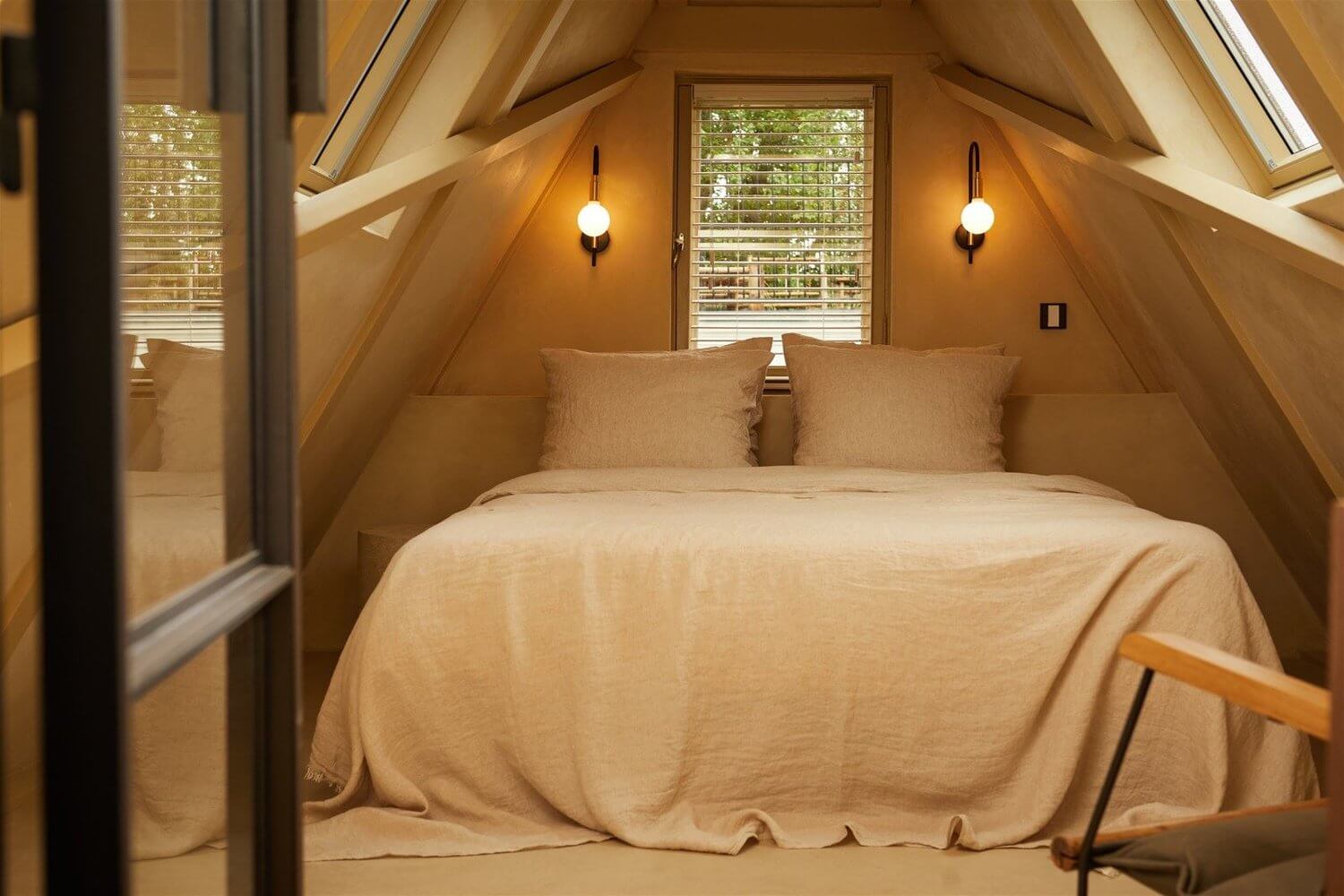 If the attic bedroom is extremely small it might be best to keep it calm and natural. These bedrooms are cozy but natural rooms. Wall sconces are a great way to a light without cluttering up the room.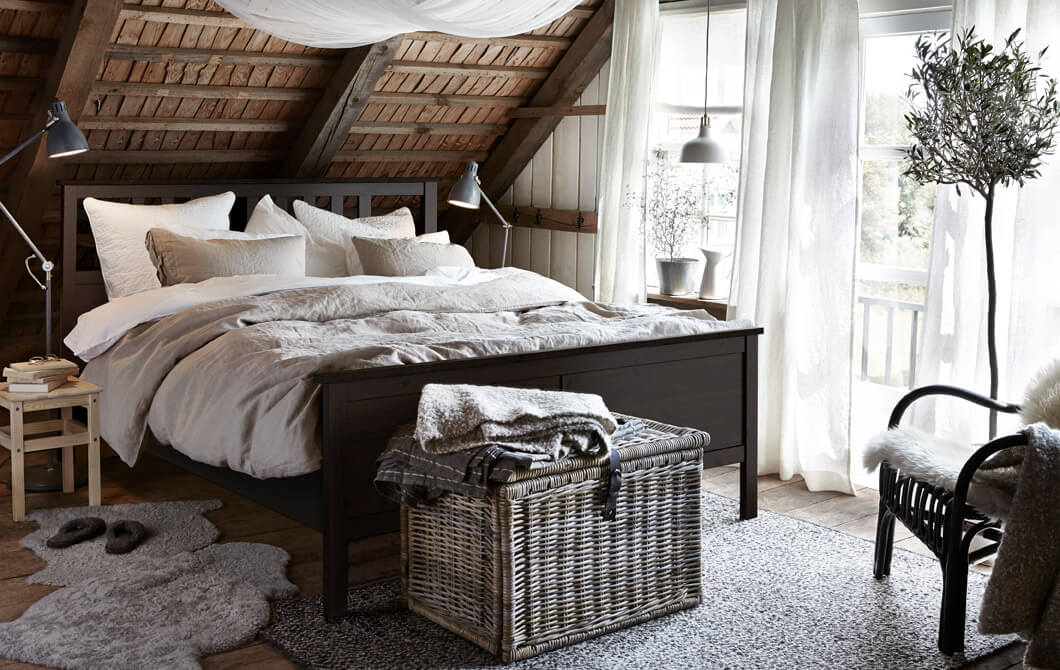 Add shelves
Add custom made shelves to the slanted ceiling to create extra storage or for use it for decoration.
Make the room light
Make sure your attic room is light. Skylights are obviously best, but if your room doesn't have a proper big window, make sure to pay attention to lighting. Wall sconces are great for an attic bedroom, because standing lamps are often too high.
Add Mirrors
An attic bedroom can feel cramped. But by adding mirrors you will make it feel more spacious and lighter.
I hope this article helped you to start decorating your own bedroom with slanted ceiling. There's plenty of opportunity, you just have to be creative.
Do you want more bedroom inspiration?