Small Bedroom Decorating Ideas That You'll Love
Decorating a small bedroom can be hard, especially if you have to use your bedroom for more than just sleeping. You want to have room for everything without it feeling cramped and cluttered.
And there are definitely ways to design a small bedroom that will be stylish ánd have room for all the things you want in your bedroom.
In this post I'll show you how you can decorate your small bedroom by showing you lots of examples from stylish small rooms. From clever small bedroom layout ideas to small bedroom color inspiration ánd tips to make a small bedroom look bigger.
A small bedroom doesn't mean you have to skimp on style or functionality. With some clever design ideas you can create a cozy, stylish and spacious (feeling) small bedroom. And these small bedroom ideas show you how to design a stylish small bedroom.
Space saving small bedroom ideas
So you have a small room, how can you make the most of the space you dó have? By clever space saving design solutions. If you don't have much space, you have to get creative.
Multifunctional furniture
Of course, the number one tip for designing any small space including a small bedroom is to use multifunctional furniture. A nightstand can also be a desk, your bed can also be a sofa and a bed can also be a wardrobe/storage space.
A small bedroom with storage drawers underneath to save space (photo: Jonas Gustavsson)
The IKEA Platsa system is perfect for small spaces. It can be customized however you want, with storage under the bed like in this picture but also with bookcases and high wardrobes.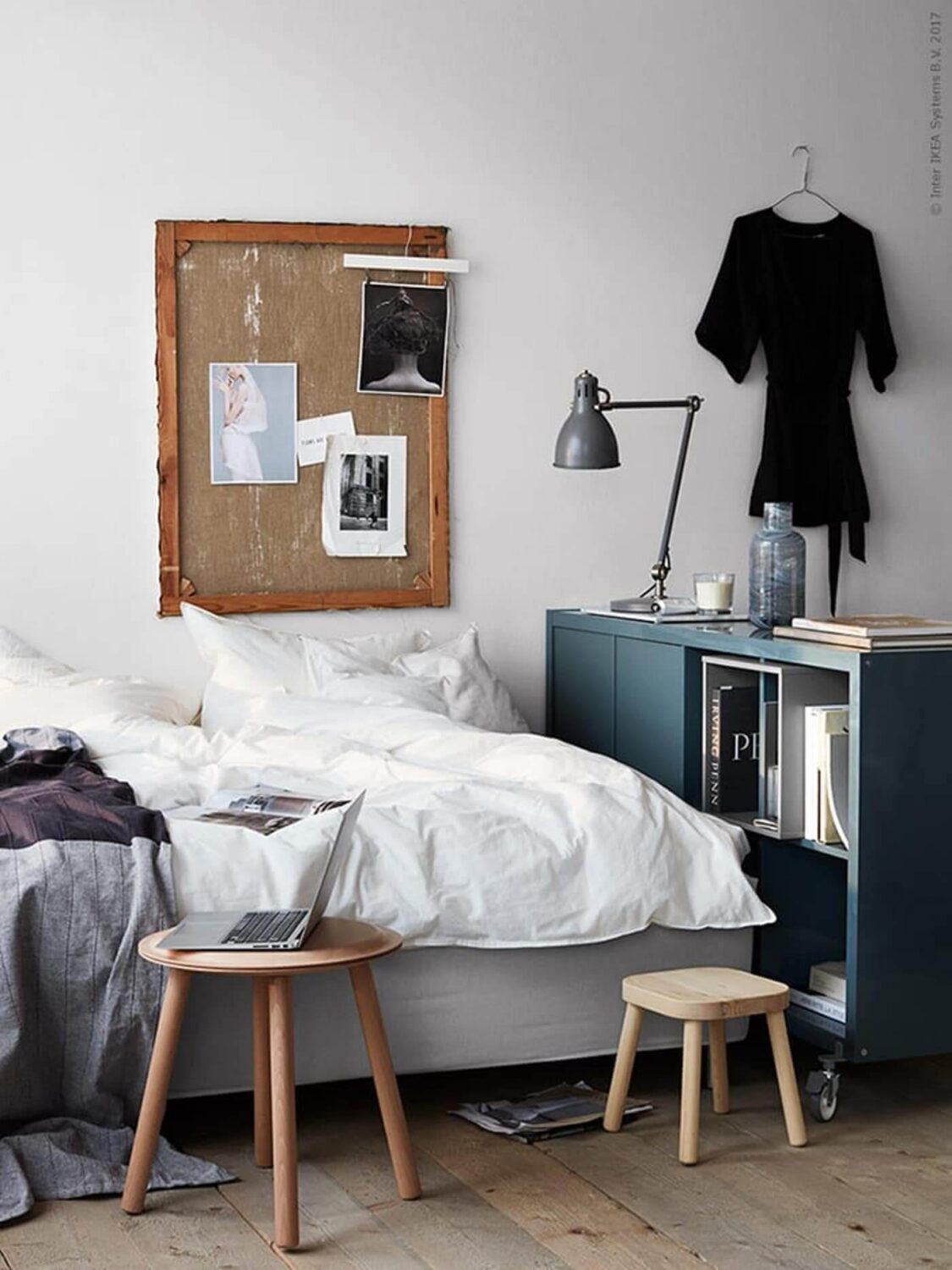 A bookcase on wheels, which can double as a desk, nightstand ánd storage space. And when you don't need it, just roll it to the side (photo: IKEA)
On the left an IKEA Ivar combination where storage space and a desk is combined. On the right a floating desk/side table/storage space. Floating furniture also give the illusion of more space in a small room (photos: Paper & Stitch and Homepolish)
A bed that can also be a sofa ánd with storage space underneath. This is a win-win-win furniture piece for a small bedroom (photo: @alessmalpica)
This bed is easily turned into a sofa with extra pillows and throws. The sidetable can be a nightstand and coffee table. This way you can turn your bedroom into a mini living room during the day (photo: Lundin)
Shelves around the door with a built-in workspace. All painted in the same color for a calm but colorful look (photo: Barbara Kieboom)
Use the height of the room
You're a lucky person if your bedroom has been blessed with high ceilings. You should aways take advantage of high ceilings in a small space.
You can add a loft bed to your small bedroom if you want to open up space. The space under the bed can be used as an office or a cozy reading nook.
The loft bed above allows this small bedroom to have plenty of space for a sofa and a desk (photo:
This tiny bedroom decorated by IKEA has it all. The loft bed opens up floorspace so you can also add a cozy reading nook/television spot. And a white round table adds a workspace to the small bedroom.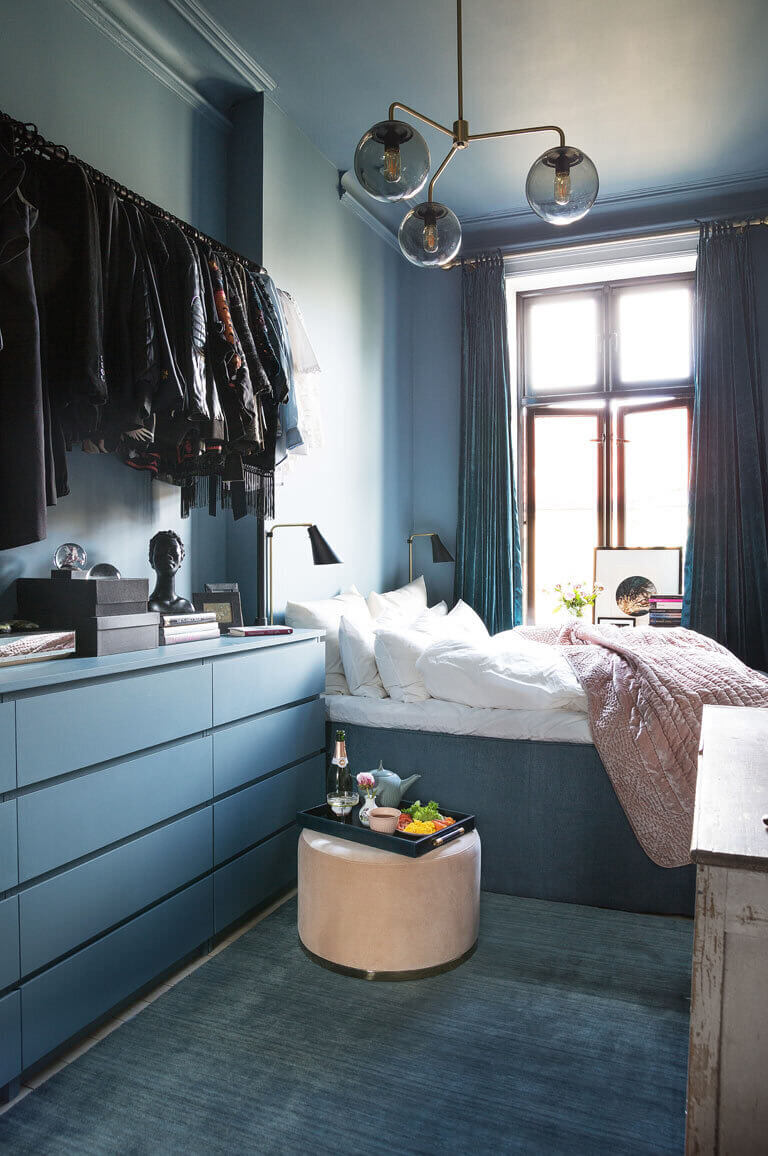 Go up in height with your wardrobe. Instead of putting a big closed wardrobe in this small bedroom, they have decided for a IKEA Malm dresser with above a wall rack for hanging clothes.
By painting the dresser in the same color as the walls you make it blend in and thereby giving the illusion of having more space. (photo: Filippa Tredal)
Got lots of books? Add shelves to your small bedroom and go as high as you can. On the tiny bedroom above the bookshelves also serve as a desk that you can acces from your bed. Working from home was never so comfortable. (photo: Boukari)
Use the space above your bed with storage shelves (photo: Alvhem)
See also: small bathroom design ideas + tips to make a small bathroom look bigger
A Multifunctional Headboard in a Small Bedroom
Instead of a normal headboard for your bed you can add a ledge or a storage headboard instead. The ledge can also be used as a nightstand and bookshelf to make it multifunctional (photos: Lina Ostling, @oursweetliving, IKEA, IKEA)
Custom made & built-in furniture
If your room has ook nooks or slanted ceilings and you're good at DIY (or you know someone who can help) custom made furniture is a good design solution. This way you can use every inch of the room that you absolutely need in a small space.
In the image below, a custom made wardrobe has been installed under the slanted roof. This way all that space under the eaves won't go to waste. (photo: Johansson)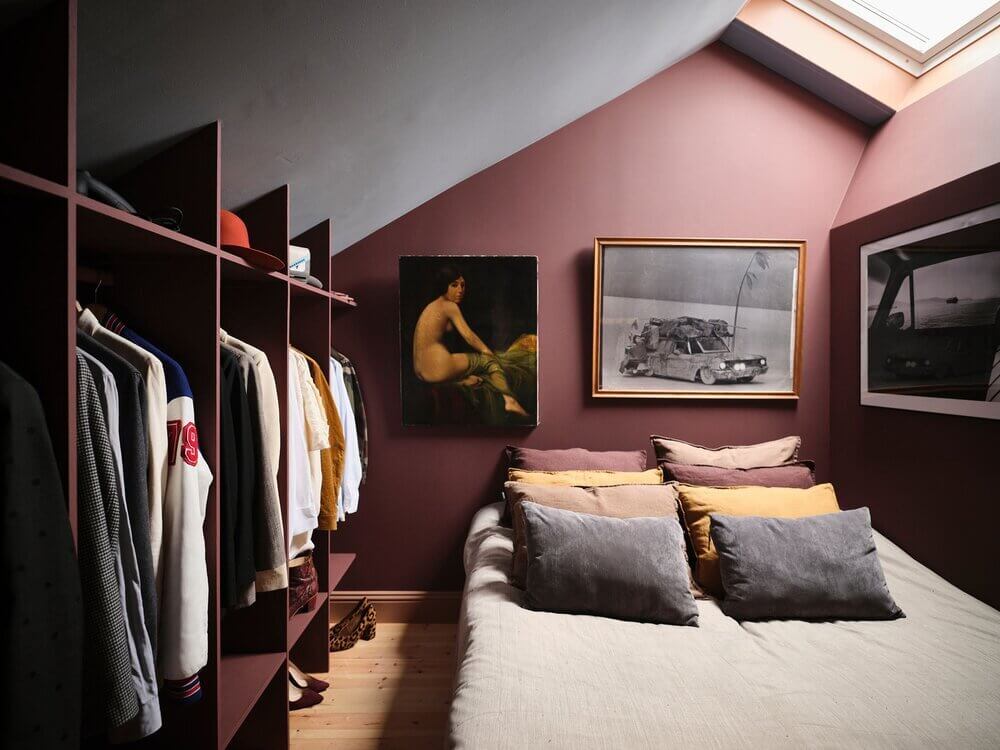 A sofa, bed and storage space all in one. And very clever the bed can be rolled under the sofa so it won't bother you during the day (photo: Jeroen van der Spek)
With a small room it's best not to clutter it up with many furniture pieces. A smart idea is to combine several functions together, in the same style for a sleek and calm look. You can see that in the image below where a bench, desk ánd closet have been combined in a clean way.
See also: How To design A Studio Apartment
Small bedroom layout ideas
Above we already looked at loft beds, which are a great way to design a bedroom. But if you can't go up in height you have to come up with other layout solutions to help you create the most functional small bedroom.
Place your bed at the end of the room
If you place your bed at the end of the room (usually under the window) you will leave the remaining space for a all the other things you want in the room without your bed being in the way.
If you spend a lot of time in the bedroom (for example if you also use your bedroom as a home office) you can also think about hanging a curtain next to your bed. Close the curtain next to your bed if you use your bedroom for something else (like working) and you won't feel like your spending all thay in your bedroom (and you don't have to make your bed)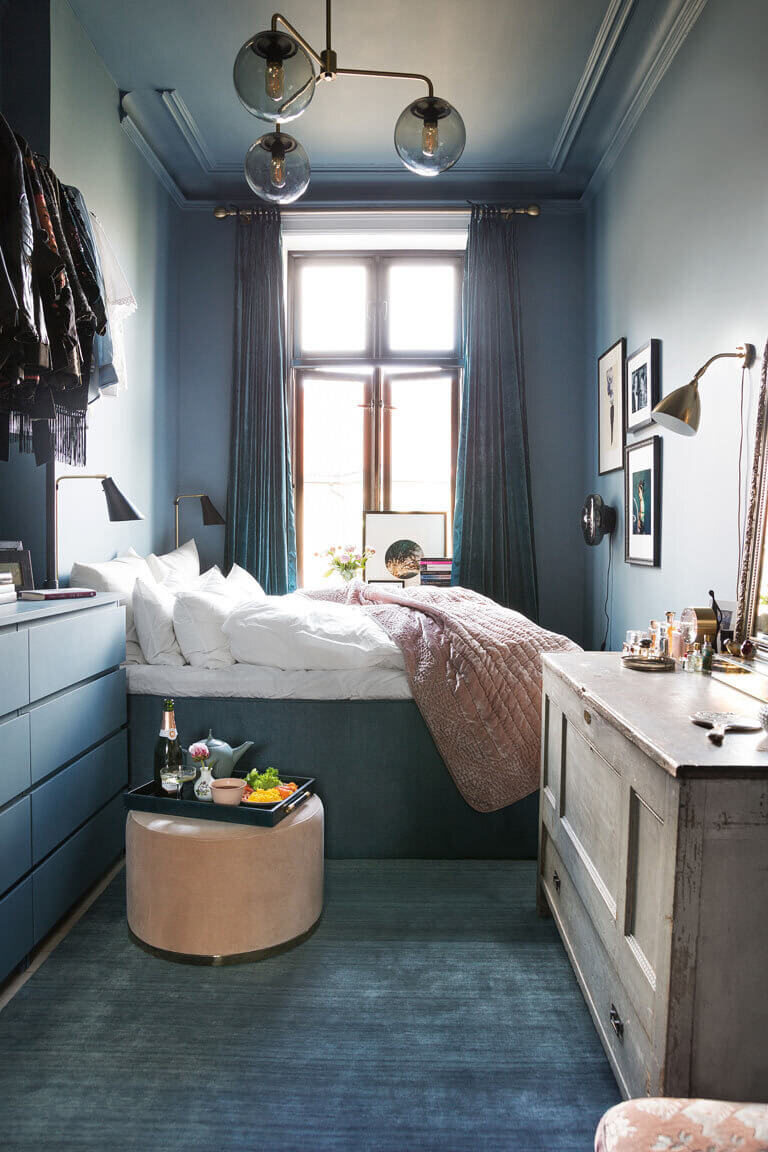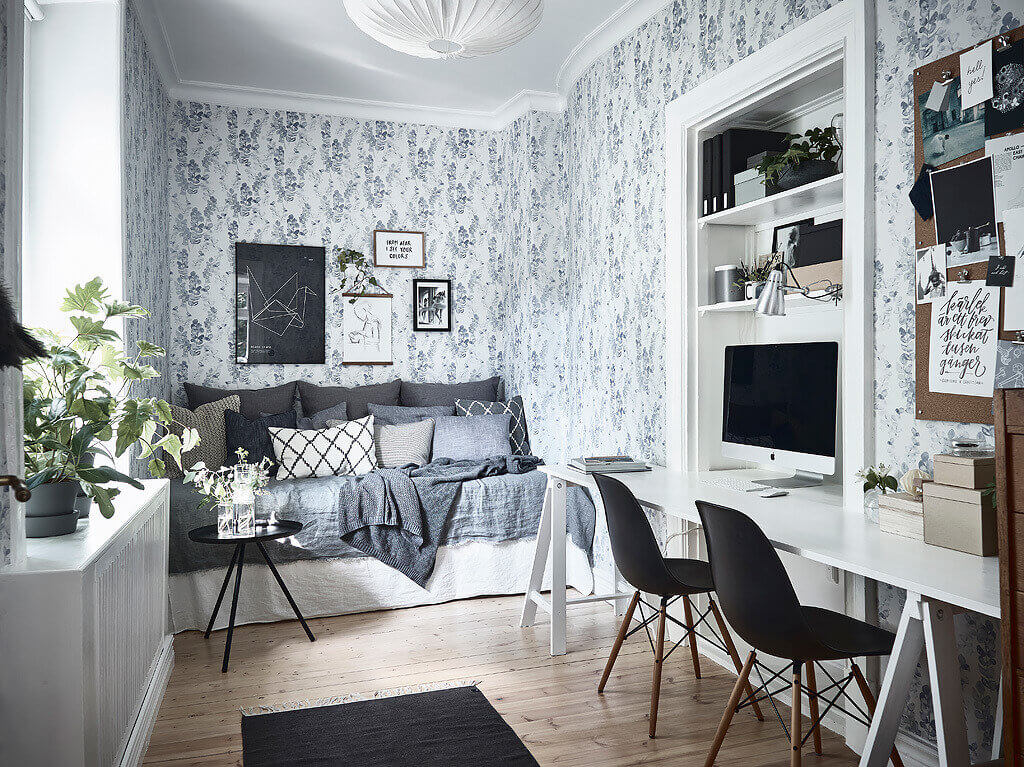 A small bedroom with the bed at the end of the room and a double desk that uses the former built-in closet for the computer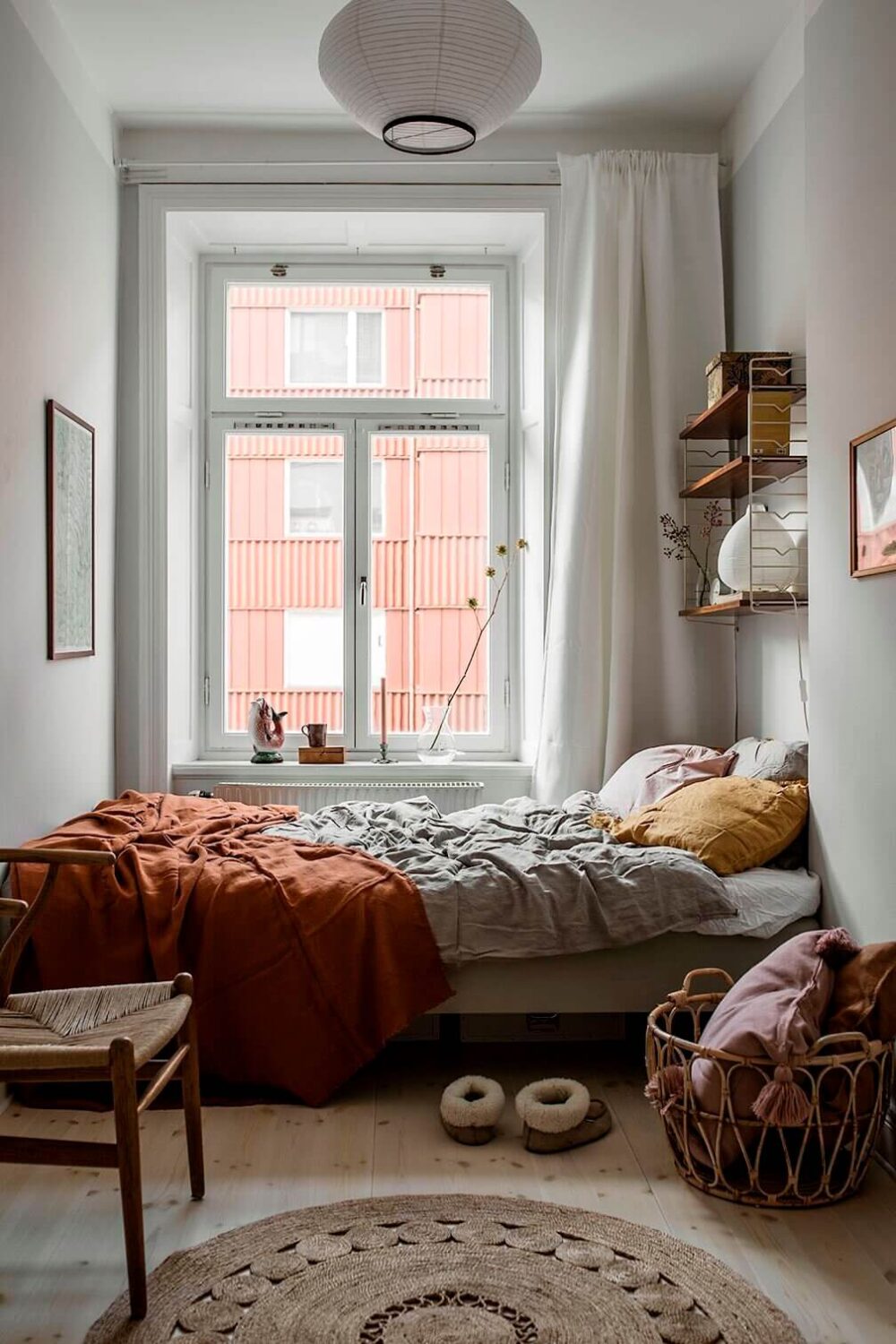 Place your desk at the end of the room
If you work a lot in your bedroom then maybe you want to have a nice workspace that feels seperate from the rest of the room. By placing your desk at the end of the room you can use the entire wall. For optimal space saving you can opt for a wall mounted desk, it will make your desk area look neat and minimalistic.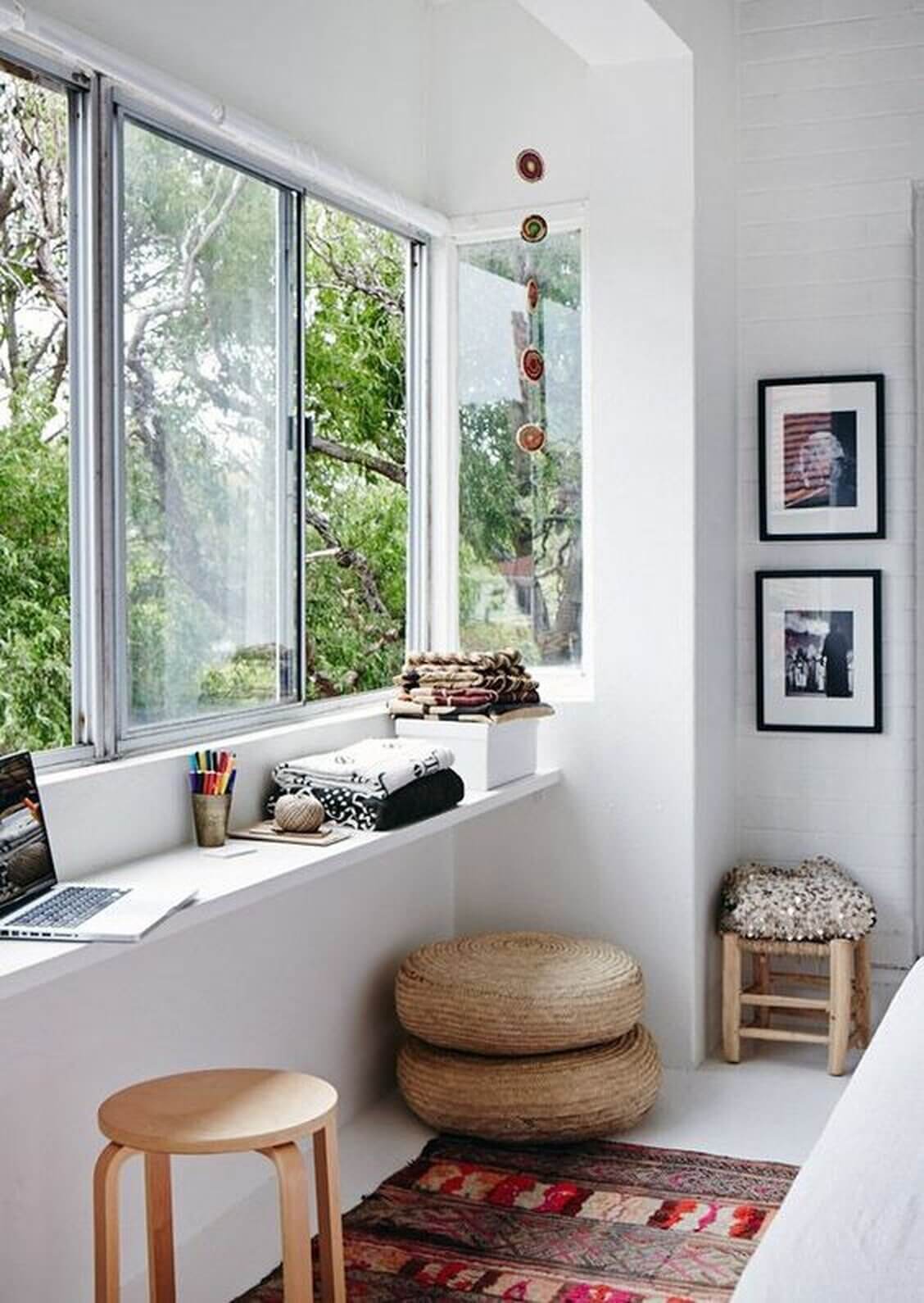 Some houses have deep window sills, which you can also use as a desk. Plus you'll have workspot with a view.
How to make a small bedroom look bigger
The design solutions above all looked at how you can make the most of the space that you have in a bedroom with clever layout ideas and furniture solutions. But you probably also want to make your small bedroom look bigger. There are several ways you can give the impression of having more space in your room. It doesn't entirely make up for the small amount of square footage but it certainly helps.
Mirrors
Mirrors are an underused wonder of interior design. They aren't just for decor and to make yourself look pretty but they can also make a room look larger.
A mirror can make a room look twice the size and mirrorst reflect light so a dark room can be made infinitely lighter by strategically adding mirrors to a room.
Small Bedroom Color Scheme
it's no secret that light color tones make a room look bigger. That doesn't mean you have to have a white bedroom. If you want to add more warmth think of a light pink or terracotta hue. You can find a lot of color inspiration in my color trend post.
So light colors make a room look bigger, but what if you want to go dark? Personally I think you should paint a room whatever color you want. If you love emerald green or deep blue you should go for it! Because having a room with decor and colors that you absolutely love is always better than using a color that you feel you have to use.
Bright colors and a wall-mounted closet (photo: Birgit Fauske)
If you want to use dark colors in your room you can still make it feel a little bigger by painted the ceiling in a lighter color tone, I don't mean keep the ceiling white but actually painted the ceiling a lighter color shade.
By painting the ceiling in a lighter color tone you will get the illusion that the ceiling is higher than it actually is. You won't feel like the walls are falling in on you which is definitely something you want in a small room
Another way you can still have dark wall colors is by painted the floor in a light color tone. In the image below the floor is white which reflects the light.
The walls are painted in a deep blue in this small bedroom but the floors are white which brings light and spaciousness to a small room. (photo: Fastighetsbyran)
See also: The Best Paint Colors for a Small Colorful Bedroom
Wall mounted furniture
What you don't want in a small room is having bulky furniture pieces because they will only make the room feel smaller. With wall mounted furniture you will still be able to see the floor which is such an important visual solution for making a room feel bigger.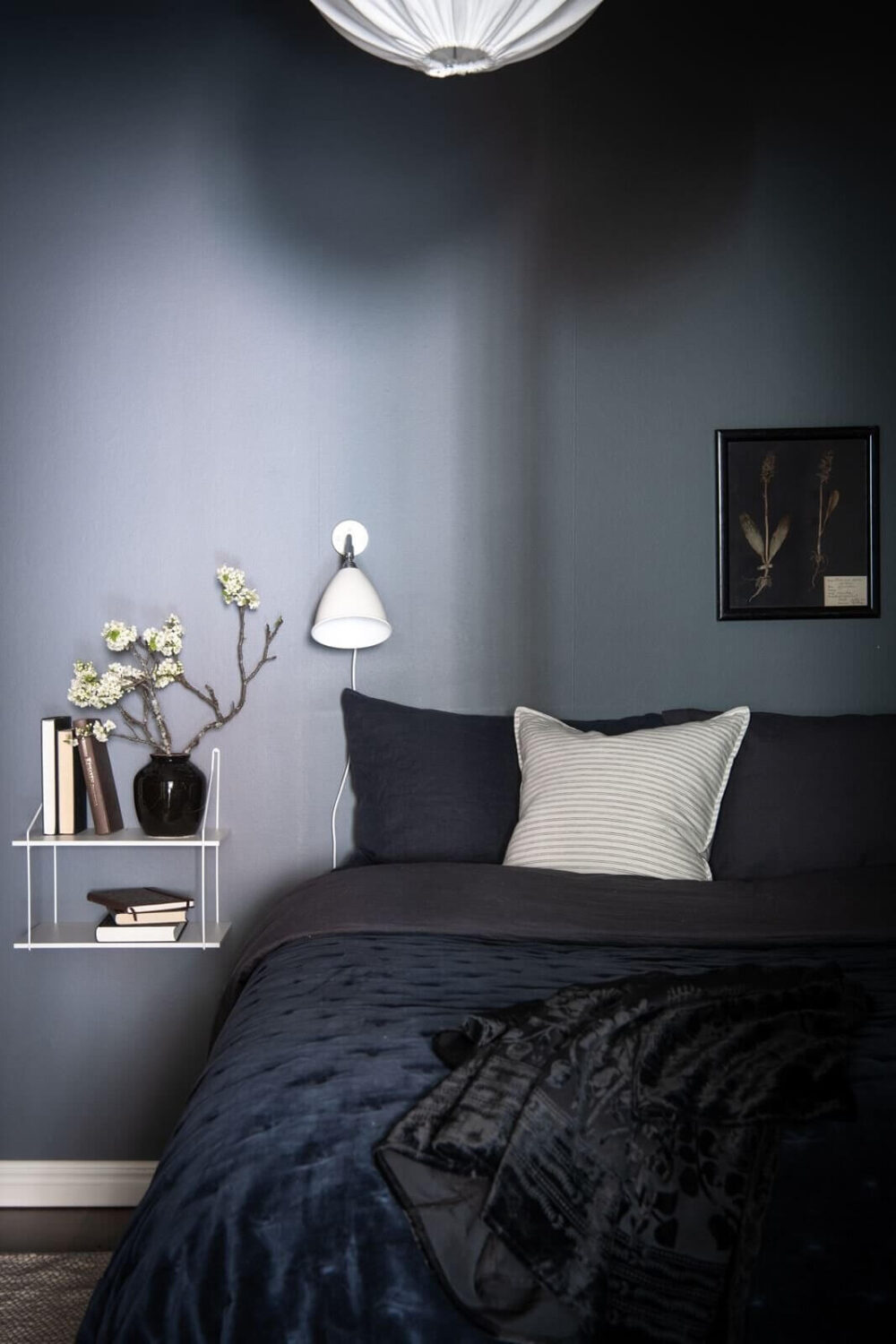 Now you see, there are endless possibilities when decorating a small bedroom. A couple of things to remember:
What function will your bedroom have. Just sleeping? working/studying? lounging? Make sure to think about that before you start decorating your room
Always use multifunctional furniture
Be organized. Clutter will make your room look smaller
Use every space you've got. The walls, above the door, under your bed etc.
Don't be afraid of color
Don't forget: 'design rules' are here to help but they're not set in stone. Less is more works great in small space but if you're a die-hard maximalist try to work from that.
And most of all. Enjoy your space!
Do you want more bedroom inspiration?
Pin me for later!