How To Design A Stylish Bedroom Home Office
Many of us are still working from home and I don't see that changing in the future. This means we need to create a functional workspace in our home. With every home being different, you have to be creative and this can mean creating a functional home office in your master bedroom or a guest bedroom.
Putting a desk in your bedroom is not a difficult thing. But creating a smart, functional, ánd stylish bedroom home office space asks for more creativity.
In this post you'll find many bedroom home office designs. With design ideas to create a functional workspace in your bedroom, whether it's a big bedroom or a small bedroom. With these bedroom workspace ideas you'll become your most productive self.
Small bedroom home office design ideas
Big or small, you can create an office in any bedroom. But in a small space, you always need to be a bit more creative to add a dedicated work space without having it take over the entire bedroom. These small home office ideas show you how to add a functional small office with limited space.
DIY: design your own bedroom home office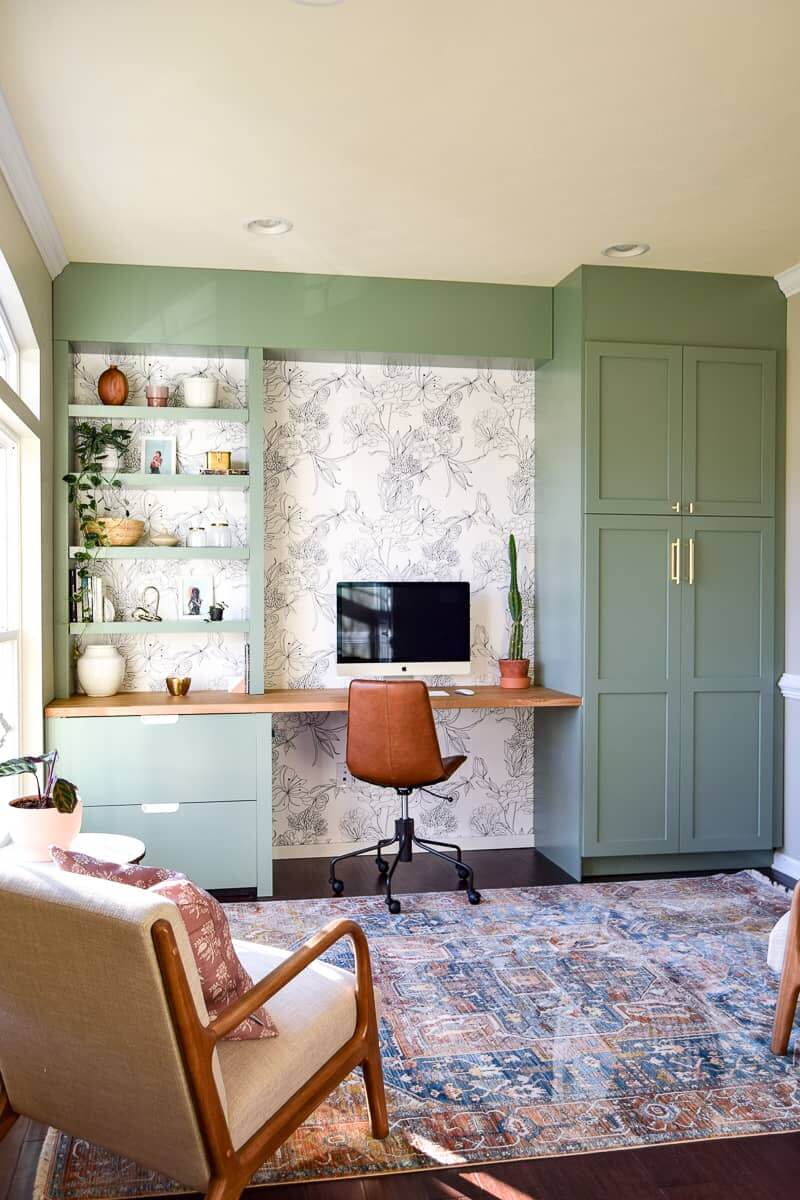 Can you believe that this is an IKEA hack? Sarah and TJ from Making Joy and Pretty Things designed this office set up with mainly IKEA items. The tall cabinets are made of IKEA SEKTION pantry cabinets. The low cabinet on the left is the GALANT filing cabinet and the shelves are made with LACK. Even the desk space is an IKEA product, namely the KARLBY countertop.
This is a perfect, stylish, ánd functional bedroom office set up. You can use the tall cabinets as a wardrobe. And you'll have plenty of space for office storage. Using an entire wall is an effective way of combining a desk and wardrobe storage and creative a cohesive look.
This is a home office set up is in a pretty big bedroom space and looks great if you have a large master bedroom. But thanks to the double-duty furniture you can definitely do this in a small room as well.
If you have a home office in the guest room than you can choose a murphy bed so it can be a proper home office without feeling like you're working in the bedroom when you don't have guests.
Another perfect example of a custom made bedroom office is seen here in a home on Fox Island designed by Heidi Caillier. I like the combination of open and closed cabinets.
Double duty: a desk that's also a nightstand
When the bedroom is small, you have to design smart. One way of using the space you have in a great way is by decorating with multifunctional furniture. The desk you work on during the day, can easily be your nightstand in the evening.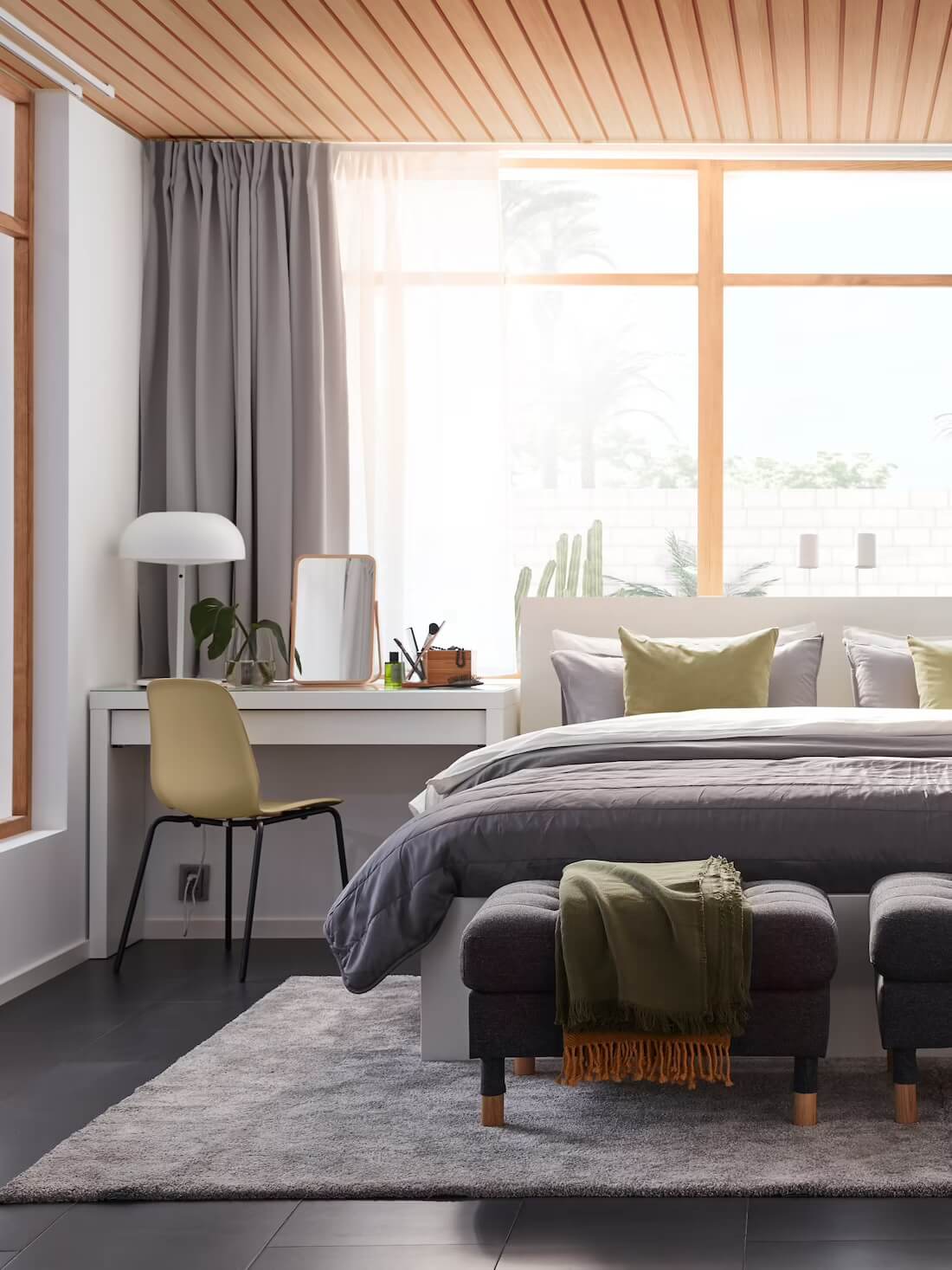 You can also think outside the box and use other furniture as a desk. This is an IKEA vanity which is an excellent choice to use as a simple desk. And it has a convenient drawer so you can still store some of your office supplies.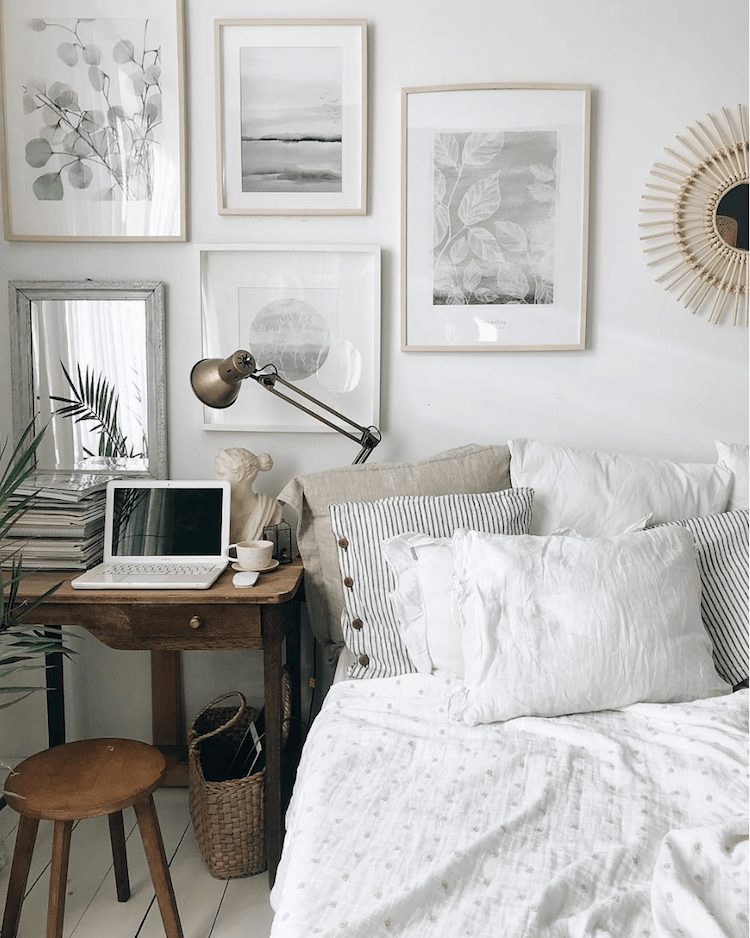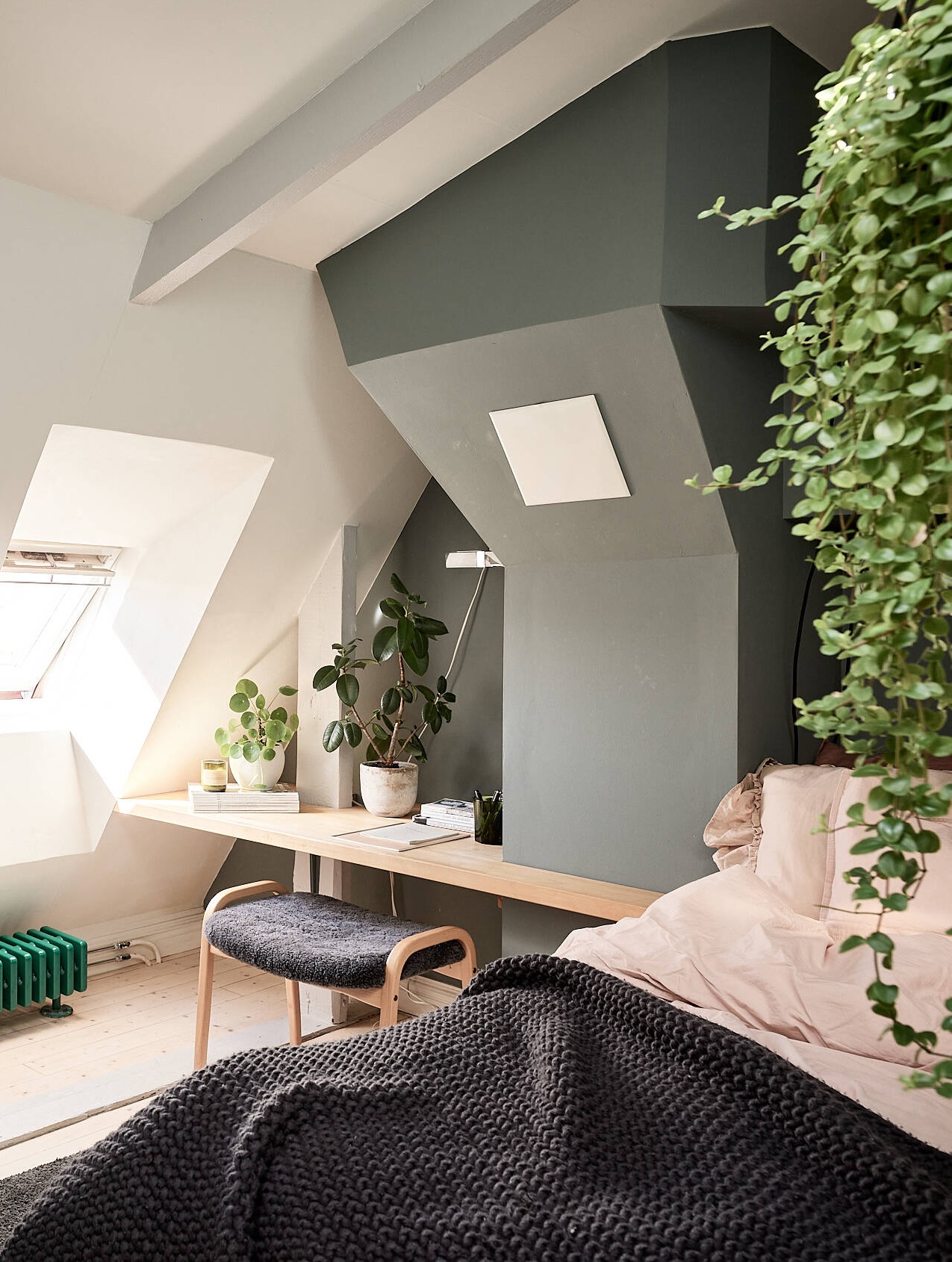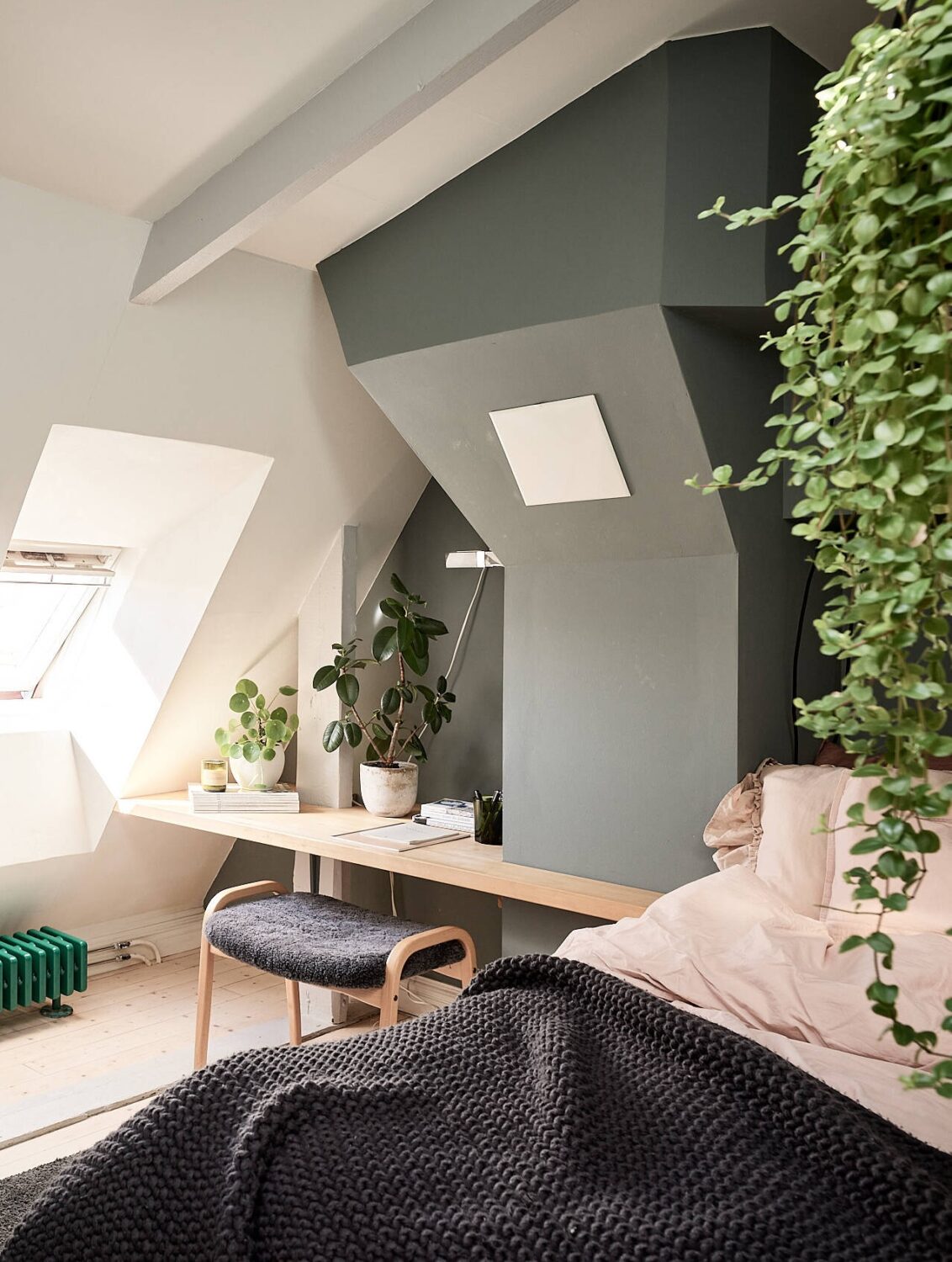 In this small attic bedroom they added a floating desk that continues to the bed making it also a nightstand. In a room with nooks or beams like this one it's often better to custom made furniture. This desk now fits perfectly in the small space and you can also add shelves above the desk for extra storage.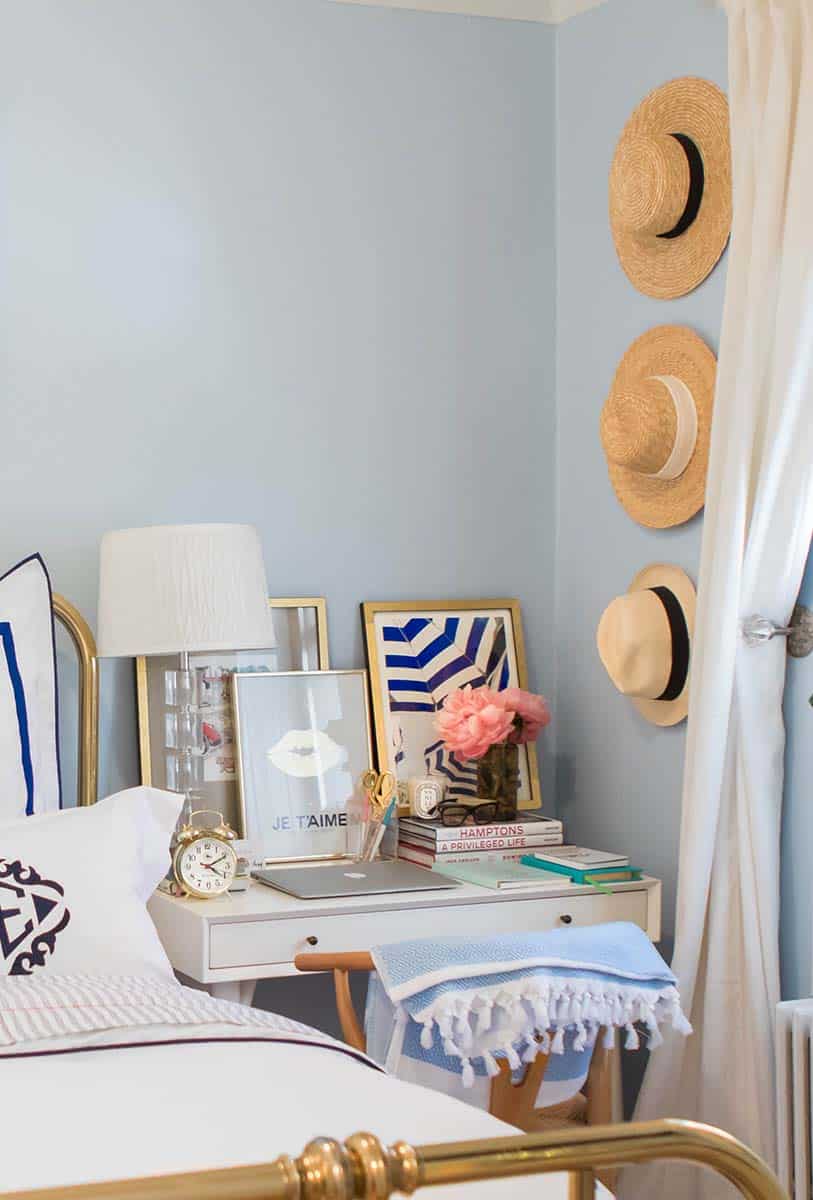 Add a cloffice (closet/office)
The cloffice is a home office and closet in one. You might already have a large closet in your bedroom. And maybe your not using all of it. It's easy to add a simple desk to your closet space. And the best thing is that you can hide it from view when you're not working.
Add shelves for extra storage space
The best tip for any kind of room is to use the space you have to the max. And the best way of doing that in a bedroom office is by using all the vertical space in your room and add wall mounted cabinets and shelves.
Put shelves above your work area for extra storage, use boxes to storage important documents that are easily in reach. And make sure to decorate them with both business and decor items because your bedroom is more than just a work space.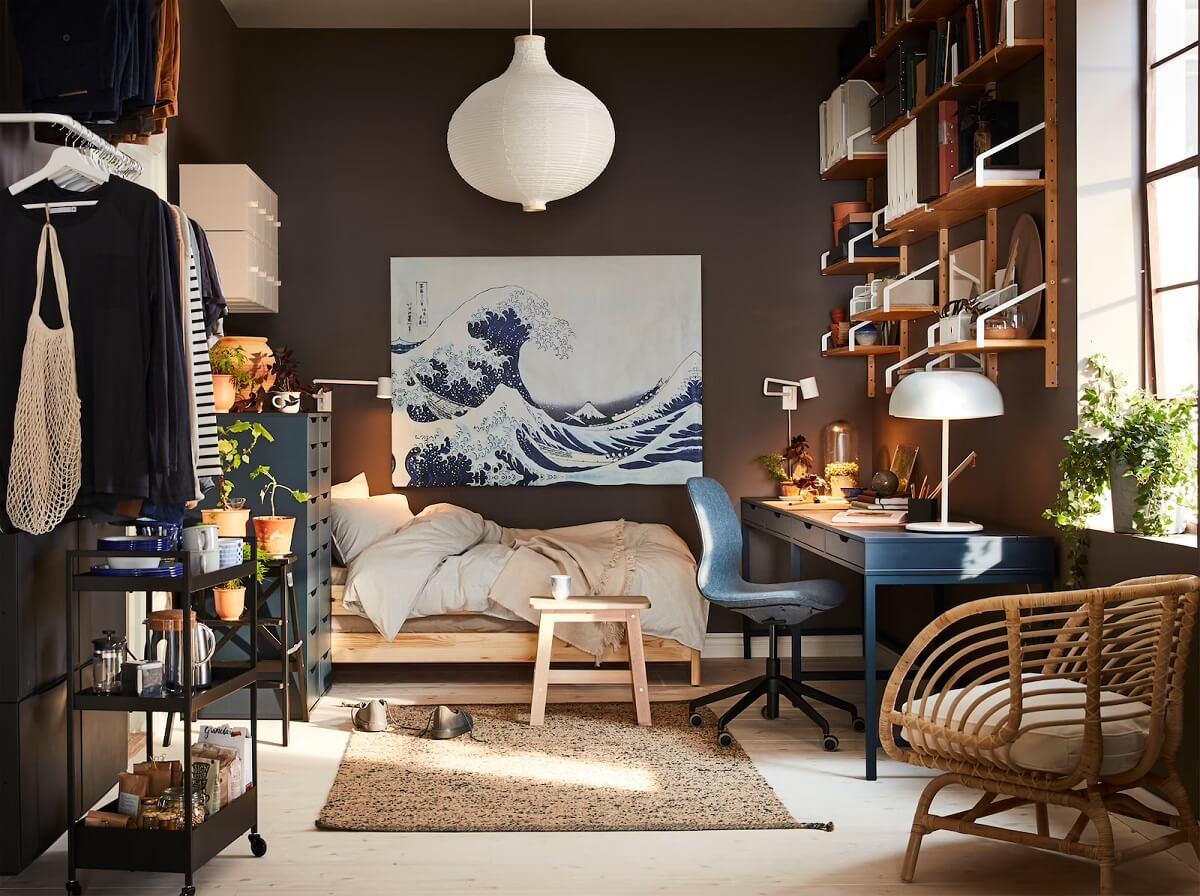 Another wonderful system (with shelves) for creating a home office is the Swedish String shelves. You can mix and match the system anyway you like. So not only is it stylish but also super flexibel.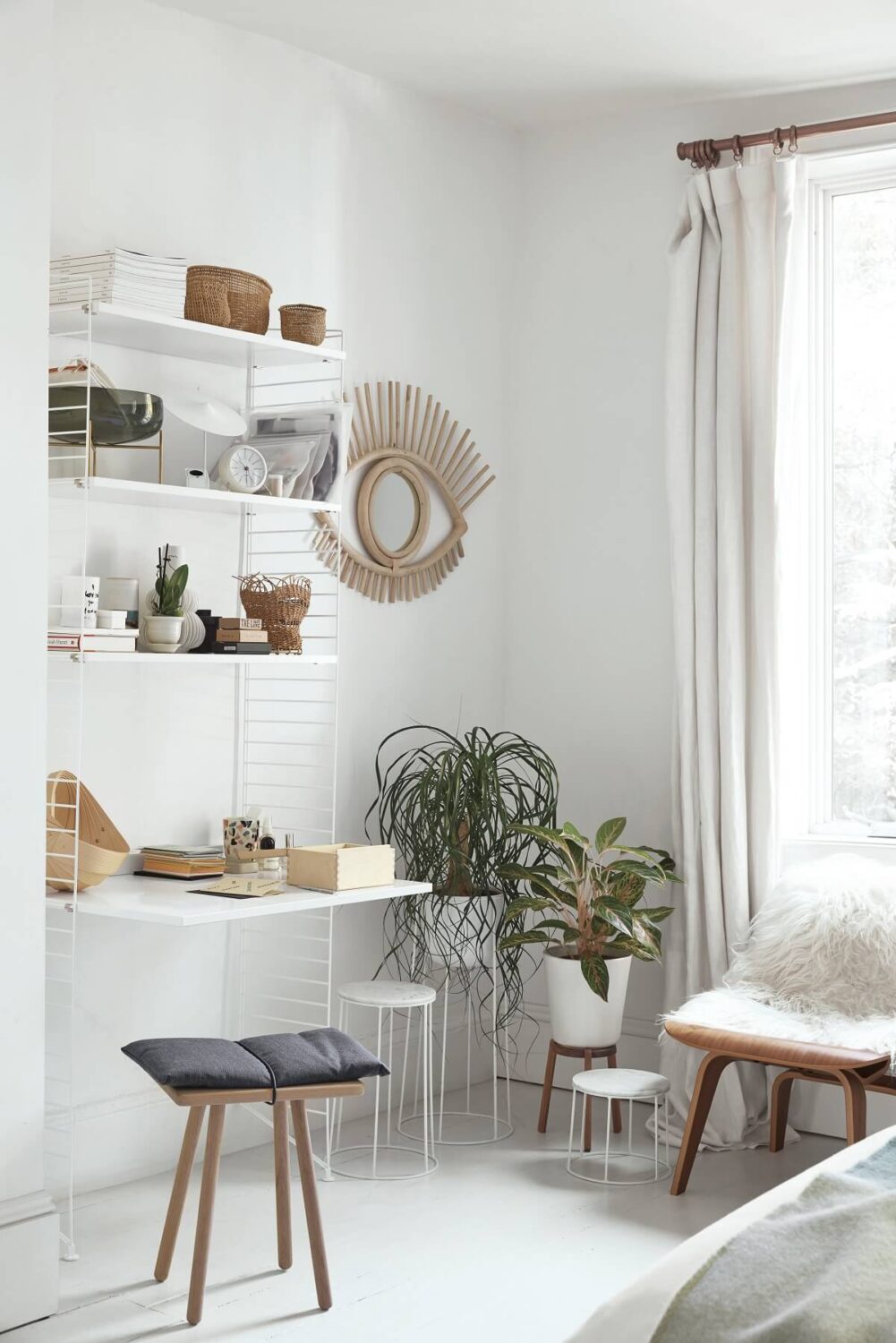 Use the niches in your bedroom as workspace
Niches as perfect for creating a home office. The workspace will be less instrusive and you can even hide it from view by adding a curtain or sliding door.
These homes have built-in bookshelves and between these cabinets you can add a desk.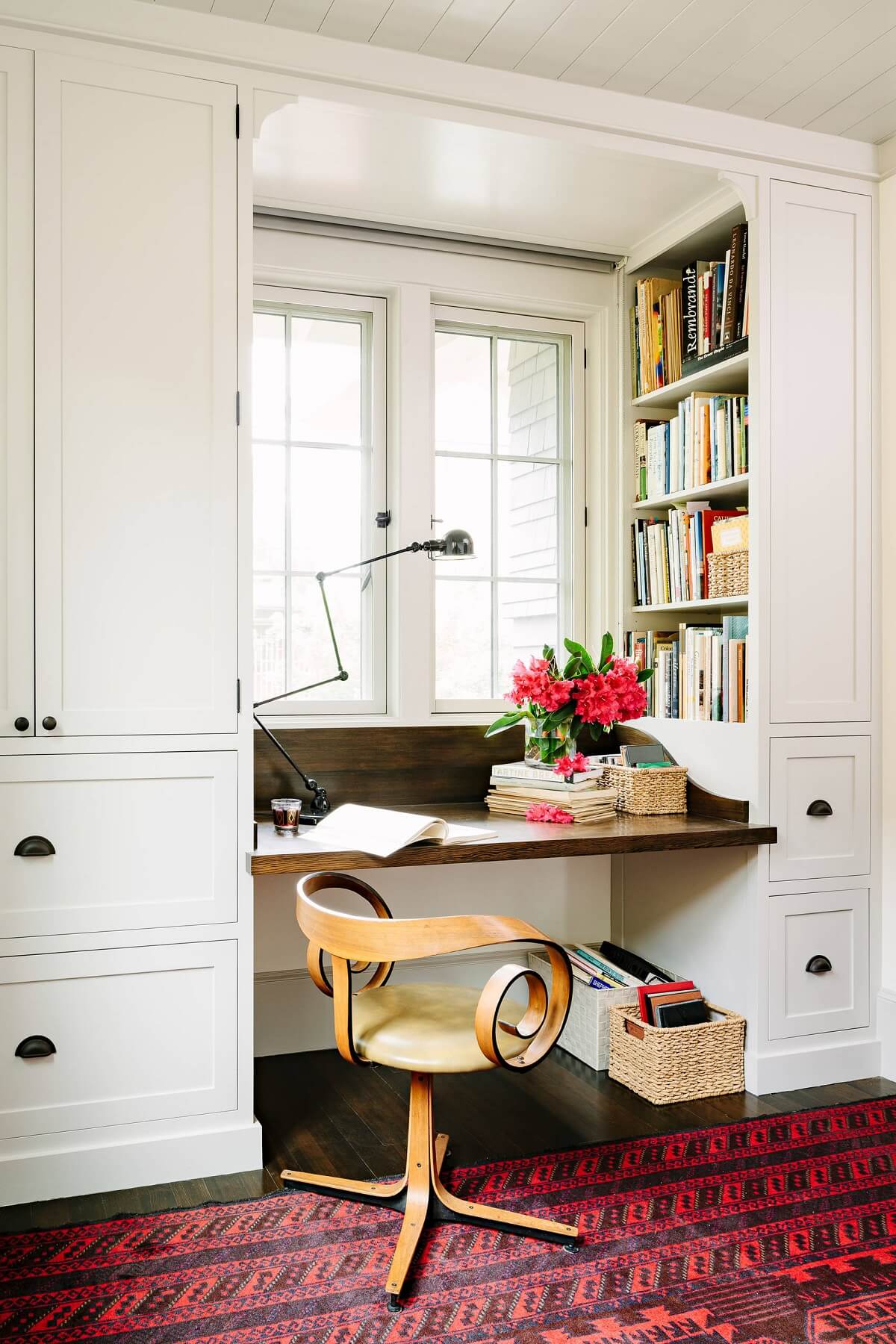 A floating desk
For a minimalistic and non-intrusive home office you can add a floating desk to your bedroom.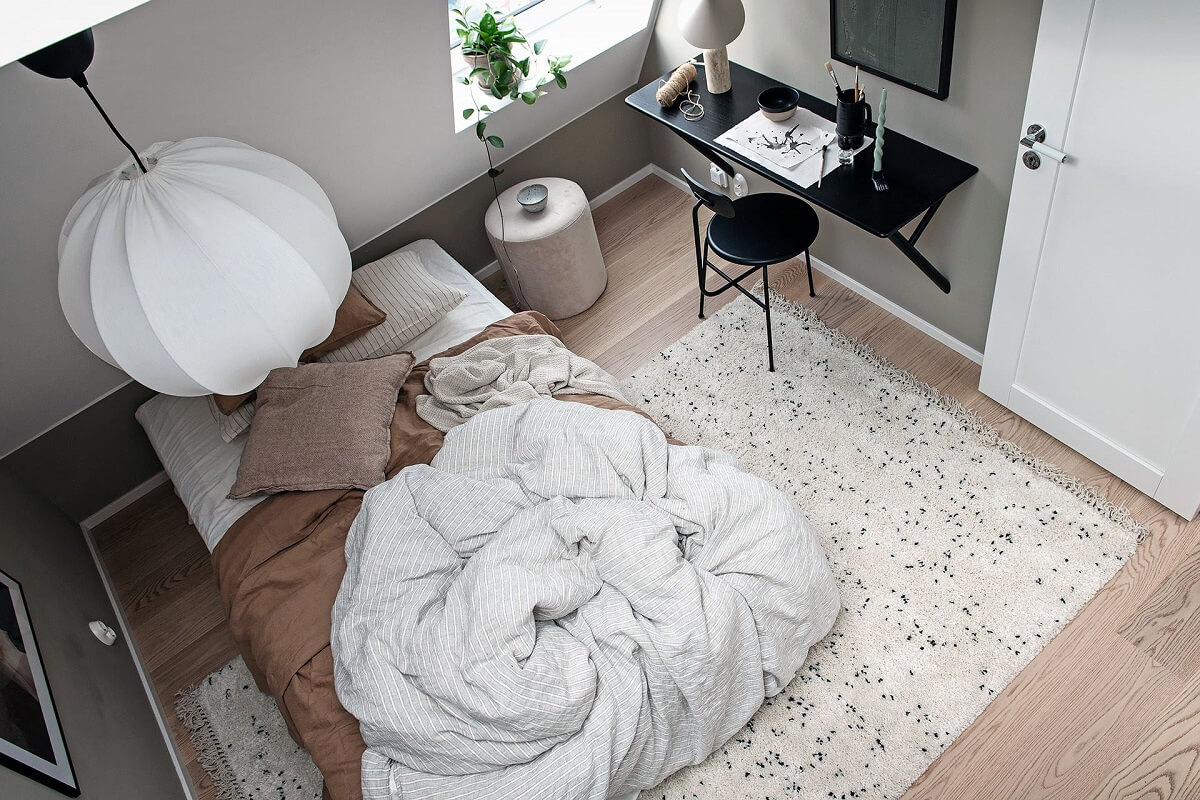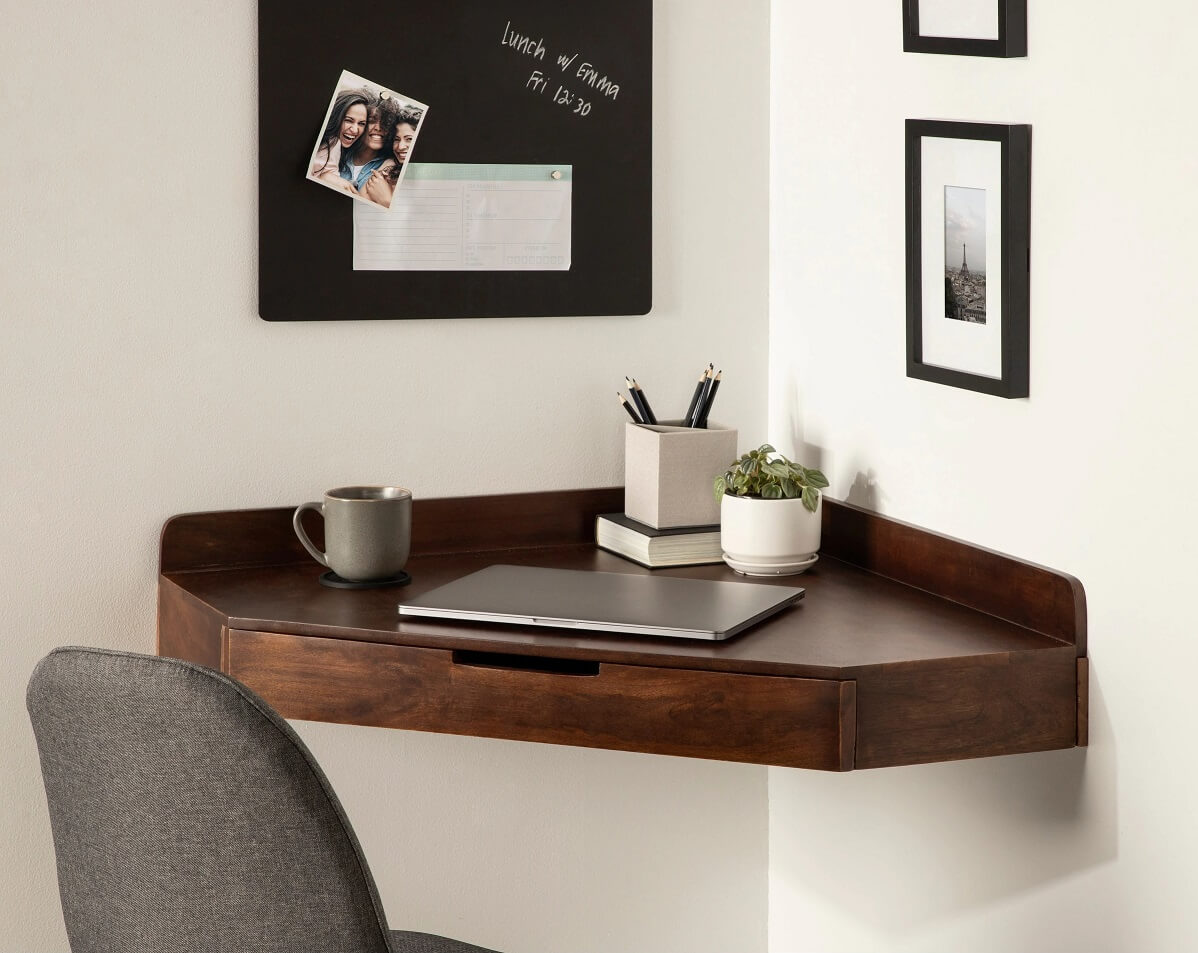 This corner desk with drawer by Kate and Laurel is perfect for a small bedroom. The small desk is big enough for a laptop or a desktop. And it has a drawer for the small things you might need when you're working. (*affiliate link)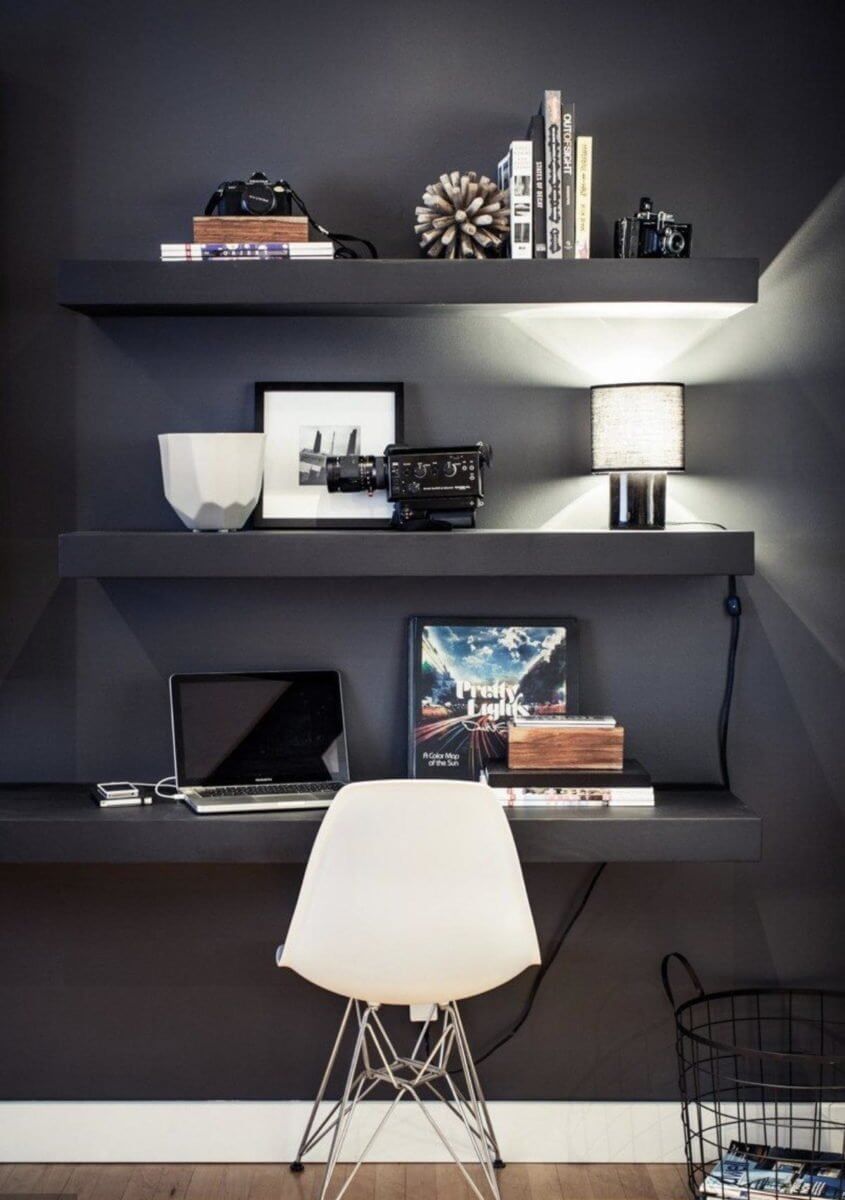 For a non-intrusive workspace you can paint the shelves in the same color as the wall.
Place the desk behind your headboard
If you have a spacious bedroom ánd a bed with a high headboard, you can place your bed in the center of the room with a desk behind the headboard. The headboard works as a room divider so you don't see the workspace when you're in bed and you can create a minimalistic bedroom office look.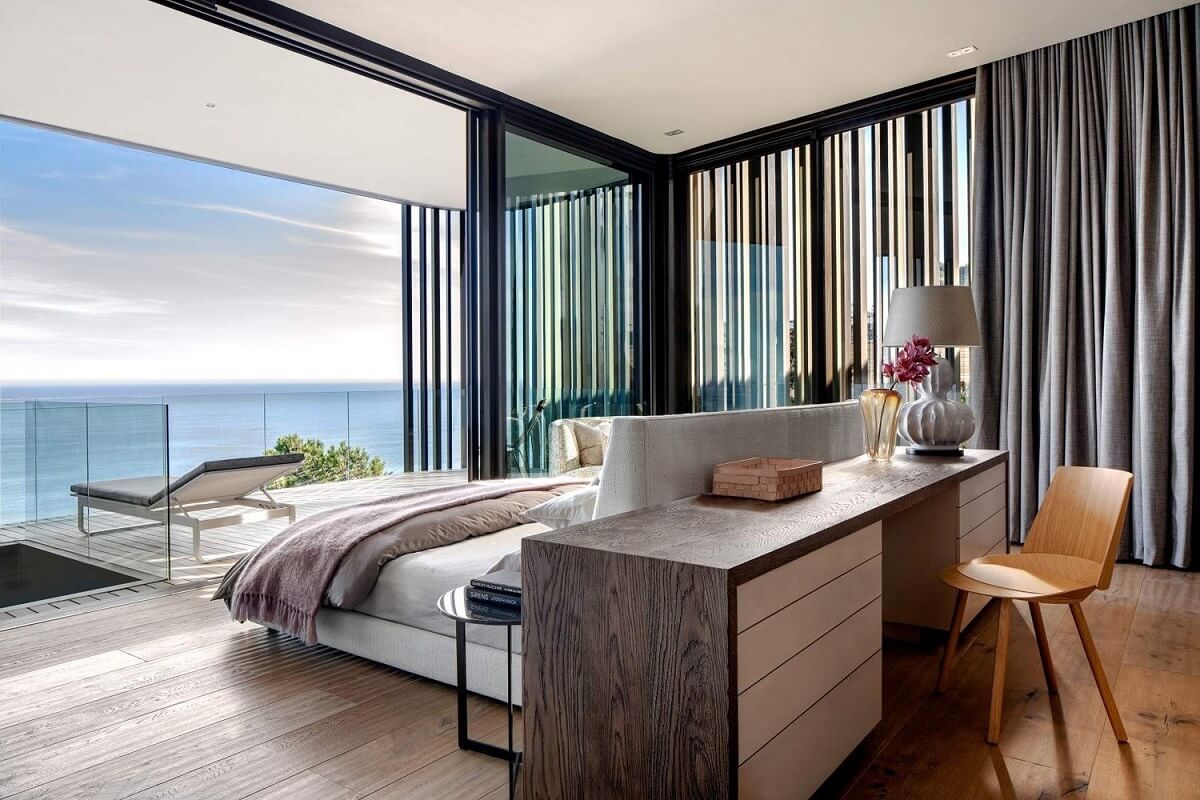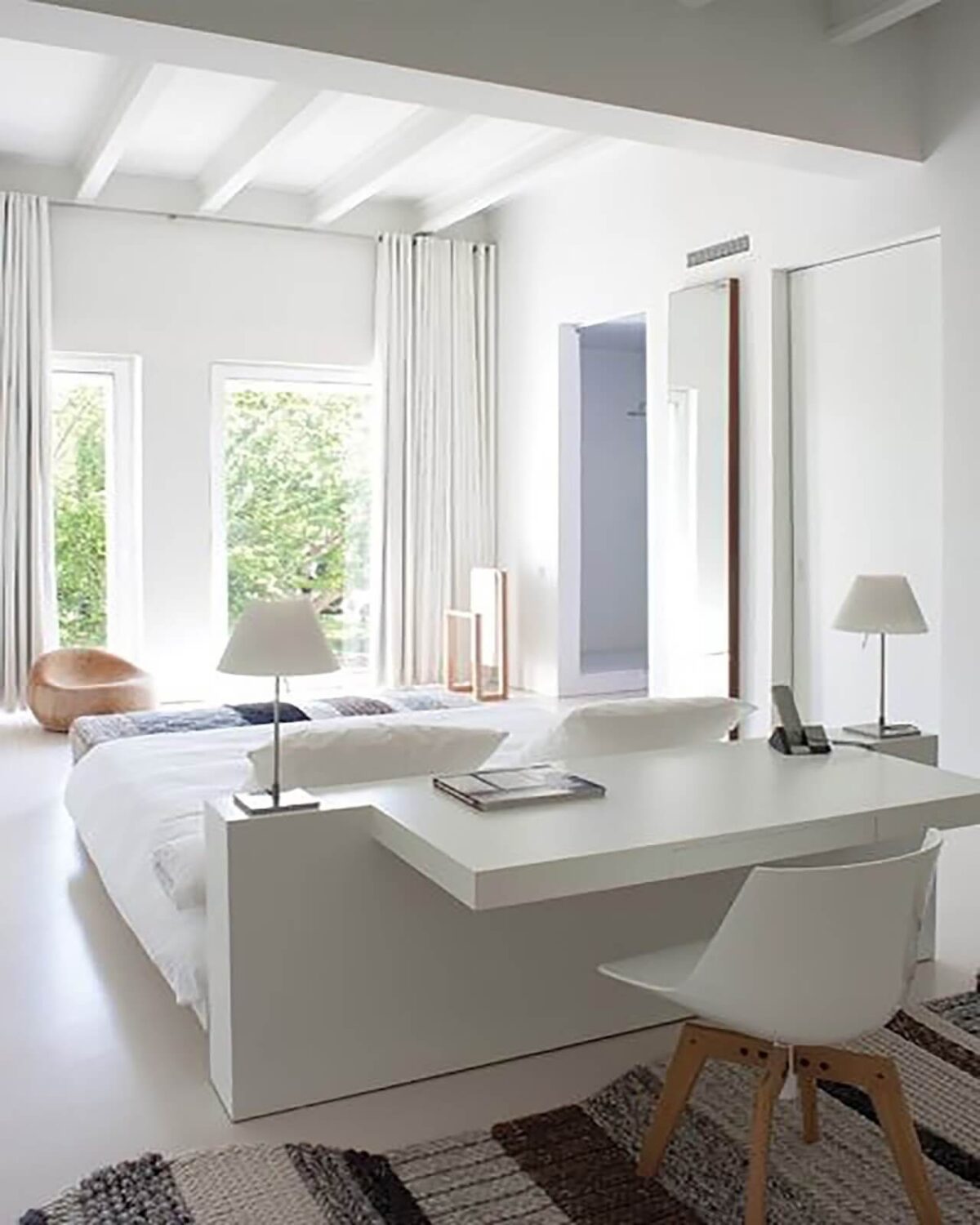 Use a (deep) windowsill as your desk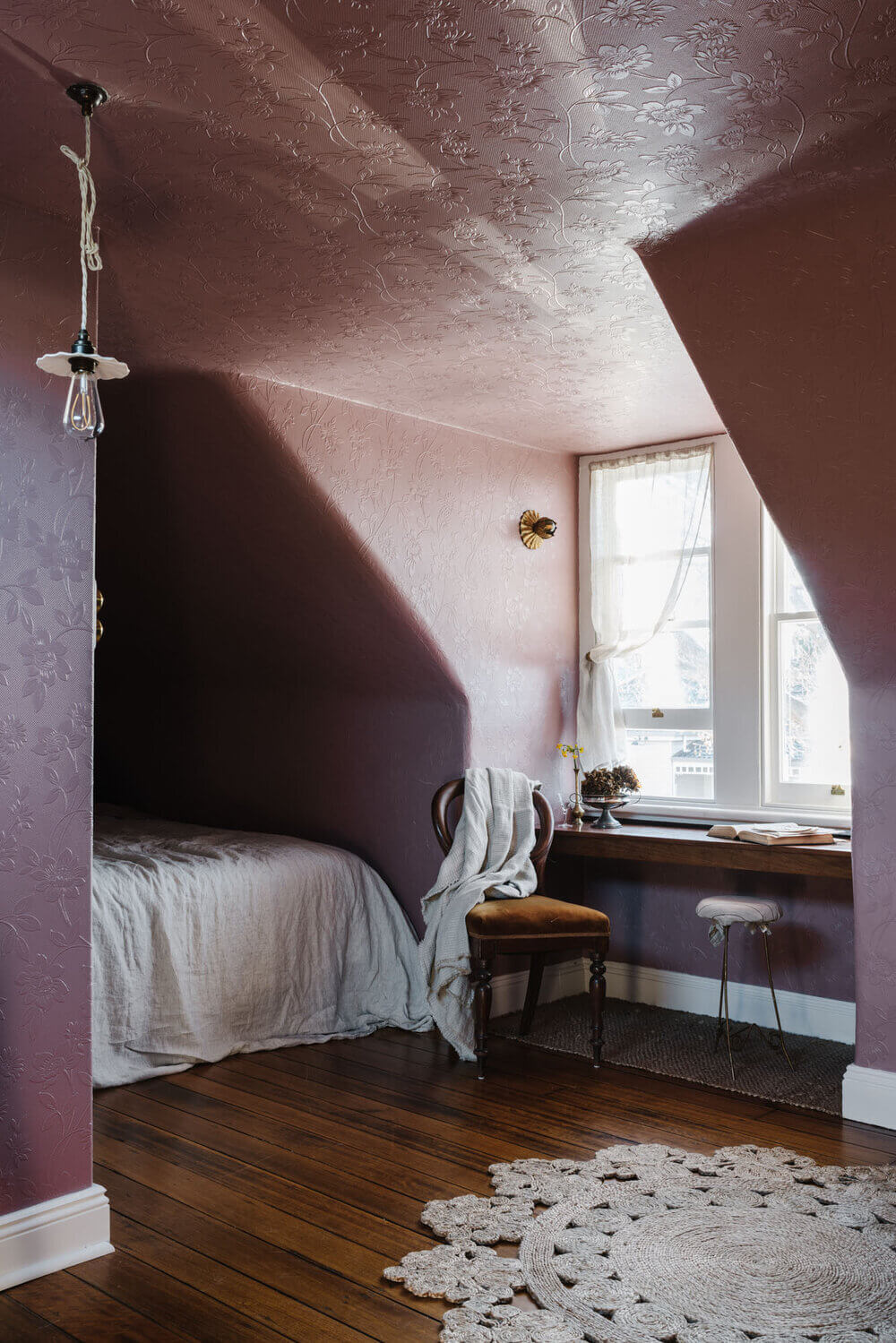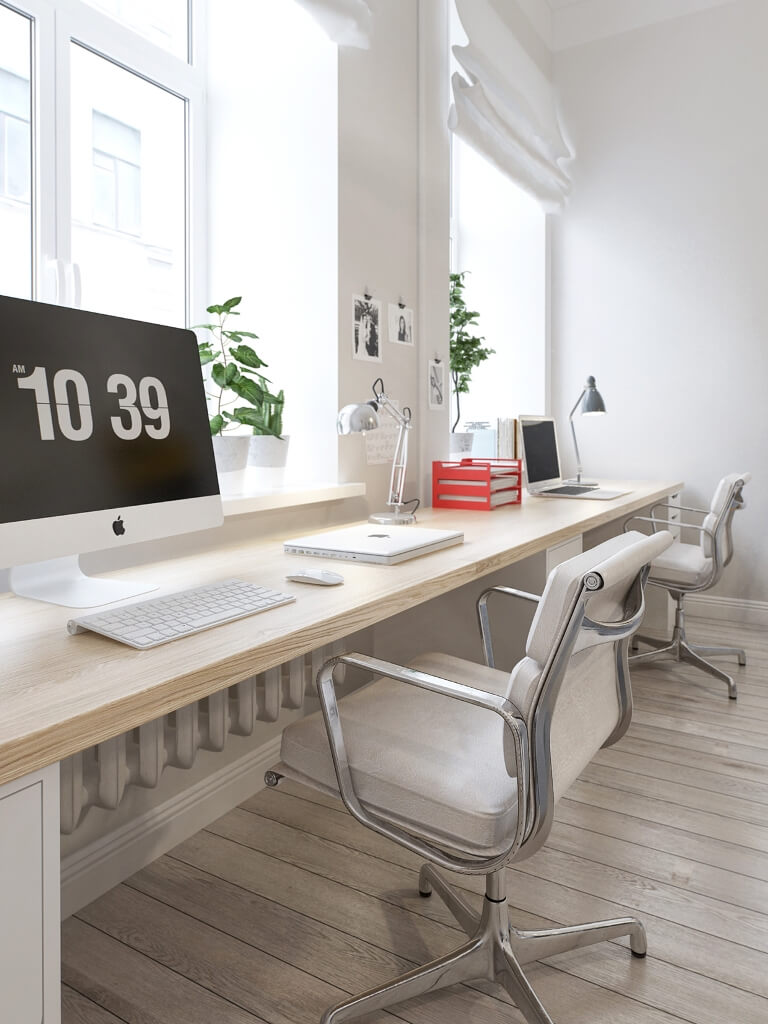 Rethink your bedroom layout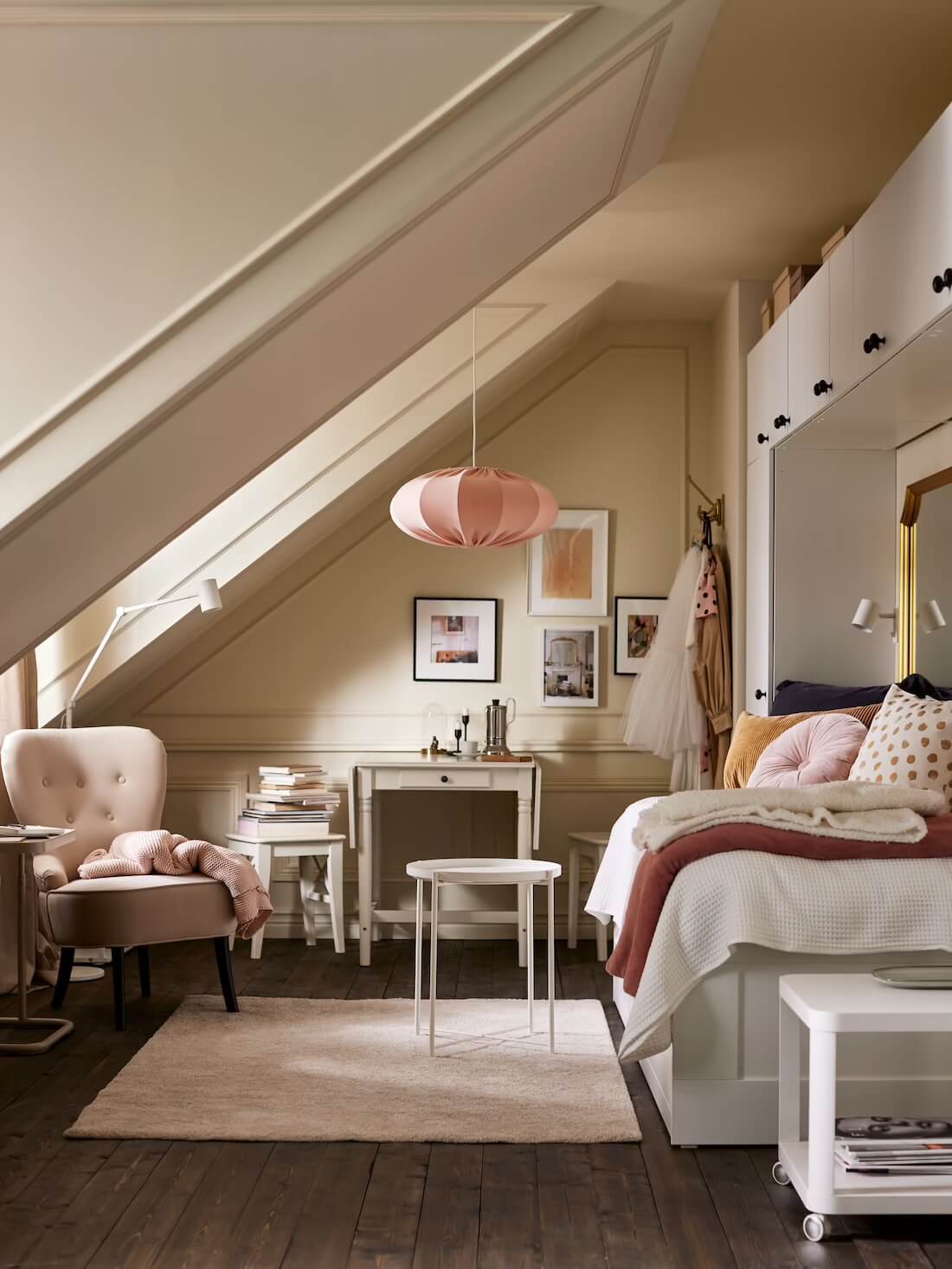 Because the bedroom (above) has sloped ceilings, it had to be designed more creatively. The bed has been placed against the wall on the long side. With vertical storage surrounding the bed. This frees up enough floor space for a desk ánd a seating area.
Again, the bed has been placed against the wall with the long side. This is perfect if you're living alone. This bedroom also shows that you don't have to be afraid to go big with your office set up. One large desk can look better than one (or two) small ones.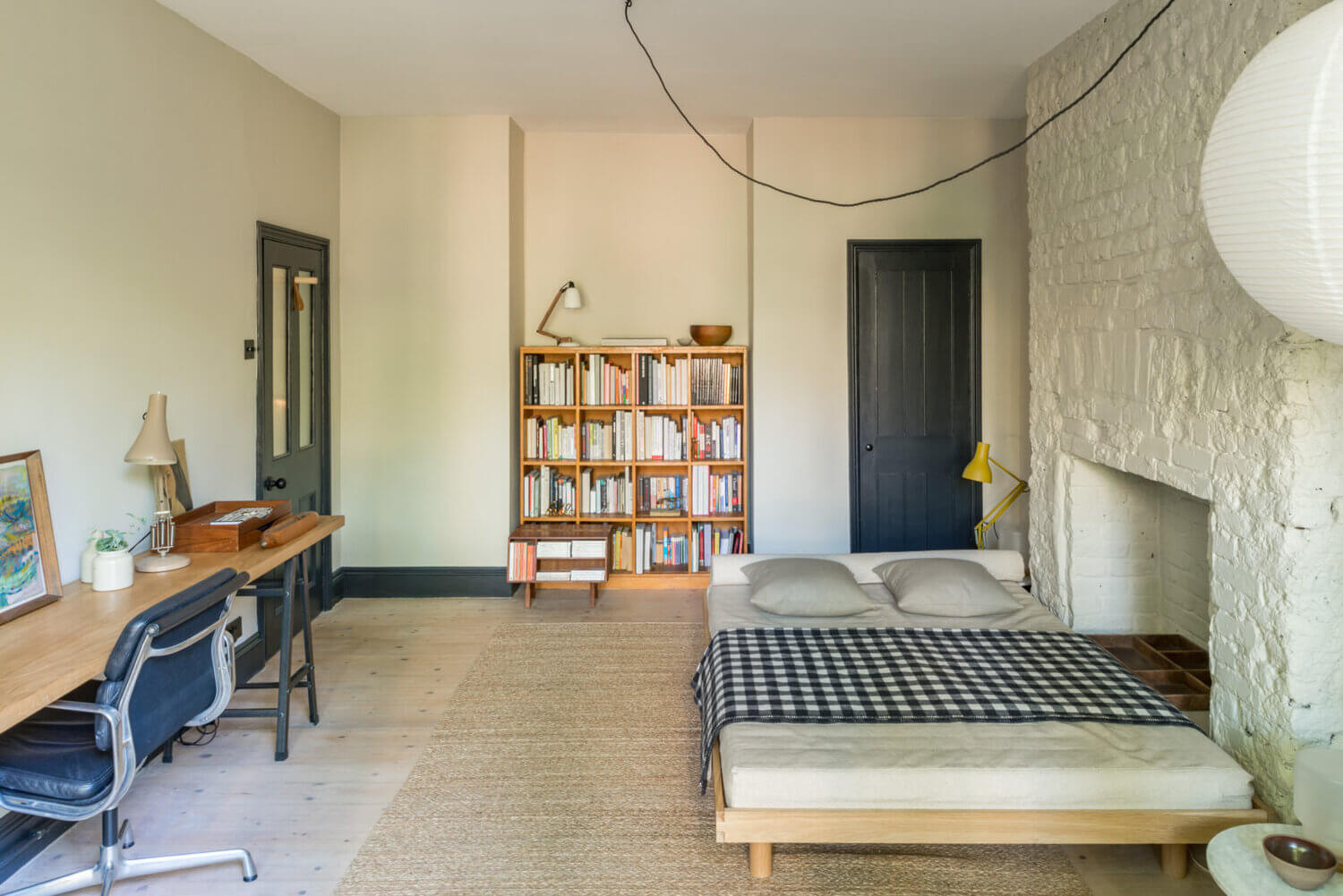 Place the workspace in front of the window
An office with a view. This doesn't work for everyone because you might get distracted but if you want to combine working with looking at the birds, you can place your desk under the window.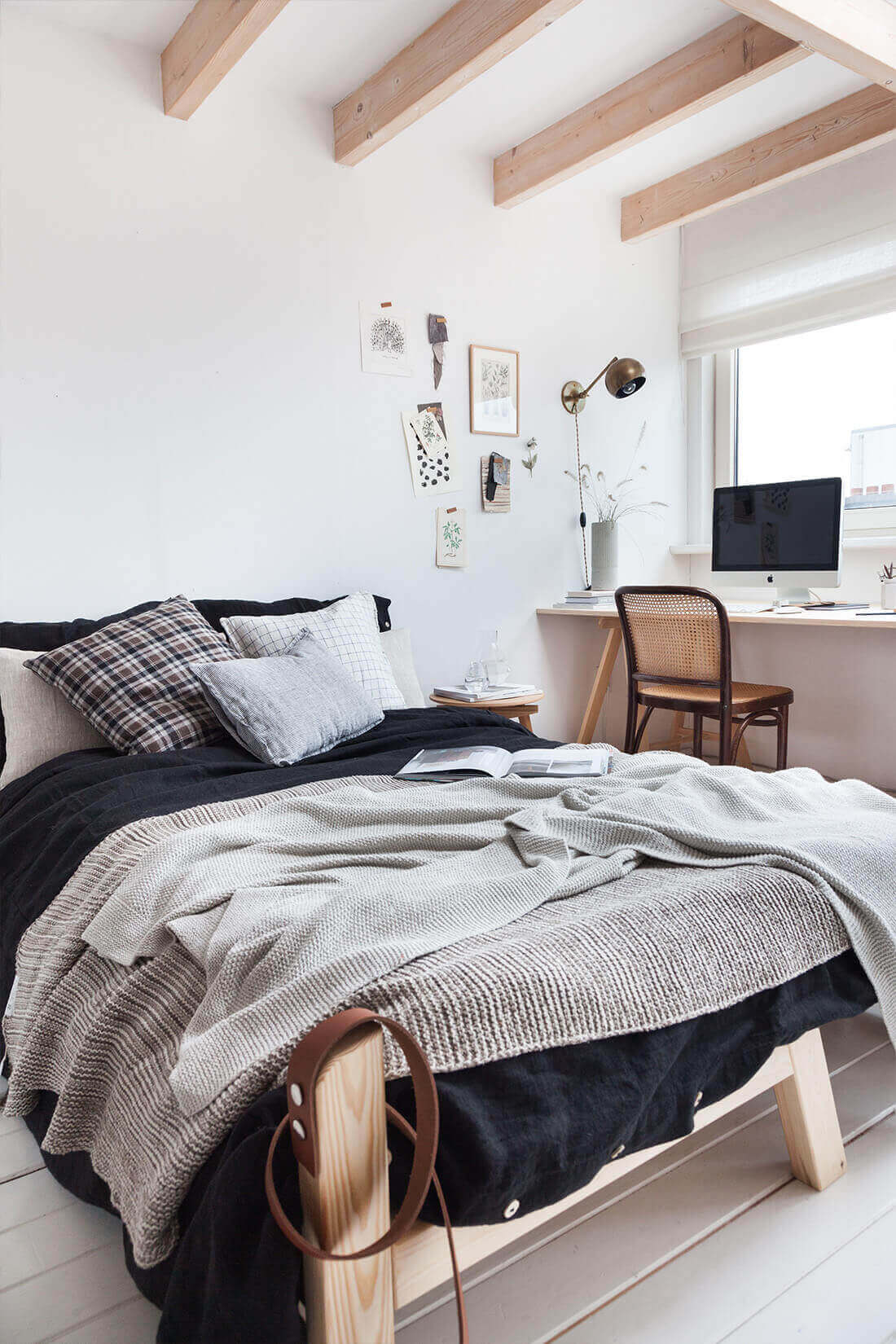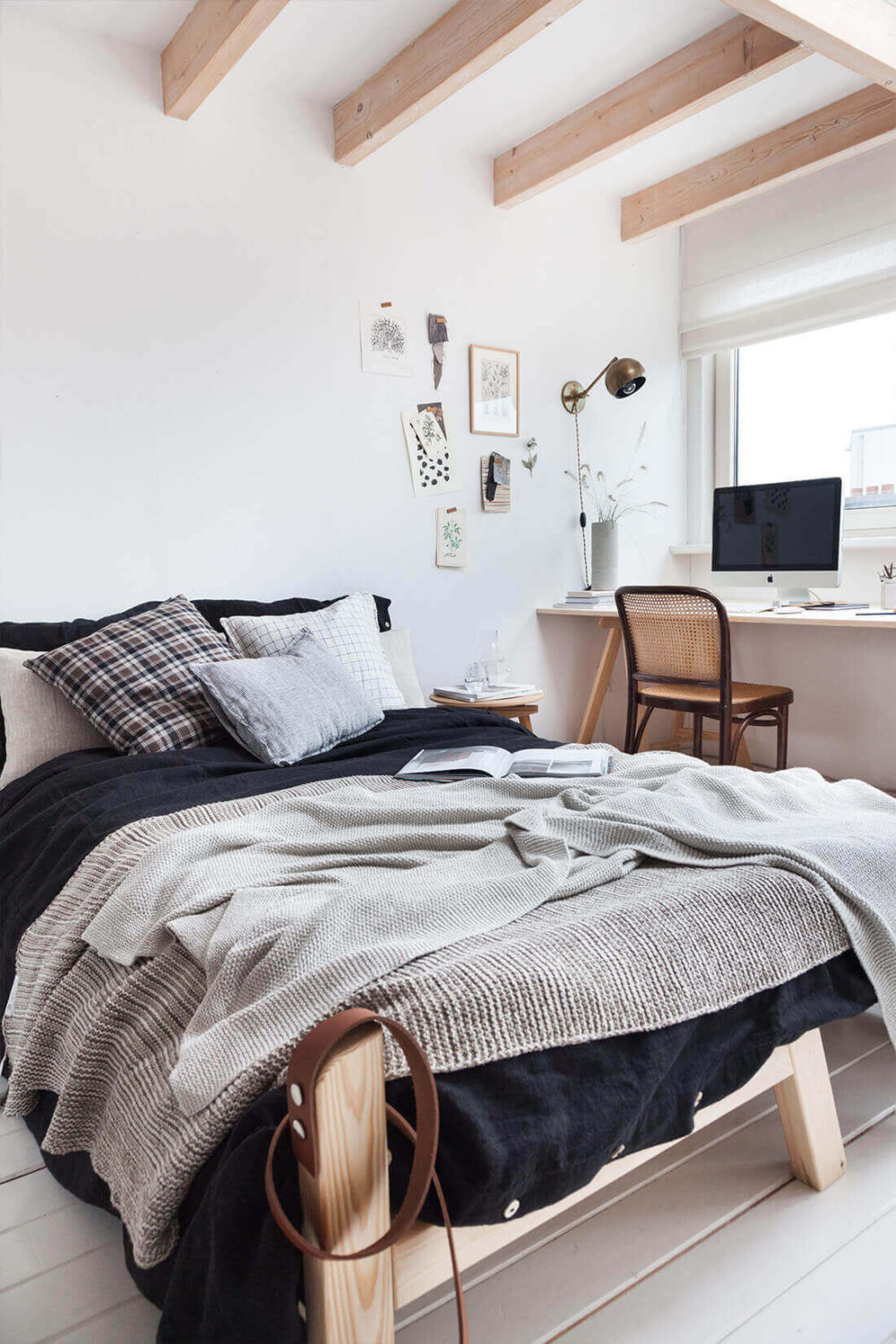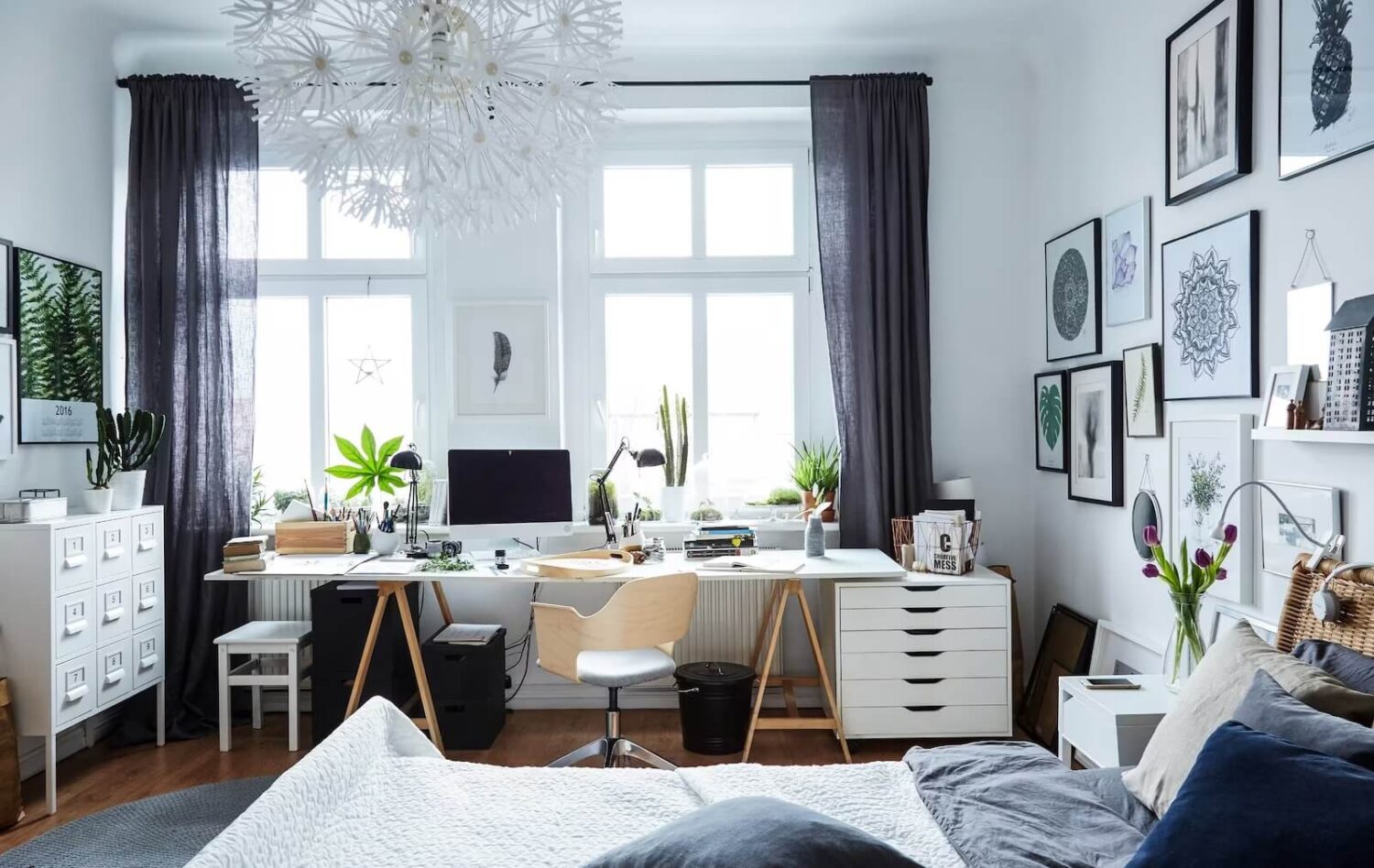 A bedroom home office with a view. In front of the floor to ceiling windows that flood the room with natural light, did they create a minimalistic bedroom workspace.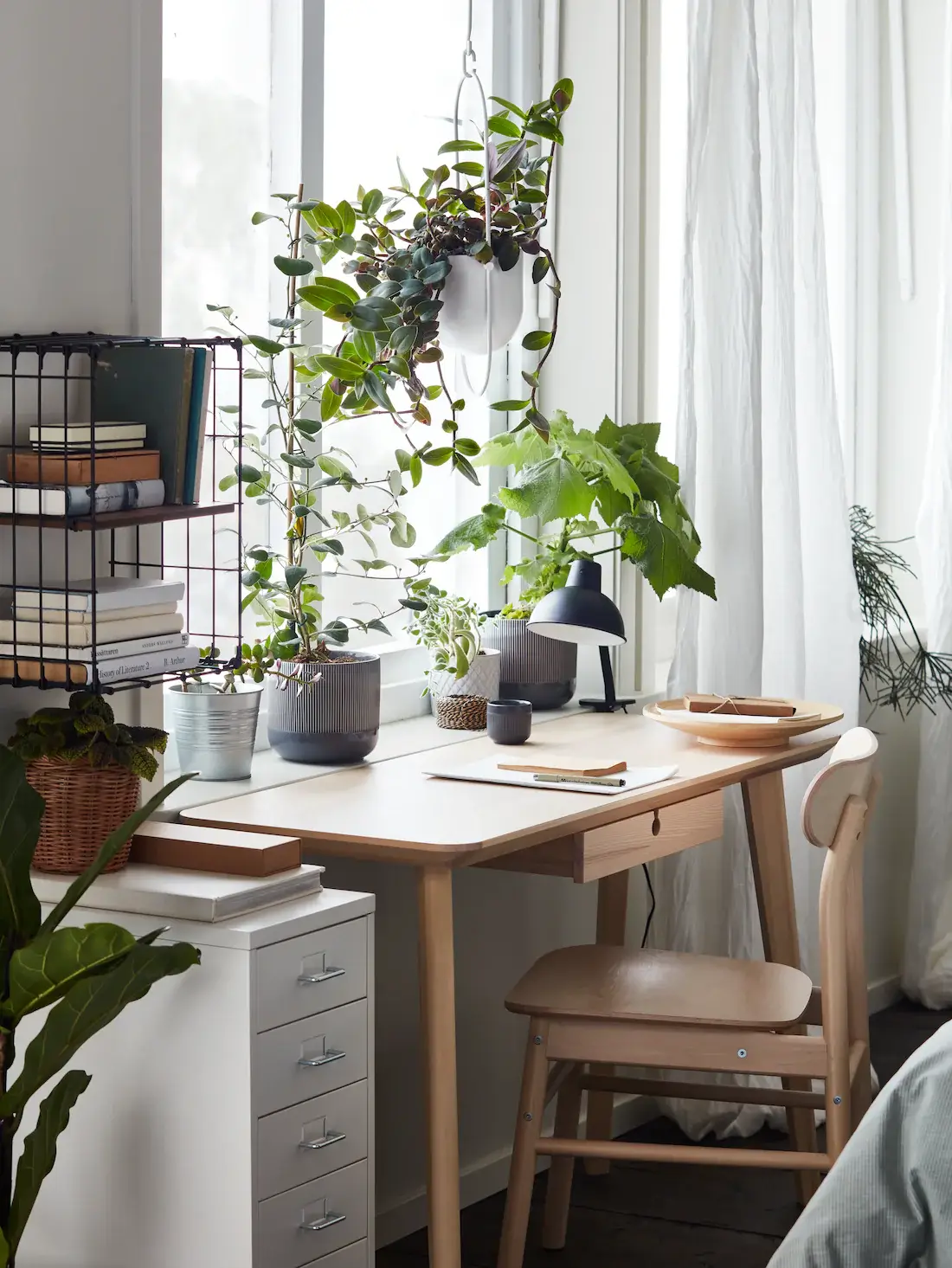 Use a stool instead of a chair
Especially in a small bedroom you might not want to clutter up the room with too many furniture. You can chose a stool instead of a chair for a less intrusive work area. Or perhaps even better, you can opt for a standing desk instead of a regular desk.
Make the office the center piece with vintage/antique furniture
Instead of trying to make to bedroom office as less intrusive as possible, you cán go the other way. Turn the office area into a statement by using vintage and antique office furniture and decor.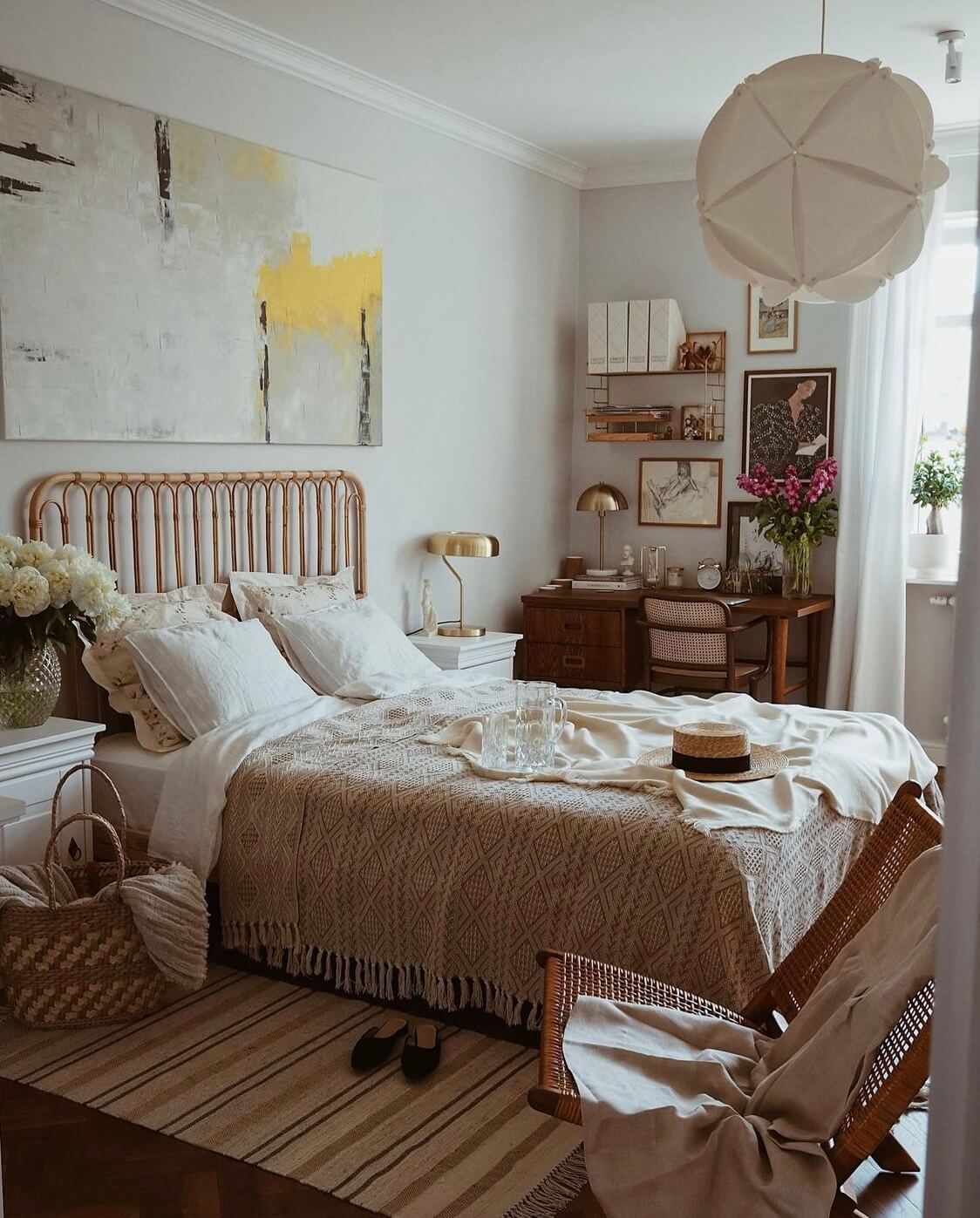 Use a round table instead instead of a conventional desk
Think outside the box and chose a round table as your home office desk for a more organic and playful look.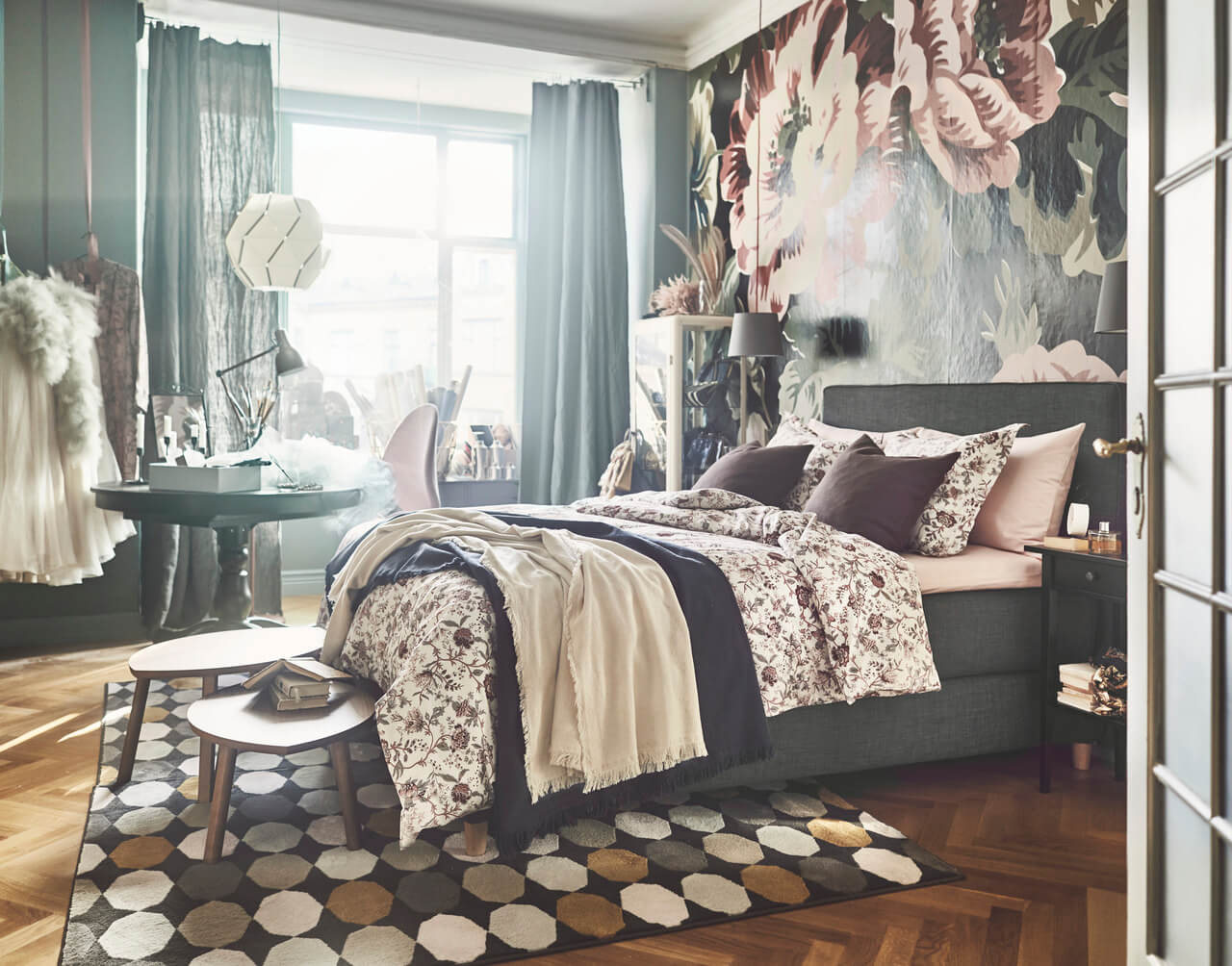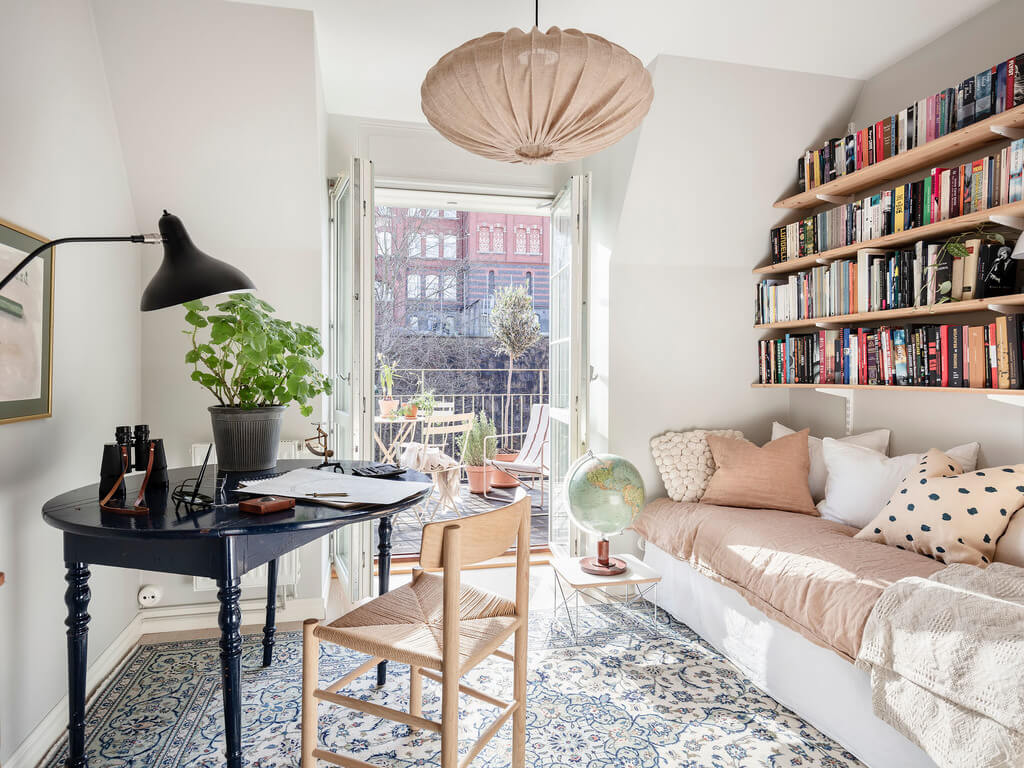 Create a desk between your drawers/cabinets
If you have low dressers or cabinets are storage in your bedroom, you can easily create a workarea using these furniture pieces.
This pink and ochre IKEA bedroom shows how you can create a minimalistic home office. By combining MALM drawers and a vanity table they created a lovely bedroom office. The cabinets above, reach all the way to the ceiling to maximize storage space.
Pick furniture in the same style
Large furniture brands often have multiple furniture pieces from the same furniture line. This means that all these pieces go well together ánd they often have the same measurements.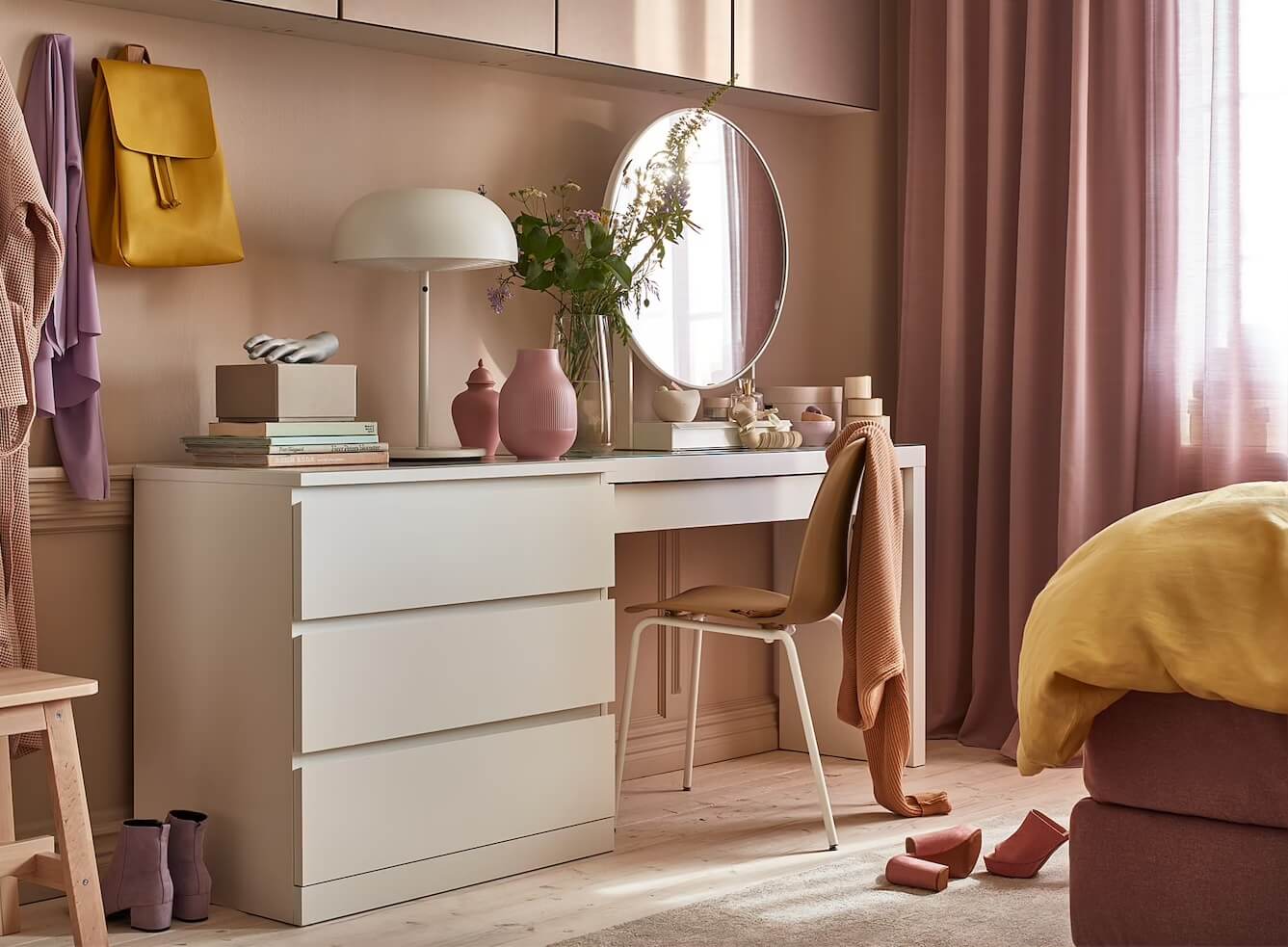 For example this IKEA bedroom which has a Malm dresser and a Malm desk. Put them together and you create an even, stylish home office ánd storage area.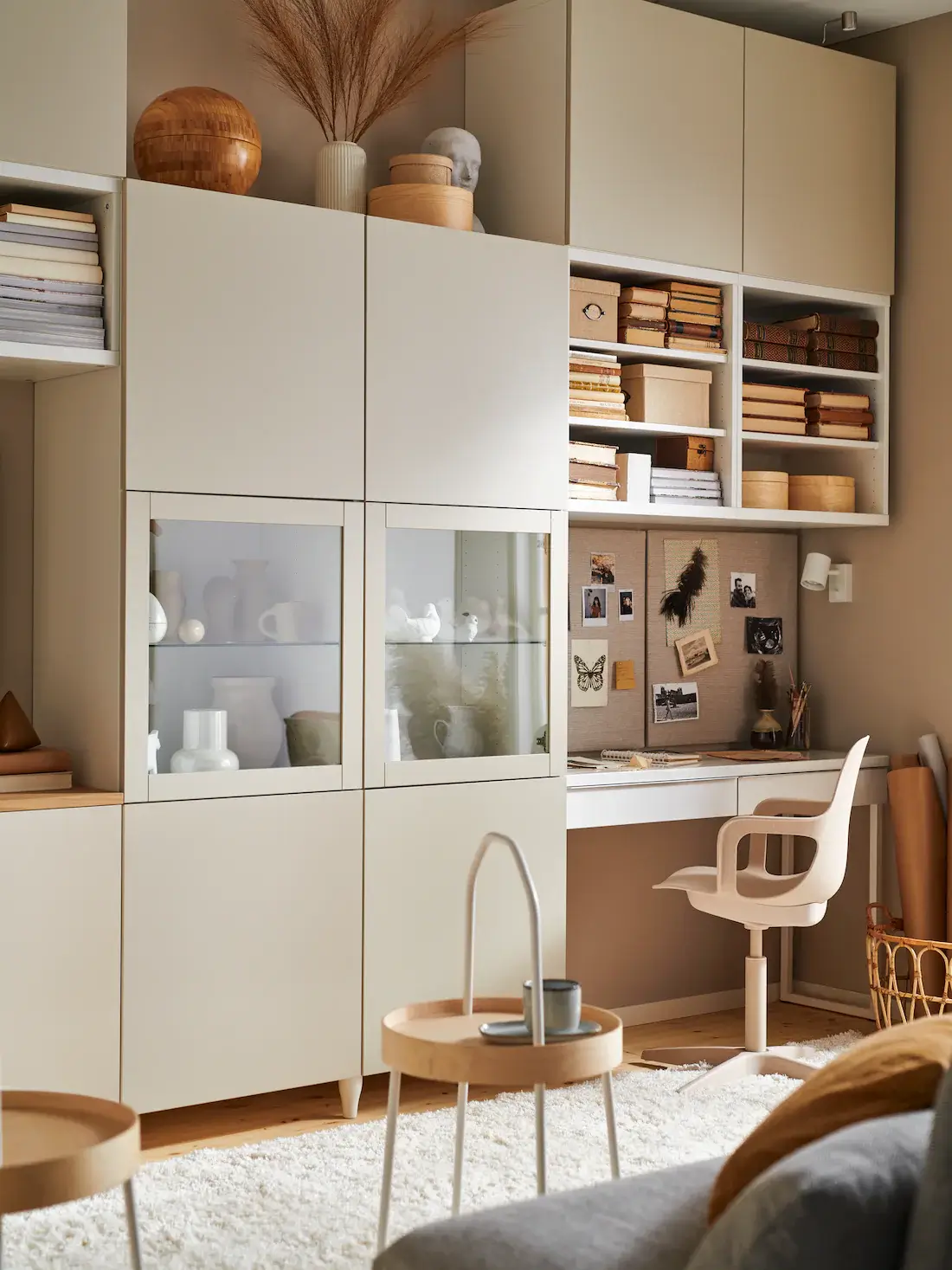 See more home office design ideas:
Pin me for later: bedroom home office design inspiration