Double Desk IKEA Hacks That Will Boost Your Productivity
A double desk is a great idea if you have a shared home office or if you simply want extra space for your desk setups. And you can create a great double desk work space with IKEA furniture. For your office space you can use the IKEA desks that are on sale (and simply buy two of them) or you can DIY an IKEA hack.
With a wide range of furniture, there are many IKEA pieces with which you can create custom desks. From a simple tabletop with trestle legs or combine it with drawers to add extra storage space.
And don;t think that a double desk only works well in large spaces. You can definitely add a large desk in a small space you can also combine your desk with drawers to save space and to create a cleaner look.
This blog post will show you beautiful IKEA desk ideas if you need a little extra workspace in your home office.
IKEA Alex Drawer Units
The IKEA Alex drawers are perfect for creating a home office and they are frequently used for DIY desks. The drawers have a clean look and they are easy to mix and match. They are actually designed to support a tabletop. The Alex drawers come in two sizes, you can put the drawer in the center of the desk to divide the two workspaces.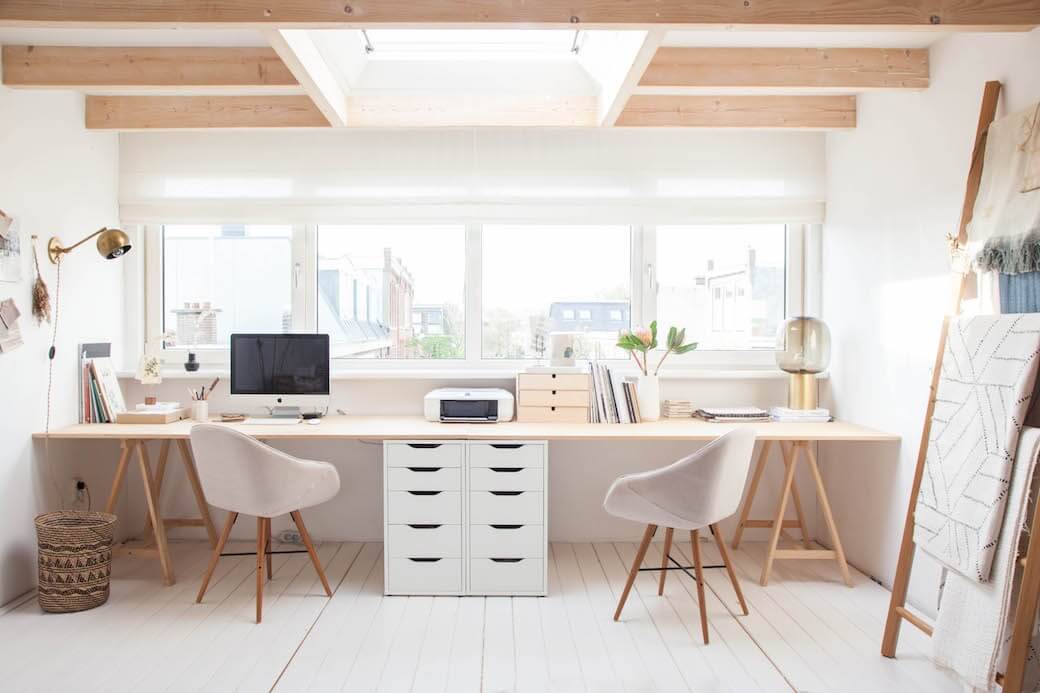 Holly Marder of Avenue Design Studio transformed an attic room into a light (and stunning) home office. She combined white Alex drawers with a wooden table top and simple trestle legs.
The Alex drawers provide storage room for the basic office supplies and they work as a divider between the two workspaces (ideal if your double desk setup is for two people).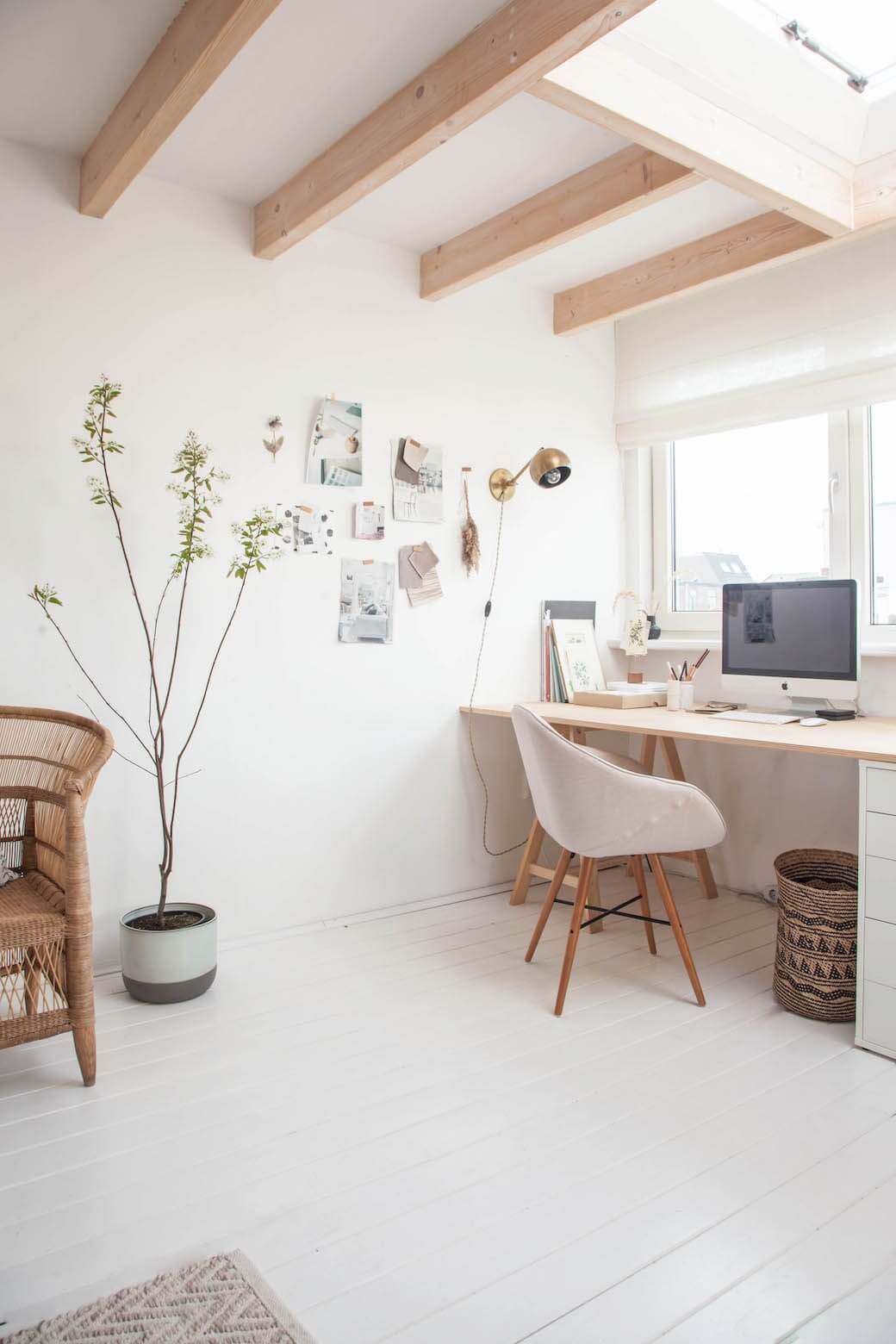 Four Alex drawers form the base for this guest room office setup. With plywood from the local lumber shop did Amanda of 100 layer cake make the shelving. The desktop is also covered with the same plywood making the desktop look thicker and it gives a more harmonious look.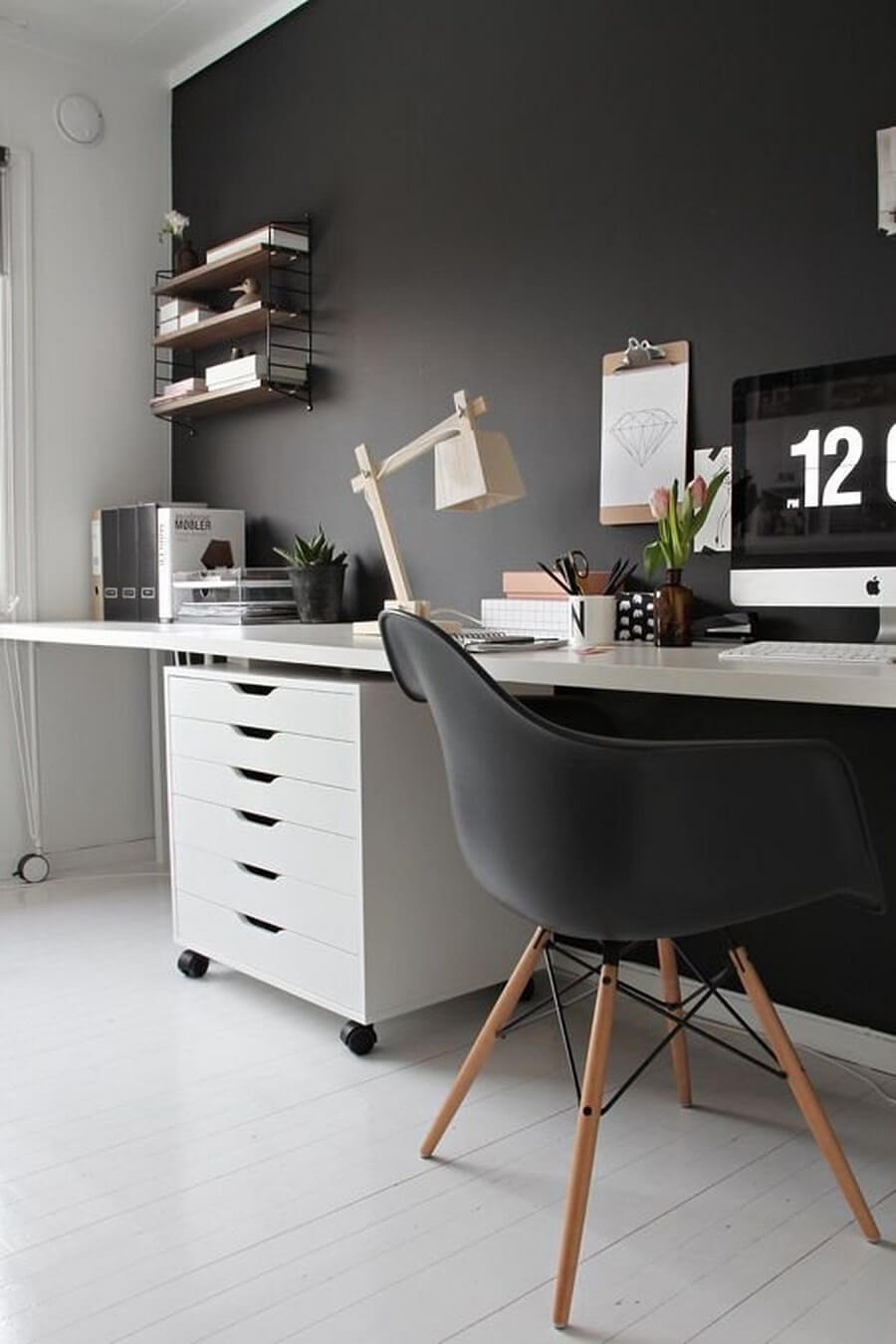 This Scandi style home office is made with a long tabletop (f.e. Lagkapten tabletop) , Alex drawer unit on casters, and Krille leg with caster.
Sara of Black and Blooms created a double workspace in her guest bedroom with IKEA products. She used the Alex drawer with drop file storage together with Finnvard (now Mittback) trestle.
Anne of Remade with Love created a double desk with IKEA Alex drawers, Lerberg legs (no longer for sale, pick the Tillslag trestle) and a custom tabletop. The half painted gray wall with dark gray cabinets give this home office a cool and stylish look. The wall colors are Dulux Tender Clay & Dulux Industrial Grey.
IKEA Lagkapten Table Top
This table top comes in a double dimension of 200×60 cm. By using this table top you create a more sleek look since you don't put two smaller tops together. You can support it with drawers (f.e. Alex drawers or Malm dresser) or you can create a floating desk by attaching it to the wall with l brackets.
The best thing about IKEA is that their stylish furniture is sold for a very affordable price so you can create a spacious home office on a budget. In the double office of Mary Lauren they only bought three trestle legs and a tabletop. The spotty wallpaper takes this office to the next level. Simple but effective.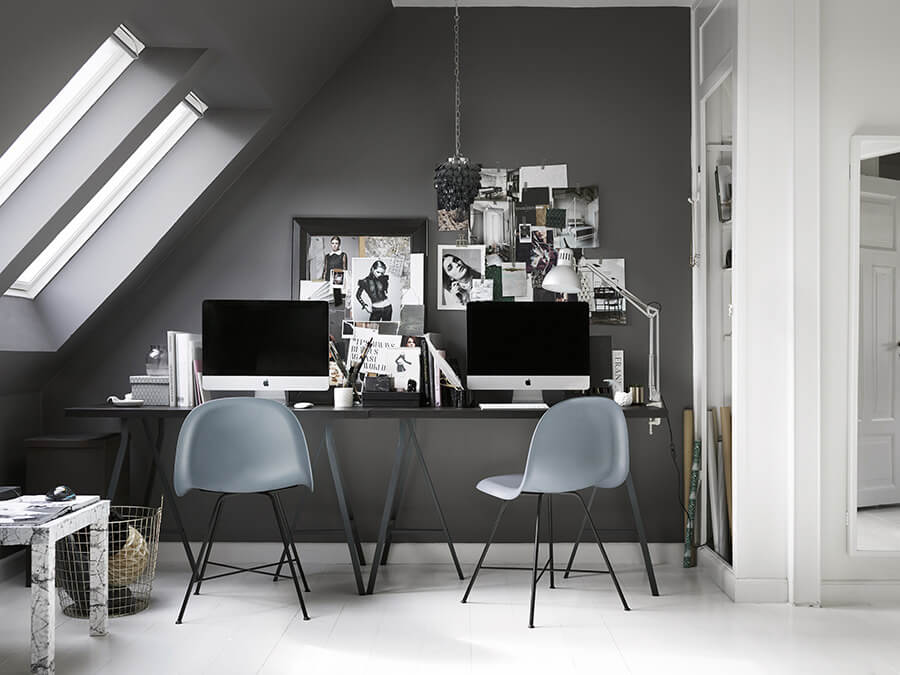 These table legs are no longer for sale but to achieve this look you can combine the Tillslag trestle with a Lagkapten table top.
IKEA Alex Desk
The Alex desk is frequently used to create a double home office desk. The desk also has a drawer to keep your office supplies which makes it easy to keep a neat desk.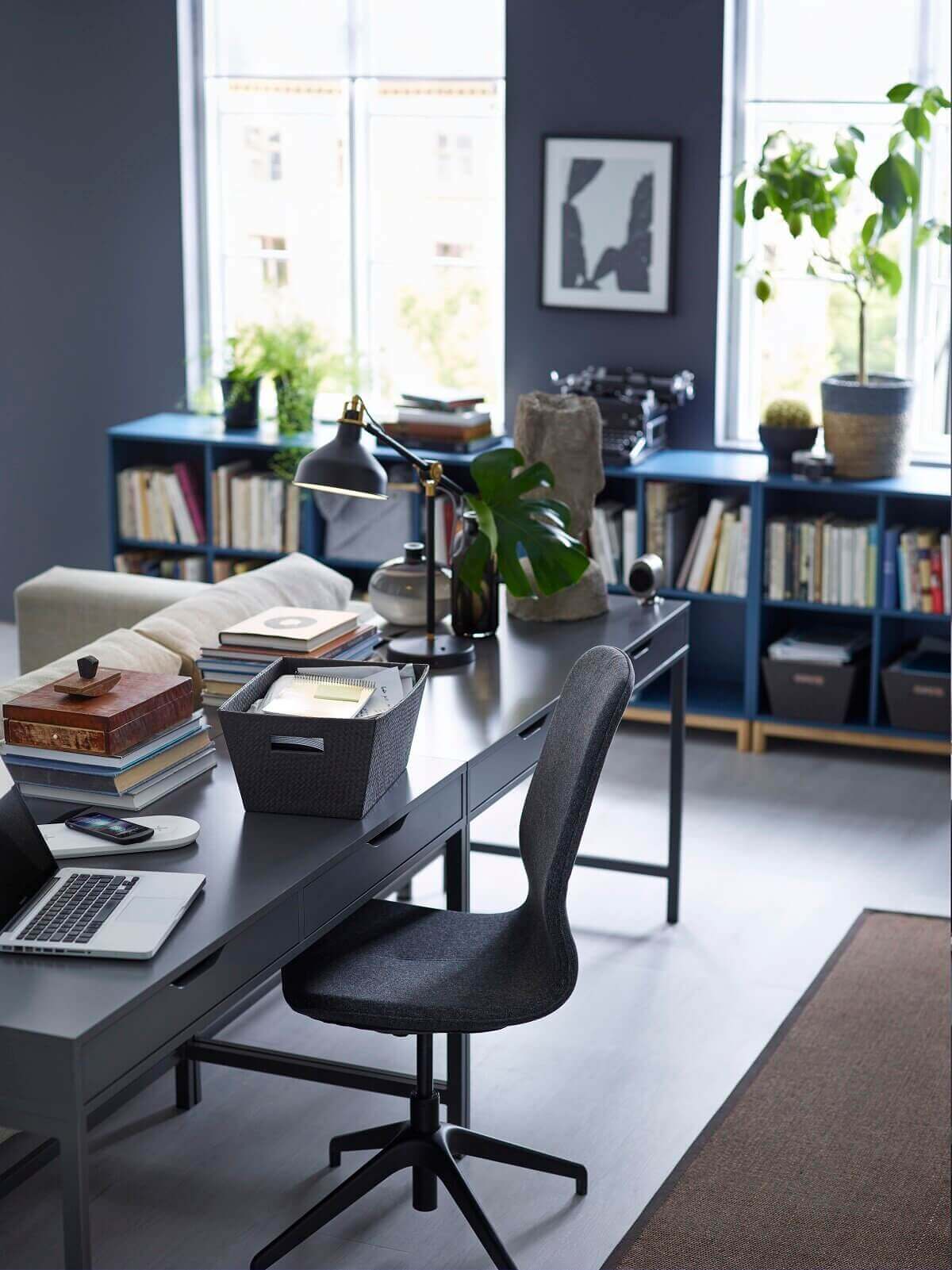 To create a workspace in the living room you can put a desk behind the sofa. In this case, double gray Alex desks create a living space home office. If you want to create a minimalistic but very stylish office look than the Alex desk is perfect.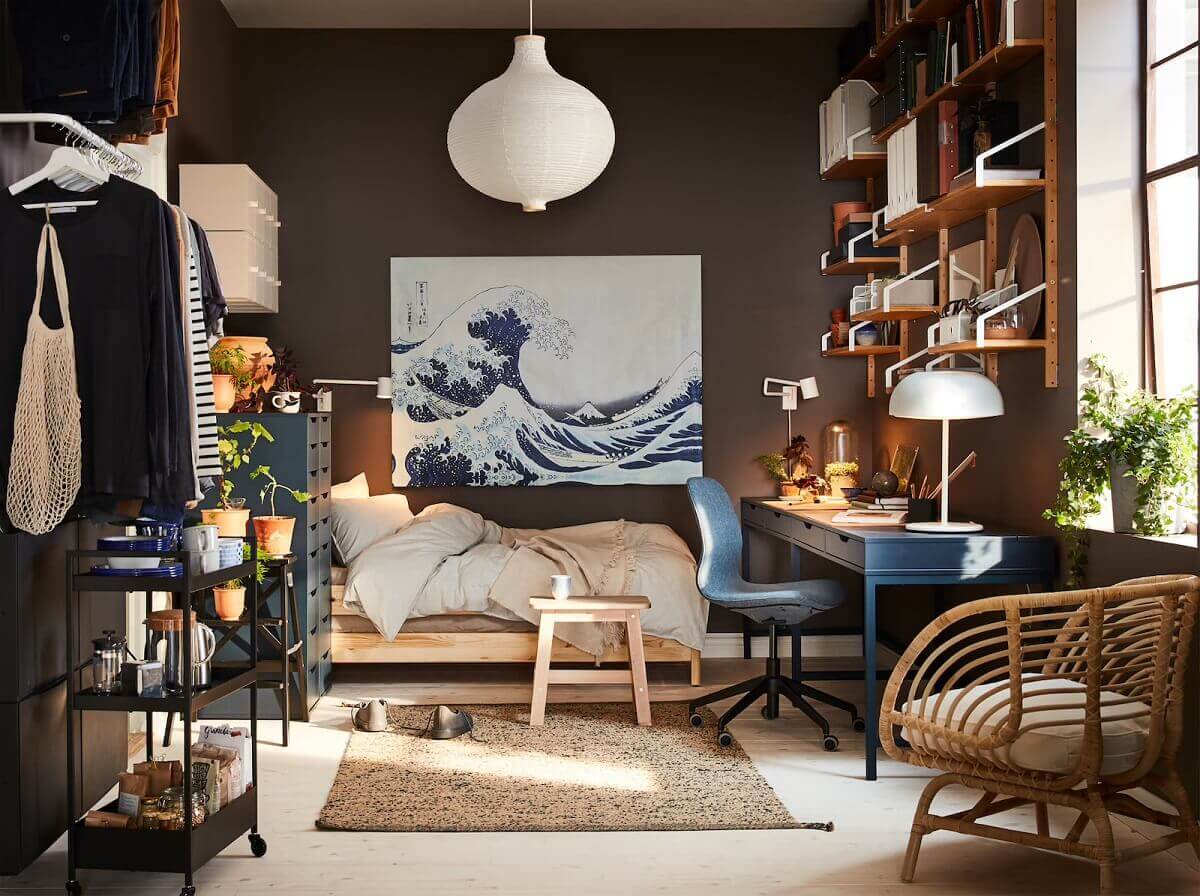 In this bedroom home office two Alex desks are placed behind the bed. Shelves above the desk provide plenty of storage space. By also using Alex drawers you create a harmonious look.
IKEA Linnmon desk
With the Linnmon table top you can create your dream home office setup. The table tops can be combined with a variety of legs and you can also combine it with the Kallax shelving unit.
While you mainly see double desks next to each other, but you can also place them back to back. In this atelier/craft room they put two simple tables with Mittback trestle leg and Linnmon table top together. On one side you have the 'office' setup with a computer while the other side is free for creative work.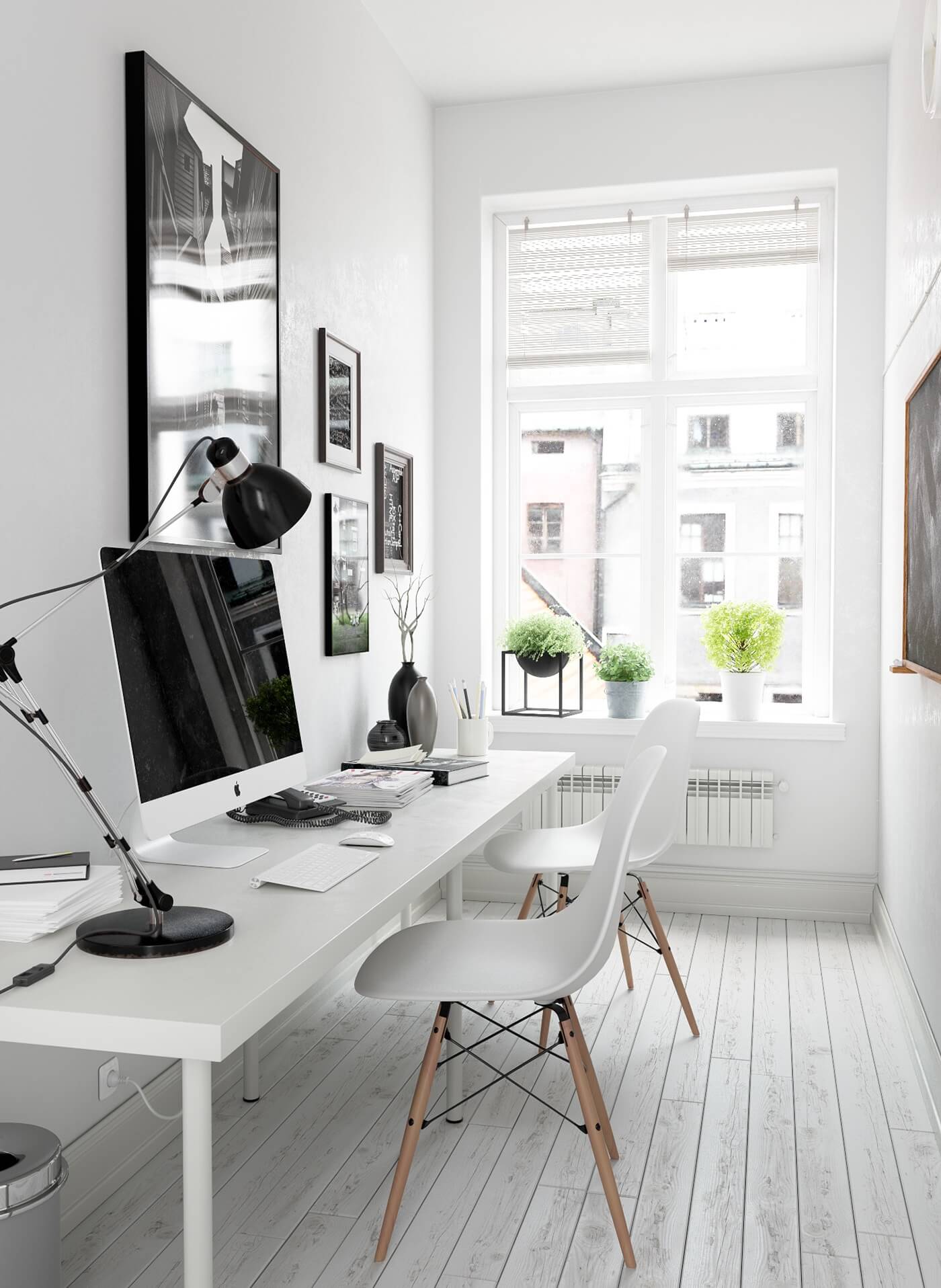 Simple, stylish, and affordable. This office is made with Linnmon tabletops and white Adils legs. The monochrome color scheme keeps it calm.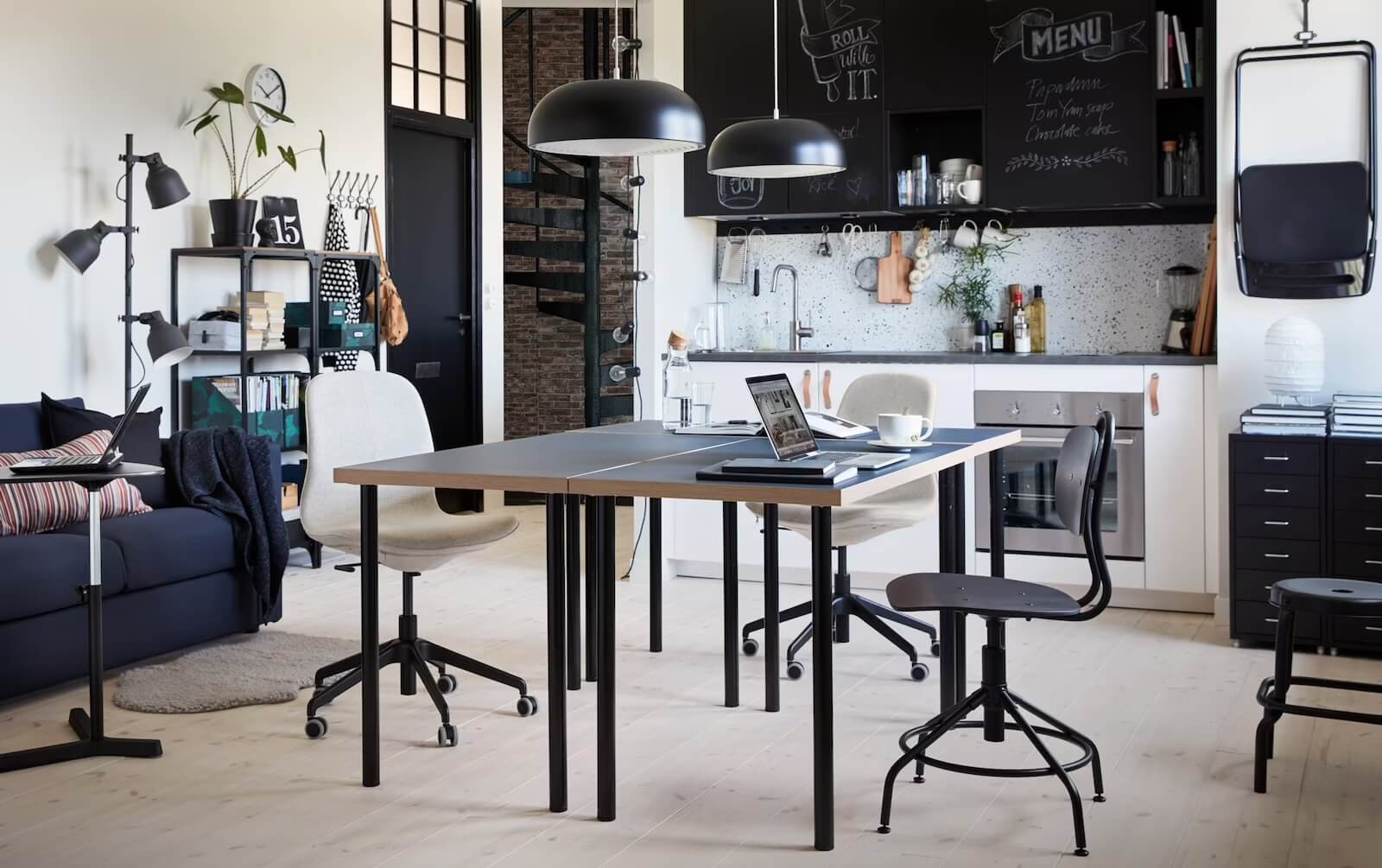 A triple workspace with Linnmon tabletops and Adils legs.
Base Cabinets
An IKEA piece that is great for an IKEA desk hack is a base cabinet. Base cabinets are normally used for kitchens but they are perfect for a home office thanks to their perfect height for a desk and they provide much storage space.
Lisa Linh created a double home office with Sektion base cabinets and a Mollekulla countertop. She choose this set up because she lives in a rental home and with the base cabinets there was no need to drill holes in the wall to secure the tabletop. She did use l brackets in the center where the two countertops meet for extra security. You can read more on the design proces of this IKEA hack on her blog.
Mittback Trestle
The Mittback trestle leg is perfect if you want more flexibility in your home office. The adjustable legs mean that you can use them for a seating and a standing desk.
IKEA Malm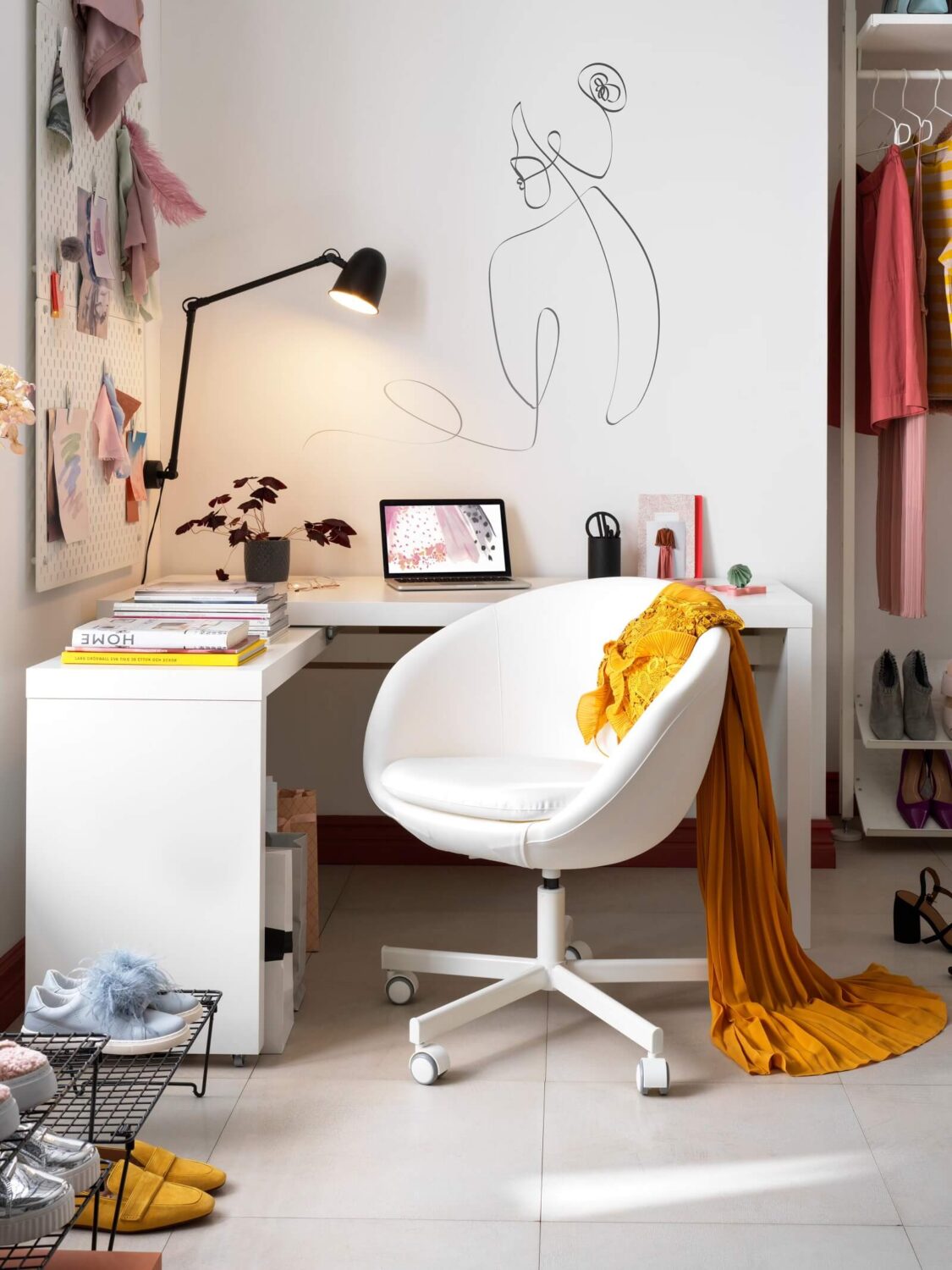 The IKEA Malm desk with pull out panel is a stylish l-shaped desk with two workspaces. Instead of placing it against the wall, you can also make it freestanding so that the fold-out desk can be used by a second person while sitting on the other side.
Micke Desk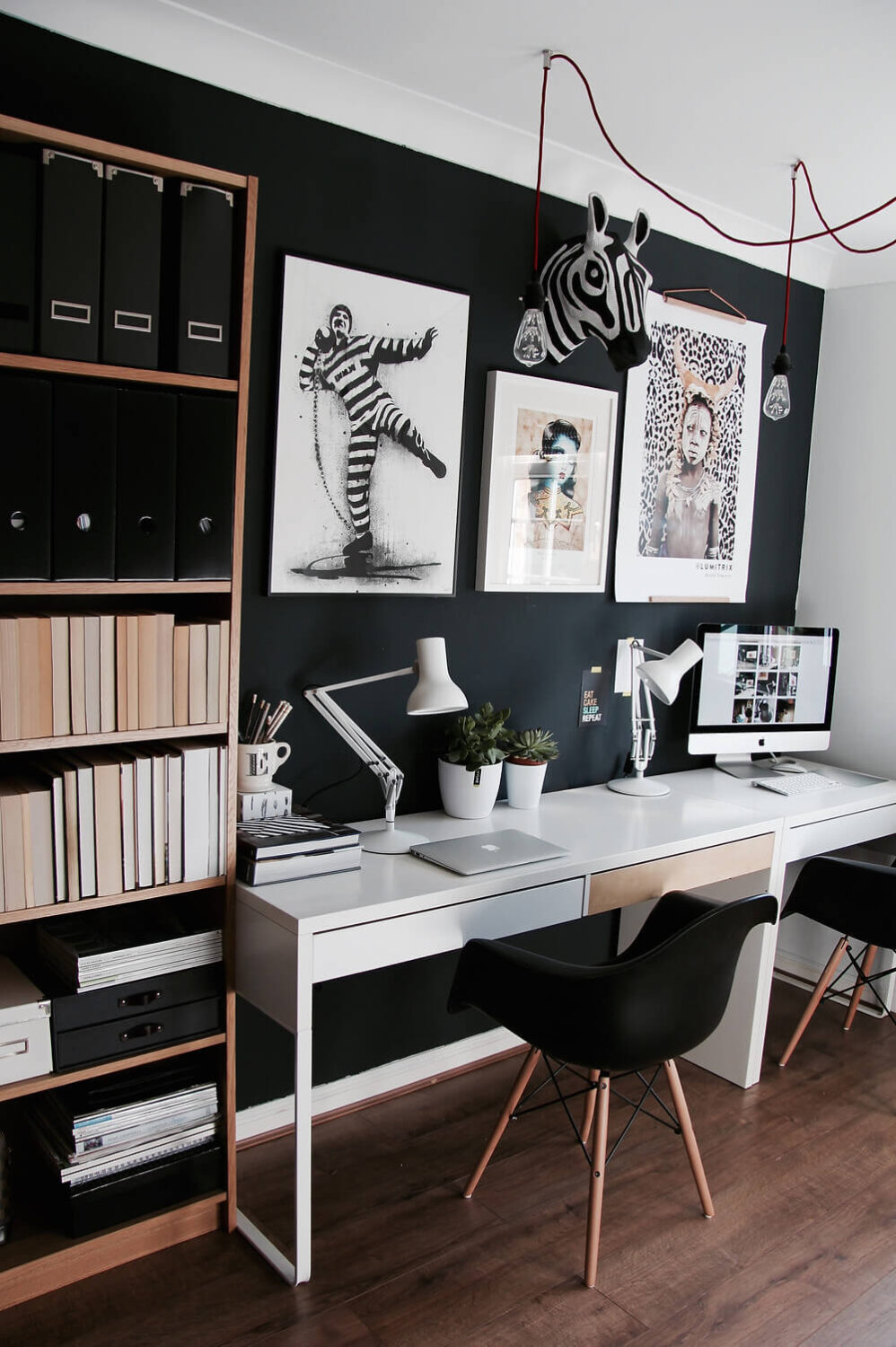 In this home office three IKEA Micke desks have been put together. The legs have been removed from two desks to place them together and create a wider workspace. With l brackets you can attach them to the wall for stability. Gold spray paint give this office a little glam touch.
I hope this post showed you that creating a double home office with IKEA products is stylish, and affordable, and you can mix and match it to work perfectly with your home style.