A Charming Attic Apartment Decorated with Color
We're heading to Norway to tour a fabulous attic apartment filled with charm and color. The apartment is owned by Lone Mariel and her partner, whose previous home I have shared on The Nordroom as well.
Lone and her partner have carefully renovated this attic apartment, adding a new kitchen and painting and plastering the spacious rooms. In total, they used 17 different paint colors to decorate this home.
The apartment is located on the top floor of a historic building in the Norwegian city Tønsberg. The rooms all have gorgeous high wooden ceilings that give the rooms such a grand feeling. The combination of color and the mixture of vintage and modern design is spectacular.
The open plan living space and kitchen is a grand space with high slanted ceilings. The wooden ceiling is painted in a soft mint green shade, while the pink French balcony doors at a bright color pop to the room.
The white floor and soft pink living room walls create a calm base for the room. With a calm base you can go either way with the decor. This room is packed with a mixture of textiles, plants, and art.
The apartment complex dates back to 1909 and it oozes charm with the many wooden architectural features.
The dining space is decorated with vintage furniture and decor. The white tiled wall is a cool feature in this space.
A new wooden kitchen has been added to the attic apartment. The sleek wooden cabinets are combined with stone worktops.
The brown wooden ceiling adds a warm tone to the kitchen.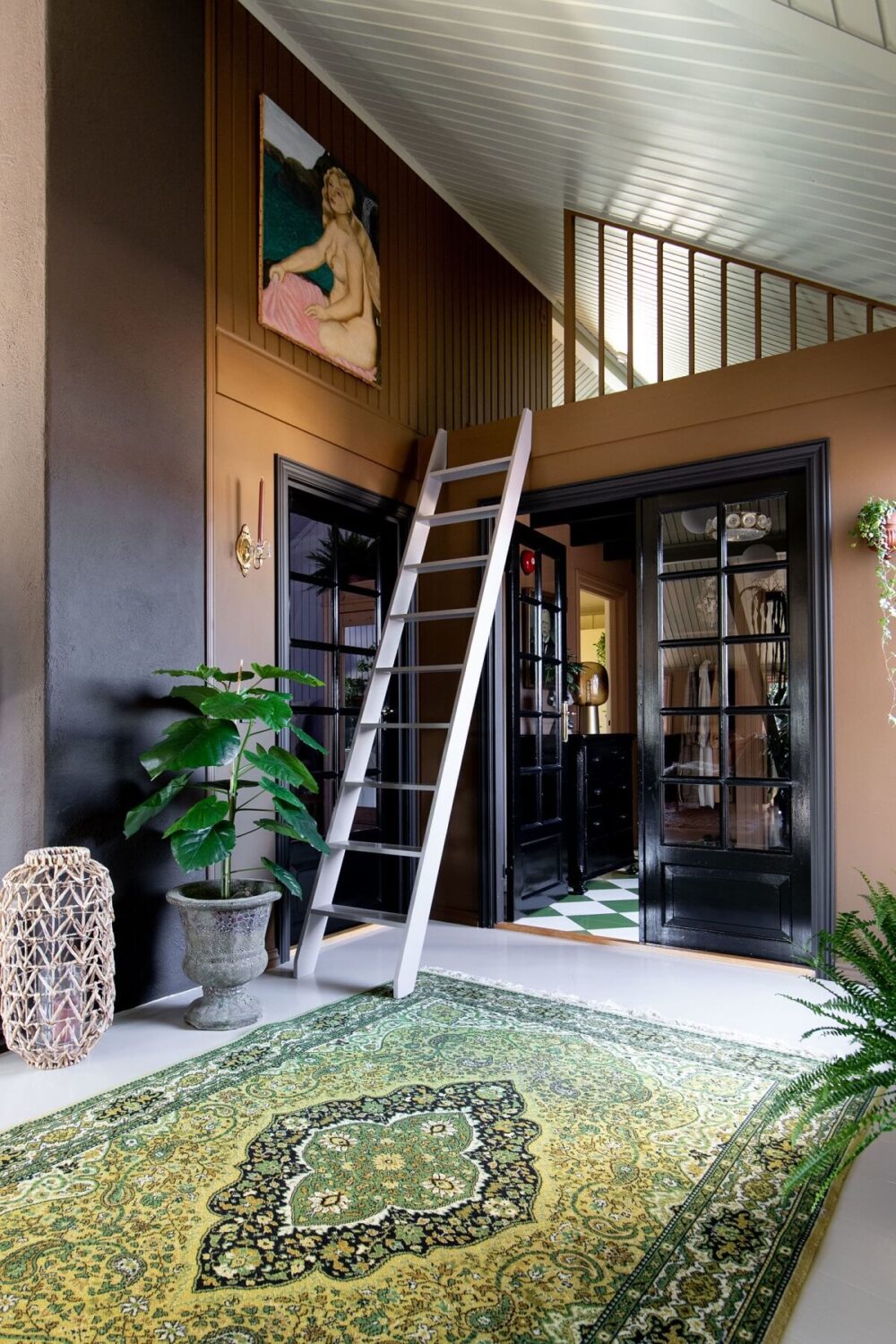 The hallway has a dramatic look thanks to the black doors and ceiling.
I love the green and white checkerboard floor. A simple niche provides planty of room for shoes and coats.
The master bedroom is completely painted in a pastel purple shade. The walls are painted in a slightly lighter shade than the floor.
The baby room is painted in a neutral beige shade.
The apartment has a small private roof terrace but there is also a shared garden.
The home is currently for sale at Finn