Beautiful Gender Neutral Nursery Ideas
Decorating a nursery for your baby is an exciting task! And gender neutral nursery is a great idea for many reasons. So it comes as no surprise that we see more and more neutral baby rooms.
Some new parents might not want to know the sex of their new baby, so a neutral baby room makes more sense. Or maybe pink and blue simply isn't your thing. Either way you can create a wonderul nursery without making it gender specific.
There are plenty of other colors that you can use if you want to design a gender neutral nursery. And if you want to keep it really neutral. You can always pink grey and white tones for your nursery. And these neutral colors really don't mean your nursery is going to be boring.
Let's take a look at some beautiful gender neutral nursery ideas.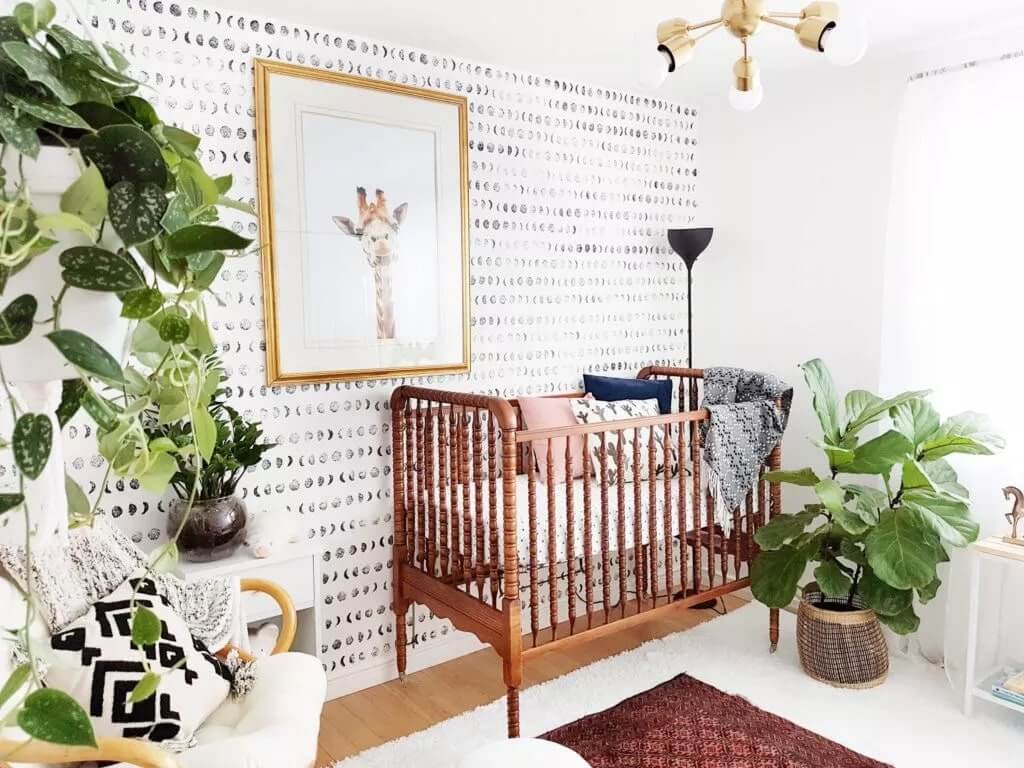 Black and white moon wallpaper and an antique crib make a perfect gender neutral bohemian style baby room. photo: Project Nursery
Sand tones and natural materials create a calm, neutral look for your nursery. (photo: Camille Corlouer)
Rainbow Baby Nursery Ideas
Aren't these wonderfully cheerful nurseries? The first has a rainbow painted above the crib combined with neutrals and earthy colored curtains. Perfect for a gender neutral nursery.
The second is even more cheerful with rainbow colored decor in paint, rug and wall art (photos: Project Nursery & Style Me Pretty)
Scandinavian Baby Nursery Ideas
Calm, grey and stylish. That's a Scandinavian nursery. Built in cabinets hide everything you don't want in sight with a design inbetween. Your baby can definitely grow into this room. Just exchange the crib for a bed. (photo: Alvhem, Jaap Admiraal Makelaardij, IKEA, Lattes Lilacs and Lullabies )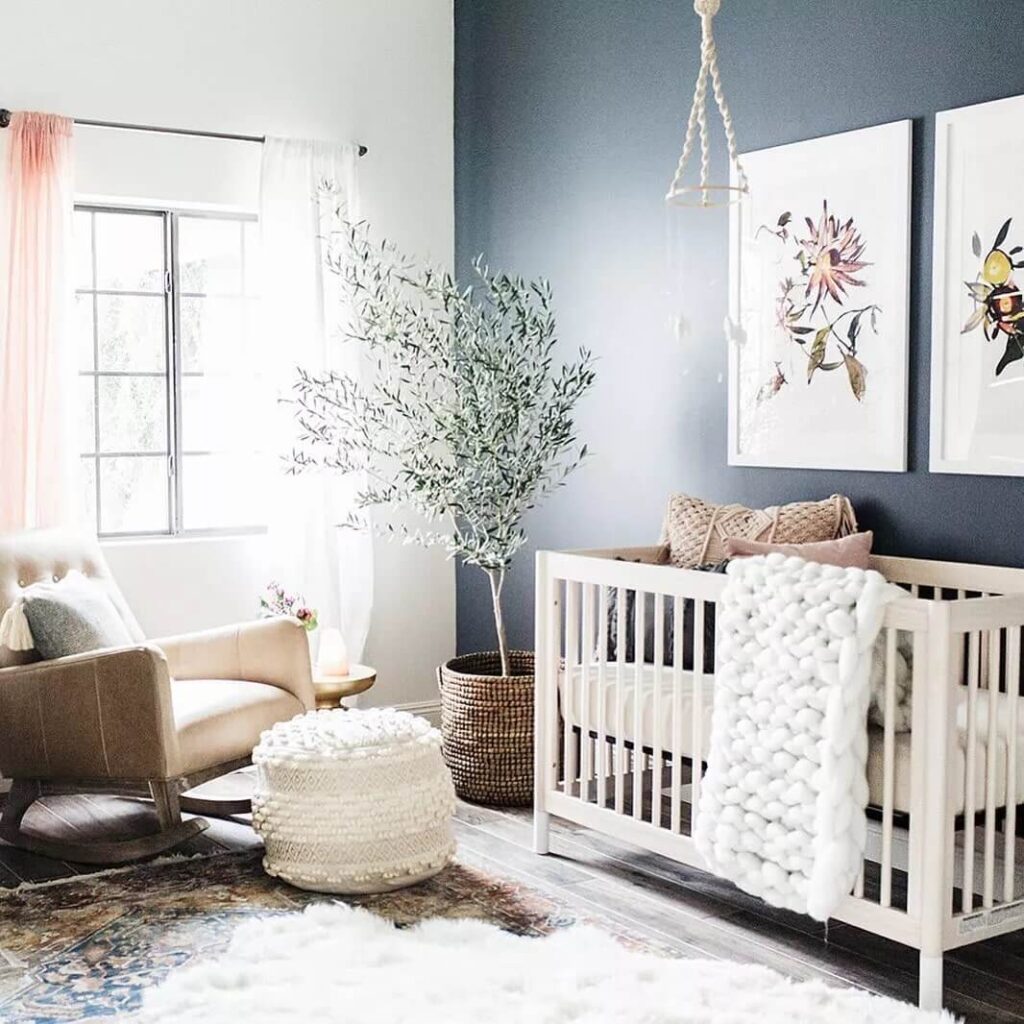 Blue ánd Pink Baby Nursery Ideas
If you like the colors pink and blue but you don't want to choose, why not add both? This gender neutral nursery has a blue wall and pink curtains. Perfect for a boy ánd a girl. (photo: Lexi Grace Designs)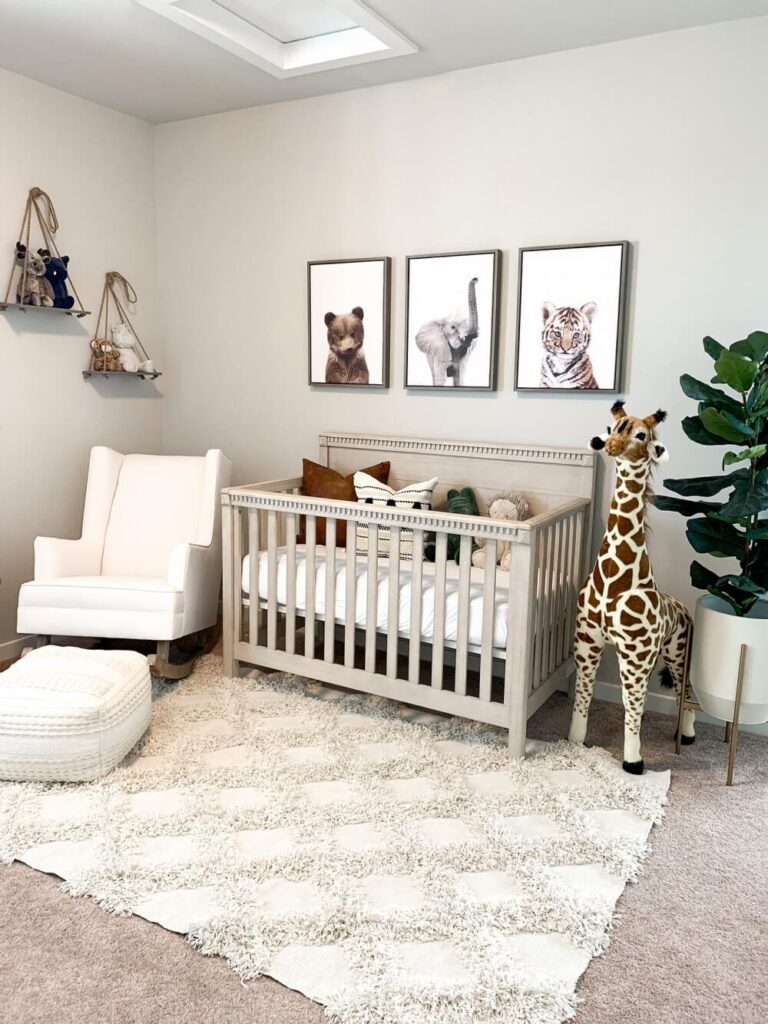 Light grey walls with a comfy rug and safari style decor in this neutral nursery (photo: Have Need Want)
Eclectic gender neutral baby nursery
The nursery of designer Emily Ward is an eclectic haven. And a perfect example that a gender neutral baby room certainly doesn't have to be boring and plain.
The wallpaper on the walls and ceiling is lovely for a baby room. And the built-in cabinets are wonderful for storage. A vintage rug ties it all together.
The third nursery is designed by Becca Interiors. It's a wonderful warm nursery with loads of textiles and a great window seat. You can see the full home tour here.
(photo: Trevor Tondro, Funda, Rikki Snyder)
Gender neutral nursery in an attic room
One of my readers requested this post about gender neutral nurseries. And her baby room is an attic room. So these wonderful baby rooms show how you can decorate an awkward attic room into a stunning nursery (photos: Johan Bosma, Espaces Atypiques, Boelen Makelaardij)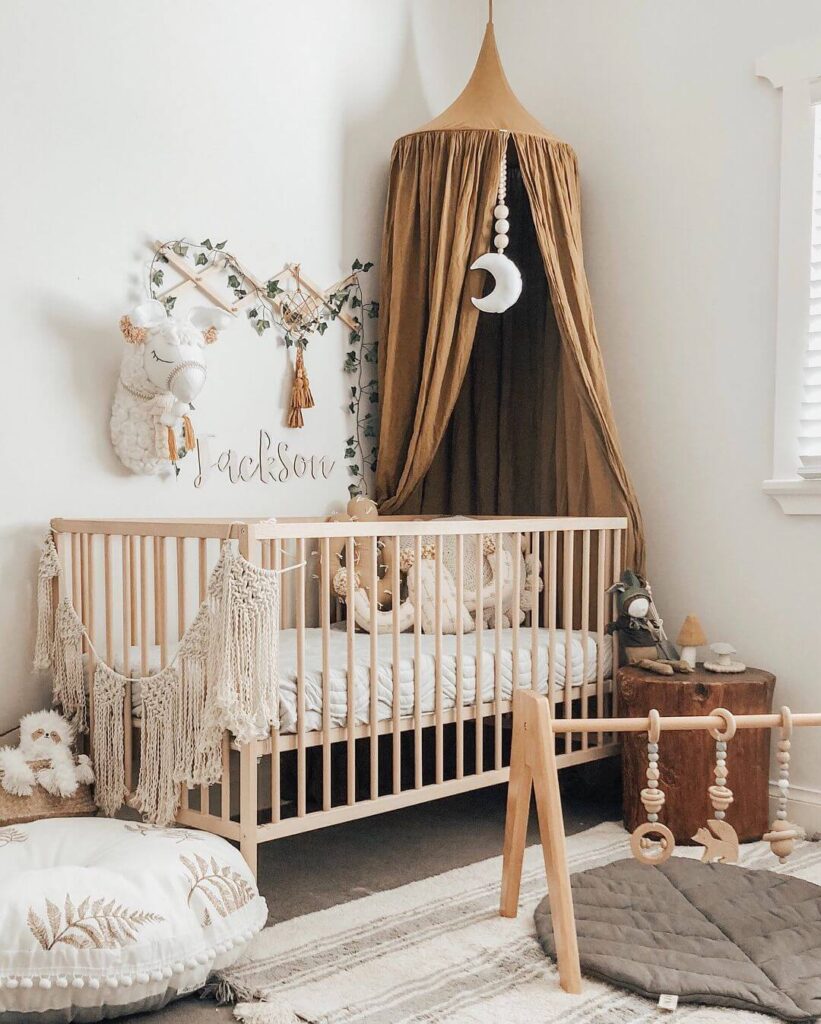 Ochre gender neutral nursery
Ochre/mustard yellow is perfect if you want to add a warm but neutral color to your nursery.
photos: Every Home is a Castle, Kelly Nan
White and grey gender neutral nursery
White and grey, the ultimate neutrals. But it is for a reason that they're such popular color combinations because it simply looks lovely.
photos: west elm, frenchy fancy
So you see, a gender neutral baby room can be stylish, colorful and a happy place. Perfect for your little baby don't you think?