How To Create A Home Office In A Small Space
Working from home. We've all gotten used to it the last year and I predict that in the future we'll be spending less time in the office and more time working from home.
But what if you live in a small home and don't have an extra room you can use as a home office? There are simple and stylish ways you can incorporate a home office in your small home.
From cloffices (closet/office) to bookshelf dividers, you can creat a functional, stylish and comfortable home office in your house, no matter how big (or small) it is.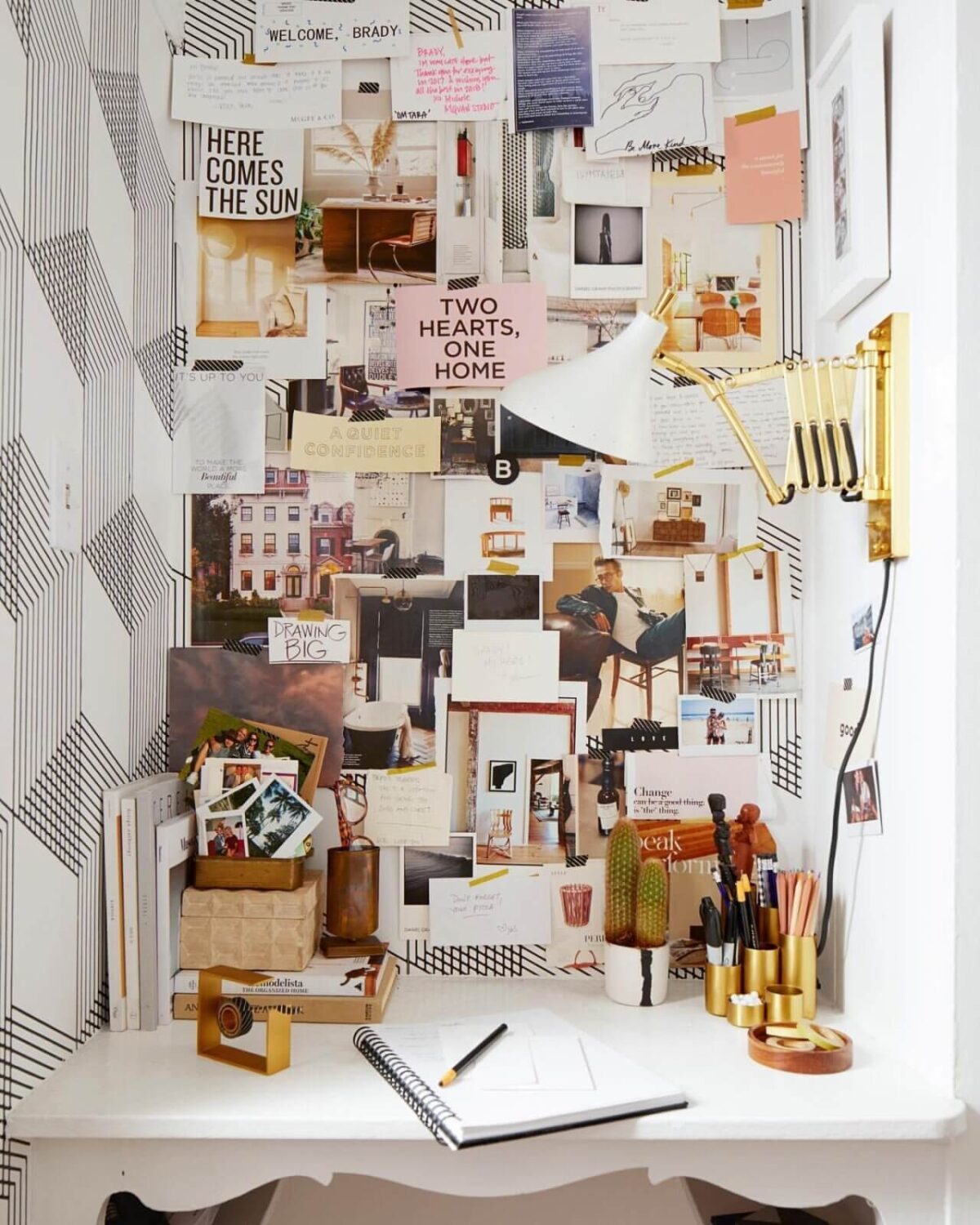 The Cloffice
What is a cloffice? Well it's quite simple, it's the combination of an office and a closet. This might scare you a little bit, because working in a closet doesn't sound great and a little claustrofobic, but you can truly transform your (built-in) closet into a nice workspace.
And creating a cloffice doesn't have to be expensive, with as little as wooden shelves you can pick up at a hardware store for a couple of dollars you can create a beautiful cloffice. And these examples will show you that.
Another advantage to the cloffice is that you can hide your office space when you're not working. However not all (former) closets still have doors. If you still want to hide your office space you can think about adding a curtain or a sliding door (which is also a great space saver) that you can shut when you don't need the workspace. It also adds warmth and texture to your home.
(photos: @myfarmhouseish, pinterest, bloomingville, pinterest, ikea, kvarteret makleri, @mauricioarruda, Home Made by Carmona, furnpact, @bpr_inc)
Wall to wall planks create the most sleek home office. Also add planks above the desk for extra storage. Subtle wallpaper give the cloffice above an extra nice look.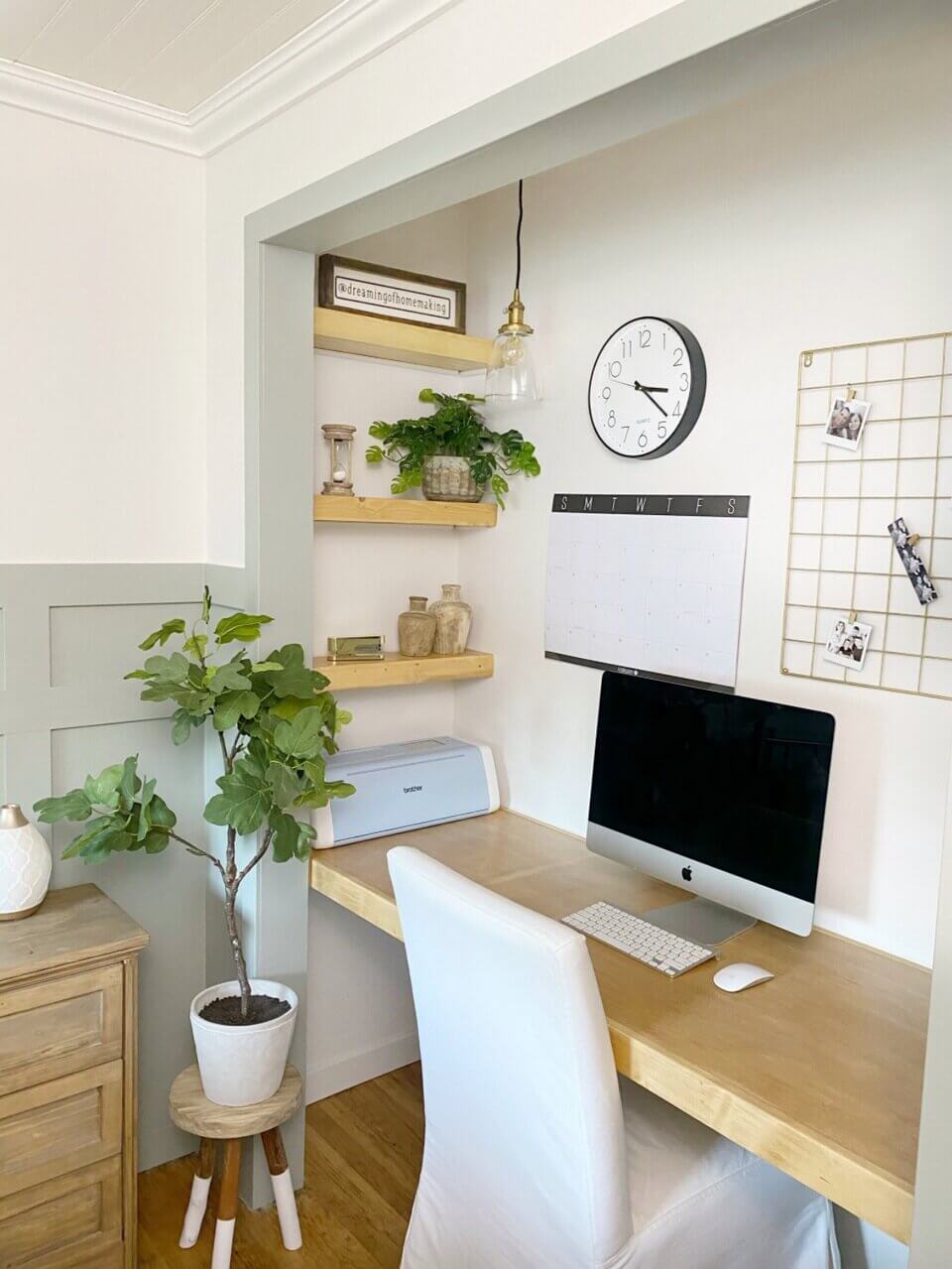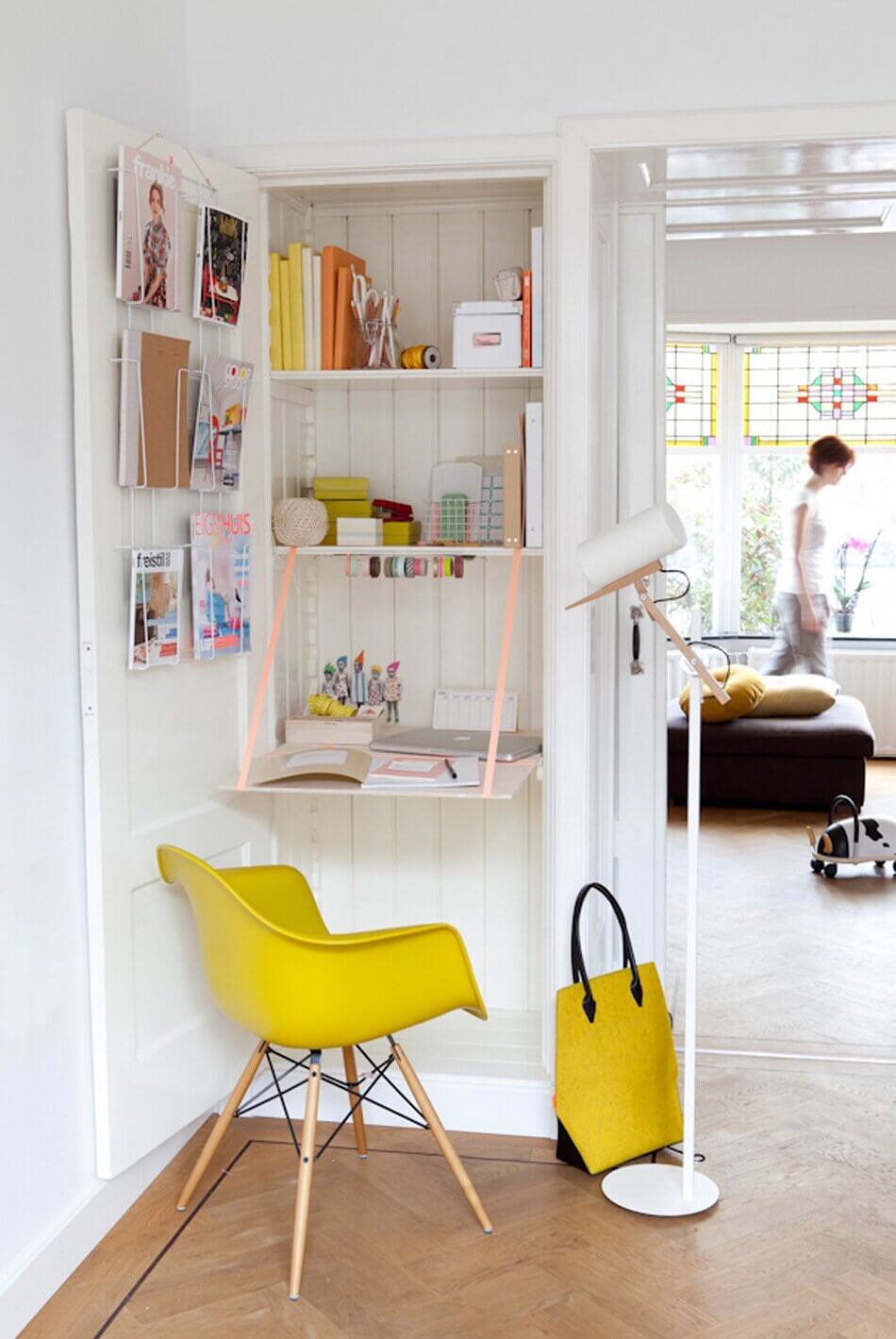 Two smart design ideas are combined in the cloffice above. This closet is truly small so by adding a fold out desk you create more workspace in your cloffice. (I also love all the colorful touches in this cloffice)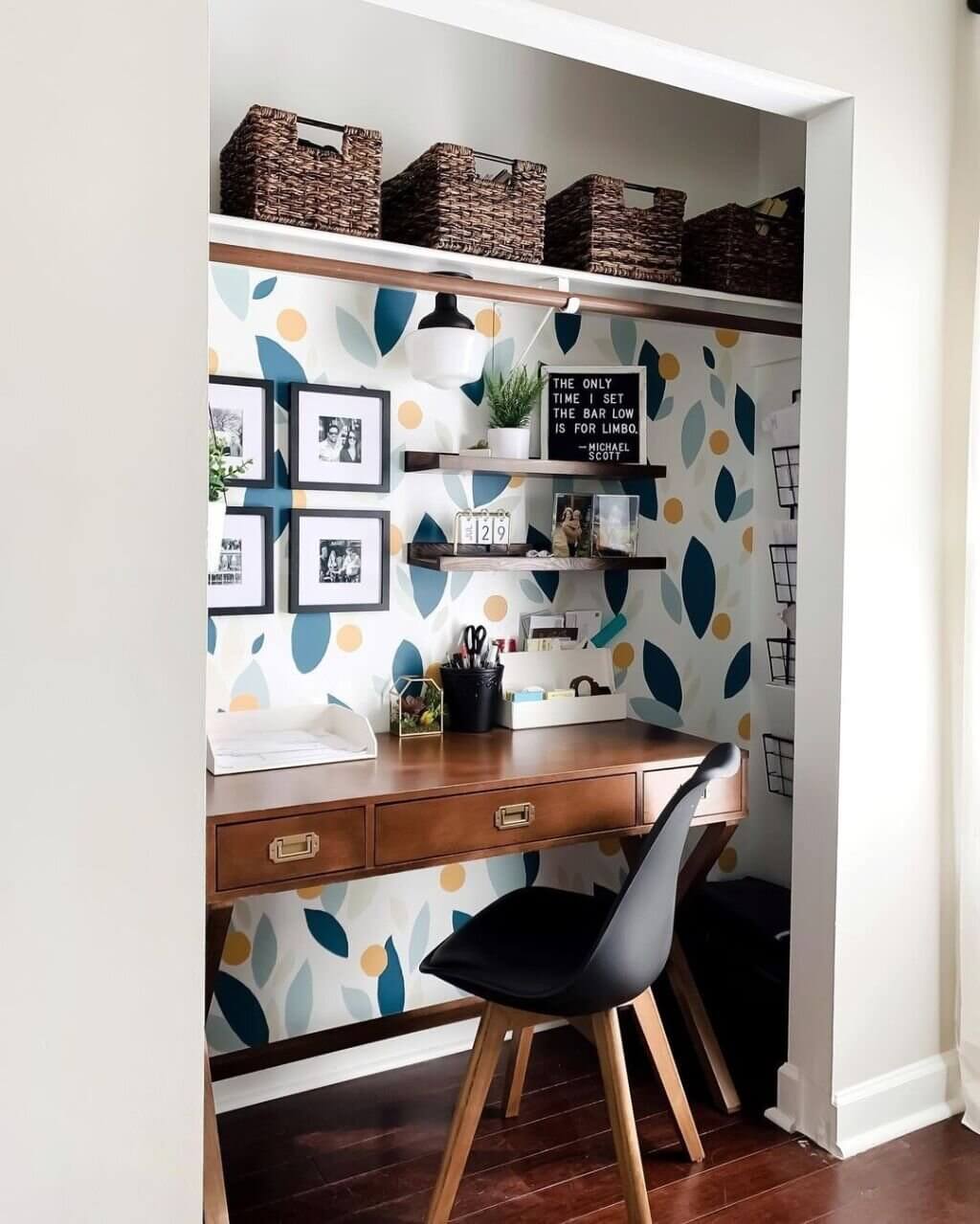 A nice way to spruce up your cloffice is by adding (removable) wallpaper for a nice color pop. The picture above also shows that you can put an actual desk in the cloffice (instead of the wall mounted shelves you usually see) it will give it a more cluttered look.
Use the awkward spaces in your house
That awkward space under the stairs. That tiny space under the slanted ceiling. You can all use it for a home office. With custom made shelves and storage solutions you can truly use every little nook and cranny to create a functional home office. (photos: ikea, pinterest, pinterest)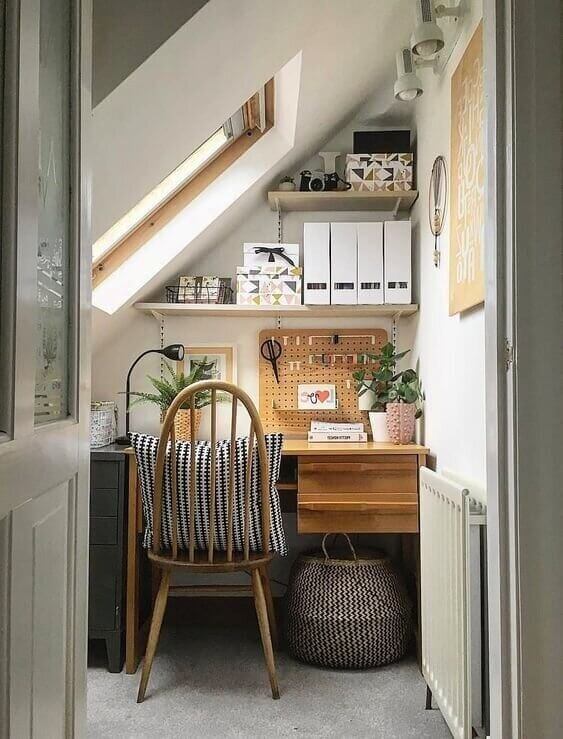 I had never seen the storage solution for slanted ceilings that you can see on the left picture above, but it's truly genious. Slanted ceilings are often thought of as inconvenient because you can stand there and tall furniture is useless but you cán add narrow storage boxes to the slanted ceiling which are perfect for storing paper.
The Dividing Bookshelves
Bookshelves don't have to be put against the wall. By using the bookshelf as a dividing wall you can create a home office that is seperate from other space in the room.
This way you add a little privacy, your home office isn't always in view when you're not working ánd by using bookshelves as a dividing wall you also have a lot of storage space in your makeshift office. (photo: Sjaartje, Paul Costello)
This shelf system can be found on Etsy and is ideal for small spaces. You can create a seperate home office ánd you'll have extra storage space
The IKEA Kallax bookshelves are perfect for creating a private home office with plenty of storage. Plus the open structure of the cabinet helps to keep you home office light
Go up in height (if you can)
Always use the height of your roomif you're living small. Now I know that not everone is lucky enough to have high ceilings but when your room is of decent height you should definitely use it.
Do you live in a studio apartment? Get a loft bed and put your office underneath. Obviously this also counts if you have a seperate bedroom. It's all about what you want to prioritize in your home, maybe a home office is more important than a low bed.
(photos: West Elm, Casa NaToca, pinterest, Janne Olander, pinterest, ICOSA)
See also: How to create a stylish bedroom home office
A Fold Up Desk
The fold up desk is perfect for teeny tiny spaces because so it doesn't stand in the way when you're not using it. You can make one yourself (there are plenty of tutorials on the web) but some stores also sell fold up desks. (photos: IKEA, Etsy, 4NM)
The 4NM Folding Desk can be bought on Amazon and is perfect for small spaces. The desk is big enough to work comfortably and when you don't need it, you just fold it up against the wall
On the left the Mr IRONSTONE folding desk, the wooden (wateresistant) top gives it a warm look. On the right is not a folding desk, but the storage solution in this desk by Lufeiya is very clever. You don't need an extra cabinets that will clutter up your space.
Pin me for later!