A Tiny but Light Attic Apartment in Sweden
I think it's time for a nice Scandinavian apartment, don't you think? I have been blogging for years now and if I know one thing. It's that Scandinavian know how to decorate a small apartment.
And today I am going to show you another example of a beautiful tiny apartment in Sweden. And with a size of only 33sq. meter, you can definitely call this a tiny home.
But even though it's small (and judging on the size you might even think its a studio apartment) it actually has a seperate bedroom.
The tiny apartment has been renovated this year and it's now a Scandi luxurious apartment. With high class materials, stylish furnishings and light color tones. It's a perfect example of a Scandinavian home.
The living room is situates in the "tower room" of the apartment complex. A skywindow lights up this room from above.
There are plenty of window in this slighty unusual attic apartment. But that makes it a very light apartment.
The cozy sitting space with natural color tones and plenty of texture to make it a cozy spot.
A light oak floors runs throught the apartment. And in true Scandi style you see a lot of natural color tones for a serene look.
Warmth is added with this gorgeous feature wall in the kitchen/living room.
The beige kitchen is made by Taras Hallgren & Son. The countertops are made of Portuguese limestone "Azul Aza"
The bedroom is cozy but light and has slanted ceilings.
By adding a wall mounted desk to your room you can create a little home office in a small space. For more small home office inspiration you can click here.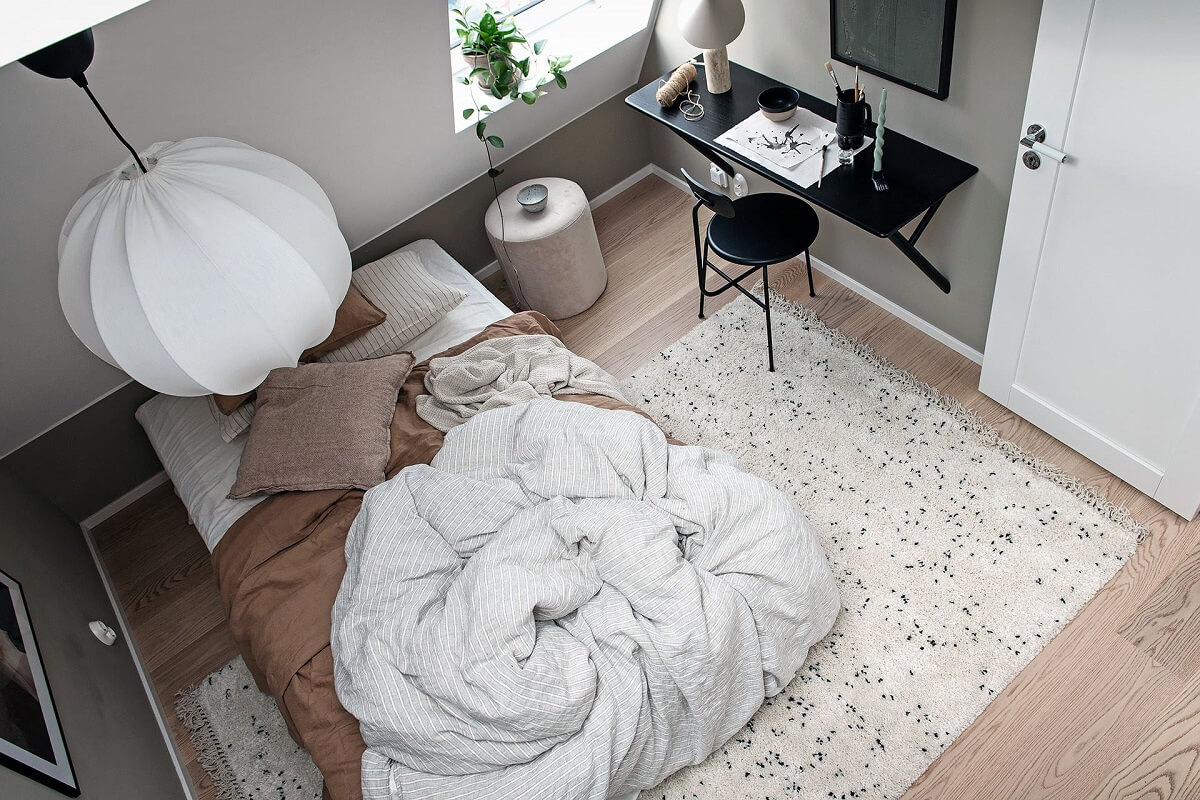 A tiny fall touch with the earthy tone bedding. Giving an immediate cozy vibe to the room.
From the kitchen/living room you can enter the small balcony overlooking Gothenborg.
More Scandinavian attic apartments
This lovley apartment is now for sale at Alvhem