Best Paint Colors for a Colorful Small Bedroom
A small bedroom in neutral tones? Not on my watch! There's no reason why you shouldn't use vibrant colors and create a small colorful bedroom.
And this post will not only give you small colorful bedroom ideas. But it will also share paint colors from leading paint companies that help you recreate the colorful bedroom look.
Small colorful bedroom designs
Let's take a look at beautiful small bedrooms that are packed with color. Whether you want a classic blue small bedroom or opt for a brighter hue like yellow or pink. You can pick any color you want for your tiny bedroom.
Small Blue Bedrooms
Blue is the most classic color to choose for a bedroom. It's neutral and when you chose a darker shade it creates a cozy cocoon. And a blue bedroom is also a great choice if you're thinking about selling your home. Because a blue bedroom can increase your home's value.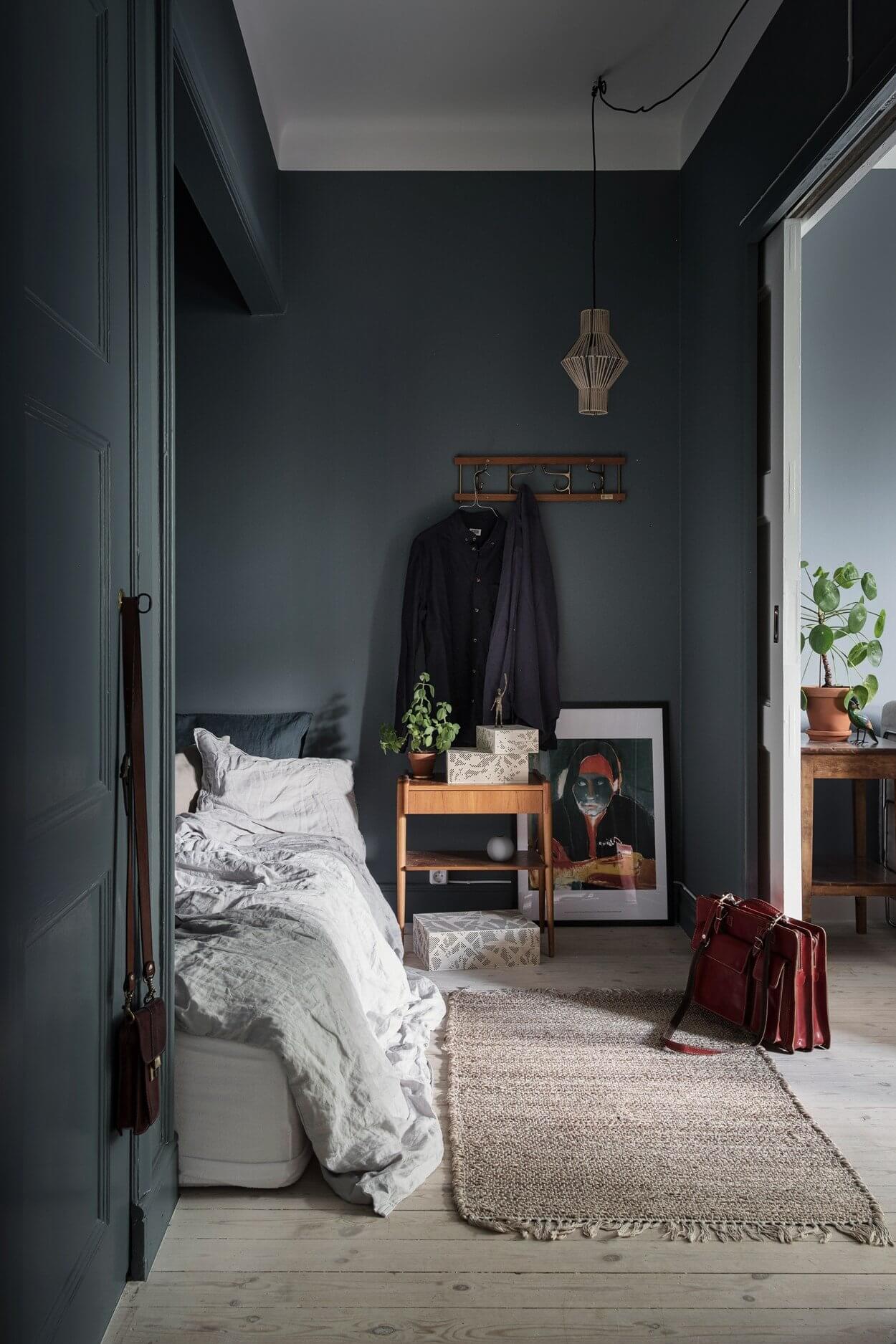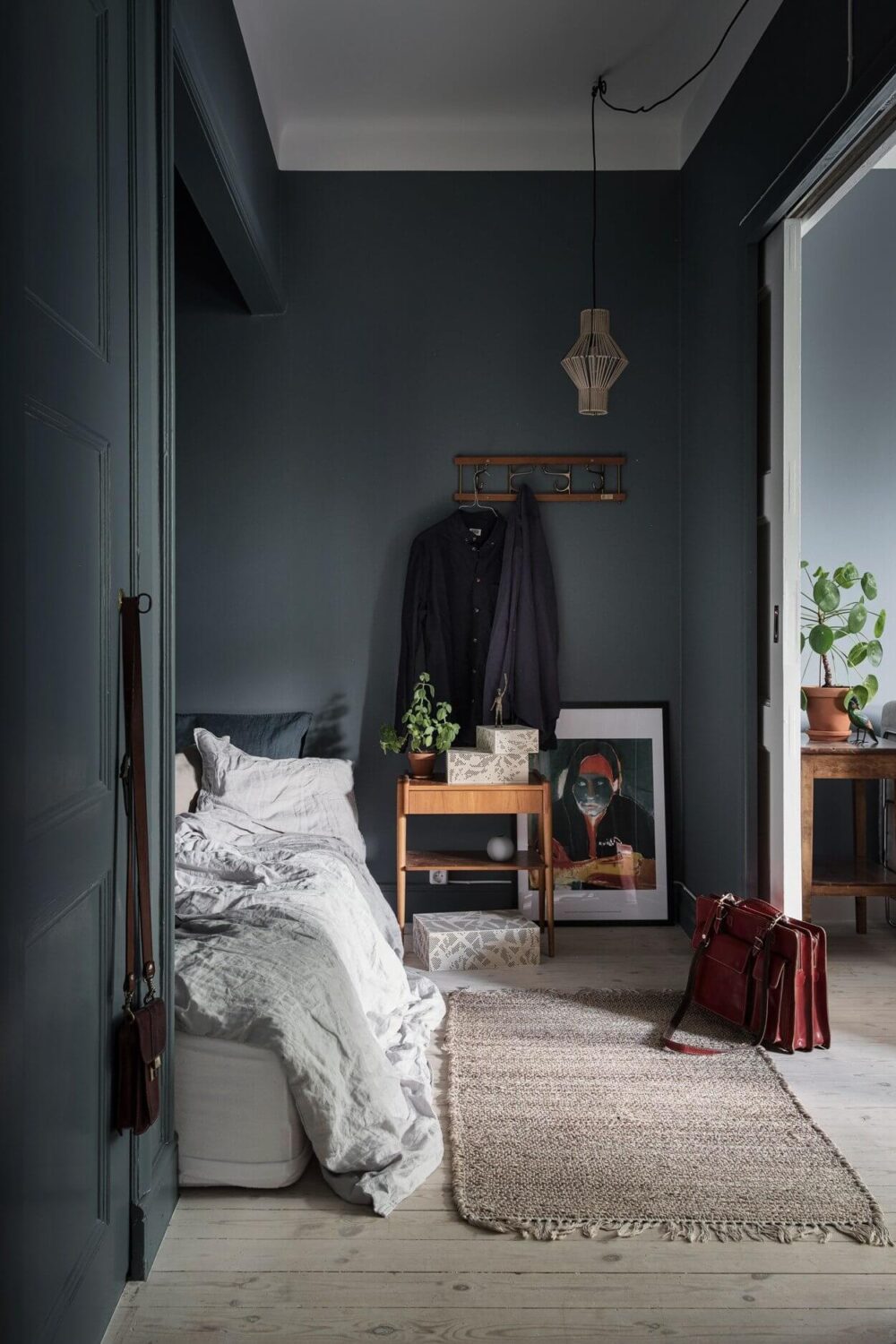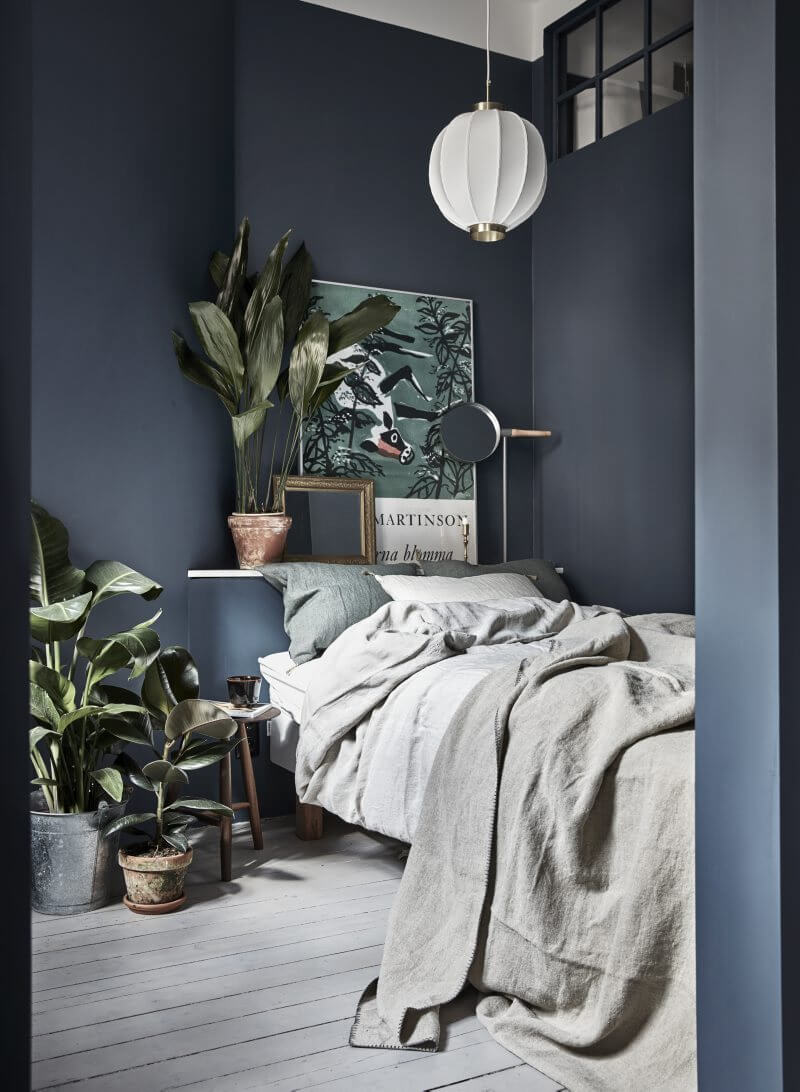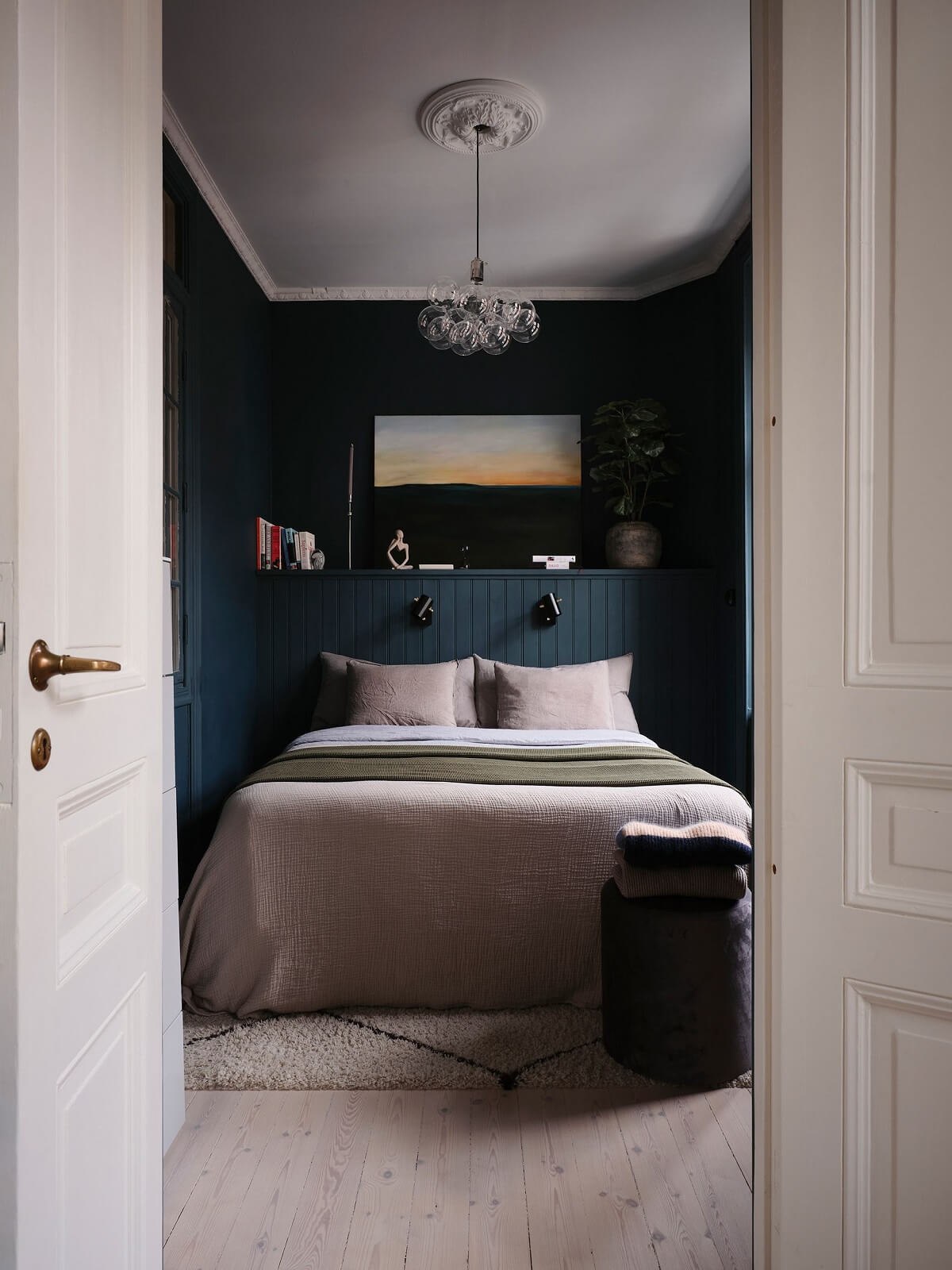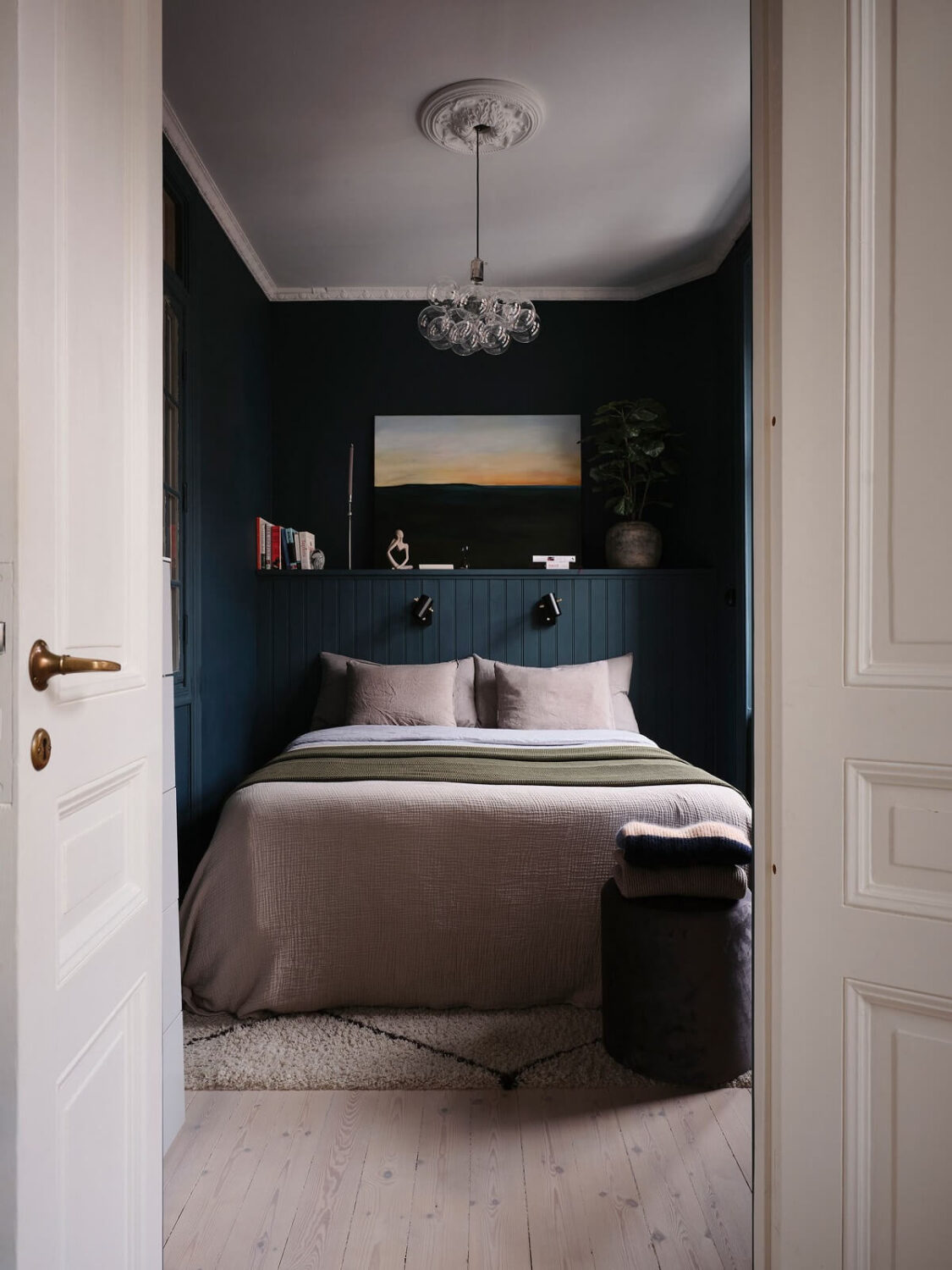 Paint colors for a dark blue bedroom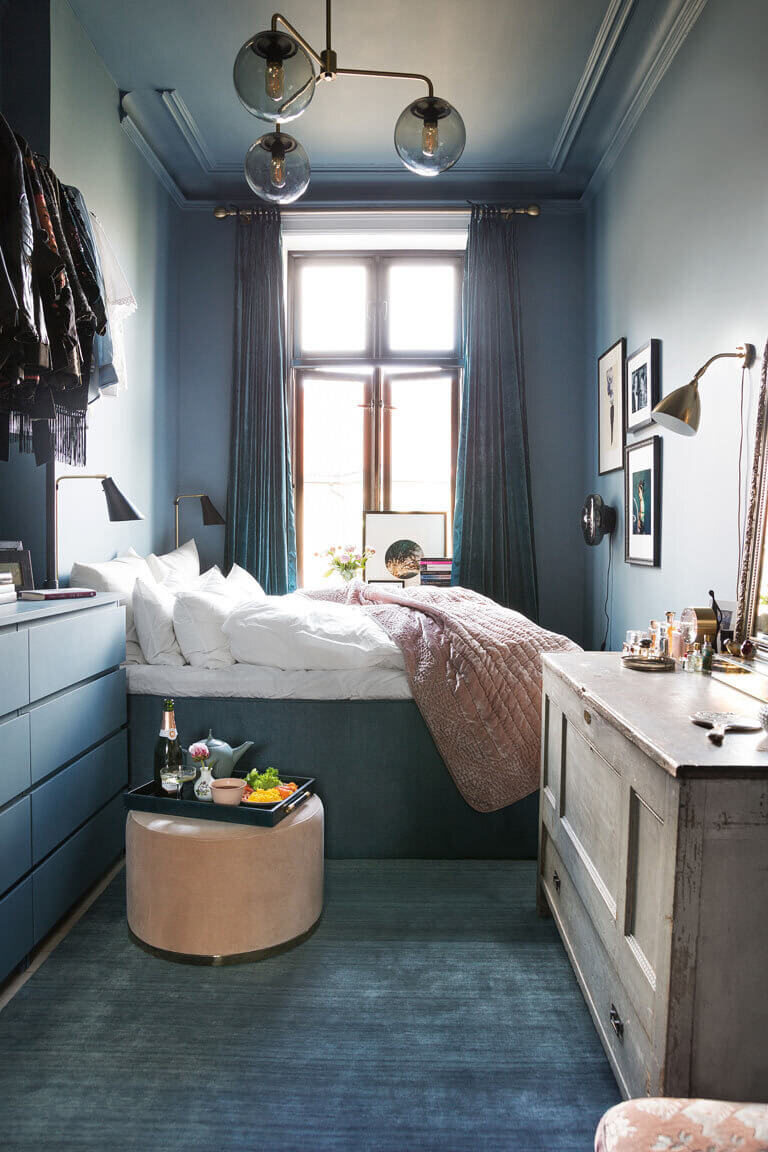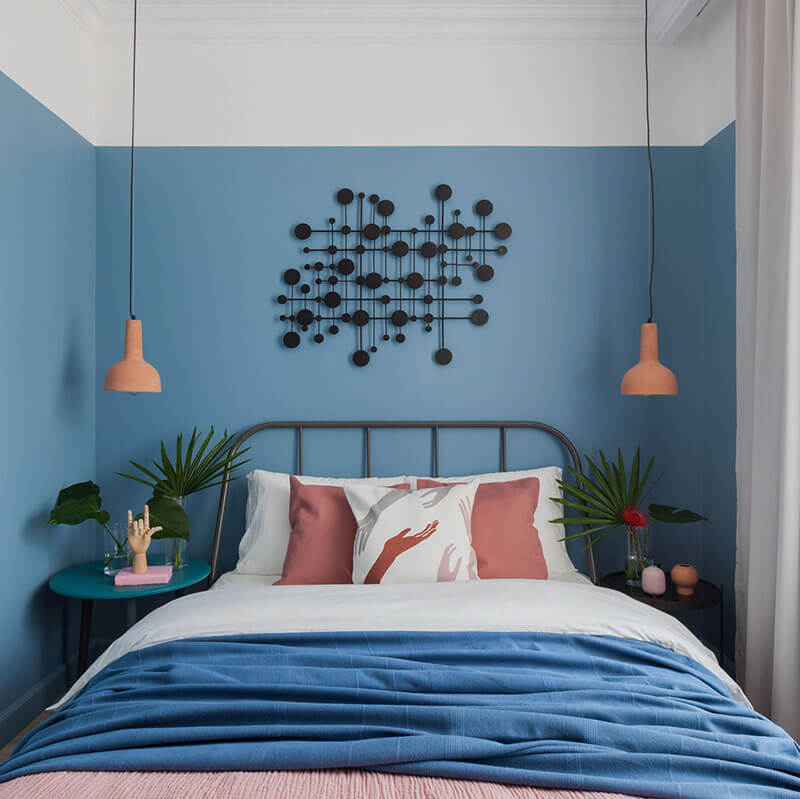 Paint colors for a mid blue bedroom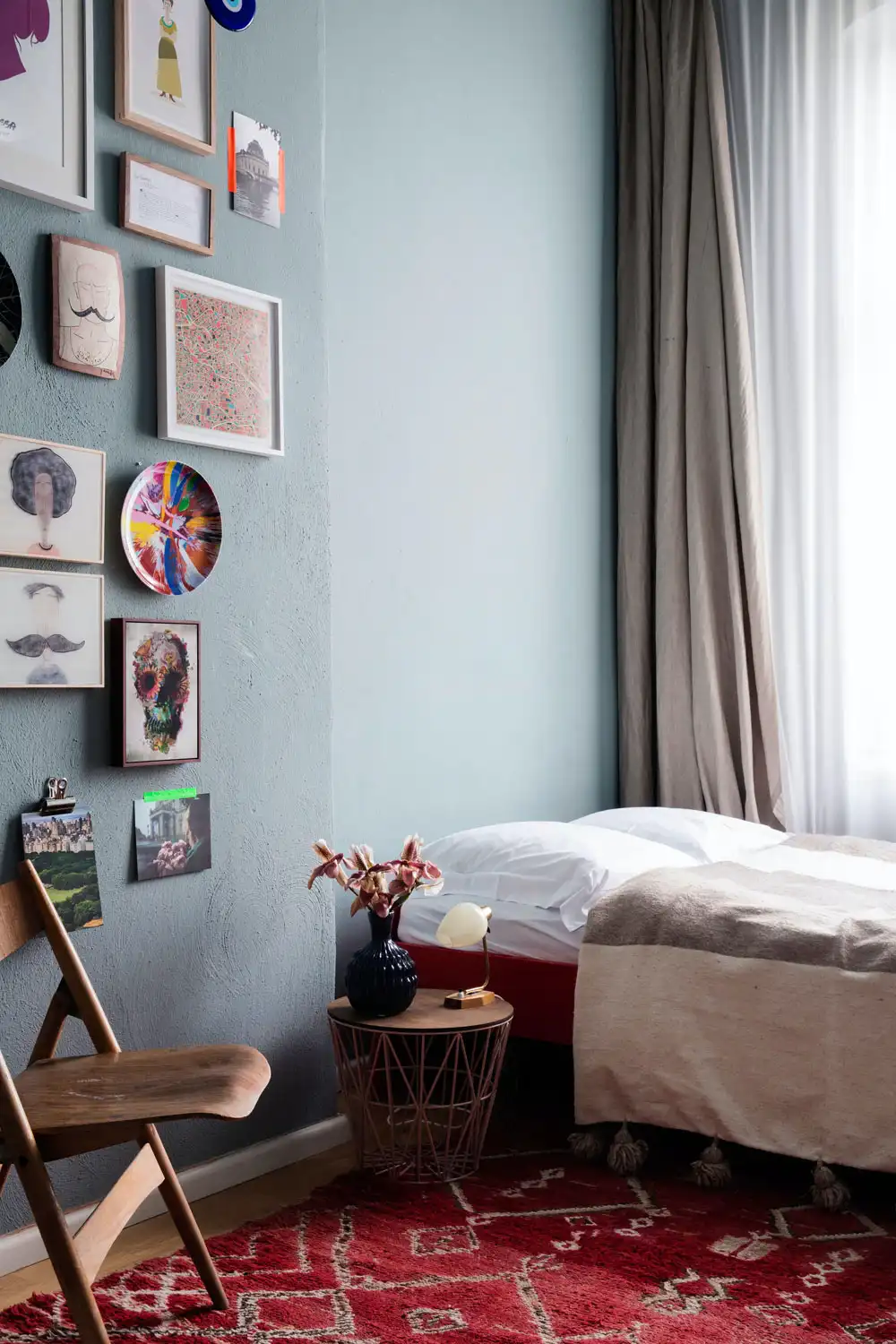 Paint colors for a light blue bedroom
Light blue is a popular color choice. The paint color Bright Skies by Dulux is one of the Colors of the Year 2022.




Small Pink Bedrooms
Pink comes in many shades and tones. And it's a lovely color for your bedroom. These bedrooms show you that pink certainly isn't just for a little girl's bedroom.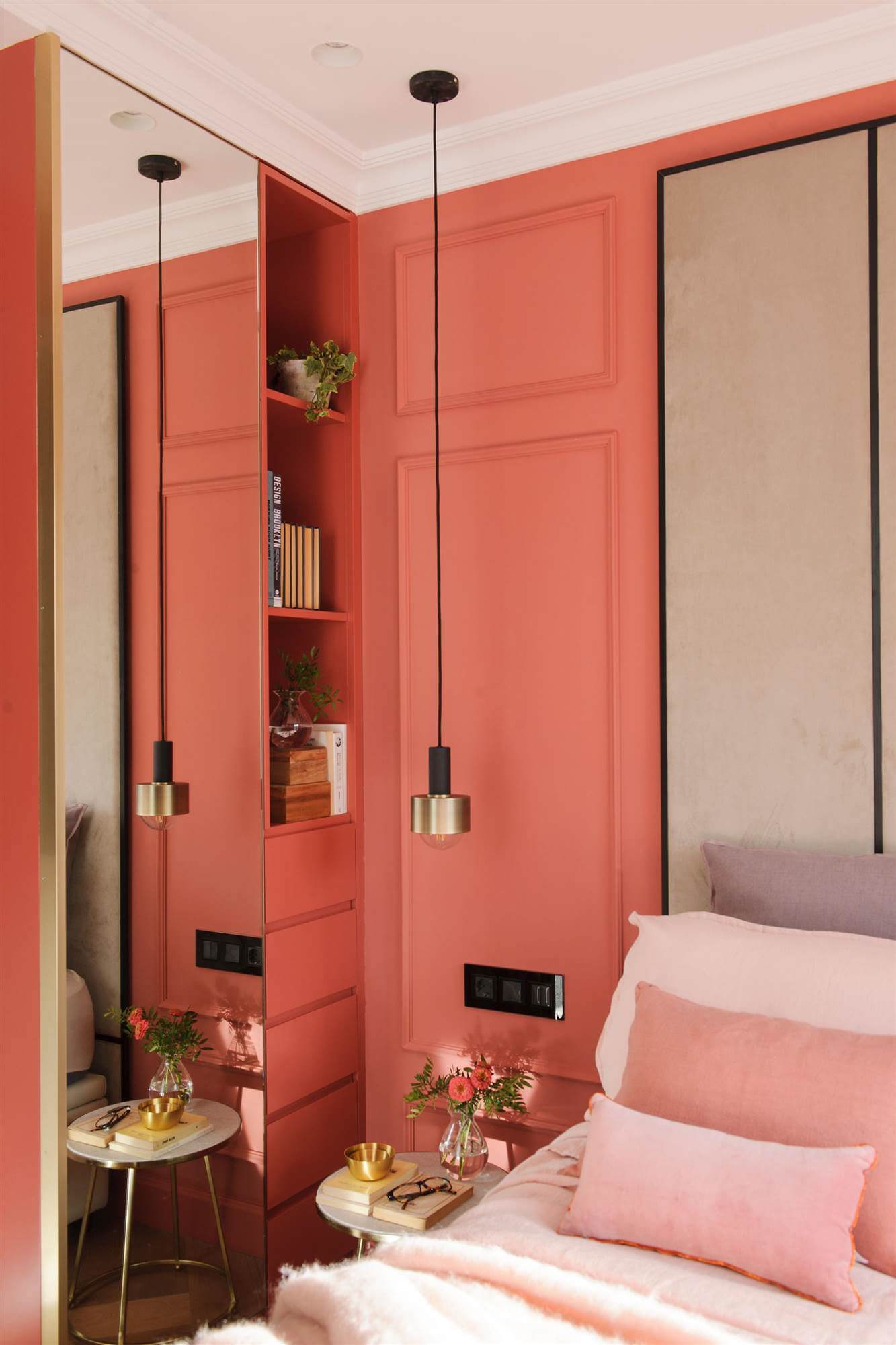 Paint colors for a bright pink bedroom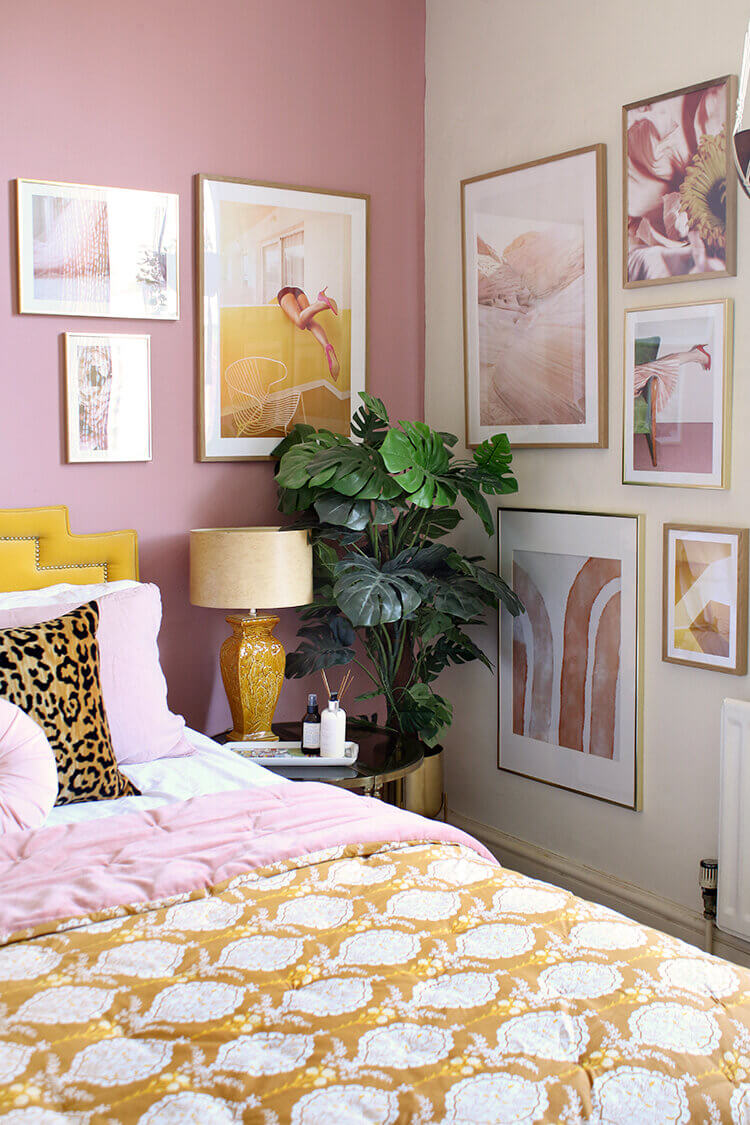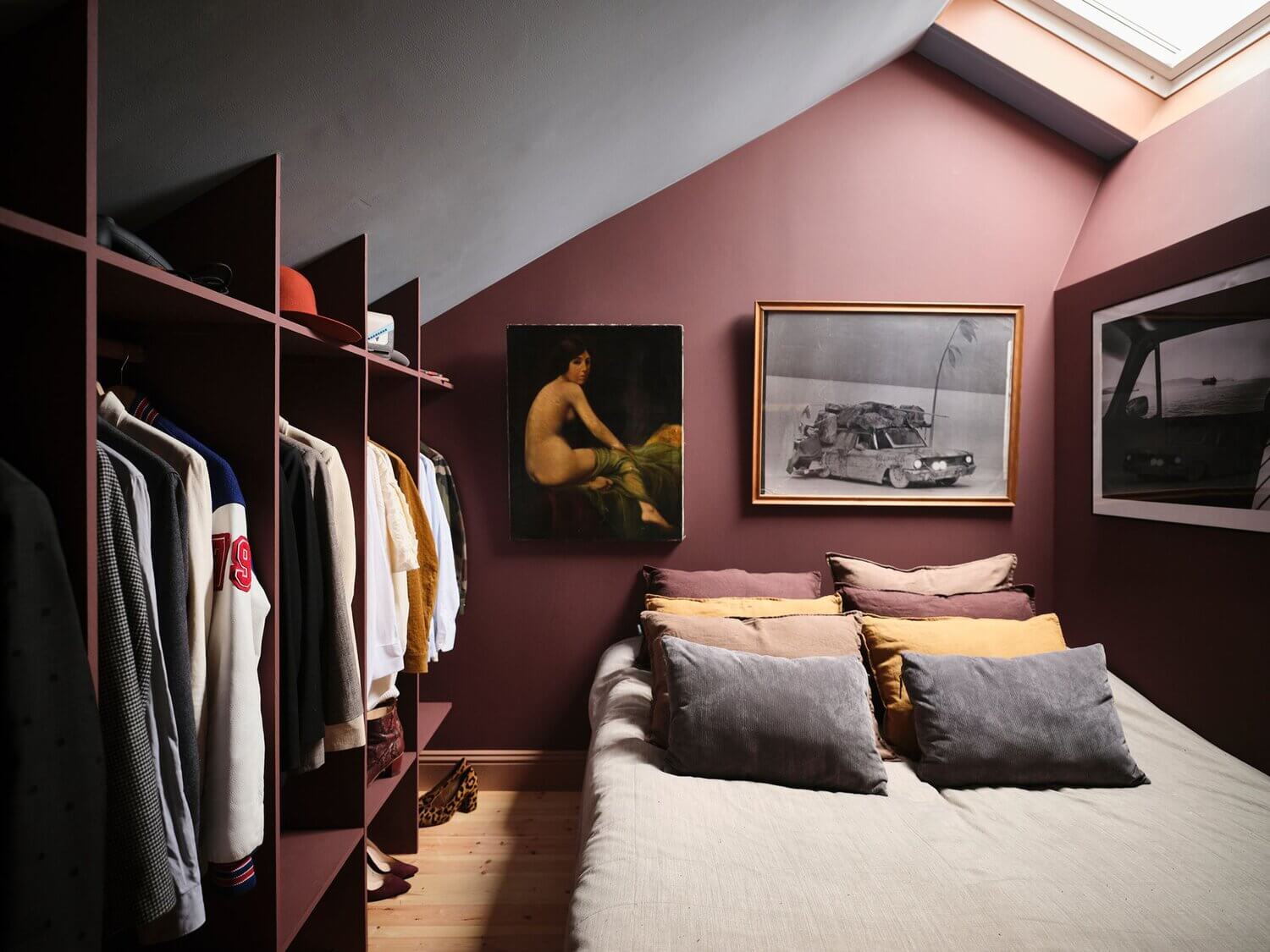 Paint colors for a soft pink bedroom



See also: pink bedroom decorating ideas
Small earthy bedrooms
We're seeing more earthy tones in home decor lately. And it's also perfect to bring warmth and color to your bedroom. These earthy-colored bedrooms show it's the perfect shade for your small bedroom.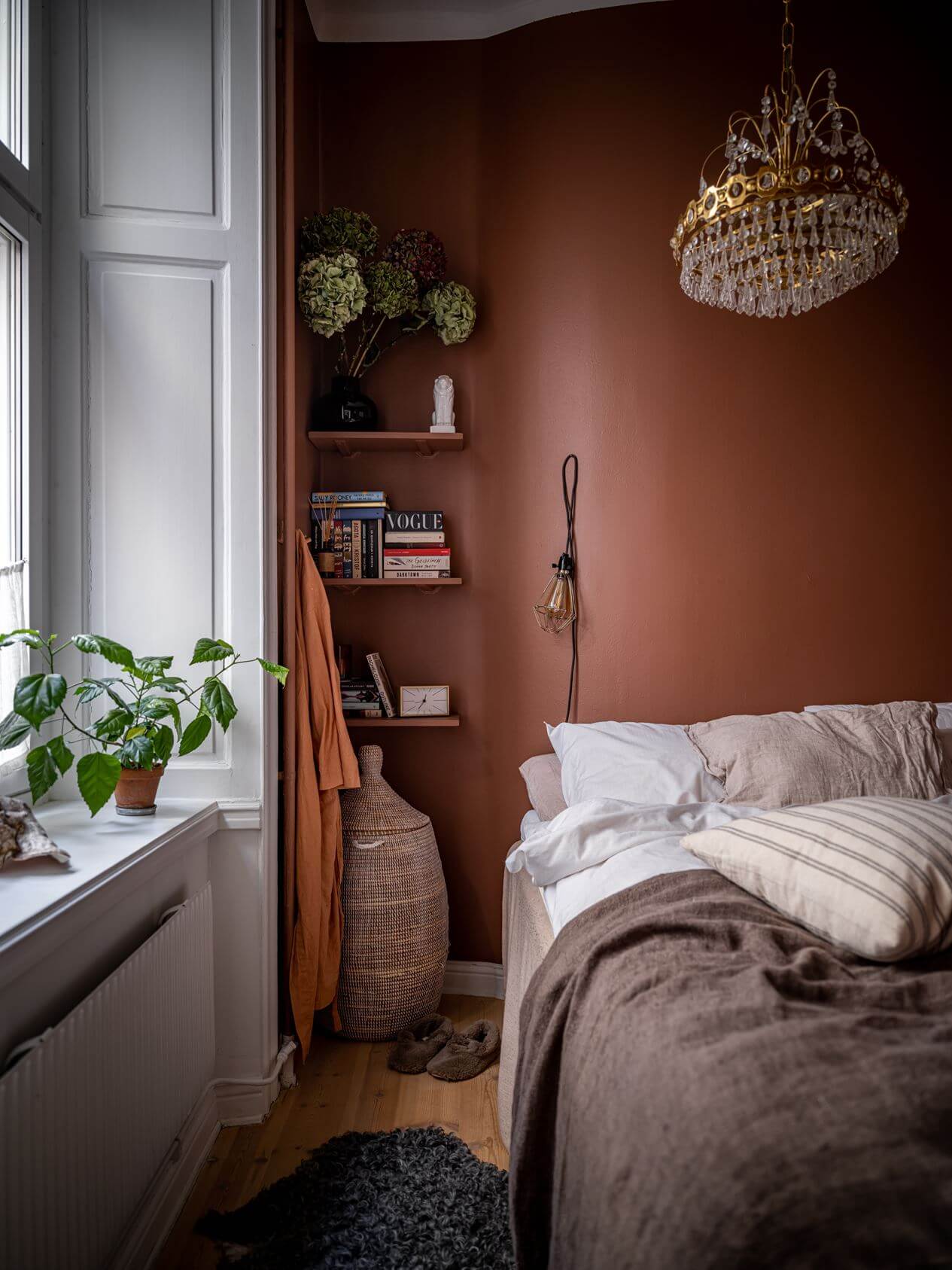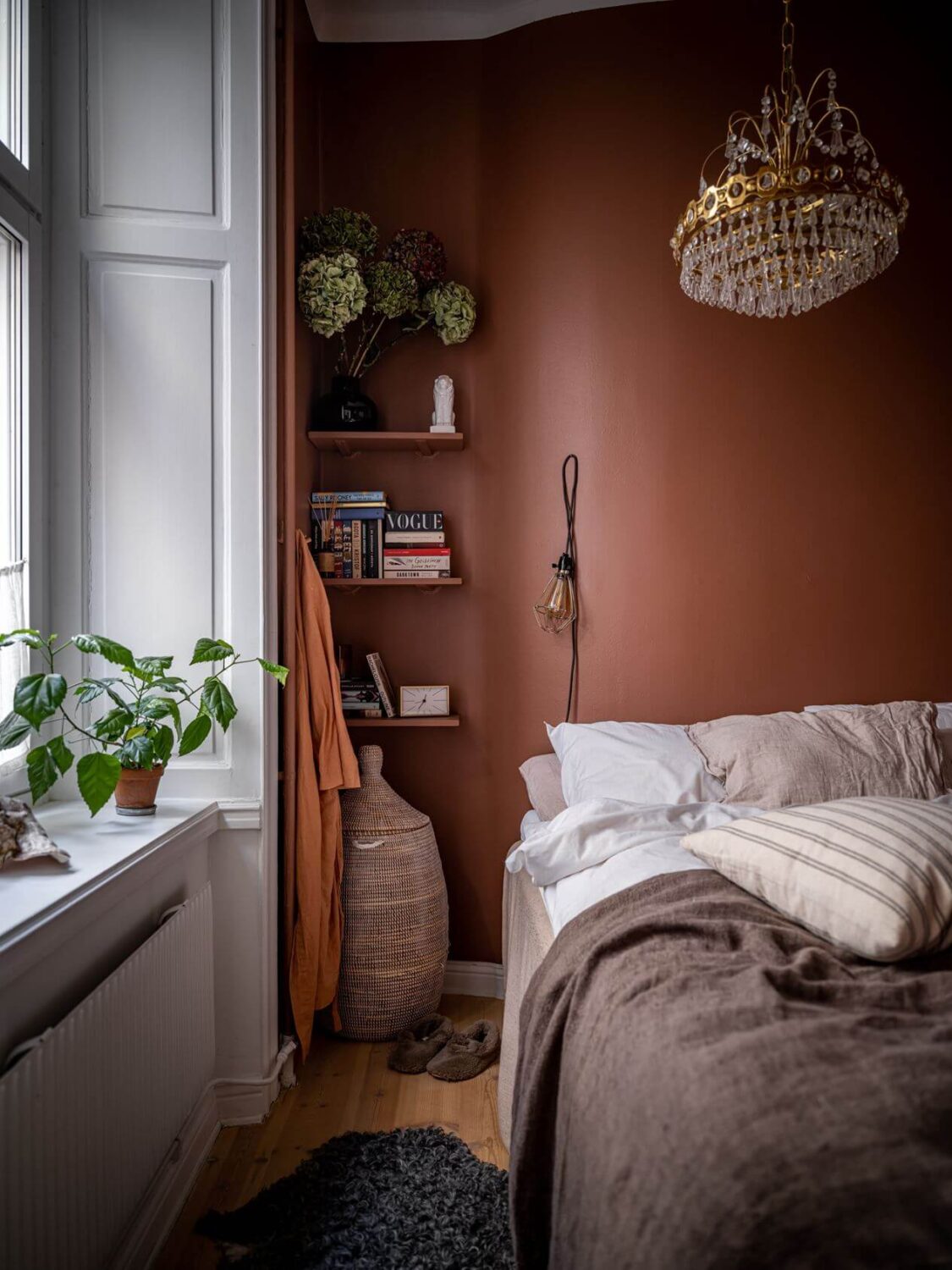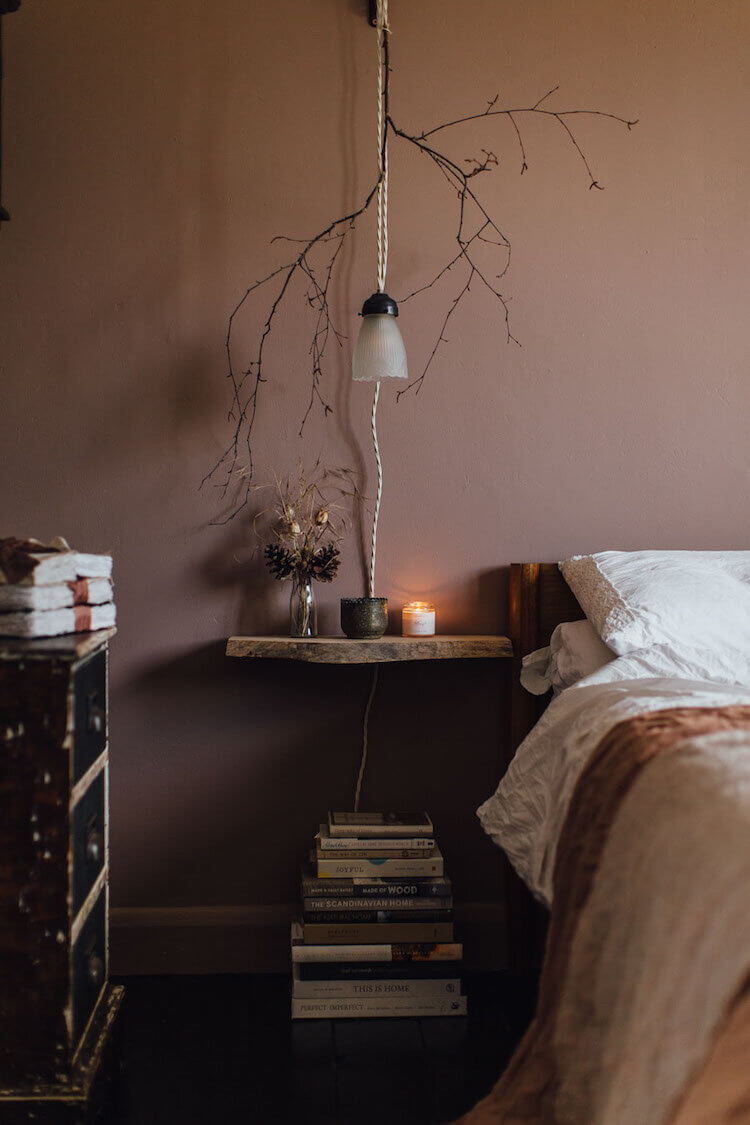 The earthy hue "warm mud brown" by Atelier Ellis (seen above) is part of the Papier Peint color palette. This palette consists of 7 beautiful complimenting shades with which you can create a calm, natural home style.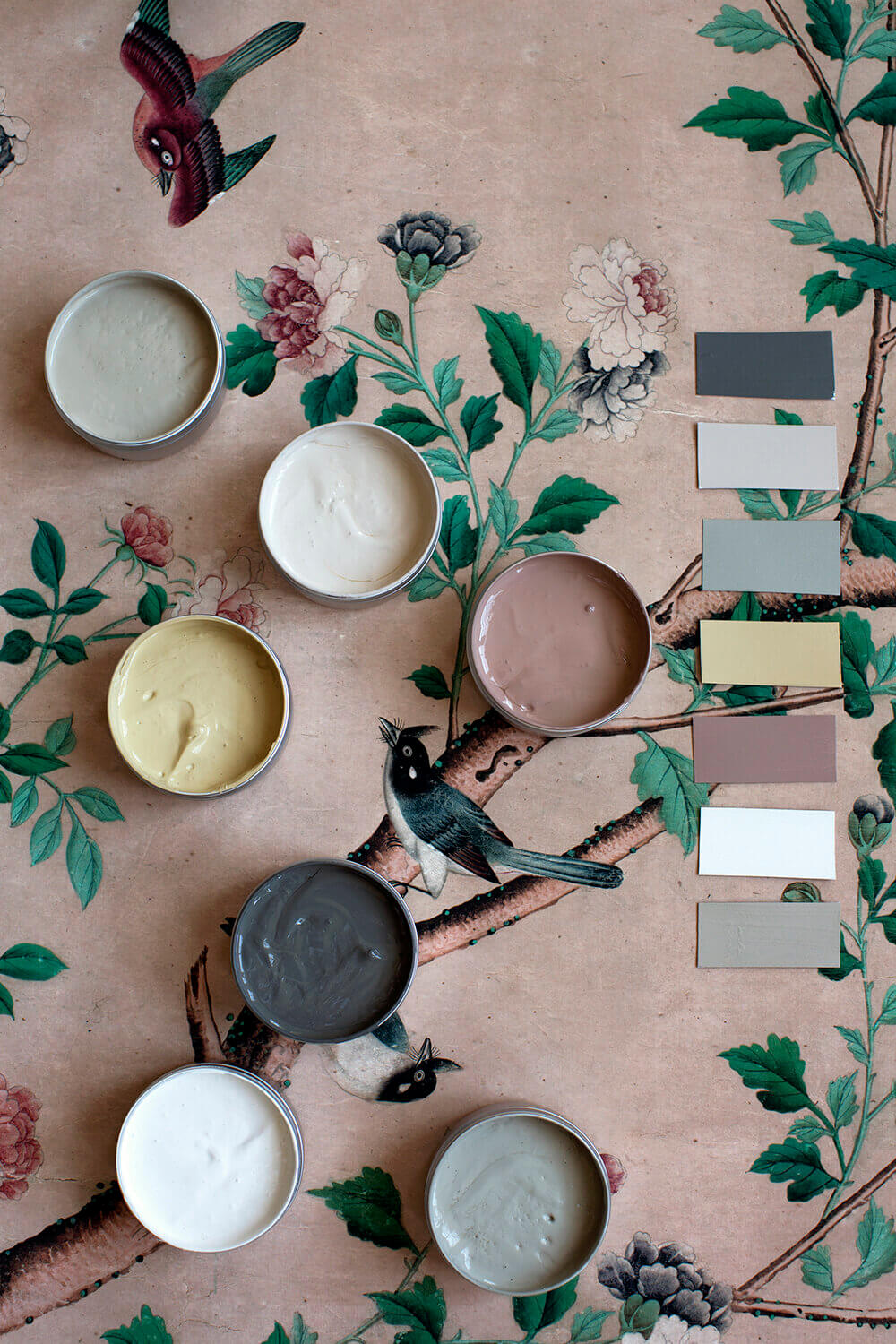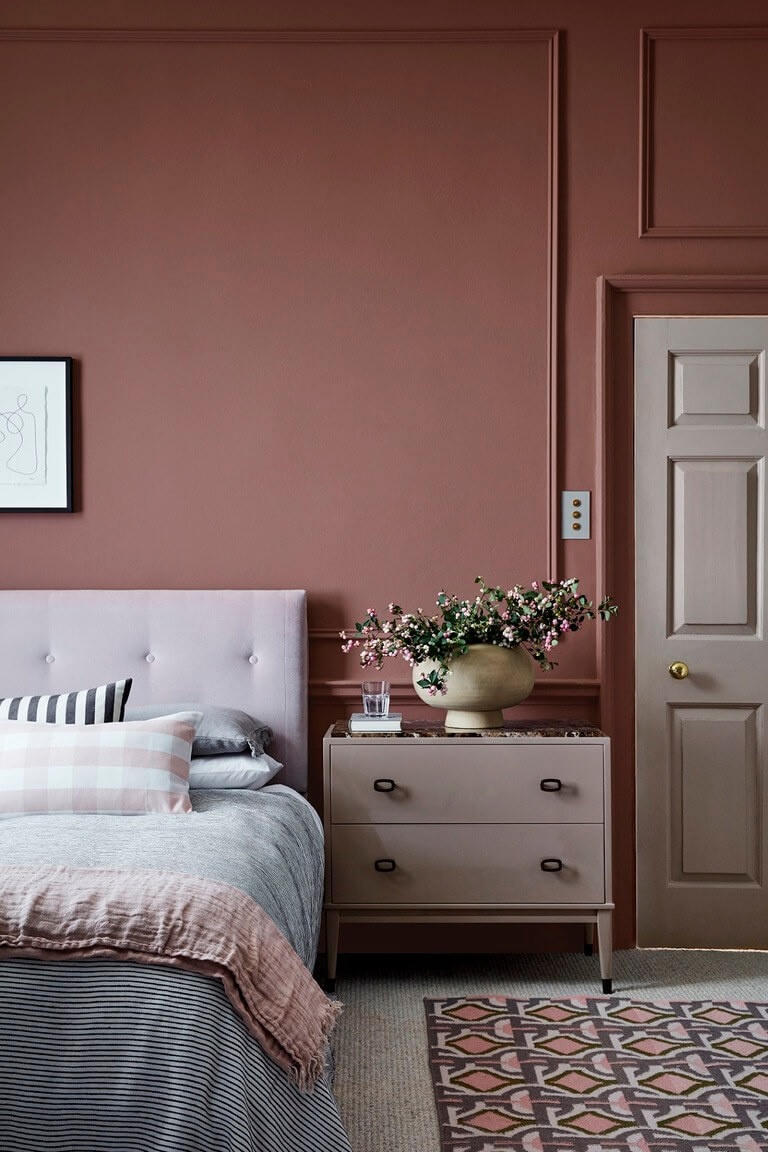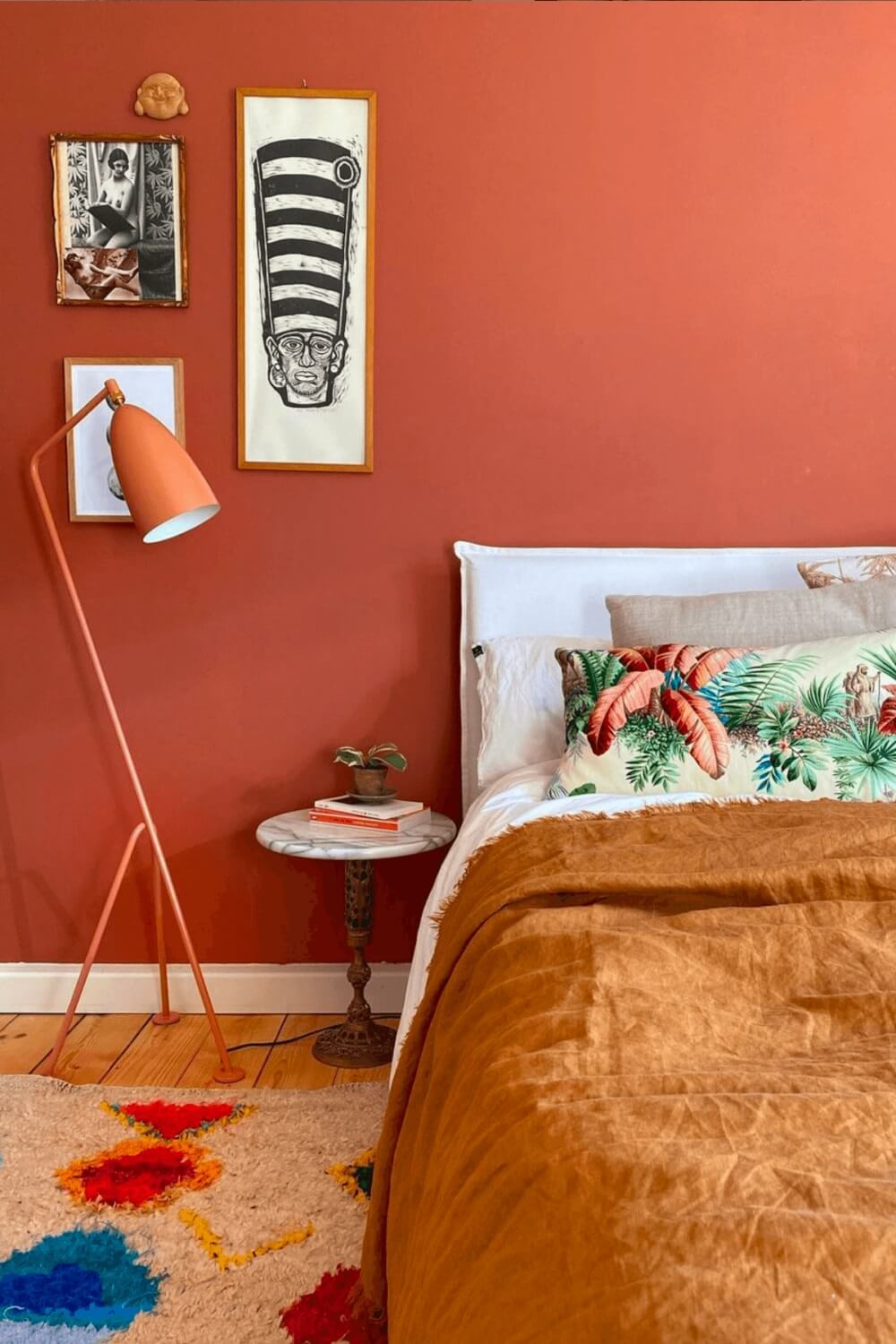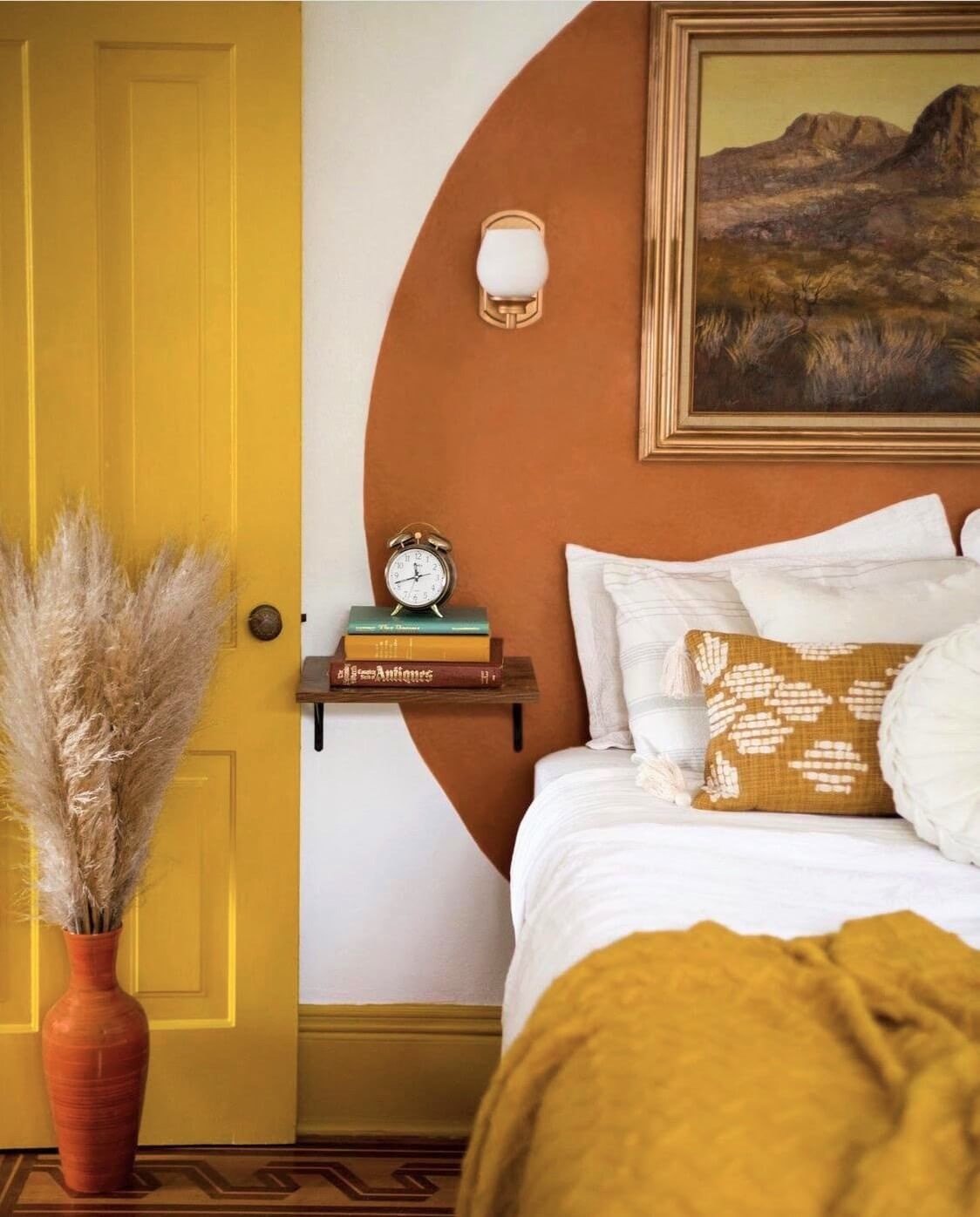 Small green bedrooms
Green is (together with blue) a very trending color at the moment. And that unsurprising because green is a beautiful natural hue that you can easily use as the base color for your bedroom. Bút you can go a bit wilder with a green color tone, even in a bedroom.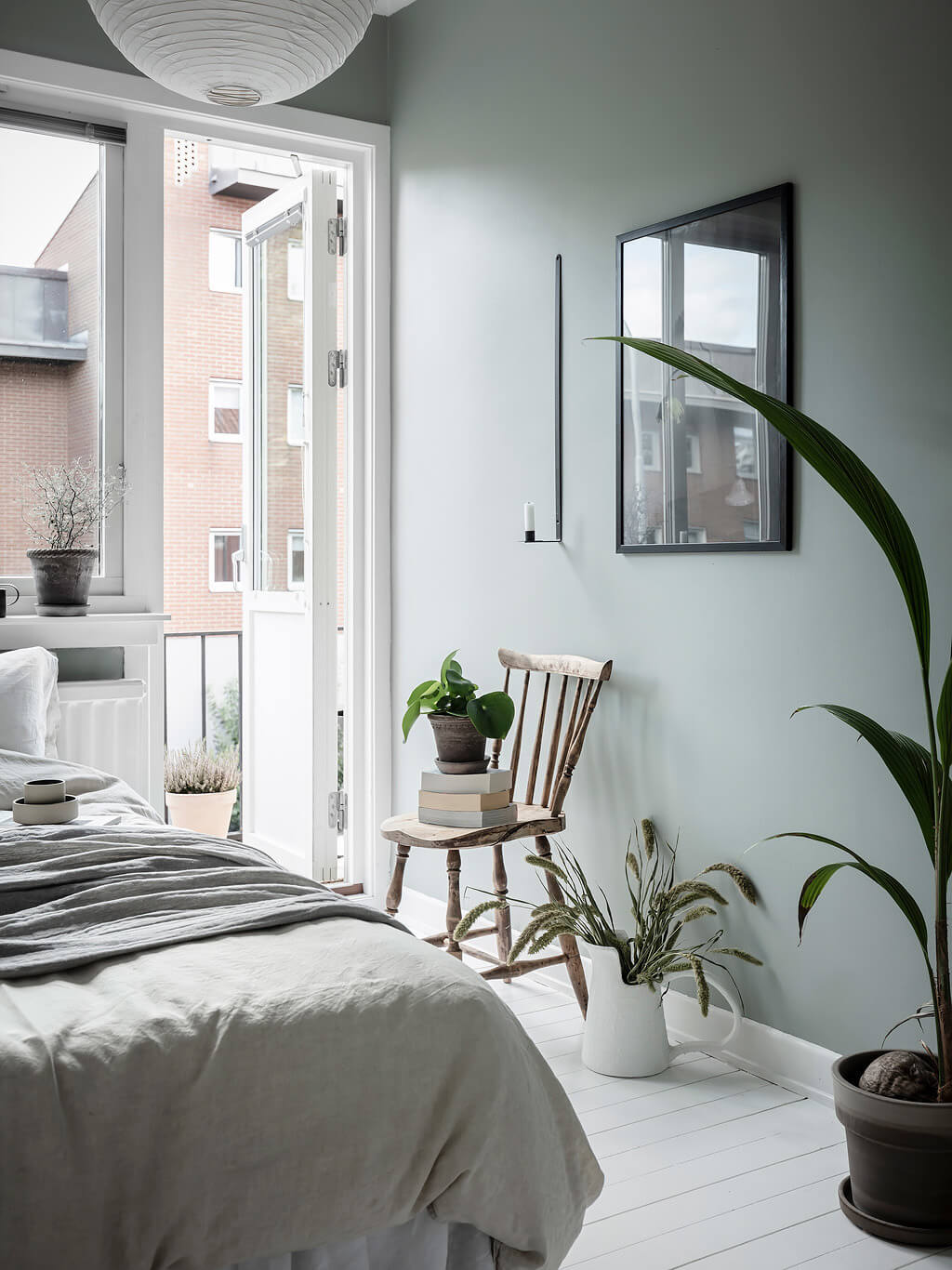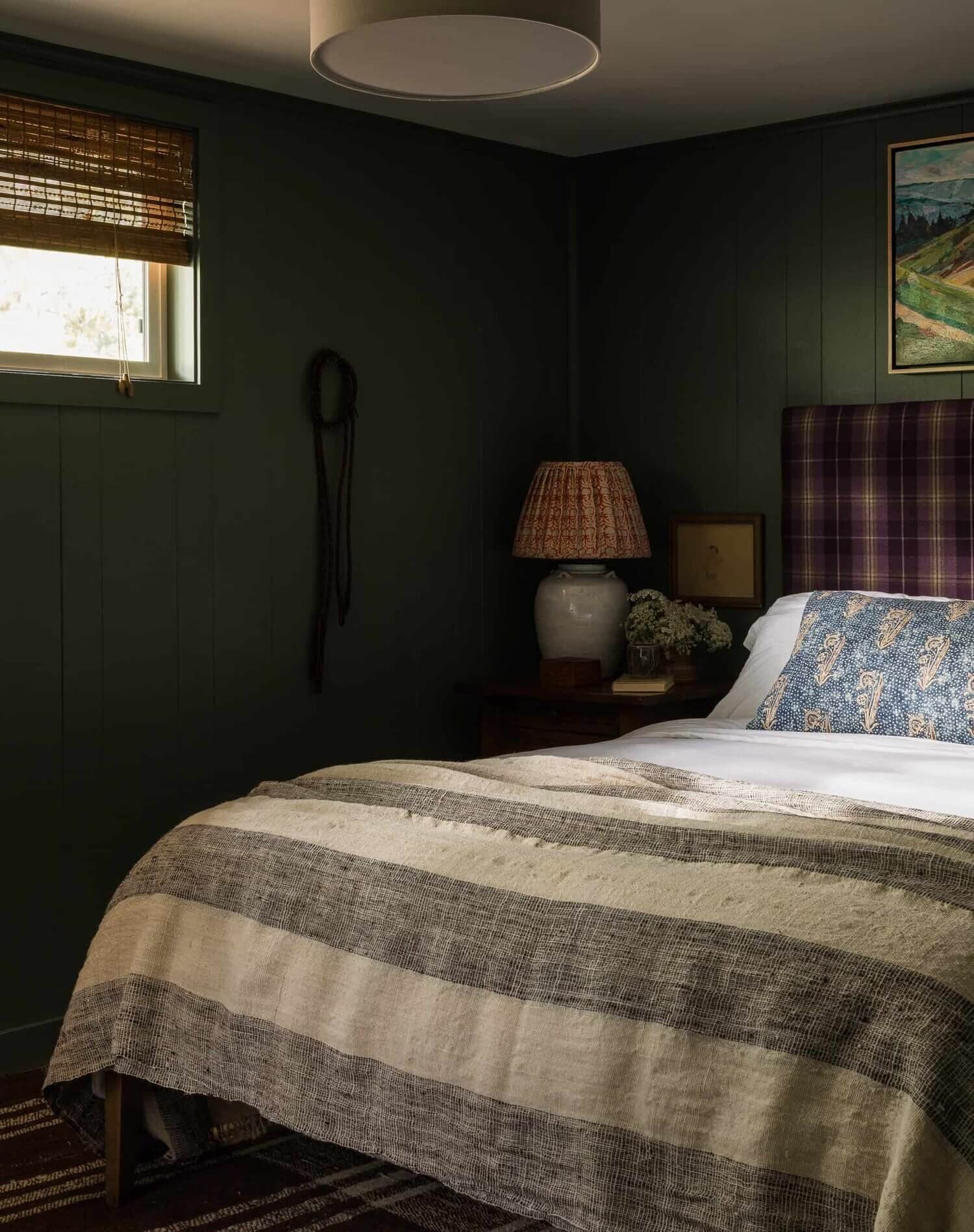 Paint colors for a subtle green bedroom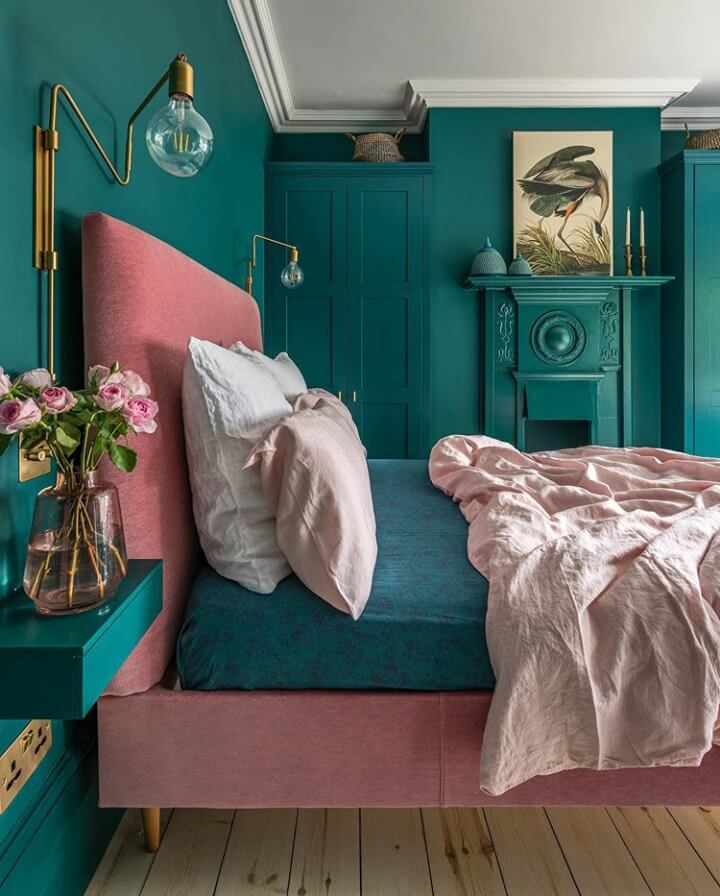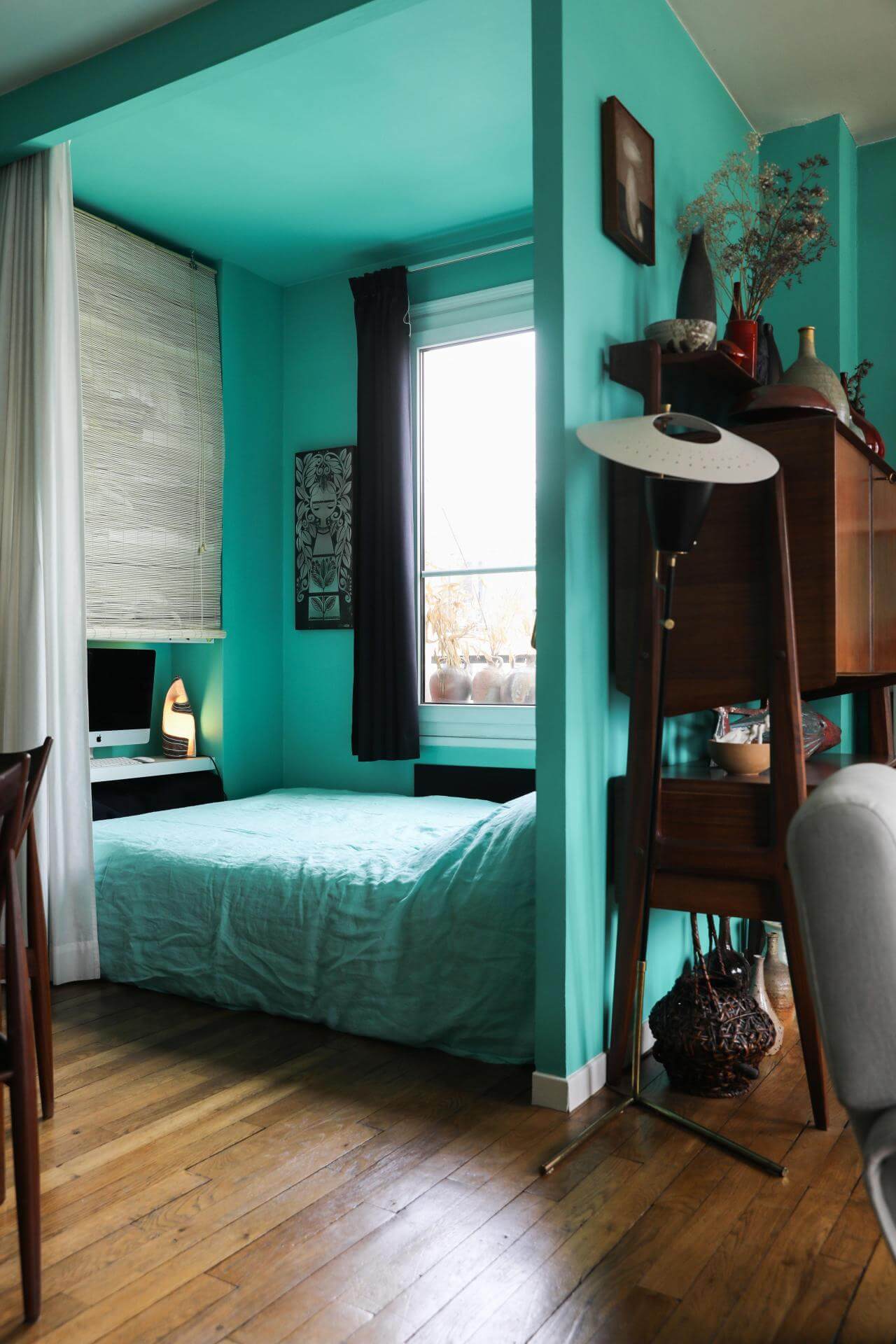 Paint colors for a bright green bedroom




Small purple bedroom
Purple is a warm color to decorate with. And therefore it's perfect as a bedroom color. Whether you chose a subtle light dusty purple or a bold burgundy shade. Purple is a great choice for a (small) bedroom.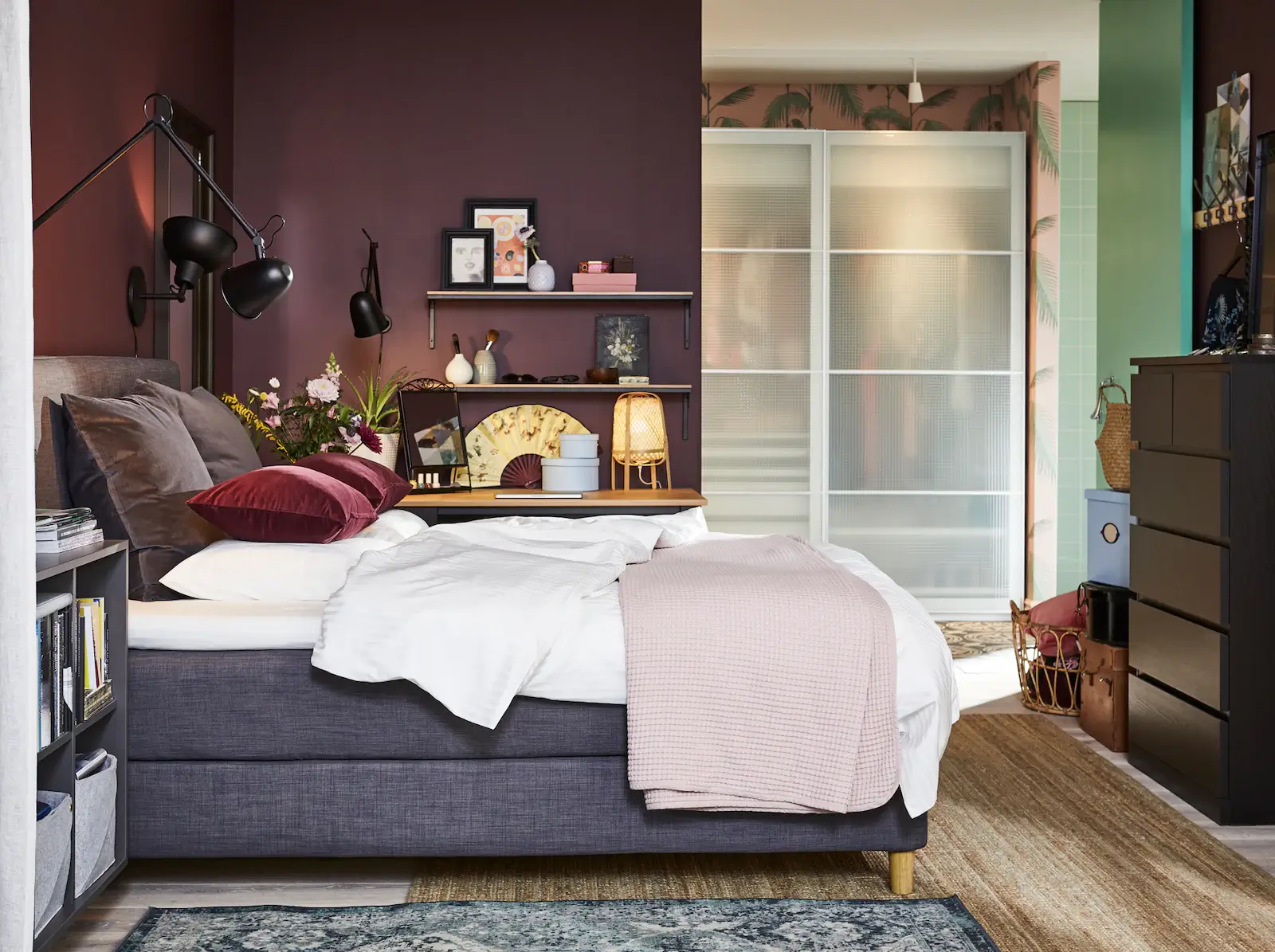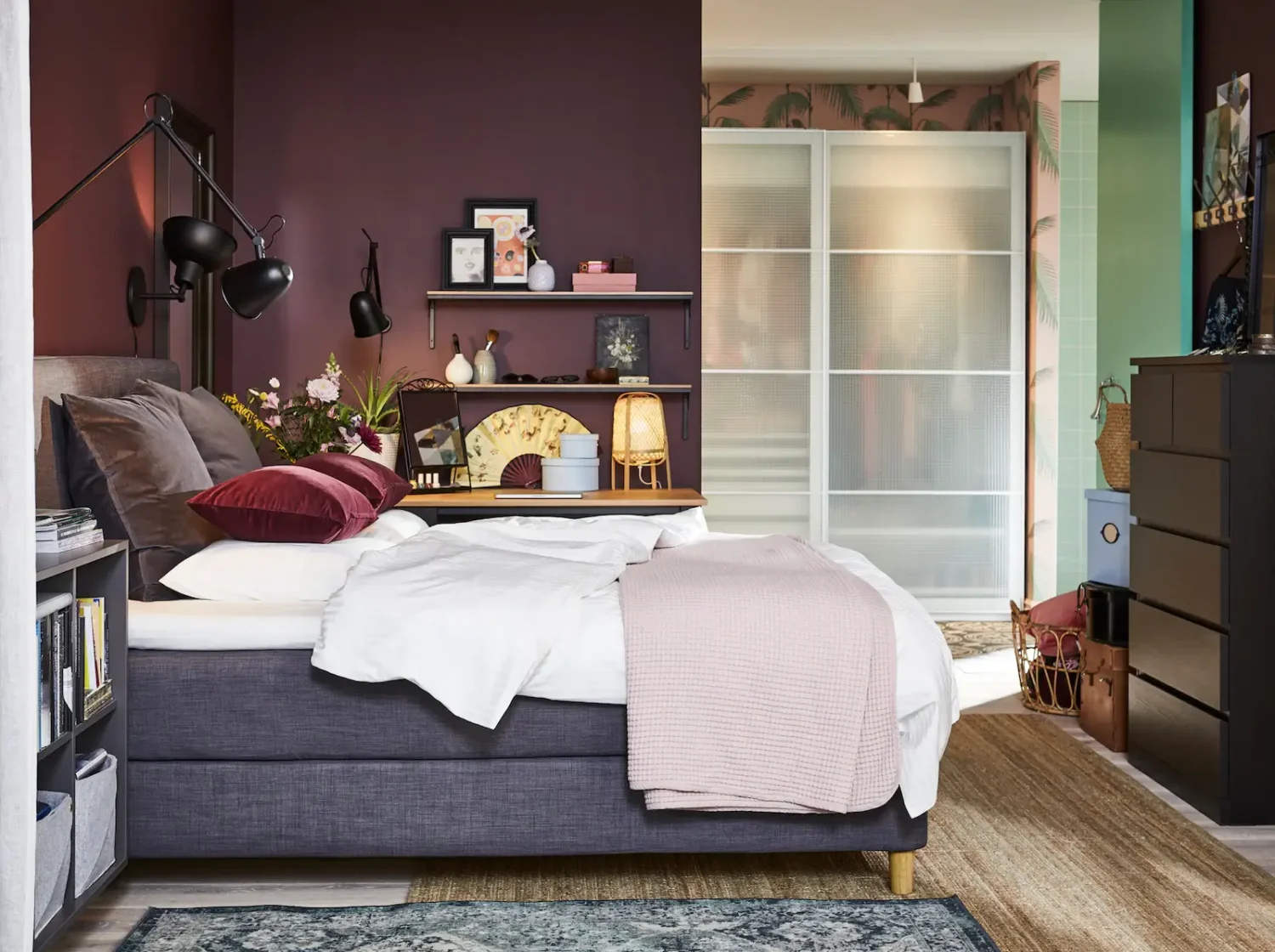 Paint colors for a purple bedroom

Small yellow bedroom
Yellow is perhaps the most cheerful color. However – in my opinion – it is severely underused in home decor. But what's more lovely than waking up in a sunny bedroom?
A little bit of cheating, because this is wallpaper, not paint. But if you're creative, you could paint a yellow pattern on your bedroom wall. But even though it's wallpaper, it shows very well how sunny and cheerful your bedroom gets with a yellow wall.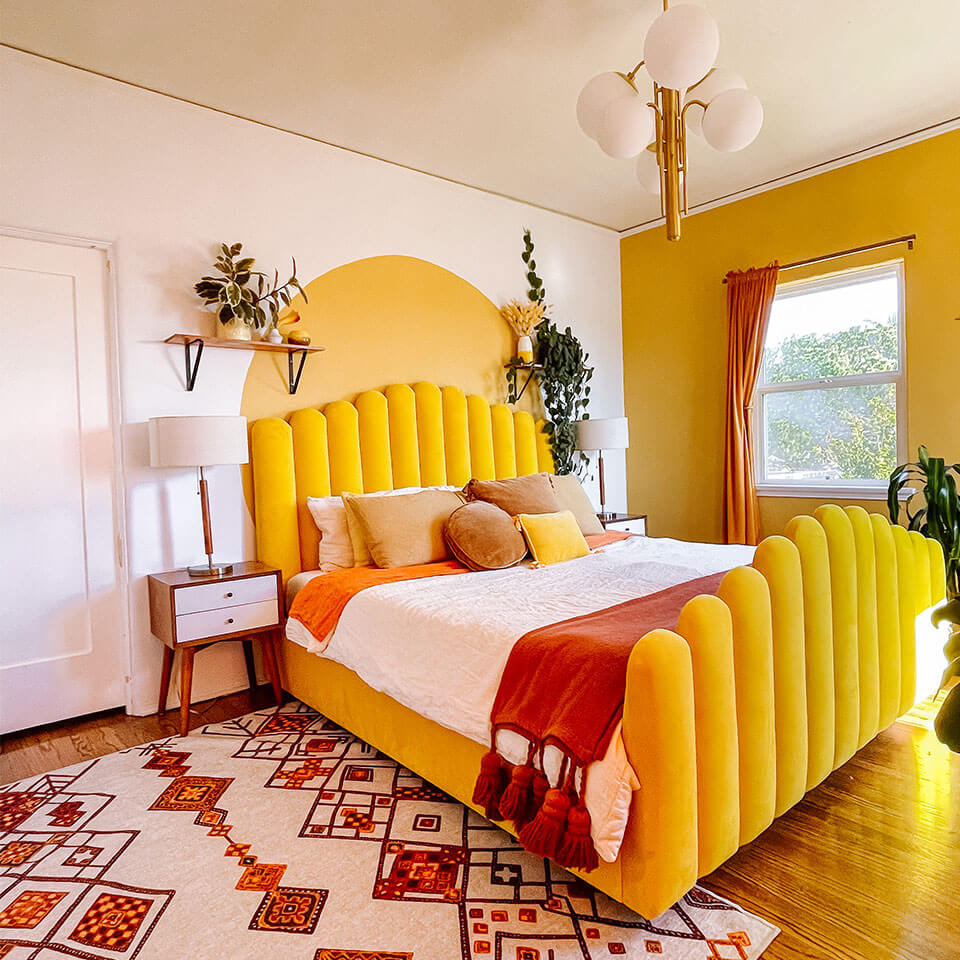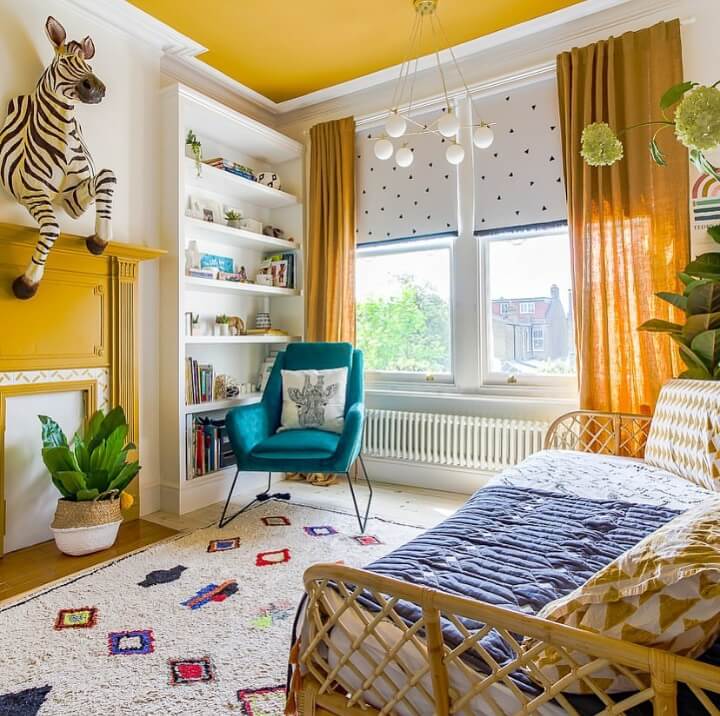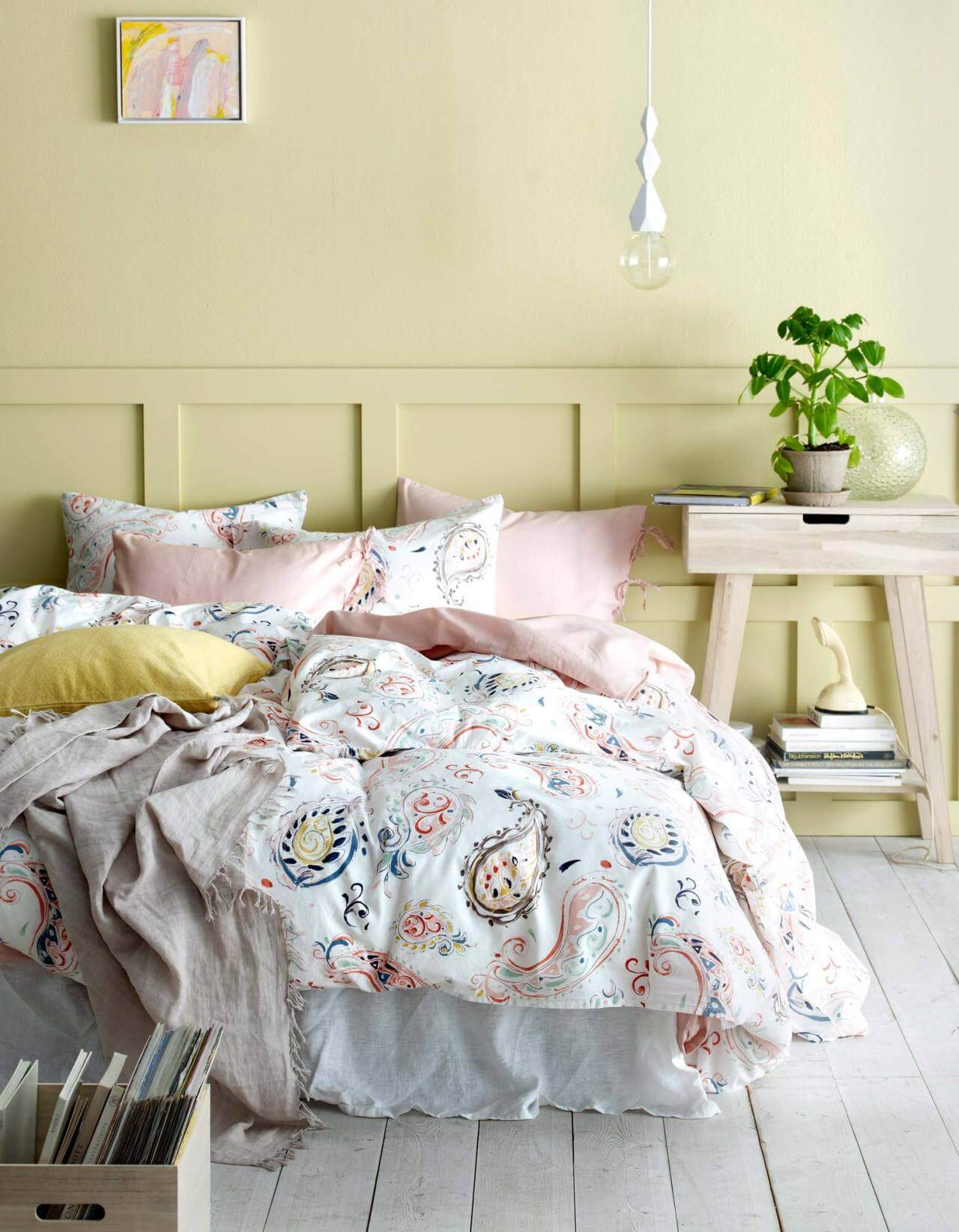 For a more subtle look, you can choose a pastel yellow wall color for your bedroom. It's soft, almost neutral, but still cheerful.
Paint colors for a yellow bedroom



I hope these small colorful bedroom ideas and the paint colors complimenting these rooms inspire you to go for color in your bedroom.
Pin me for later