How To Style A Pink Bedroom (For Adults)
Pink bedrooms are for everyone, not just for little girls. A couple of weeks ago I got a reader's request to share pink bedroom ideas. My reader just bought herself a pink bed (nice!) and this got her in the mood to decorate her entire bedroom.
And this meant she wanted to get pink bedroom inspiration. I love pink so I dived into pink bedroom designs and oh my now I want a pink bedroom as well!
Pink rooms can come in all kinds of color shades, from soft dusty pink to plaster pink walls and vibrant bubblegum pink. Personally I gravitate more to the softer shades but you should pink any pink color shade you want!
As you know I like to give you a variation of interior inspiration so I've selected gorgeous bedrooms with a pink bed or pink headboard to pink bedroom walls and pink bedroom decor.
From bedrooms where pink is a subtle color touch to bedrooms were pink gets combined with other vibrant color shades. I'm sure you'll find yourself a pink bedroom design that you love.
Bedroom with pink bed & pink headboard
Pink beds, you see them more and more. Especially a pink velvet bed is something I see quite a lot lately. You can combine this pink bed with more colors like green or blue or you can make the pink bed the only color touch in your room.
Above: With a pink velvet bed, mustard yellow curtains, terracotta wall, art ánd wallpaper this bedroom of Katie Mack is a colorful maximalist dream.
Below: The pink headboard is combined with a wonderful mural (Jungle Land by Rebel Walls). On the left the bedroom has wooden nightstands and on the right an IKEA hack with Rast drawers (photo: Swoon Worthy)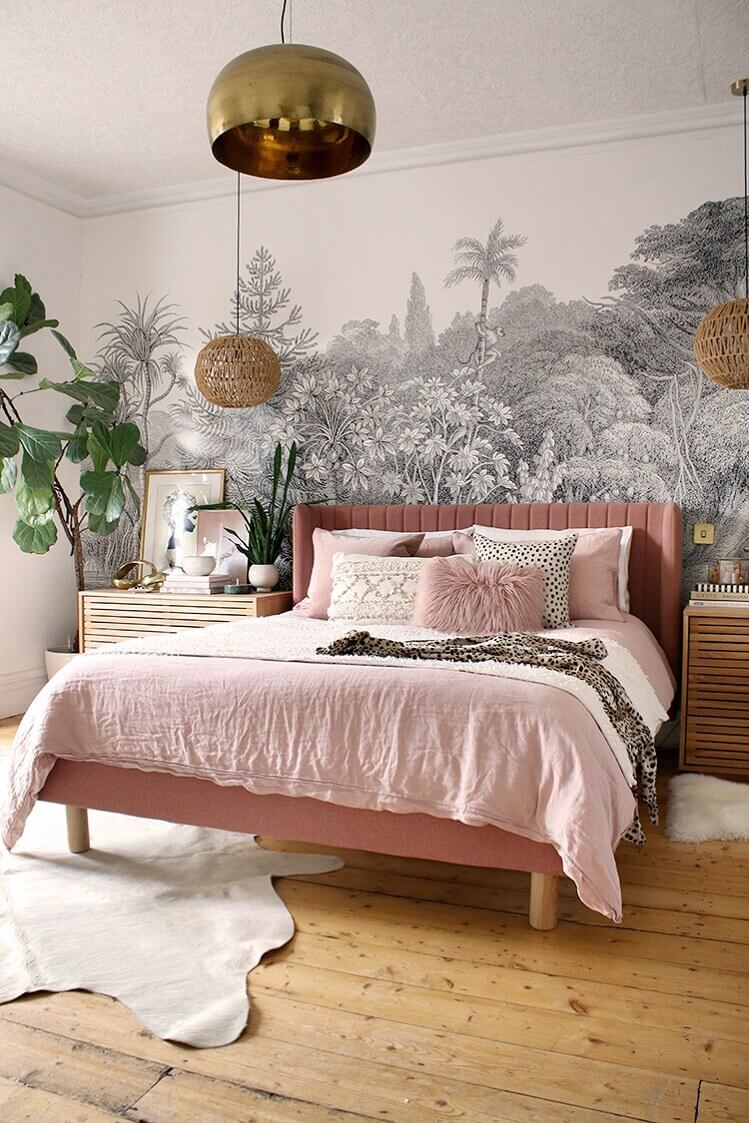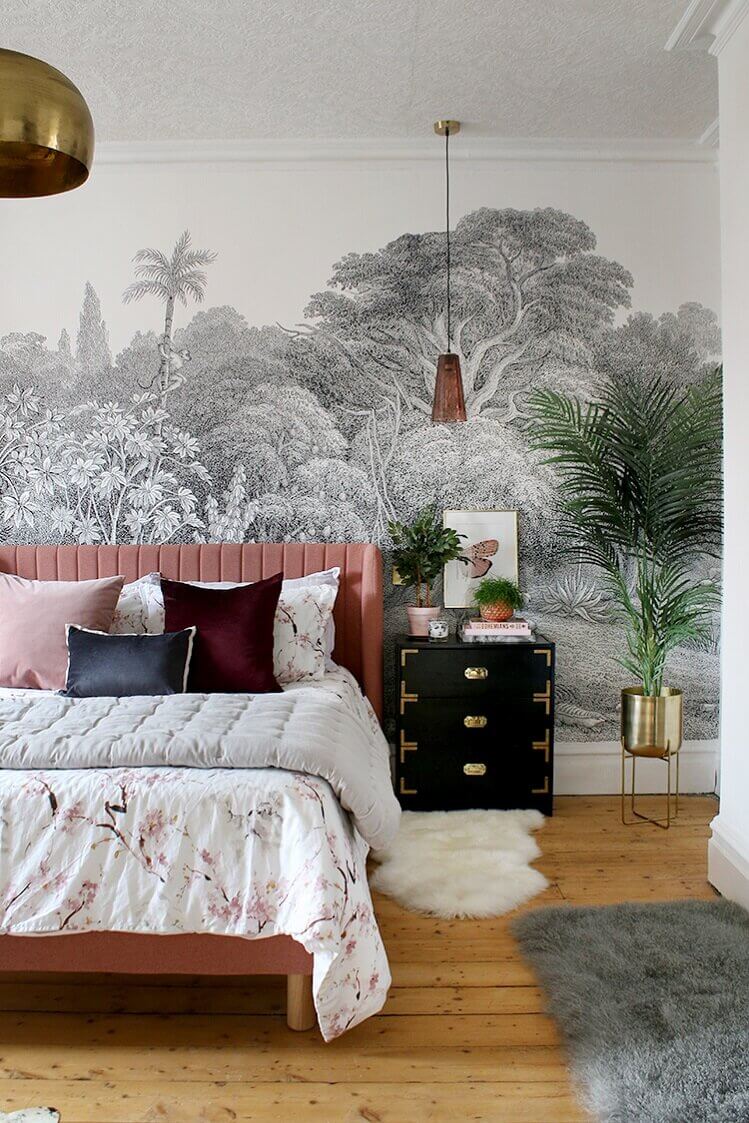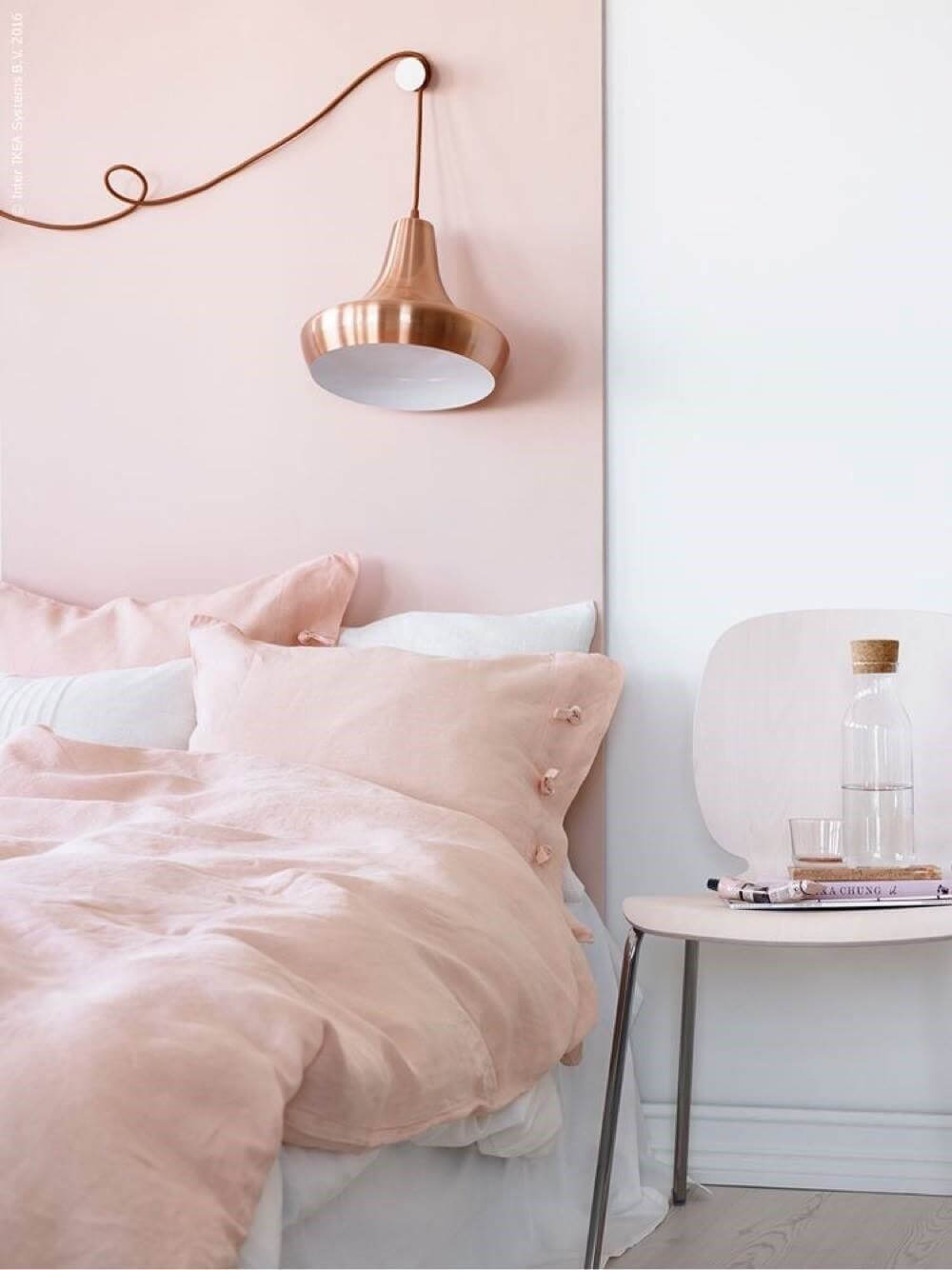 Above: Dusty pink minimalism in an IKEA bedroom with a DIY pink headboard and copper lamp
Below: A subtle pink color touch with a light pink bedframe combined with black and white dalmatian wallpaper (photo: Lust Living)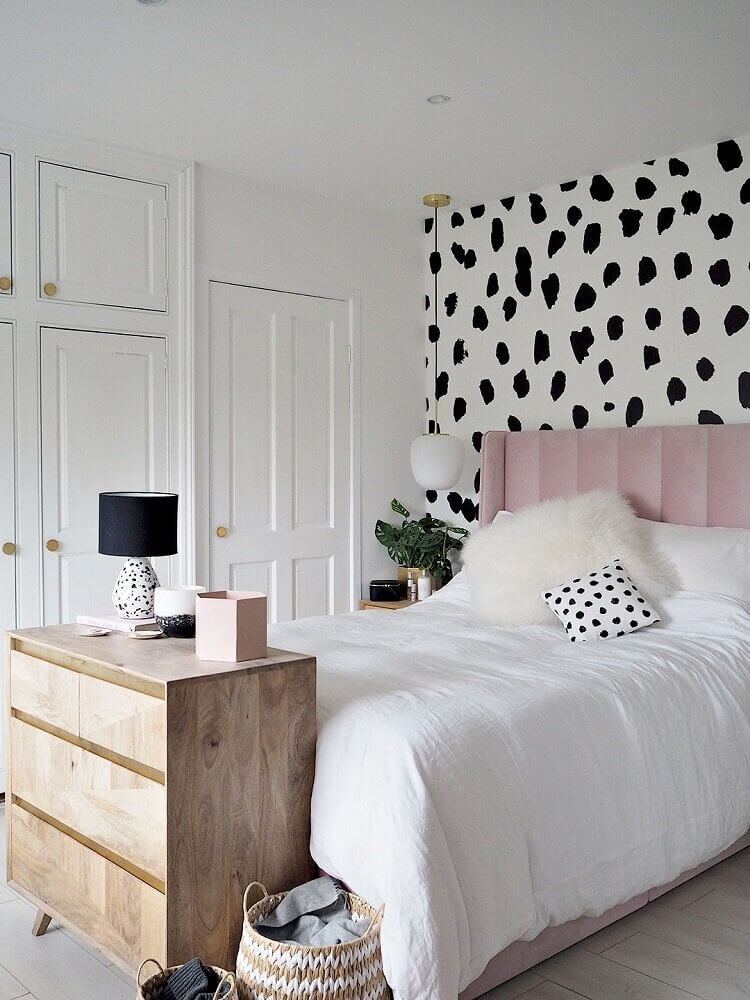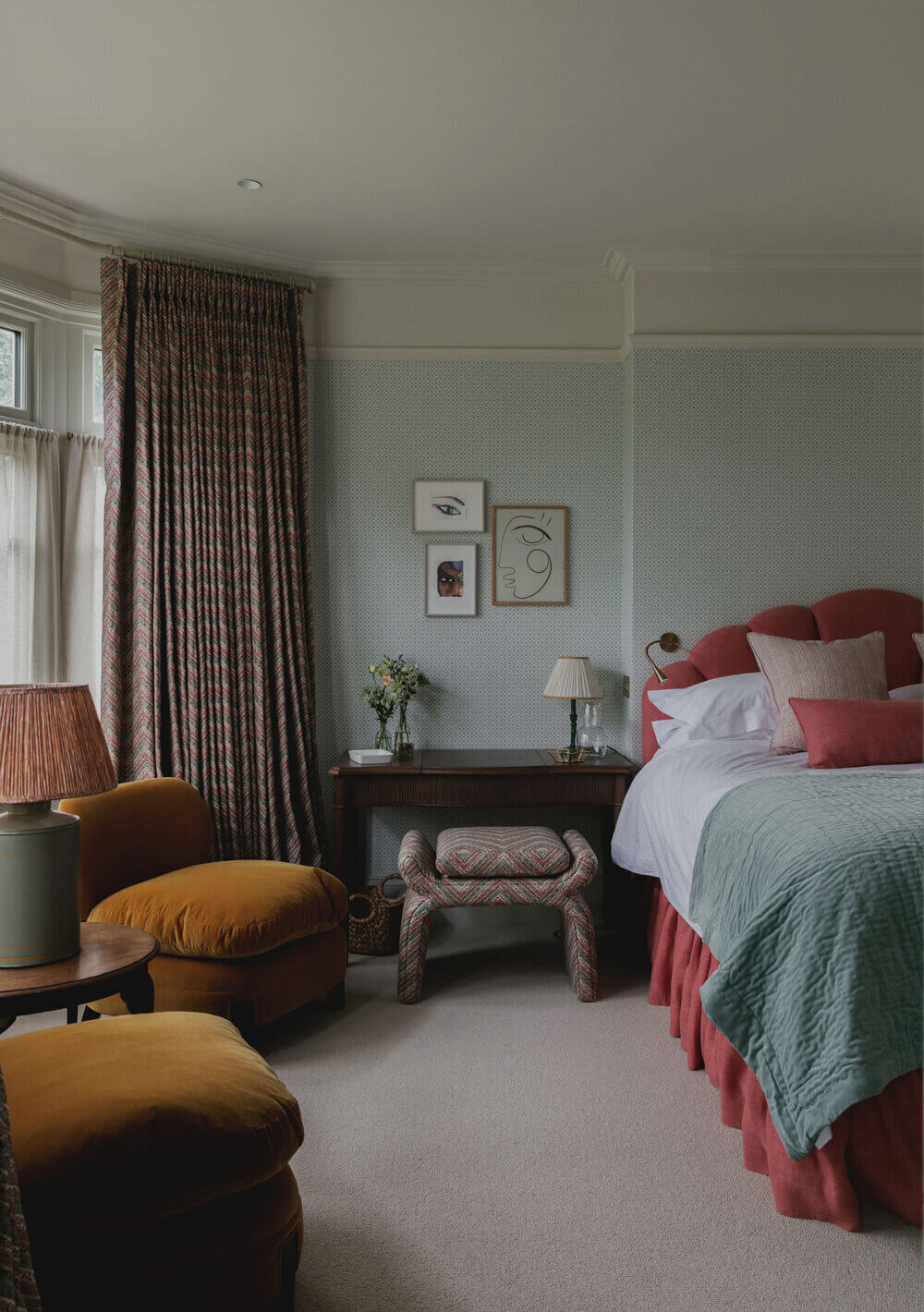 A deep pink bed (DUQUETTE bedframe by Trove by Studio Duggan) combined with blue wallpaper and mustard yellow sofa's in a beautiful home designed by Studio Duggan
On the left a light pink ribbed headboard and pink storage bed (by Loaf) is combined with tropical banana leaf wallpaper (photo: Paul Craig for Mad About the House)
On the right an eclectic bedroom with pink bed, colorful art and blue/green color touches (photo: Amelia Stanwix for Fenton & Fenton)
A dramatic bedroom with pink bed, blue walls and green floral bedding (photo: Tesco)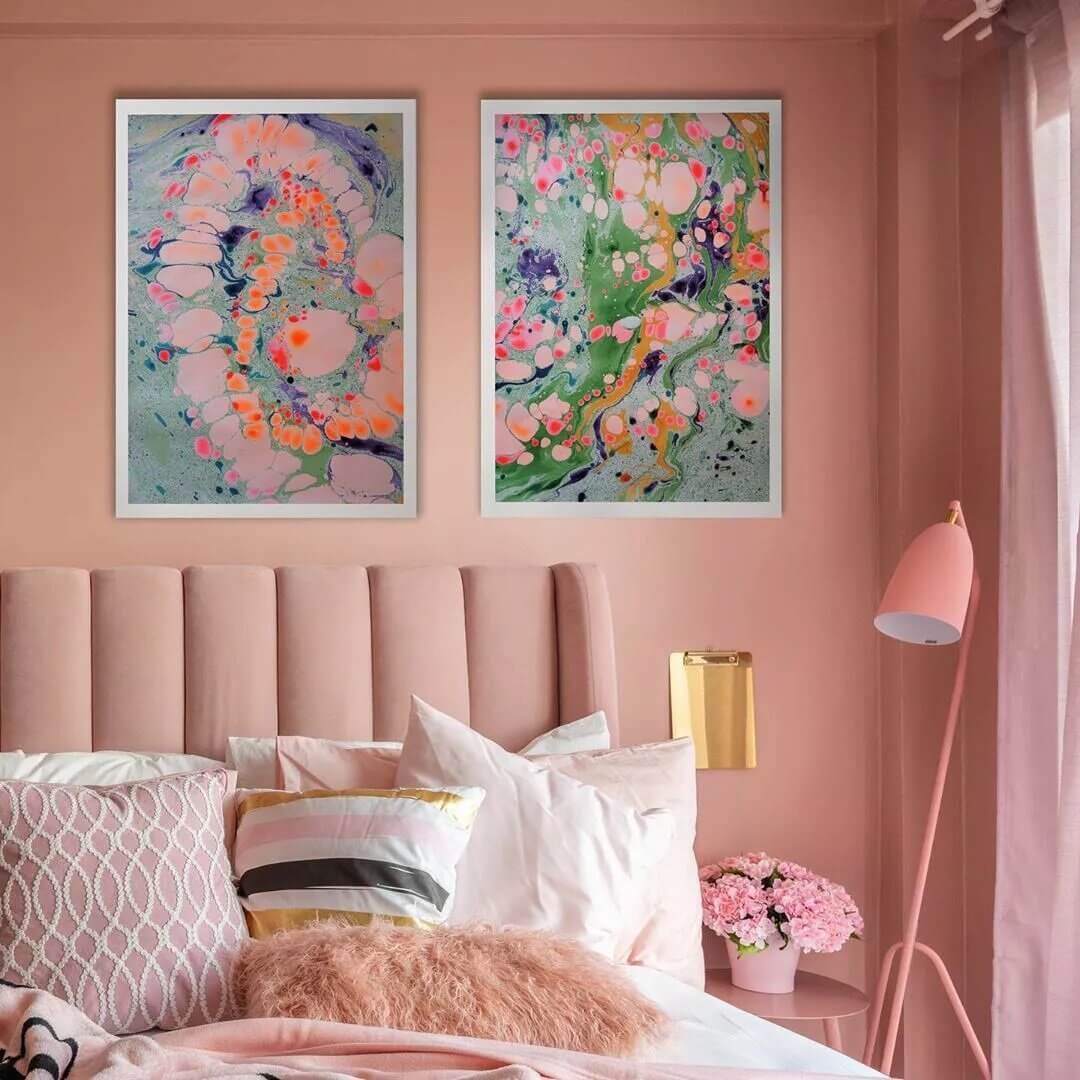 You can go as pink as you want shows this bedroom by Natscha Maksimovic. A pink headboard is combined with a pink wall, side table ánd pink Gubi Grasshopper Floor Lamp. For if you really love pink!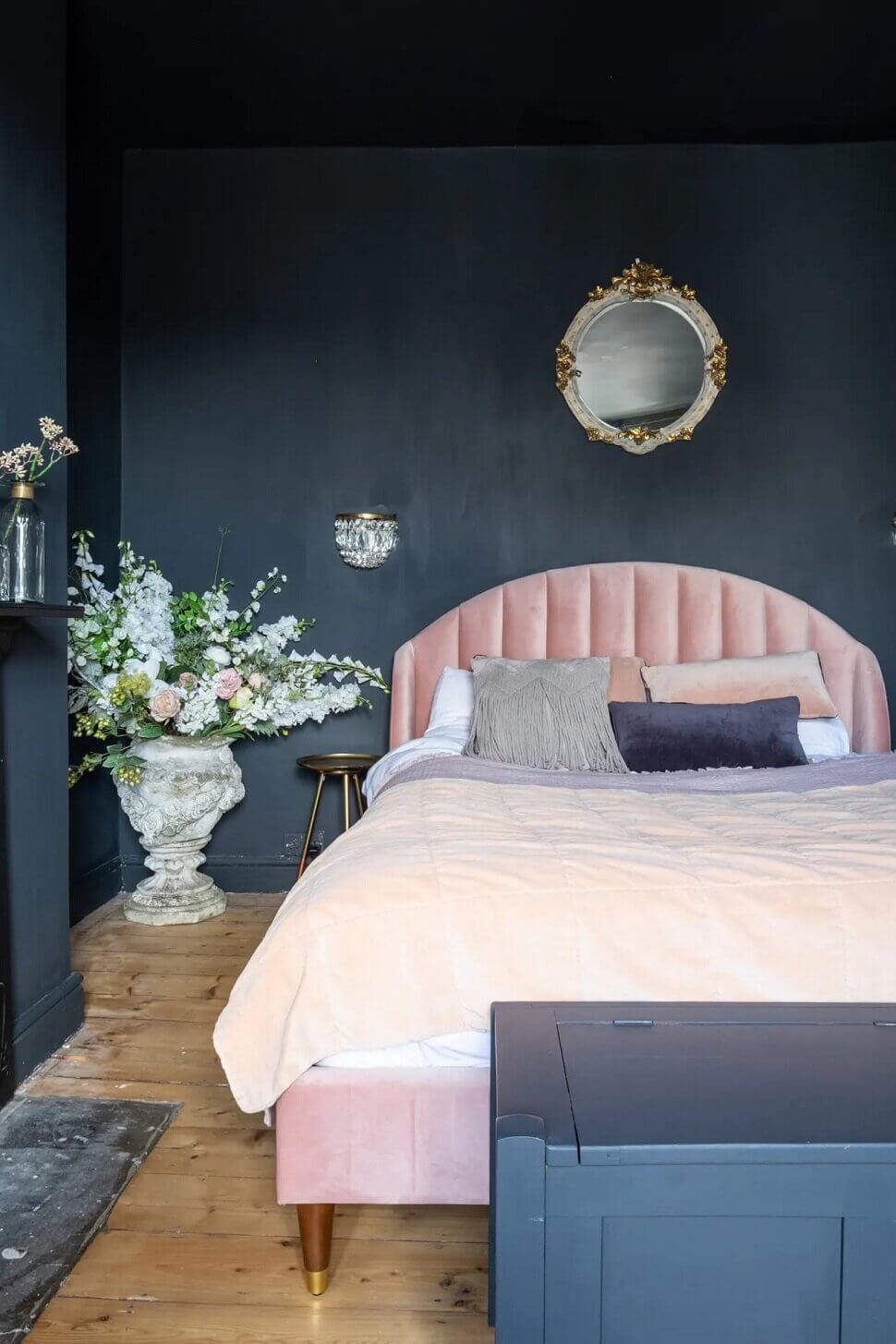 A wonderful contrast with a light pink headboard and dark grey walls (photo: Viv Yapp)
A pink headboard in the eclectic bedroom of interior dsigner Louisa Pierce (click for the full home tour)
Shop Pink Beds & Headboards
A selection of beautiful pink beds and headboards. Click on the image to go to the retailer (please note that these are affiliate links, for each purchase I will receive a commission)
Bedroom with pink walls
Colorful in a serene way exactly how Scandinavians know how to do it. This bedroom of Niki Brantmark (aka My Scandinavian Home) has lovely pink walls (blushing peach by Jotun) and burgundy accessories in an otherwise neutral bedroom.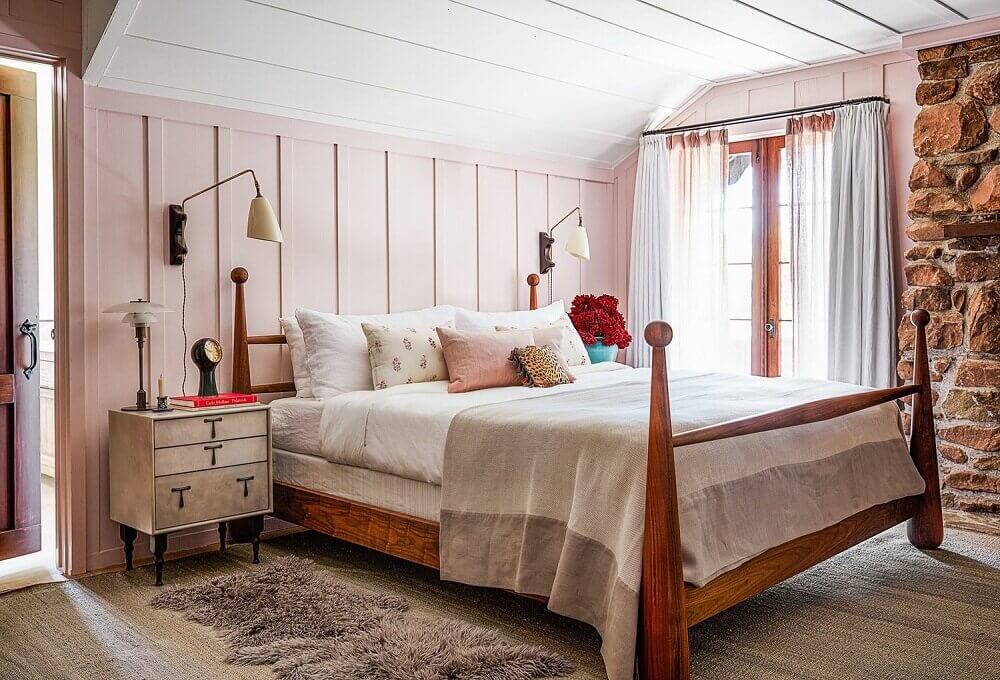 Actress Anne Hathaway's entire California home is a beauty but I especially love her bedroom with soft pink wood panelled walls, a wooden bedframe and a stone accent wall (photo: Stephen Kent Johnson)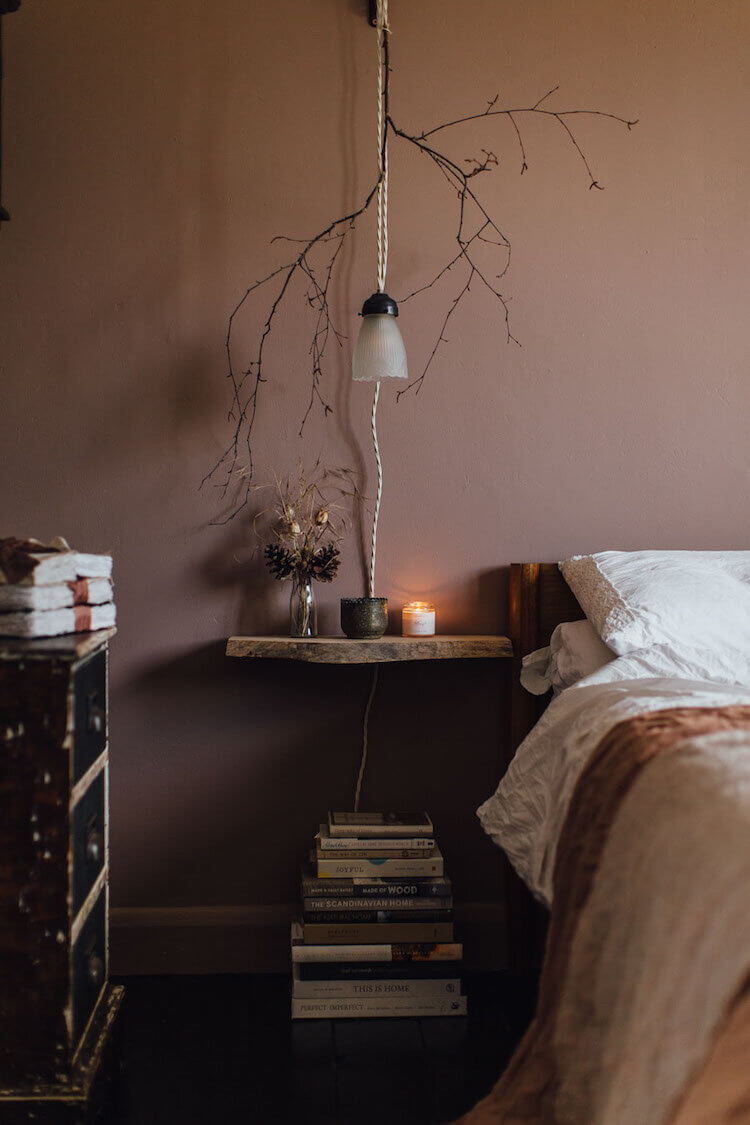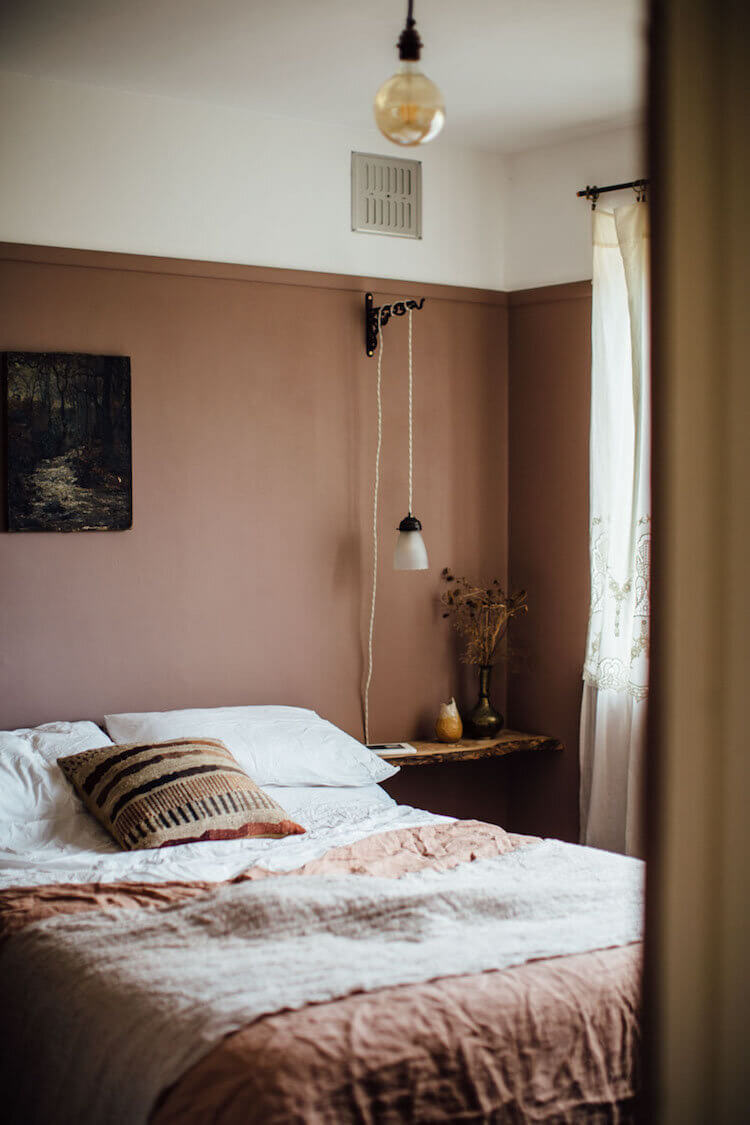 As I said pink comes in various color shades and this is a more earthy pink (Warm Mud Brown by Cassandra Ellis). Which combines perfectly with wooden floating nightstands and natural linen bedding. The owner calles this a 'forever autumn' bedroom and I can see why (photo: Lobster & Swan)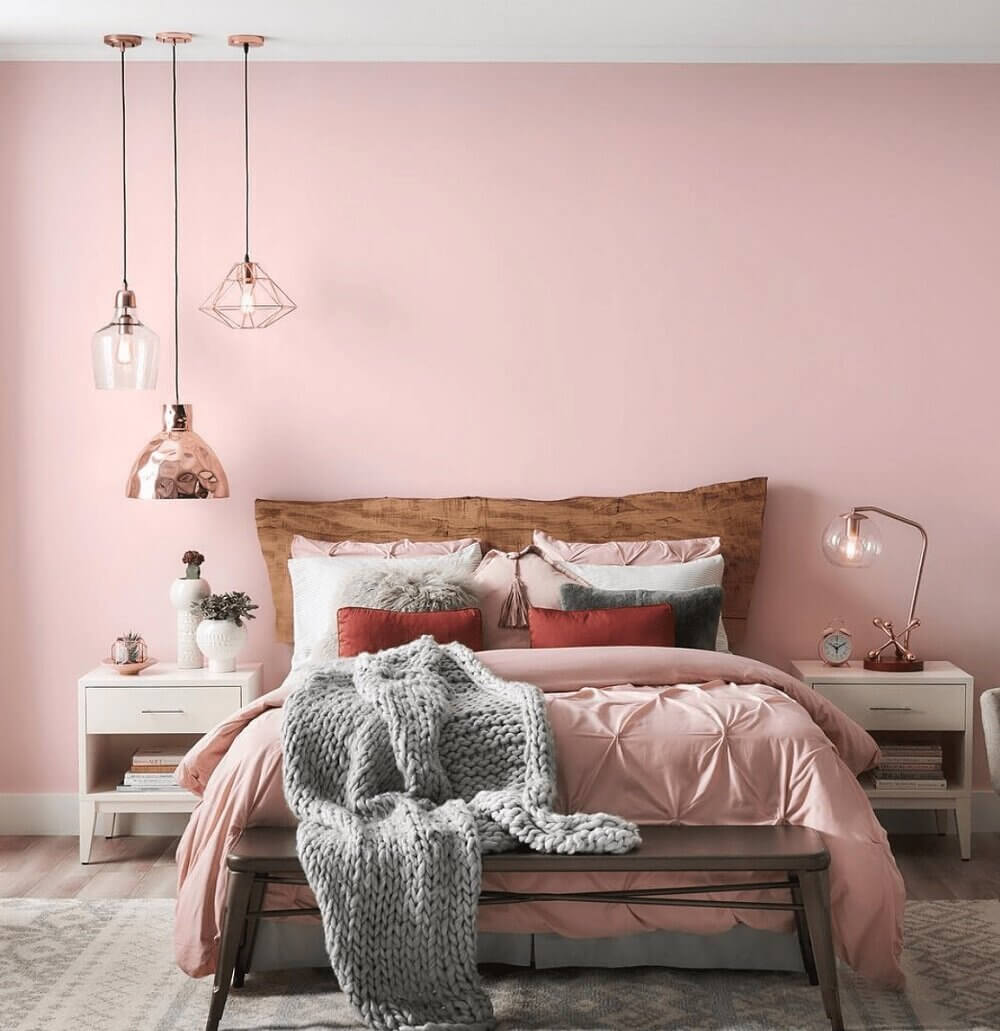 Pink and wood, it's such a good combination. The cheerful pink walls (Rosy Outlook by Sherwin Williams) in this bedroom are combined with a natural woodslab headboard
If a whole pink wall is too much for you why not create a half-painted wall like in this Edwardian home in England? It looks great ánd you'll add a nice little color touch (photo: Brooke Harwood)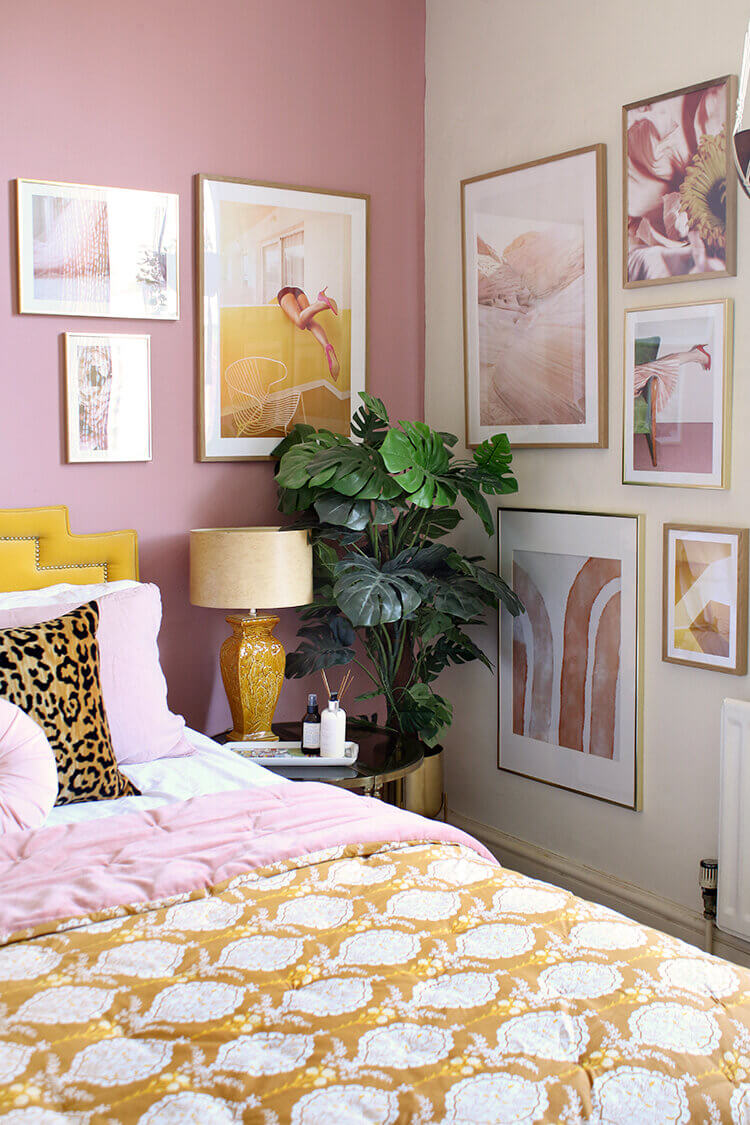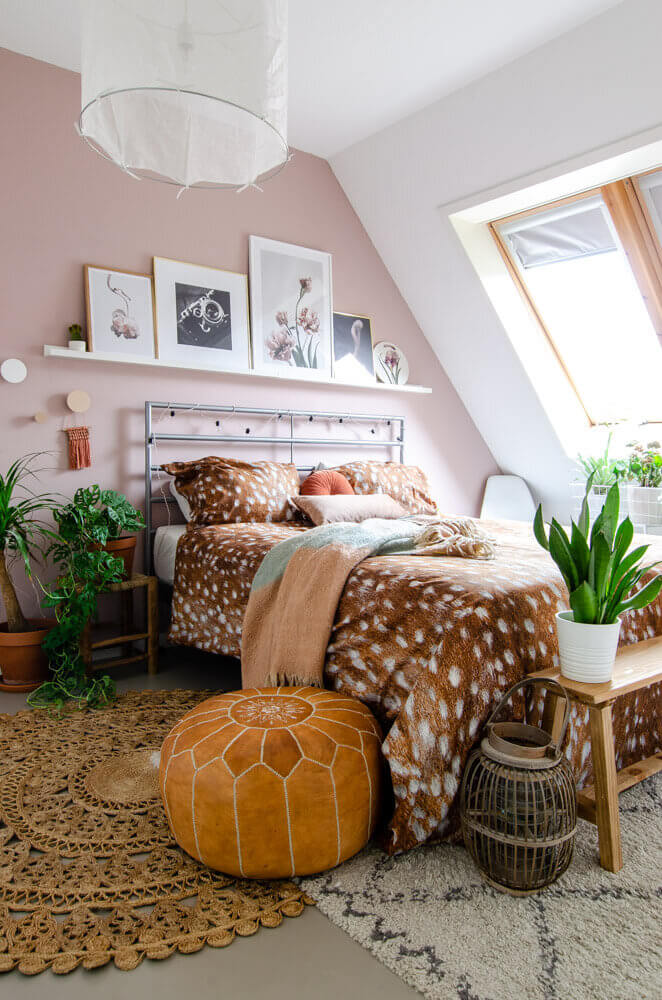 Left: We've already seen the master bedroom of Swoon Worthy (the one with the mural) but the guest bedroom is also lovely with a pin wall, yellow headboard and plenty of art on the wall
Right: A slight boho touch in this bedroom by Styled by Sabine with a pink wall (Light Peachblossom by Little Greene)
Above: Pink walls, plants and rattan screens make a truly beautiful bedroom (photo: Blake Pope)
Below: Pink plaster walls combined with black trimmings and yellow accents in this bedroom in a Victorian terrace house (photo: Richard Oxford)
Above: Subtle pink walls and bedding and even tiny pink flowers in the branches next to the bed in a Washington home (design by Lisa Staton & photo: Haris Kenjar)
Below: A bedroom with pink walls, mustard yellow throw blanket and a fabulous rattan hanging chair. And a very light pink hue in the bedroom of artist Chrstine Flynn (photo: Lauren Miller)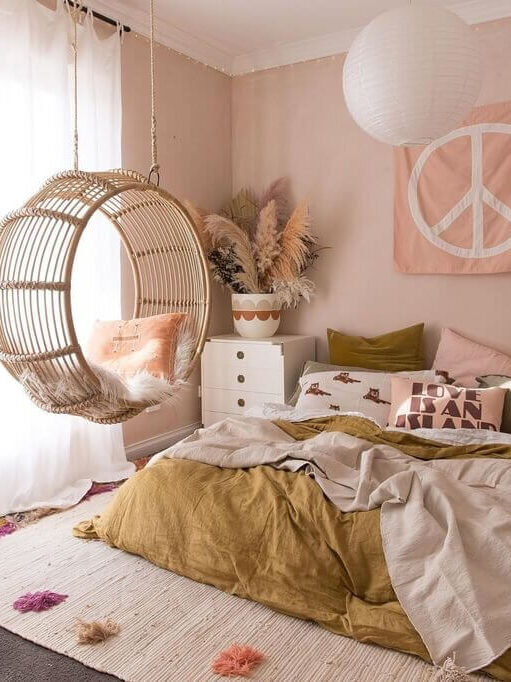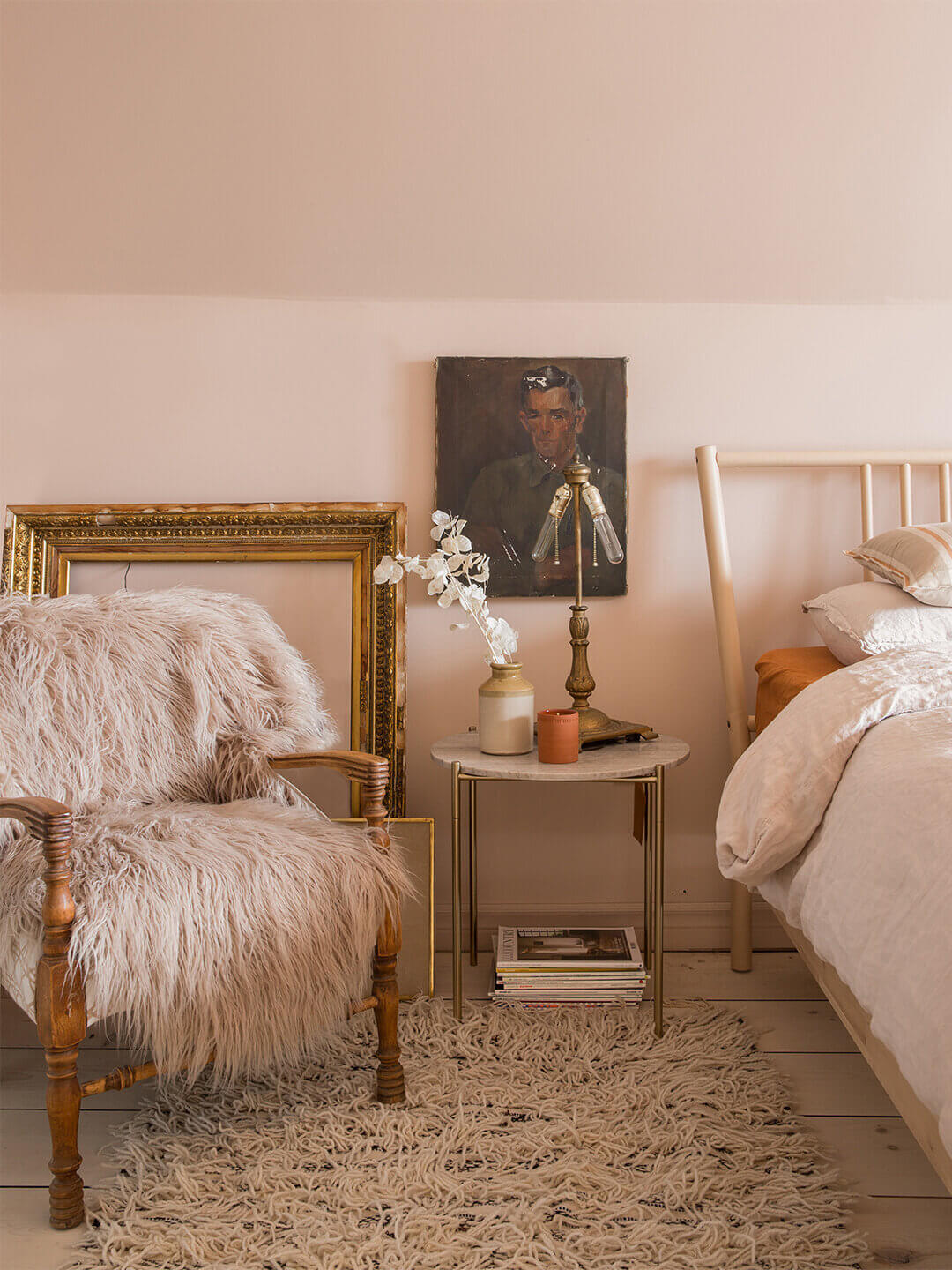 Pink works well with dark wood but also with light wood as this bedroom shows. A light wooden DIY headboard spans the entire wall with a above a bright pink wall (photo: The Socialite Family)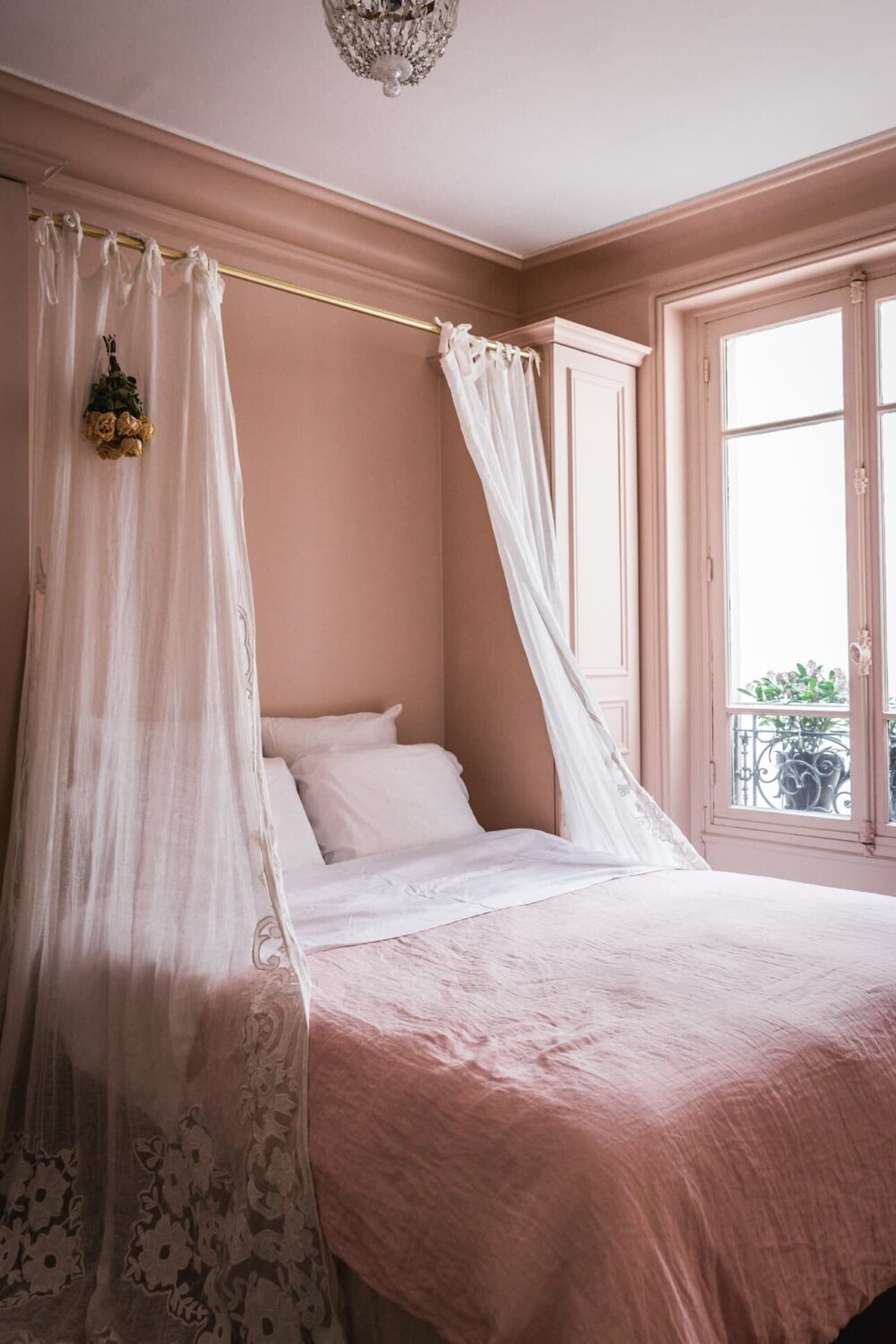 On the left the romantic pink guest bedroom in the Paris home of Jackie Kay Ellis. On the right a soft Scandi look with a pink wall & headboard and white accessories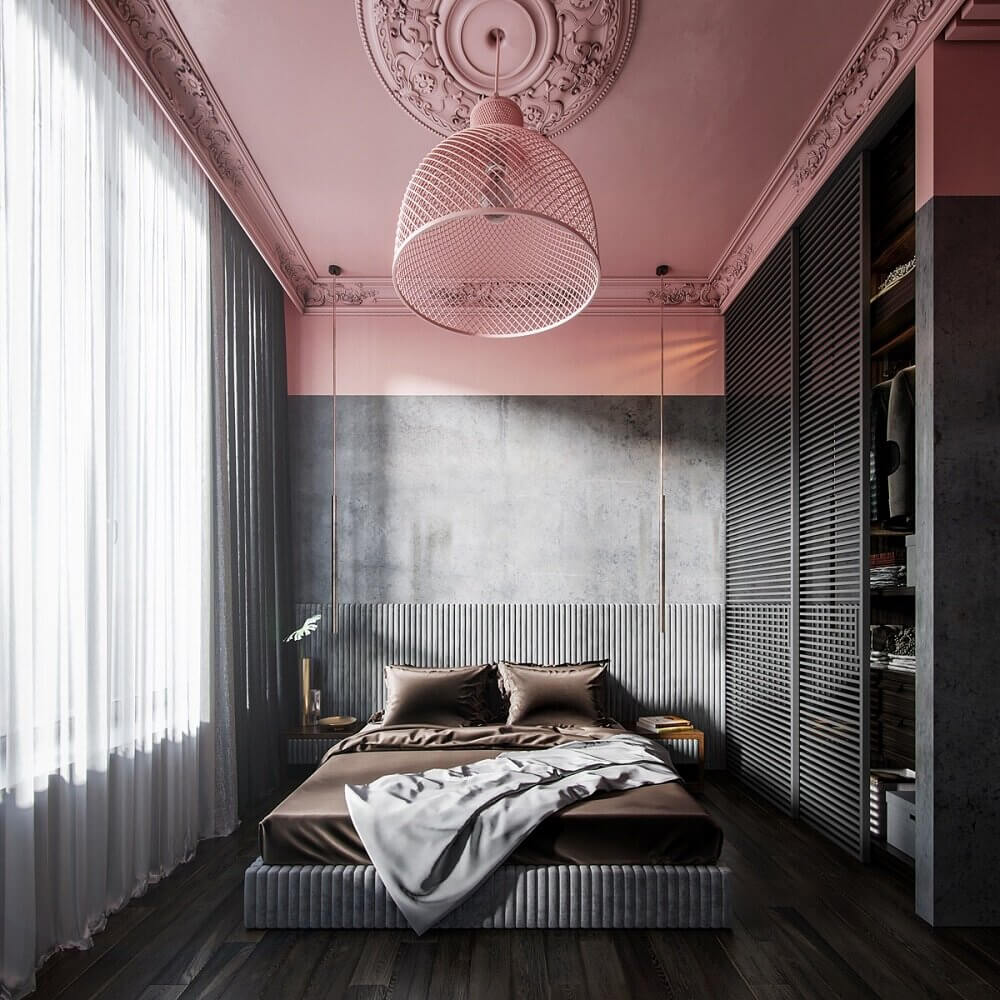 Instead of painting the walls pink, why not paint the ceiling pink? The moody grey and soft pink are such a good color combnation (photo: Andrey Barinov)
If one shade of pink isn't enough, wyhy not add two? This bedroom from the IKEA Catalog 2021 has done just that, and it looks lovely
Pink bedroom decor
Rustic wooden details and pink color touches go so well together which you can also see in this H&M Home bedroom
A lovely contrast in this bedroom with light pink bedding and rustic palet bed
Left: A romantic touch with this ruffled bedding by Urban Outfitters
Right: A cozy bedroom with pink bedding (Luxe Linen Blend Duvet Cover) by Anthropologie
A pink throw blanket with tassels and a pink sheepskin rug in this lovely bedroom by Celeste Escarcega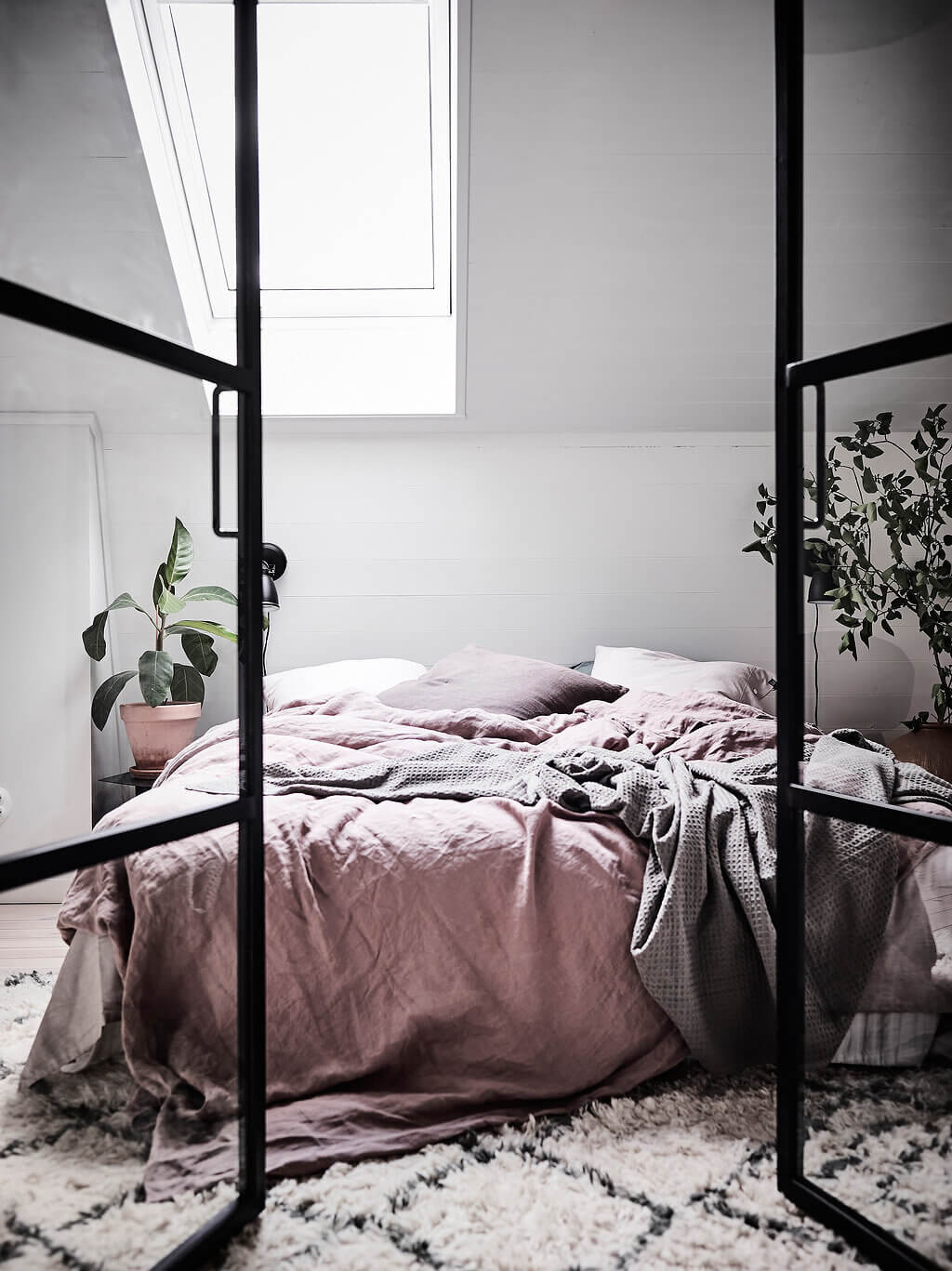 Industrial design combined with soft pink color details in this Scandinavian bedroom (photo: Entrance)
We've already seen it a couple of times in this post but moody hues go really well with pink and it this bedroom is really bright pink (photo: Douglas Gibb)
So now you see you can add pink to your bedroom in several ways, from subtle color touches in textiles to vibrant pink beds and wall colors. A pink bedroom is for everyone
*this posts contains affiliate links, if you purchase through this link I'll receive a small fee
Pin me for later!