A Light-Filled London Apartment
Bay windows.. don't you just love them? I love them not only because it looks great but also because they add just a little extra space to a room, not just in square meter but a bay window makes a room feel bigger as well. Today we're heading to London for a home tour and this lovely apartment has two bay windows and I love it.
The apartment is located on St. John's Grove, a residential street in Archway between Hampstead and Finsbury Park. On both sides of the street stand Victorian houses, and our house also has trees at the front and the back of the house.
The combined living room and kitchen lie at the back of the house. A bay window with floor to ceiling glasswork bring in plenty of natural light. This lightness is enhances by the white walls and kitchen and light furniture. The wooden adds warmth to the space and the artwork and books on the wall add personality.
The white l-shaped kitchen stands on the opposite site of the window. A large white mirror stands on the former fireplace spot (unfortunately the original fireplace is no longer there but the ceiling ornaments have been preserved). Plants on top of the cabinets bring liveliness to the kitchen.
The bay window overlooks the greenery in the back and is a perfect sitting spot to read, relax or look at the nature surrounding you. Which is pretty good for a city apartment.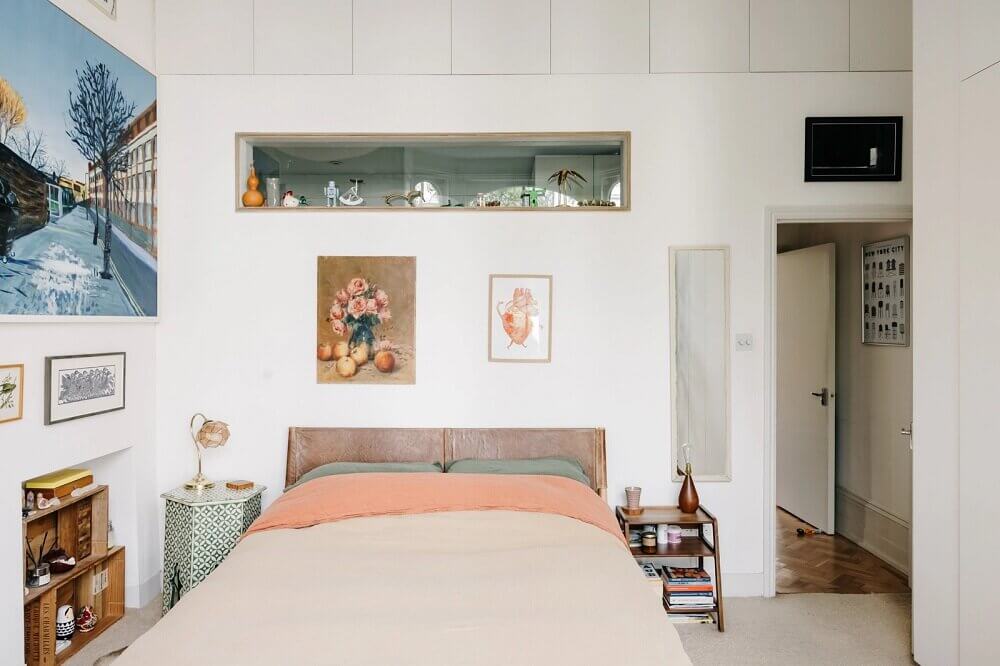 There are two bedrooms in the house and this is the master bedroom. It's located at the street side (the other bedroom is in the back) and also has a bay window. A tree stands outside so you can still see greenery from your bed.
This 2-bedroom apartment on St. John's Grove in London is now for sale at The Modern House for the price of £590,000