The Best Warm Paint Colors for a Bedroom
A bedroom is a private sanctuary where you can relax and recharge after a busy day. Adding warm paint colors is the best way to create a comfortable atmosphere in a bedroom.
Adding warm color tones to a bedroom adds color and style to the room, and it is an effective way of creating a cozy atmosphere that will benefit your well-being.
In this blog post, we take a look at the best paint colors for a warm bedroom. With these tips and inspiration, you can choose the perfect warm paint color for your bedroom. The article includes real bedrooms from the home tours that have been posted on The Nordroom and from real homes around the globe. So sit back and get inspired with these warm bedroom ideas.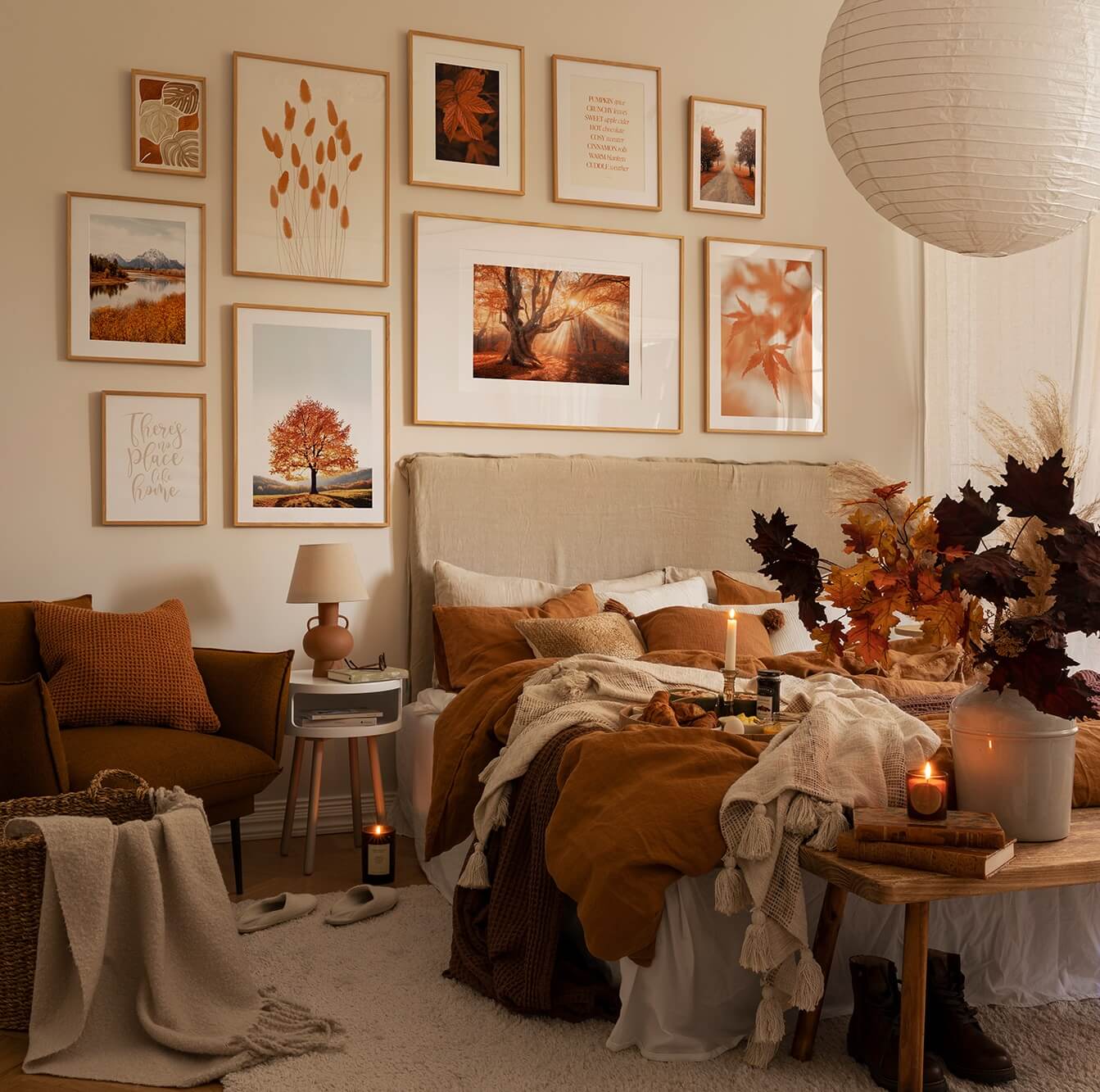 What Are Warm Colors and How Do They Benefit Your Wellbeing?
Colors can be divided into warm and cool color tones, which can easily be displayed on a color wheel.
Warm colors are shades like yellow, red, brown, and orange. These warm color tones create a cozy and inviting atmosphere in a room. On the other side of the color wheel, you have cool colors like blue, green, and purple color tones.
Neutral color tones like white and gray can also be warm colors, depending on the undertone of the shade. Some white shades have a yellow or brown undertone; therefore, they can be placed under warm color tones. So even when you want to keep your bedroom light in terms of the use of color, you can create a warm vibe in your bedroom by choosing the right neutral shades.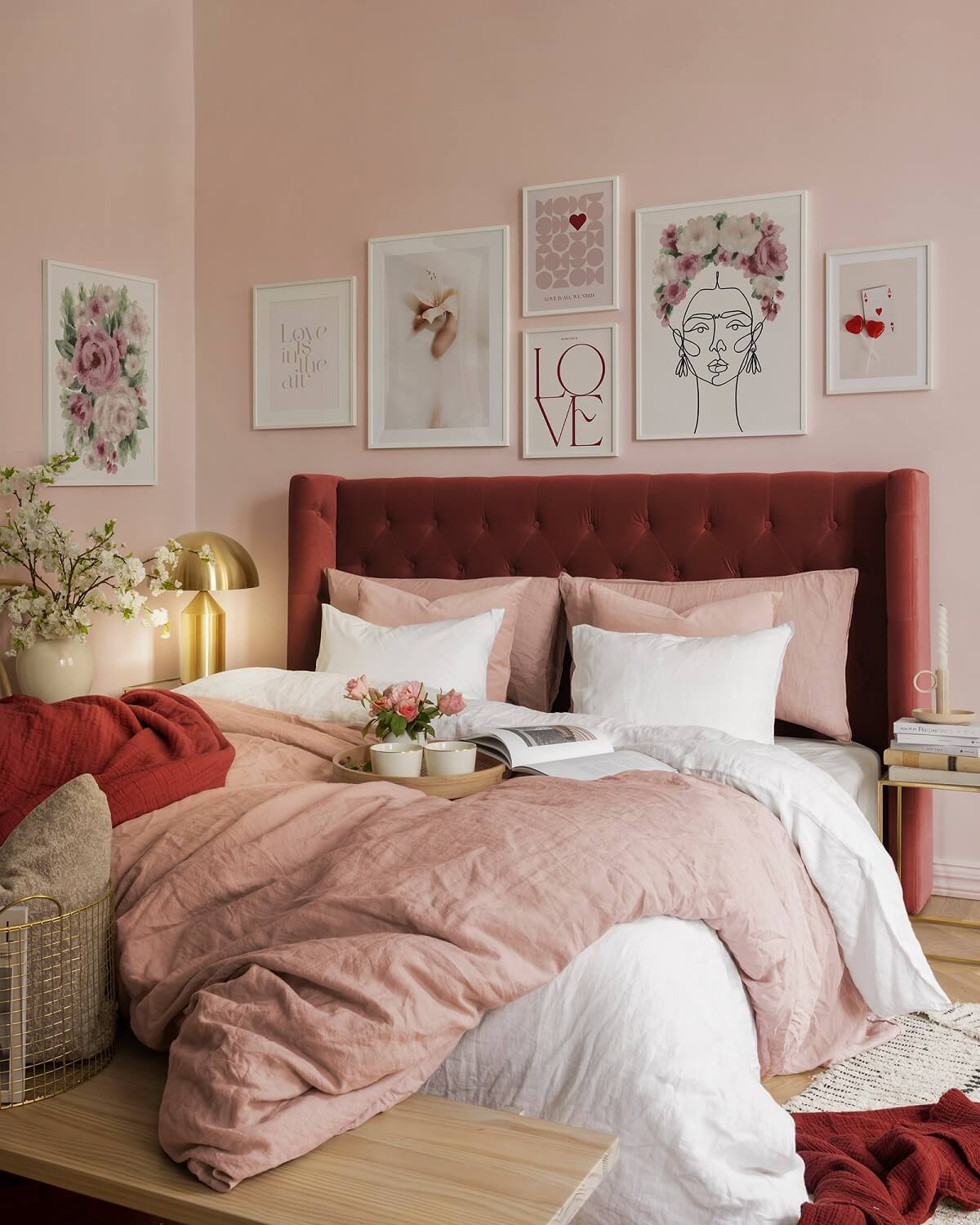 Warm colors are associated with the feeling of comfort, warmth, and happiness. Warm tones will make your space feel more inviting and create an intimate setting. Using warm colors in a bedroom can help you relax, unwind, and feel at ease. And when you feel relaxed and at ease, you will sleep better, which will benefit your overall well-being.
How to Choose the Right Warm Paint Color for Your Bedroom?
Natural light impacts how a color looks on your walls, so before you choose a paint color, you have to look closely at the light flooding into your bedroom.
North Facing Bedrooms
When you have a north-facing bedroom, your room will receive no natural light through the windows. Therefore you will need to find the right balance between a warm color and the strength of the color. As the room gets no warm sunlight, you need to pick a color tone that adds a lot of warmth, but it shouldn't be too strong, as a deep paint color will make the room feel dark. For a bedroom that gets limited natural light, you should choose lighter shades of warm colors.
Also, pay attention to the lighting in the room. Use warm light bulbs instead of cooler ones. The artificial lighting will also impact the tone of the color that you choose.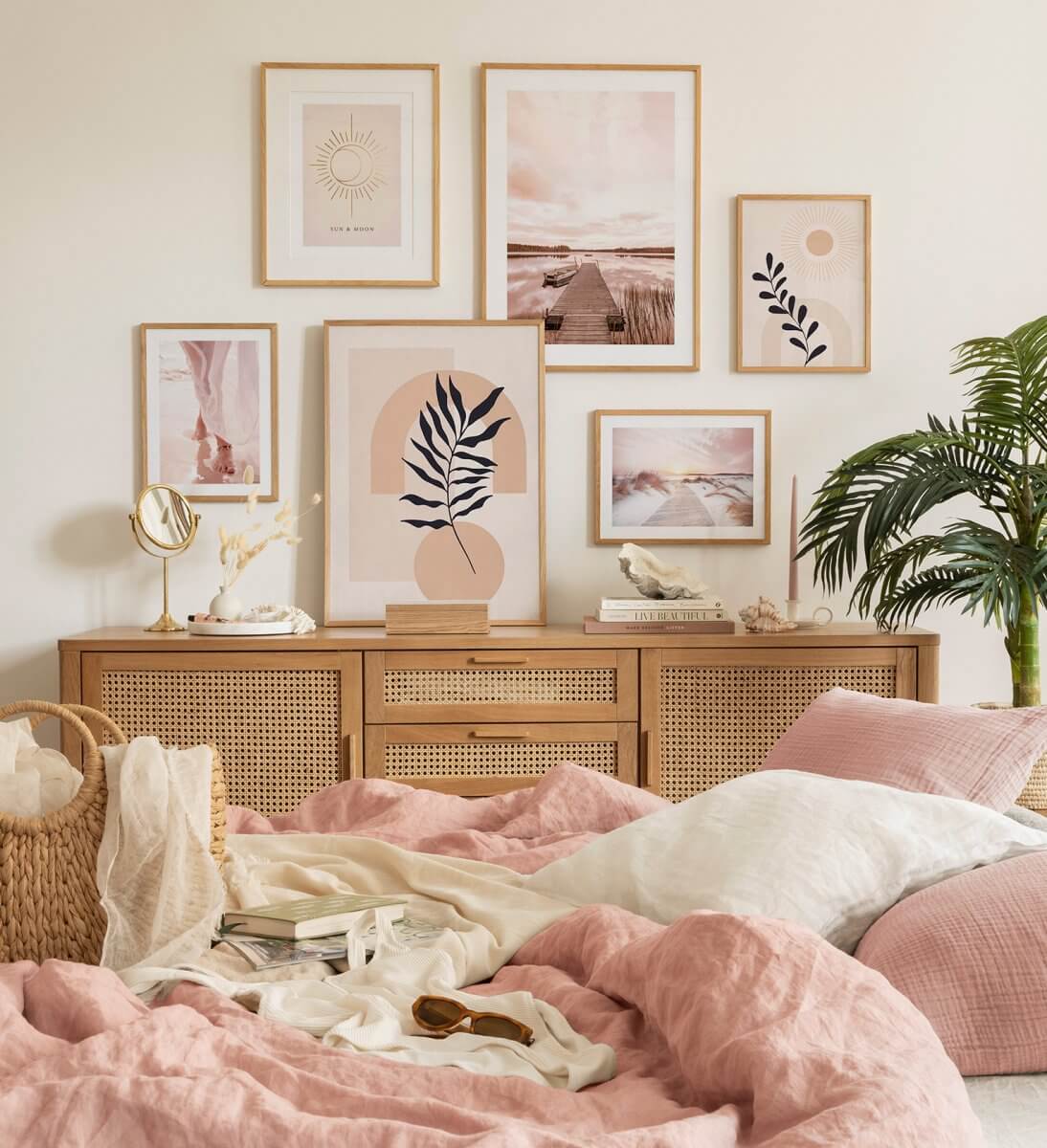 East Facing Bedrooms
East-facing bedrooms only get natural light in the morning, so just like the north-facing rooms, you should find the right balance between warm colors and not too-deep color shades. It's likely that you don't spend much time in the bedroom in the morning, so choosing a color that looks right when you spend time in this room is best.
South and West Facing Bedrooms
The south and west-facing bedrooms receive natural light throughout the day. Therefore you can opt for slightly cooler tones and more saturated colors, as the rooms won't feel too dark thanks to the abundance of natural light.
Before you permanently paint your bedroom with a new color, use paint samples to see how the color looks in your room.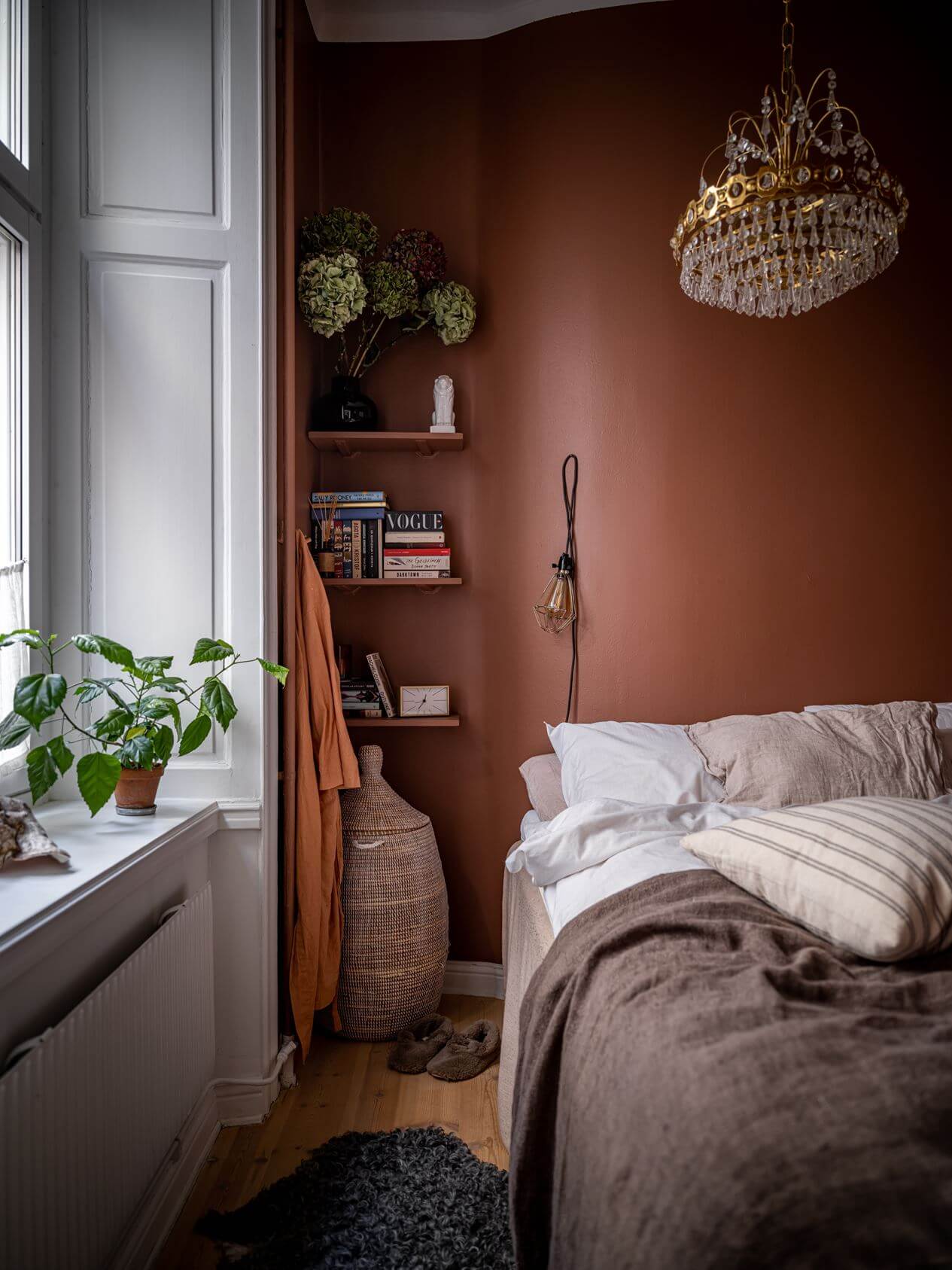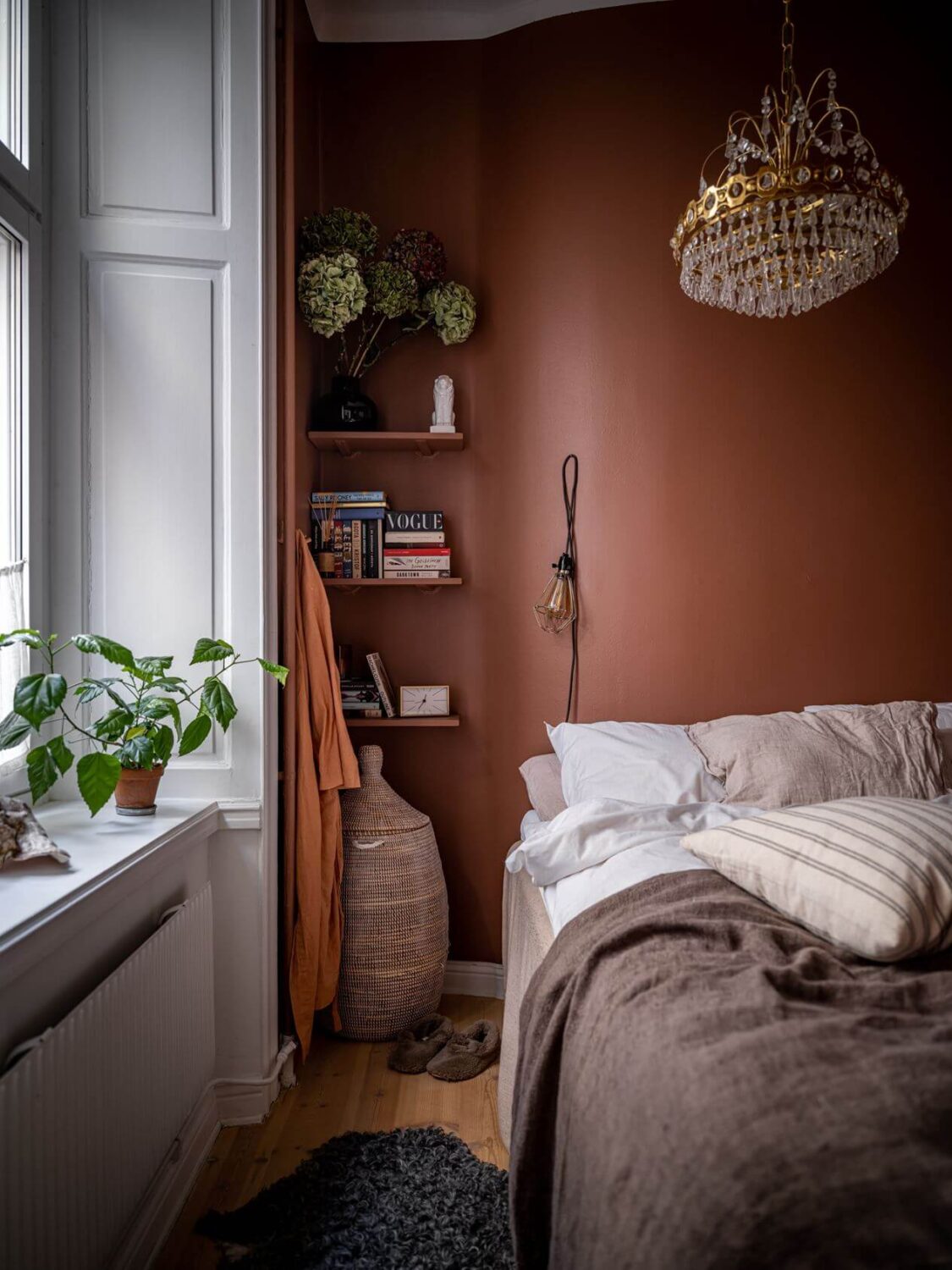 The Best Warm Paint Colors for a Bedroom
The right warm paint color for your bedroom depends on several factors. Besides the natural light that floods into your room, you should also pay attention to the architecture of the room and your personal interior style.
But warm paint colors are known to create a beautiful warm atmosphere in a bedroom. These paint colors are favorites of leading interior designers and stylists. These are some of the most popular warm paint colors for a bedroom.
Red Paint Colors
Red is the most intense and powerful warm color. This passionate color creates a warm and bold atmosphere in a bedroom. Deep shades like burgundy create a luxurious look in a bedroom, while softer tones like pink tones add a warm romantic touch to the bedroom.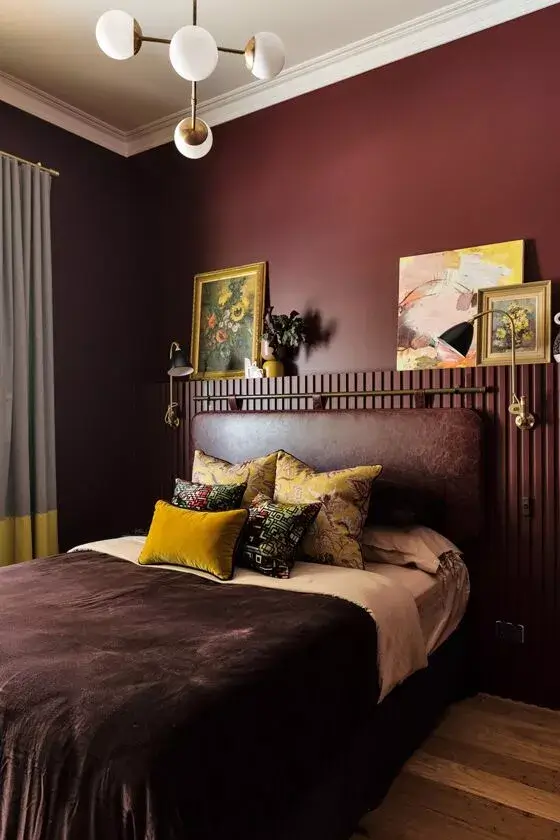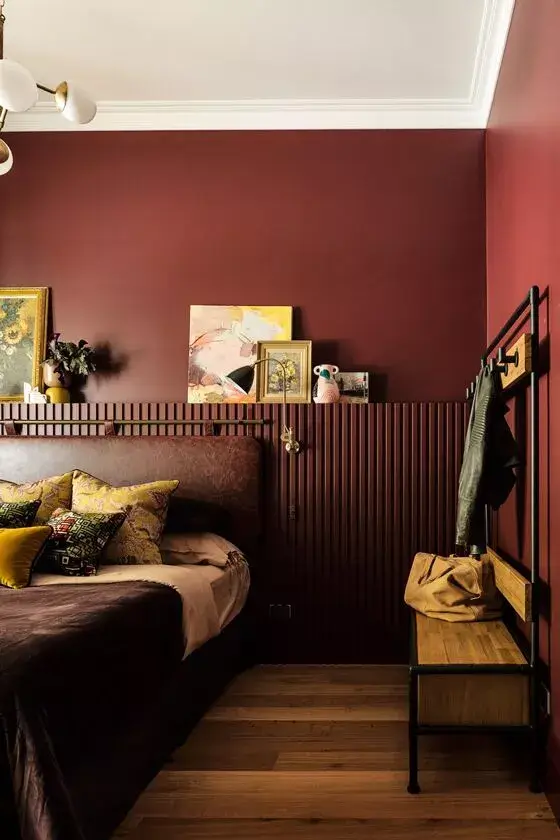 If you don't want to create a bedroom that feels too intense, you can combine red tones with cooler colors or neutrals to balance it out.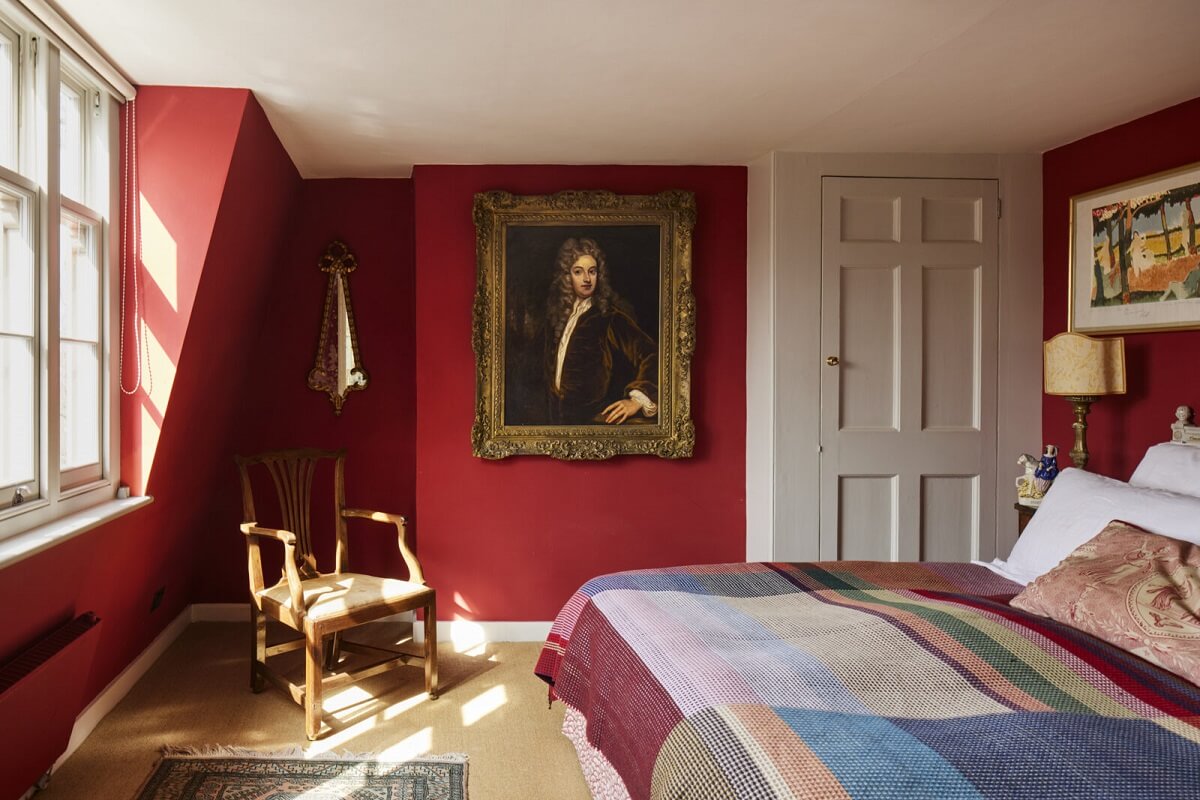 Benjamin Moore: Caliente
Benjamin Moore's Caliente is a charismatic, classic shade of red that is radiant and full of energy.
Benjamin Moore: Raspberry Blush
Raspberry Blush is the Benjamin Moore Color of the Year 2023. Its vibrant orange-red shade adds a bold, warm, and cheerful look to your bedroom interior.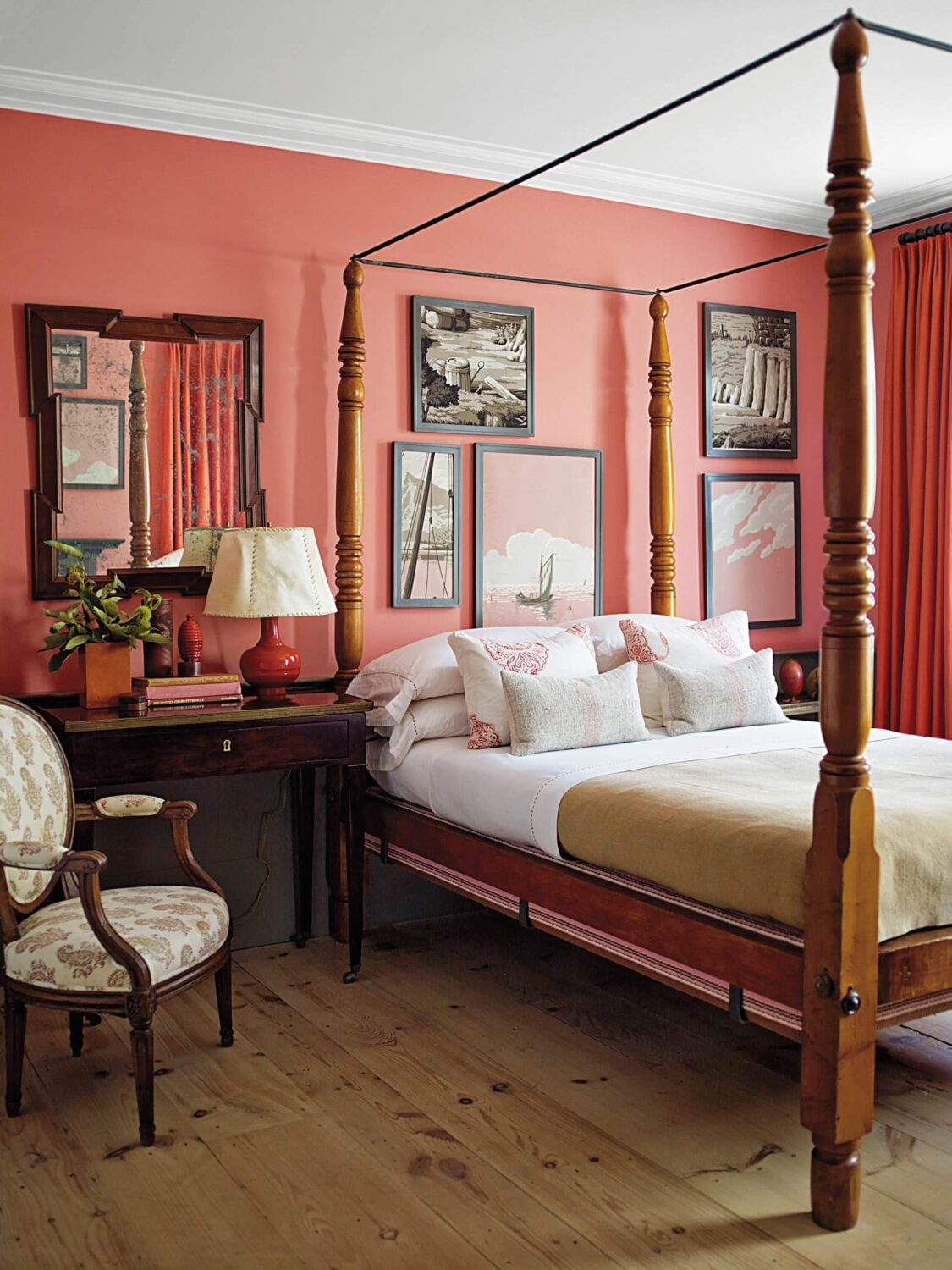 Clare Paint: Big Apple
Big Apple by Clare Paint is a deep, warm, and striking red shade named after New York City.
Benjamin Moore: Sundried Tomato
Sundried Tomato by Benjamin Moore is a rich, earthy red that captures the flavorful stew of vine-ripened tomatoes and a bottle of Chianti. You can combine it with white shades or with salmon pink.
Pink Paint Colors
Technically, pink falls under the red color family, but I would like to create a separate category for pink bedrooms in this article. Pink colors range from bubbly and vibrant to warmer earth tones. If you choose the right pink tone, it will add a warm touch to your bedroom.
Farrow & Ball: Sulking Room Pink
Sulking Room Pink by Farrow and Ball is a romantic, muted rose shade. Not to be seen as overtly pink but rather a muted rose with enormous warmth, its powdery feel makes it incredibly soft and easy to use with complementary tones. Sulking Room Pink is evocative of the colors so often used in boudoirs, a room named after the French "bouder" – to sulk.
Roxanne (@vincent_the_house) used Sulking Room Pink from Farrow and Ball in her guest room. She combined this lovely rose shade with whites and other neutral shades, as well as a wooden floor and bed frame. It's calm, comforting, and romantic.
Paint and Paper Library: Ruse
Ruse from Paint and Paper Library is a sophisticated diluted rose color that offers warmth and character to a room.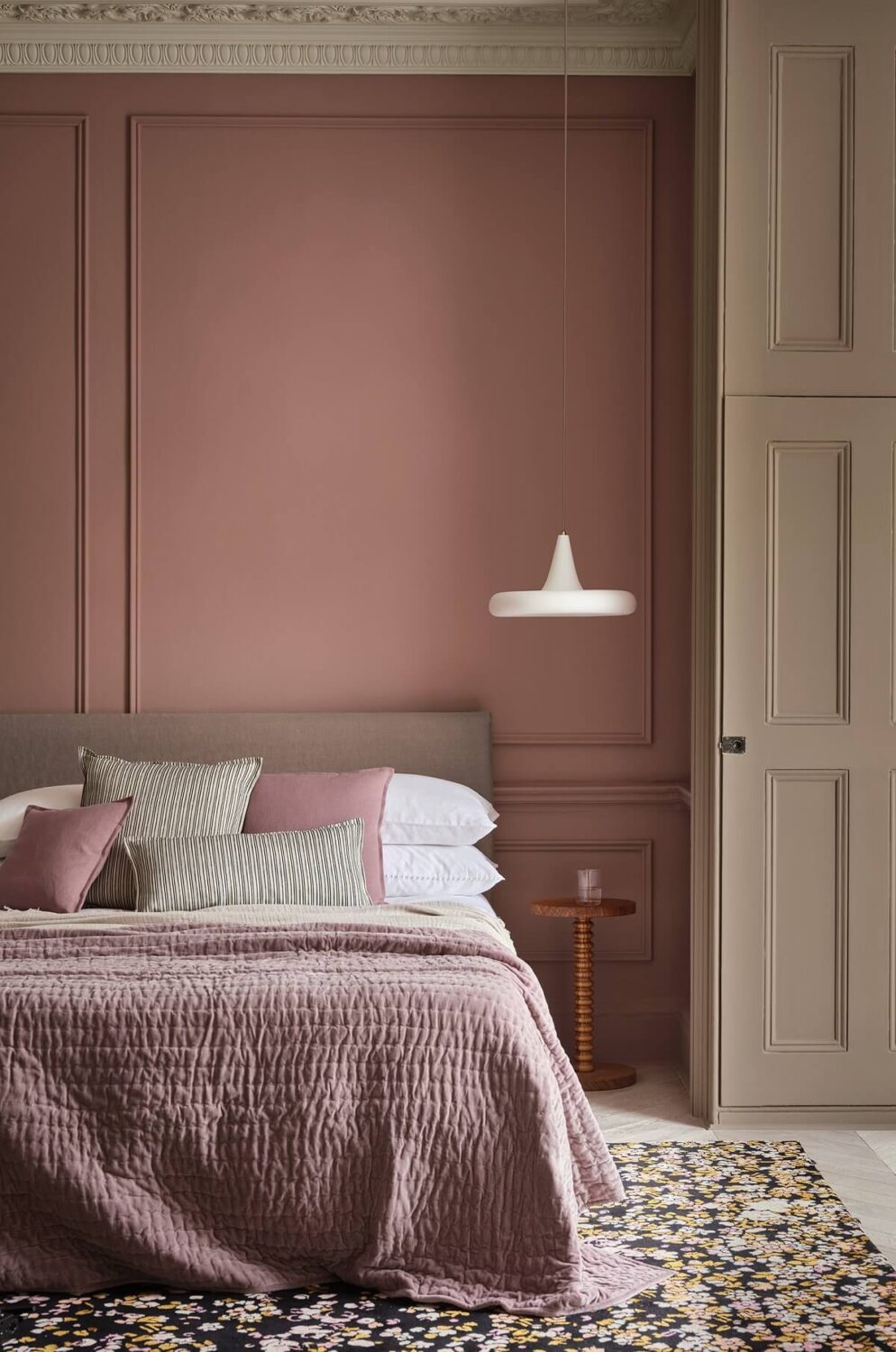 Paint and Paper Library shares three color palettes that can be combined with Ruse. The Contemporary color palette combines Ruse with teal, ochre yellow, and warm white. The Architectural color palette shares Ruse with warm neutral ranging from white to sand color. The Classic color palette combines Ruse with beige, sand, and dark pink.
Sherwin-Williams: Redend Point
Redend Point is the Sherwin-Williams Color of the Year 2023. It's a warm, soulful, blush shade that looks great in a bedroom.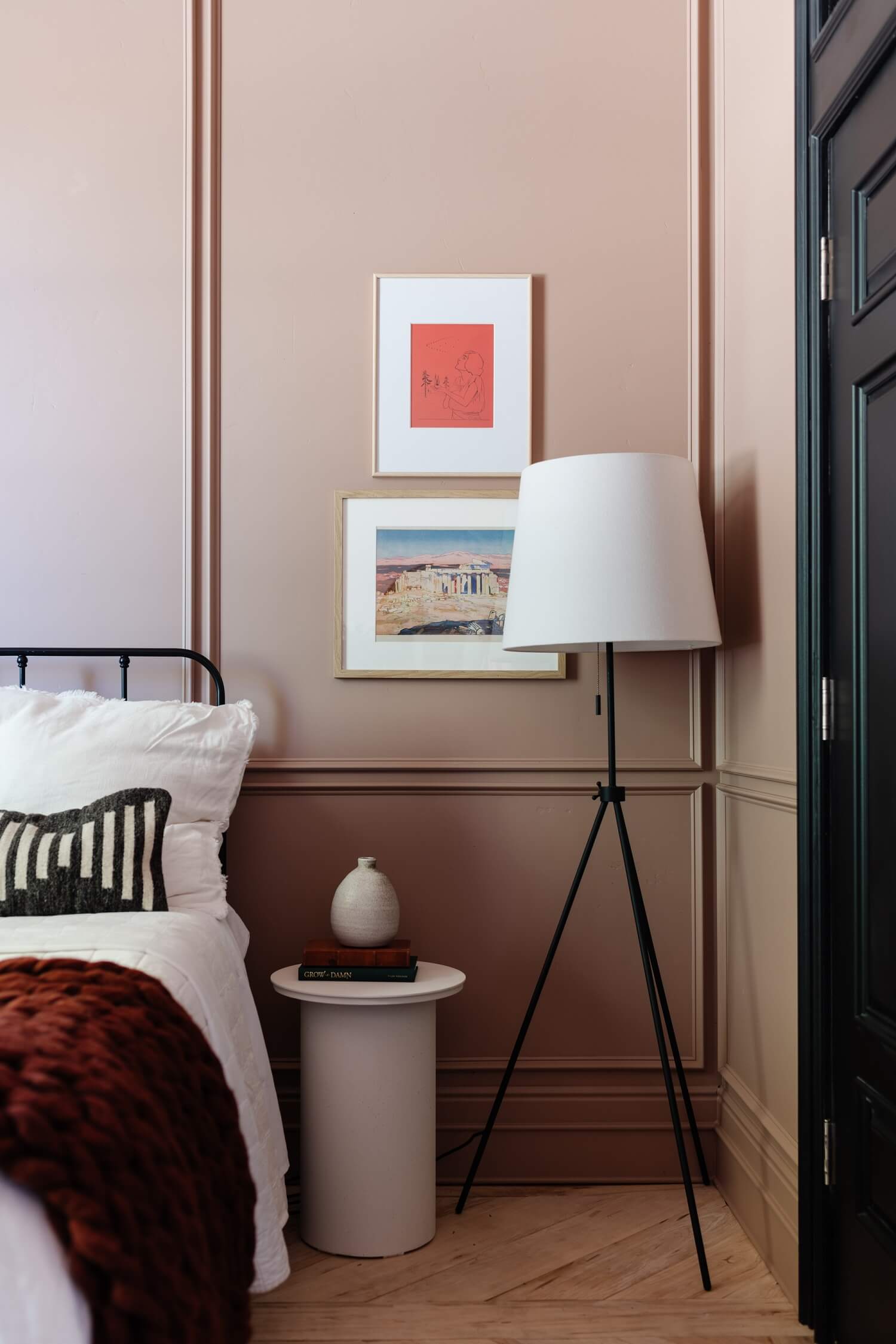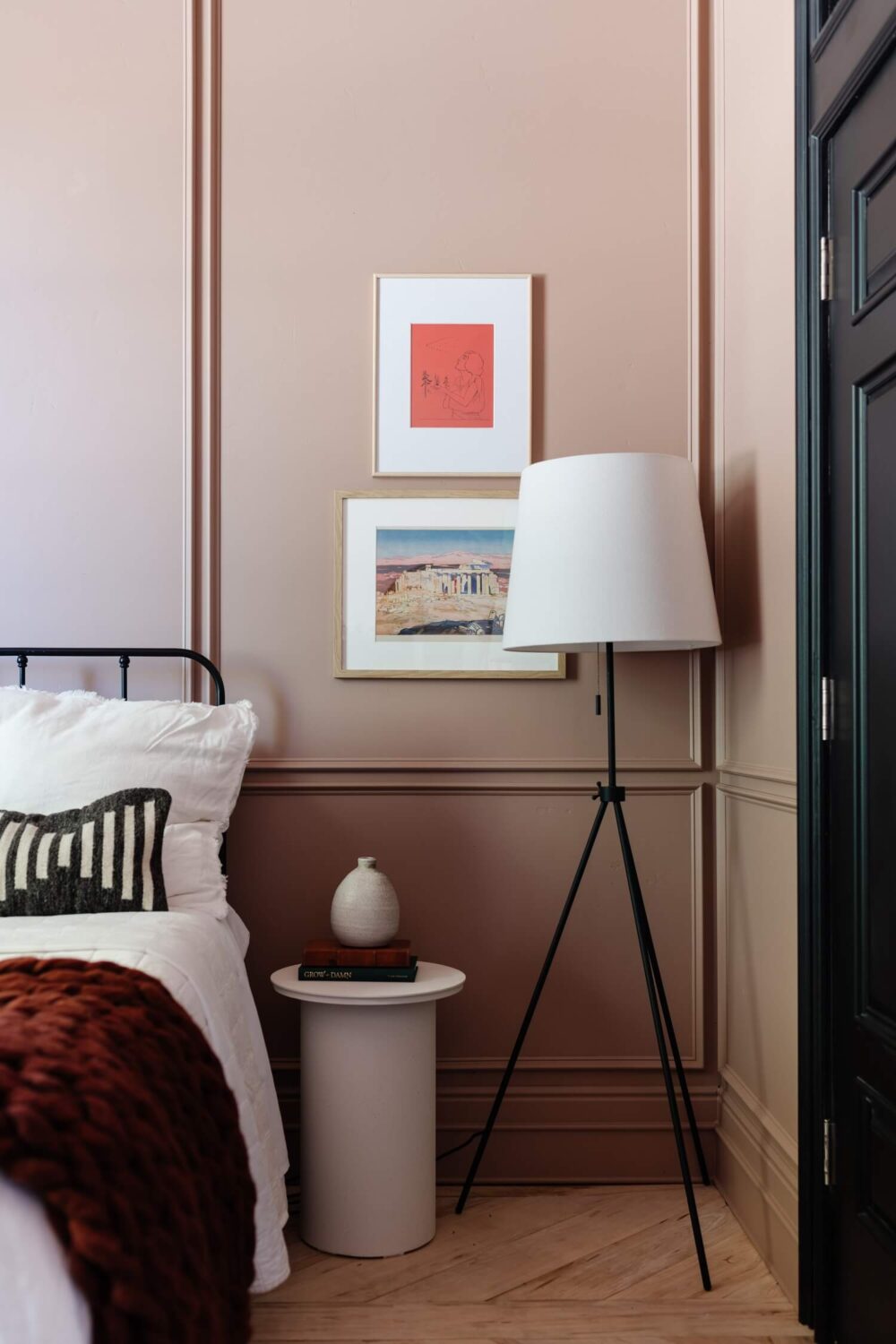 Mandi Gubler created a contrasting bedroom look using Redent Point. She paired it with black accents for a cool, soft bedroom look.
Jotun: Red Maple
Red Maple from Norwegian paint company Jotun is a subdued burgundy tone that adds a warm and deep pink tone to your bedroom. The color creates the feeling of a warm blanket which is exactly what you want in a warm bedroom.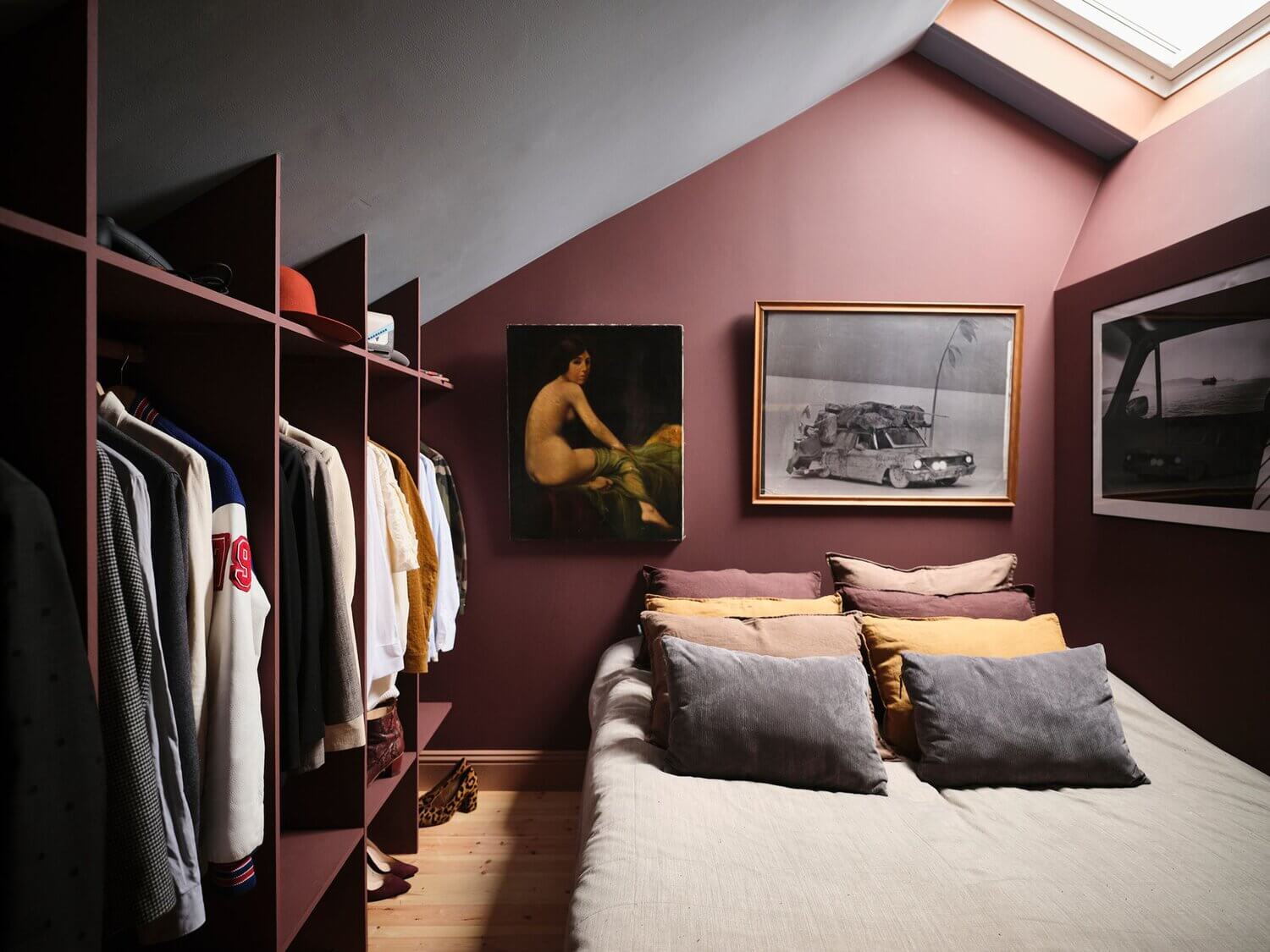 This small attic bedroom is decorated by @clindholm_design, and it shows what a beautiful warm room you can create by using this dark pink shade.
Sherwin-Williams: Pinky Beige
Pinky Beige by Sherwin-Williams is a subtle pink shade that can almost pass as a neutral color.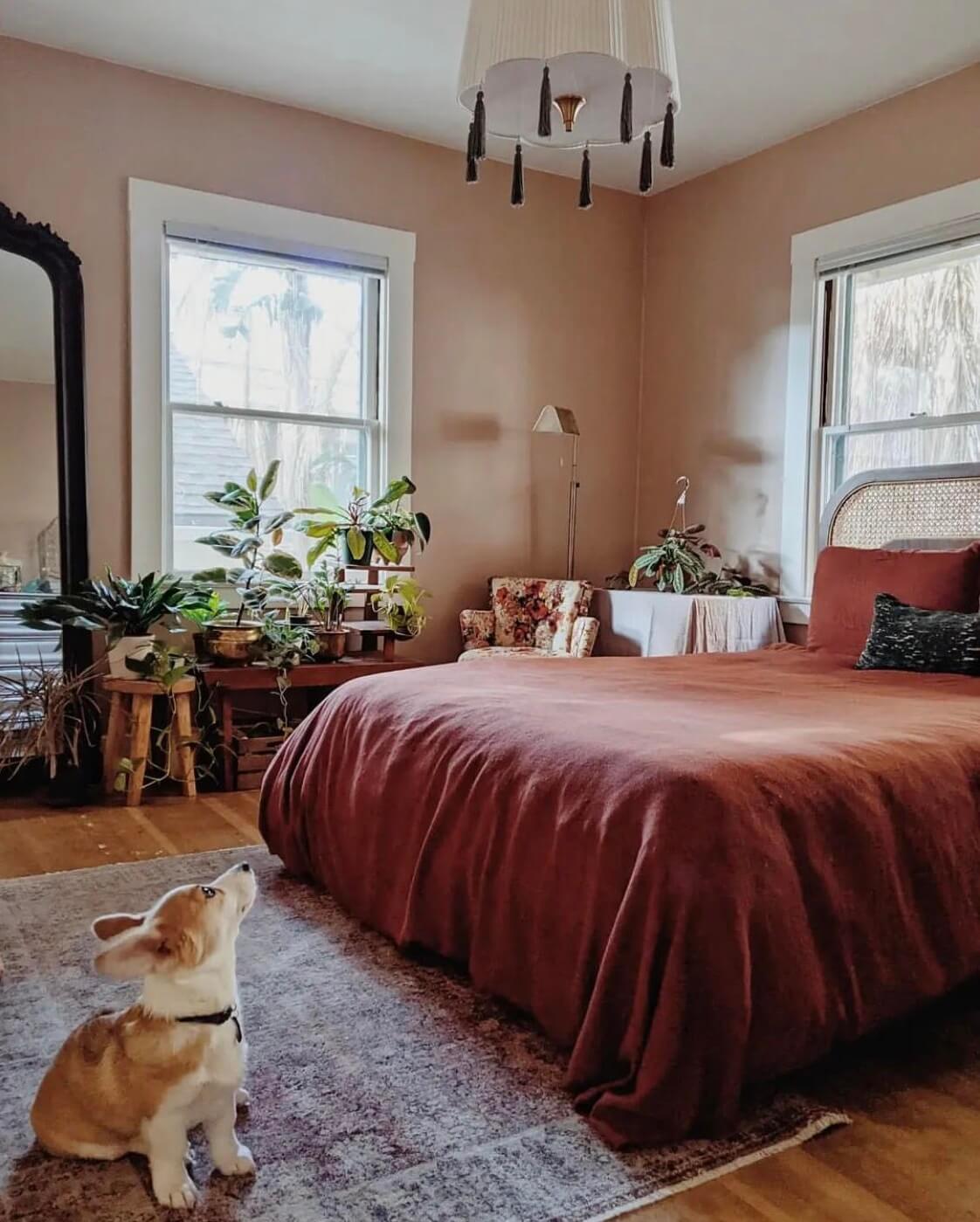 Joan Liang used Pinky Beige for her bedroom walls. She paired it with a darker pink bedding, a wooden floor, and loads of plants. Warm, cozy, and charming.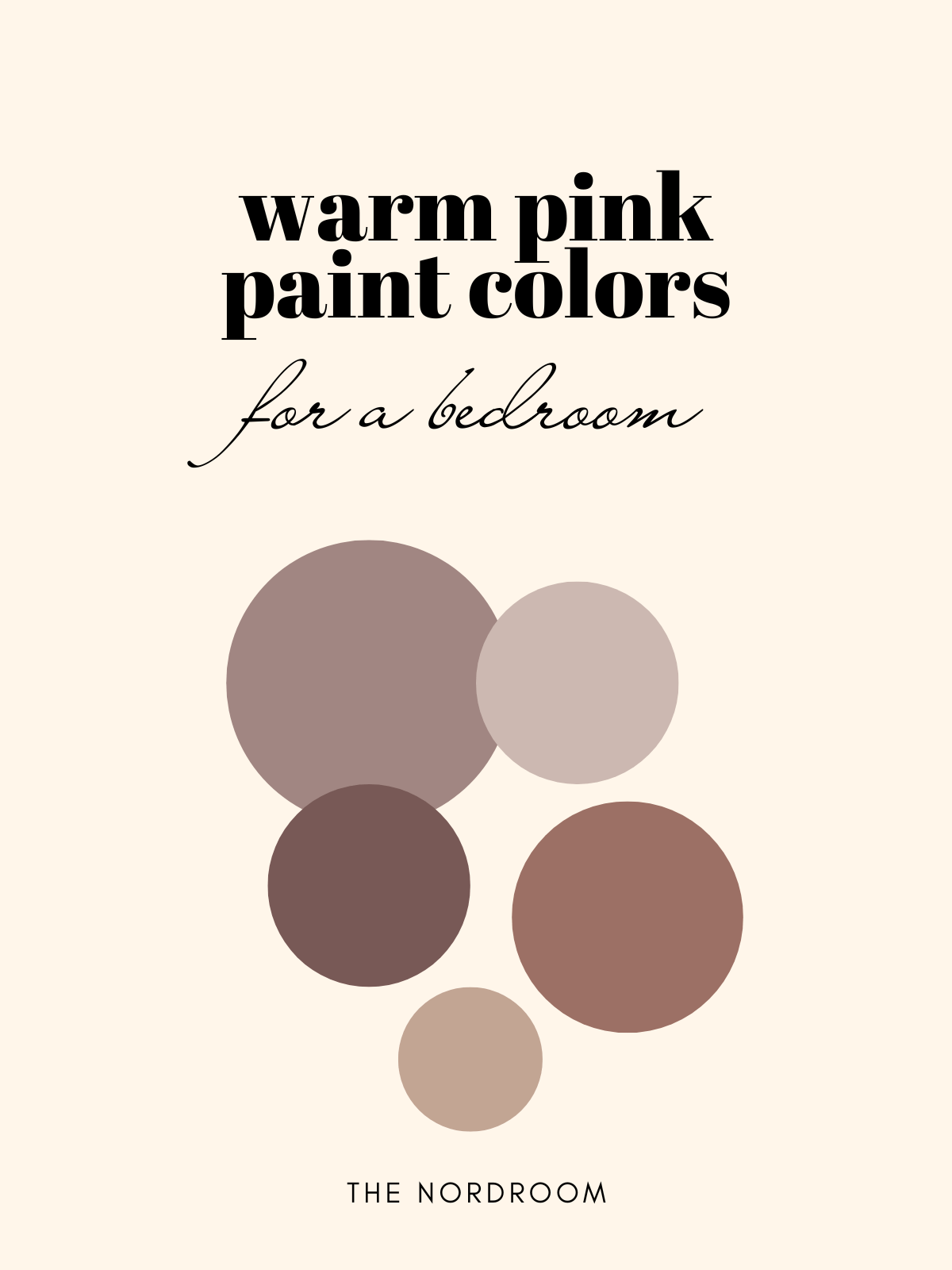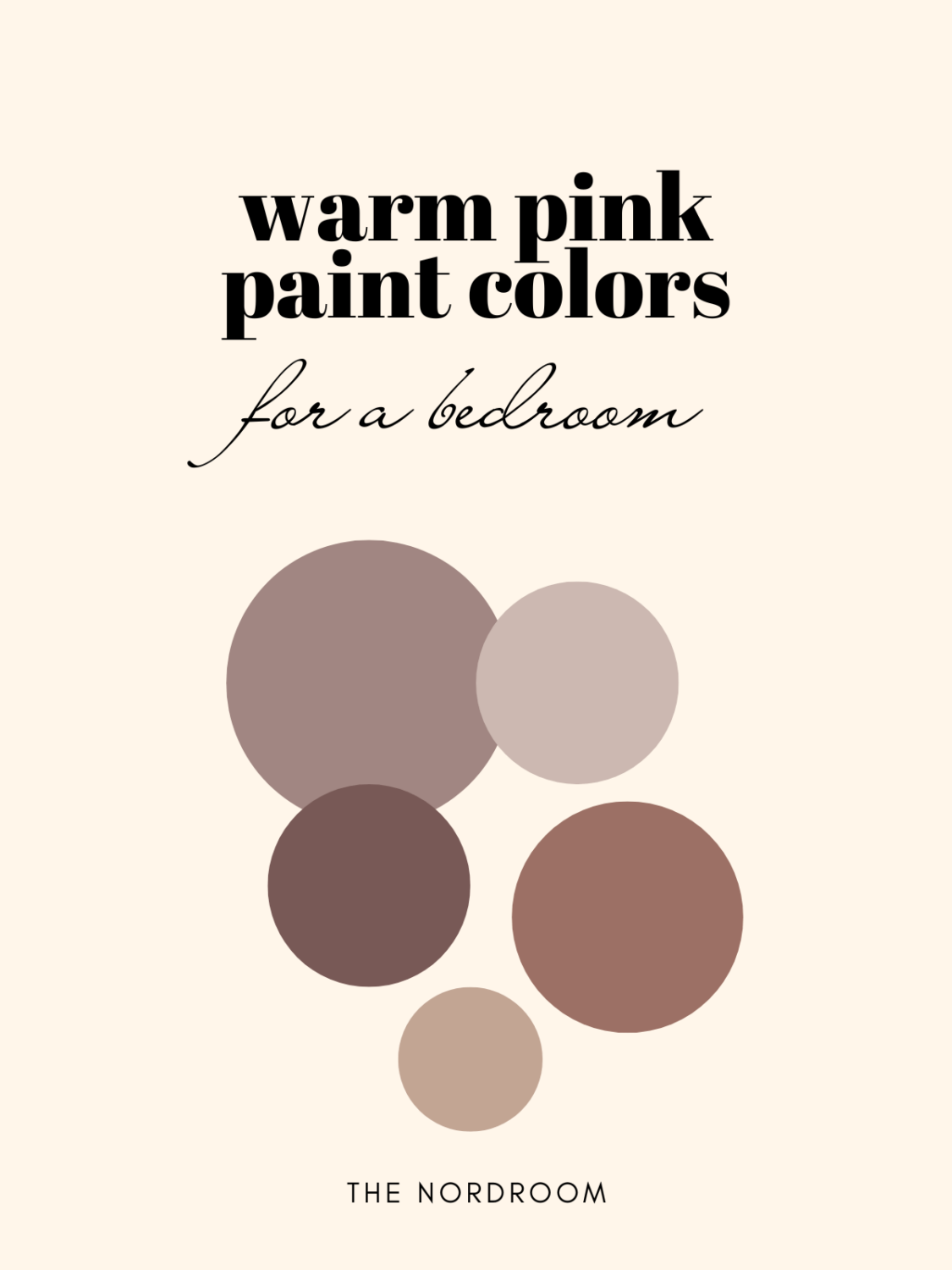 Orange Paint Colors
Orange is a color that we associate with autumn. The deep and rich hues are perfect for creating a warm bedroom look. Think about terracotta and rust tones that will give an instant warm look to your room.
Farrow & Ball: Faded Terracotta
Faded Terracotta is part of the Farrow and Ball's California Collection by Kelly Wearstler. It's a soft and pale orange color. The singular color of terracotta pots and tiles baked to a pale hue by the California sun. An easygoing shade characterized by softness and warmth.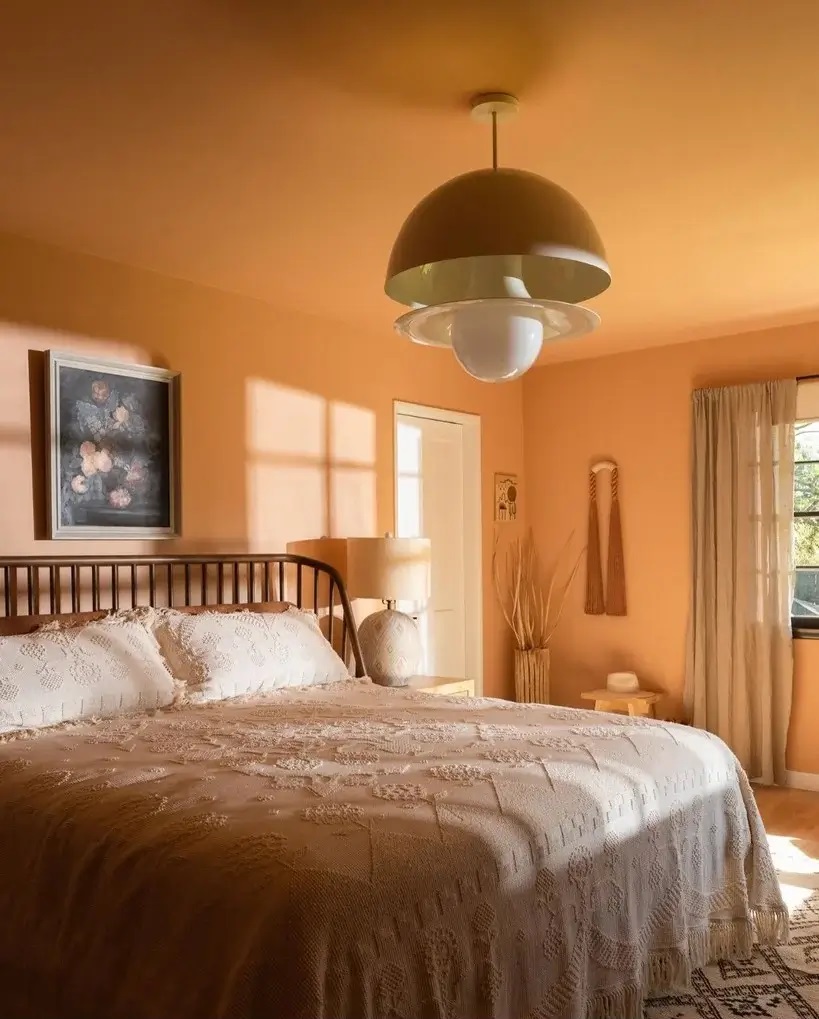 Kirsten Blazek (@a1000xbetter) painted her bedroom in this soft orange shade. She paired it with warm beige tones, warm textiles, and wooden accents for a neutral boho bedroom look.
Jotun: Natural Clay
Natural Clay from Jotun is a burnt orange tone that's muted and cheerful at the same time. Combine it with other terracotta shades or with warm beige tones for a soft but warm bedroom.
This bedroom, painted in Natural Clay, doubled down on the terracotta look with also a terracotta floor. Natural Clay was part of the warm and rustic color palette in the Color Trends for 2021.
Benjamin Moore: Autumn Orange
Autumn Orange from Benjamin Moore is a rich, inviting golden orange that evokes cozy fireside gatherings.
Benjamin Moore: Dash of Curry
Dash of Curry from Benjamin Moore is a dark orange that captures the rich and earthy character of curry powder.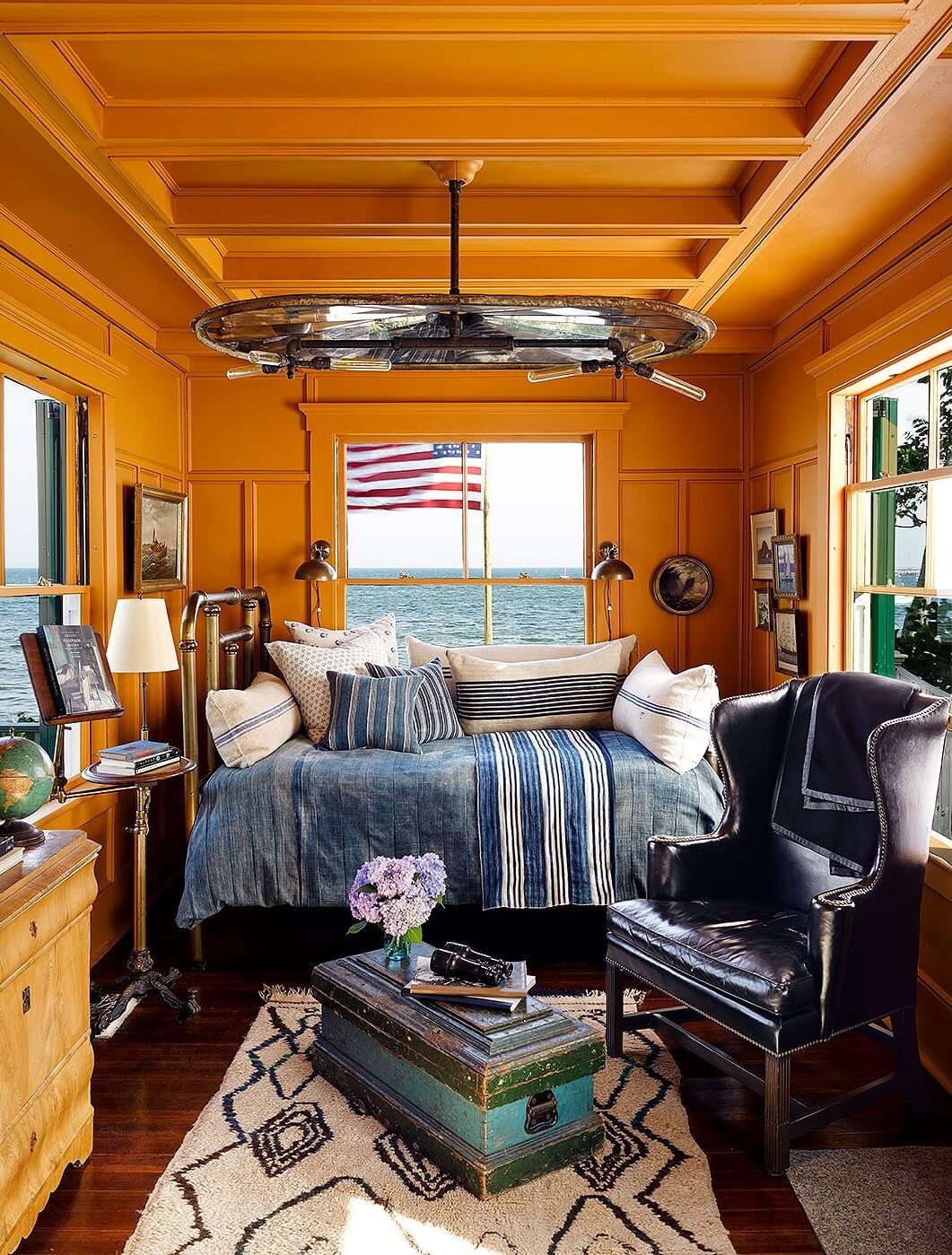 Interior designer Ken Fulk used Dash of Curry in his coastal bedroom. He combined it with blue and black for a strong, warm, and cheerful bedroom design. "In the morning, it's invigorating, sparkling from the sun off the water. In the evening, it envelops you with the soft glow of candlelight."
Dulux Heritage: Red Sand
Red Sand is a deep, burnt orange that reflects the autumnal tones of naturally occurring Sandstone and creates a welcoming and warming atmosphere for all to enjoy. Baked earth tones such as this connect us to nature, granting our homes substance and authenticity.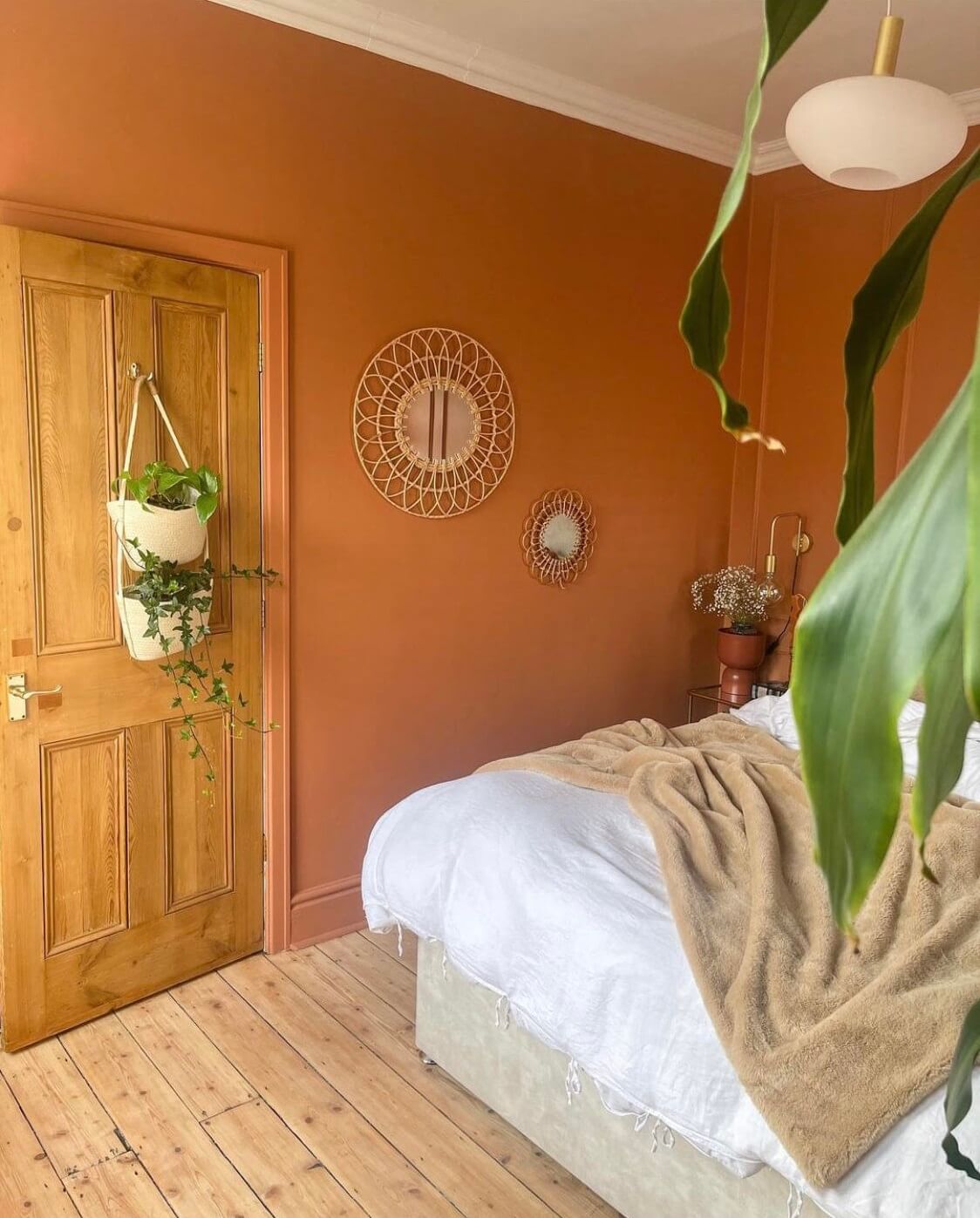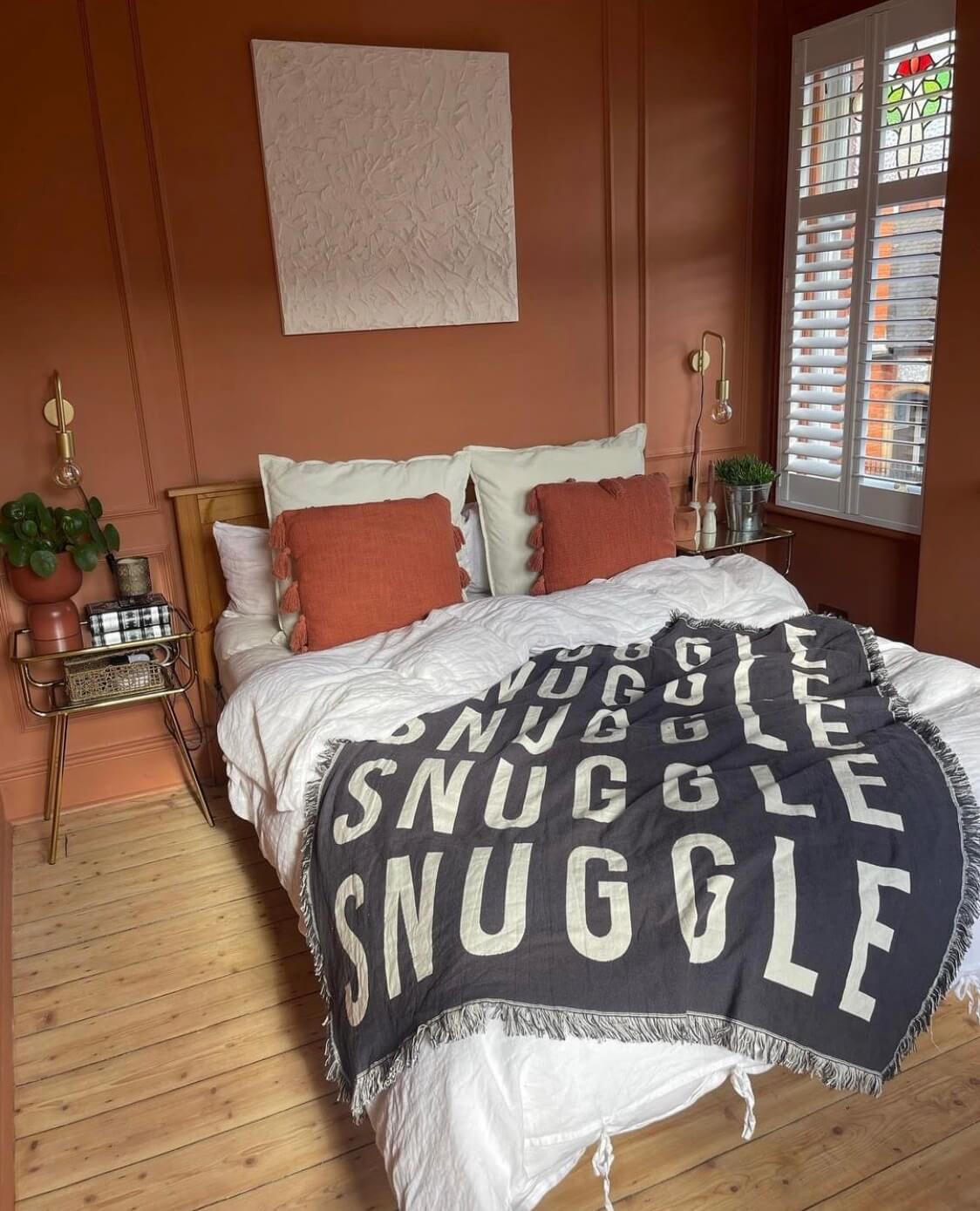 Lou Crane used Red Sand from Dulux Heritage for her bedroom. She thinks Red Sand is the perfect shade for in the summer and the winter months.
These pictures also show how important it is to test your preferred color in your own room. The color in Lou's bedroom looks different in these photos. While interior photos on the internet can be great for inspiration, you do not know how the color will look in your home until you have tested it. Every paint company offers paint samples so you can try out several shades that you're interested in.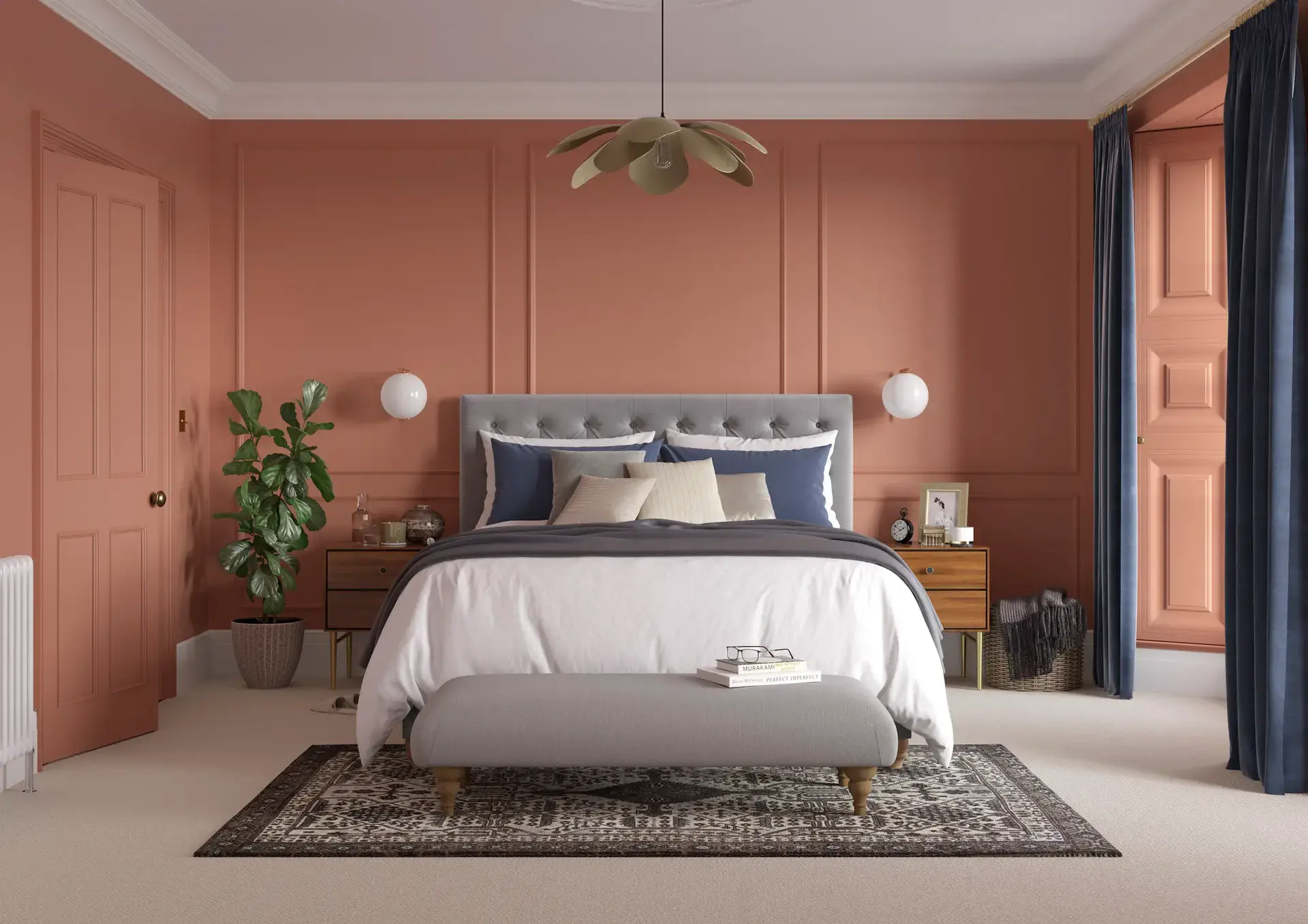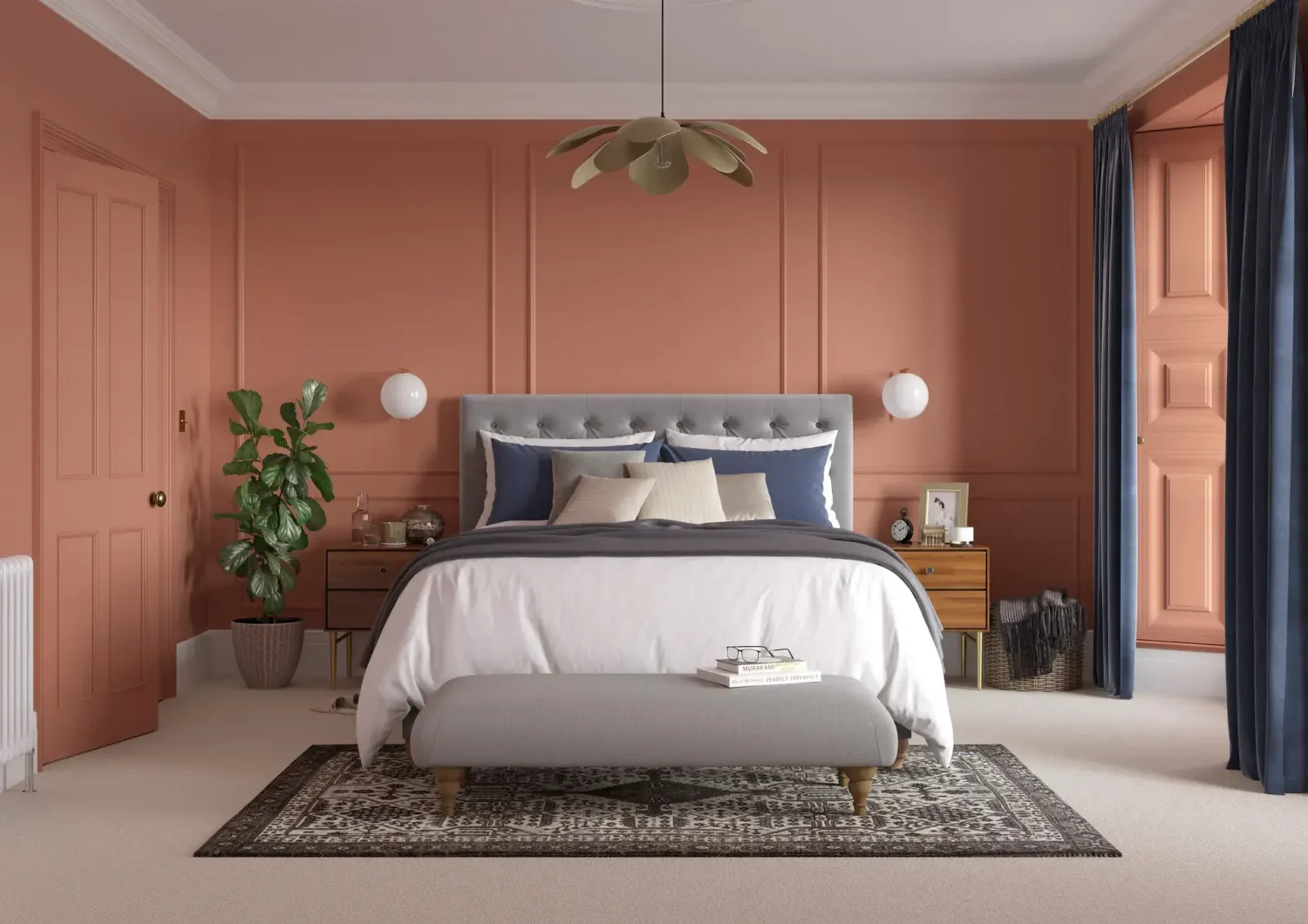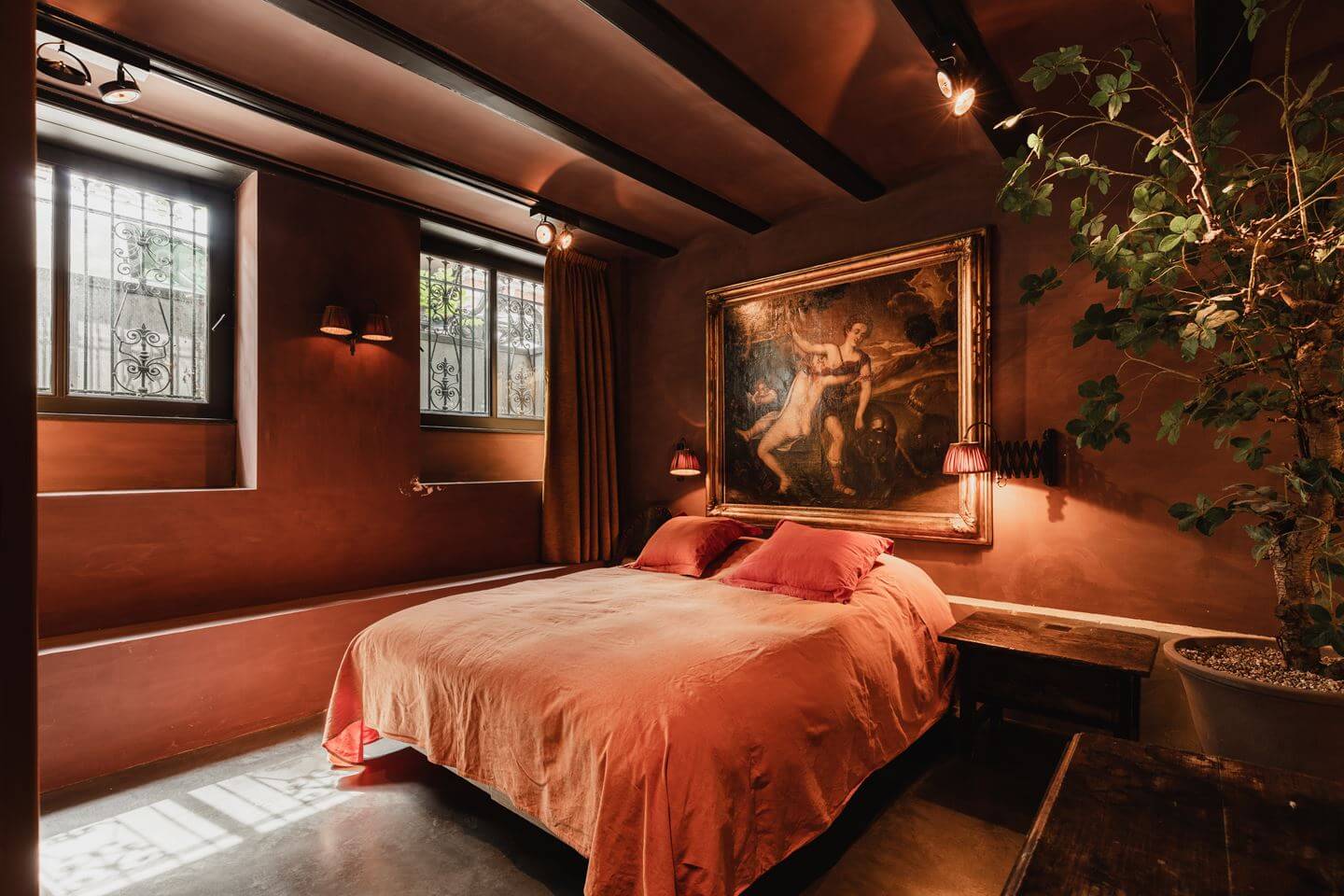 This bedroom's exact color shade is unknown, but it shows how beautiful a warm terracotta shade looks in a bedroom with low natural light. This basement bedroom in an Amsterdam townhouse paired the dark terracotta with black accents and a concrete floor.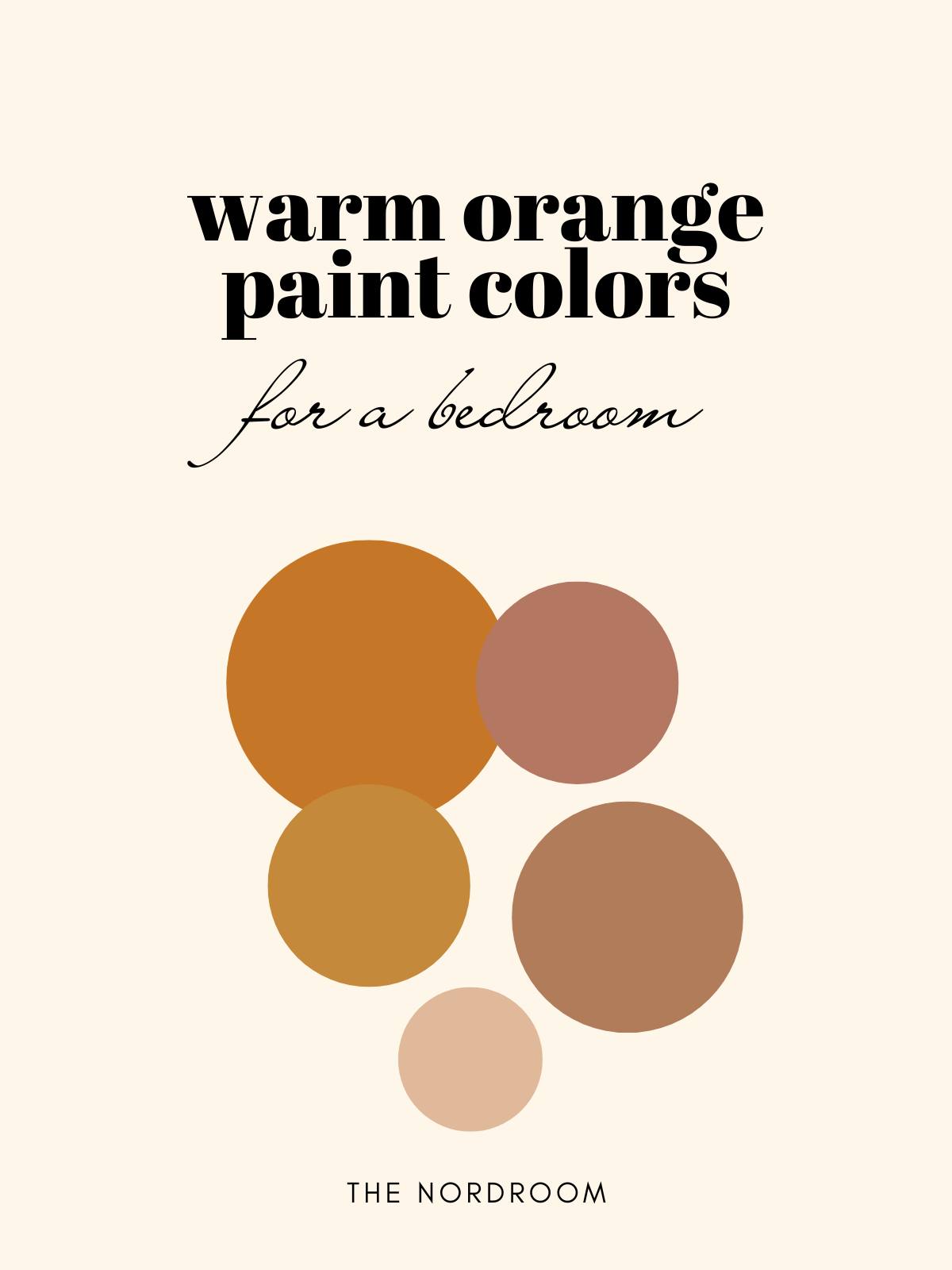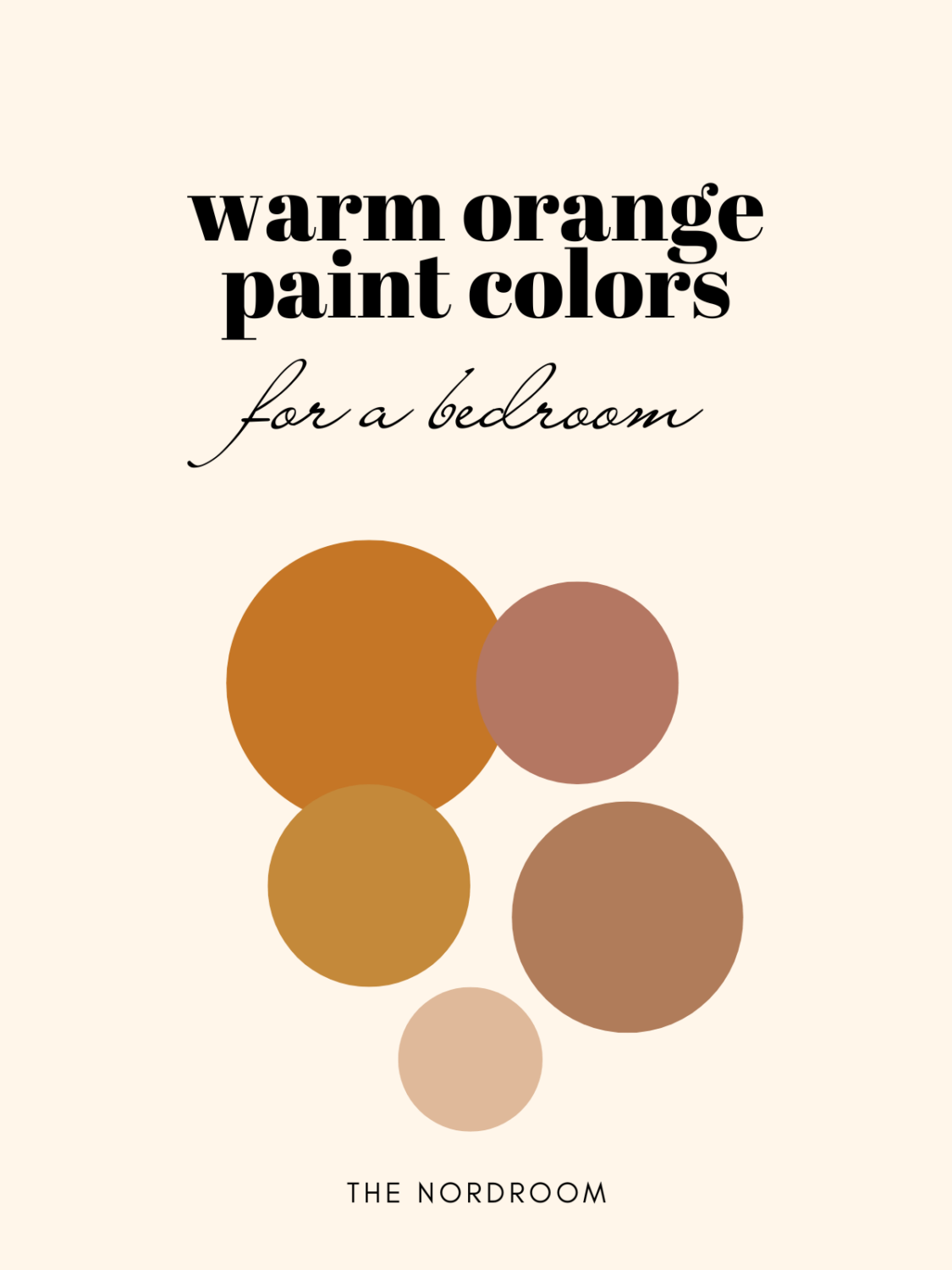 Yellow Paint Colors
The color of the sun is, of course, a perfect warm color for a bedroom. Yellow is versatile and it will add a cheerful tone to a bedroom. Yellow ranges from pale shades like buttercream to rich mustard yellow.
Benjamin Moore: Weston Flax
Weston Flax is a classic option for those searching for the perfect buttery yellow.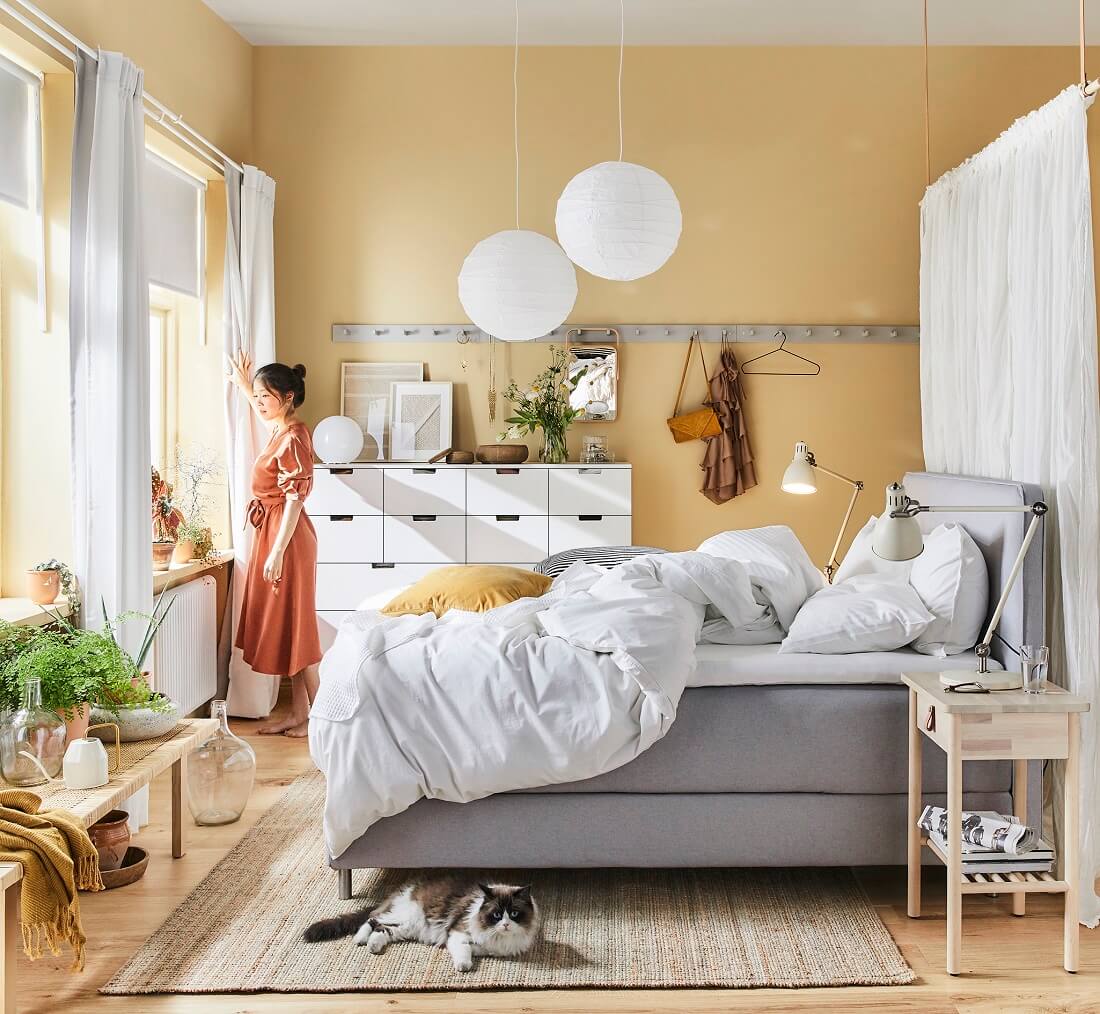 Like all colors, yellow also comes in many different shades, and each brings something different to your bedroom. This IKEA bedroom opted for pale yellow walls in combination with white and gray furniture and decor. It adds a subtle warm look to the bedroom.
You can create this look with 'Weston Flax' by Benjamin Moore or 'Honey Tone' by Behr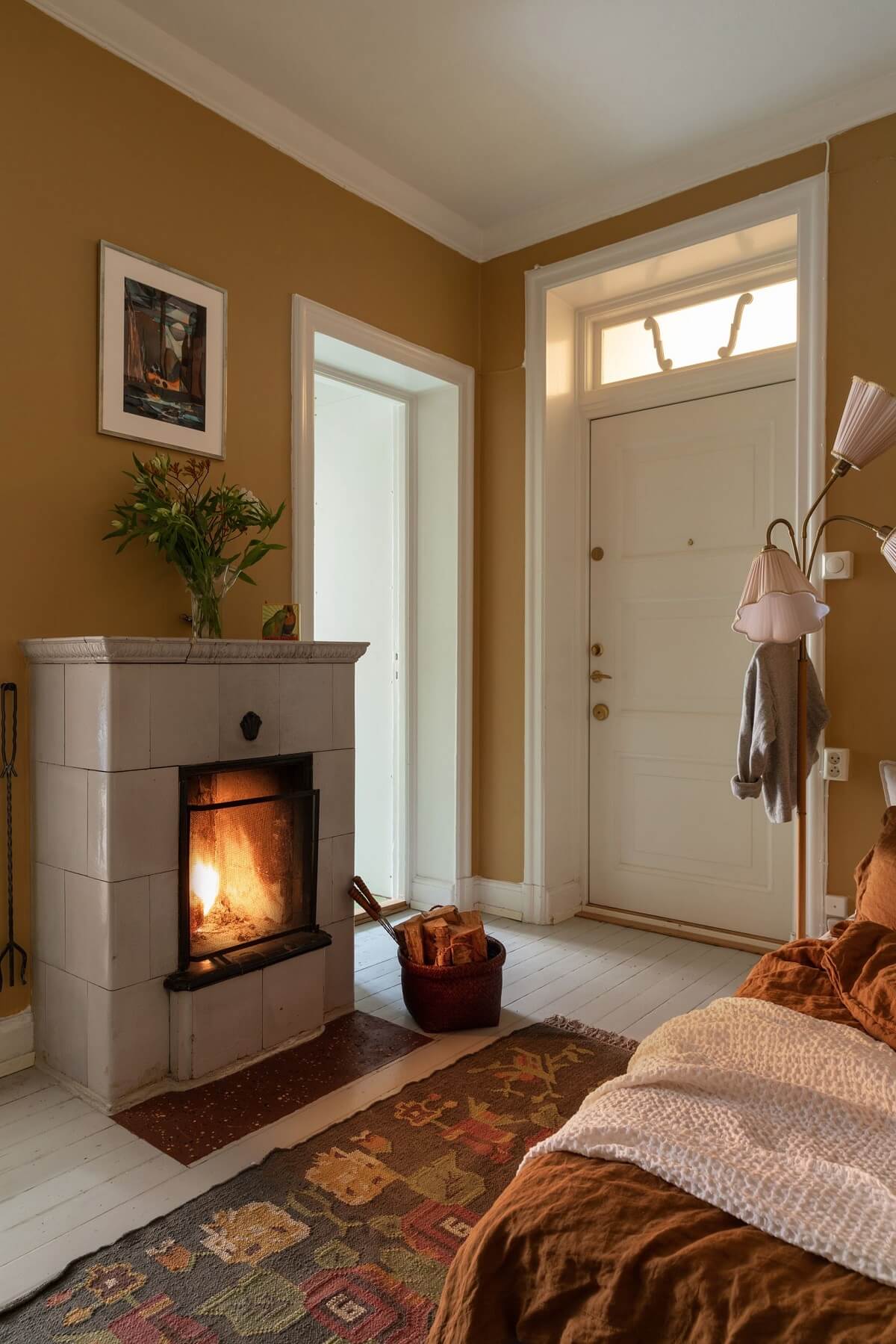 On the other side of the yellow color spectrum is ochre yellow. This tiny bedroom in a 1920s Stockholm apartment doubled own on the cozy vibe with ochre yellow walls, a fireplace, and warm color accents in the textiles.
You can create this look with 'French Quarter Gold' by Benjamin Moore or 'Good as Gold' by Clare.
Craig and Rose: Lamplighter
Sun beam. A warming yellow with a vibrant heart. Cast sunlight across your walls day and night with Lamplighter yellow paint. This sunny yellow takes its name from the Robert Louis Stevenson poem, and much like his words, this inspired shade turns a light on.
Lamplighter brings all the heat of cadmium, but without the weight, it's perfect for freshening up cupboard doors or as a highlight to shelving units.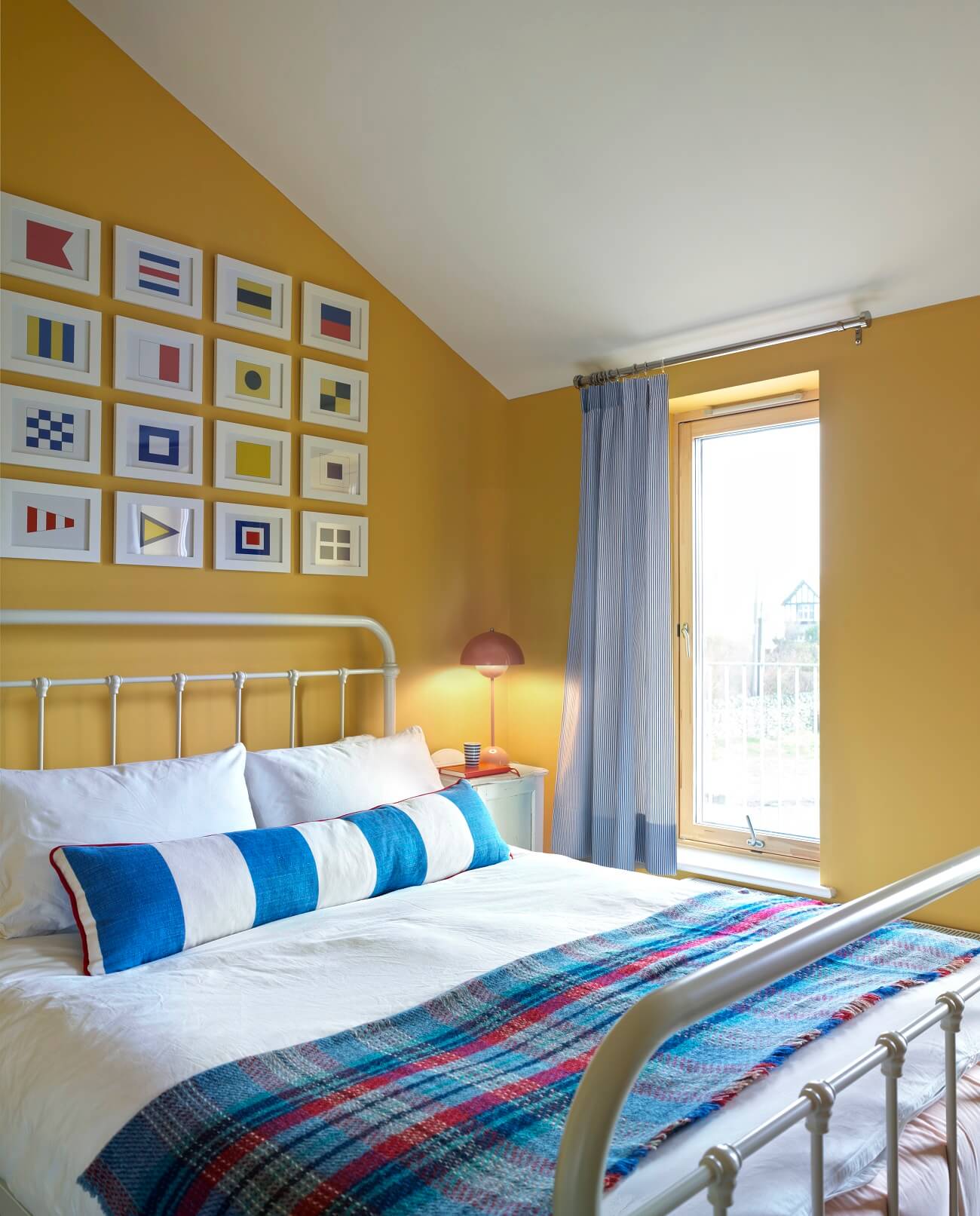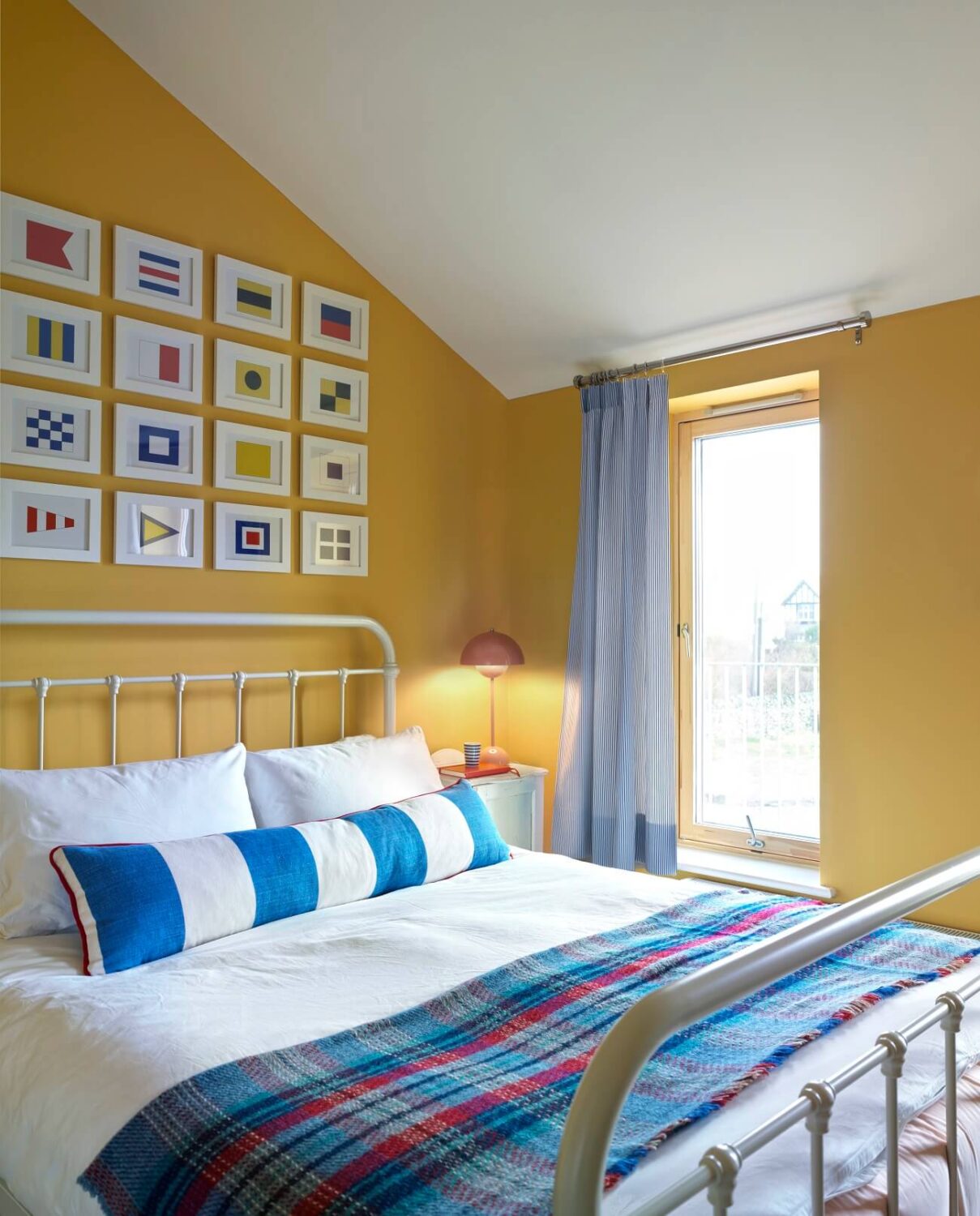 Interior design firm Space A created a cheerful coastal vibe in this seaside bedroom with bright yellow walls in combination with cool blue accents.
Dunn Edwards: Deserted Path
Deserted Path by Dunn Edwards is a warm yellow shade that is perfect for a bedroom.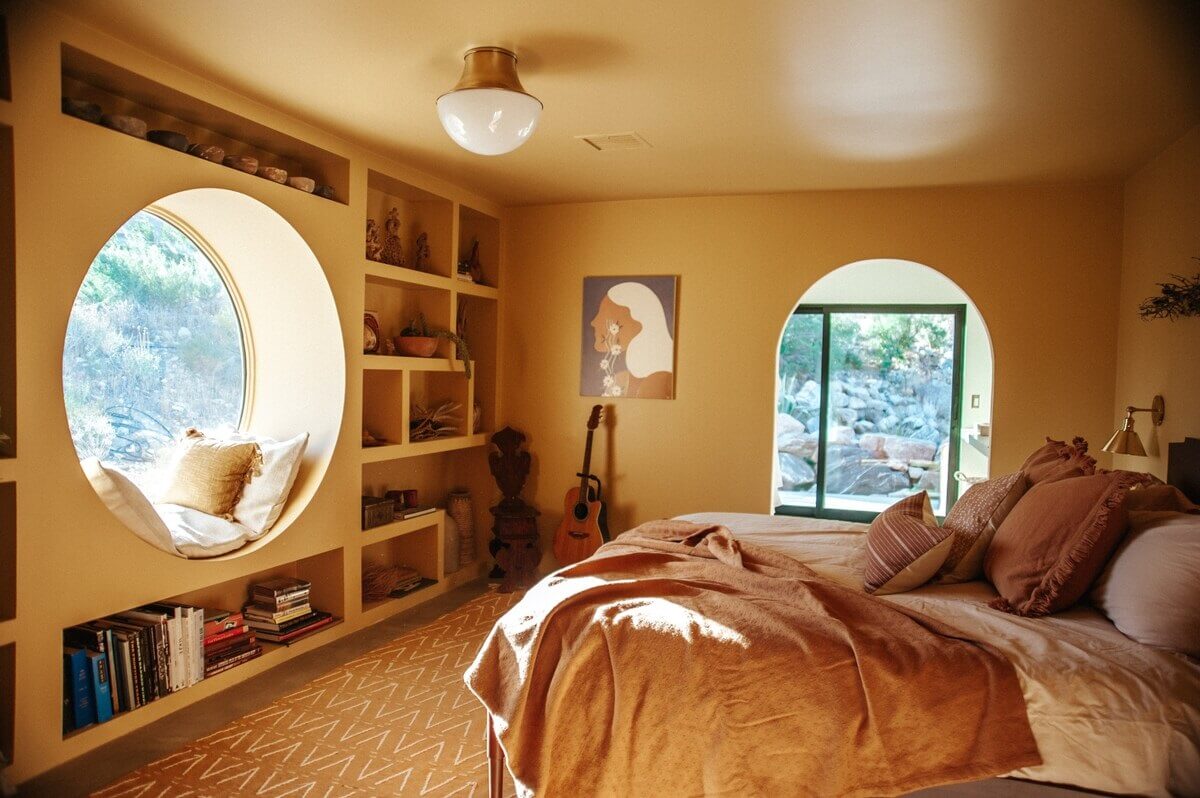 Designers Claire Thomas and Yayo Ahumada created this bedroom in a Morongo Valley Airbnb home. The bedroom is inspired by the sunset, and to achieve that look, they painted the bedroom in "Deserted Path". Even the ceiling is painted in this warm shade.
Farrow & Ball: India Yellow
India Yellow by Farrow and Ball is a deep mustard yellow that is famously named after the pigment collected from the urine of cows fed on a special diet of mango leaves! It creates a really cozy and surprisingly un-yellow space when contrasted with a dark tone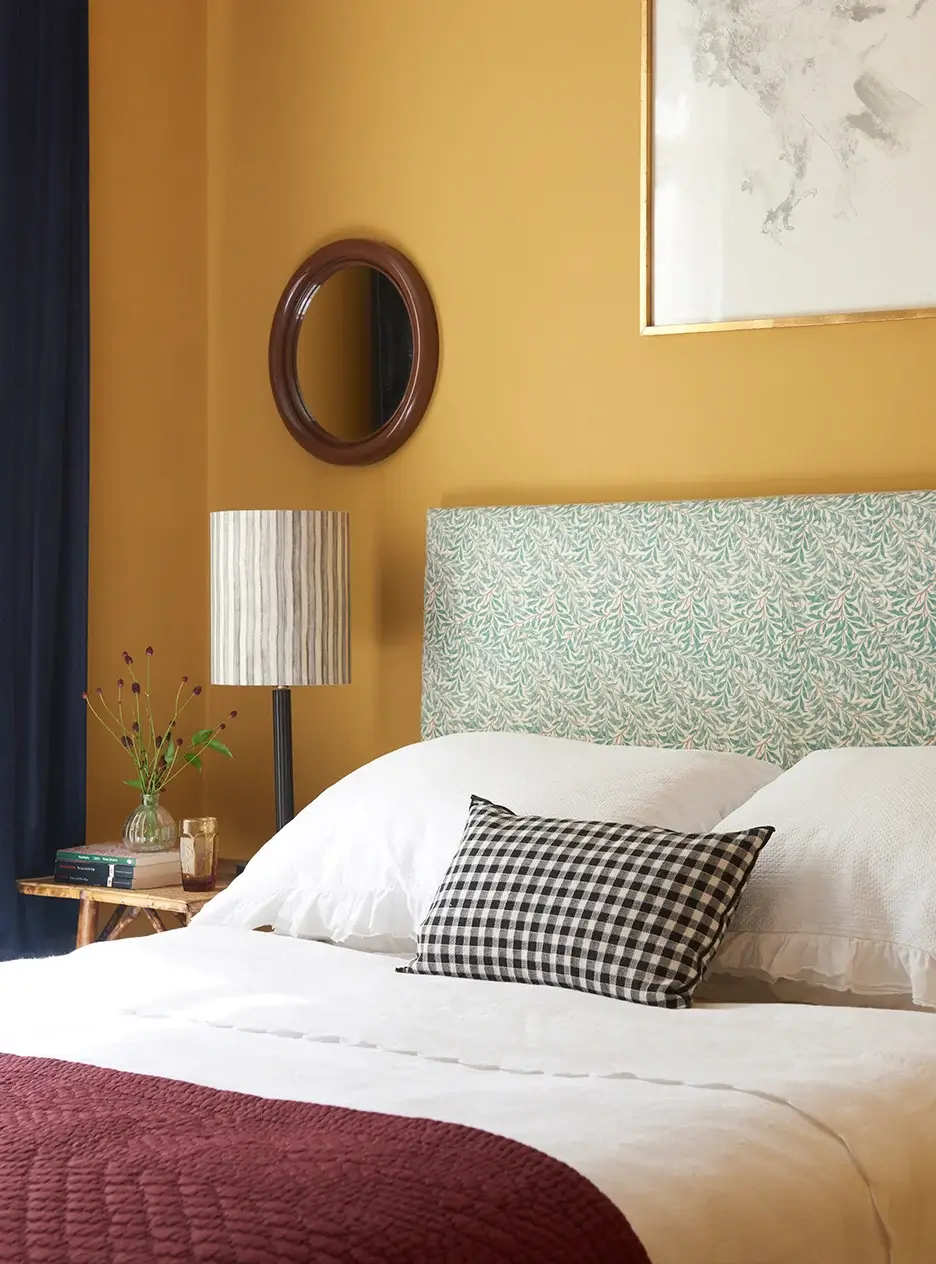 Sarah and Caroline of Sascal Studio used India Yellow for the walls in this bedroom. It's paired with a William Morris headboard and red and blue accents.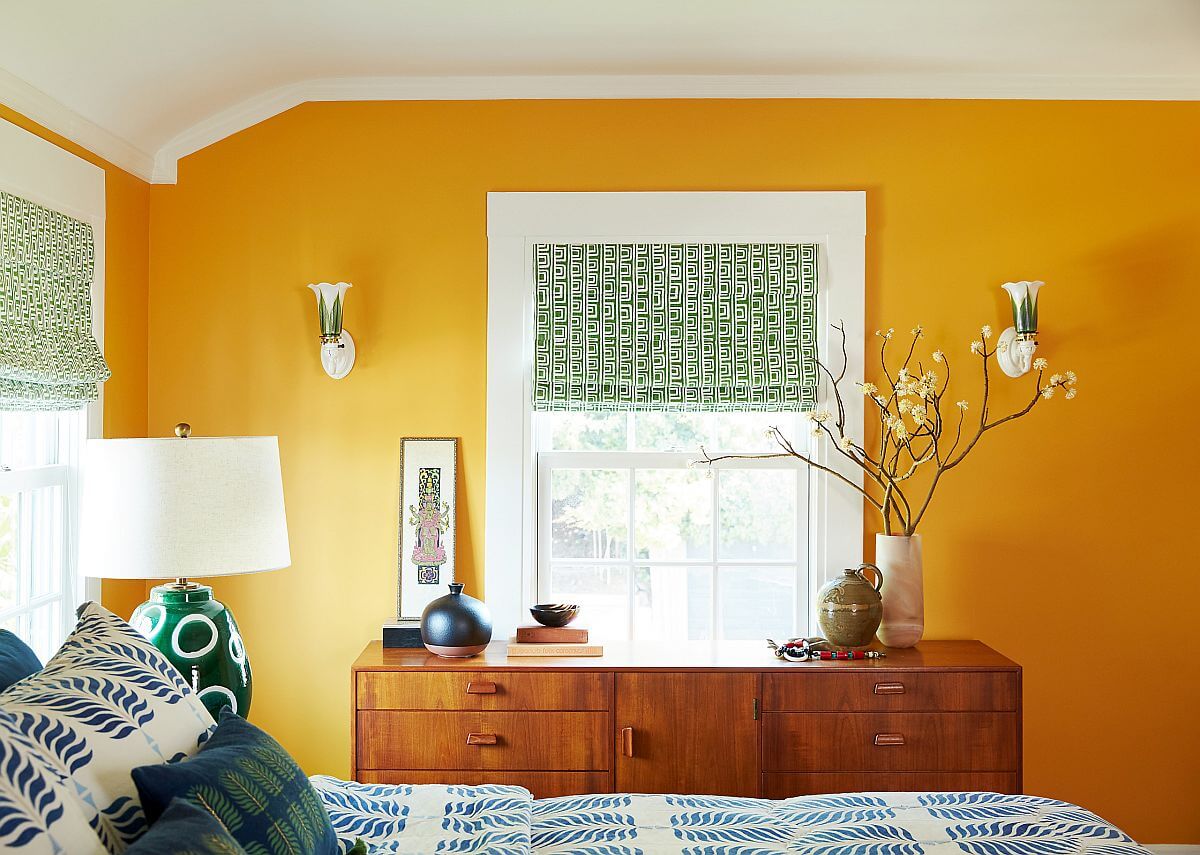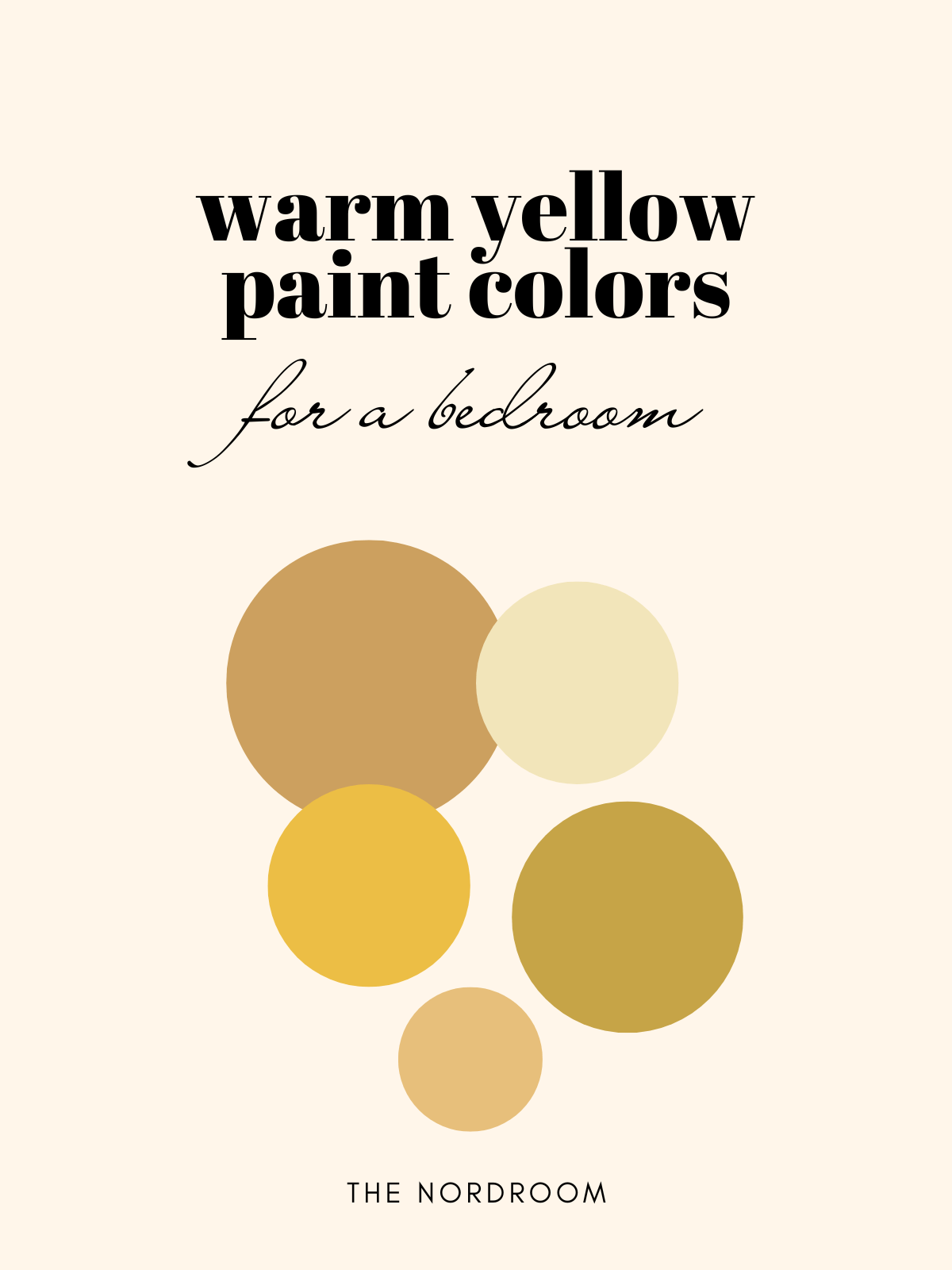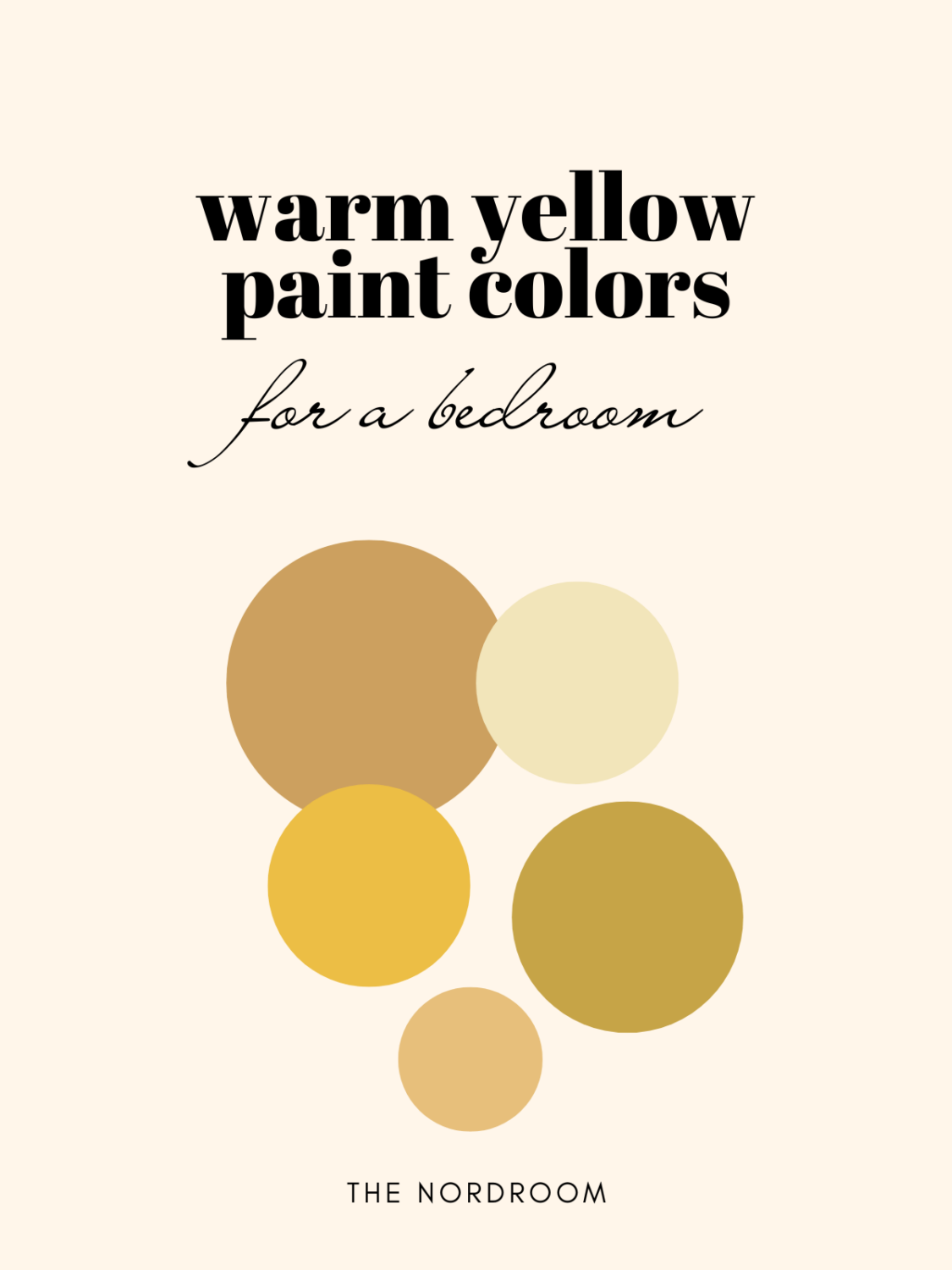 Purple Paint Colors
Purple has an interesting position on the color wheel. Purple shades can fall under warm and cool colors. The warm purple colors are richer shades like plum and aubergine that include red tones.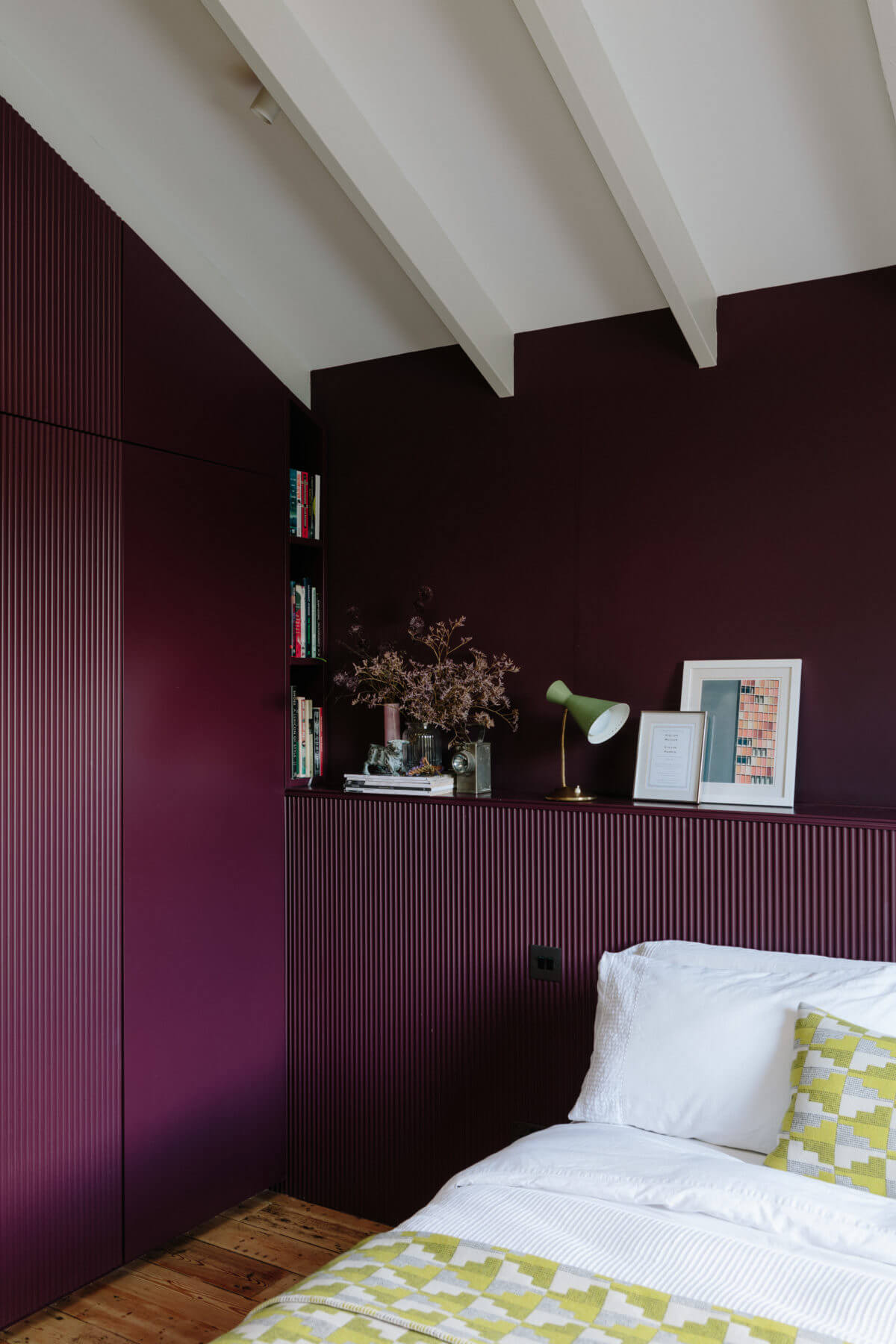 Farrow & Ball: Brinjal
Brinjal takes its name from the beautifully deep and shiny skin of the aubergine. It can create a warm and highly sophisticated finish on all walls but is often used as a feature wall.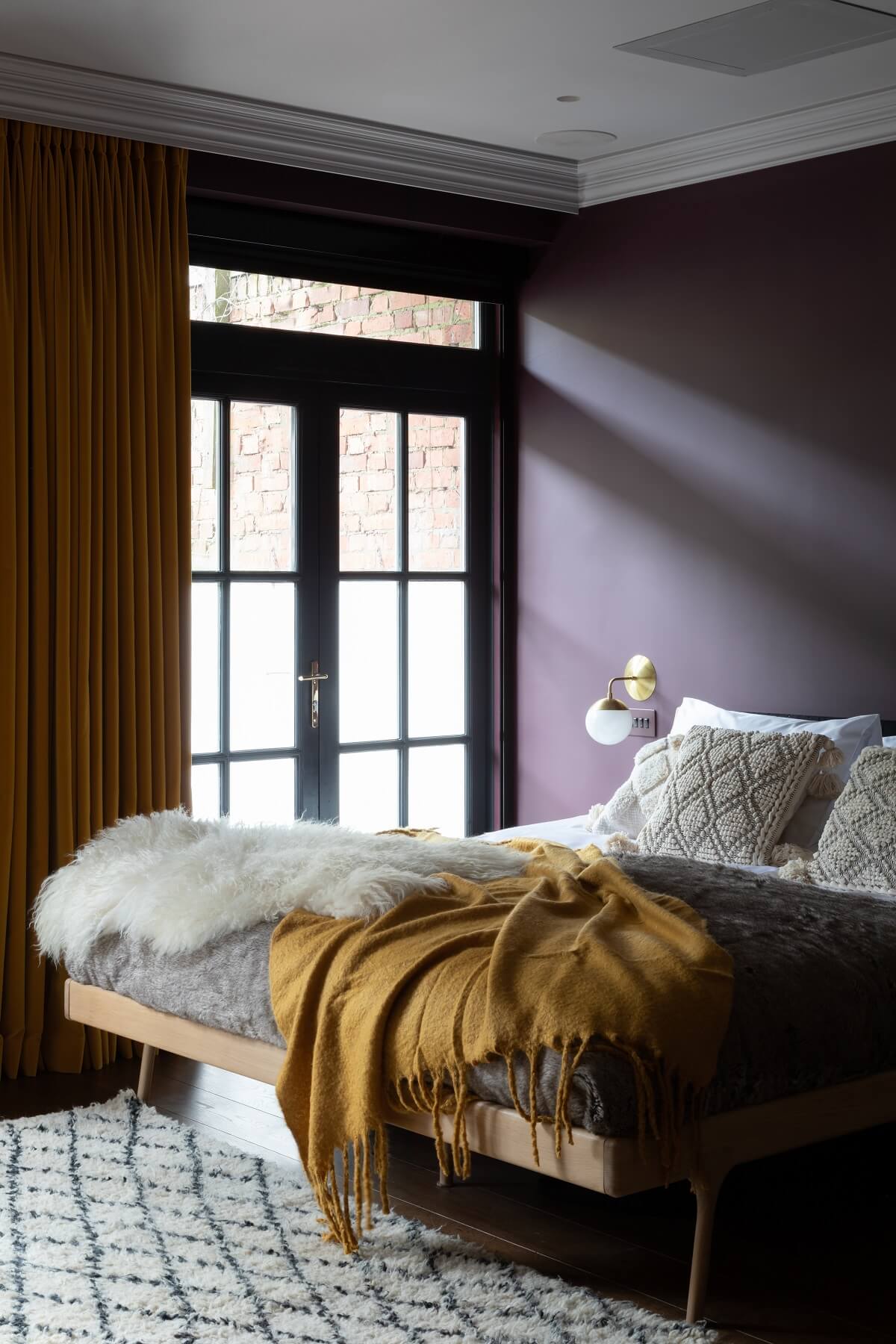 Interior design firm Frank and Faber painted this bedroom in a London home in a rich and warm purple color. And this is combined with equally warm mustard yellow curtains and throw.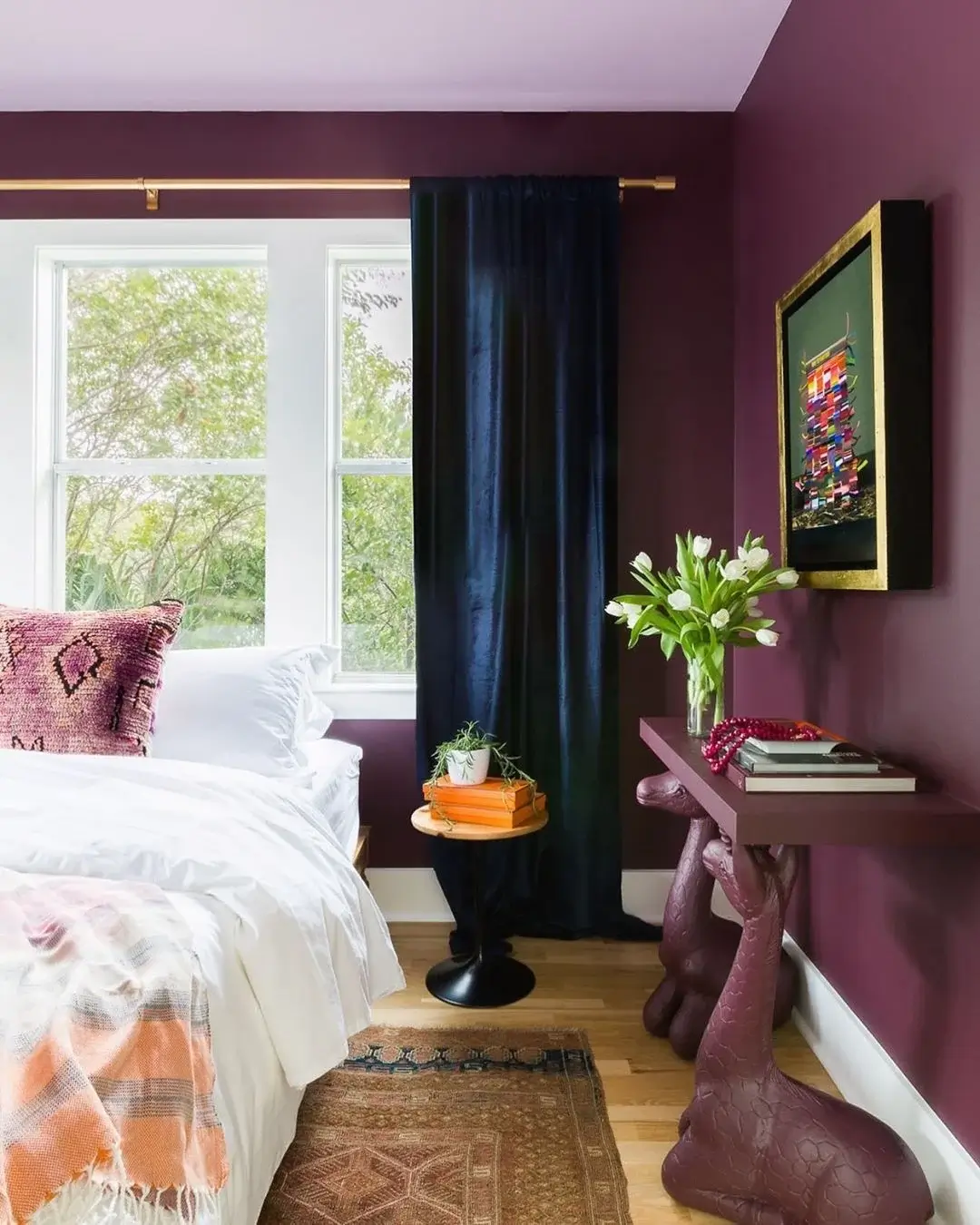 Designer Allison Crawford also painted a bedroom in Farrow and Ball's 'Brinjal'. Paired with deep blue velvet curtains it oozes luxury.
when you love a bit of drama in the bedroom, similar to Brinjal, you can also opt for 'Dark Purple' by Benjamin Moore. It's a deep, blackened plum that brings with it an air of mystery and glamour. You can pick 'Dark Walnut' by Benjamin Moore for a slightly softer tone.
Portola Paints and Glazes: Black Magic
Black Magic by Portola Paints is not, as the name suggests, black. Instead, it combines black and red, which turns into a stunning warm purple shade.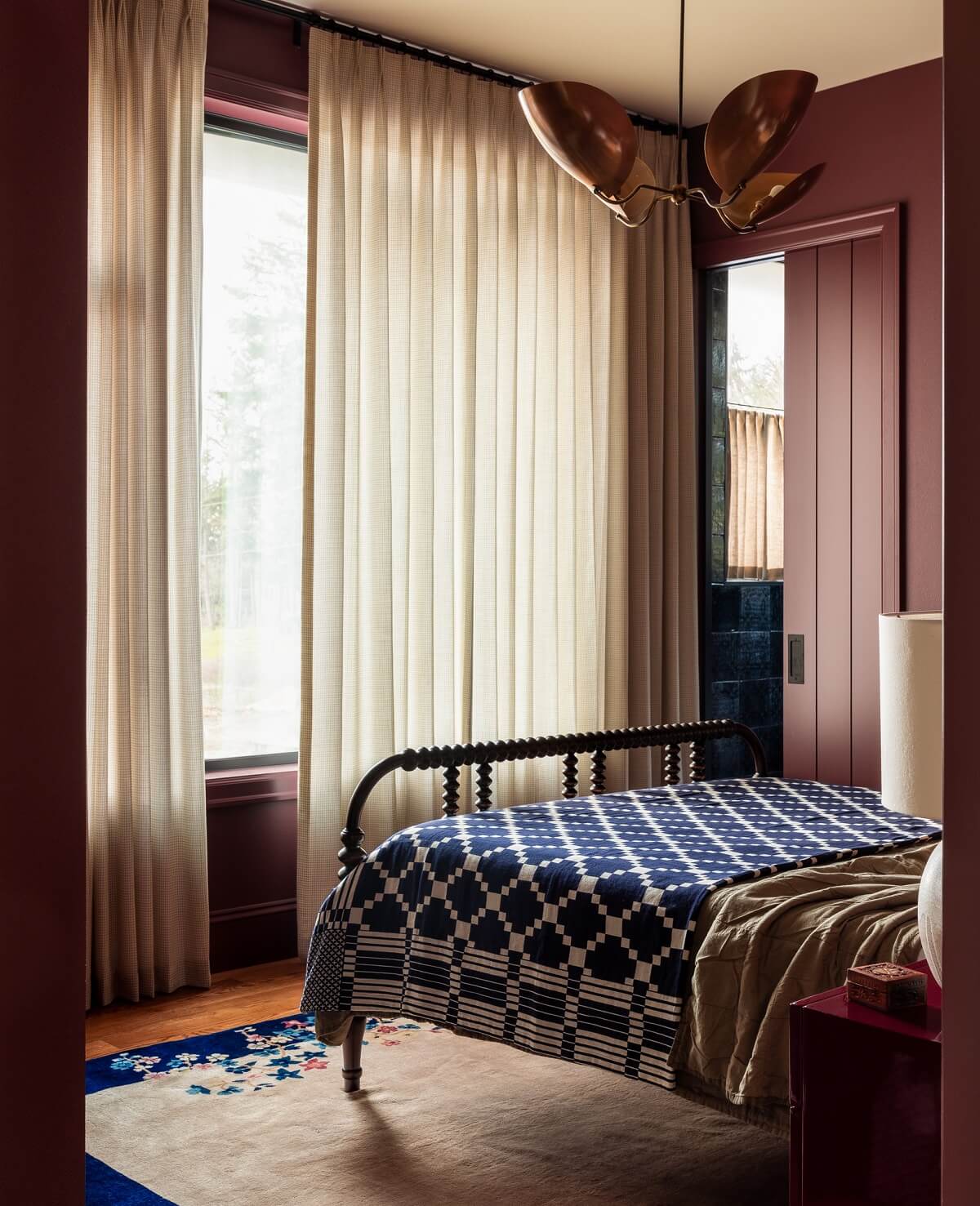 Interior designer Heidi Caillier is known for creating cozy rooms with her use of colors, textures, and patterns. This bedroom in a Fox Island home has Black Magic on the walls, which is combined with blue shades.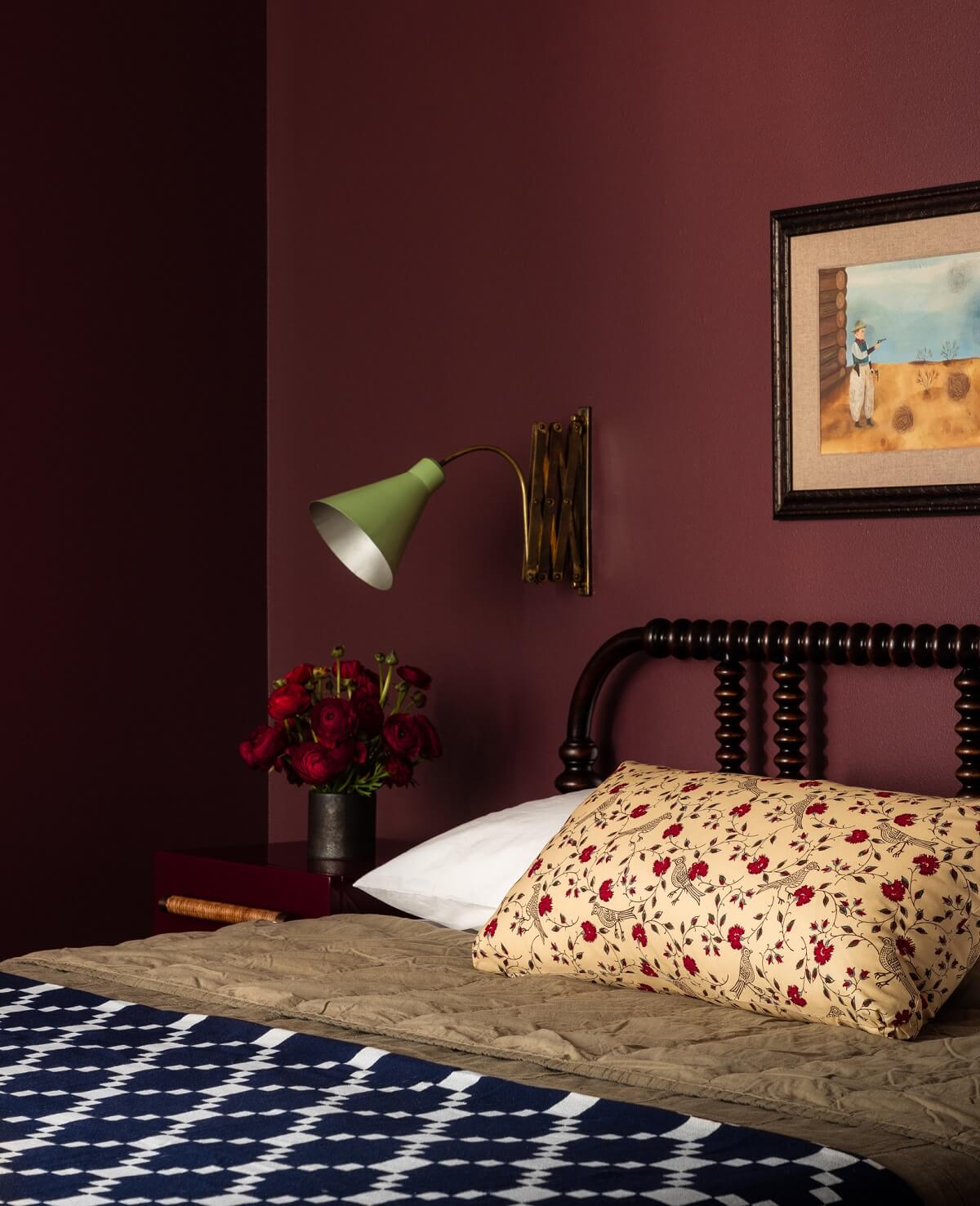 The bed frame is the Webster Bed by Serena & Lily that is combined with a colorful mixture of textiles.
Benjamin Moore: Black Raspberry
'Black Raspberry' is a warm purple shade with brown undertones that infuses this dark purple with an earthy richness.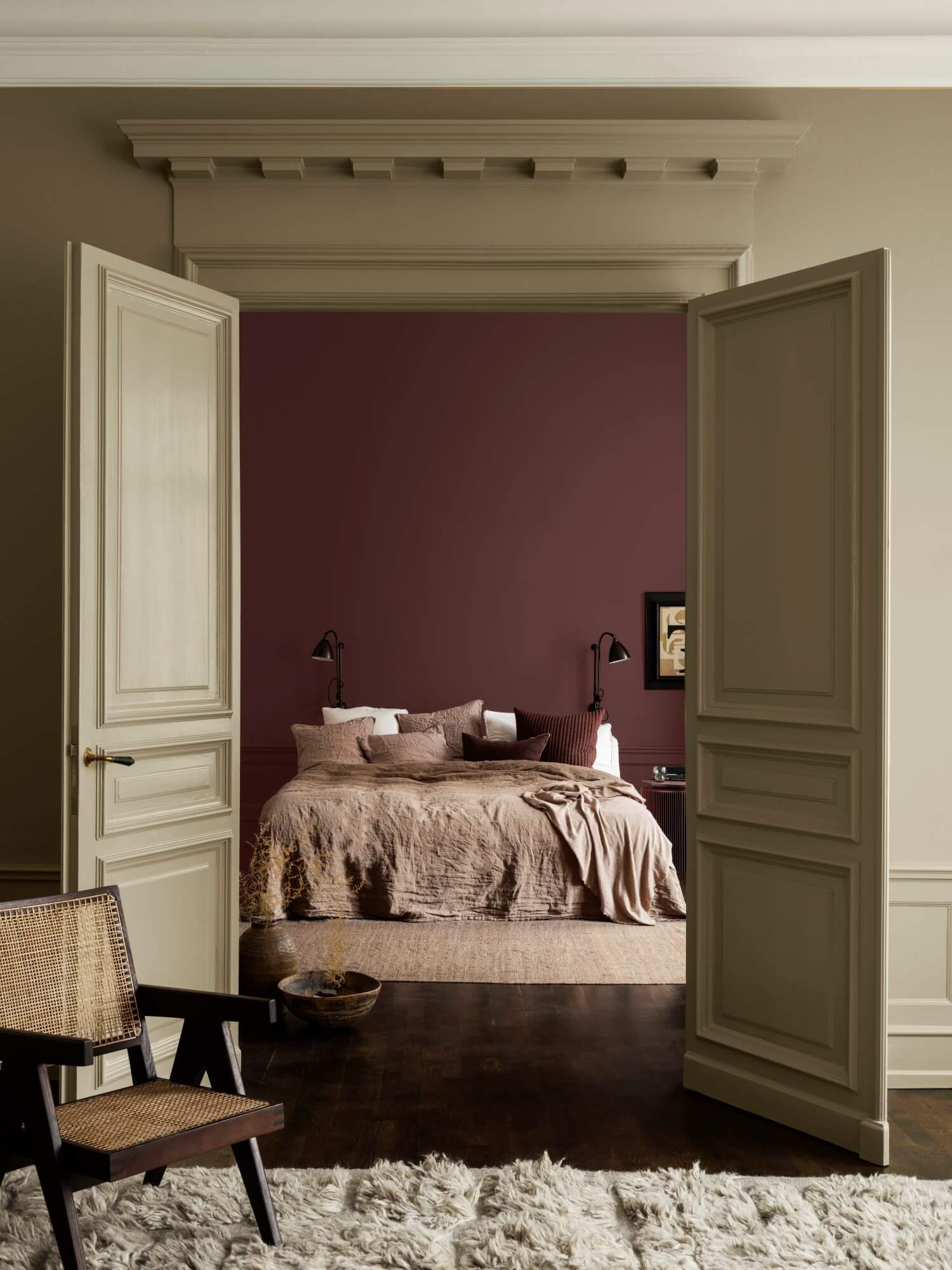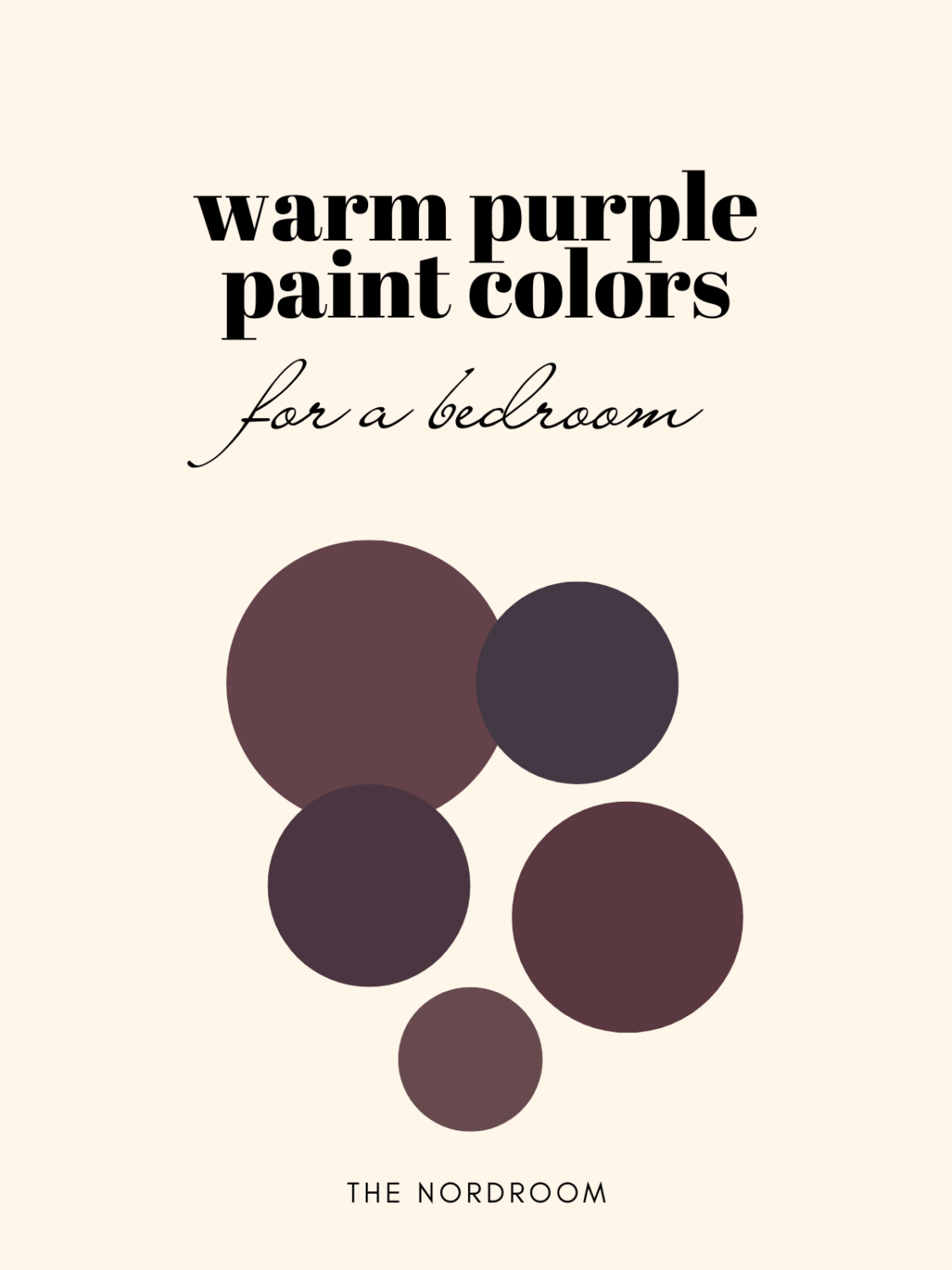 Brown Paint Colors
Brown is a classic and earthy color tone that will add a warm and relaxing atmosphere to a bedroom. Brown shades range from deep chocolate tones to lighter shades like taupe. Brown tones are perfect for those who want to add a neutral and natural warm color to the bedroom that adds a calming effect to the room.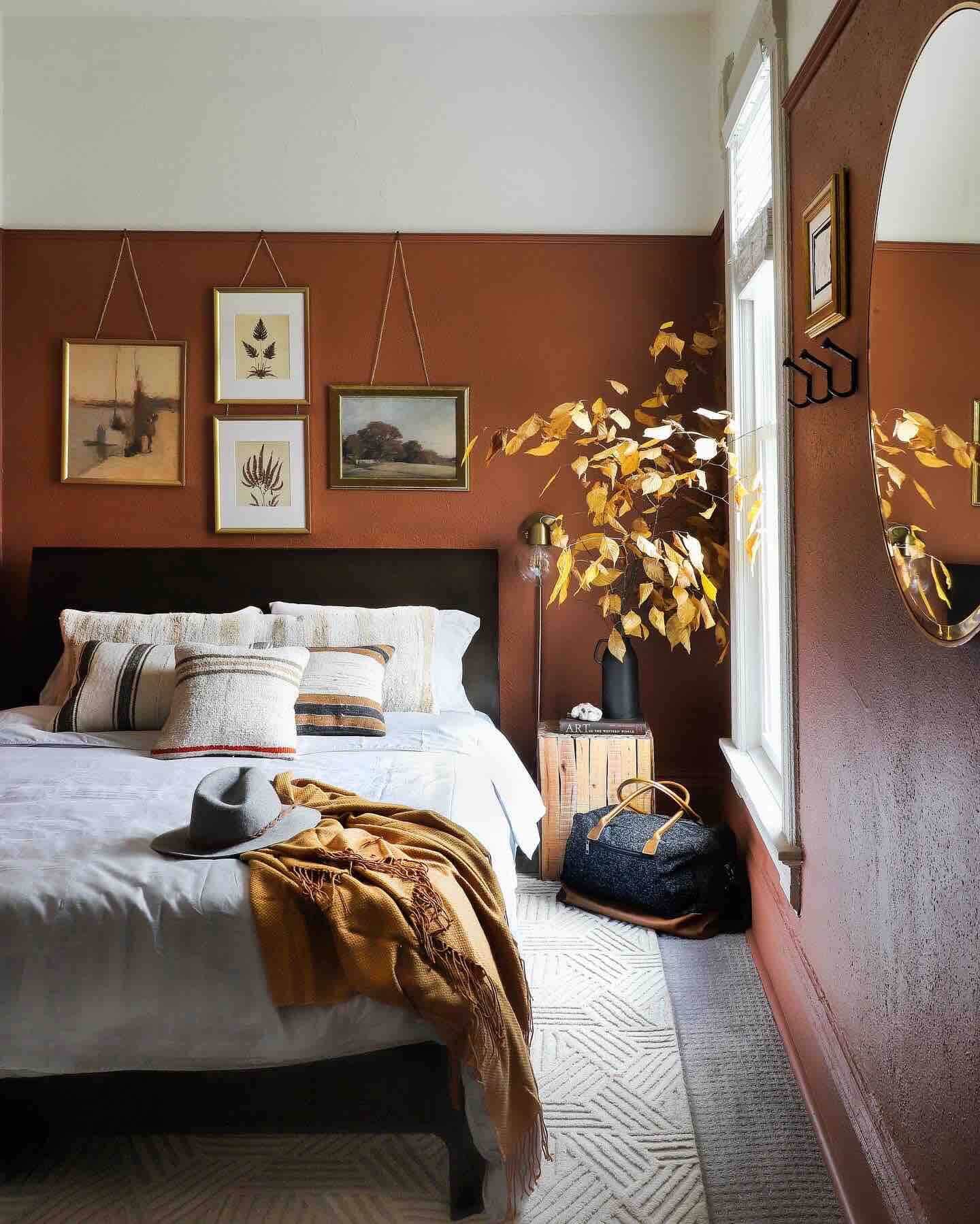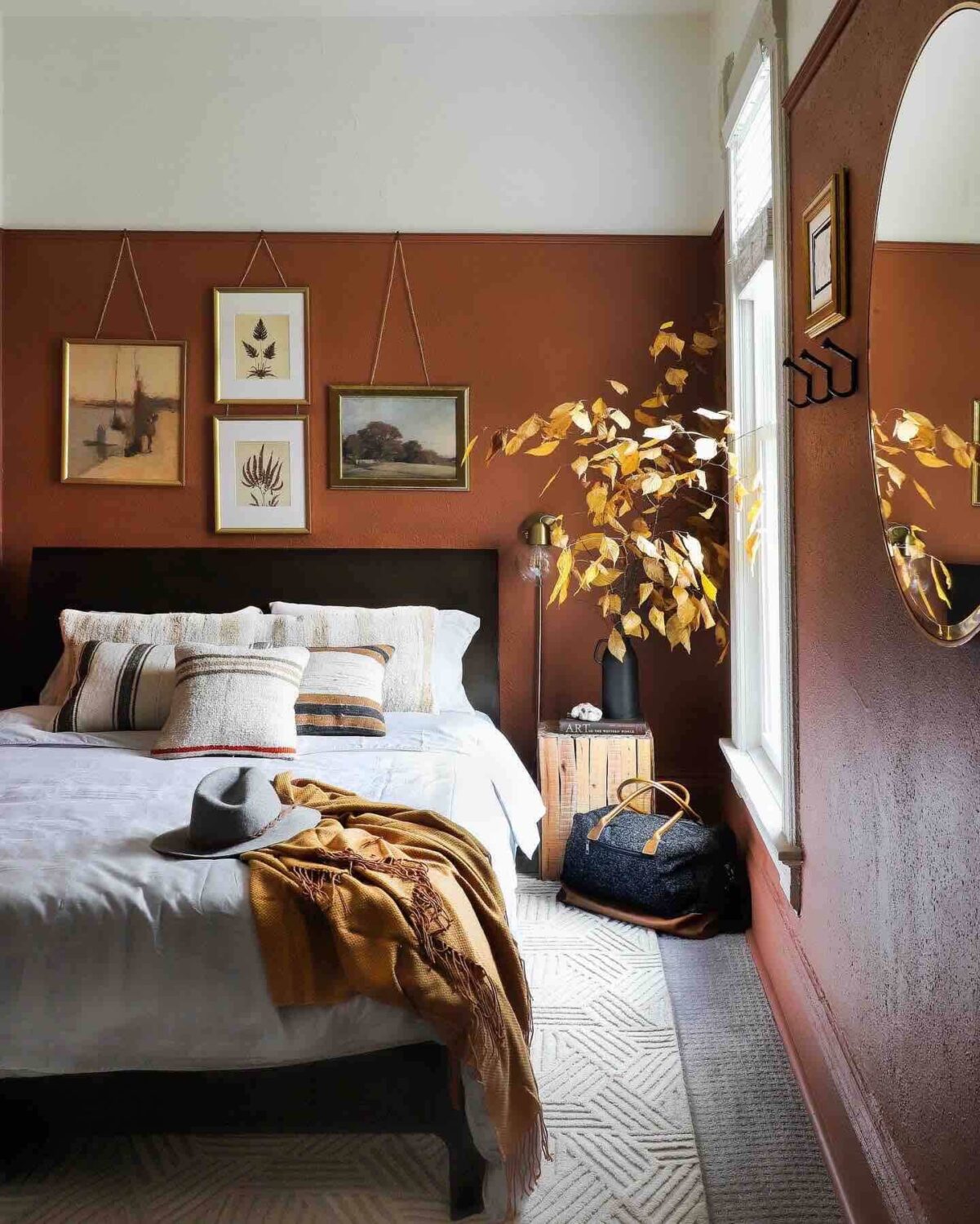 Farrow & Ball: London Clay
London Clay by Farrow and Ball is a warm, charming brown loaded with magenta pigment for a rich, earthy hue that creates the most charismatic and elegant rooms. So named because it is a deeper accent to London Stone.
Chris and Julia (from Chris Loves Julia) used London Clay for the color of their bedroom, and you can see what a warm look it gives this room. They also added beadboard on the ceiling and box trim on the walls, adding another dimension and making it look very classic.
Sherwin-Williams: Nearly Brown
Nearly Brown is a light brown shade with a tiny hint of orange.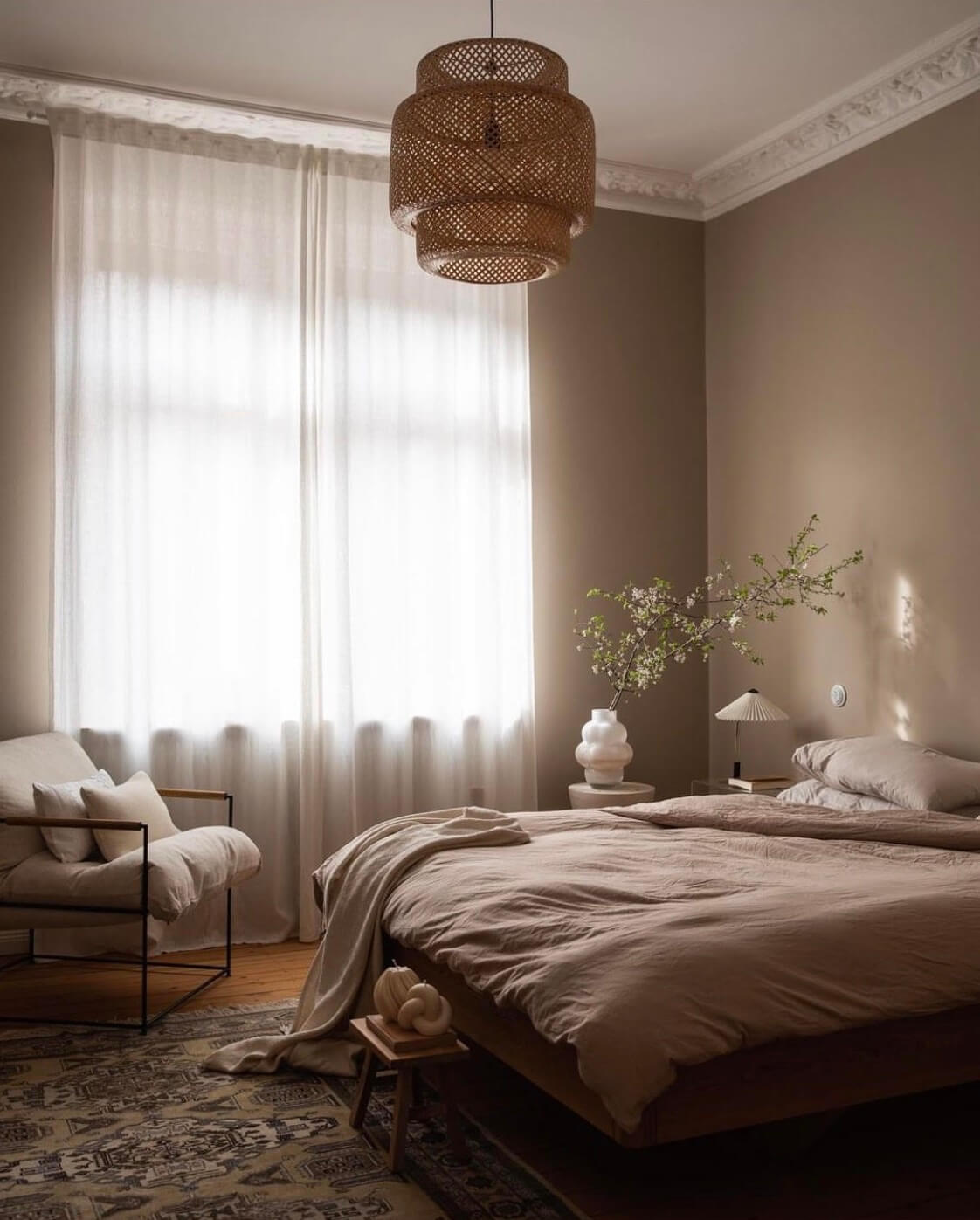 Danilo and Paolo painted their bedroom in a light brown shade that was custom-made for them by their painter. It's a beautiful light brown color that adds warmth and comfort to the room.
You can create a similar look with 'Weimaraner' from Benjamin Moore or 'Nearly Brown' from Sherwin-Williams.
Benjamin Moore: Hearthstone Brown
'Hearthstone Brown' is a go-to dark brown for setting a comfortable, welcoming ambiance.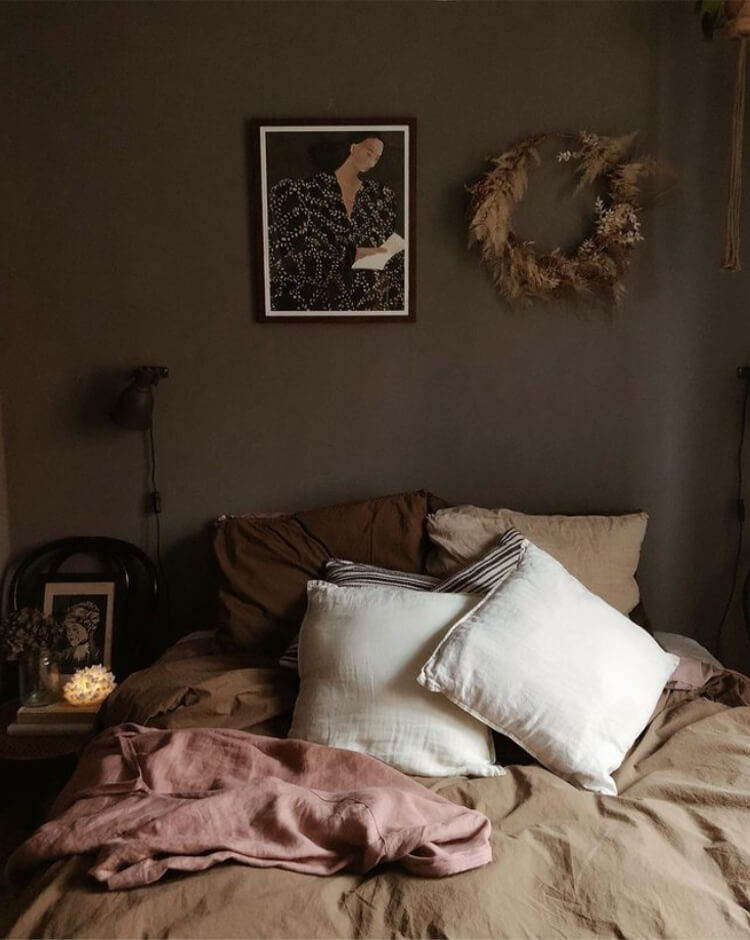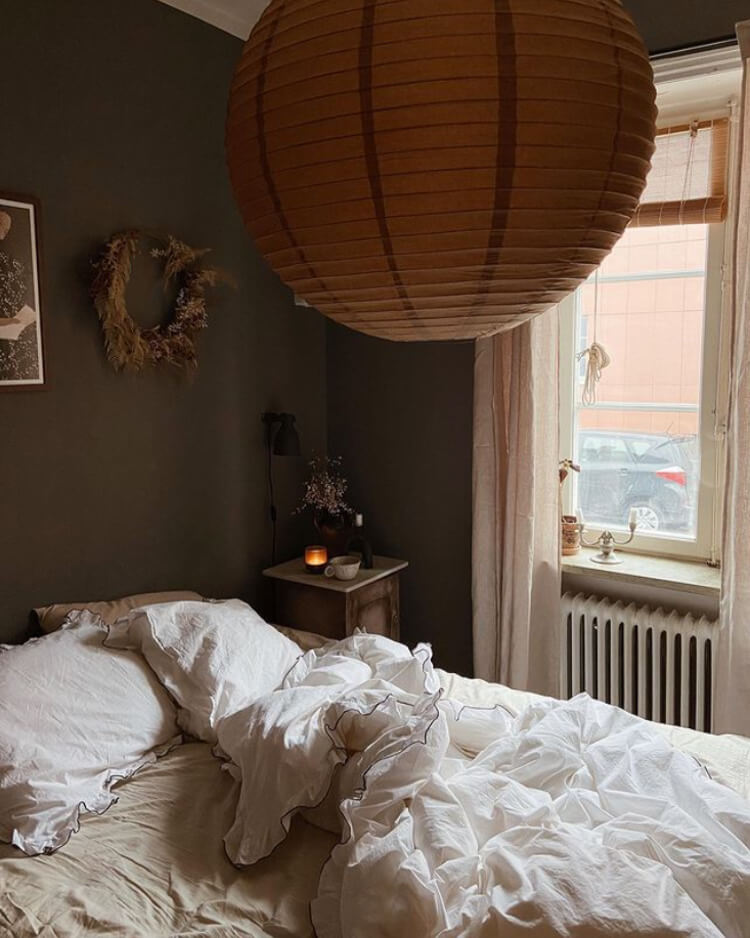 This bedroom is not painted in a color by one of the large international paint brands, it's painted in 'Granite Stone' from Byggfabriken, but it does show what a warm earthy look you can create by using brown paint (like 'Hearthstone Brown') and earthy-colored textiles.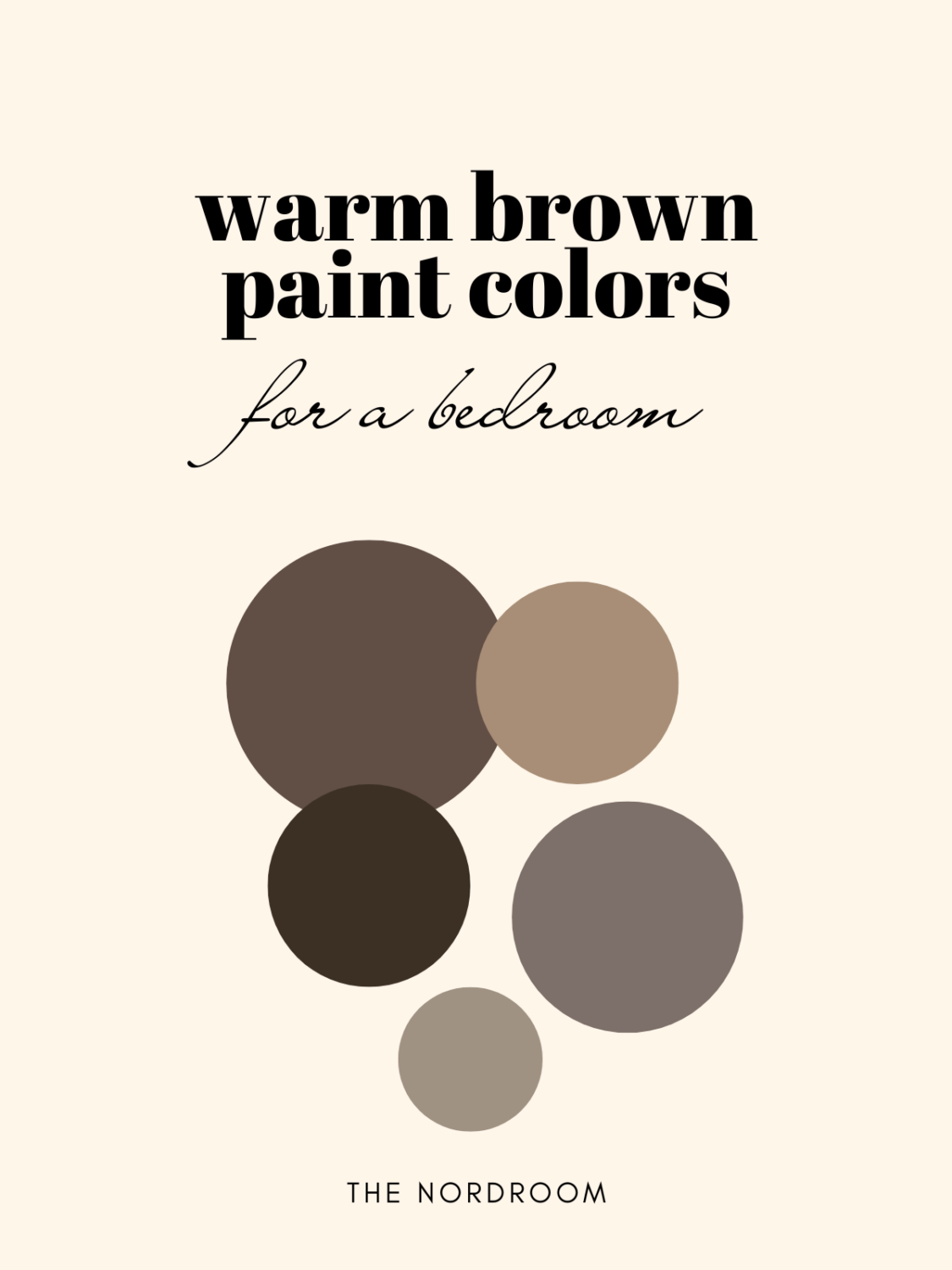 Neutral Paint Colors
White, beige, and gray shades can be used as light warm colors as long as they have a warm undertone, like yellow, brown, or pink. These warm neutrals are perfect for natural dark rooms or if you prefer to keep a light color scheme in the bedroom.
Farrow & Ball: Light Gray
This traditional grey green was originally used as a color name in the 9th century – an ancient name for an ageless color. The subtle green base of Farrow and Ball's Light Gray brings an unsurpassed depth of color when used on walls. So even though the undertone is a cool color, it still feels very warm when you use it on a wall.
Steph (@stephgowla) used Light Gray in combination with Shadow White for her bedroom. It creates a beautiful warm, natural, and earthy bedroom design.
Sherwin-Williams: Accessible Beige
Unlike many beiges, Accessible Beige has undertones of gray that can give your space a warm, snug feel.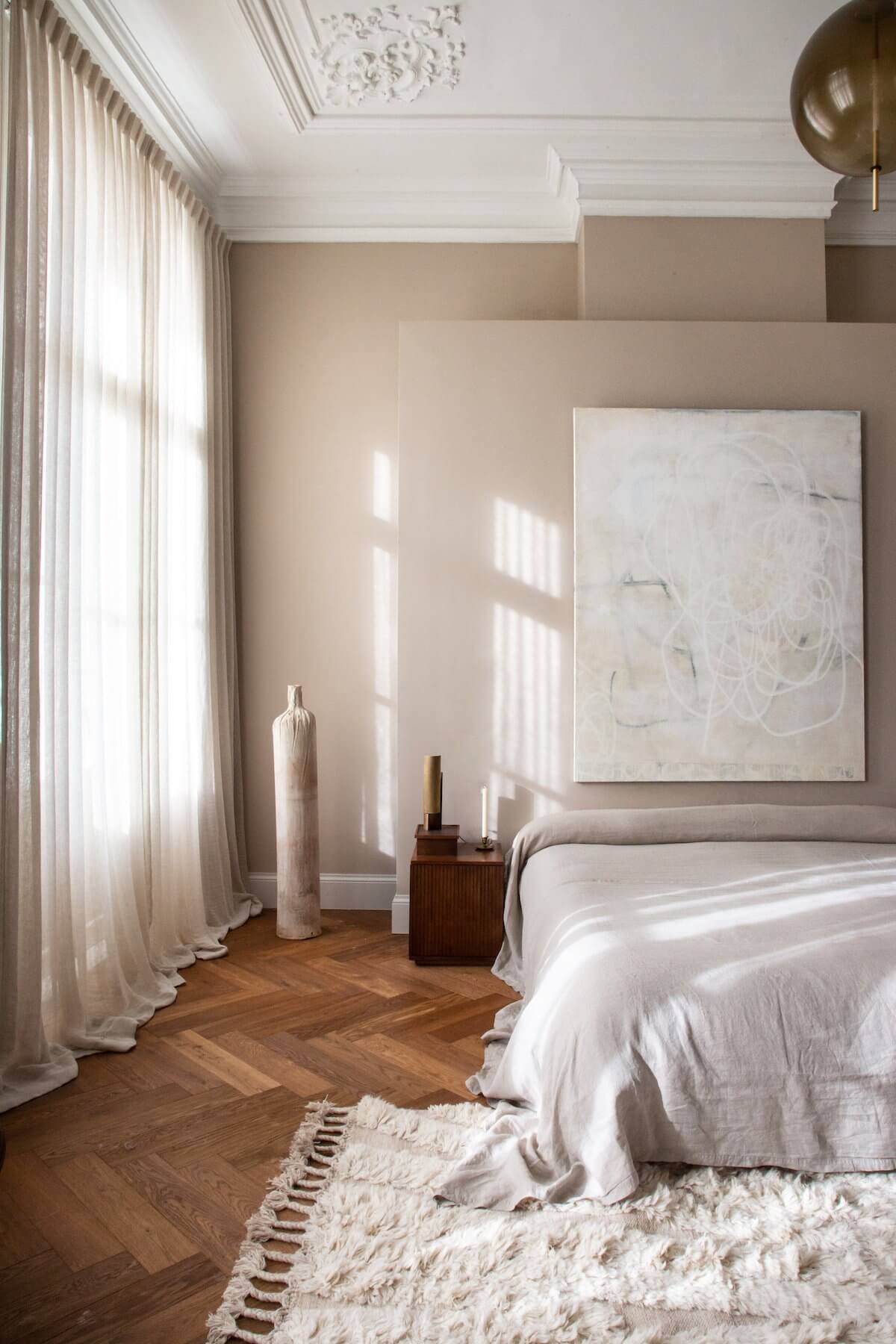 The design team from Avenue Design Studio created this simple stunning beige bedroom in an elegant townhouse. The soft beige walls are paired with light gray and white decor and a warm wooden herringbone floor.
Sherwin-Williams: Repose Gray
Tranquil tones and soothing warmth make this light gray, Repose Gray, a great choice in almost any space, including the bedroom.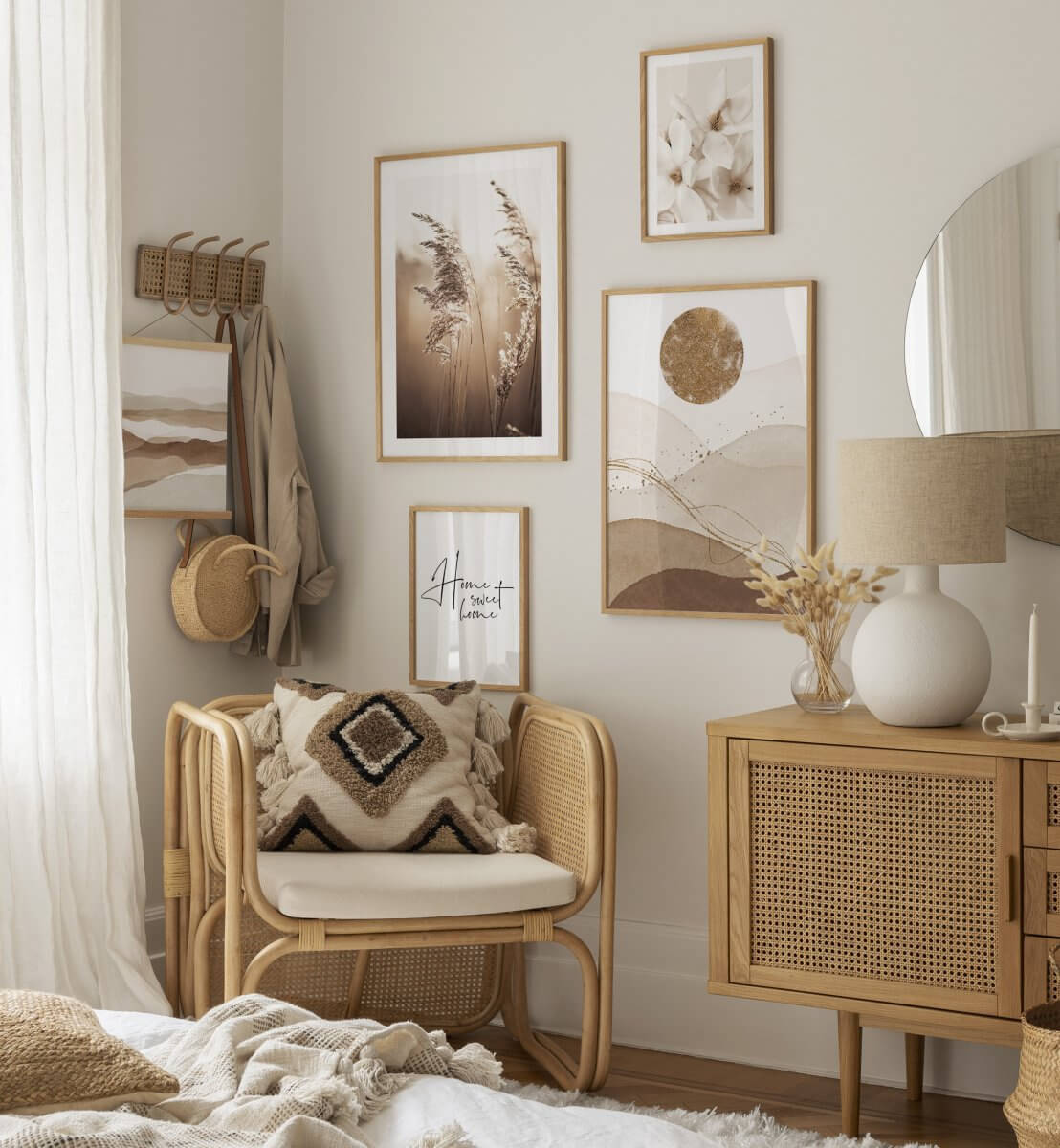 Sherwin-Williams: Dover White
Dover White is a warm, sun-splashed white. This hue makes any room breezy and welcoming.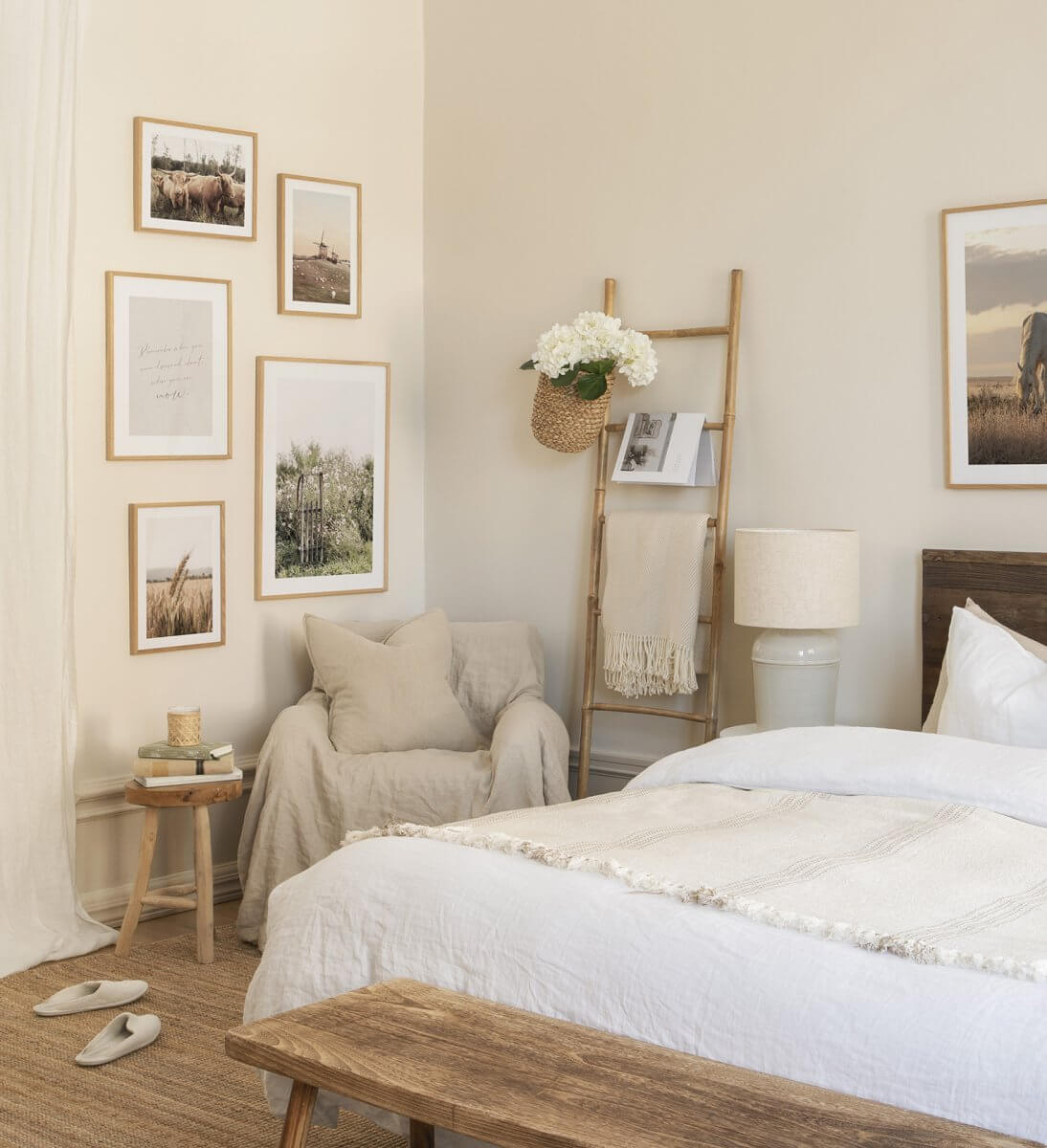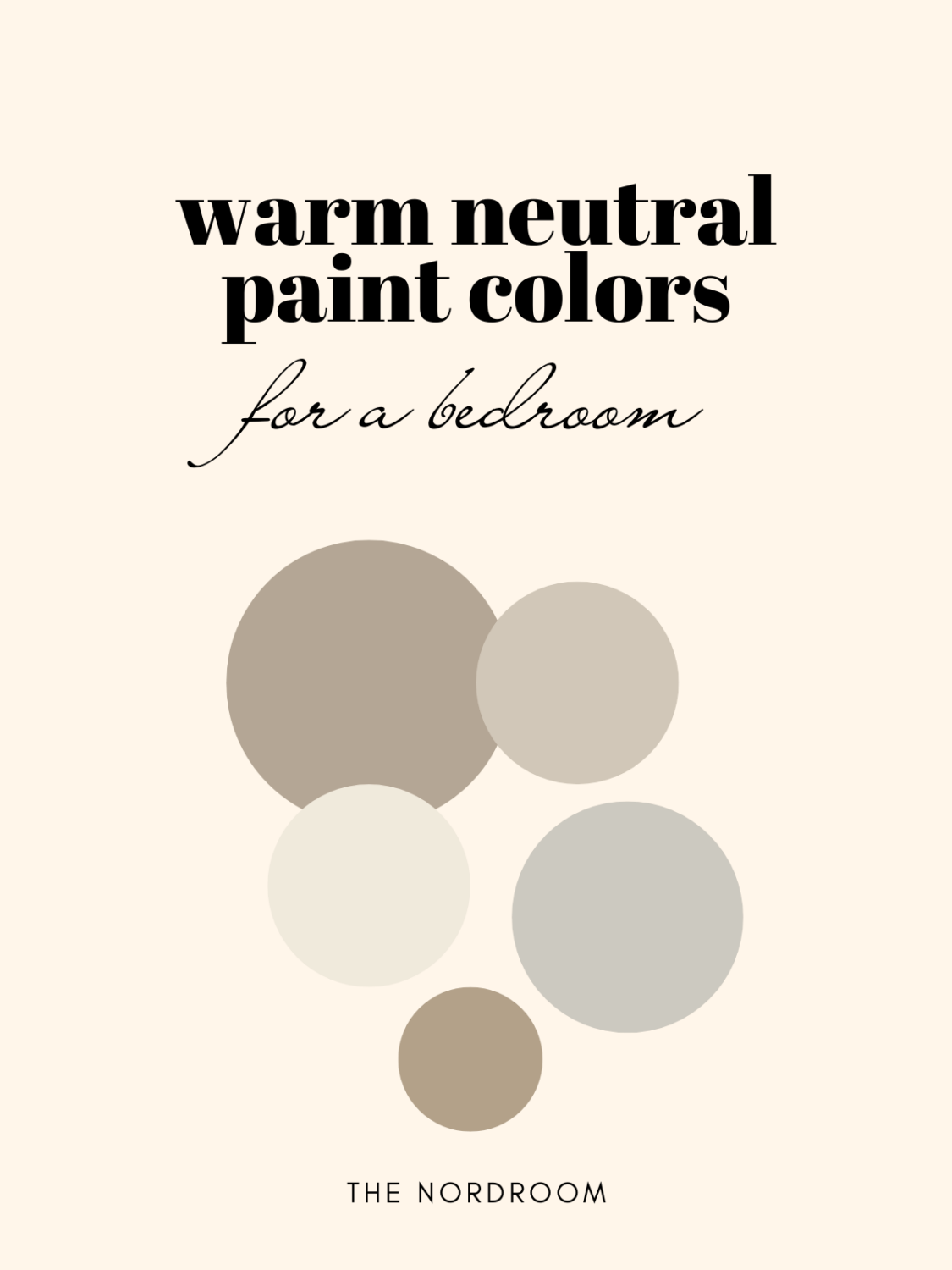 How To Make a Bedroom Feel Warmer
Choosing the right warm paint colors is the first step in creating a warm bedroom look. In addition to painting your walls, you can also create a warm bedroom by layering textiles, art, and accessories. Mix and match colors, textures, and patterns to create an inviting, warm space.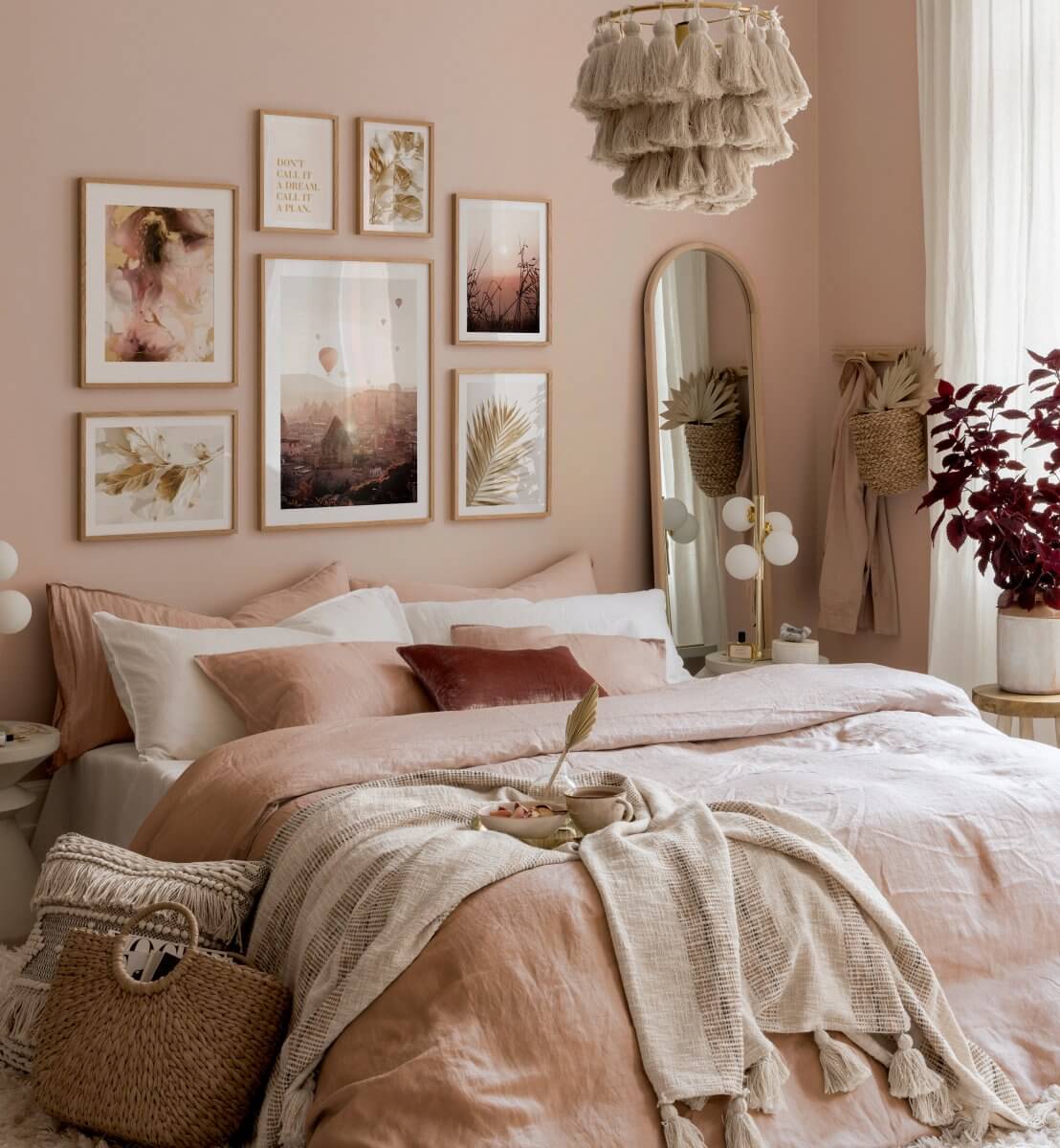 Choosing the right paint color for your bedroom can have a huge impact on the atmosphere and design of your room. The right paint color will benefit your sleeping habits and well-being. These warm paint colors will help you create the bedroom of your dreams.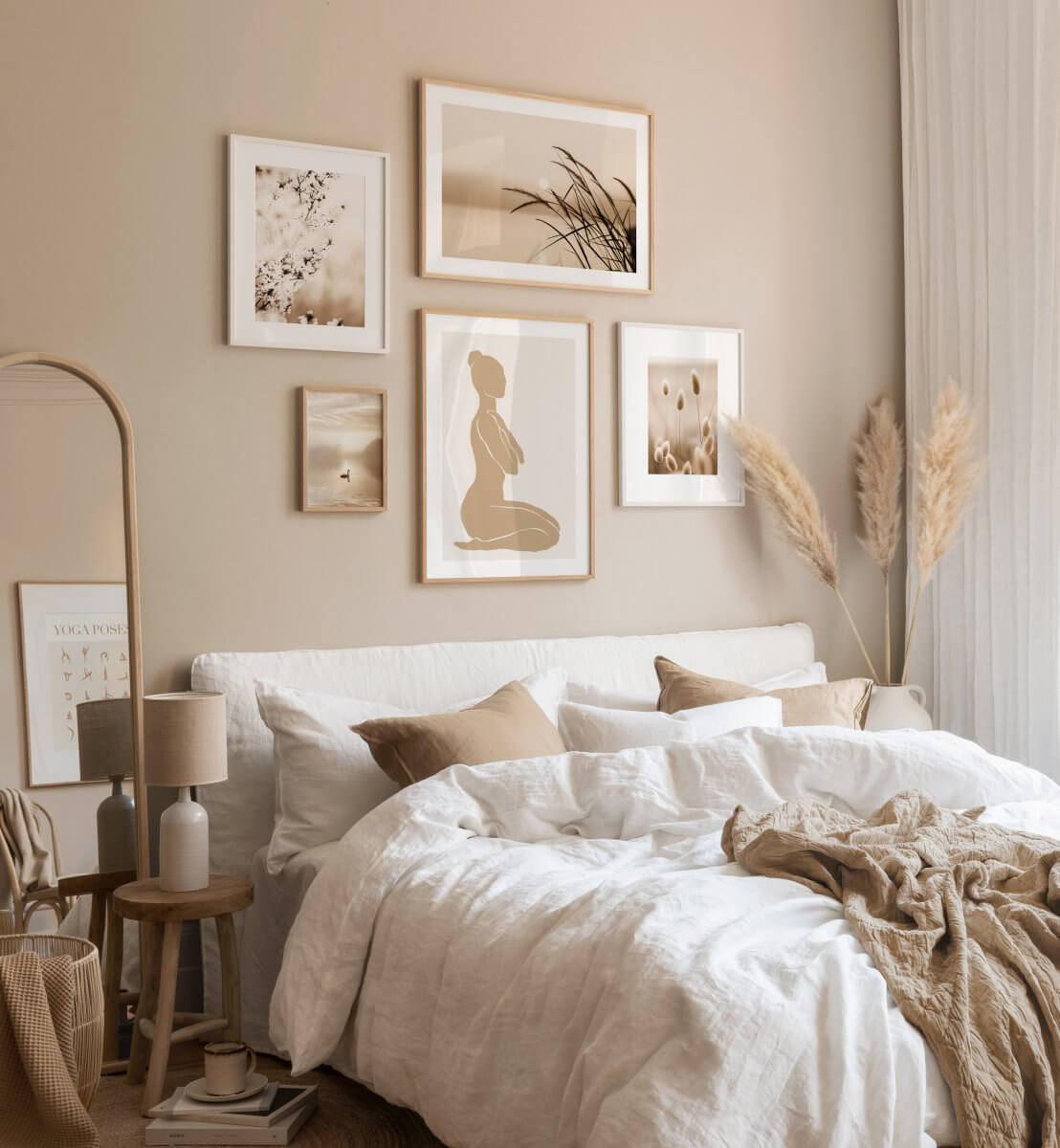 What Are the Warmest Colors for A Bedroom?
The warmest colors for a bedroom are red and orange shades, with red being the warmest color for a bedroom. Red is a passionate and dramatic color that will make your bedroom feel rich and warm, especially when you pair it with other warm colors like orange and yellow.   
Are Warm Colors Suitable for a Small Bedroom?
Yes, warm colors are also suitable for a small space. If painting the entire room feels too overwhelming, you can opt for a warm accent color on the bedroom walls or choose warm neutral colors and pastels for a small bedroom. But by painting the entire room in a deep warm shade, you can create a cozy and cocooning effect which is also very beautiful.     
What are Complementary Colors for a Warm Bedroom?
You can pair warm bedroom colors with cool shades like blues and greens. But you can also pair it with neutrals like gray and white if you want to balance it out. But don't be afraid to pair warm colors with other warm colors to create a layered and cozy effect in the bedroom.  
What Colors Are Soft and Warm?
To create a soft and warm bedroom, you can choose lighter shades of warm colors like pink and pale yellow. These colors add a subtle warm tone to a room.