A Charming Attic Apartment with High Ceilings
On the attic floor in one of the most charming historic houses in stockholm lies this lovely apartment. Despite the top floor location, the apartment has high ceilings so even though they're slanted it still feels spacious.
Especially this kitchen, with a ceiling height of 4.35 meters and exposed wooden beams is a charming space. But the entire home is lovely with its sloping ceilings, skylights, corners, and nooks and crannies.
The apartment is a duplex with the kitchen, living room and bathroom on the first floor and three bedrooms on the floor above. The entire home is decorated in light colors, but the unique layout, cozy nooks, wooden floors, and exposed beams create a cozy home.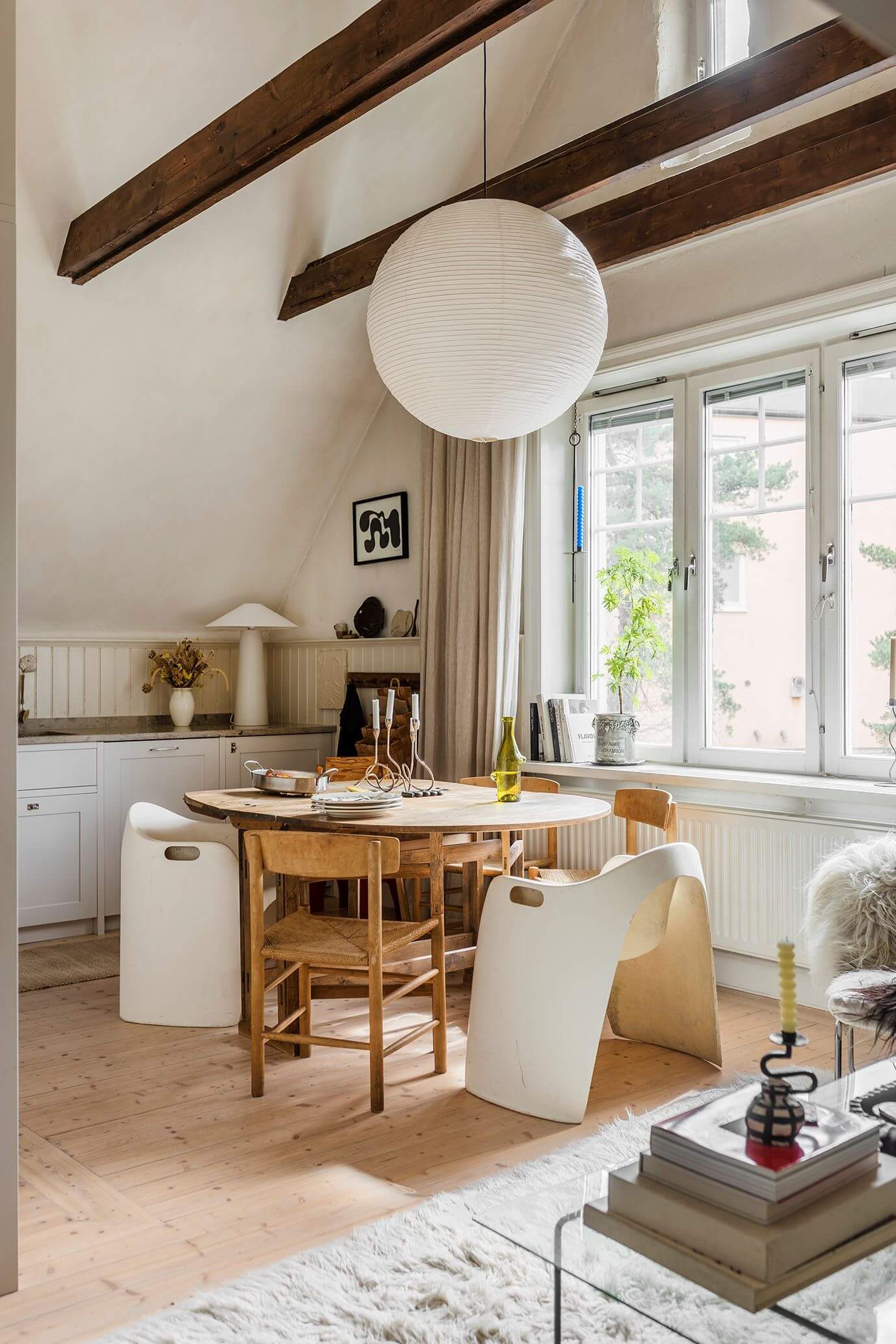 The entire home is renovated by its current owners taking much care of the choice of materials and colors to preserve the character of the house. The walls are painted throughout with lime paint from Hammarlunda and the wooden floors on the lower floor are original.
The kitchen frames have made-to-order doors, called Muskö in a light gray beige shade, from local Flintgard in Midsommarkransen. The worktops are made of Jura limestone and the surrounding walls are covered with pearlboard painted with linseed oil paint from Kulturhantverkarna.
The room has a social layout with the living space not far from the kitchen.
The apartment has loads of built in cabinets and shelves to provide storage.
The lower floor has a second sitting room/tv room decorated with cozy fabrics in neutral tones.
On the top floor are three bedrooms. The large main space is now a combined living/play room with beds behind the steel framed glass doors.
The master bedroom has a pitched roof with wooden beams and the space under the slanted ceiling is smartly used with built in wardrobes.
styling by Lind and photography by Östling for Historiska Hem