A Colorful Airbnb Home in the Morongo Valley
Bold, colorful, warm, and inviting. These are just a few words describing Oeste Home, a fabulous Airbnb home in California. Nestled on five private acres among wildflowers, boulders, and wildlife, Oeste Home is the desert escape you've been dreaming of.
The three-bedroom Airbnb home in the Morongo Valley is designed by Claire Thomas and Yayo Ahumada and comes with a chef's kitchen, a games room, and an outdoor pool.
The home features some wonderful bold, colorful rooms where they didn't just paint the walls, but the ceilings also get a colorful treatment with either wallpaper or paint. The love for color extends to the outdoors. But the pink exterior, colorful tilework, and yellow front door really blends in well with the desert surroundings.
Welcome to Oeste Home. Here in de midst of the desert, you'll find a colorful but peaceful family retreat.
Let's start the home tour with a bold, colorful room. The den is painted in a deep red shade called "Arabian Red" by Dunn-Edwards. For a warm layered look, they paired this red tone with more earthy red shades in the furniture and decor as well as ochre yellow tones.
Moving on to the grand kitchen, dining, and living space. The color scheme for this room is inspired by the large copper lamp above the dining table. Warm color accents continue in the furniture, the feature wall painted in "Warm Hearth" by Dunn-Edwards, and the exposed wooden beams.
The open-plan living space features a terrazzo built-in sofa with a planter, a vintage 1970s fireplace, and a custom cobblestone coffee table.
The kitchen is designed in a classic finca style with concrete worktops and reclaimed wood.
The conservatory is the perfect place to sit back and relax with a cup of tea and a good book. The walls are painted in a very subtle green shade, and all the plants add a lively natural touch.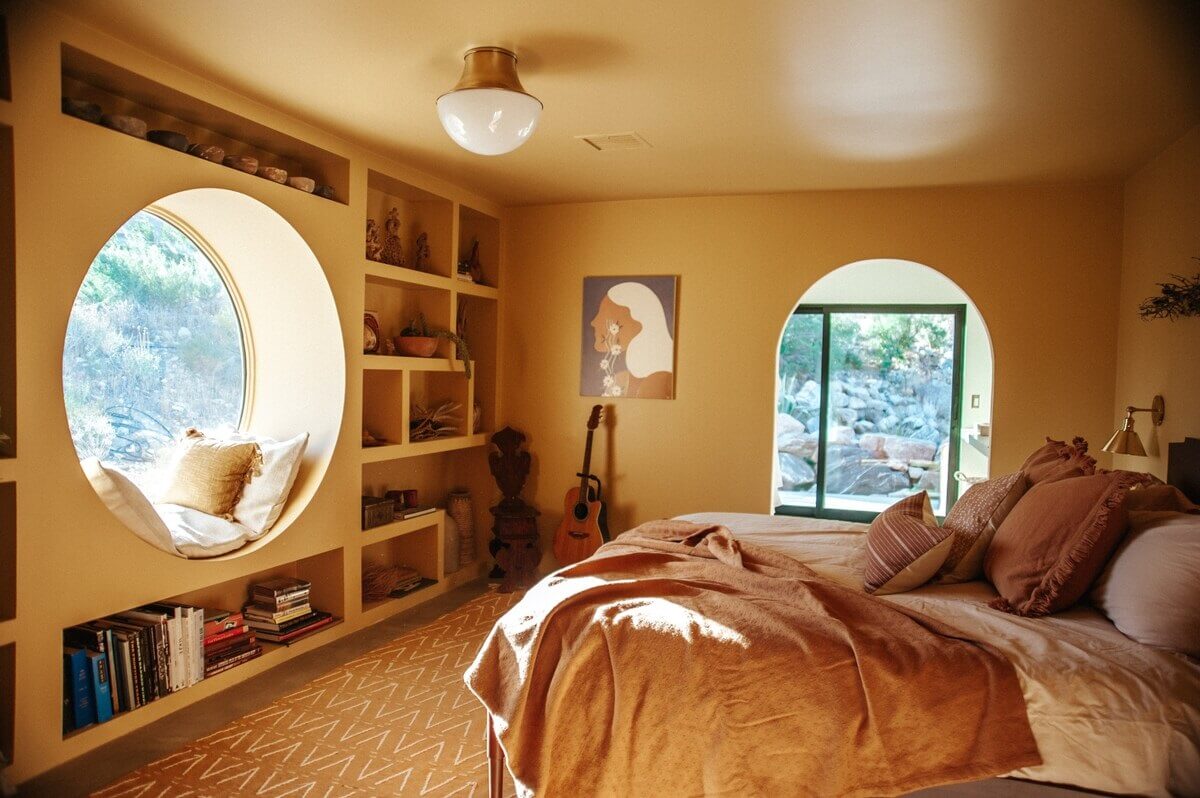 The master bedroom is inspired by the sunset. The walls and ceiling are painted in "Deserted Path" by Dunn Edwards.
The focal point in this room is the big round window which is flanked by custom-made bookshelves. The window is turned into a window seat to make the most of the room's wonderful view.
The master ensuite has its own private patio with an outdoor copper bath.
The pink bedroom is inspired by Luis Barragan. It has pink St. Frank wallpaper on the ceiling and Guatemalan curtains and blankets.
The second bathroom has a gold Signature Hardware Tub with Moroccan-inspired concrete tile.
From the stock tank pool you have an amazing view of the home's surroundings.
The home has a Marrakesh-inspired outdoor dining area under a saguaro pergola.
You can rent Oeste Home on airbnb.