The Color Trends For 2021: Warm Comforting Hues And Bright Color Pops
What are the color trends for 2021? That's what you will know after reading this blog post. I'll show you the colors of the year from several paint brands and color forecasts.
Many paint companies are releasing their trending home decor colors for 2021 and in this post I will share with you the paint color trends for 2021 from the major paint brands. With most brands you can see the impact the Corona virus has on the color trends for next year.
The overall theme of all these color trends are creating a home were we can relax, recharge and feel comfortable.
No matter what will happen pandemic wise in 2021, it's always nice to look ahead and see what new interior trends are up and coming. Especially since we are still spending more time at home, so we might as well make out home look beautiful.
We see a lot of warm serene color hues from soft pastel tones to serene blues and greys to create a calm base from where we can further decorate our home. Bút there is also a trend for more brigher color hues to add more color and cheerfulness to our lives. So it's a nice combination of calm hues with a nice bright color pop.
THE COLOR TRENDS FOR 2022 ARE HERE! CLICK HERE TO FIND OUT MORE ABOUT THE TRENDING PAINT COLORS FOR 2022
Ps: Are you interested in colorful homes? The Nordroom has those as well! Just click here for briliant color inspiration in beautiful homes around the world.
See also: These Paint Colors Increase The Value of Your House
Pantone color of the year: Ultimate Grey & Illuminating
For 2021 Pantone hasn't chosen one but two colors of the year. Pantone chose the neutral Ultimate Grey together with a lovely yellow called Illuminating. A marriage of color conveying a message of strength and hopefulness that is both enduring and uplifting.
Practical and rock solid but at the same time warming and optimistic, the union of PANTONE Ultimate Gray & PANTONE Illuminating is one of strength and positivity. It is a story of color that encapsulates deeper feelings of thoughtfulness with the promise of something sunny and friendly.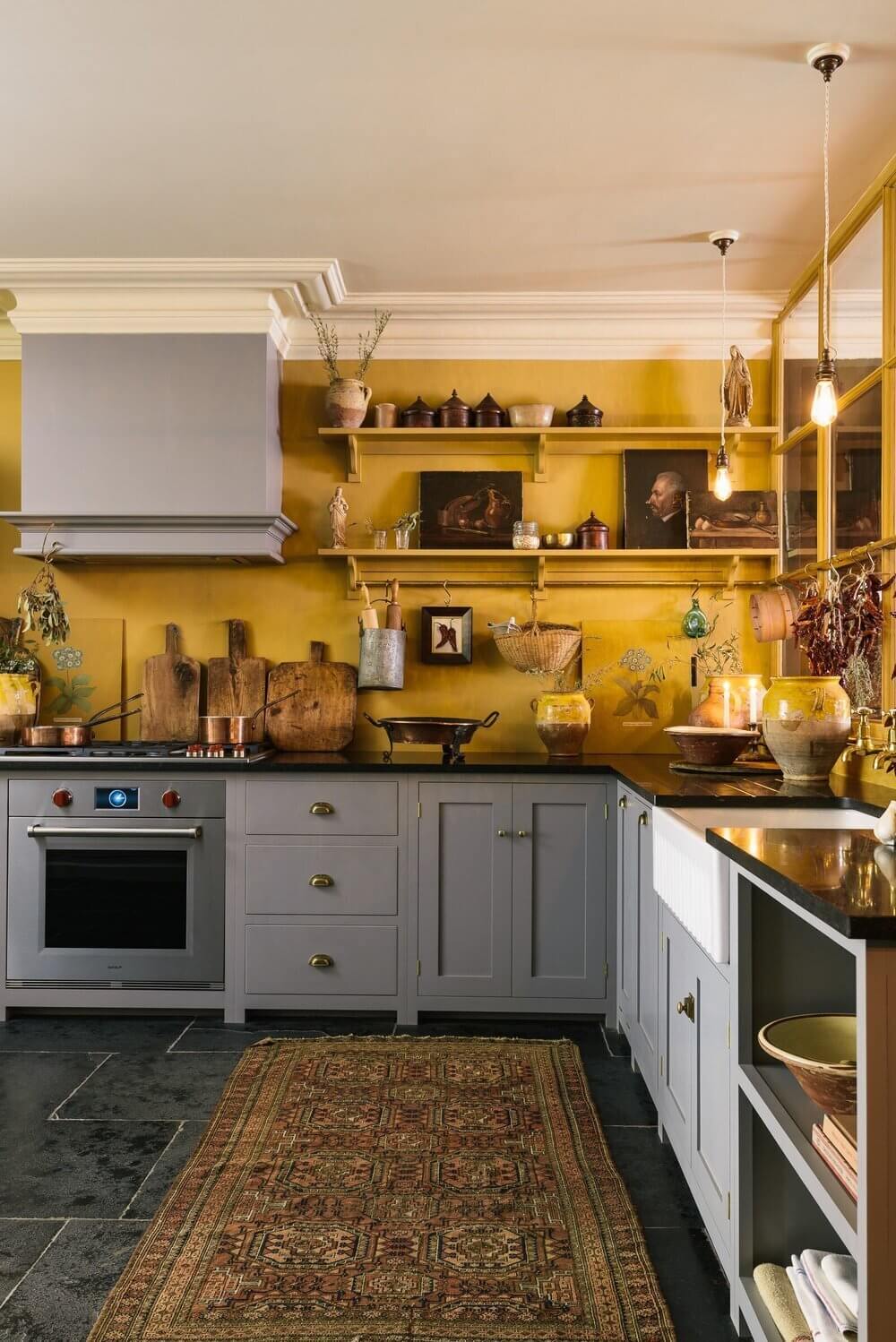 photo: deVOL
Farrow & Ball
Farrow & Ball haven't chosen a color of the year but they did release a new color palette called The Nordic Edit. You might think that Scandinavian colors mainly consists of grey tones but this is certainly not the case. The Nordic Edit is inspired by the Nordic countries' open landscape and city architeture. You can find more information in my blogpost about Farrow & Ball's The Nordic Edit.
Dulux color of the year: Brave Ground
Dulux colour experts have chosen Brave Ground, a bolstering shade that connects back to nature and the simple things. A warm, earthy tone, it creates a feeling of stability, growth and potential; and provides a firm foundation for change and creativity in your home.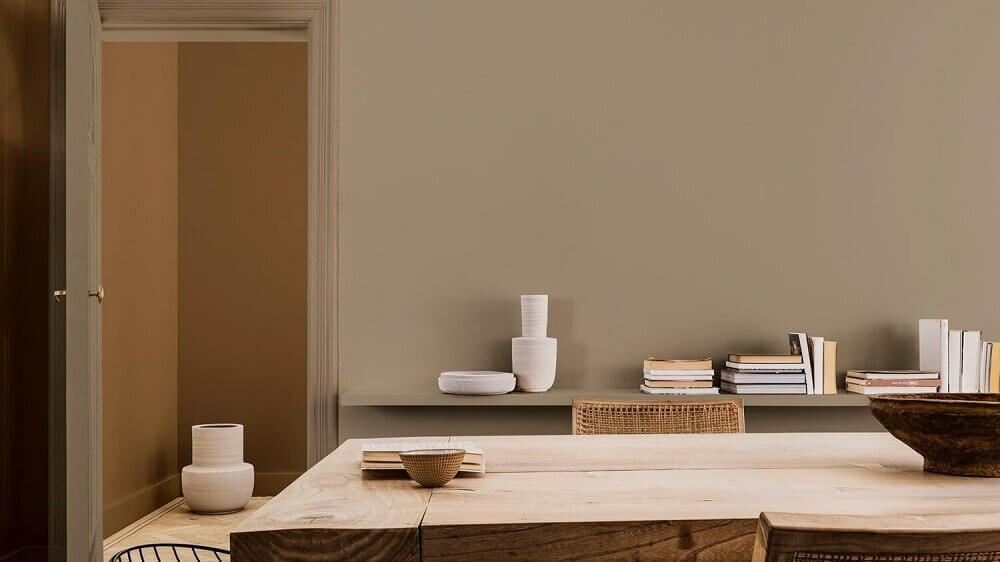 Brave Ground is a color that can easily be combined with other hues and Dulux has gies us 4 color palettes that compliment this color and can transform a room.
expressive colors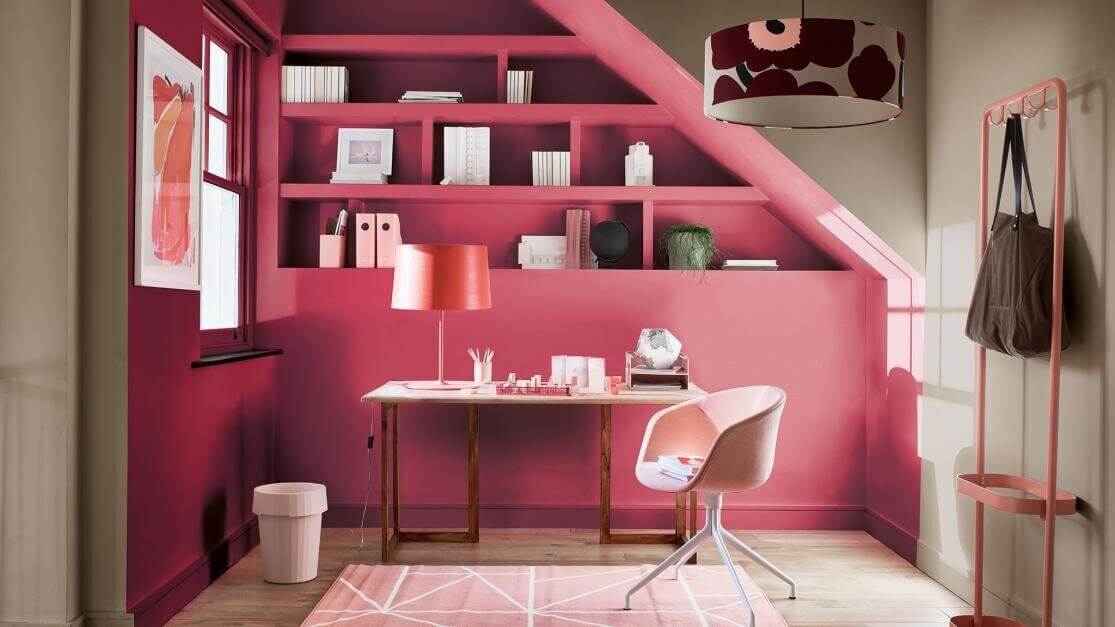 trust colors
Timeless colors
Earth colors
Dulux Color Trends 2021 Forecast
The Dulux Color Forecast 2021 has three nurturing palettes that evoke familiarity and comfort called Retreat, Nourish and Reset. From homely aesthetic to rejuvenating hues, these trends look to create a sense of renewal whilst holding onto nostalgic elements in your home.
Reset
With uplifting colours and a bold sense of renewal we welcome the new normal with open arms. It's time to renew ourselves, by embracing unified colours and retro influences. Life may feel a little slower, but each moment is enriched by building new connections with those around us.
Stay upbeat with the stronger colours in the Reset palette. Bolder tones lift interiors to brighten your outlook. Vibrant pops of fun retro colour hint at 70s nostalgia.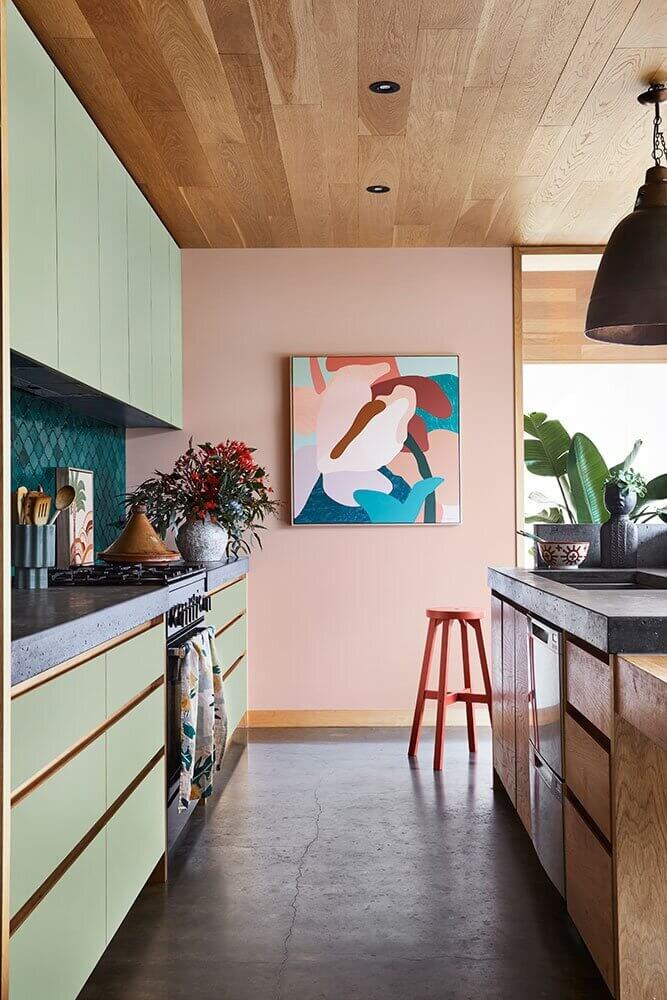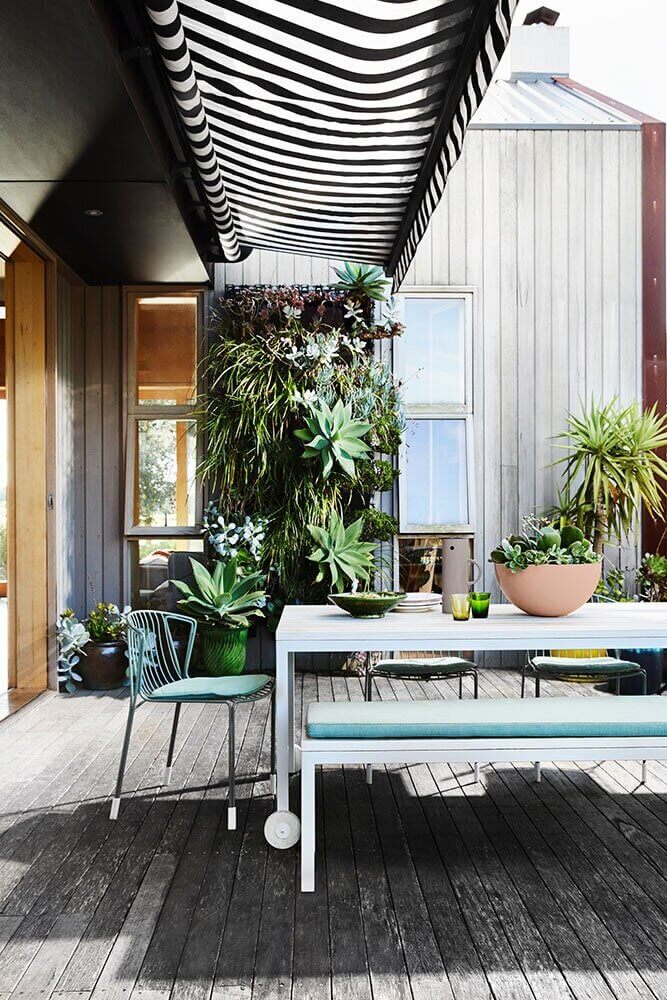 Nourish
Nourish encourages us to unplug and be present in the moment. Indulge in a nurturing palette that revitalises your home and nourishes the soul.
A renewed palette of warm neutrals inspires fresh interest by adding accents of yellow and green. Nourish draws on nature to hero tactility and the need for comfort. It looks to rounded forms and soft objects to blend the identity between decor and furniture. With a renewed appreciation for natural beauty – complement your home with simple, textural and nurturing hues and admire your tranquil surrounds.
Retreat
With a homely aesthetic, Retreat draws on a nostalgic mix of comfort and security. From sleeping to eating, and working to working out – most homes are becoming the interior hub for many busy, action-packed days. What was once a place for rest and relaxation now embodies a living environment of family, work and play.
Earth-based hues create a harmonious setting to help with inspiration and creativity. As our home and work lives continue to blur, we should upgrade our spaces accordingly to become a hybrid of functionality. This offers the ultimate palette for flexible living. Draw on nostalgia, comfort and security. And make way for textures that are naturally authentic, like stained timber and feature materials that are sourced sustainably.
Benjamin Moore Color of the Year: Aegean Teal
Take a moment to reflect and reset. Intriguing, balanced, and deeply soothing, the Benjamin Moore Color of the Year 2021, Aegean Teal, creates natural harmony.
Celebrate the simple pleasures—think the faded rumple of linen sheets in the morning and perfectly ripened fruits on the windowsill. The twelve hues in the palette radiate warmth and wellbeing. These are colors that make your home feel even more like home. Settle in.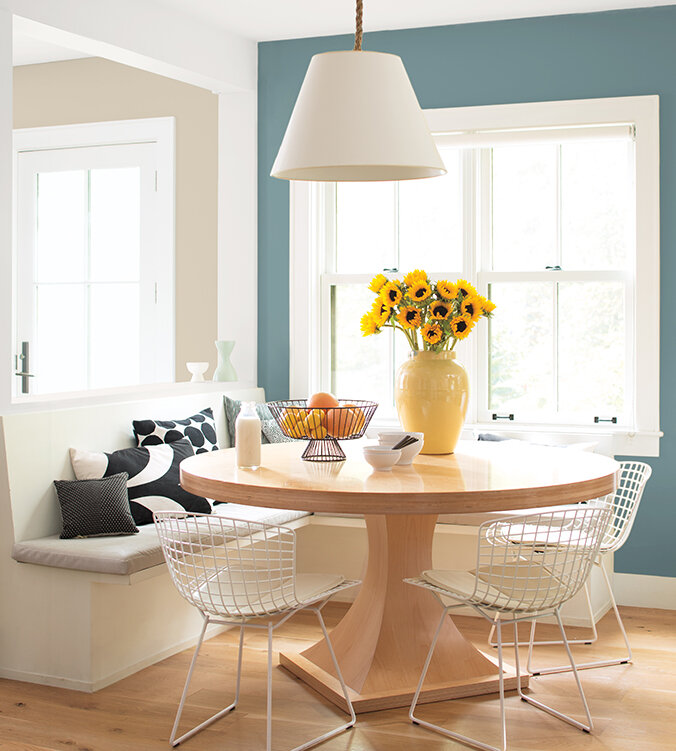 Aegean Teal is one of 12 comforting, sunbaked hues of the Benjamin Moore Color Trends 2021 palette
Jotun Lady
Norwegian paint company Jotun Lady have presented a new color collection for 2021 called 'Rediscover'. The Rediscover collection consist of 4 color palettes that will help us rediscover our homes with new colors and color combinations.
Warm and Rustic Colors
Colors from all over the world are represented in the first color palette. From golden pink shades of Moroccan desertsand to burnt orange shades with Mexican references. The earth's own colors create associations with landscapes and cultures around the world.
Clay and rock, sand and soil. The materials that make up both houses and cities are essential building blocks, also in our lives. Red and brown, muted yellow and rustic terracotta. These are earth tones that have a unifying effect.
The warm color palette takes its inspiration from different cultures around the world and invites you to create a warm and inspiring interior. This is a palette for creatives, adventurers and lovers of true craftsmanship.
Soft neutral colors
The combination of neutral color tones can have a major impact on the atmosphere in a room. These colors do not demand attention, but envelop us in their brightness and soft, soothing appearance.

Minimalist rooms don't have to feel cold or empty. This palette of warm and timeless hues strikes a perfect balance between understated beauty. The shades can be used to create a monochrome style or combined with more colorful colors for exciting contrasts.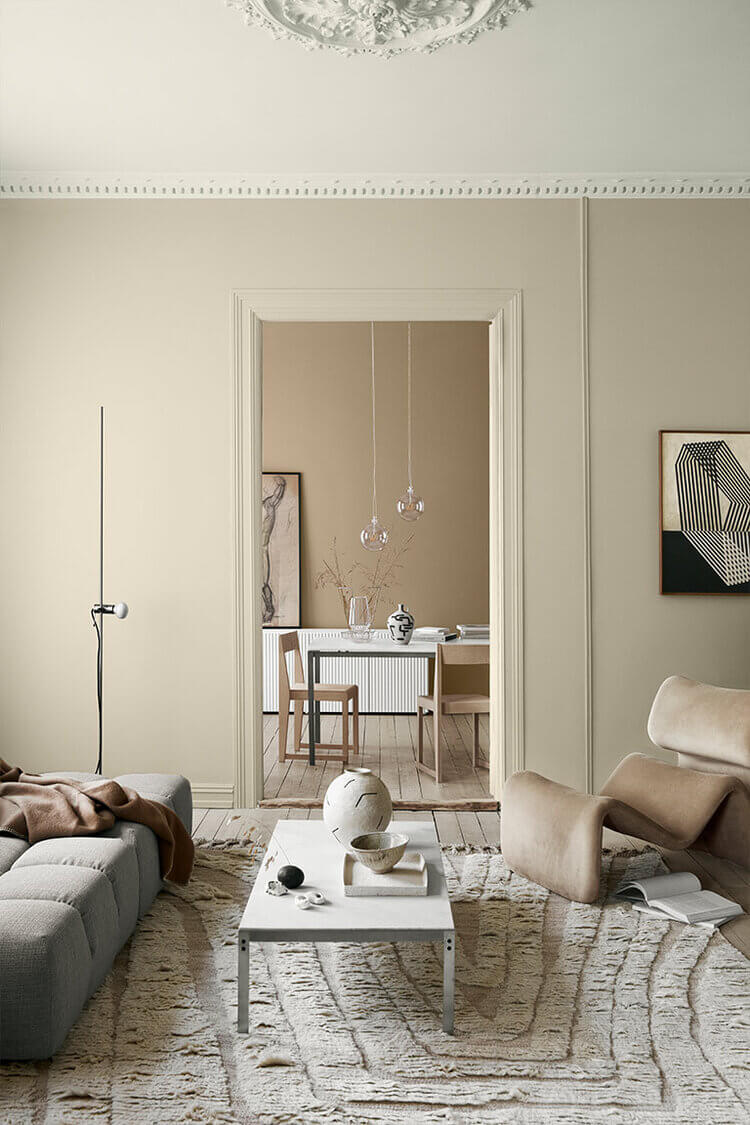 Dreamy pastel hues
The colors in this family are both retrospective and forward-looking, bringing an element of Scandinavian vintage into an otherwise modern interior.
Sophisticated and attractive. These shades create a nostalgic and contemporary style and open up to playful combinations in beautiful interiors.
Airy blue tones
In an everyday life with constant distraction, beautiful botanicals, greens and grays can create an experience of timelessness and tranquility. This is a palette for those of us who want to be more present in the now and seize the moment.
With these colors you create a cozy and harmonious environment. They encourage you to make your home an inviting place to recharge your batteries. From spectacular, beautiful fjords to rugged simplicity. The colors in this palette are inspired by the contrasts of nature and provide a new filling of fresh joy for all senses.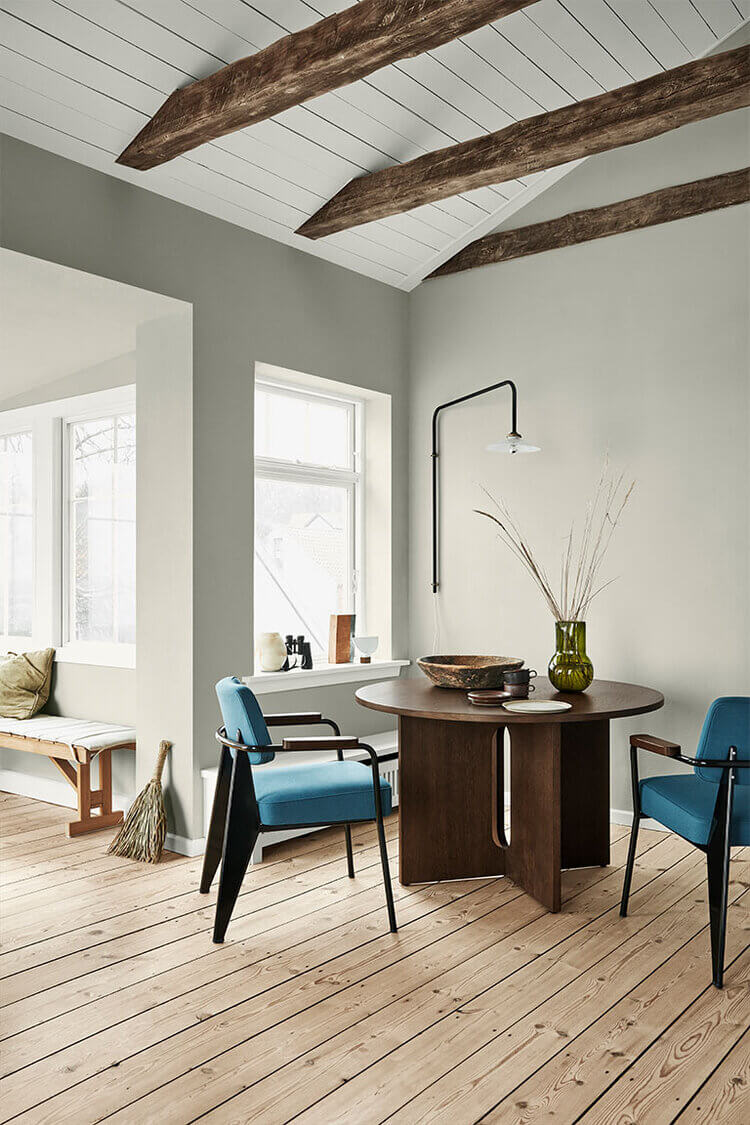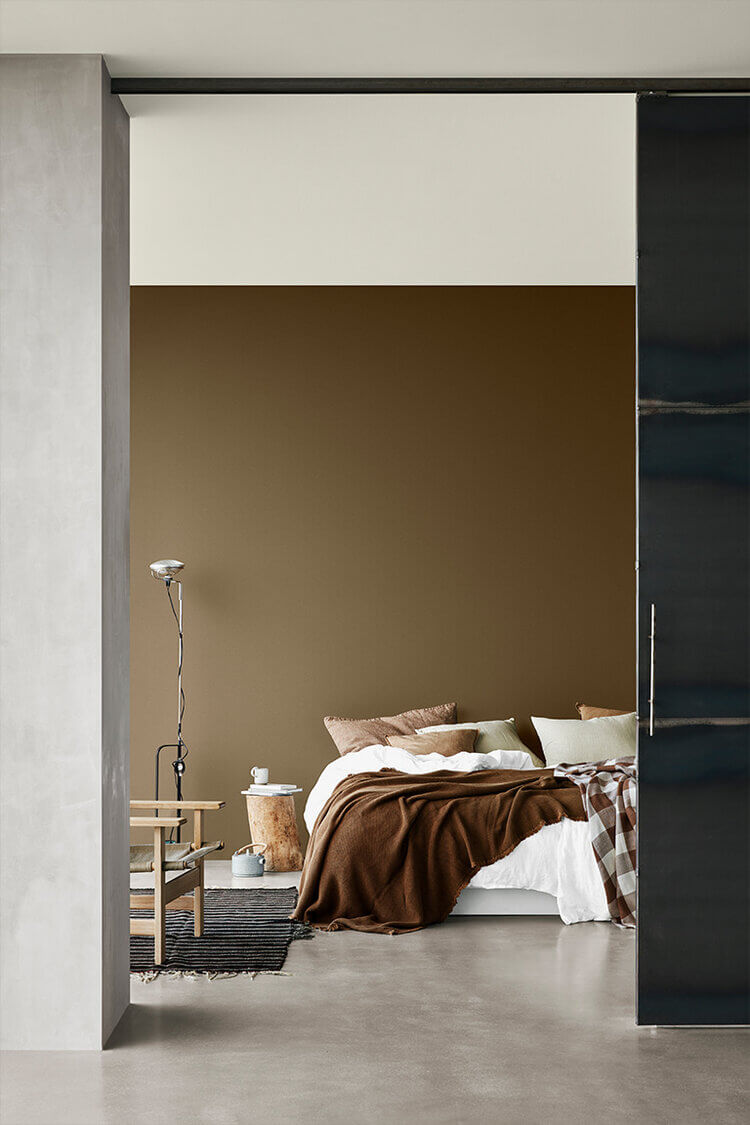 Grey-blue hues of the sea, the white foam peaks of the waves and gray-cut boulders – these are colors that characterize the Scandinavian coastal landscape. Places we like to visit when we need to take in the quiet and steady tranquility of nature.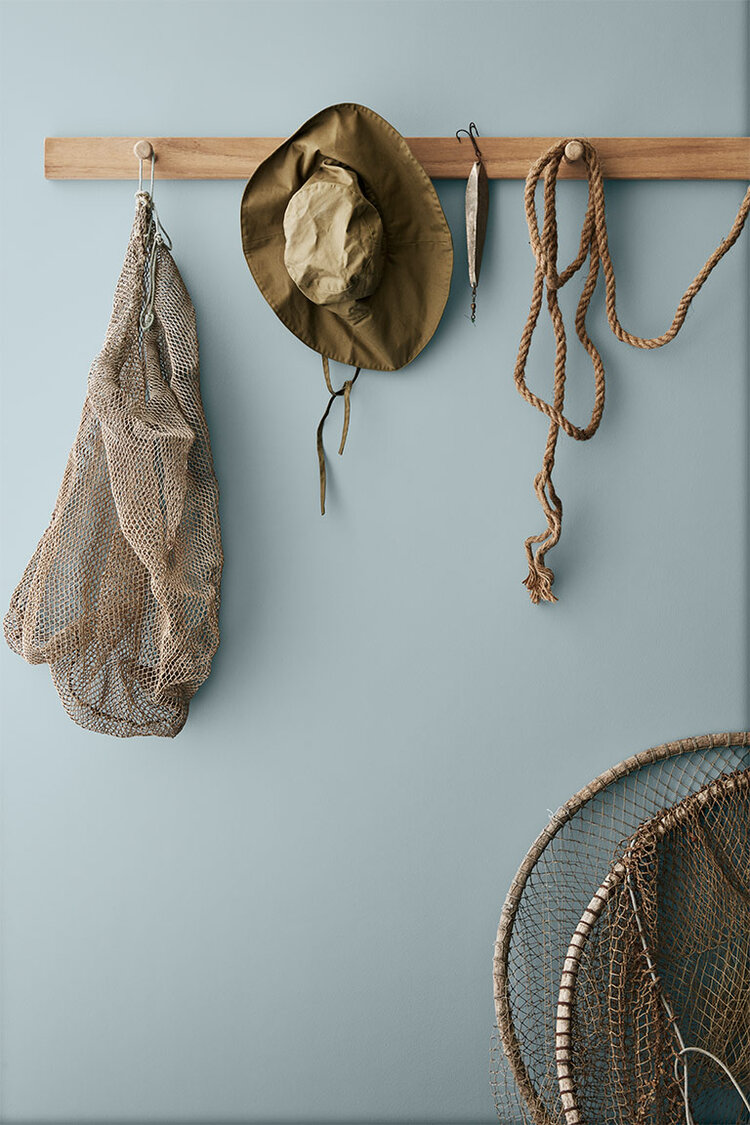 Sherwin-Williams Color of the Year: Urbane Bronze
Sherwin-Williams have choses Urbane Bronze as their color of the year 2021. According to director of color marketing Sue Wadden: "The home is now the ultimate retreat from the world, and color is an easy and effective way to create a personal haven,"
Urbane Bronze is a warm, sophisticated bronze, the color inspires all of us to find sanctuary in any space. Urbane Bronze is a rich anchor that grounds the mind in calm and stability with its ties to the natural world.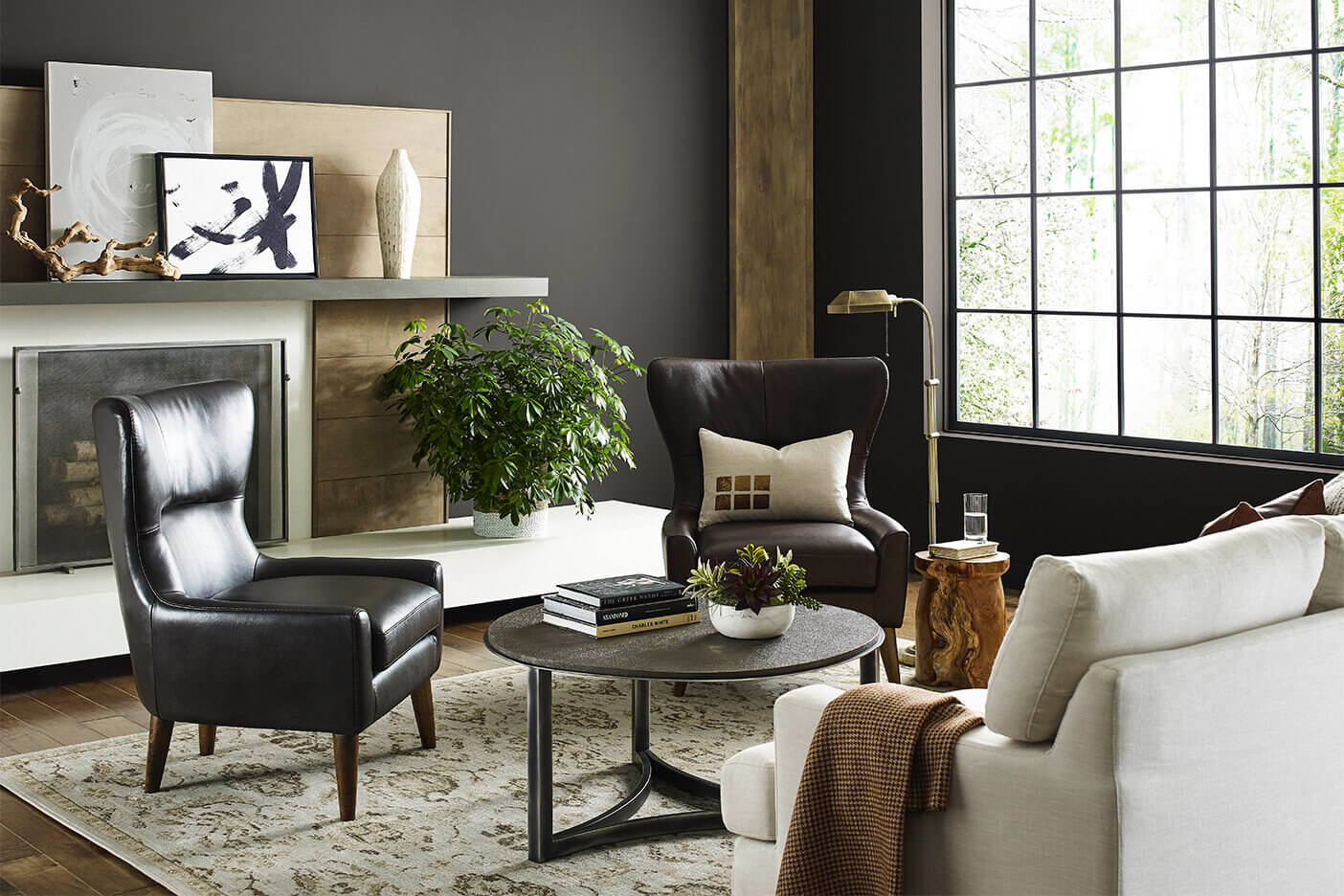 The color is warm and relaxing and also neutral enough to use it as a base and combine it with other color tones.
Behr Color Trends 2021
The BEHR Color Trends 2021 Palette is a curated selection of hues to create a desired mood that complements your style in any space. BEHR choose a color palette of 21 unique hues divided into 6 color themes, but they can all work together.
"A new, 'elevated' articulation of 'comfort' goes beyond traditional beige, gray and green hues, and embraces color in a way that can redefine and enhance any type of space inside or outside the home."
Casual Comfort
These light warm neutrals and whites create an inviting feeling in entryways, kitchens and open living spaces.
Calm Zone
Soothing blues and greens create a restorative escape offering ease and solace.
Subtle Focus
Light hues feel sophisticated and inviting, creating and atmosphere that is effortlessly serene.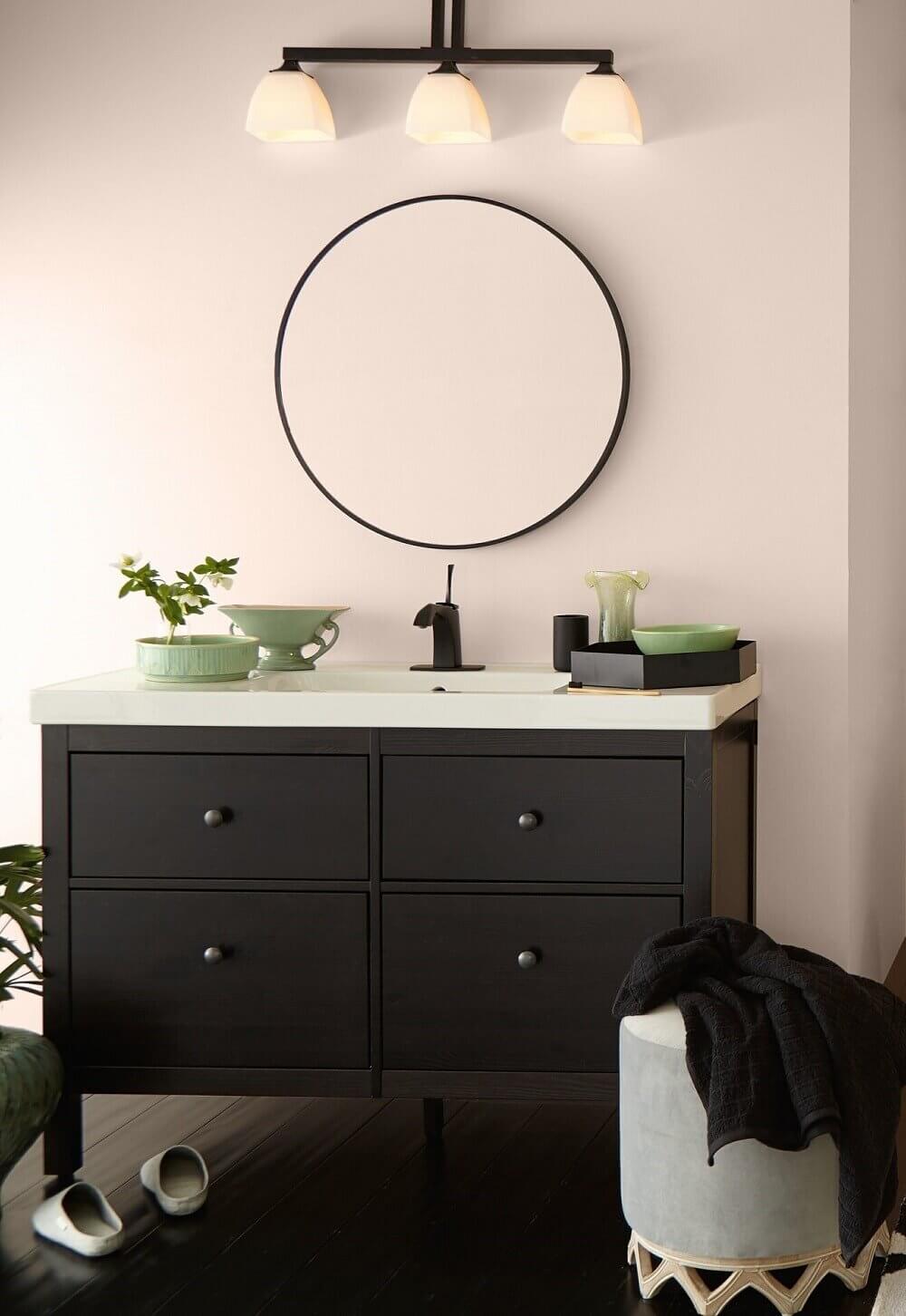 Quiet Haven
Deep hues have a reassuringly sublime and dependable nature, delivering the effect of a peaceful oasis in your home.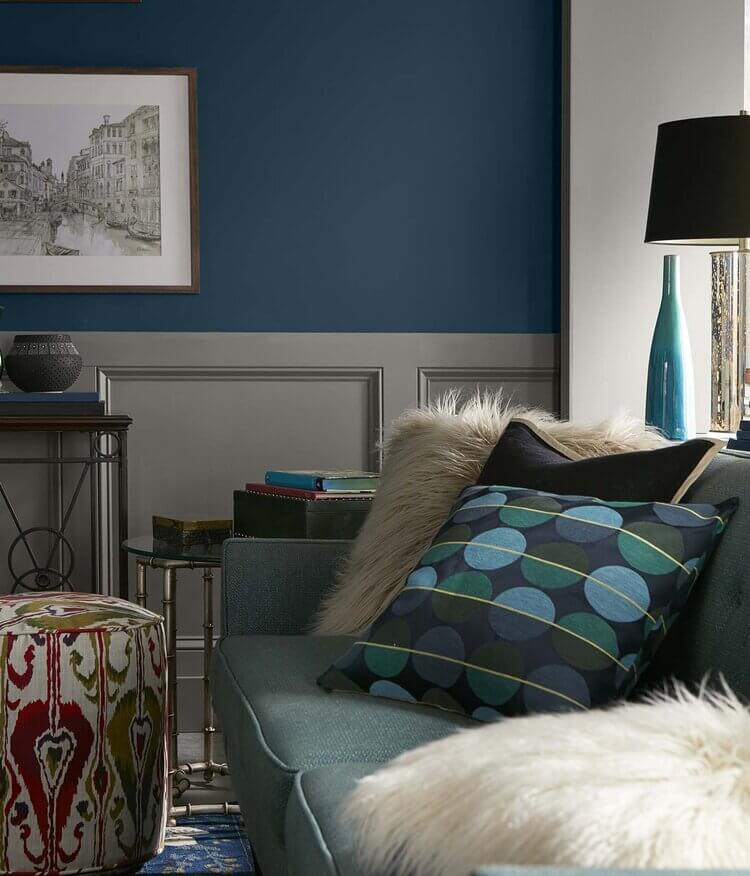 Optimistic View
A pop of bright color lifts the mood in any space, making it great for kitchens, playrooms and anywhere you want to feel energized.
Outdoor Escape
Curbside appeal has never been easier with exterior house colors and eye-catching accents for front doors, shutters and furniture pieces for outdoor living.
PPG
Pittsburgh paint company PPG has released it's 2021 Palette of the Year. The 2021 paint color and design trends reflect on wellbeing, sustainability and human connection. Moving past fear, transcending our limitations and aiming for a more balanced world by connecting with our fellow humans with compassion and kindness. 3 lovely hues are the colors of the year 2021.
Transcend, is a midtone oatmeal-colored hue that draws on earthy influences and nostalgia. The antidote to an era of cool greys, this cozy neutral emulates the feeling of a warm latte on a cool morning, or warm sand on a sunny summer day. Big Cypress, a shaded ginger with persimmon undertones, is the equivalent of a big, comforting hug for your home. Misty Aqua, a watercolor cerulean blue, provides an unexpected pairing of freshness against the other warm, earthy tones.
PPG has also released 3 color palettes for 2021: Be Well, Be True & Be Wild.
Be Well
This trend celebrates beauty that comes from living with wellness as a priority .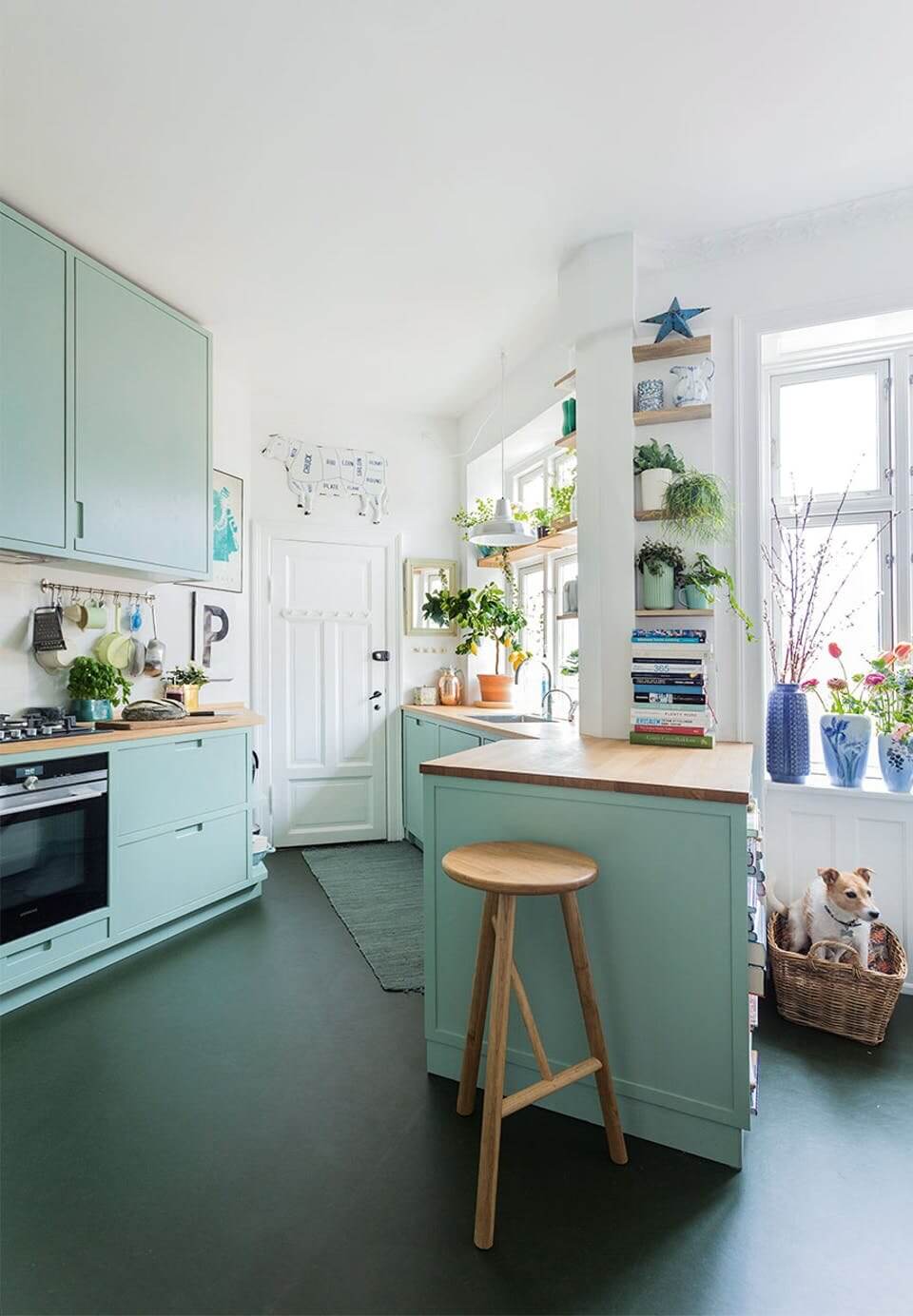 Be True
This palette tells a story that celebrates authenticity and connection by featuring the artisan's touch and renewing traditional know-how.
above: a warm living room (full tour here). below: warm tones from the fall color inspiration post & warm tones in a creative Copenhagen home
Be wild
Embracing joy, this paint color trend has a mood-boosting mindset with energetic colors and grounding neutrals to inspire.
above: a bold studio (photo: Mathieu Lacote). below: a blue & yellow bedroom from a Paris home (photo: Cecile Perrinet-Lhermitte) & colorful wallpaper in a vibrant apartment (photo: Stacy Zarin Goldberg)
What do you think of the color trends for 2021? I think it fits perfectly with how the world is right now, we need those warm hues for comfort but also the brightness to give hope for better days to come.