A Cozy Studio Apartment in Sweden
Do you ever have one of those days where everything seems to be going wrong? Well that's me today. I was planning a big update on my blog, but I'm not sure that's going to happen because things are not at all going as I hoped. And on top of all that I'm going on a trip to Austria but I can't seem to book my hotel, due to some weird error. Sigh..
Anyway, I am making this blog posts for you because I need to do something that doesn't make me want to scream (or cry). And for this home tour we're going north to Sweden!
You know I always love a good studio aparment and today I came across this cozy studio in the Swedish city Gothenburg.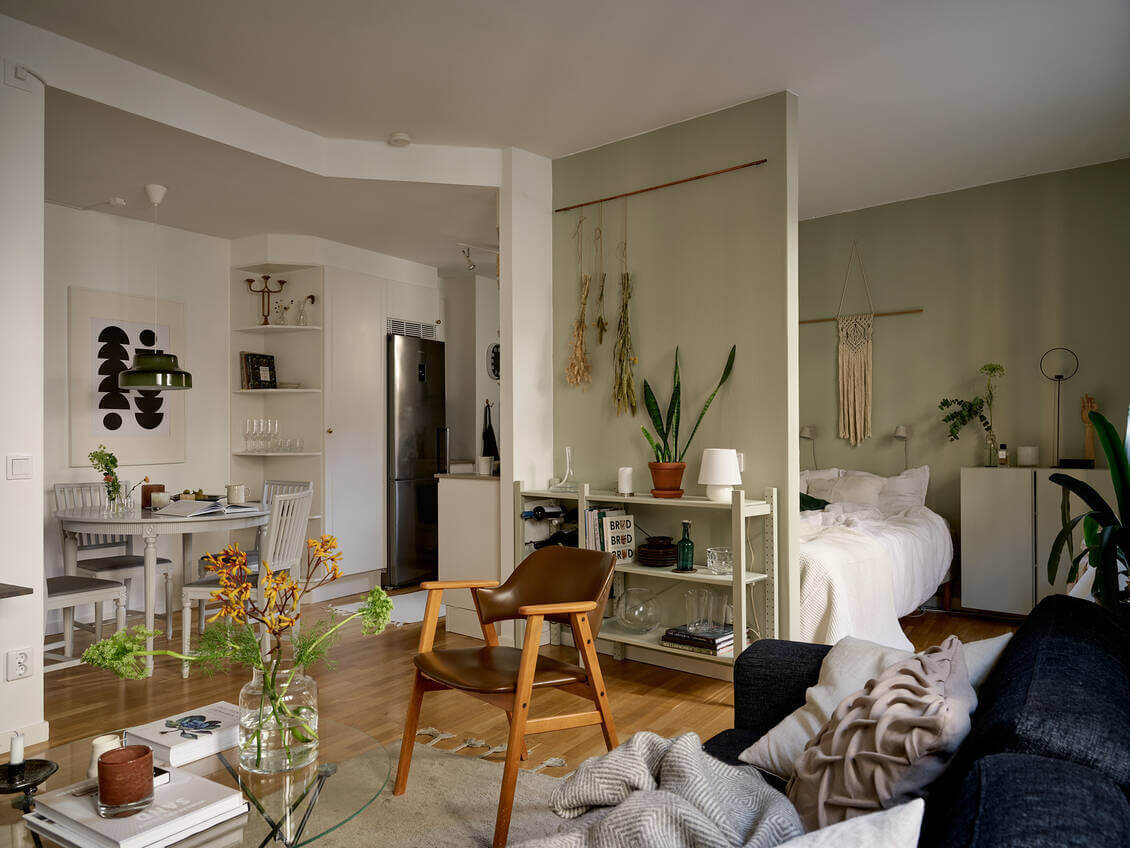 The studio apartment is a very decent 40sq. meter so there's plenty of space for a proper sitting area, bedroom area and kitchen.
And this studio really has the perfect layout with a nook for the kitchen (so it feels more like a seperate room) and there is also a bed nook so you can create a more seperate sleeping area.
You can also create zones in a studio apartment if you are lucky with the structure of the apartment. For more tips on how to design a studio apartment you can read this post
String shelves are a great furniture piece if you want to create a home office in a small space. The wall mounted shelves look clean and light. And you can design them any way you want. For example in this studio they combined shelves, cabinets and a desk.
Do you want more tips on how to create a home office in a small space? Just click here.
The l-shaped kitchen in a nook next to the bedroom area.
By clever use of space, this studio apartment has room for a seating area, workspace, dining area and a hidden bedroom.
To enhance that feeling of a seperate zone for sleeping in this studio they made clever use of a lick of paint. The bedroom area has been painted in "lime flower green". A subtle and natural color shade.
styling by livindeco & photography by Janne Olander for Stadshem