A Stockholm Maisonette Decorated in Warm Neutrals
Hi everyone, I'm back! You may have noticed it or read about it in the newsletter, but there was a bit of a silence on The Nordroom last week. Not because I didn't feel inspired to create blog posts but because I have been migrating my blog and that includes a new design!
I will spare you the details of how much work it was but let's just say a 12 hour work day wasn't uncommon. But I hope your like the new design of The Nordroom. I think everything is working properly now, but if you encounter something that doesn't work don't hesitate to contact me 🙂
But back to interior design because that's why you read this blog. I'm going to start in calm fashion because I need that right now after all the madness.
This maisonette stands in a historic waterside building in Stockholm. The entire home has been renovated recently and it's now a serene haven.
Despite the lack of colors, the home feels warm due to layered textiles and the use of natural materials. The home is serene, warm and very stylish. Só Scandinavian.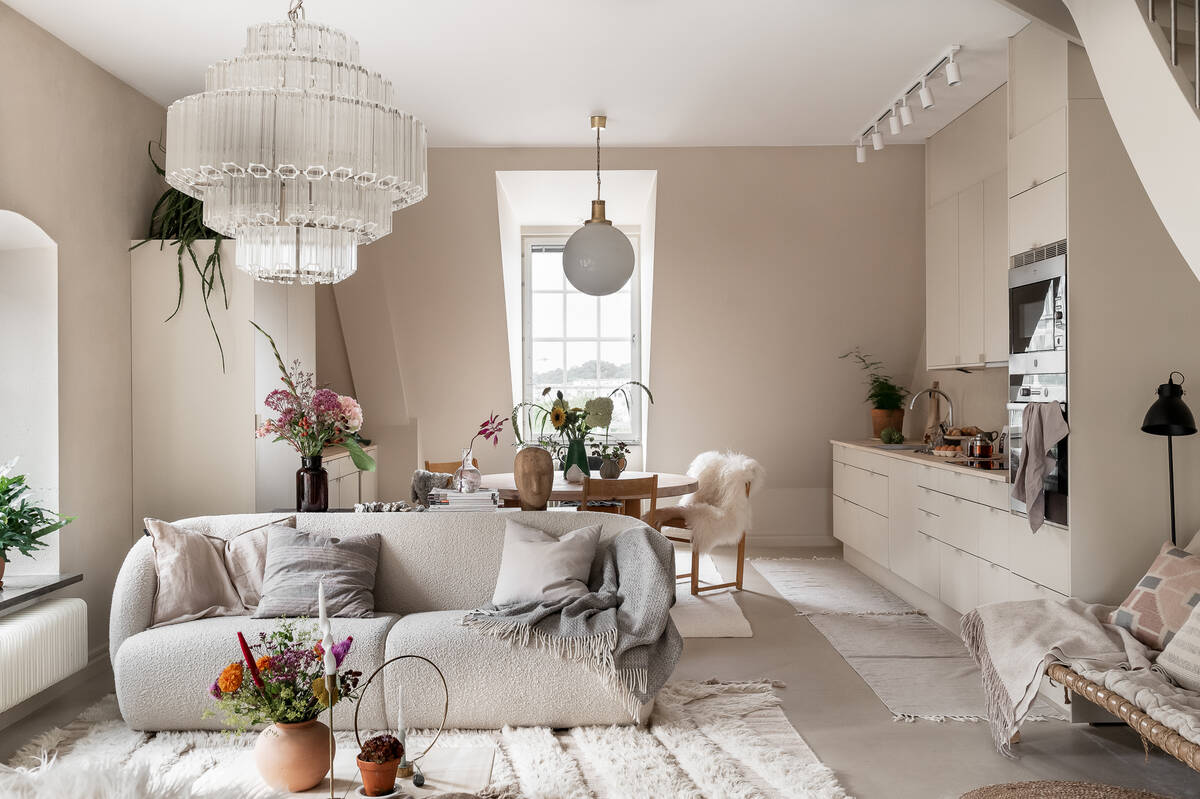 The open plan living and kitchen with windows on two side tht bring in lovely natural light. The walls are painted in a light grey and it sets the tone for the color scheme in this room (and the entire house).
But this home is anyhting but cold. The light grey walls and light flooring are combined with textured furnishings and plenty of rugs, pillows and throws to warm up the room.
Did you know that a light grey wall color in the living room can increase the value of your home? You can read more about these paint colors that add value to your house in this blog post.
Plenty of storage space in this kitchen with cabinets on two side. A round wooden table sits in the center for a natural touch.
The maisonette has 5 bedrooms, some with slanted ceilings. But you can create lovely desk area's in front of the window as you can see below.
One of the bedrooms is now a cozy family room.
The only room with a nice color pop on the walls. This kids bedroom has petrol blue walls.
This Stockholm maisonette is for sale at Nestor Fastighetsmäkleri