A Bright and Natural Scandinavian Apartment
Just like yesterday, I have a lovely bright and natural Scandinavian apartment to show you today. The apartment, located in the popular Mosebacke area of Stockholm, dates back to 1904 and still shows many period features.
A lot of thought went into decorating this apartment, to combine the period features with elegant furnishings and decor. You can still find many original details in the home. High ceilings, double wooden doors, traditonal Swedish fireplaces (kakelugn) and stucco show the history of the apartment.
The apartment is furnished in neutral colors tones. With many white and grey tones for a bright and calm look.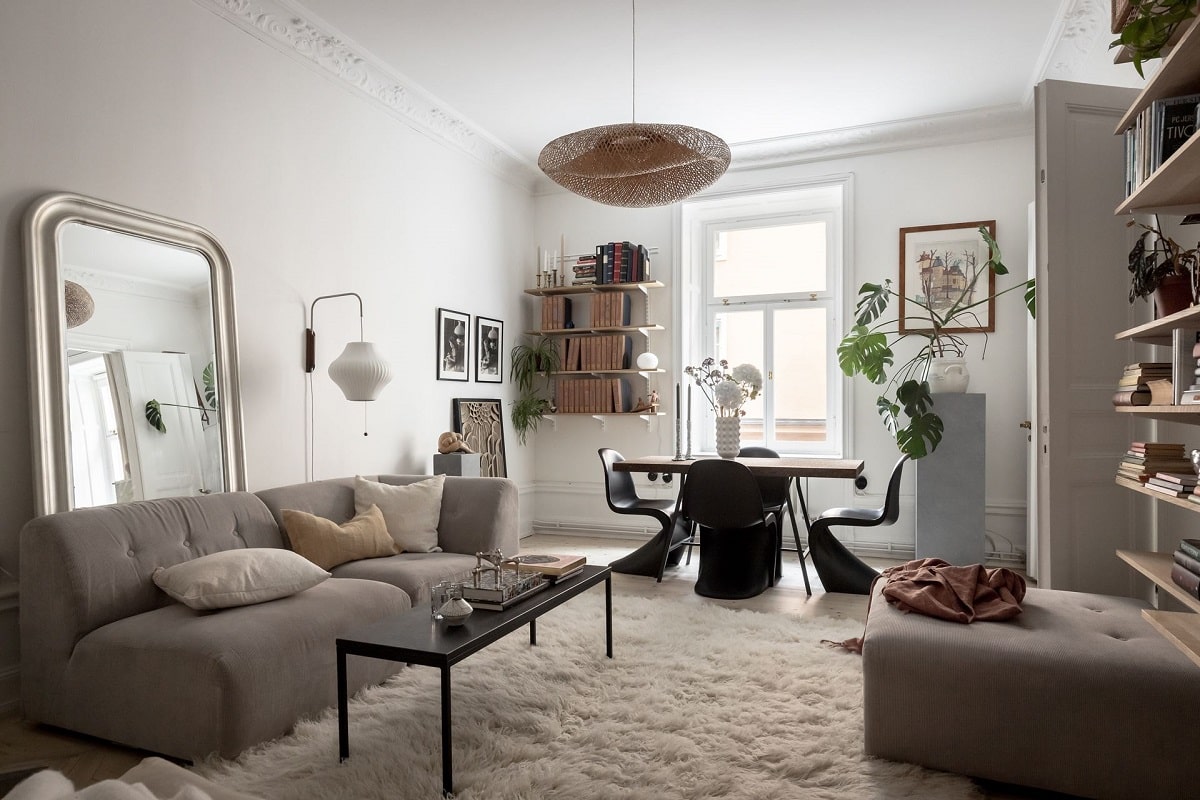 A large shag rug brings an instant warm touch to the natural living room. There's only a small window in this room but the large mirror behind the sofa is a great way to make the room brighter as it reflects light.
Loads of bookshelves in the living room. One of the shelves is extra deep so you can also use it as a desk. Perfect solution if you want to create a home office in a small space.
A teeny tiny color touch in the traditional Swedish fireplace – a kakelugn – with the light blue touches.
Double wooden doors lead to the master bedroom
The master bedroom is also decorated in a natural look with a rattan headboard and grey and white tones.
The apartment has a spacious and very bright kitchen. The kitchen was built on the spot and includes a kitchen island and a lovely dining spot in front of the window.
A dining with a round table, white Thonet chairs and a built-in bench & window seat
The apartment has two bedrooms, one of which is used as a childrens room. A bit more color here with fish wallapaper (Acquario by Fornasetti) and blue and ochre color touches.
photography by Svenska Mäklarhuset