Kate Spiers Sells Her Beautiful Light Flat in Glasgow
If you enjoy looking at beautiful interiors on Instagram, then I am sure you have seen rooms of this apartment. The Glasgow apartment belongs to influencer and Scotland's Home of the Year-tv presentor Kate Spiers and her husband Jord.
The apartment has a neutral base with light walls and the original wooden floorboards throughout the home. This is combined with natural colors like green and terracotta. But there are also more vibrant color accents with a yellow sofa in the living room and pink tiles in the bathroom.
On top of the beautiful design and styling work by Kate, the apartment also rocks some fabulous original features such as the ceiling ornaments in most rooms.
The sitting room has custom made bookshelves with eye-catching arches, painted in a lovely green hue. They don't just provide this room with plenty of storage but it's such a great design feature as well.
The room is big enough to place the couch in the center of the room instead of against a wall. You create a more cozy lounge area and it adds a nice flow to the room as well.
A spacious kitchen with cabinets on either side and in the middle a lovely breakfast nook/window seat. The earthy tiles are natural clay Zellige tiles from Tiles of Ezra.
With cabinets on three sides there's no need for upper cabinets. Instead they installed natural wooden shelves styled cookbooks, bowls, and plants.
The master bedroom is light with beautiful ceiling ornaments. A lovely color pop is added with the "Harlequin corduroy patchwork quilt" by Projekti Tyyny.
The arches return in this custom made wardrobe with cane panels.
The wainscoting in the spare room/home office is painted a warm terracotta shade by Lick.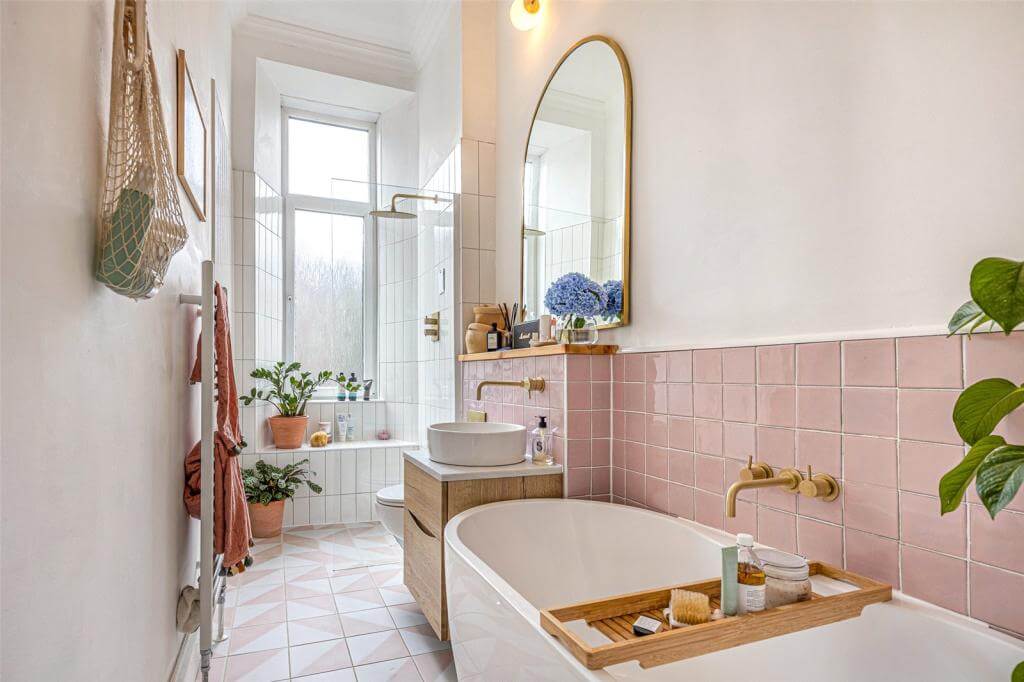 The bathroom is narrow but it fits a freestanding bath and a separate shower. Conveniently keeping everything on one side of the bathroom to make it less cramped.
I love the subtle pink color touches with the wall tiles and the floor tiles. It adds a nice color touch without being overwhelming, instead combined with the natural materials it creates a calming atmosphere which is exactly what you want in a bathroom.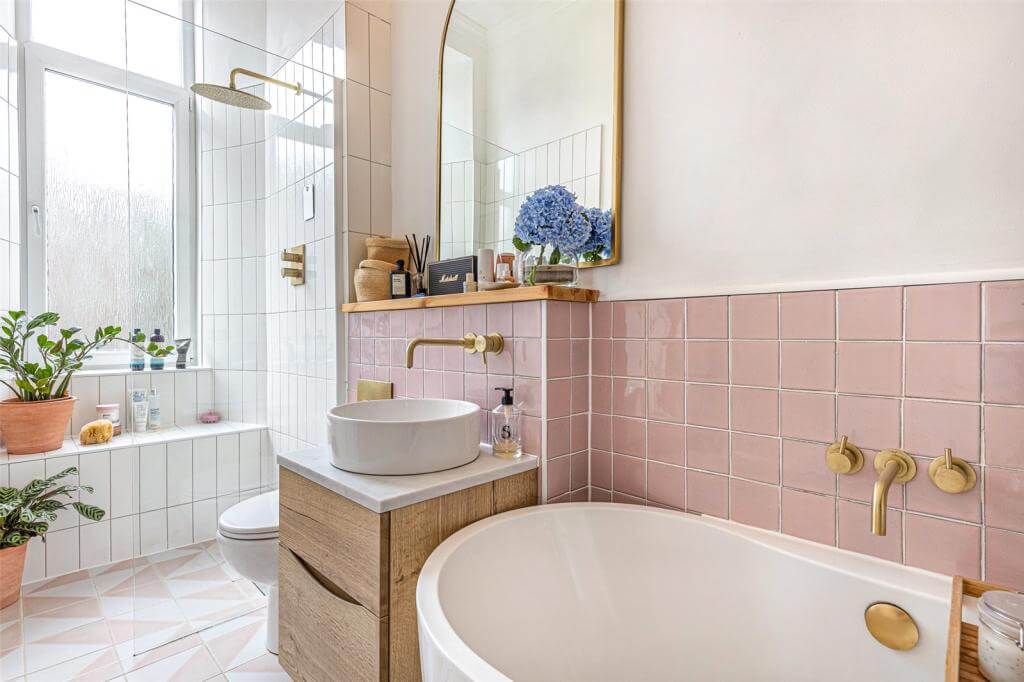 I love the clever use of the bay window in the shower, by using it as a storage ledge.
A natural vibe in the guest bedrooms with a green painted ceiling. The rattan headboard is from Habitat, and the wall lamp is from Georges.
Isn't this apartment wonderful? You can check out the sales listing here.