Light Brown Walls in a 17th Century Apartment in Sweden
The oldest stone building in the Södermalm district in Stockholm houses a beautiful family home decorated in muted color tones. The 17th century building is located on a corner plot, providing windows on three sides and in many rooms you'll have beautiful natural light flooding in.
The 111 square meter apartment has three bedrooms, a generous kitchen, and a cozy living room. The apartment was renovated in 2018 and now show a beautiful blend of historic elements and contemporary design.
A muted and natural color scheme was added to the family home with colors rangings from light brown to blue, and green. It's a wonderful home that feels warm and inviting.
From the hallway, you walk through double mirrored wooden doors into the warm living room with unique small slatted windows and a bay window.
The base of the room adds a classic tone to the space. A wooden herringbone floor is combined with wood paneling and light brown walls.
The bay window is perfect for a beautiful reading nook.
The renovated kitchen is sober, and simple, but very beautiful. Like the living room, this kitchen has light brown walls and the kitchen cabinets have been hand painted in the same shade.
On one side of the kitchen, you will find the main work area. The kitchen cabinets have been topped with a long marble worktop. Two pink flowerpot pendants from & tradition add a subtle color accent.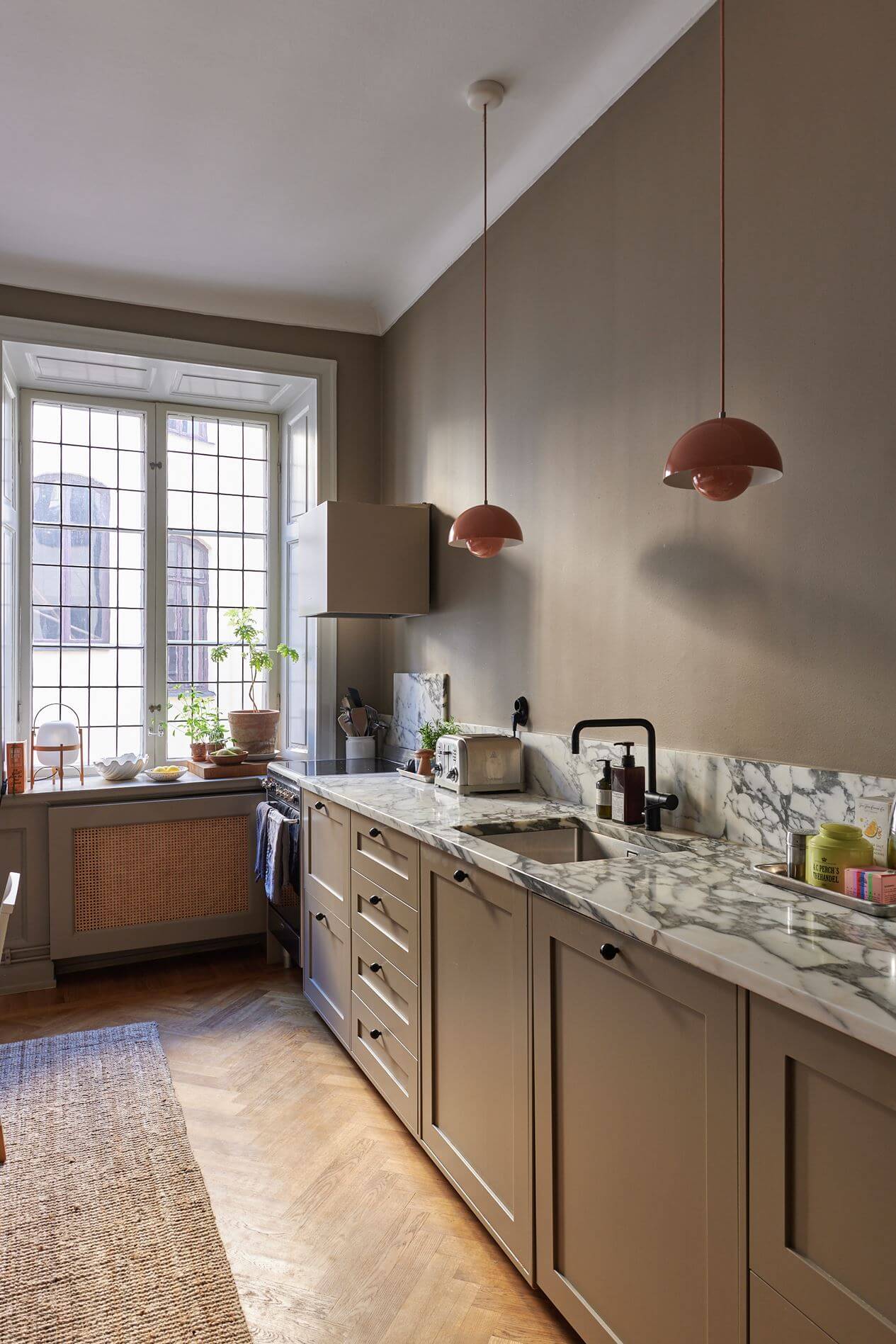 The beautiful windows with deep windowsills show the history of the home.
The owners didn't add upper cabinets to create an airy feeling in the kitchen. Storage is added on the other side of the kitchen with floor-to-ceiling cabinets.
Natural light floods into the master bedroom though the historic windows. The bedroom is painted in a muted light pink shade.
From the kitchen you can enter one of the kids bedrooms. The room is painted in a dark green tone and it has a beautiful wooden floor.
There are only natural colors in this home as the third bedroom is painted in a deep blue shade.
photography by Bjurfors