The Best Design Hotels in Copenhagen
With a great food-scene, beautiful cobbled streets and colorful houses Copenhagen is a wonderful destination if you want to take a city trip without being completely overwhelmed by the size, pretty much everything is at walking distant from the city center.
Scandinavians love good design so the hotel market in these countries are absolutely amazing. There are so many stylish hotels that it's hard to pick one for your trip.
I've selected the most beautiful design hotels in Copenhagen for you in this post so you can start dreaming about a trip to Denmark's beautiful capital city.
Hotel Sanders
If I had to pick one hotel right now for a trip to Copenhagen it would be Hotel Sanders. The 54-room hotel is located only meters from Nyhavn and the Danish Royal Theatre so it couldn't be more central.
The design in Hotel Sanders is impeccable with lots of wicker, wood, fireplaces and cozy nooks. You could say it's filled with Danish hygge. The hotel has a plant-filled roof terrace, a courtyard and a cocktail bar, all styled to perfection.
Hotel Sanders is a pricy hotel, but if you can afford it, and you love design it seems worth it. And you can always subscribe to their newsletter for special offers (while i'm writing this they have a 'stay 3 nights, pay for 2' offer).
The loft apartments you stay in are stylish, functional, and big enough to be called home for a longer period. With the ability to screen off the sleeping area, the whole loft can be further adjusted to become cozy, business-like, or something in between.
The Zoku Loft can be personalized with art from the art swap in the hallways and comes with all the necessary residential and business facilities.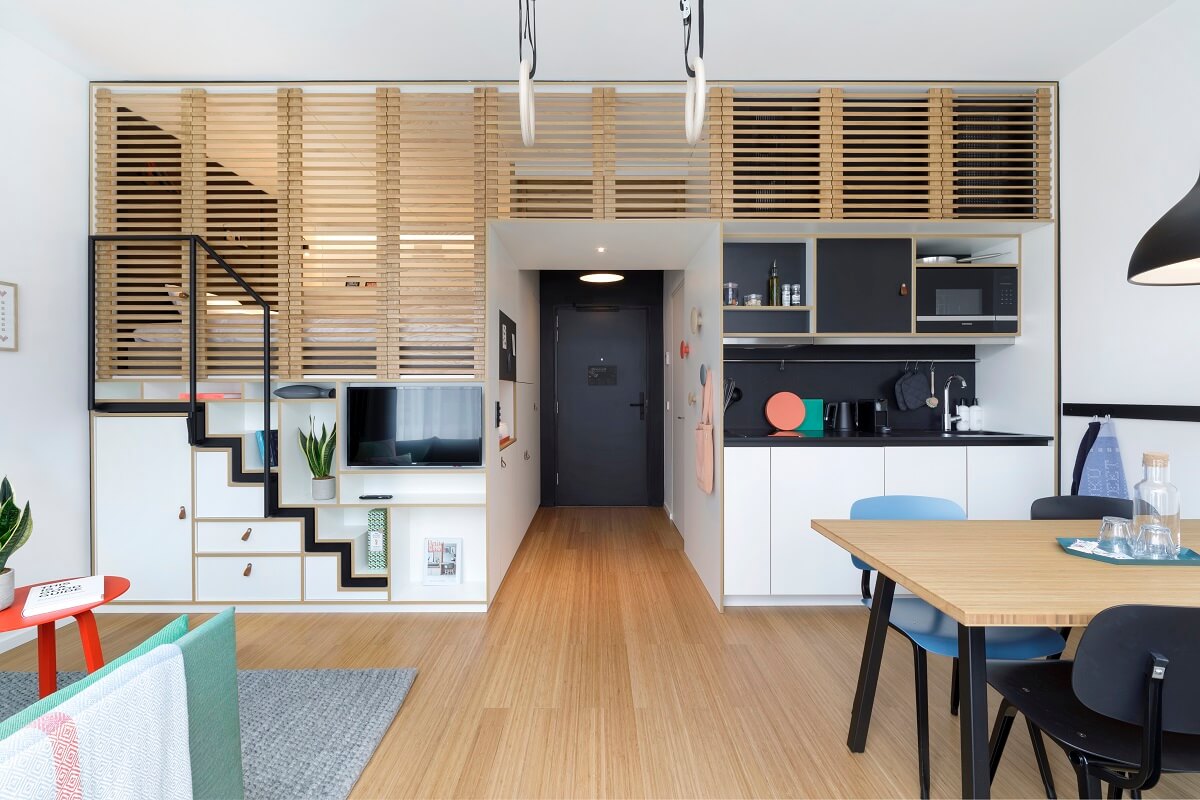 And the hotel also features amazing social spaces to play, work, meet, and live in. The Zoku Living Kitchen serves simple, honest, healthy, and delicious food.
Zoku Copenhagen is located on the Amager island, and the city center is just five minutes away by metro. And as Copenhagen is a city for biking, you can also hire bicycles at the hotel.
Brøchner Hotels
Brøchner Hotels is a hotel chain with luxury boutique hotels in Copenhagen. At the moment they have 6 hotels to choose from in Copenhagen, and next year they will also dive into the hostel market with a stylish design hostel in Aarhus (the 2nd city in Denmark). But in this post I'm staying in Copenhagen, so let's take a look at the best Brøchner Hotels.
Hotel Danmark
Hotel Danmark is centrally located at walking distant from the Central Station, Glyptoteket and Christiansborg Palace. I've stayed twice at this hotel and I can say it's an ideal location to explore Copenhagen.
You'll see lots of marble, green tones, and brass fixtures in the rooms ranging from a bunk bed room, small single rooms to a junior suite. The only downside for me is that they don't have a restaurant, but they do serve an organic breakfast.
Hotel SP34
Hotel SP34 is located in the Latin Quarter of Copenhagen. The Latin Quarter is a bohemian area with design shops and restaurants at only 500 meters from Tivoli. SP34 is decorated in a combination of raw materials like concrete combined with warm wood. Very Scandinavian!
Hotel Ottilia
Hotel Ottilia is the newest addition to the Brøchner family. It's located a bit out of the city center but the hotel rents out bicycles so you're in the city centre in no time.
The hotel is located in the Carlsberg District which is a vibrant up-and-coming area of Copenhagen where a lot of new shops and urban restaurants pop up.
The hotel is designed in an industrial style with lots of raw concrete and stylish Danish design.
The Audo
The Audo isn't just a hotel, it is a meeting place where the international art and design community can come together, collaborate, experiment, and incorporate the inspiration they find into a unique story that they can then share with the world.
The Audo is a collaboration between Norm Architects and the furniture company Menu. At The Audo, you'll find a concept store, restaurant, and cafe, co-working space, gathering place, ánd hotel.
The 10 hotel rooms are carefully designed with beautiful design furniture and high-quality materials. If you're looking for a unique and stylish stay in Copenhagen, this is it!
Nobis Hotel
Nobis Hotel is a hotel where Neoclassical architecture and sleek design are combined in a wonderful way.
The hotel is located in an early 20th-century building that used to house the Royal Danish Academy of Music and has been carefully restored to accommodate Nobis Hotel.
The hotel is light with blue and green color touches in combination with natural materials such as wood, wool, leather, and marble.
Villa Copenhagen
Villa Copenhagen is a new hotel that opened in April 2020, and judging from the pictures and renders it's a beautiful new design hotel.
The hotel is located in a stately building next to Tivoli Gardens (yes for central locations!). The hotel will house 390(!) rooms all designed in a light Scandinavian style with high ceilings.
I have a feeling we're going to see this new hotel a lot in the spring.
Radisson Collection Royal Hotel
A hotel designed by Danish designer Arne Jacobson can't be missing from a list of design hotels in Copenhagen.
The Royal Hotel was the world's first design hotel, and it's Danish modernism at its best. The hotel has recently been renovated, but of course, the legacy of Arne Jacobson is still there.
Hotel Skt Petri
Centrally located in the Latin Quarter Hotel Skt. Petri is a beautiful design hotel with cozy rooms and impressive design.
They describe their hotel as laid-back luxury, and to make things even better, they have sustainability at heart.
Manon Les Suites
Hotel Manon Les Suites is a bohemian lover's dream! This 5-star hotel in the center of Copenhagen is a relaxed and sustainable lifestyle hotel. Every room/suite is decorated with a canopy bed and has a little kitchenette with a fridge and coffee/tea facilities, and in the bathroom, you'll find biological products.
The entire hotel is an urban oasis with many plants and natural materials, and it even has a small swimming pool.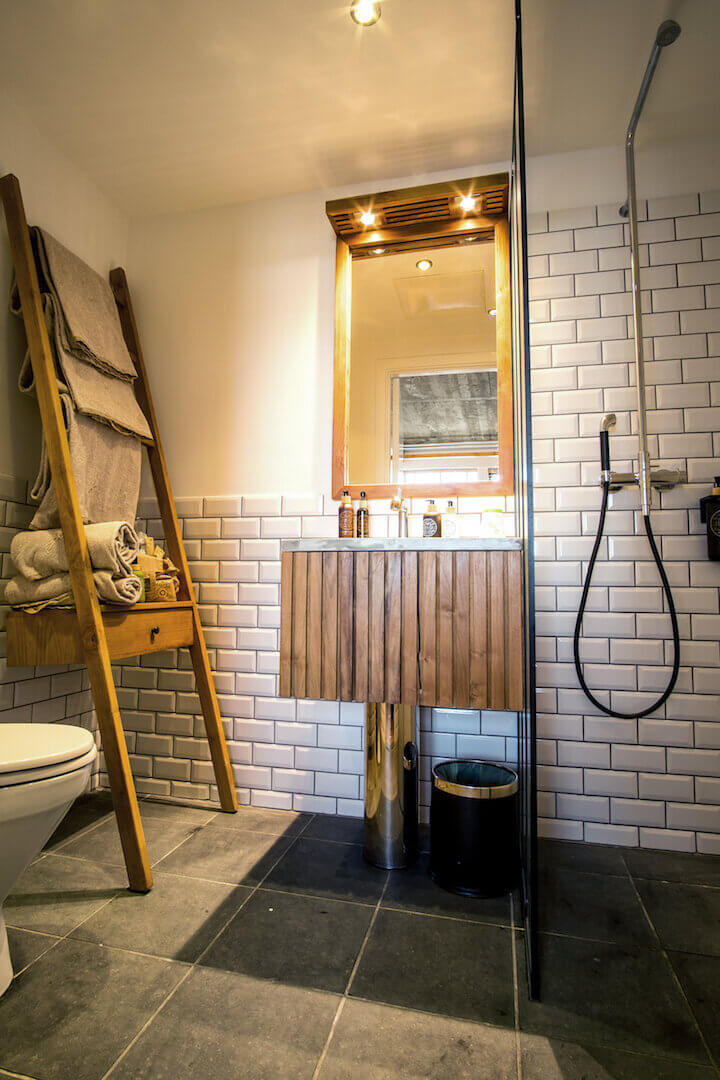 The hotel also has a roof terrace, and they organize 'lounge Fridays' by the pool. This isn't a quiet hotel, but if you love to stay at a fashionable and sustainable hotspot Manon Les Suites is your hotel
Making this post made me so excited for my trip to Copenhagen next year. I haven't picked my hotel yet, as it certainly is going to be a hard choice. There's so much beauty to choose from! Have you ever been to Copenhagen? Where did you stay?