The Color Trends For 2020 Are Inspired by Nature
It's that time of the year where we're starting to look forwards towards the new year (and new decade!) with upcoming design trends and also with new color trends.
Many paint brands have already shared their color trends or colors of the year 2020 and there is one common theme and that is nature.
I have decided to put all the color trends for 2020 in one post to give you plenty of color inspiration for the new year! This post is a selection of colors of the year, color forecasts and brand new color palettes to start the new year surrounded by color!
Pantone
Pantone has released its color of the year in december and they have chosen Classic Blue. Instilling calm, confidence, and connection, this enduring blue hue highlights our desire for a dependable and stable foundation on which to build as we cross the threshold into a new era.
You will notice while reading this post that colors inspired by nature are thé color trend of 2020. Classic Blue is a simple but elegant color which brings the color of the sky into your home.
Farrow and Ball
The true colors of nature await… Farrow and Ball have teamed up with the Natural History Museum in London to create a collection of natural colors for your home.
The dazzling variety of the natural world is evident throughout the Museum, from rocks and precious stones to delicate butterfly wings. But there's one source in particular that perfectly celebrates the biological diversity and magnificent array of colours behind each display case – kept in the Museum's rare book library.
The story of the Colour by Nature collection has been over two centuries in the making, beginning with the publication of Werner's Nomenclature of Colours. A ground-breaking classification of colour in nature, Werner's Nomenclature recorded in painstaking detail the exact hues and corresponding parts of animals, vegetables and minerals from across the natural world, becoming a treasured resource for scientists and artists alike.
Jotun Lady
Jotun Lady has released 12 new colors looking forward to the new decade. Lisbeth Larsen, the global manager of Jotun says about the new collection: "They are infused with hope and determination. They can represent our aspirations to learn or travel more; our intention to be more mindful or meditative; our resolve to give ourselves space to create and license to dream."
"Each of us seeks to thrive in our everyday lives. Color can be one of the simplest and most effective routes to creating an environment that inspire us." – Lisbeth Larsen, Global Color Manager, Jotun.
Dulux/Flexa
Dulux/Flexa (both part of AkzoNobel, Flexa is used in The Netherlands) a has chosen Tranquil Dawn as its color of the year 2020. We're starting a new decade in a world that's getting more hectic every day and because of that we feel an urge for reflection and cordiality.
The color experts therefore created a color inspired by the colors of morning light. It's a color that lies between blue, green and grey, just like the morning sky. They have created 4 color palettes that compliment their color of the year Tranquil Dawn.
A home for creativity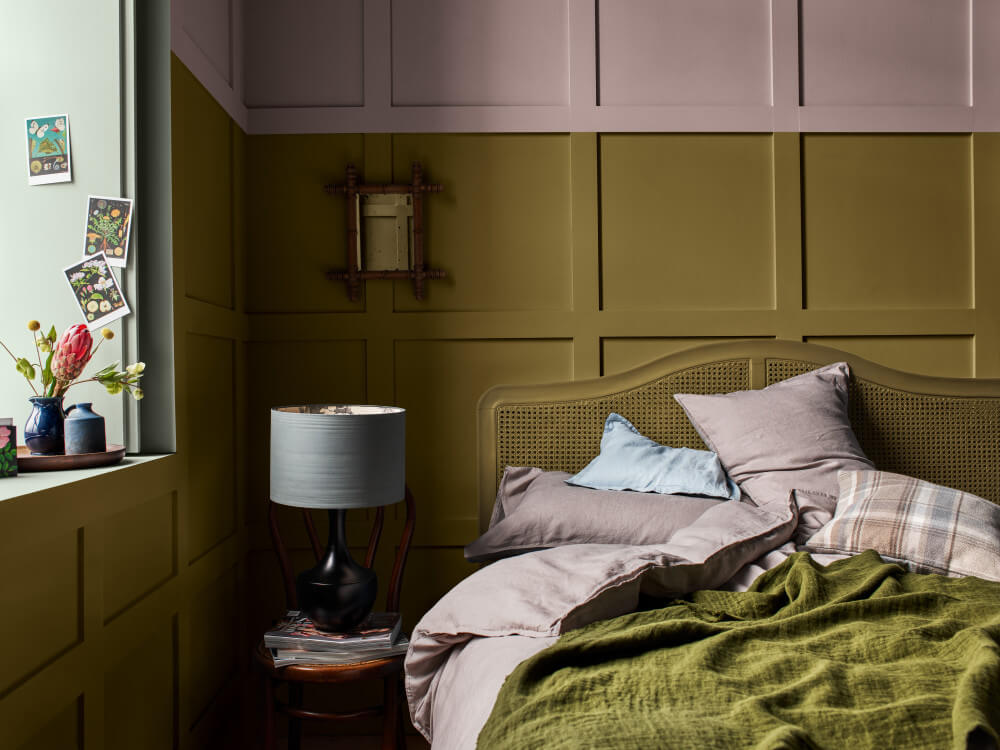 A home for care
A home for play
A home for meaning

Dulux Color Forecast
Dulux didn't just release a color of the year (see above) they also created a color forecast for 2020 with the overarching theme of Essence. The Essence theme is divided into 4 categories which I will share with you.
Grounded
Grounded is a simple and neutral palette with plenty of warmth. Grounded inspires us to move towards an existence filled with conscious, smart living choices, without compromising on the beauty, warmth and texture that remains essential to creating our happy place.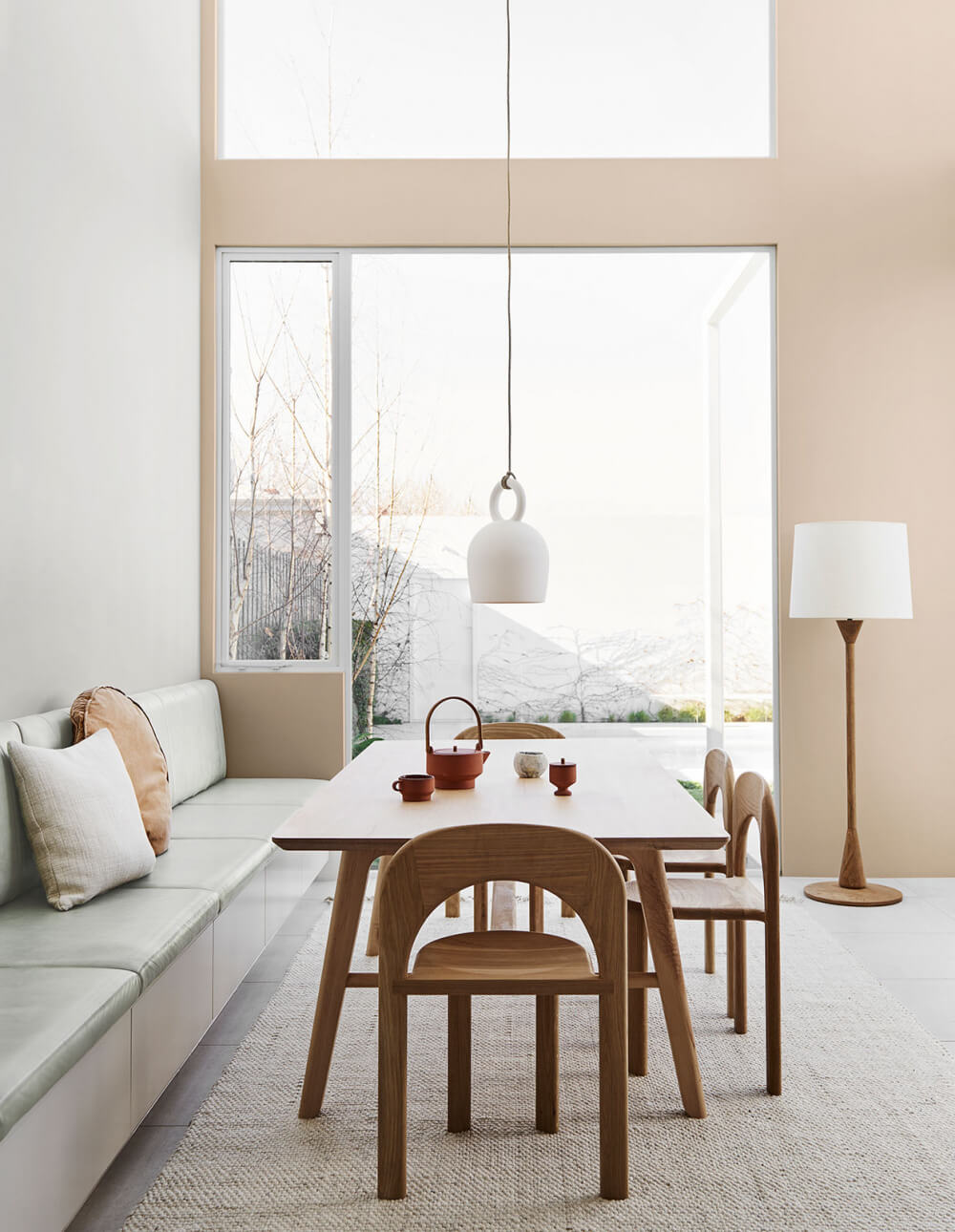 Comeback
While there is a sense of safety in the familiar, we cannot ignore the call to break out and express our true selves. Comeback speaks to this innately creative desire, inspiring us to blend contemporary design cues with vintage pieces.
Cultivate
The time has come to nurture and regenerate. To surrender to that urge for escape and to find refuge in the beautiful simplicity of nature. As we disconnect from the harsh white filters of the digital sphere, reconnect with the elements of nature: verdant earth, clean air, natural light.
Indulge
Dreaming of an escape? Indulge speaks to our collective desire to disconnect from the mounting challenges of the everyday. It's the perfect antidote to our busy, high-stress lives, finding the rose-tinted glasses to reignite our romance with hearth and home.
styling by Bree Leech & photography by Lisa Cohen
Benjamin Moore
Move aside millenial pink, Benjamin Moore's color of the year 2020 is First Light. A fun and bright pink hue that reflects a new definition of the home—a shift in mindset from the material to satisfying the core needs in life: community, comfort, security, self-expression, authenticity and ultimately, optimism.
Sherwin-Williams
Sherwin-Williams goes bold with a strong naval blue as color of the year 2020. Naval is a rich navy that creates a calm and grounding environment infused with quiet confidence.
Giving a nod to Art Deco influences, Naval fuses the striking and bold opulence of Art Deco with the awe‑inspiring power of nature – from the infinite night sky to the mysterious depths of the sea – bringing navy out of its comfort zone to usher in an empowering new year and fresh decade of change.
This deep shade evokes a prominent sense of confidence that fuses timeless color with a fresh mix of natural materials and textures that bring navy blue into a new era.
HGTV HOME by Sherwin-Williams
Romance in the color of the year 2020 by HGTV HOME. We've had a couple of years of 'millennial pink' and HGTV Home wants us to continue using that soft blush tone in our homes. I always love a bit of pink in a home so I welcome this color with open arms.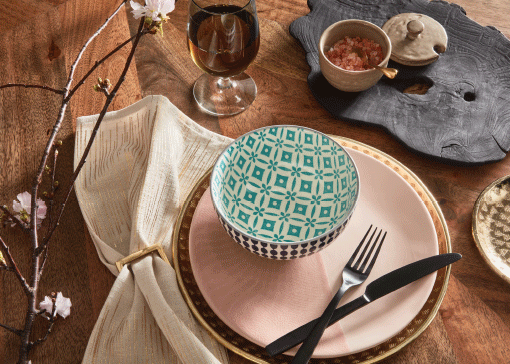 'Romance is a soft and dreamy blush hue that evokes serenity while simultaneously making a statement' – Ashley Banbury, HGTV HOME by Sherwin-Williams Senior Color Designer.
Behr
As we enter the next decade, we strive for vibrancy in life and shape it how we choose. As nature's favorite color, Back to Nature is a restorative and revitalizing green hue that engages the senses and pairs well with other colors both inside and outside your home
What do you think of the color trends for 2020 ? I really love all the nature inspired tones I think that really suits people's mindsets at the moment.