Interiors Decorated with Warm Colors
If you want to create a cozy home then adding warm colors to your home decor is a good idea. These warm colors are also great if you want to switch your home decor from lighter summer tones to warm fall colors.
Many people tend to gravitate towards warmer colors in the colder months for a little extra hygge feel to your home. And to get your home in a fall mood you can easily add warmer tones by a change in decoration in your home.
The changes you make in your interior can be big or subtle. You can make small changes in your home decor by changing your decoration with decor in warmer tones (think pillows, art, and vignettes) and by adding candles.
But you can also go big and truly embrace the warmes hues by painting your walls in deep rich tones, that will certainly bring that cozy fall mood to your space. In this post I will show you beautiful home designs & color inspiration to get your home ready for the fall from small changes to entire rooms in warm color schemes.
What are warm colors?
Before we take a look at the warm interior inspiration it might be a good idea to take a closer look at color. Colors can be divided into 2 groups: warm colors and cool colors, warm tones range from yellow to fuchsia and cool tones range from green to purple.
When you're decorated your home for the colder months and you want a warmer color scheme in your home it's best to use the colors from the top row (you can of course combine warm & cool tones, after all contrasting colors enhance each other) but in this post I will mainly look into the warm colors.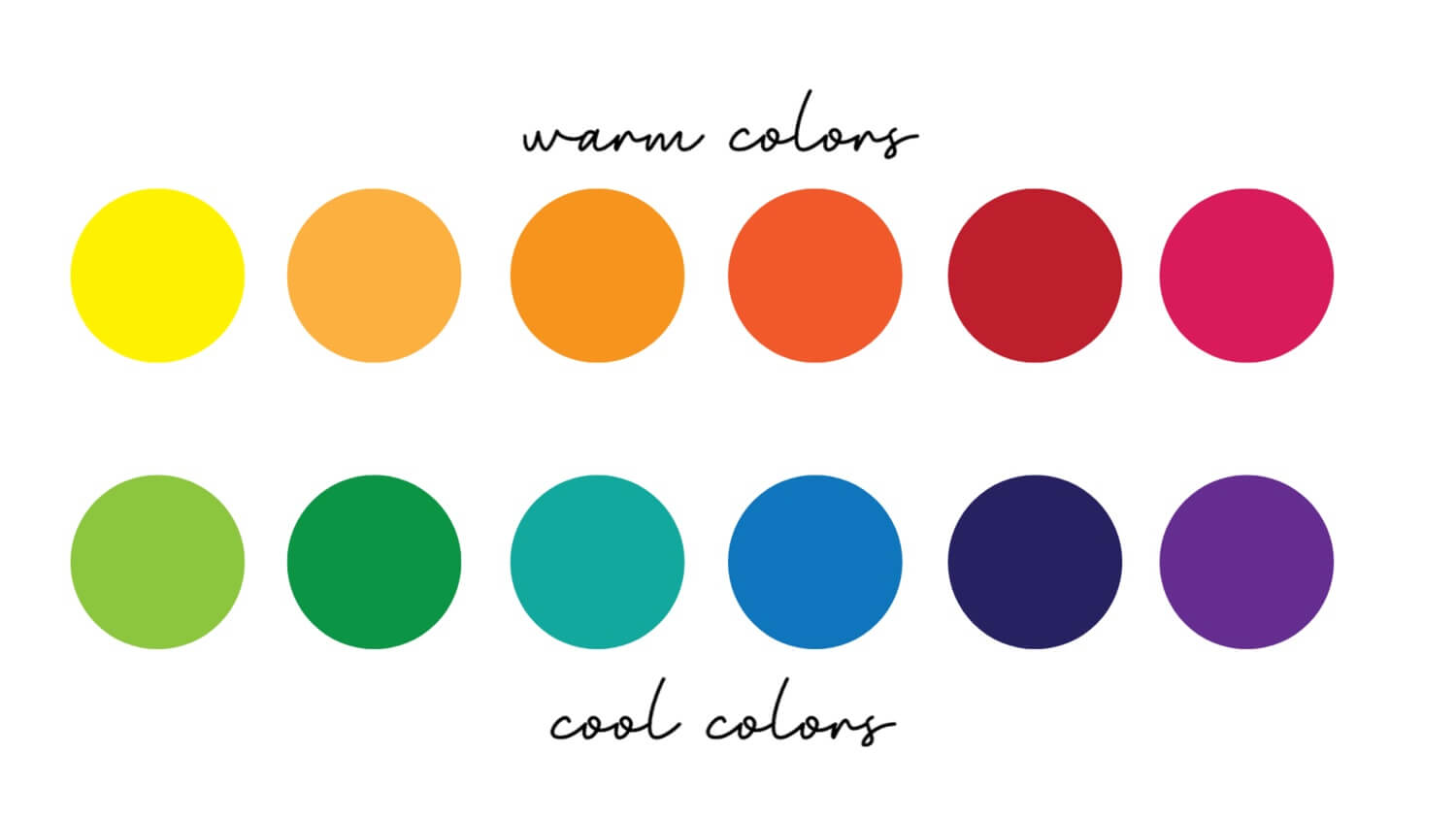 Paint your walls in warm colors
Painting your walls is perfect if your dedicated to get that warm fall vibe in your home. Completely engulf yourself with warm color tones like terracotta, brown and pink.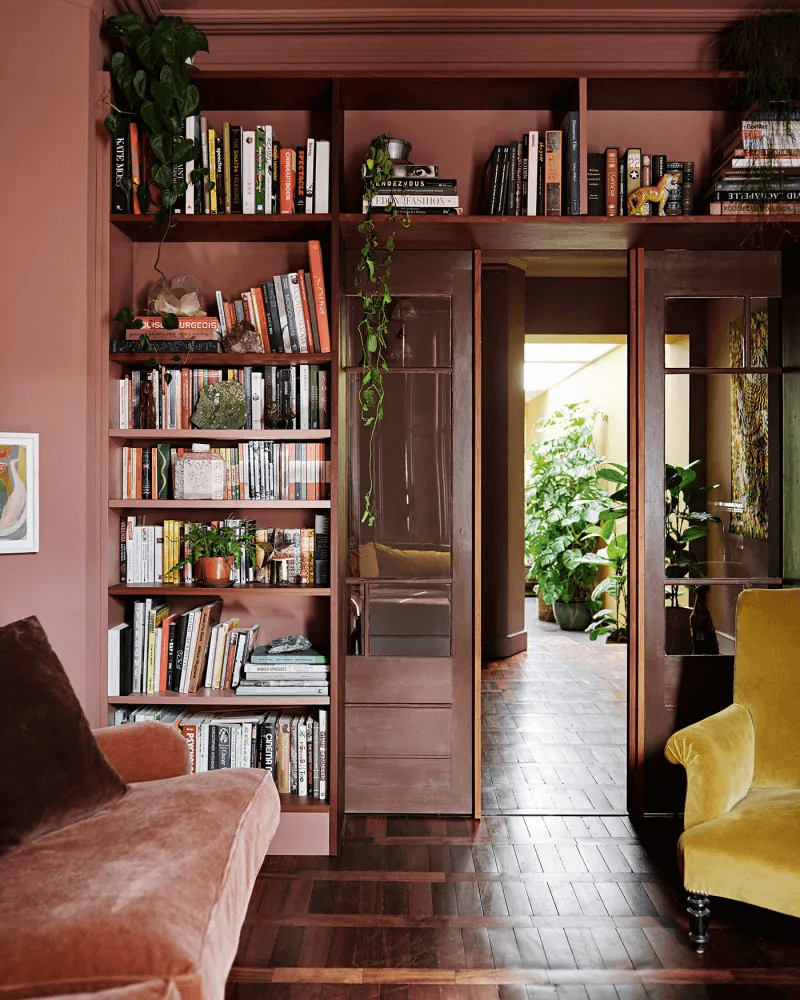 Pink on pink with a hint of mustard (see the full home tour here)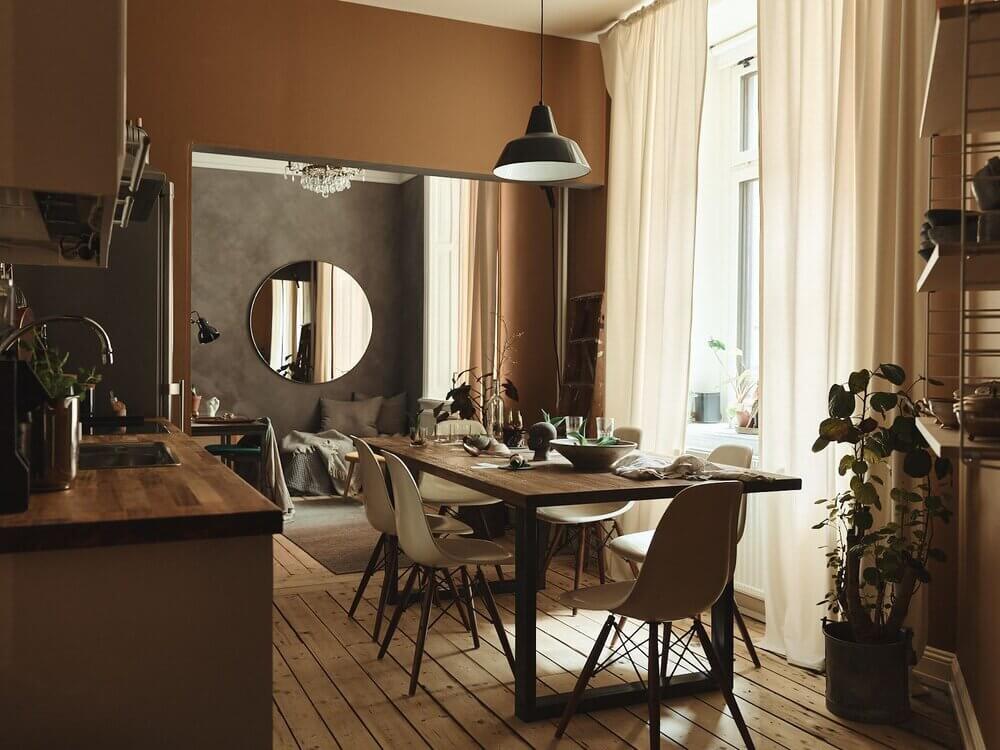 Warm earth tones in a small Scandi apartment (photo: Frederic Boukari)
Moroccan-inspired dining room with warm color tones (styling: Cleo Scheulderman & photo: Jeroen van der Spek)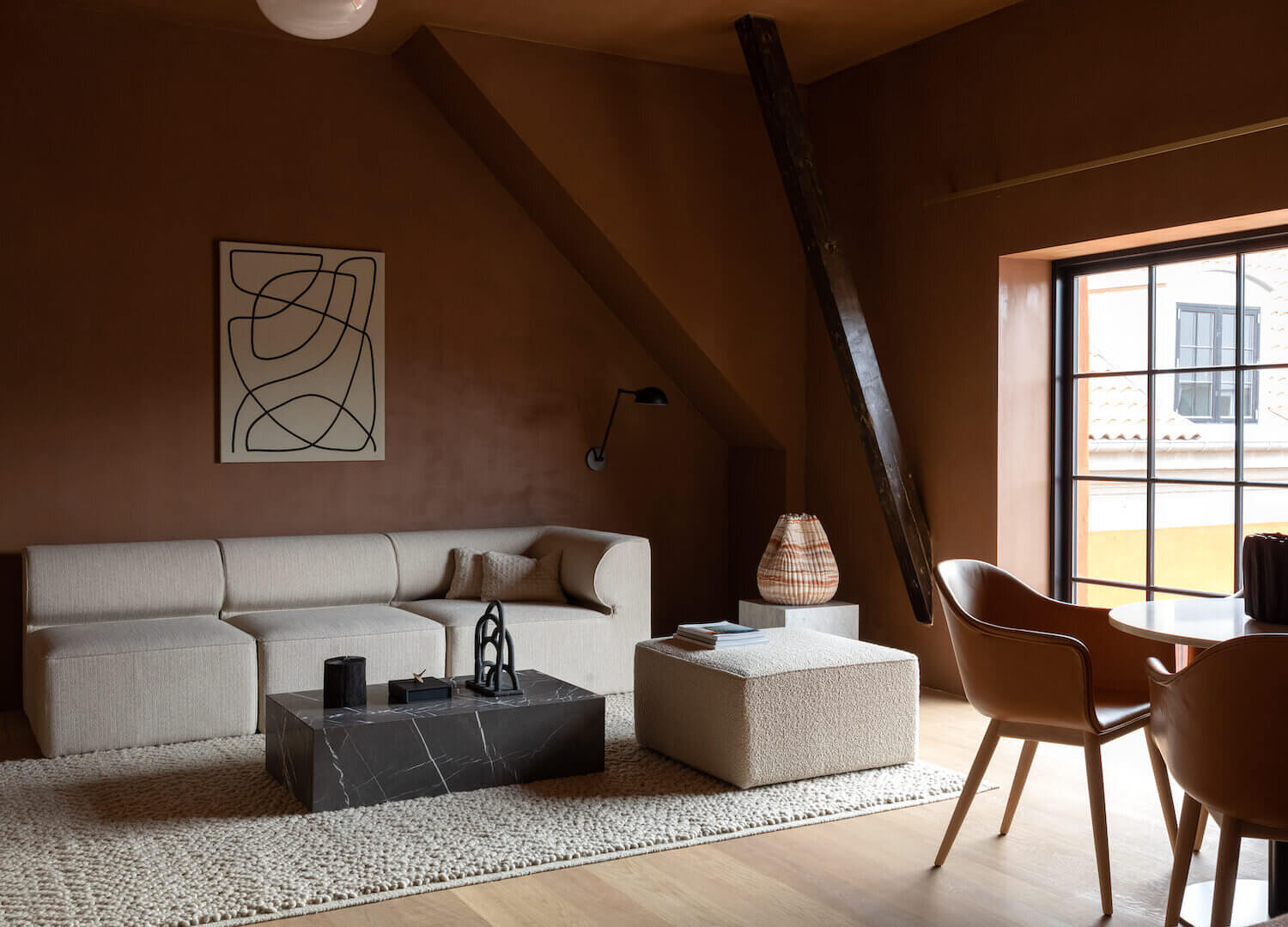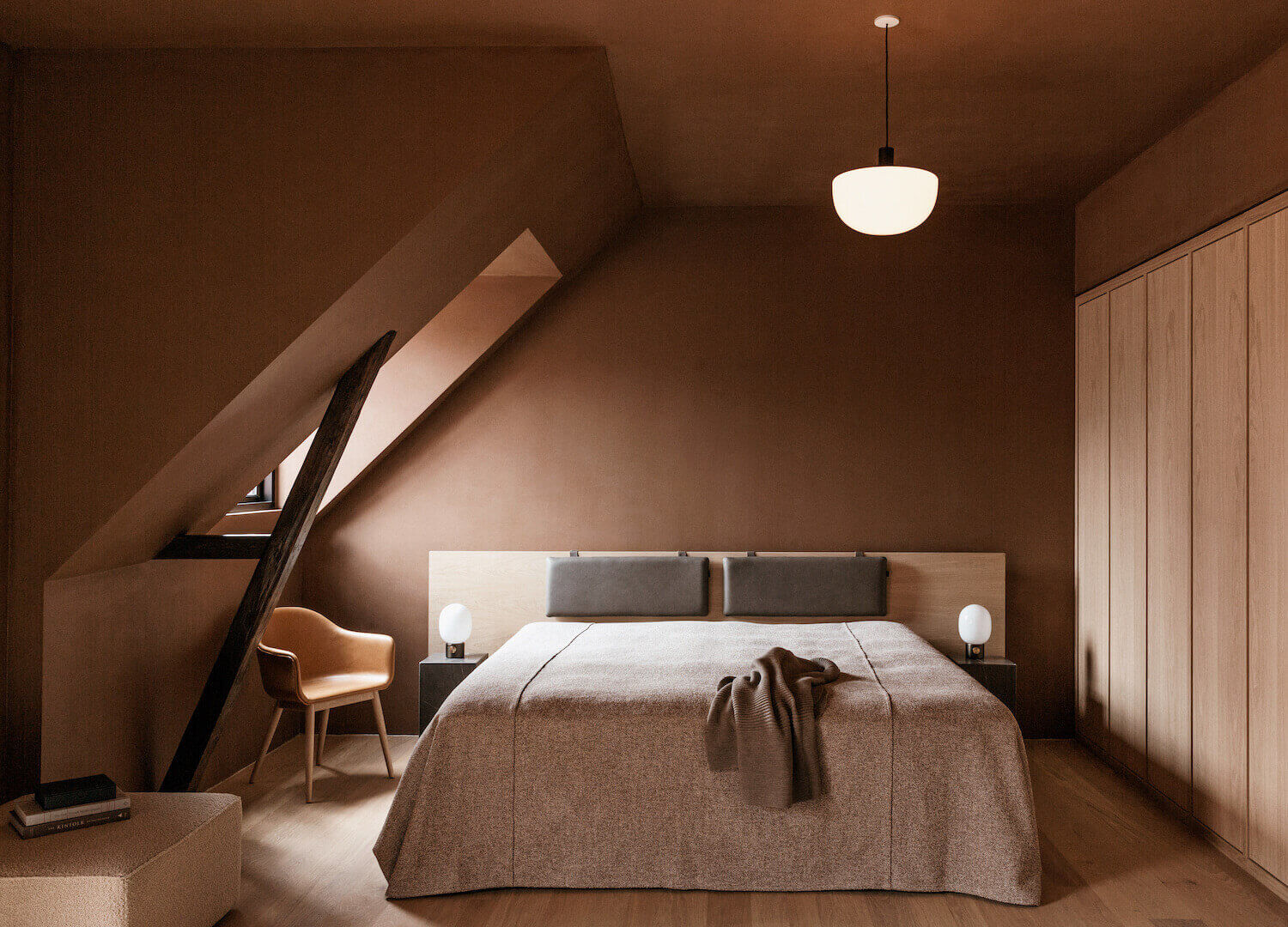 Brown tones combined with wood & grey in The Audo by Norm Architects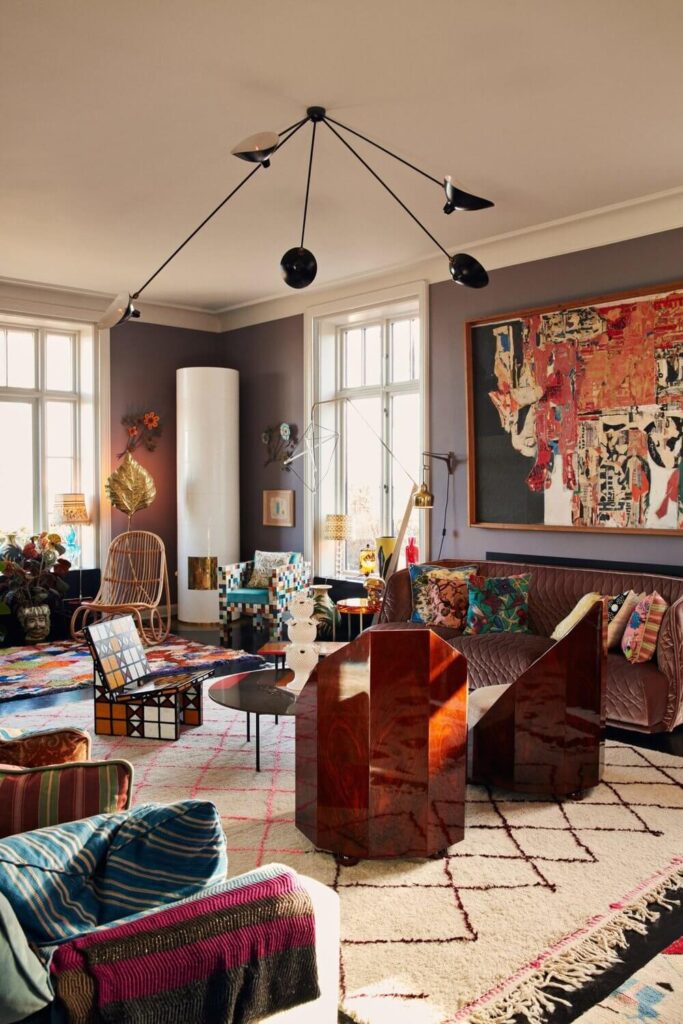 This living room is contrasting because is uses warm and cool tones but I think the overall feel of this space is definitely warm.
Soft pink walls combined with white, wood and a darker shade of pink (photo: Niki Brantmark)
Pink, mustard and purple results in a warm bedroom (photo: @minimockspetra)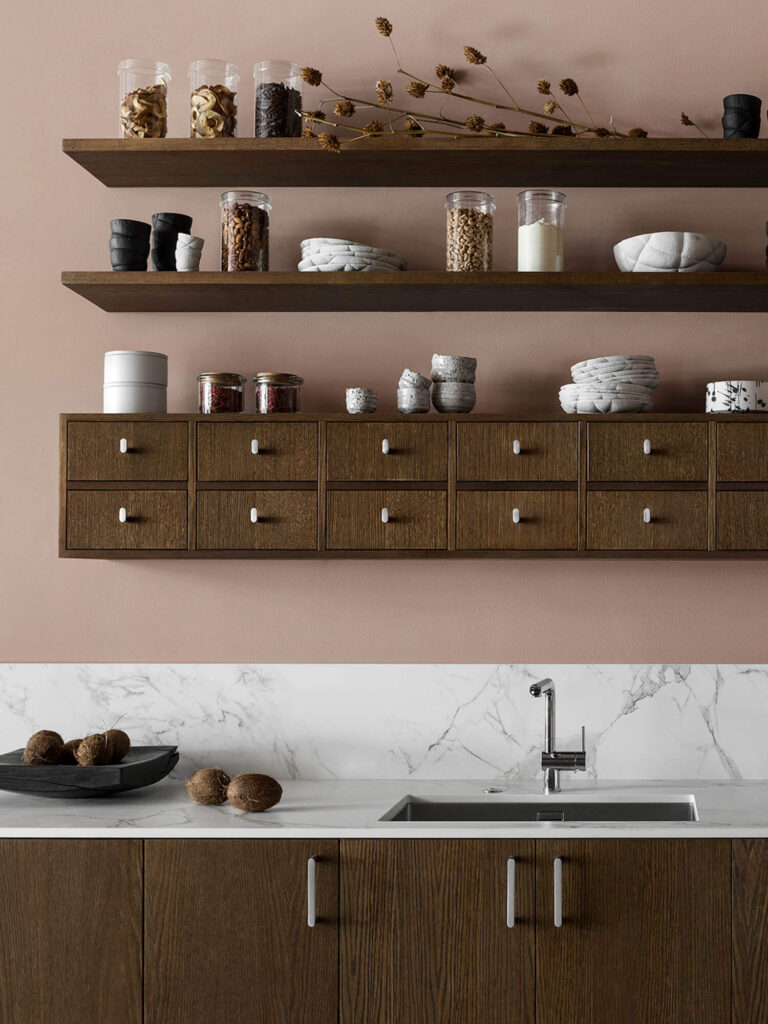 Pink & brown is a stunning warm color combination (photo: Nordiska Kök)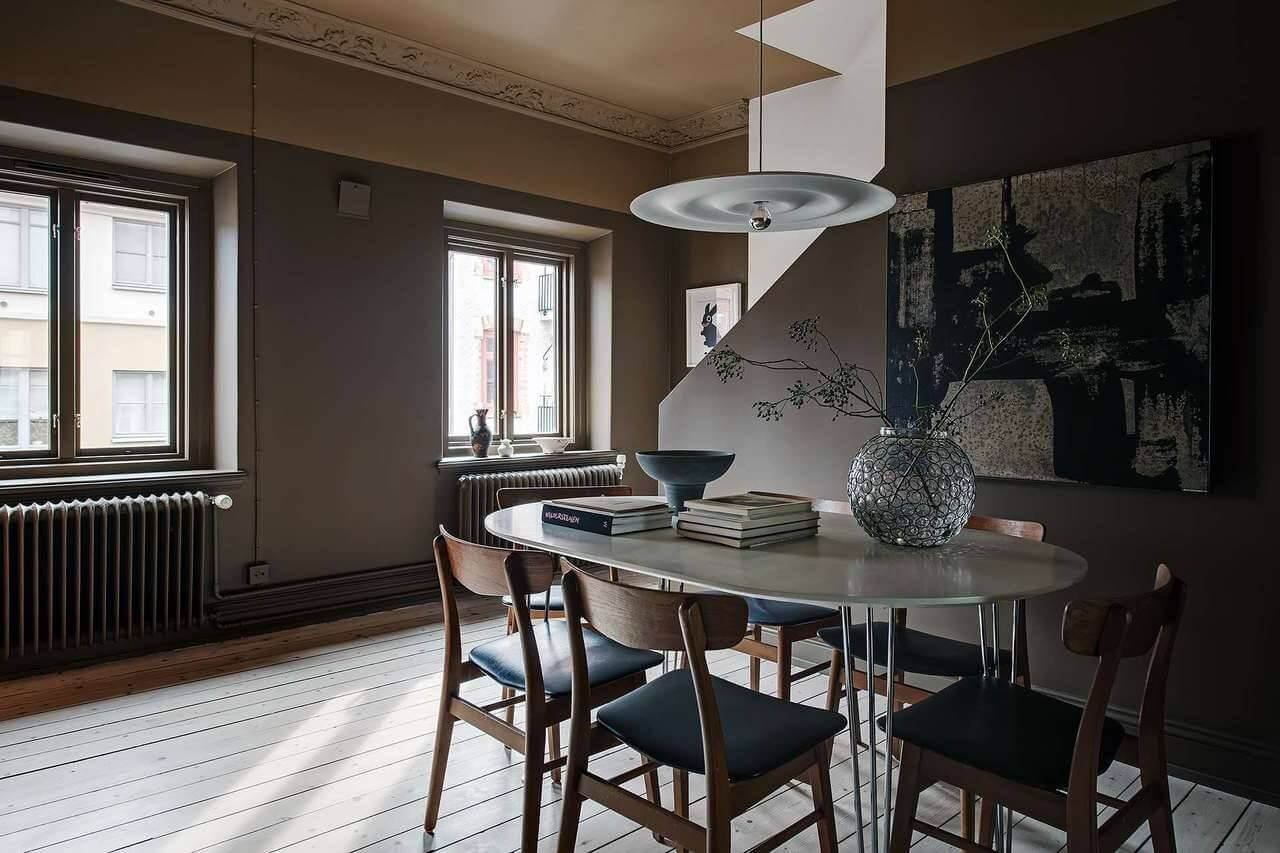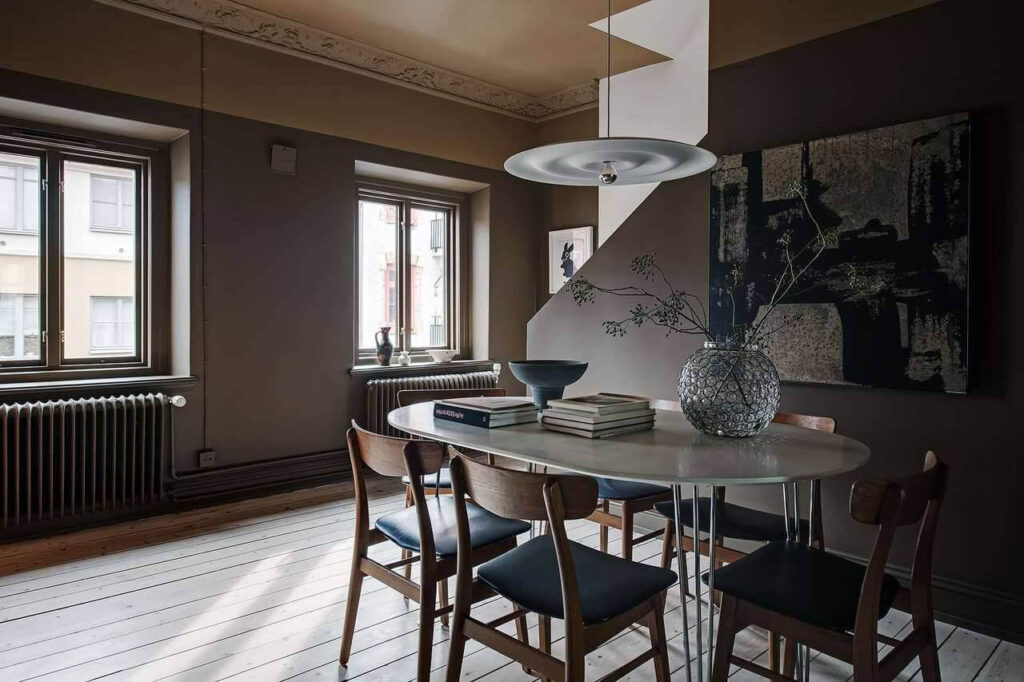 Go all the way with brown, not just a brown kitchen but also the walls and ceiling are painted brown, I love how they used multiple shades of brown, the ceiling is slightly lighter to not make it feel too overwhelming (photo: Alvhem)
Desert tones (photo: VT Wonen)
These terracotta colors you see a lot lately, they create a warm atmosphere to any space (styling: Cleo Scheulderman & photo: Jeroen van der Spek)
Living spaces with rich burgundy tones, you certainly have to love color to go this bold. You can combine in with earthy browns or like the right picturs with mustard (photos: Lisa Cohen for Dulux & Pinterest)
Of course you don't have to combine warm colors with warm colors. You can also add some contrast in your home by mixing warm and cool tones. Above terracotta colors have been combined with grey.
Green is technically a cool color but this shade feels very warm, I find the combination in this room quite interesting with the brown tones. (photo: Dulux)
If painting entire walls seem to daunting for you than you can opt for something a bit more subtle like this half painted wall in caly & honey tones
A living room from the Dulux 2020 color forecast in pink, burgundy and red combined with a calm neutral rug (photo: Lisa Cohen)
A warm living room with dusty pink walls, red chairs, a cozy dark rug and some candles to top it off (photo: Martin Cederblad)
Don't want to paint an entire wall? Why not try a color accent like this workspace by VT Wonen
Ps: Instead of painting an entire wall, you can also use removable wallpaper if you prefer your color accent on the walls to be temporary
Warm color accents with furniture
It might be a bit extreme to buy new furniture for every season, but if you have a sofa or a chair with an exchangable cover then this is the time to get out that cover in a warmer tone.
Jackie Kai Ellis has added a warm rusty red velvet sofa to her Paris apartment. The orange and red rug add even more warmth to this Parisian living room (photo: Joann Pai)
above two examples from a warm & creative Copenhagen home, see the full home tour here (photo: Andrea Papini)
(styling by Cleo Scheulderman & photography by Jeroen van der Spek)
styling: Moniek Visser & photography: Peggy Janssen
Warm home decor
Changing the color tones in your home decor is obviously the easiest way to transform the look of your home and add wamer colors. Even small changes can make a big impact, think about changing your bedding, or adding some warmer pillows to your sofa.
Those are small changes but just think about changing your rug or your curtains, that will make a huge difference to the look of your home.
See what a big impact this rug makes, by adding a rug in warm tones this room immediately feels warm and cozy (photo: Urban Outfitters)
Instead of a rug you an als hang a large tapestry in warm color tones, not only do you bring warm colors into your home but you also add some texture (after all in the cold months we want cozy fabrics) photo: Urban Outfitters
A change of bedding is an effective way of creating a different mood in your bedroom. These earth tones bring fall into your bedroom easily (photo: Homes to Love)
photo: Marjut Kauppinen
styling: Moniek Visser & photography: Peggy Janssen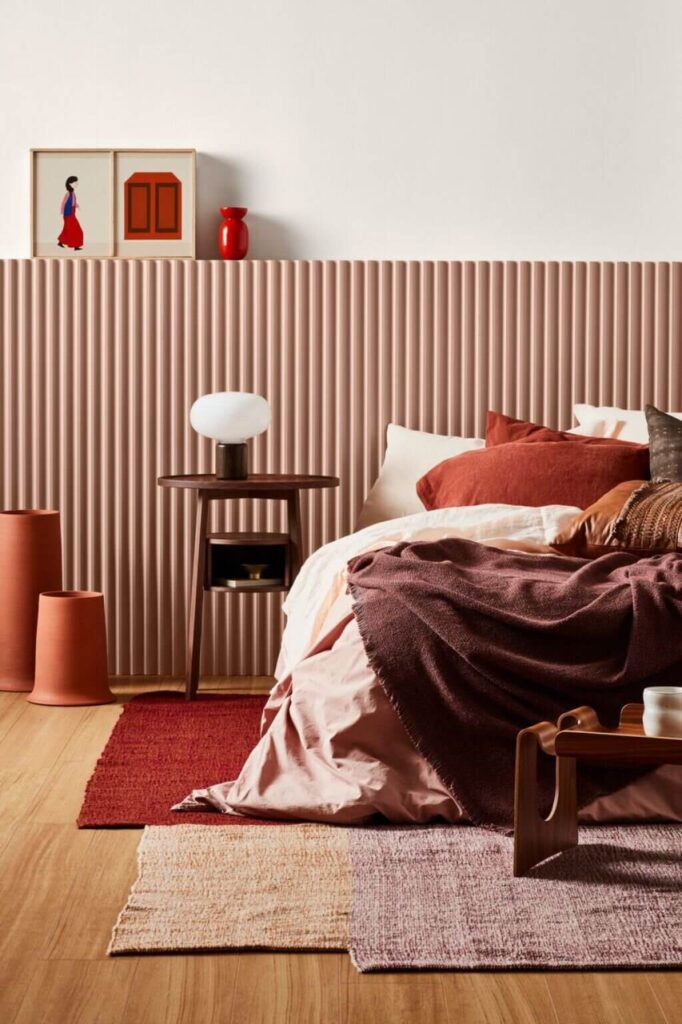 photo: Dulux
Simple but effective, do you have a lot of artwork in your home? By adding art in warmer color tones you create a warmer look (photos: Desenio)
Earthy tones with natural materials and a nice popping pink color detail (styling: Liza Wassenaar & photo: Jeroen van der Spek)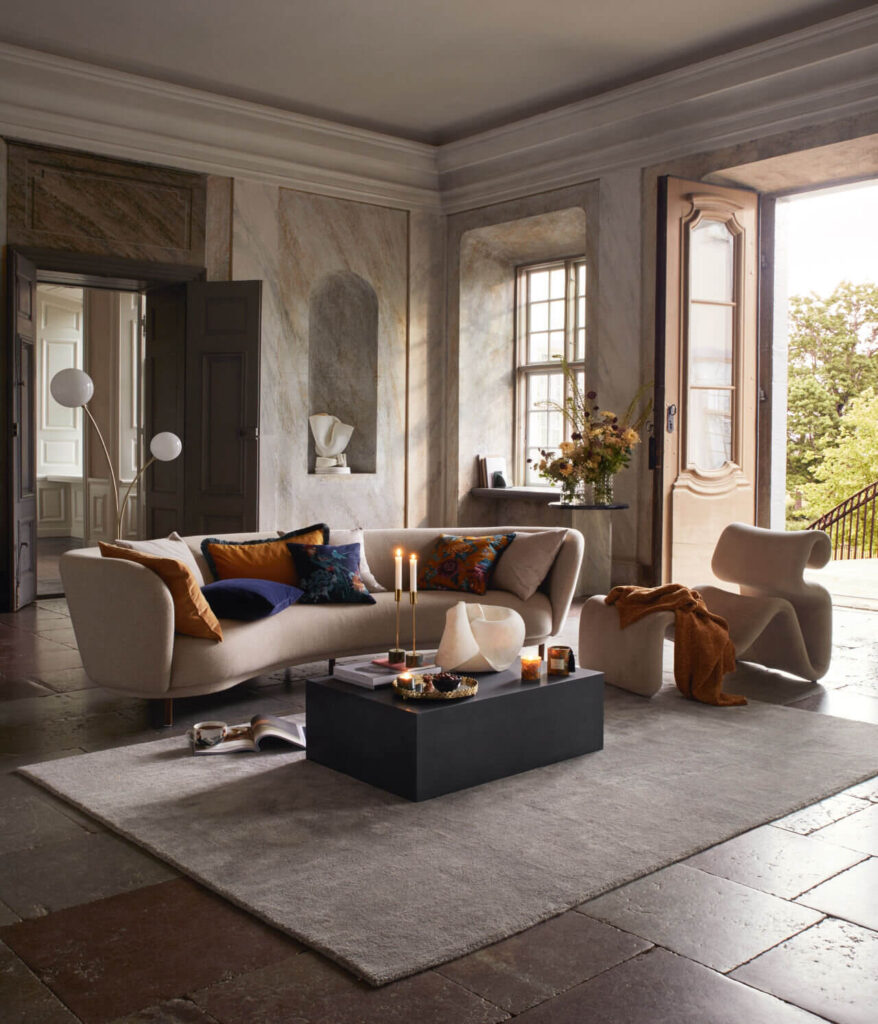 By adding mustard pillows and candles your space immediately gets warmer (photo: H&M A Lush Fall Tale)
Lastly the best advice on how to get your home in the fall mood in to layer up. Bring out the pillows and throw blankets (especially if they're in warm color tones). Bring out the candles and cozy up on the sofa with a cup of tea. Happy fall!