A Colorful Victorian Terrace House with Modern Extension
Hellooo color! This Victorian terrace house in London doesn't just have the occasional colorful wall or furniture but the entire house is painted in vibrant color tones from Pure & Original (with color design by KOI Colour Studio). From doors painted in 2 different shades to a blue kitchen island and yellow ceiling this Victorian house is painted in all the colors of the rainbow. And you know what? It all works together perfectly!
The narrow Victorian terrace house in Highgate, London was in desperate need of a renovation project and to accomodate the entire family of Norwegian architect Siri Zanelli (of Collective Works) the house had to be extended from a 3-bedroom home to a 5-bedroom home.
In the ktichen extension you can still see the birck structure of the Victorian house and this is combined with wood, glass and even more brickwork to create a natural connection between old and new.
The golden yellow sitting room is warm and has a large orange Togo sofa, the home office is painted in a lovely shade of pink and the master bedroom is painted in a dark moody green. Even though a lot of color has been used in this home it still feels harmonious (also because of the wooden elements that can be found in every room). So this home shows that there's no such thing as too much color!
The golden yellow living room painted in Old Ochre by Pure & Original. The home office below is painted in Pure & Original Soft Flamingo with Nutmeg Powder trimming.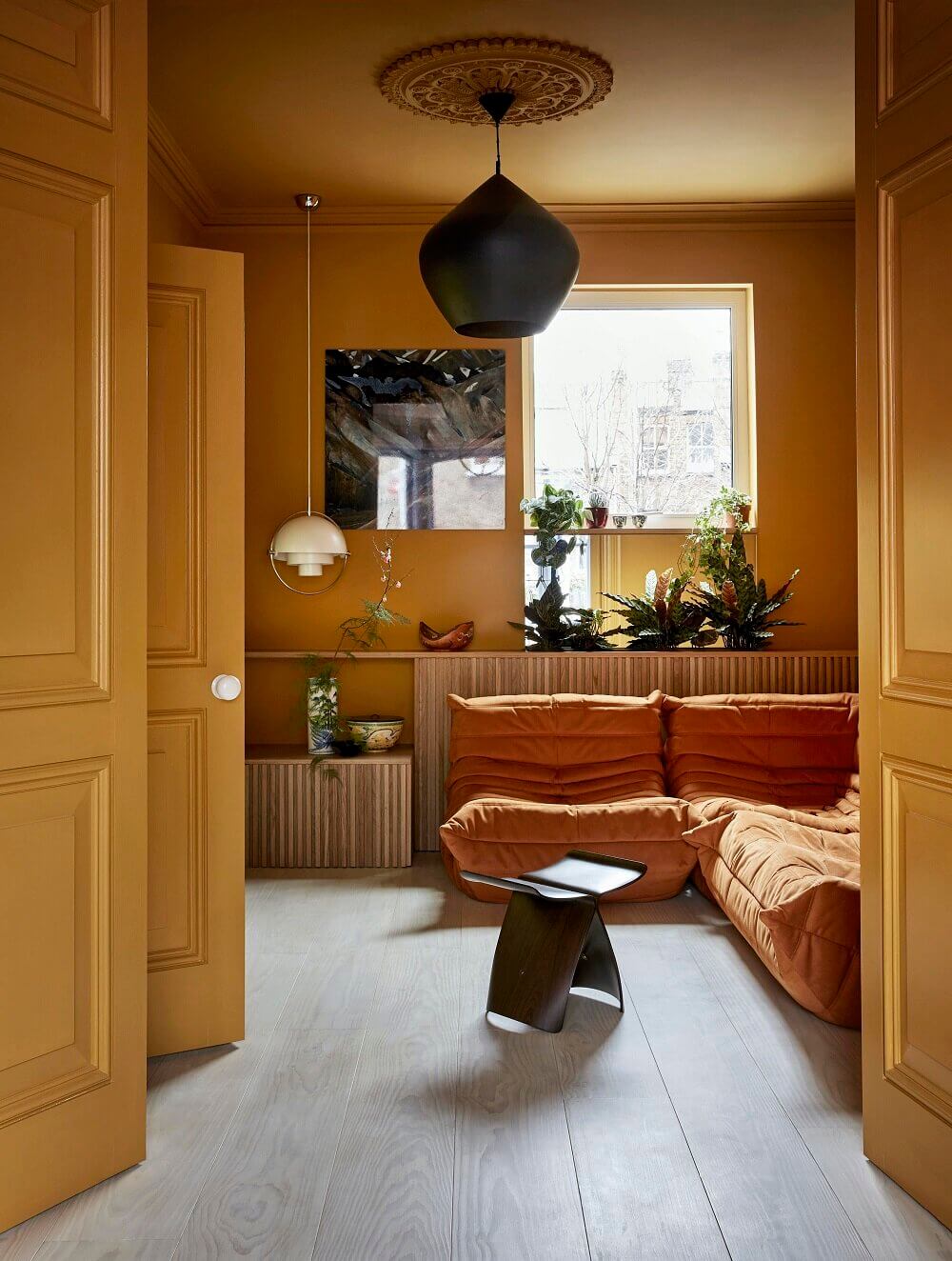 Shop Living Room: Togo Sofa, Gubi Multi-Lite Pendant, Tom Dixon Beat Stout Pendant, Vitra Butterfly Stool Shop Home Office: Flos Arrangements Pendant Light & Eames Lounge Chair
See also: The Color Trends for 2021: Warm Comforting Hues with Bright Color Pops
The extended kitchen painted in Classico Hop by Pure & Original
Shop the Kitchen: Arne Jacobsen Swan Chair, Ekstrem Chair, Røros Tweed Blanket (no longer availabe but slightly similar + many more options from Røros Tweed here), Carl Hansen dining chair
The bedroom painted in a moody green called Black Hills (Shop: HAY Dot Blanket)
The kids bedroom on the right is painted in Mauve Love
colour design by Dagny Thurmann-Moe of KOI Colour Studio, styling by Kirsten Visdal & photography by Margaret M. DeLange