A Pink and Blue Scandinavian Apartment
Pink and blue color tones work perfectly together in home decor. This apartment in Stockholm is also painted in pink and blue shades and it creates a lovely colorful home. Color shades can range from soft tones to vibrant tones and in this apartment they chose soft pink and blue tones.
The open plan living room and kitchen is painted in a organic pink shade by Auro (Silk Aspiration). In the living room is also a blue color detail with the comfy blue sofa. IKEA Svalnäs shelves are hanging next to the sofa.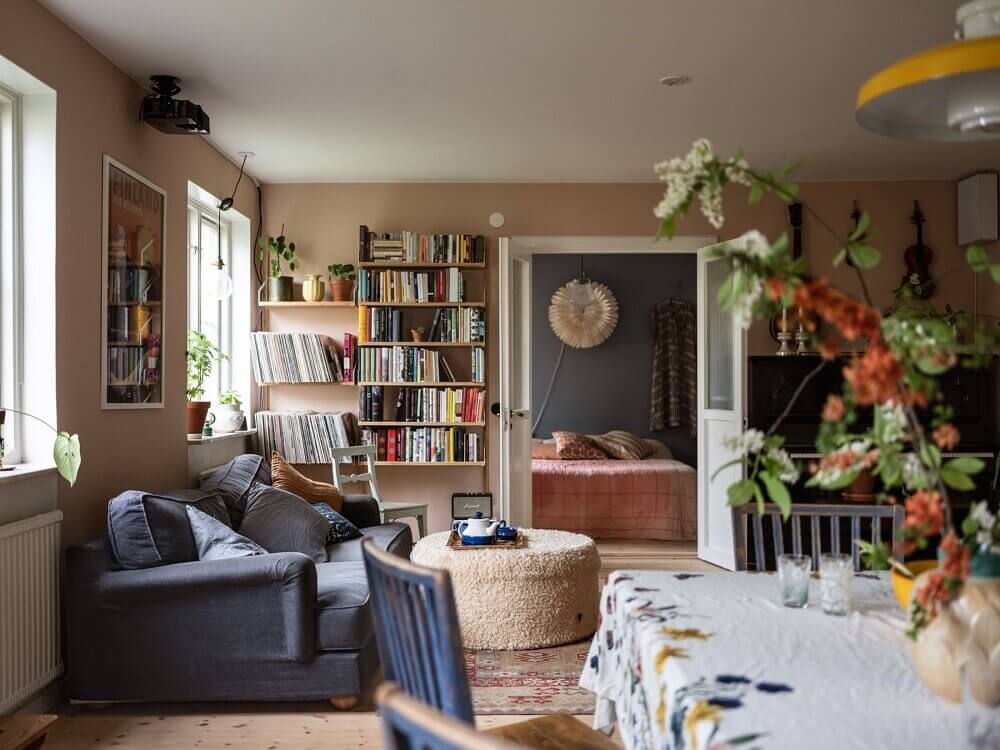 A new kitchen was added during a big renovation in 2019. Grey/blue ash veneer cabinets are combined with limestone countertops and backsplash. No upper cabinets in this kitchen which gives this kitchen an airy look. The light flooding in from two side also give this room a bright look.
The master bedroom is painted in organic doveblue paint from Auro. A custom made wardrobe made of IKEA Pax cabinets stands on one side of the room. The little extra space by the wall is used as bookshelves.
The master bedroom opens up to the balcony.
The children's room above is painted in Granite Sand by Auro. The hallway below is decorated with Seaweed wallpaper by William Morris. Clever and stylish storage boxes hang on the wall.
styling by Copparstad & photography Johansson for Historiska Hem
See more pink & blue apartments: