A Pink Living Room in a Mid-Century Home in Los Angeles
Have you noticed that homes are becoming more colorful? I love that people are gravitating towards color into their interiors and today I share another beautiful colorful home with you.
Elspeth Benoit (of A 1000 X Better) is the designer of this mid-century home in Prime Silver Lake, Los Angeles. She managed to bring loads of color into the home without making it look overwhelming. She used light shades combined with brigh color pops (extremely on trend if you've read the color trends for 2021) but she also added dark, moody colors in this home for contrast.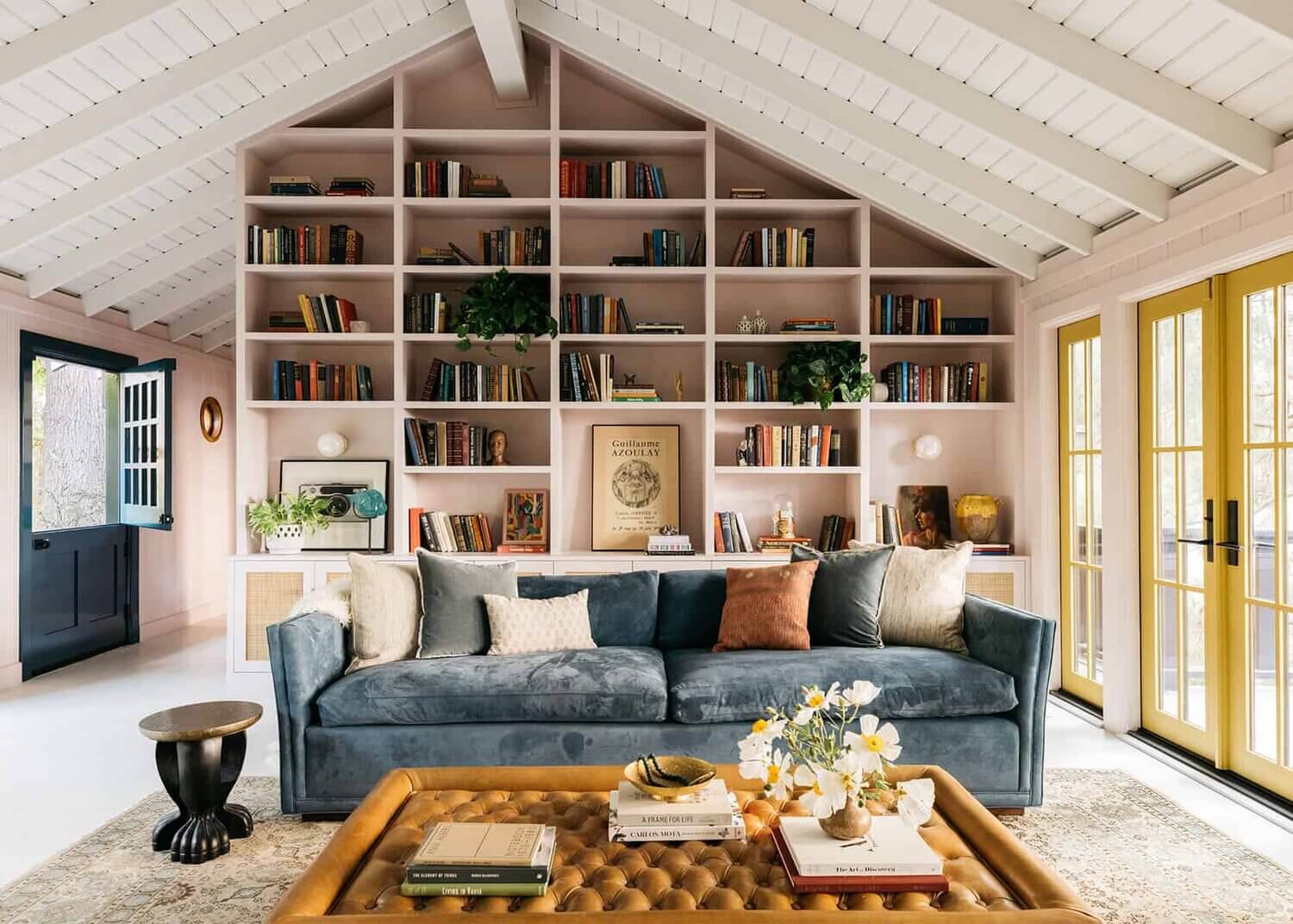 We start in the living room where the walls have been painted in a soft pink shade. Also the floor-to-ceiling bookcase has been painted in this color to make it blend into the wall and create a more harmonious look.
The ceiling and floor is white to make this room bright but calm.
And extra color touch has been added by painting the window frames yellow for a cheerful look. This seems to be a trend because you might remember this basement kitchen with mint green window frames.
The blue velvet sofa completes this colorful and bright living room. It has been combined with wood and brown tones to bring calmth to the room.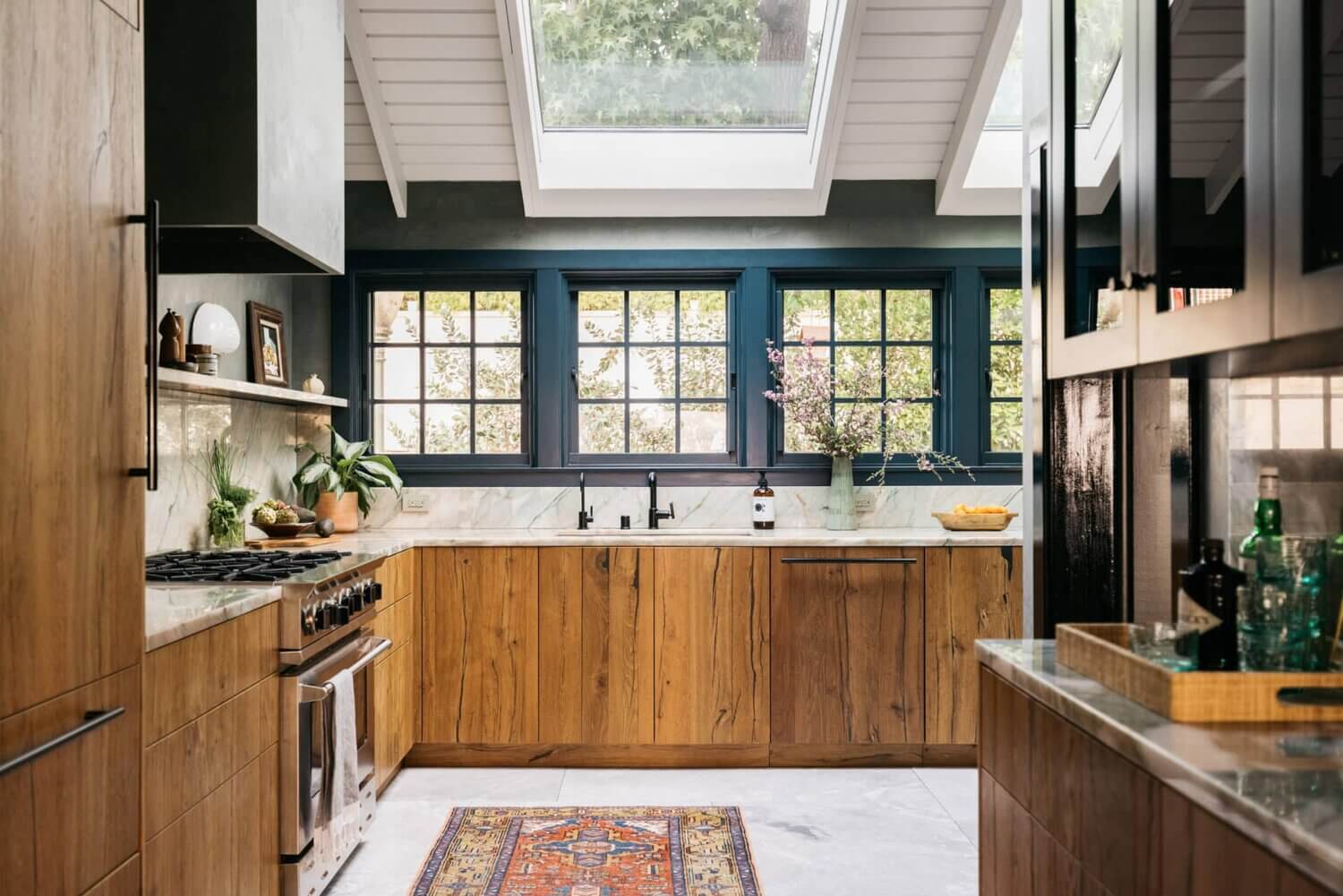 We move on to the renovated kitchen with high ceilings and skywindows. Wooden custom made cabinets are combined with Alexandrita quartzite counter tops and Carrera marble floor tiles.
In this room also a color touch with blue window frames (they love painting the window frames in this home, which is such a nice and unique way to add color to your home)
A kitchen table with a view. From the large windows above you have a wonderful view over LA and the Hollywood Hills.
The dining room is a complete contrast to the living room. The walls have been painted in a very dark shade, combined with green floor tiles. From the adjacent sun room you have gorgeous views over Los Angeles.
Downstairs are two bedrooms seperated by a Jack-and-Jill bathroom. This bedroom has a sleeping loft and the wallpaper is Raphaël Blue by Sandberg Wallpaper.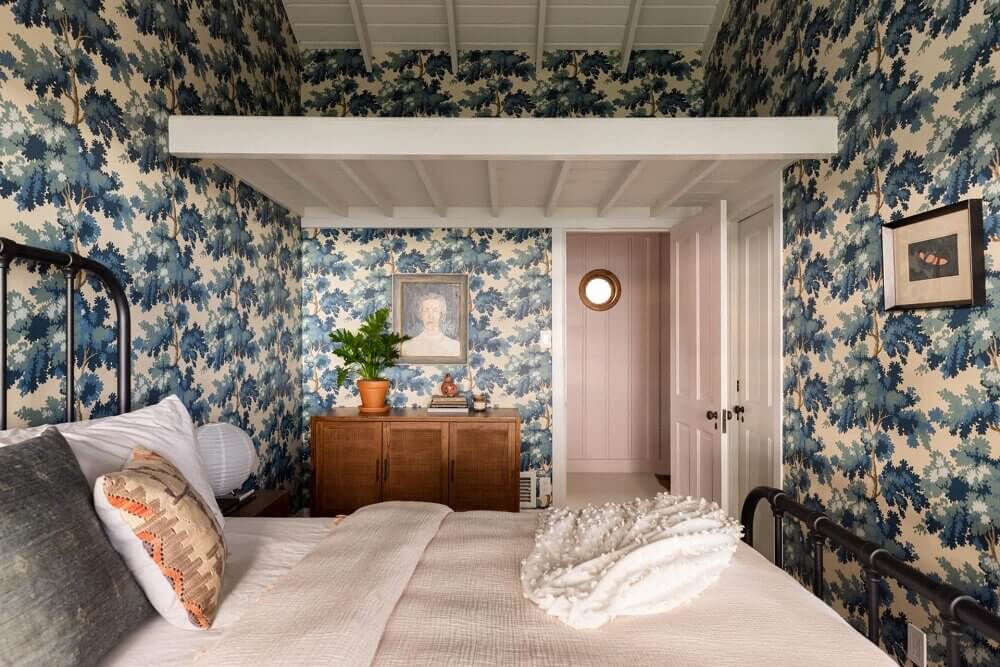 More pink walls in the Jack-and-Jill bathroom. The bathroom has Cipollino Ondulato marble countertops and Waterworks faucet and sink.
Not much color in the master bedroom with the white walls and wooden bedframe.A subtle color touch in the bedding with a earthy colors throw blanket.
But the master bathroom is the complete opposite from the bedroom. This moody bathroom is absolute perfection. The darm Cle Zellit tiles are combined with Calcatta Viola marble in the vanity and from the landscape window you have a gorgeous view over the city.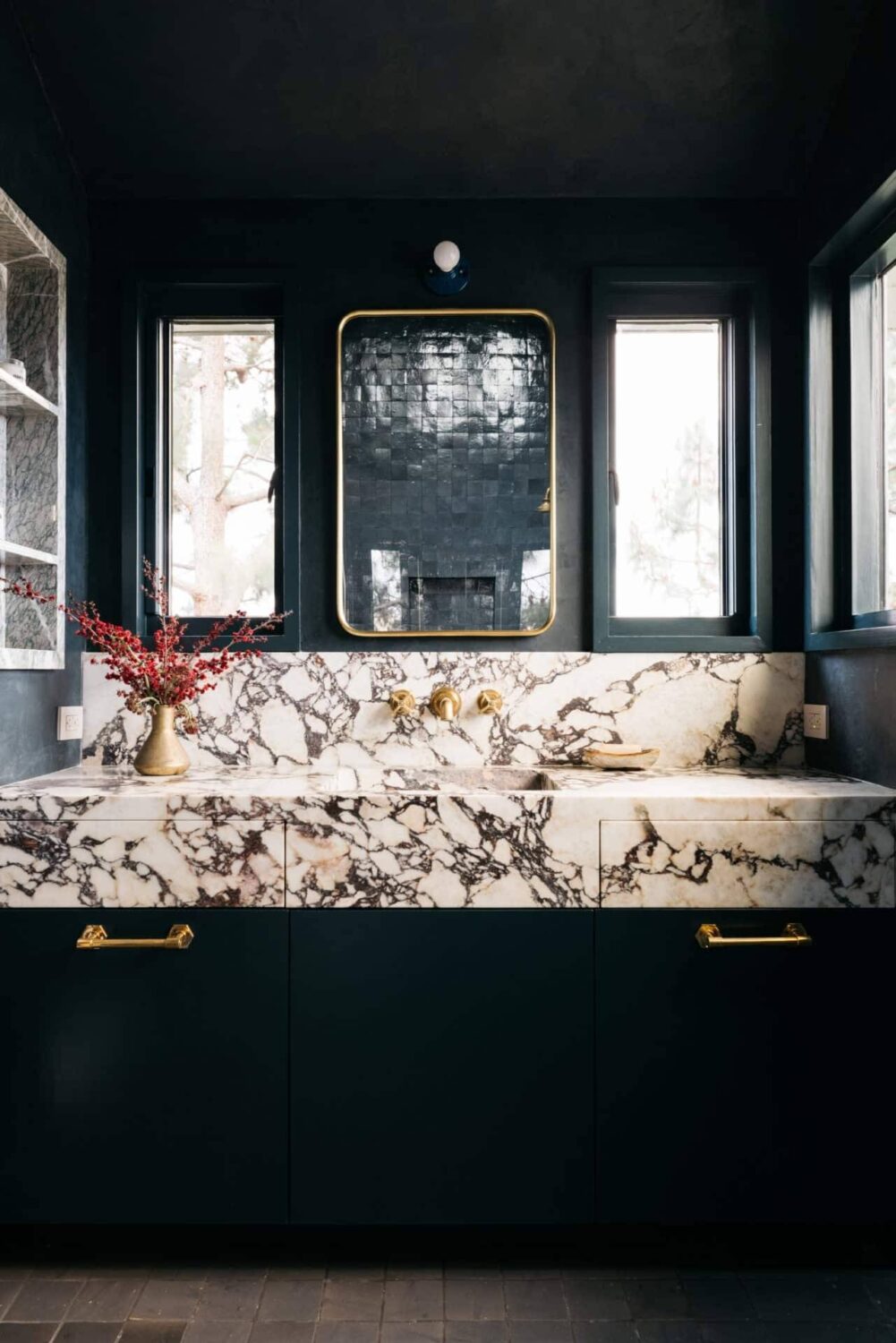 The home has two decks and a small private garden. Love the Dutch door leading to the living room.
Do you love this home as much as I do? It is now for sale with Cari Field of ACME Real Estate for $2,395,000.
photography by Virtually Here Studios