Simple Bathroom Design Ideas That Will Wow You
On this blog I've shared many bathroom styles: big, small, maximalist, or colorful. But you can't beat a simple bathroom design. A minimalistic simple bathroom is timeless, elegant, and simply beautiful.
In this post I will share simple bathroom ideas with you. From small and big simple bathroom ideas, to colorful simple bathrooms. If you need inspiration for your upcoming bathroom remodel then you're in the right place.
Small simple bathroom ideas
Keeping a small bathroom calm and minimalistic can help in making it feel larger. These small minimalistic bathrooms give plenty of inspiration for a simple bathroom that feels stylish and luxurious.
This small bathroom has an awkward layout but the triangle point is perfect for the shower. Even though the majority of the small bathroom has concrete walls and floor, the shower room has tile work. But since they kept the tiles in the same color scheme as the rest of the bathroom it feels calm and stylish. Black steel doors and minimalistic black wall-mounted fittings add to the sleek minimalistic and industrial look.
Even though they used three types of tilework in this small bathroom, it still feels minimalistic and simple. This is also because they kept it all in the same monochrome color scheme in the three tile types. And the same marble is used for the raised shower space and the small bathroom sink.
This bathroom in a Dutch townhouse isn't very big, but the design more than makes up for that. The shower and bath are combined in a design feature made of concrete. A floating cabinet also creates a more spacious feeling.
This black bathroom is pretty simple in its design. But the material choices make it look unique and one-of-a-kind. The large gray floor tiles are combined with black textured wall tiles. The choice of a black toilet makes it blend in with the wall and therefore less of an eye-sore.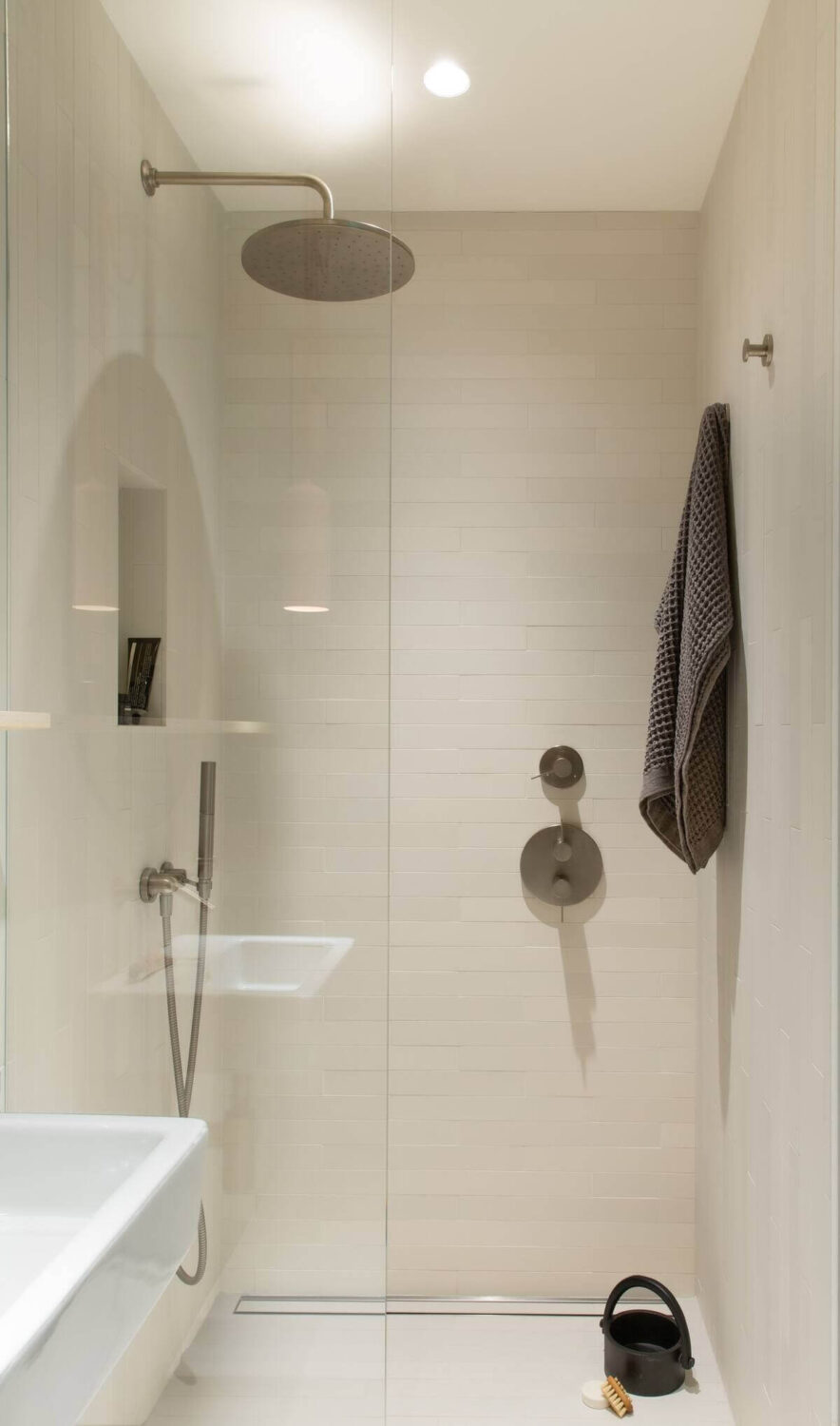 The tile work in this small bathroom has a slight texture with gives the bathroom a nice design touch despite the neutral color tone.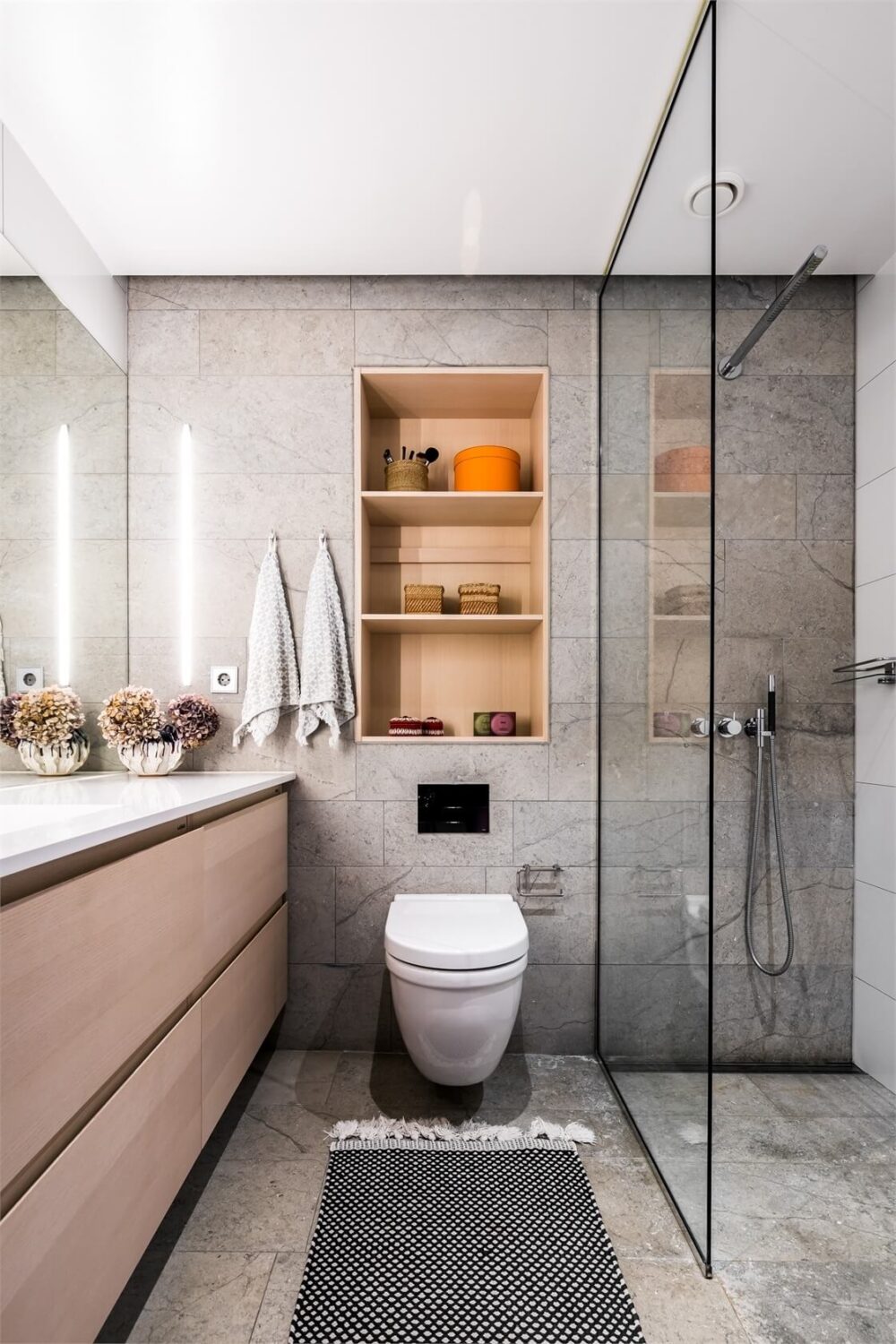 A tip to create a harmonious and simple bathroom style is to be mindful of the materials you use. In this bathroom, the wood of the bathroom vanity returns in the storage niche.
Small simple bathroom with bathtub
Big simple bathroom ideas
A spacious bathroom always adds more design possibilities, and while some might think that a minimalistic bathroom is boring, these bathrooms will show that a simple bathroom design is beautiful. And it will create the perfect space to relax and unwind.
The London home of duo behind the music band Oh Wonder is a Nordic minimalistic dream. And the bathroom (above) is a light, simple and stylish beauty.
You probably won't find a more minimalistic bathroom than this concrete bathroom. The walls, the floor, the sink, the shower, and the shower niche are all made of concrete. The black bathroom fittings are a stylish addition to this simple bathroom.
Gray and wood is a popular combination in a minimalistic bathroom design. This also can be seen in this bathroom, with a barrier-free walk-in shower and floating wooden vanities.
There is no tile work in this bathroom with instantly gives it a more minimalistic look. The concrete on the floor returns in the walk in shower, which has a niche to store bath products. A sleek wood floating bathroom vanity adds warmth. And the freestanding Agape bath is put directly in line with the vanity under the window.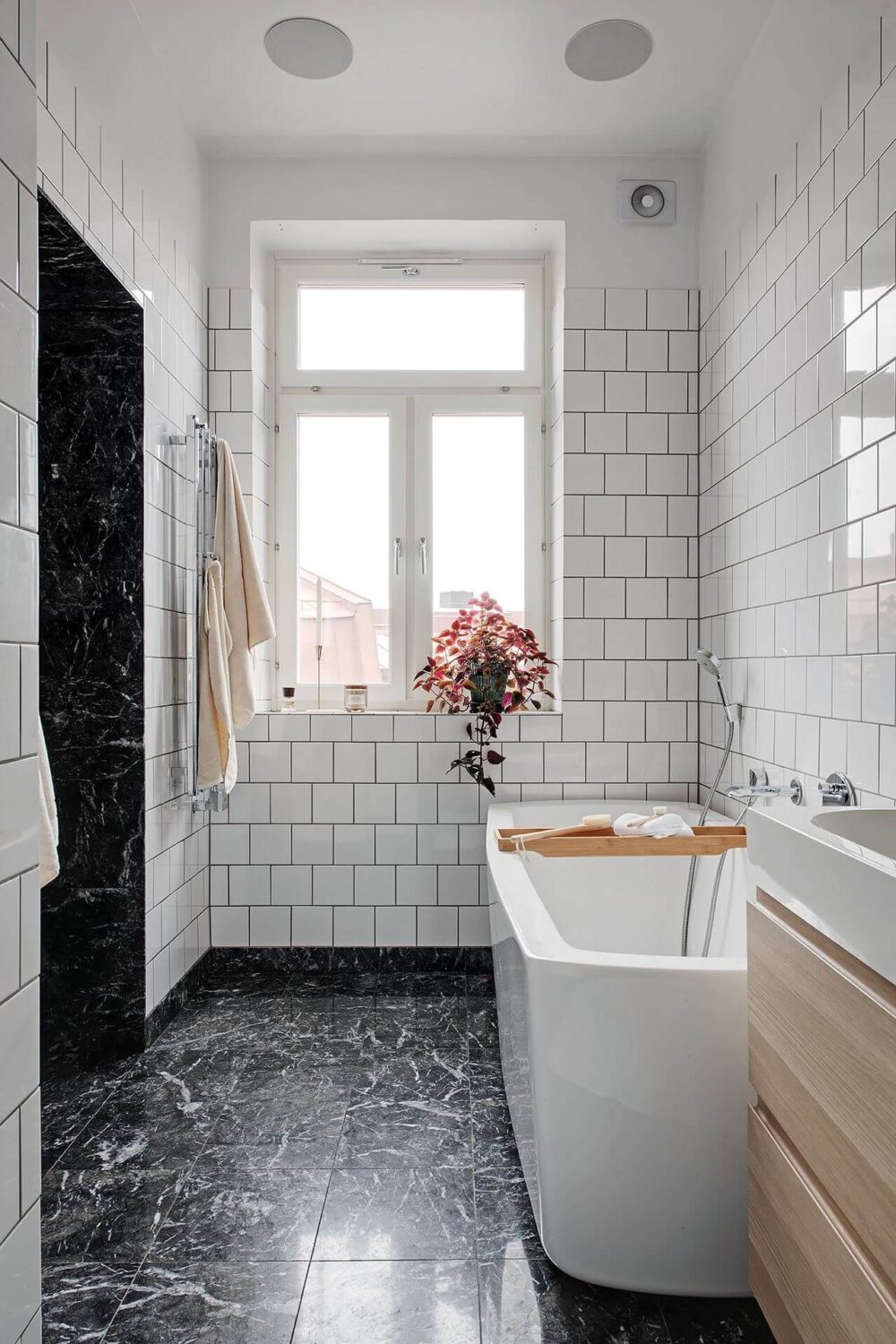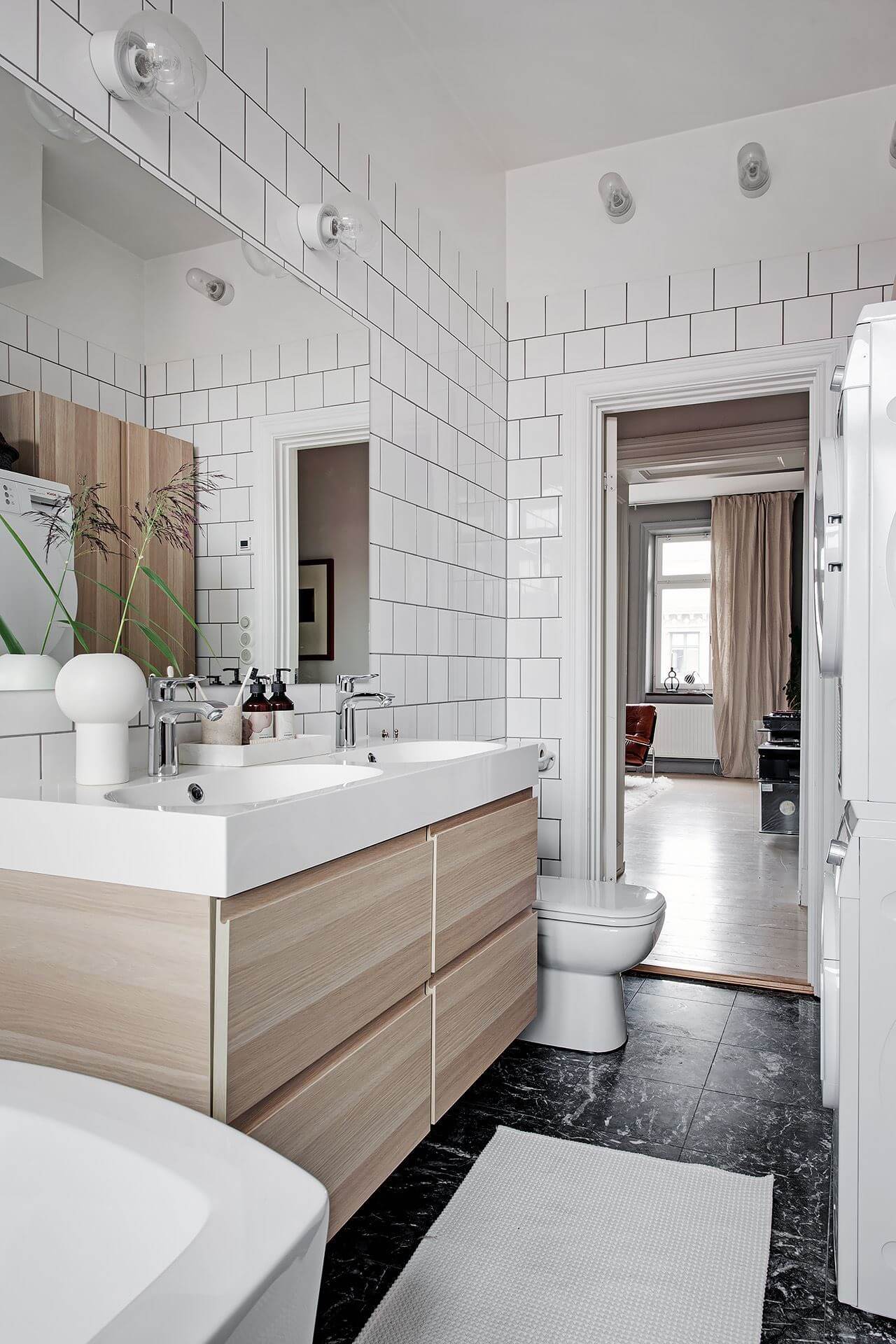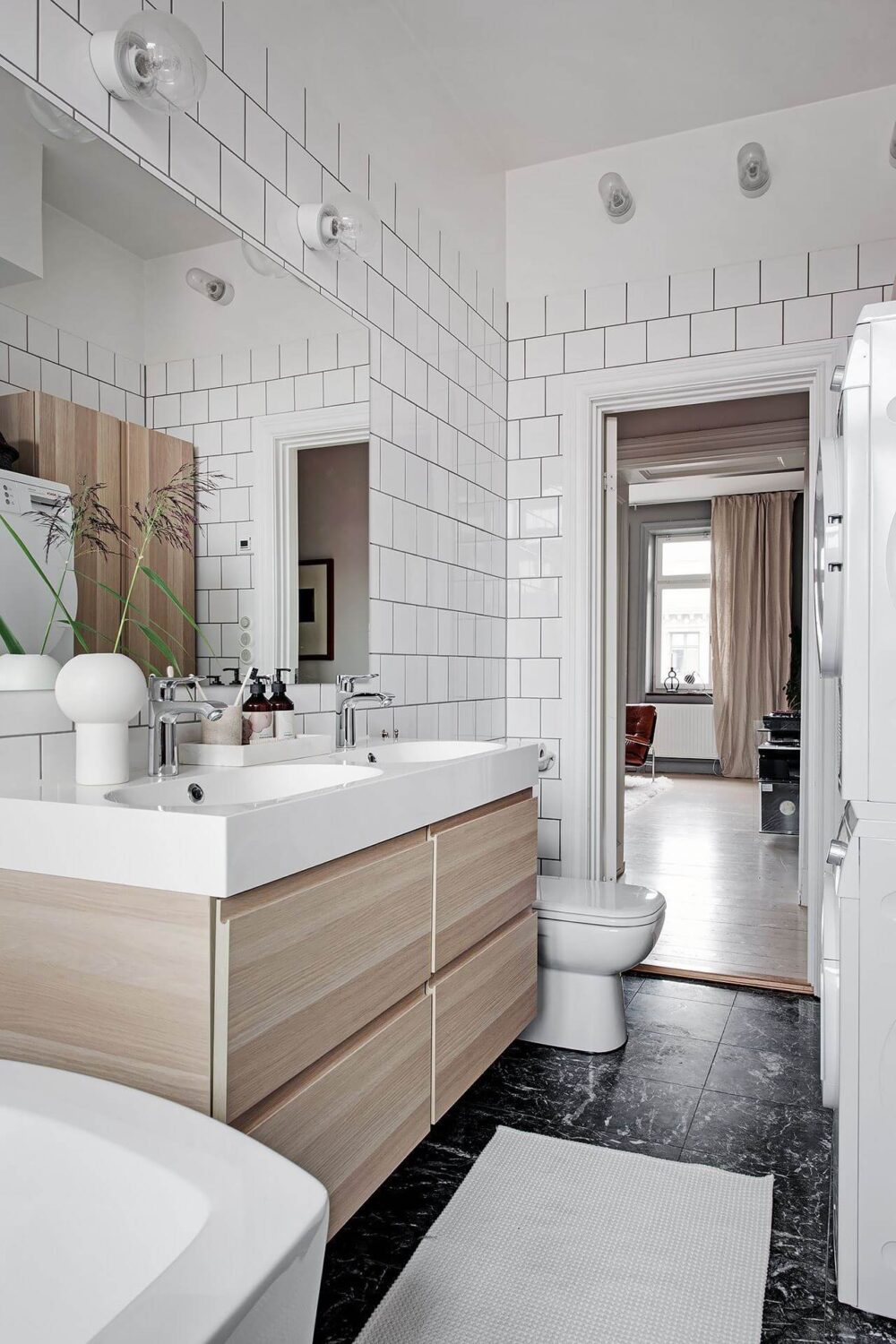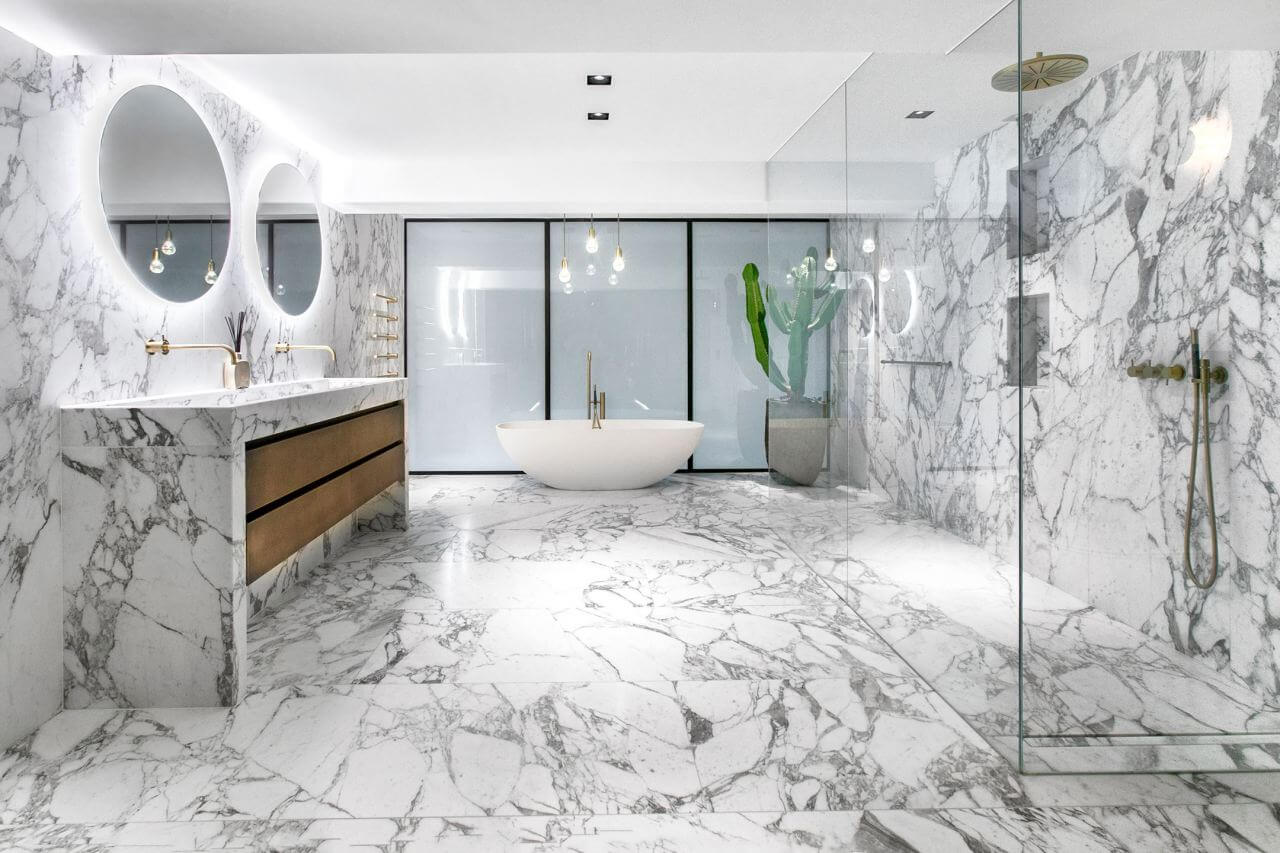 Simple with a WOW-factor. You can't go wrong with marble in a bathroom and this luxurious marble bathroom shows that. The design of this bathroom is really simple with a glass walk-in shower, a freestanding bathtub, and a bathroom vanity made of the same marble with a brass front.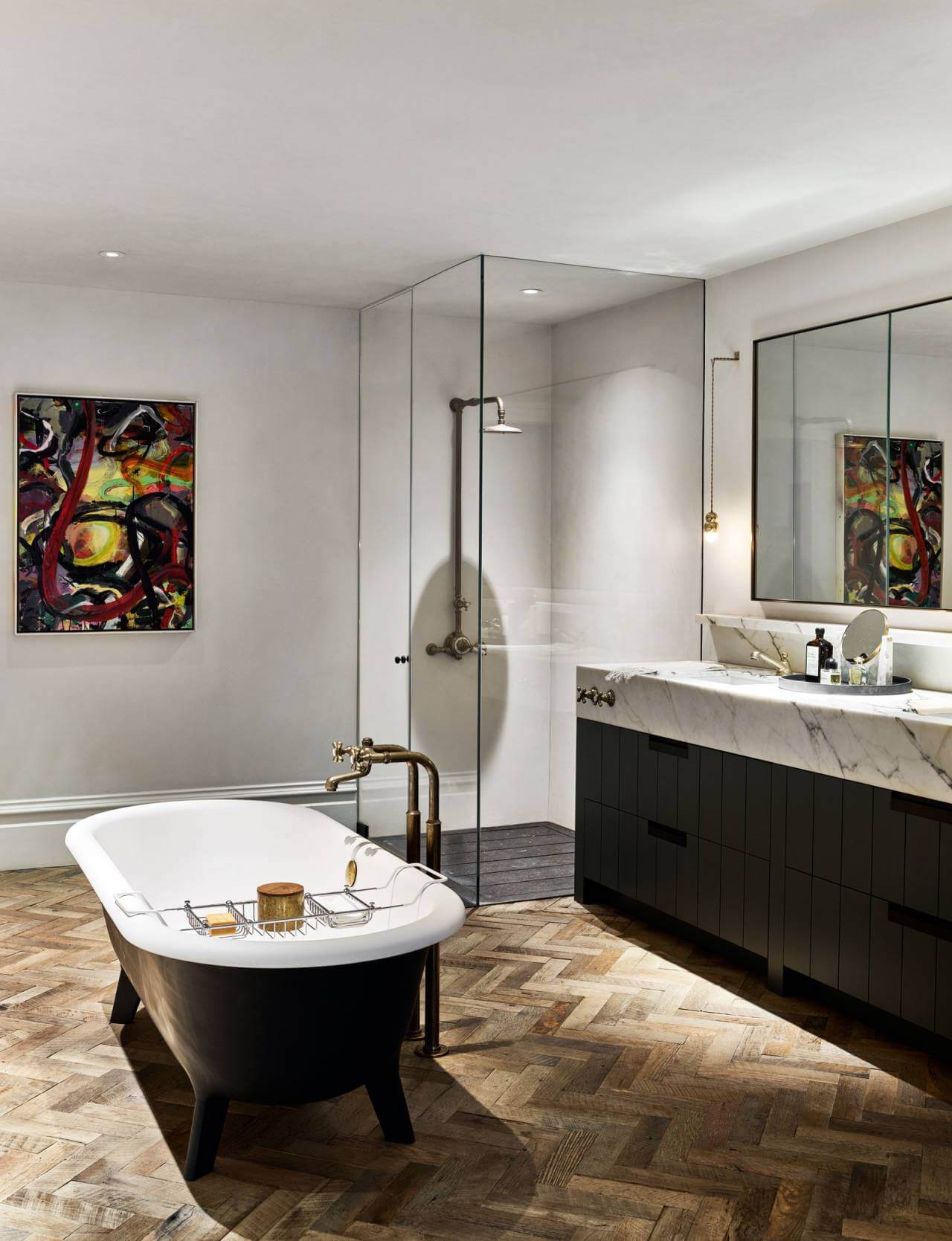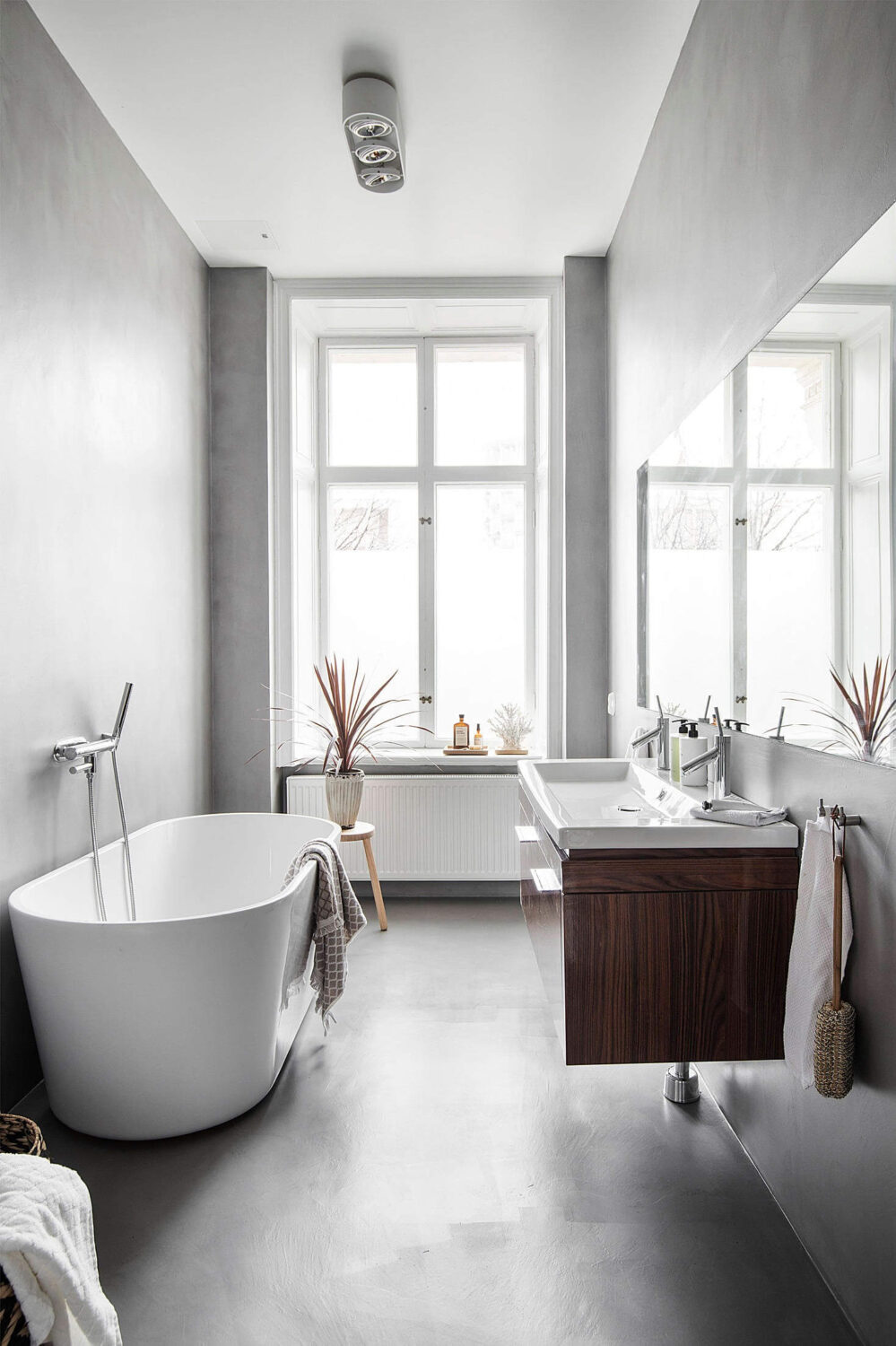 Colorful simple bathroom ideas
Adding color to a simple bathroom design gives the bathroom just a little edge over a "normal" white or gray bathroom. These simple colorful bathroom show that adding color doesn't deplete from the minimalistic bathroom aesthetic.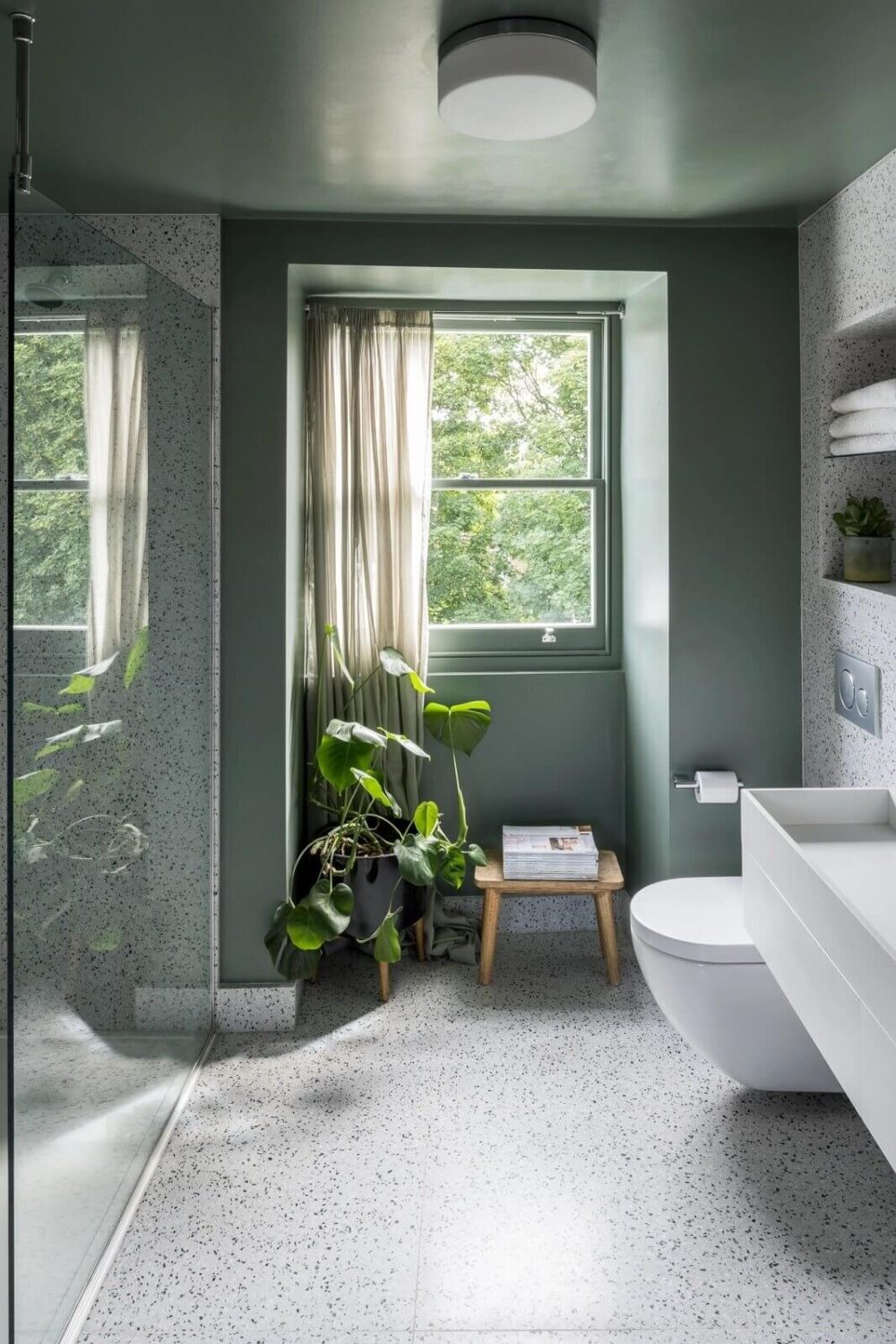 Green is the color of the year 2022, and while ít's a great color for any room in the house it certainly works well in a bathroom. This green bathroom is combined with terrazzo floor and wall tiles.
Earthy colors give a warm, natural, color touch to a room. This simple bathroom has earthy colored walls and ceiling, which is combined with a pink marble floor, bath, and sink.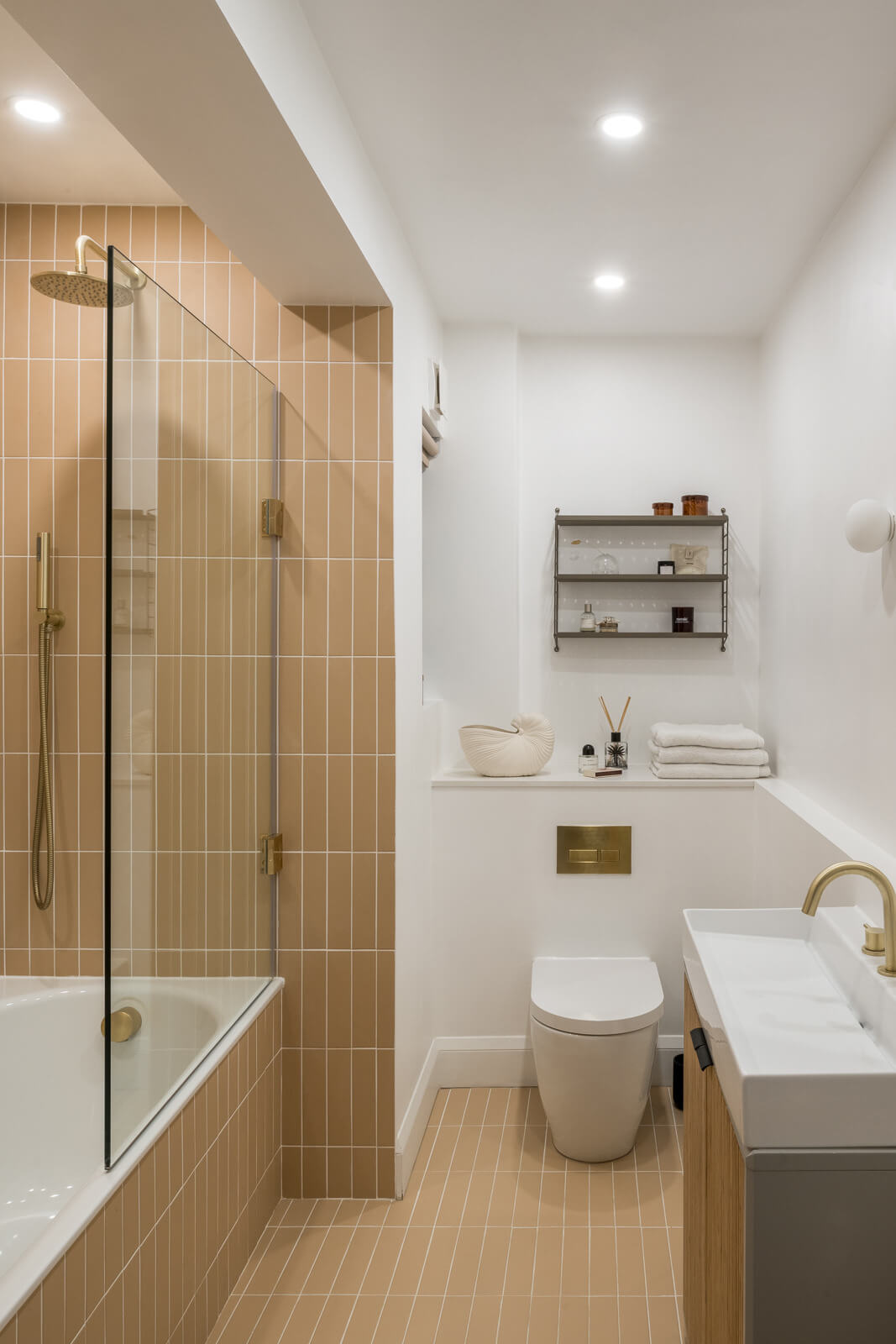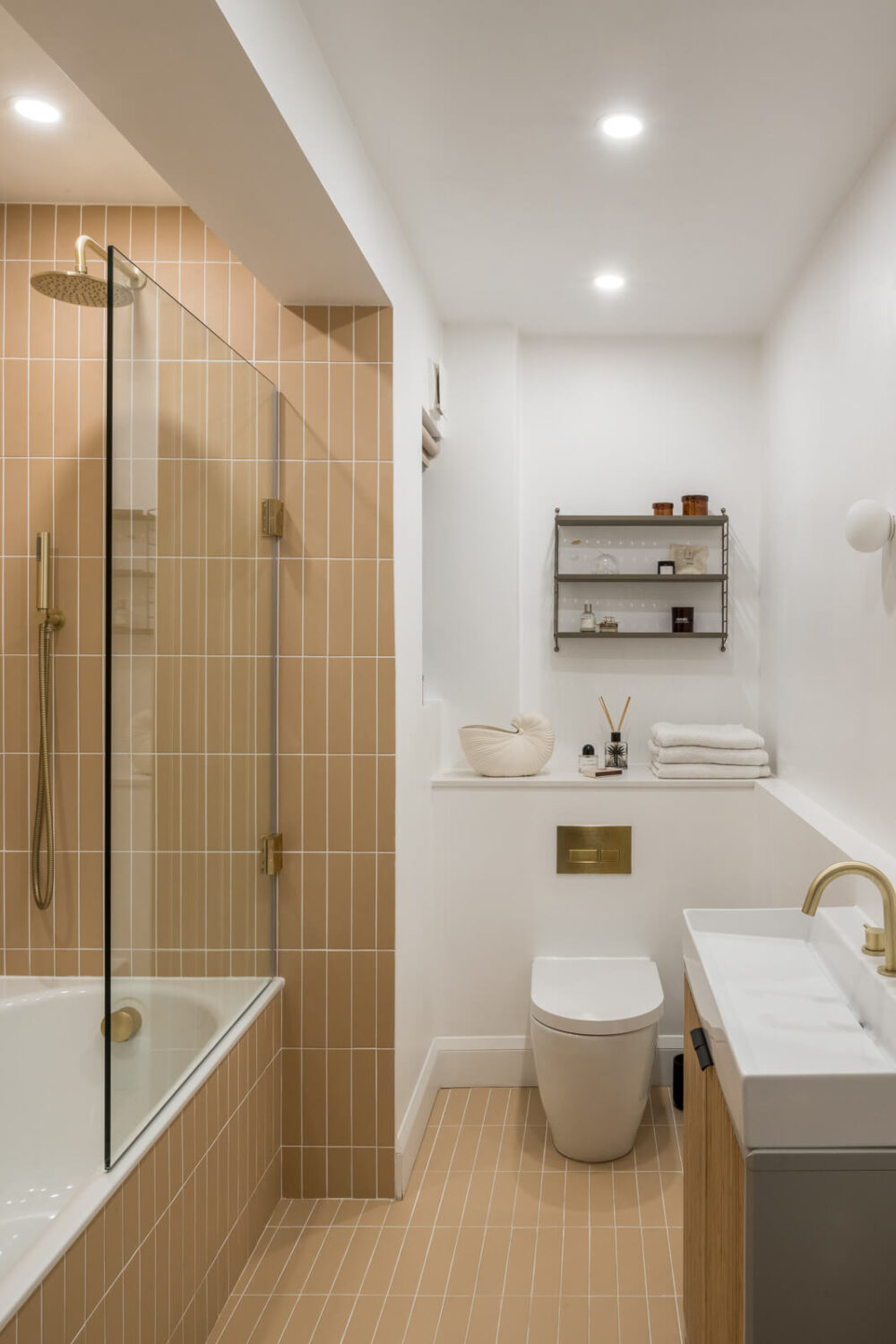 Instead of painting the walls (and ceiling), you can also opt for colorful tiles. These earthy tiles give this bathroom a natural color touch.
More Bathroom Design Inspiration