The Best Design Hotels in Stockholm
One of my favorite cities in the world is Stockholm. The nature, people, and design are something I always long to go back to. And there is another reason why you should head north: the beautiful design hotels in Stockholm full of stylish and welcoming spaces that you simply don't want to leave.
In this post you'll find the best design hotels Stockholm has to offer. And they are all centrally located which makes exploring this beautiful city even easier.
This post contains affiliate links. For each purchase, The Nordroom will receive a small fee (no extra costs for you).
Bank Hotel
Located in a historic 20th century building, Bank Hotel combines great design with historic architecture. The hotel is located in the center of Stockholm, close to bars, restaurants, shopping, and culture. But it's also located close to Stockholm's waterfront and Gamla Stan.
Villa Dagmar
A new addition to the Stockholm hotel scene is Villa Dagmar. Villa Dagmar is located in the chic Östermalm region in the center of Stockholm, next to the historic markethall called Saluhall.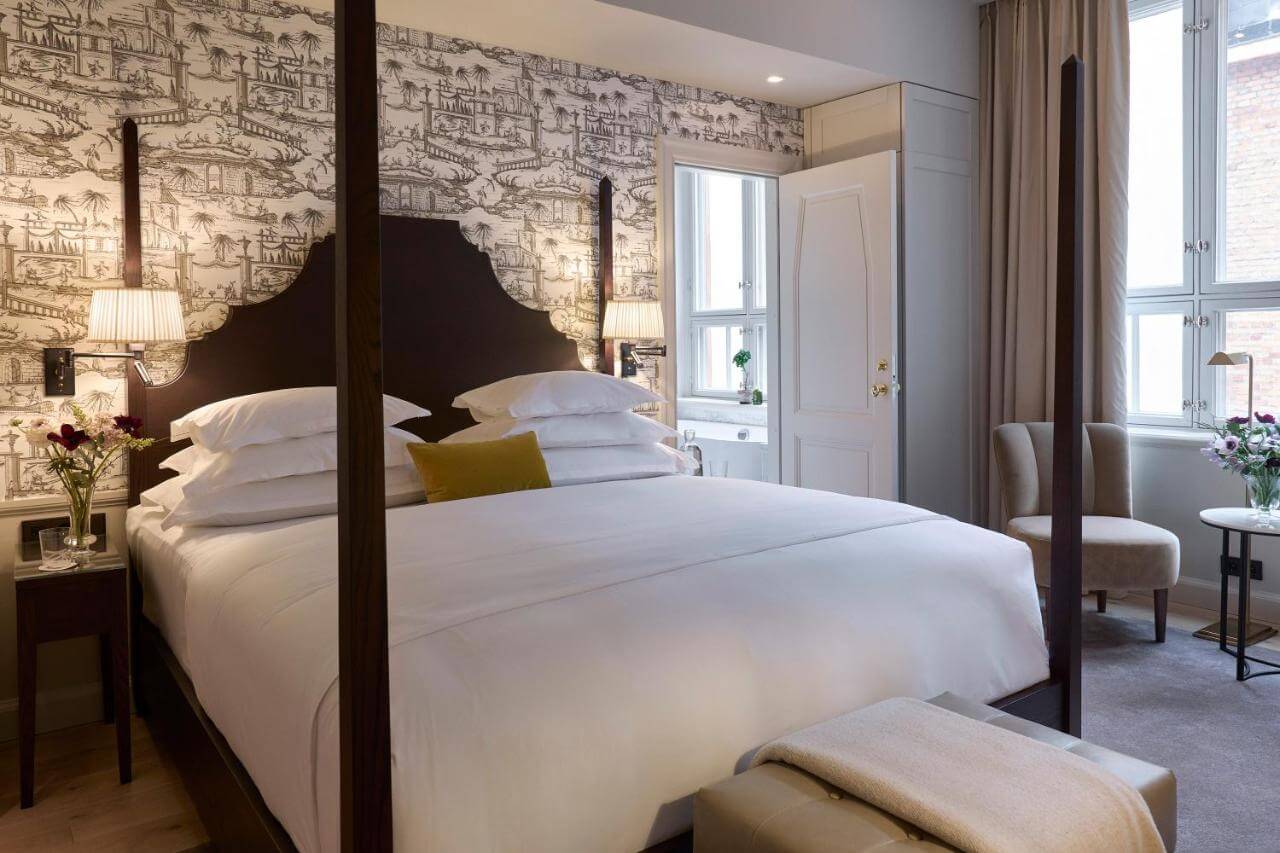 Villa Dagmar is a beautiful and creative home for the curious traveller who is seeking a hotel in Stockholm with both heart and soul in a chic and conscious part of the city.
Hotel Frantz
Hotel Frantz is a small family-owned boutique hotel in Stockholm. The new hotel is nestled between Gamla Stan (the Old Town) and the hip district Södermalm so it's perfectly located for a city trip.
The hotel is located in a historic building that dates back to 1647 commissioned by the tailor Frantz Bock. Because Hotel Frantz is located in such an old building, the rooms are all in different shapes and sizes. Each hotel room is unique and carefully designed to be the perfect home away from home.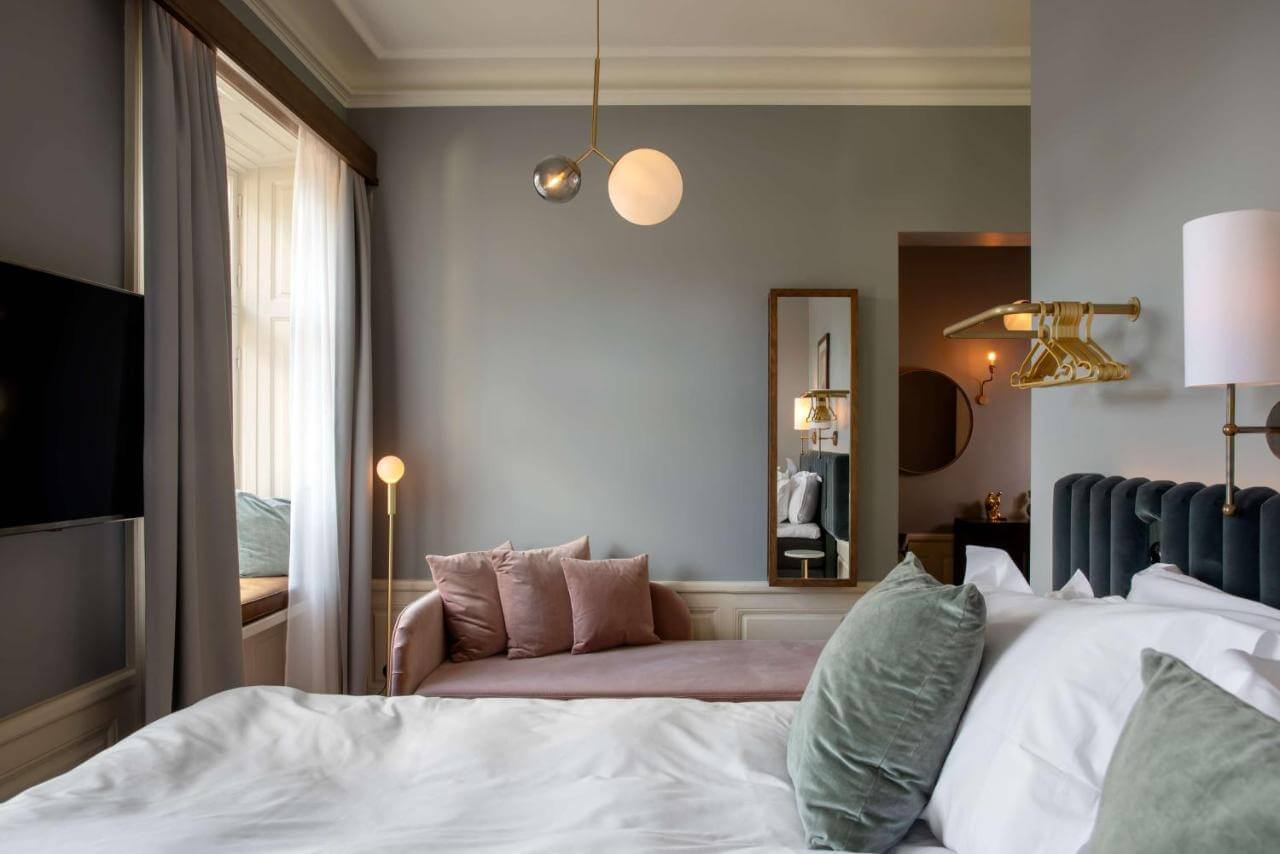 Ett Hem
Ett Hem is located in a townhouse in central Stockholm. The hotel is specificaly designed to feel like a home instead of a hotel. With 12 rooms and suites, Ett Hem is an initmate design hotel in Stockholm where guests are treated as friends of the family.
The 12 rooms are decorated in a combination of contemporary and vintage design. The hotel also offers a relaxation room, gym, library, sitting room, and garden.
Miss Clara by Nobis
Miss Clara is a four star boutique hotel in an Art Nouveau building in the center of Stockholm. The hotel is close to restaurants, bars, and the most important shopping street of Stockholm.
The 92 hotel rooms at Miss Clara are decorated with Art Nouveau-inspired furniture and have dark herringbone parquet floors. To maximize the natural light, the bathroom wall the walls is designed in frosted glass.
Downtown Camper by Scandic
Downtown Camper is a cool hotel in the heart of Stockholm. It's the perfect hotel for people who love an active ánd a relaxing holiday. Downtown Camper not only offers bikes and kayaks for loan, but it also offers a wellness with sauna and swimming pool.
It's a large hotel with 494 rooms, and they offer a large variety of room types. From single rooms to master suites with can sleep up to 12 people.
Hotel At Six
On the same square as Downtown Camper, in the heart of Stockholm, stands Hotel At Six. Hotel At Six is a destination where contemporary art, fine dining, and exquisite interior design meet to create a modern luxury hotel
Next to extremely stylish hotel rooms does Hotel At Six also offer a restaurant, a bistro, two bars, a rooftop park, and a wellness.
Blique by Nobis
Just outside the city center in the Vasastan district lies design hotel Blique by Nobis. Architect Sigurd Lewerentz designed the Blique by Nobis buildings, their graphic identity, exhibitions, and more.
The contemporary design hotel offers three room styles: sleep rooms without windows, standard rooms, and studios with kitchenette for longer stays. The rooms at Blique by Nobis are space-efficient and designed by architects at Wingårdhs. About half of the rooms are housed in what was once a warehouse for Philips, landscaped by architect Sigurd Lewerentz. The other half of the rooms are housed in a softly arched rear house from the 90's.
I hope this list of design hotels in Stockholm will make you want to travel to Sweden. I promise you will not regret that choice.
See also: The best design hotels in Copenhagen