63 Small Bathroom Ideas & How To Make It Look Bigger
If you're looking for small bathroom remodel ideas then you're in the right place. I've got a post full of small bathroom ideas right here. A small bathroom doesn't mean you have to skimp on style or functionality. You can make the most out of your small bathroom with some clever design ideas.
In this post, I will show you beautiful small bathroom design ideas. From small colorful bathrooms to a small bathroom with a bathtub (yes you can have a bathtub in your tiny bathroom).
Size doesn't matter when it comes to interior design, you can still have your dream bathroom even though the space is small. So this post also includes tips on how to make a small bathroom look bigger.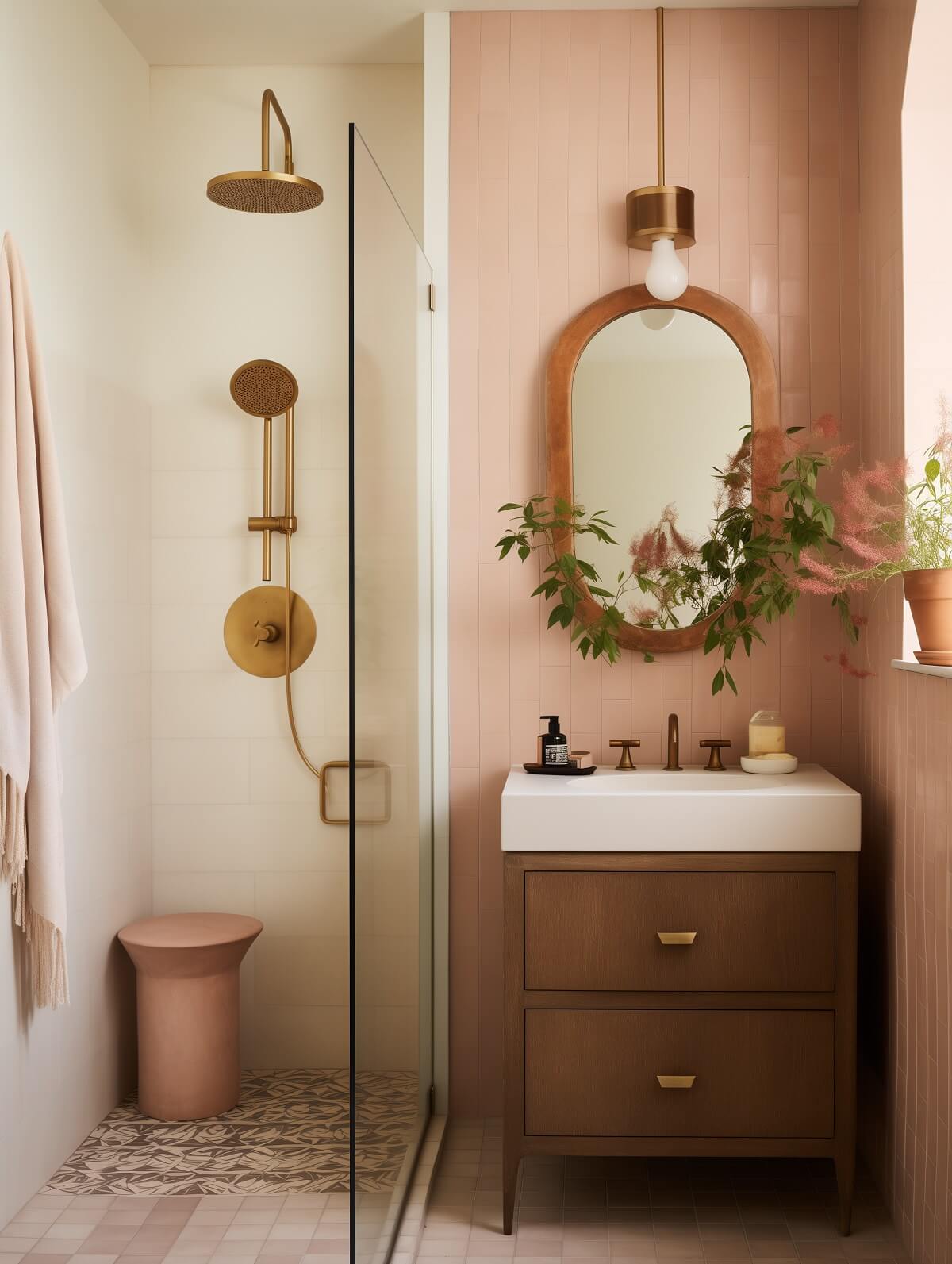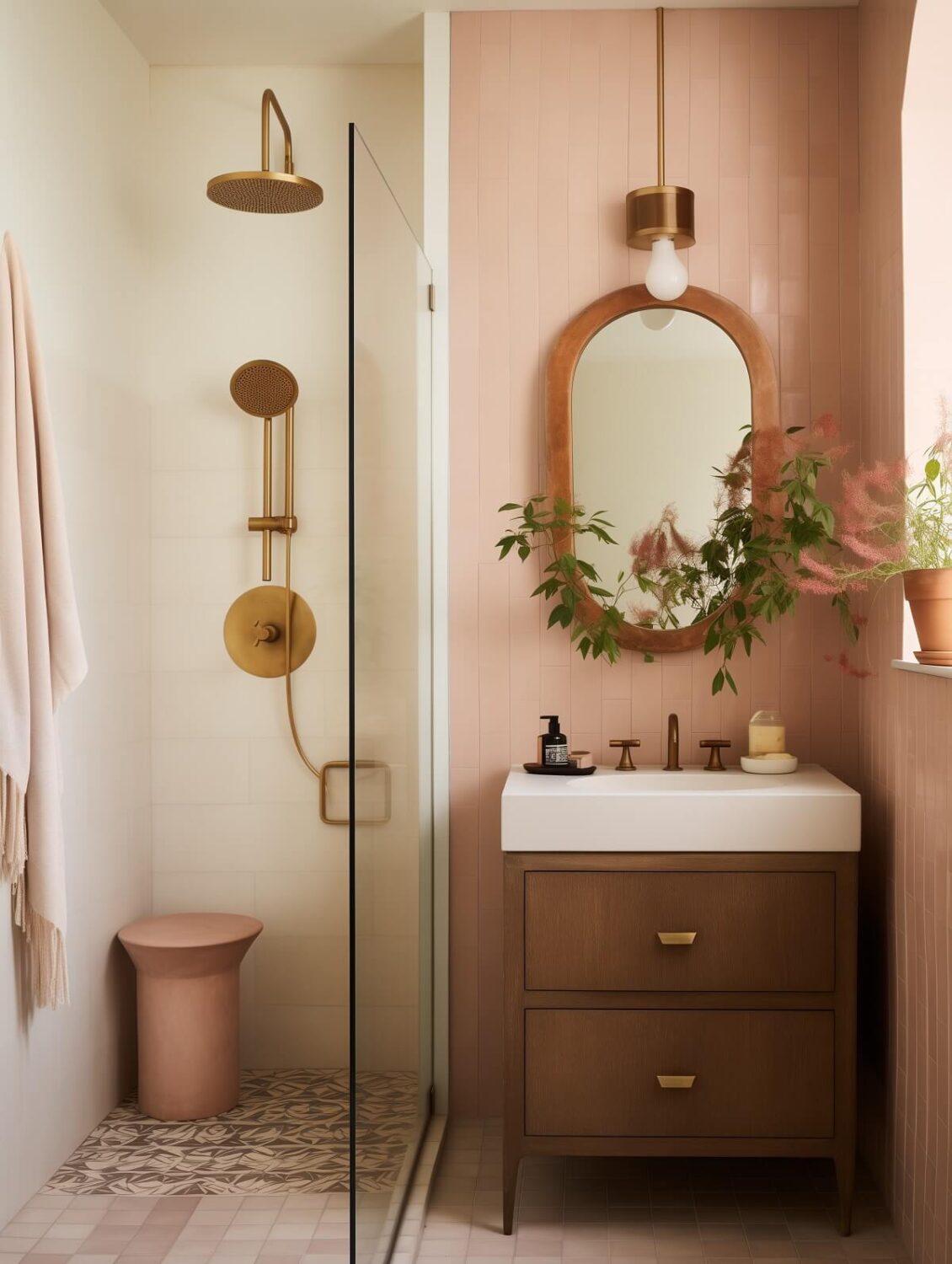 So if you want to get inspired by loads of stylish & functional small bathroom ideas. Scroll through this page and get your tools ready for your small bathroom remodel.
How To Make A Small Bathroom Look Bigger
So you have a small bathroom and of course, you want to make your small bathroom look bigger. Luckily there are some clever design ideas to make a tiny bathroom look bigger.
And you don't always need a full bathroom renovation. There are some clever low-cost tips to make a bathroom look more spacious.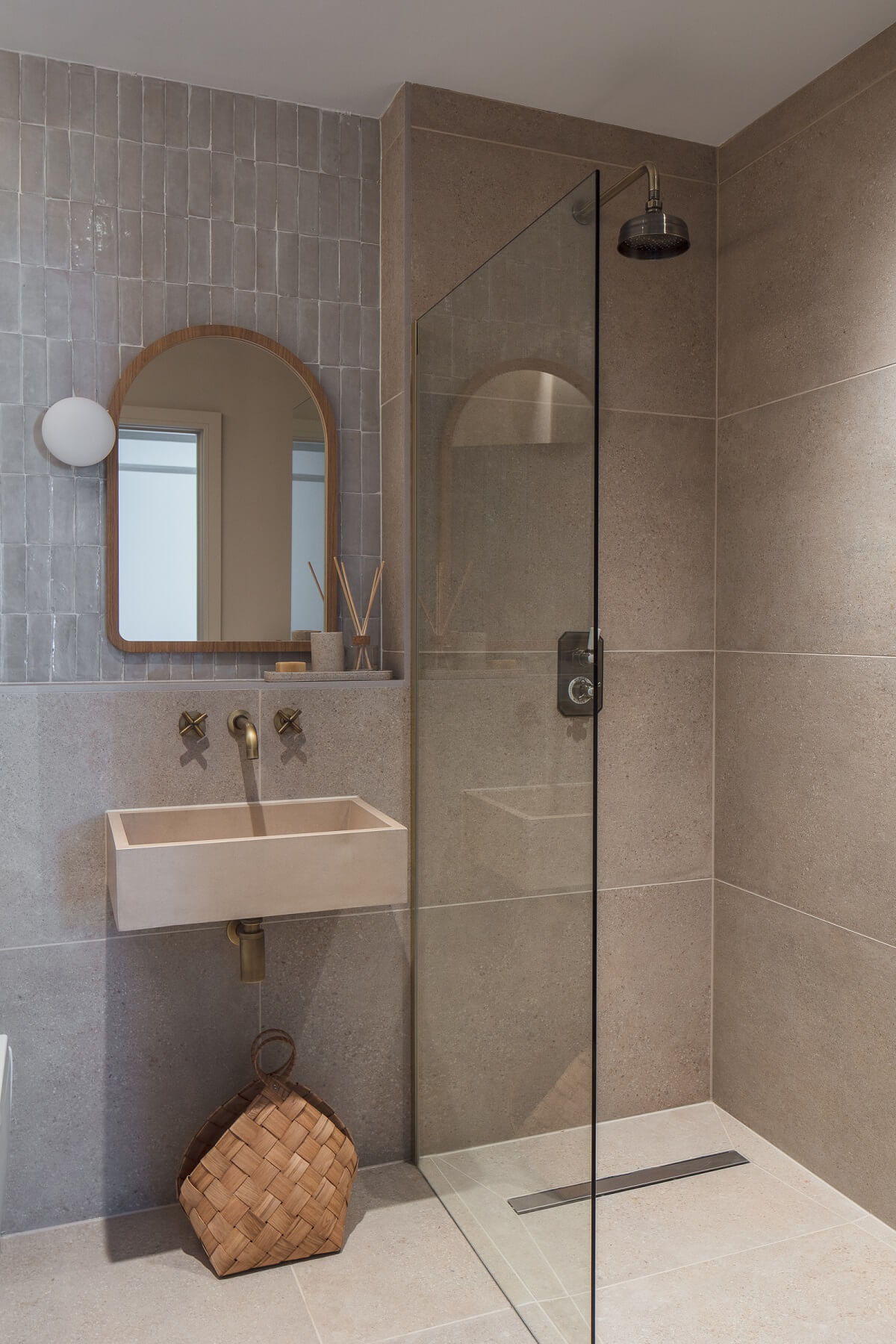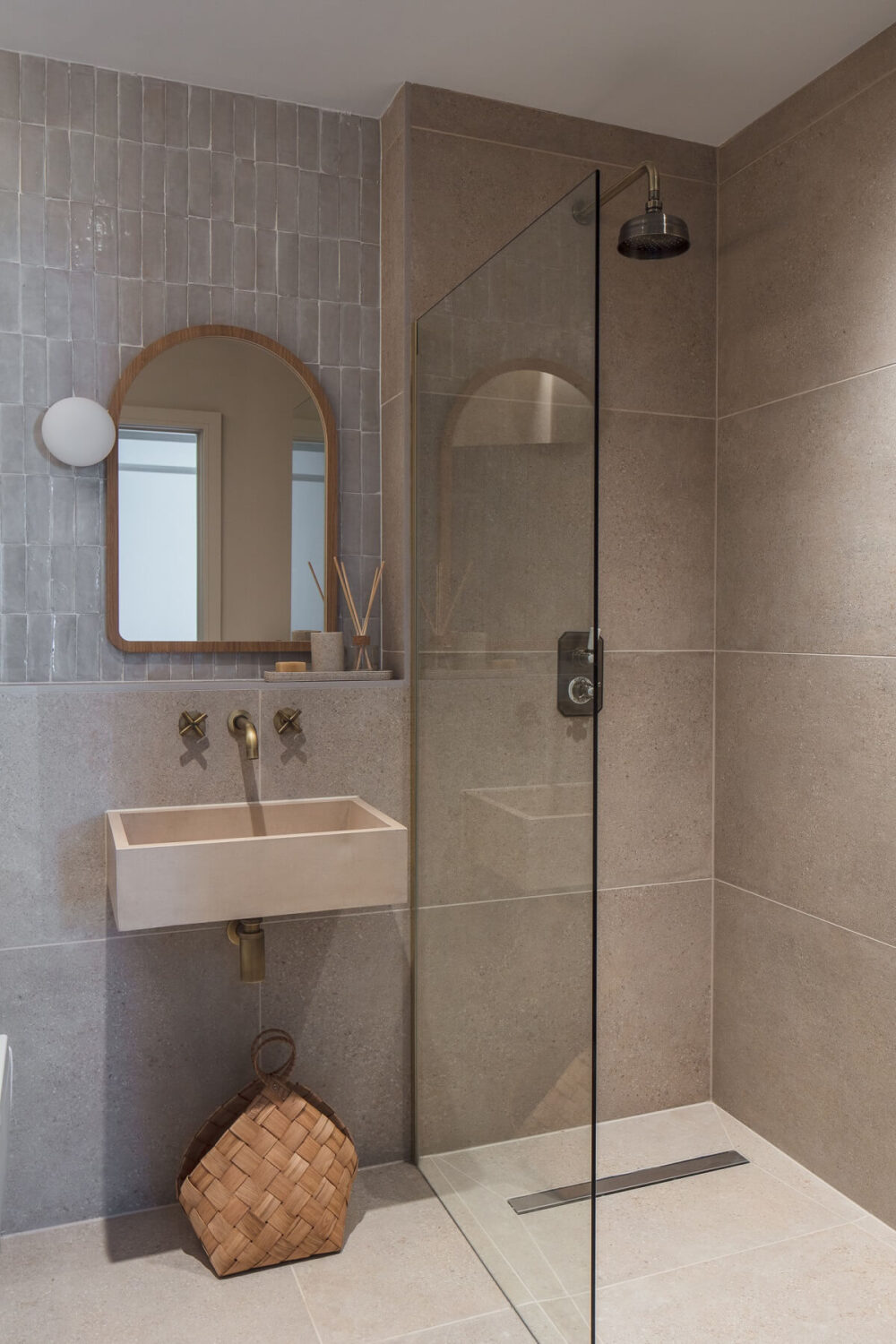 Use A Light Color Scheme
Light colors usually make a room feel bigger. However, I'm always a big advocate for using any color you want without thinking too much about 'design rules'. After all, a room painted in colors you really love is always better than a room painted in colors you feel you 'have to' use.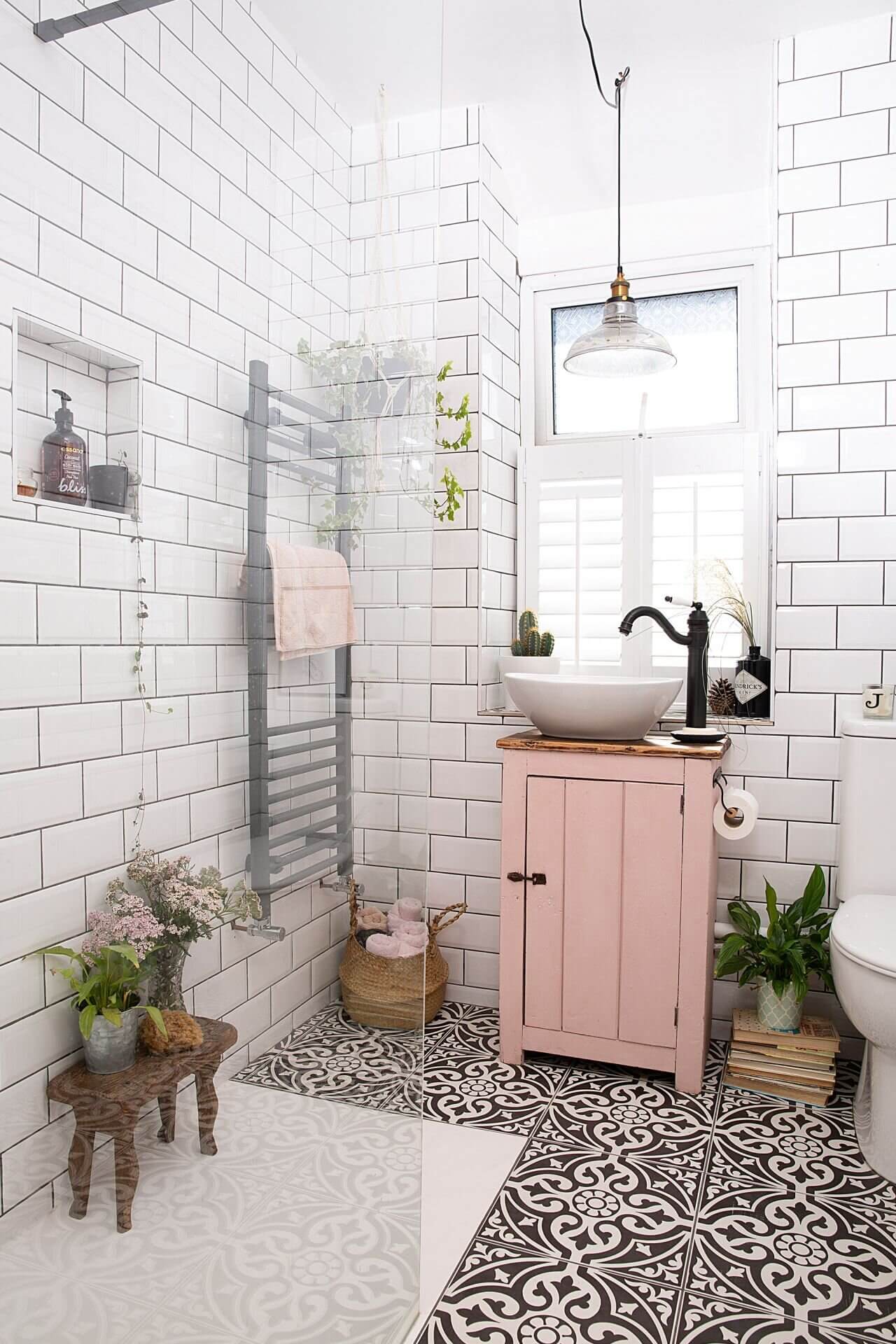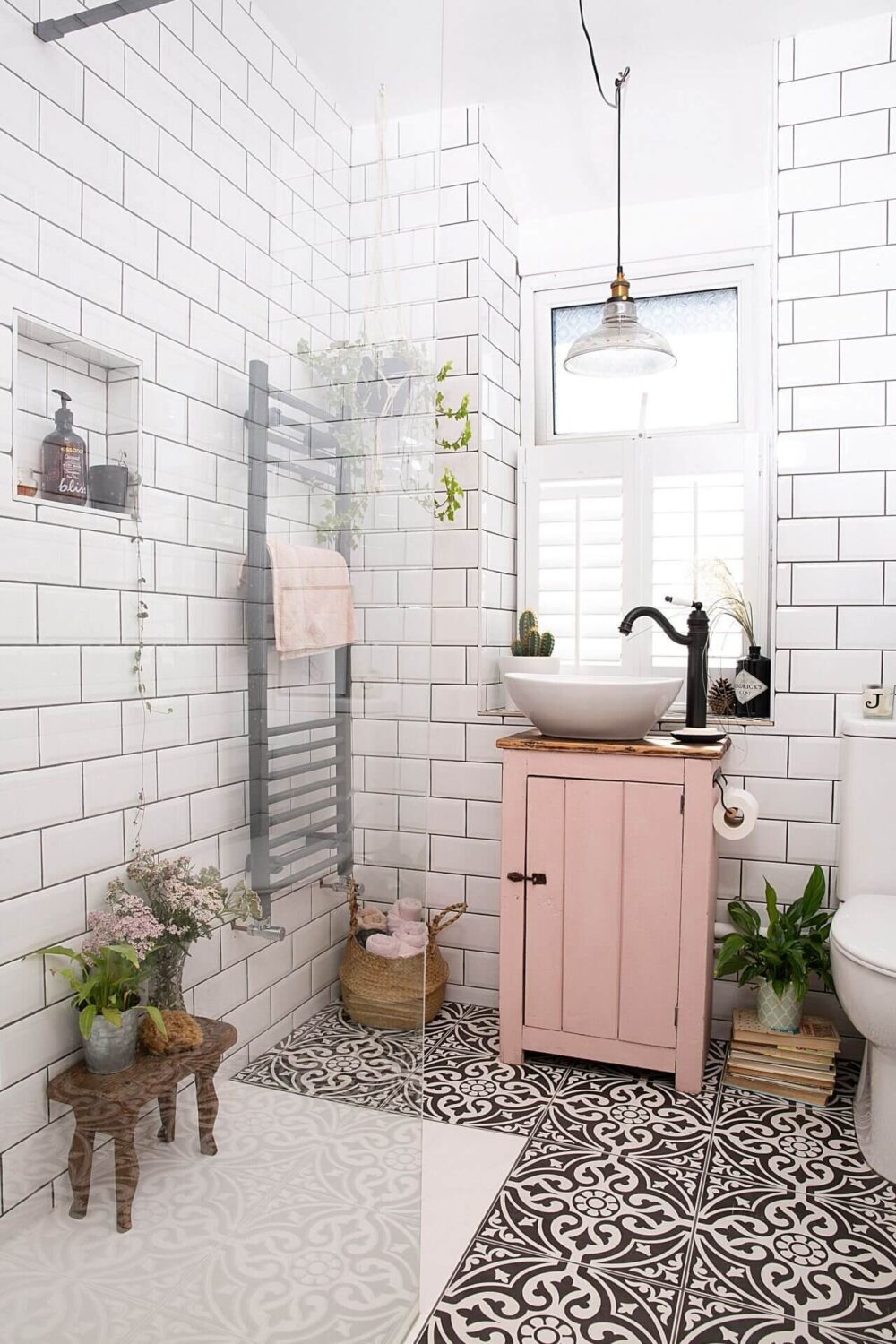 See also: The best tile color for a small bathroom
Add Mirrors
Mirrors always make a room feel bigger, plus a mirror reflects light so especially if your bathroom is not only small but also dark a mirror is going to do wonders.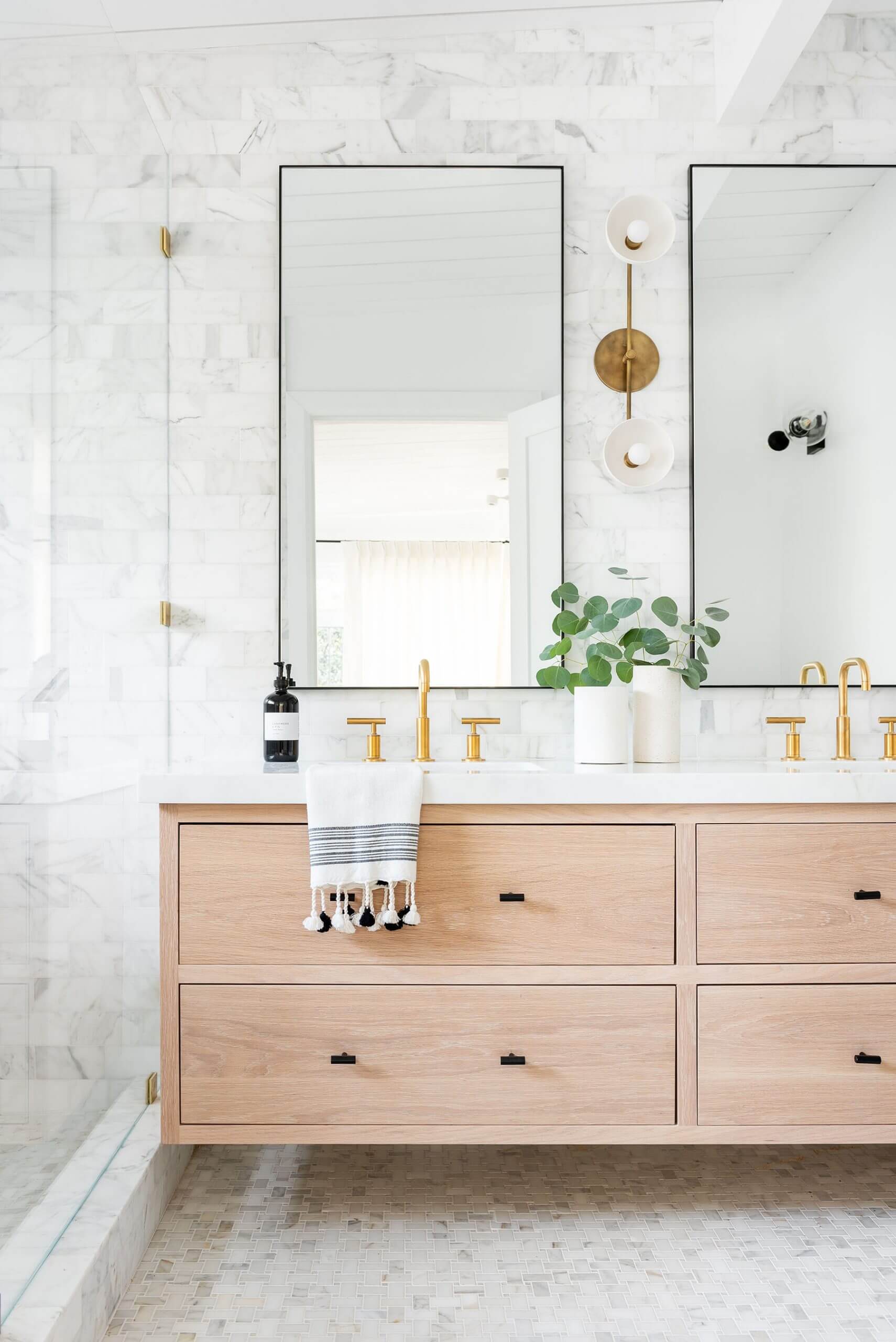 The interior designers at Studio McGee used two large mirrors and a light color scheme in this bathroom to make it look bigger and lighter.
Glass Shower Door
Ditch the shower curtain and add a glass shower door. A shower curtain will make the space smaller and stops the light from flooding into the room (depending of course on where your window is).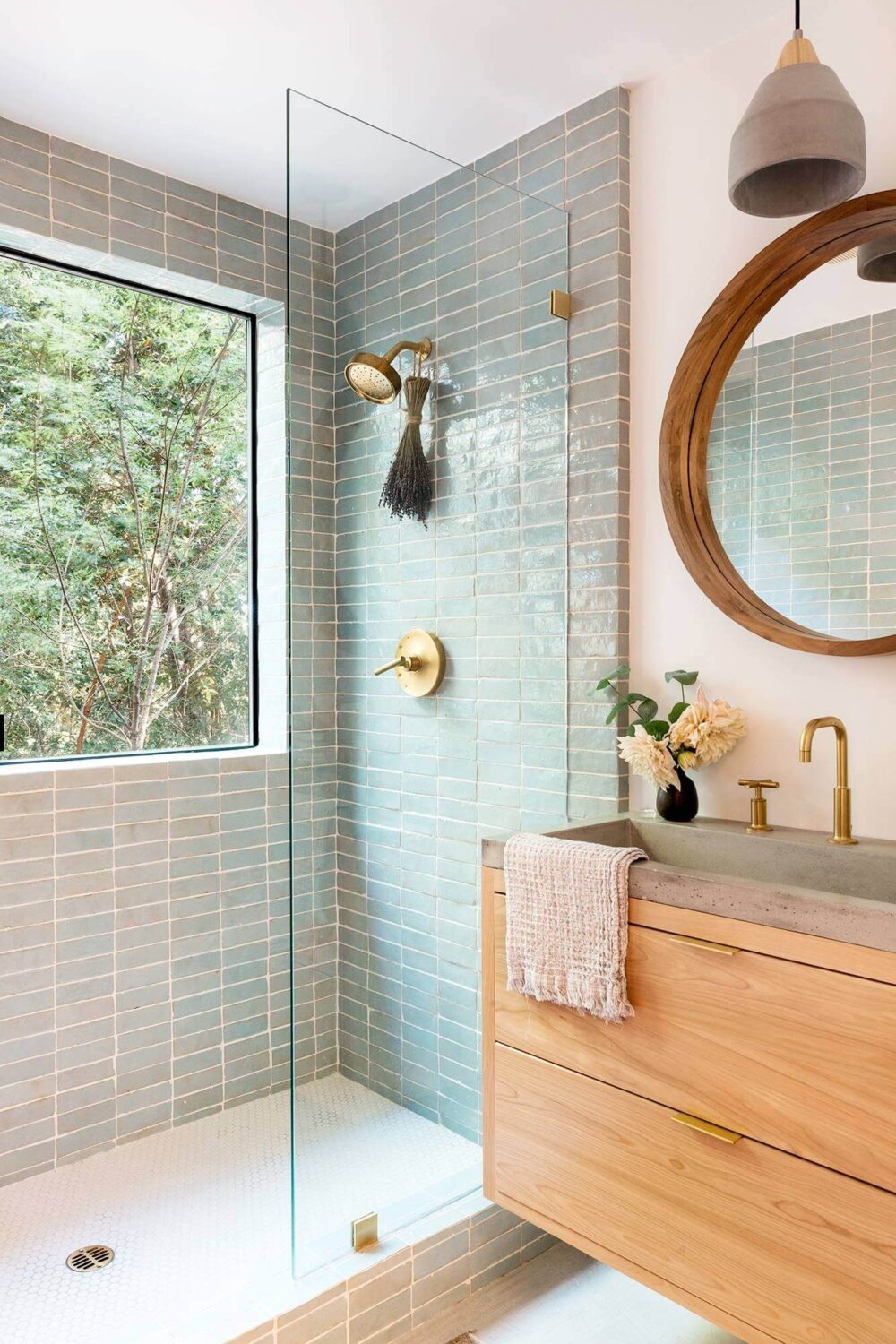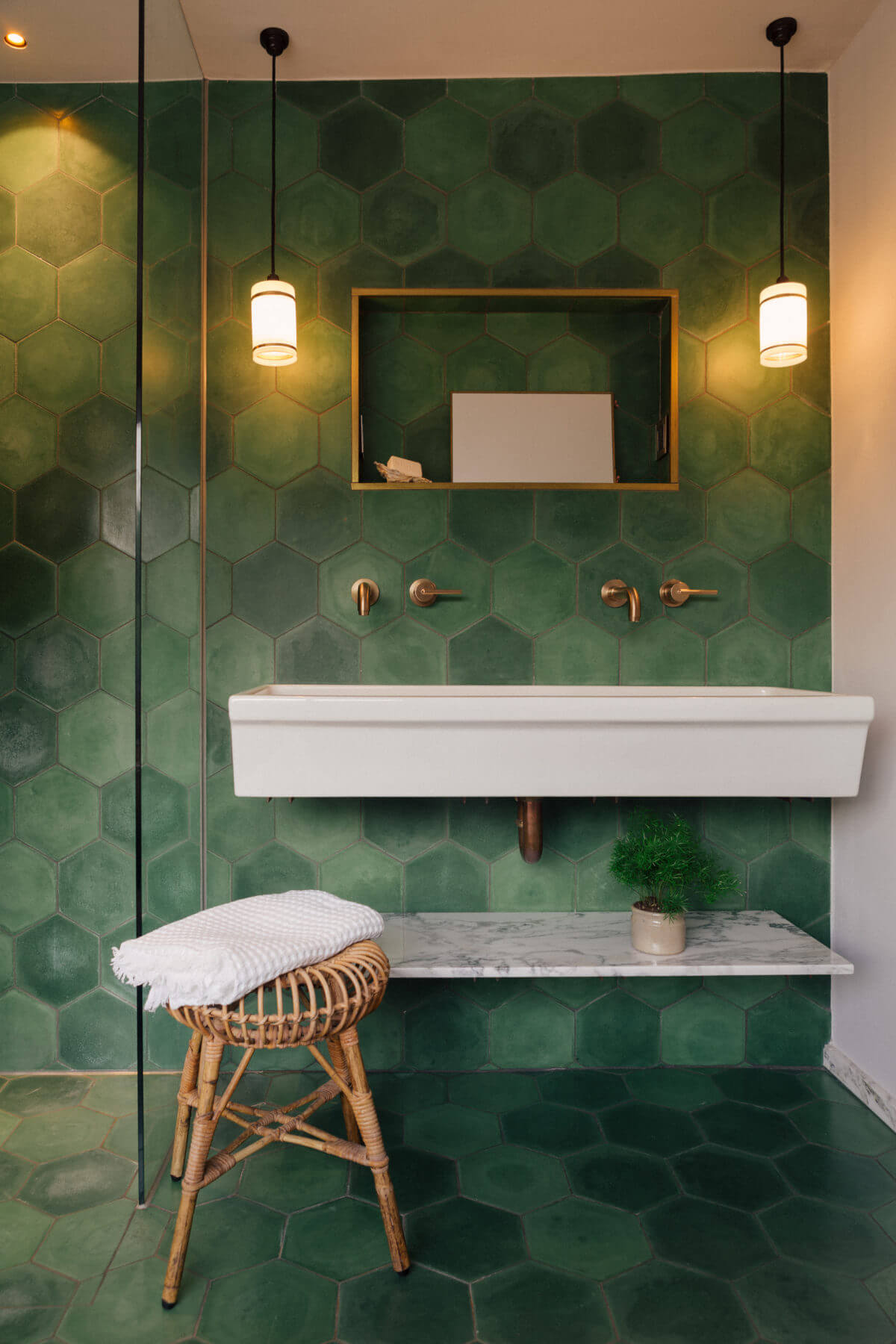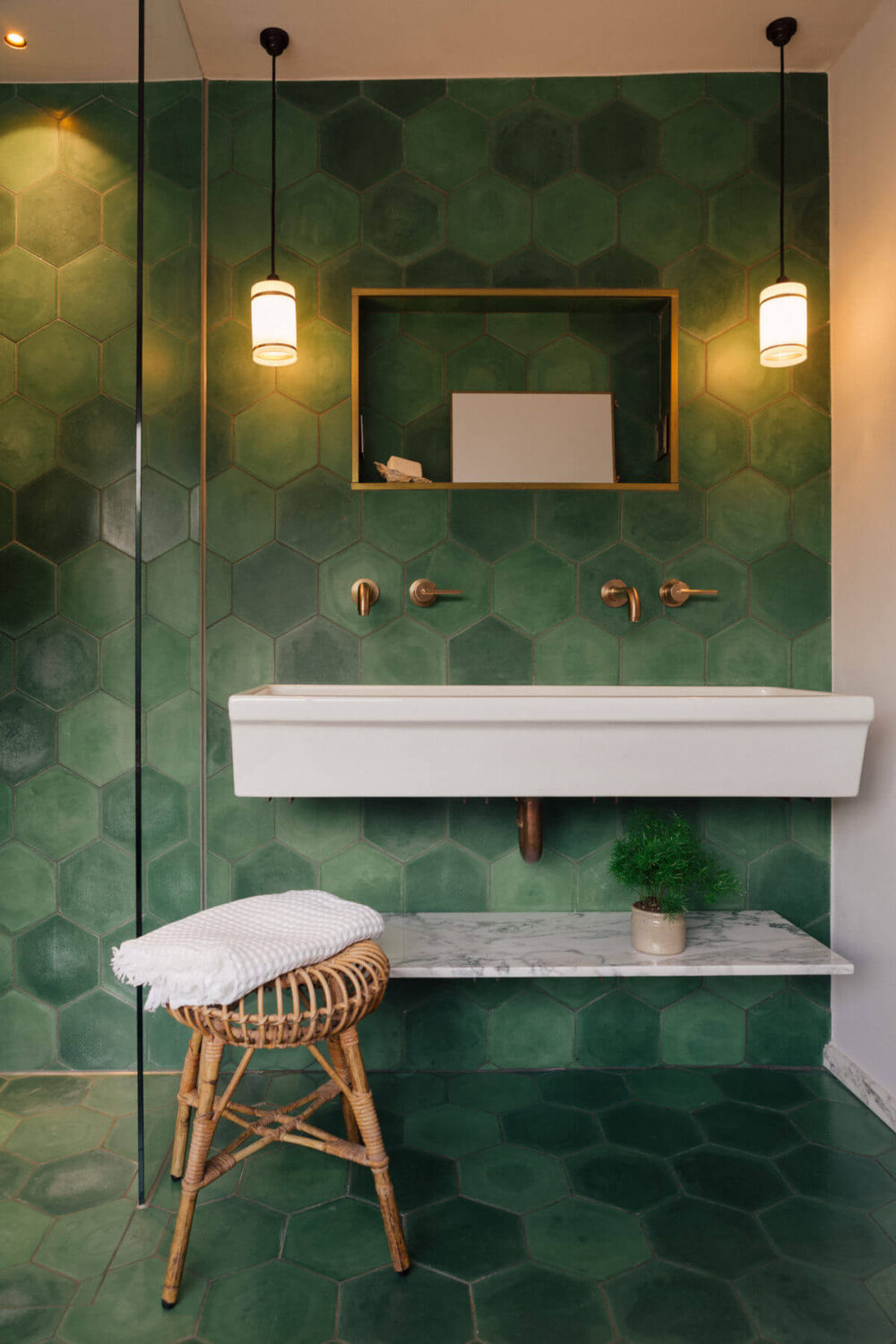 Walk In Shower
A shower door needs space to open up, with a walk-in shower you won't have that problem. Just add a glass partition so you don't soak the entire room.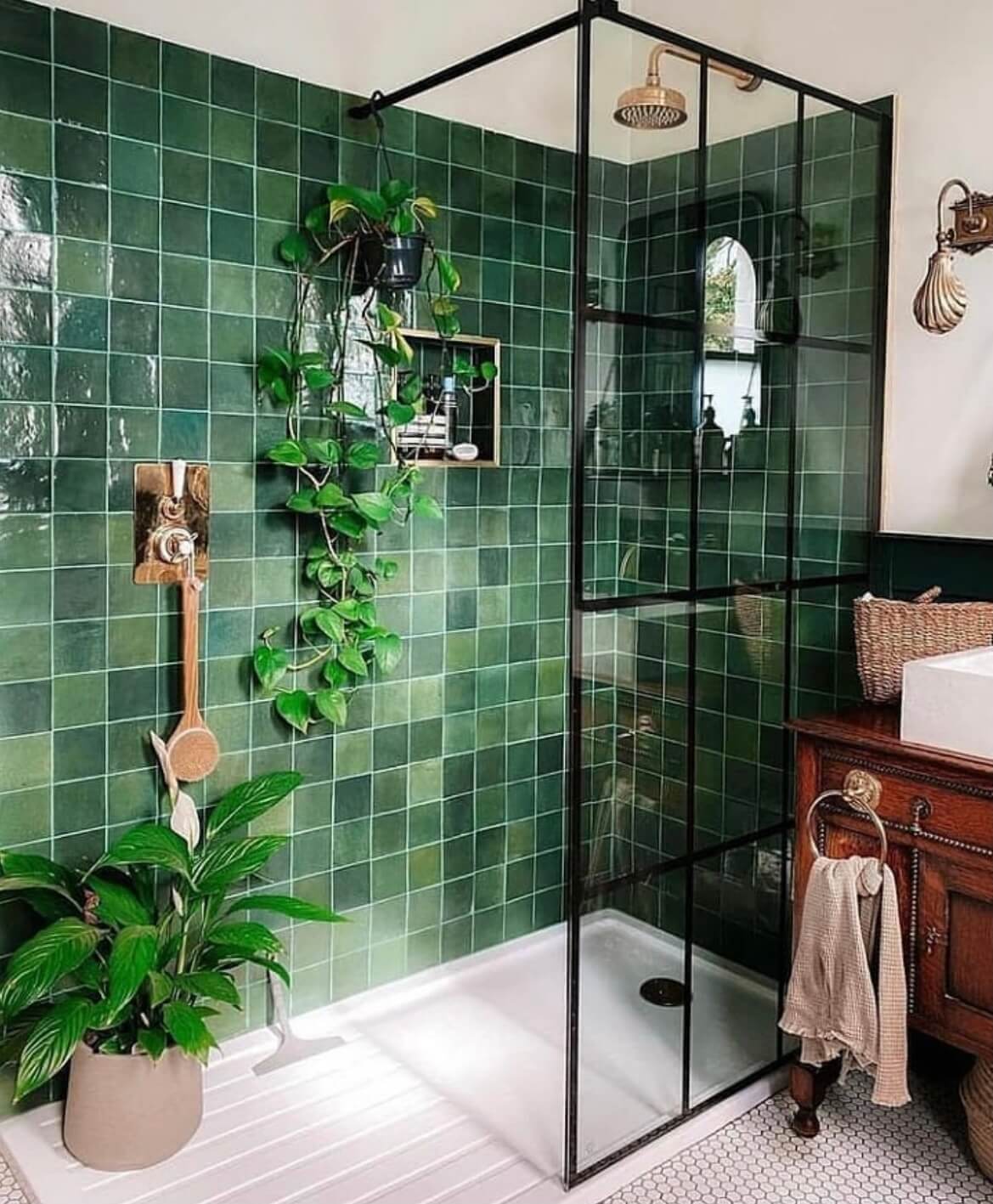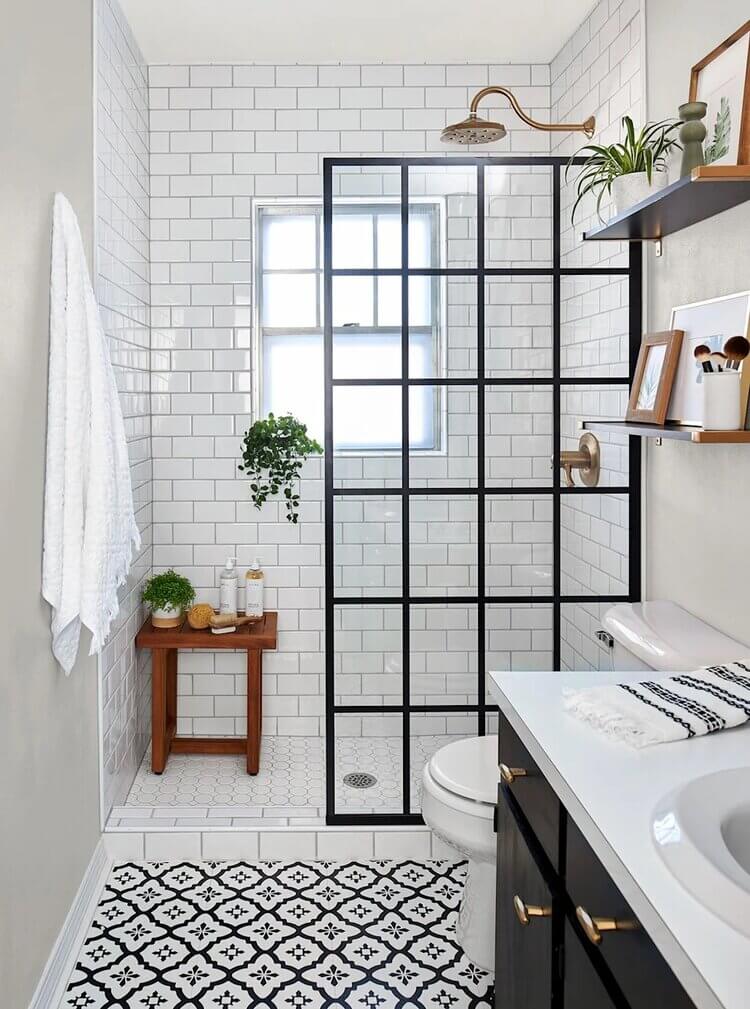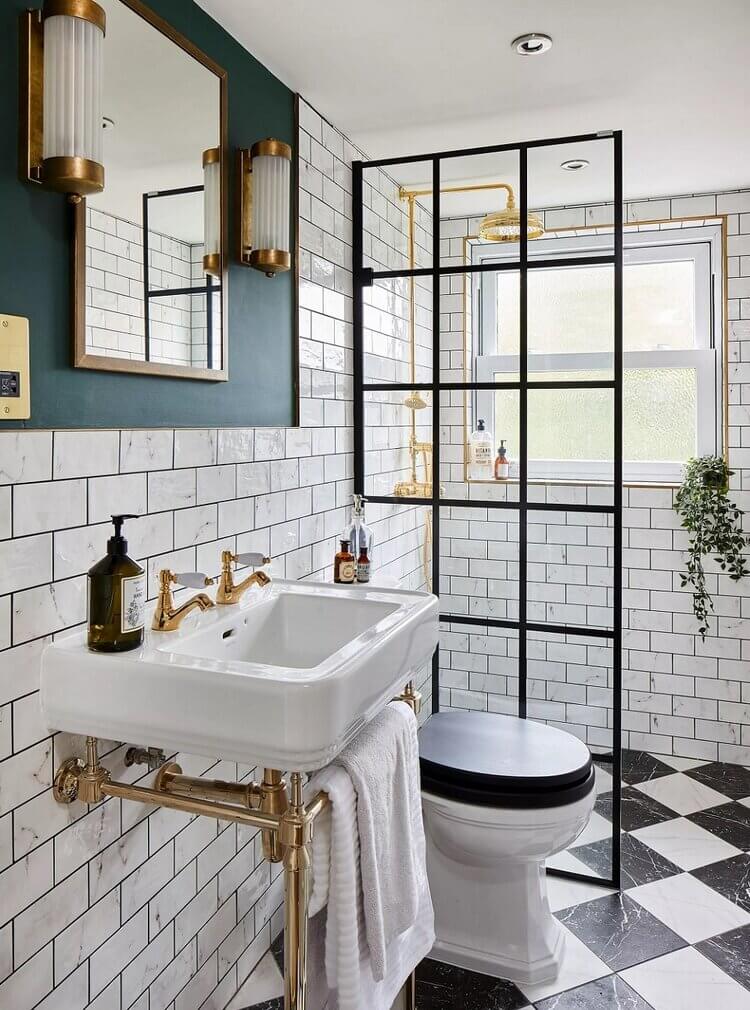 The bathroom on the left is not just beautiful, but also low-cost. The black and white floor are vinyl peel and stick tiles from FloorPops! that you can buy at Walmart.
Floor To Ceiling Shower Curtain
Anything that reaches from floor to ceiling makes a room feel higher, whether it's bookshelves, windows, or in the case of a bathroom your shower curtain or glass wall.
Sliding or Pocket Doors
I have a narrow hallway and opening a door uses up all the space, it's simply inconvenient. If you have the option to make any structural changes you should think about adding a sliding door, this way you can also use the nook behind the door of your bathroom
See also: 50 amazing black bathroom design ideas
Shower Niches
One thing that clutters up your bathroom is all those products. A shower niche will store all your shower products and you won't need a separate storage solution for all your bottles.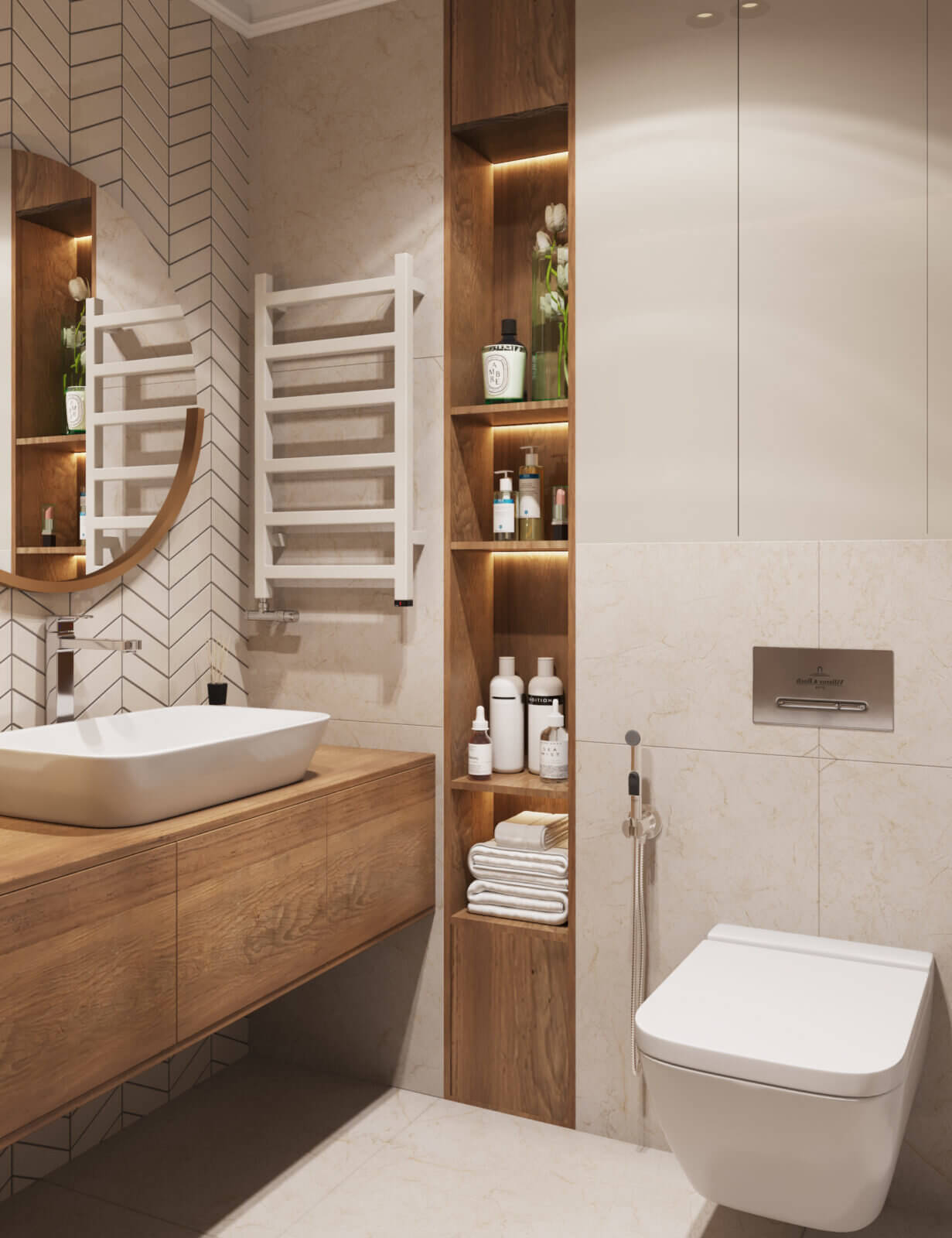 A classic bathroom with a shower niche. Besides these niches being space-saving features, you can also turn them into fun design features by adding another tile. (photo: Carla Aston)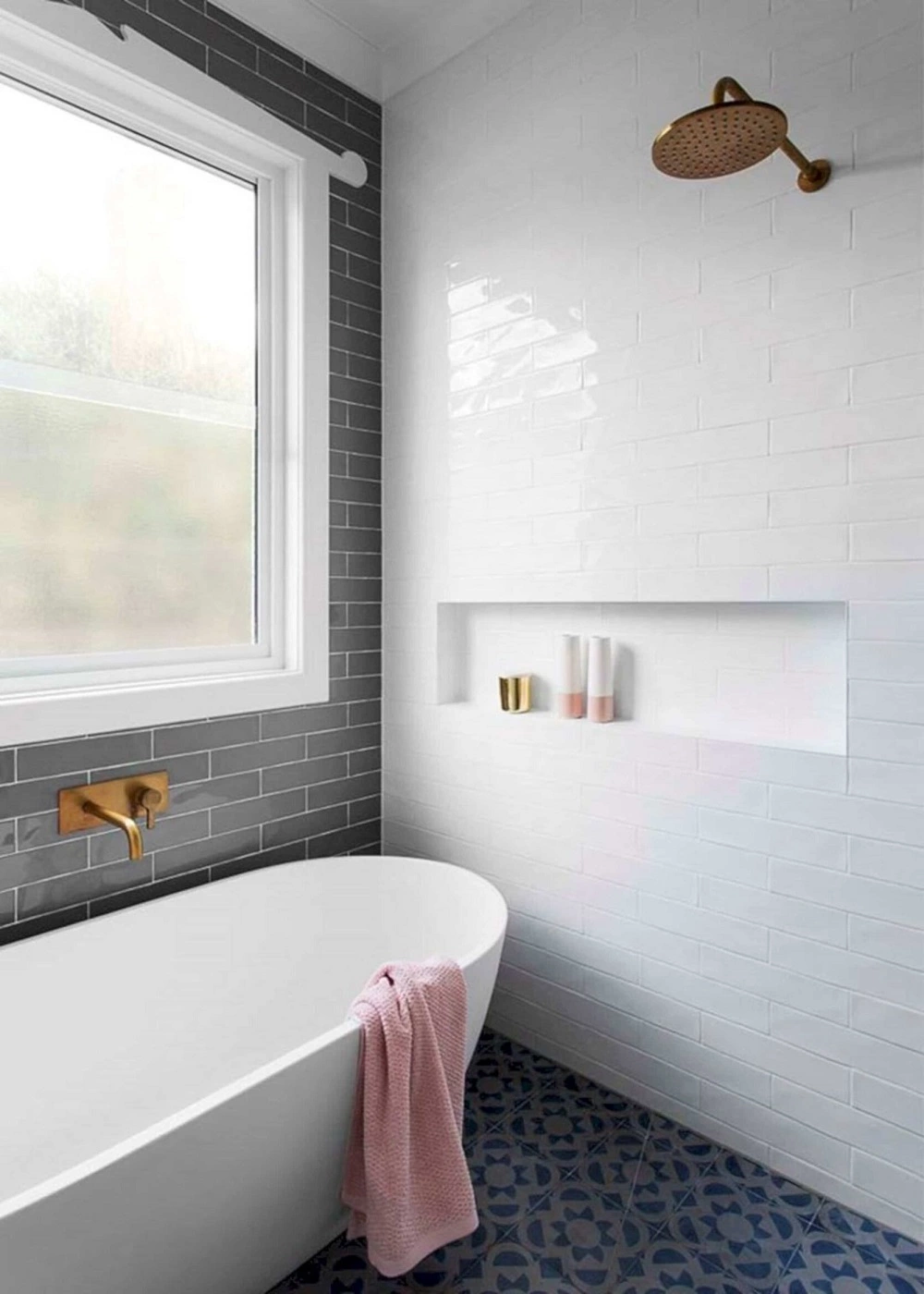 A Bathroom Ledge
I love ledges, not just in a bathroom but also in a bedroom. They're a great solution for small spaces. A wall-to-wall ledge looks clean and it adds a lot of storage to your small space.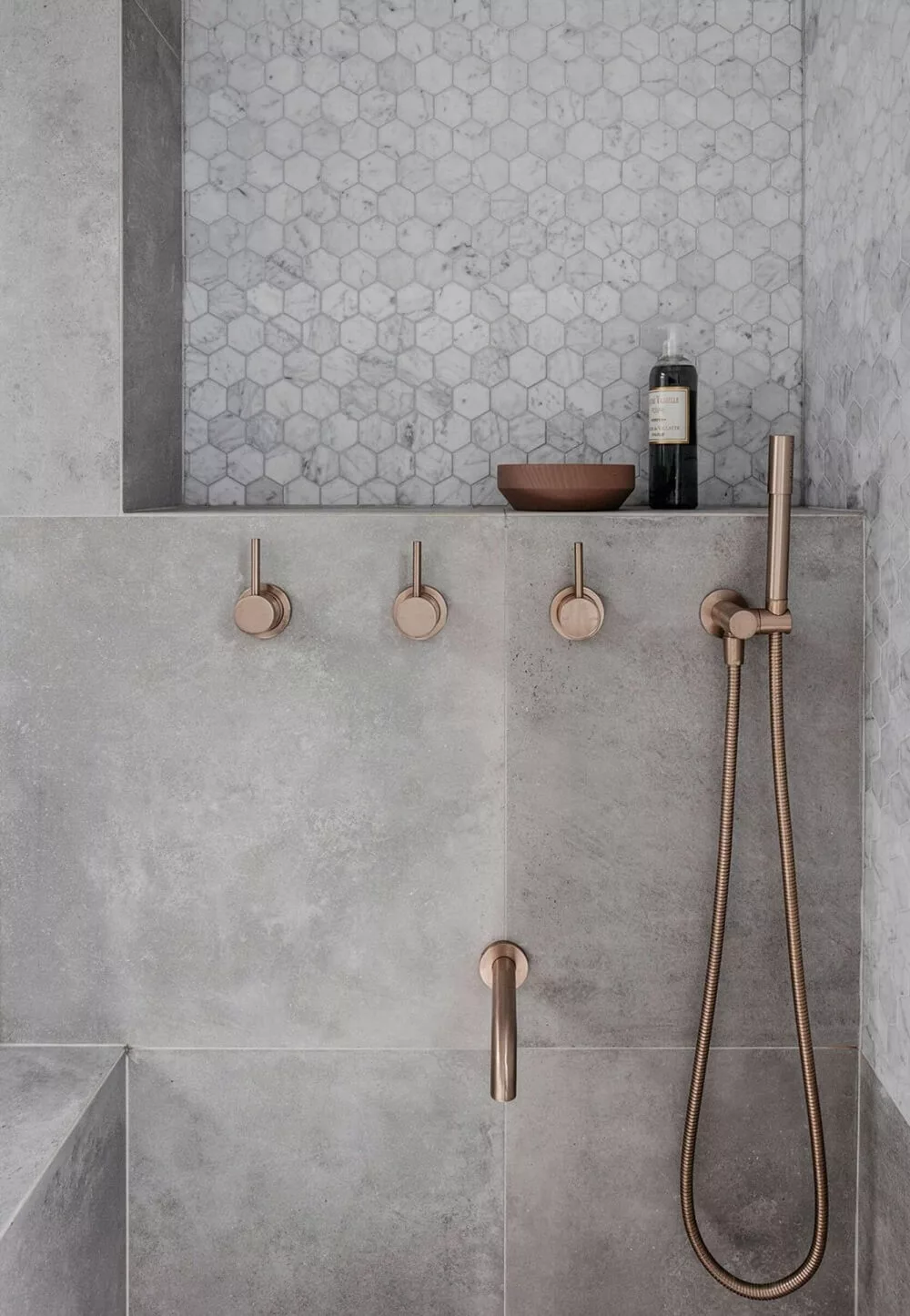 Instead of a niche, you can also choose a ledge in a small bathroom. I think a ledge, as you can see above, feels more spacious. (design: Alexander & Co and photo: Felix Forest)
With a wall-to-wall ledge, you create a lot of storage. And it is less intrusive than shelves or furniture. (design: decus interiors & photo: Felix Forest)
Wall-Mounted Faucets
Wall-mounted faucets are a space saver plus it looks extremely stylish.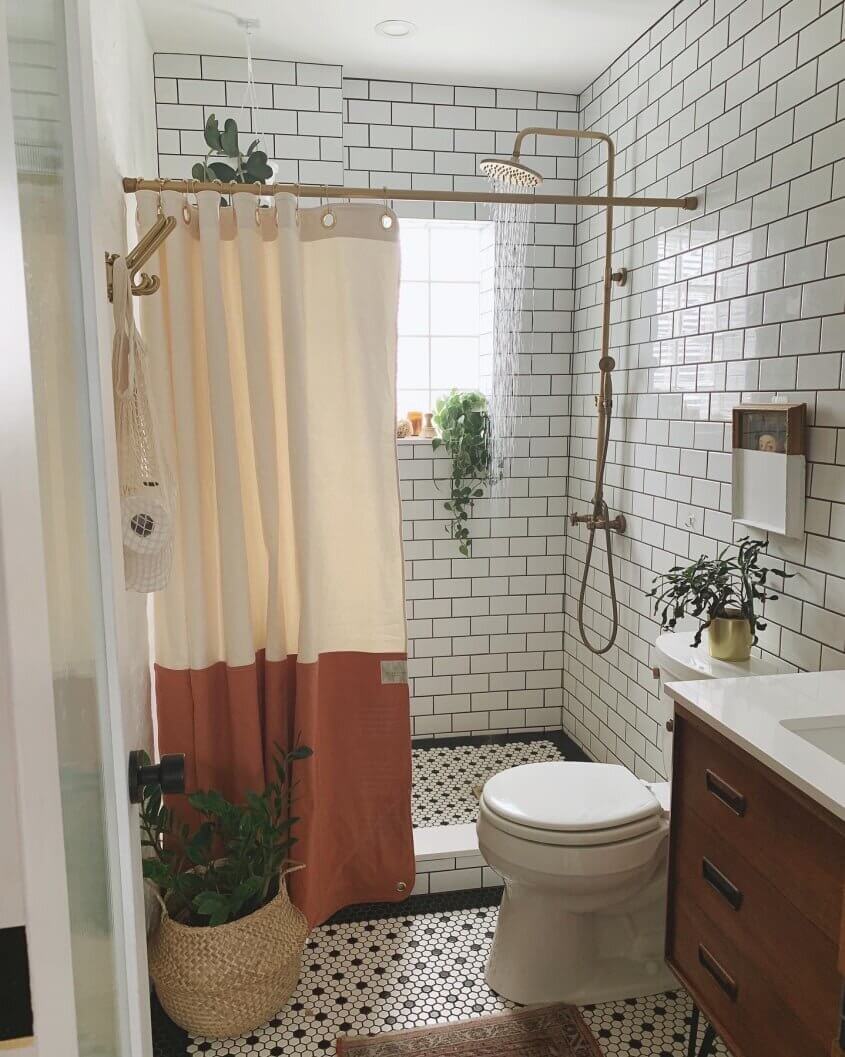 Multifunctional & Floating Furniture
This seems like a no-brainer but multifunctional furniture is always a must in small spaces. It pains me to see the space under the sink go to waste.
Get yourself a beautiful bathroom vanity that can store extra towels and products that you don't always need. Buy some clear boxes to organize your drawers to keep them tidy (plus an organized drawer can hold more stuff than a cluttered drawer).
Floating furniture opens up the floor and will give a bathroom a more spacious feel.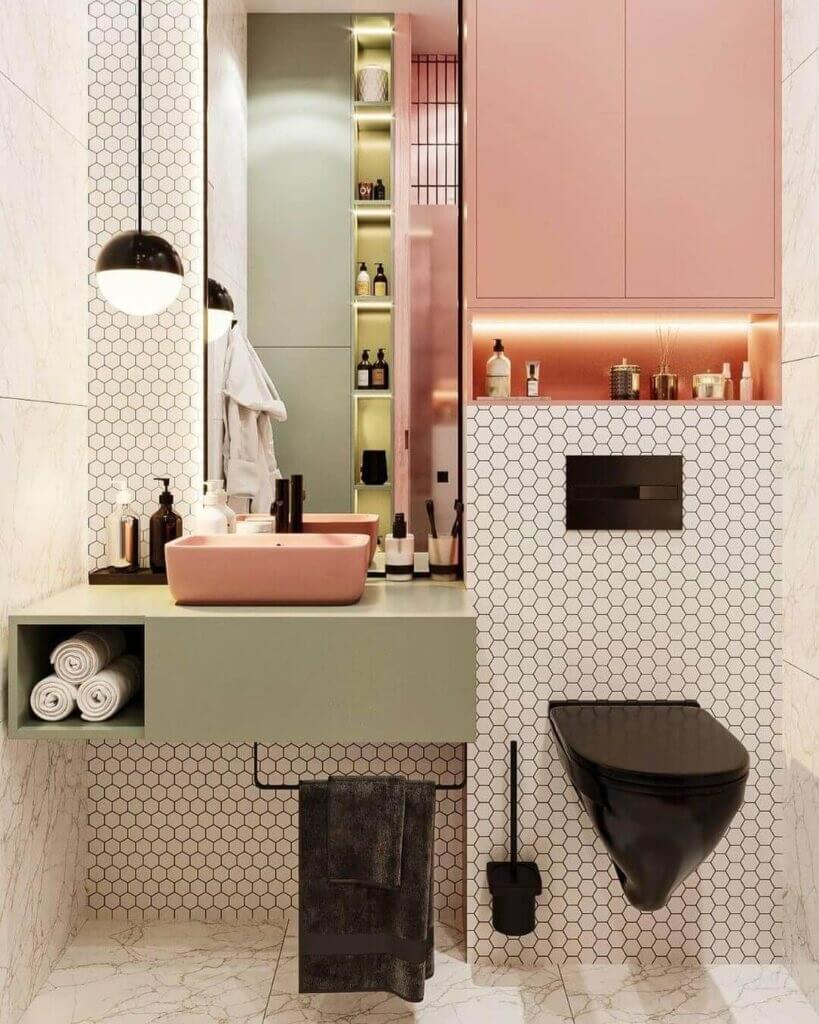 This tiny colorful bathroom combines several tips from this blog post. The space above the toilet has been used to the max with the pink built-in cabinet and niche.
They installed a floating vanity with a place for the towels, a tower rack hanging underneath, and a large mirror reaching to the ceiling to make this tiny bathroom look more spacious.
In the mirror, you can also see the floor-to-ceiling cabinet on the other side of the bathroom. This tiny bathroom used all the small bathroom layout ideas in one.
Add A Skylight To A Small Bathroom
You have to bring as much (natural) light into your small bathroom as possible. Skylights are a great way to insert more natural light into your bathroom. It's a great solution when you can't add a normal window to your bathroom. But for privacy reasons, a skylight is often a good choice.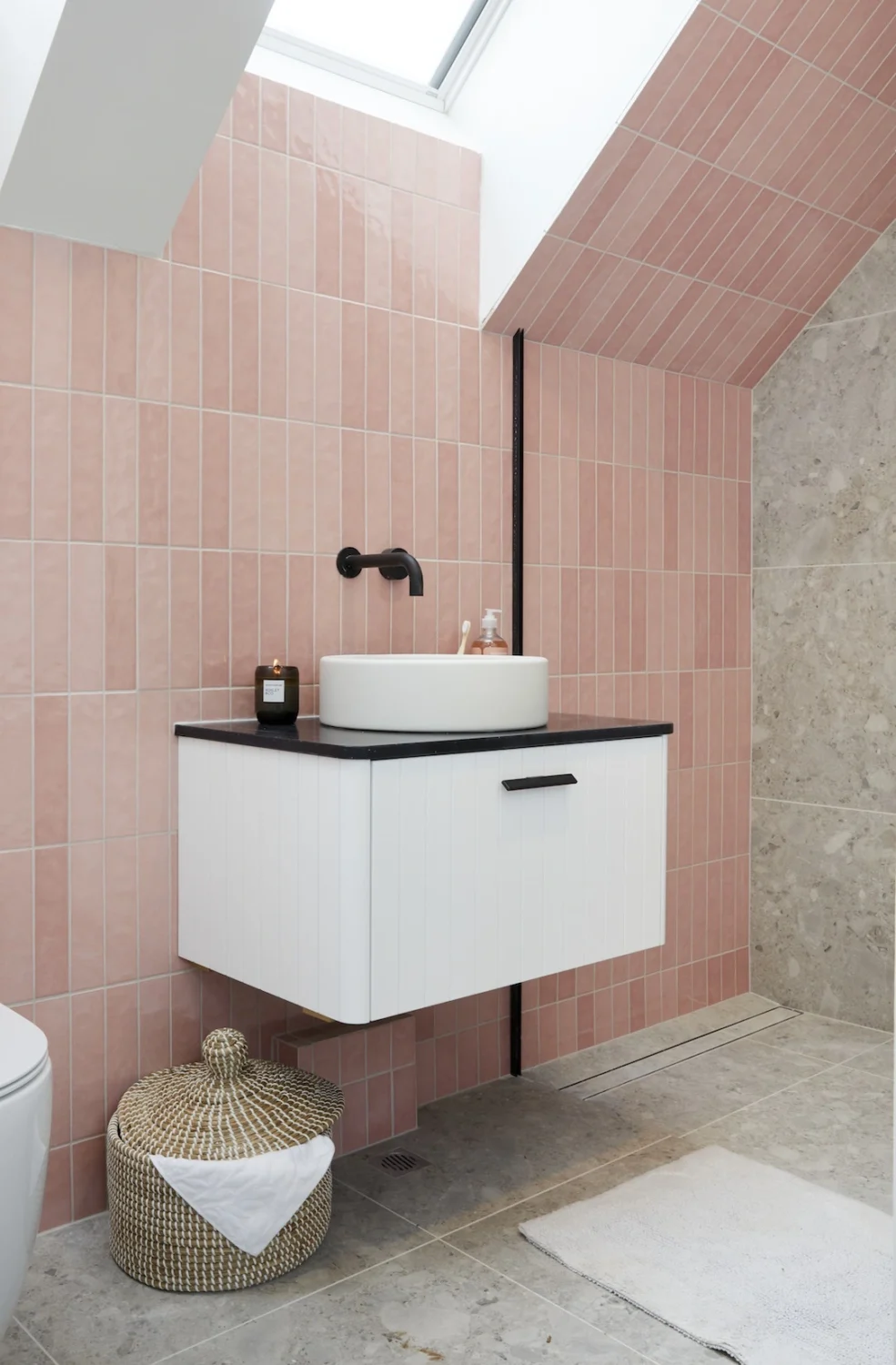 A wonderful small bathroom with a skylight. The pink and grey tile combination is also a wonderful touch. (photo: David Cook)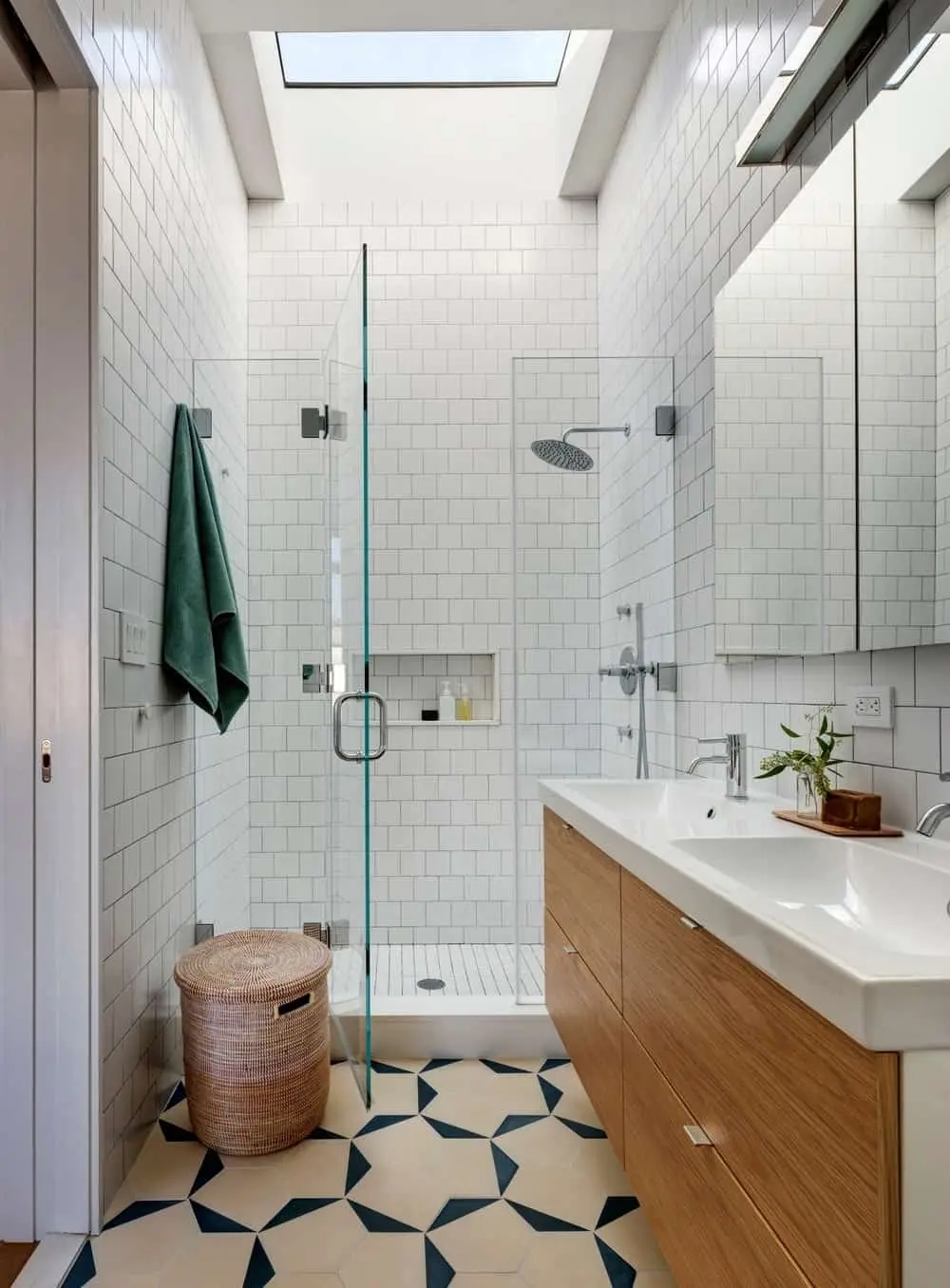 A skylight above the shower in a small bathroom. The skylight in combination with the white tiles gives this small bathroom a bright look. (photo: BFDO Architects)
Go Vertical
One of the best tips in any small room is to think vertically. This vertical thinking can mean several things. For example, you can add storage in high places for things you don't need often. But another smart way in making a bathroom look bigger is by adding vertical wall tiles.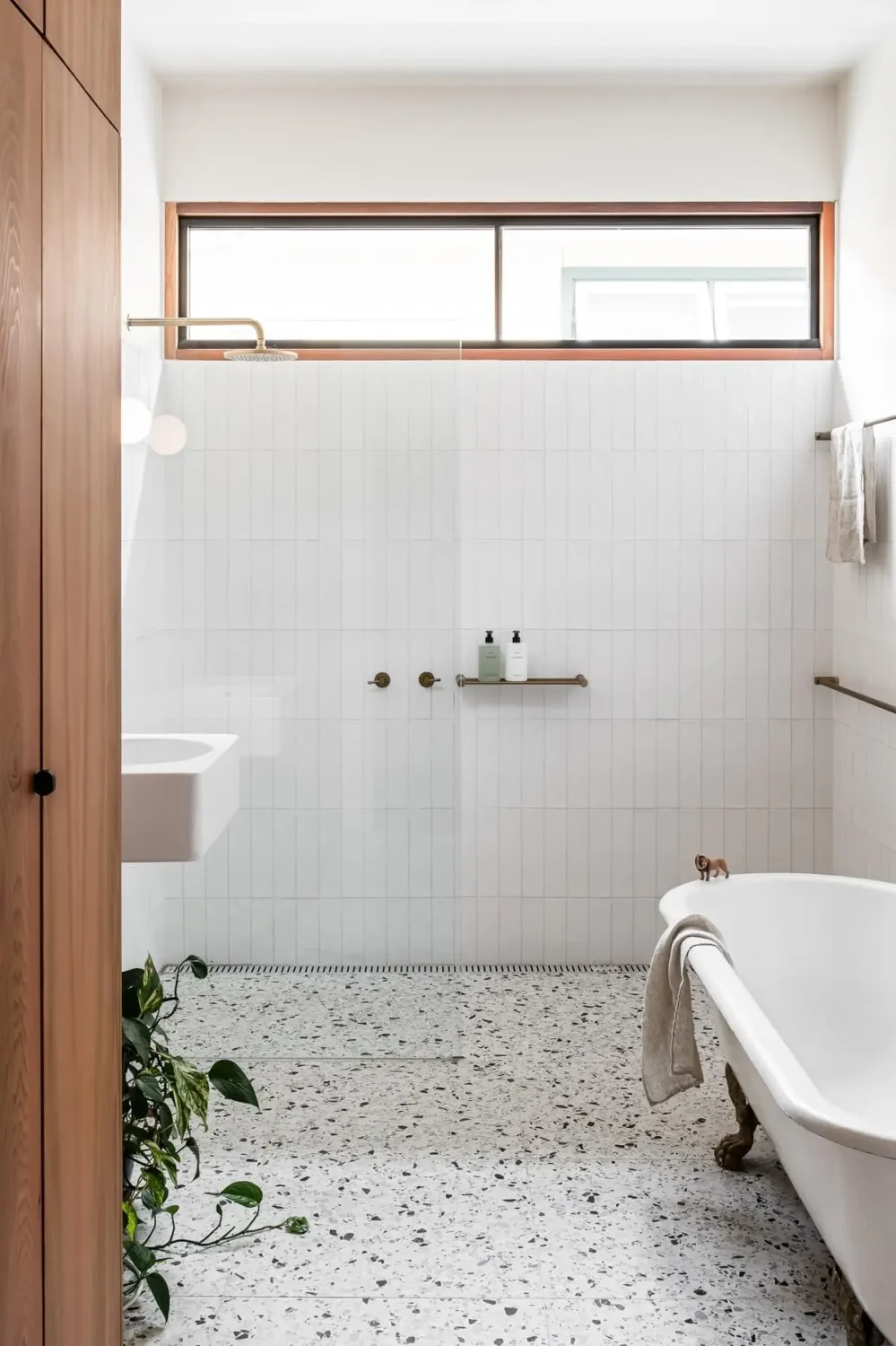 By adding tiles wall tiles vertically, your small bathroom will look higher and therefore bigger. (photo: Tom Blachford)
Don't be afraid of (darker) colors. Even with a darker tile color this illusion of creating more height in a small bathroom with vertical tiles works very well. (photo: The Effortless Chic)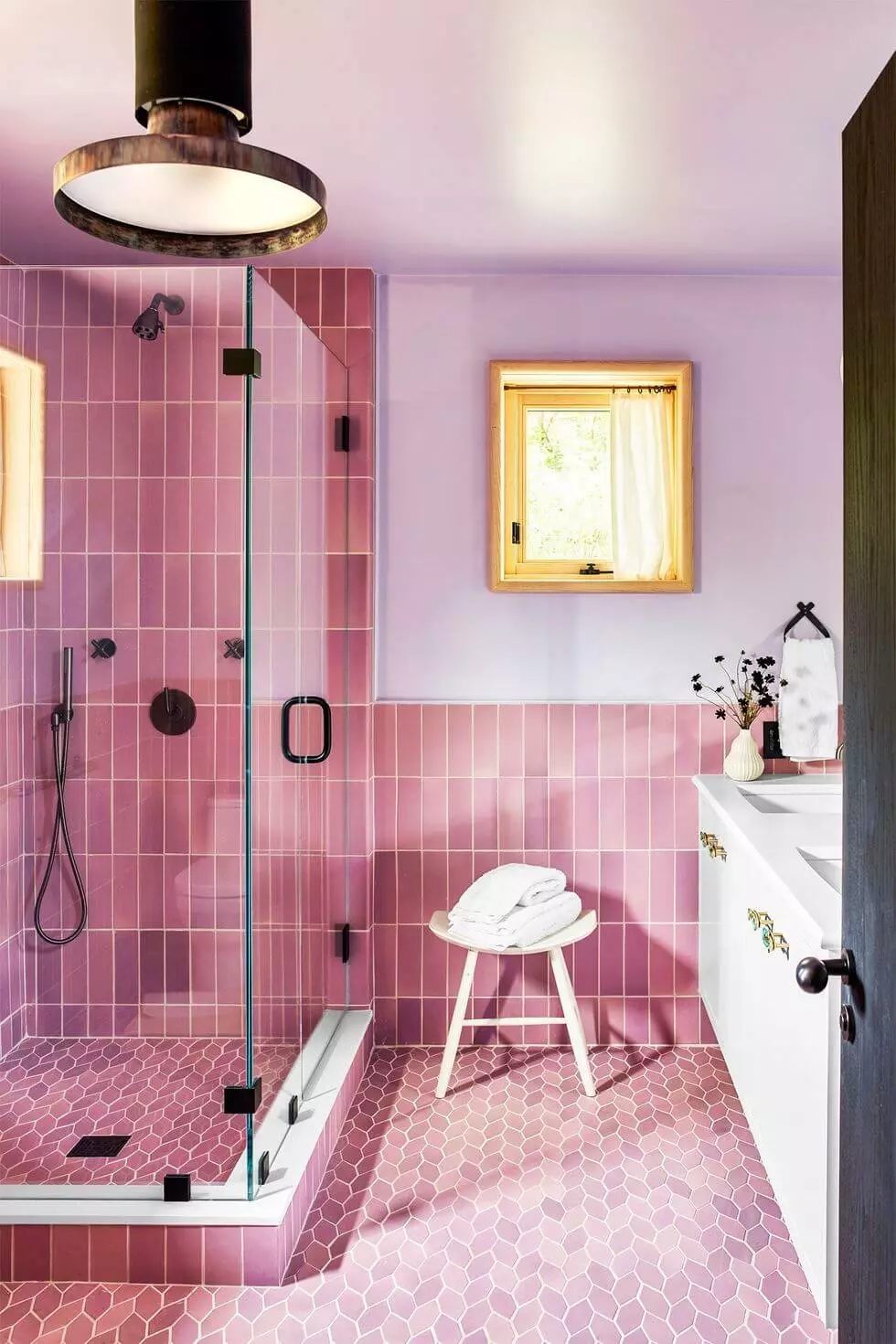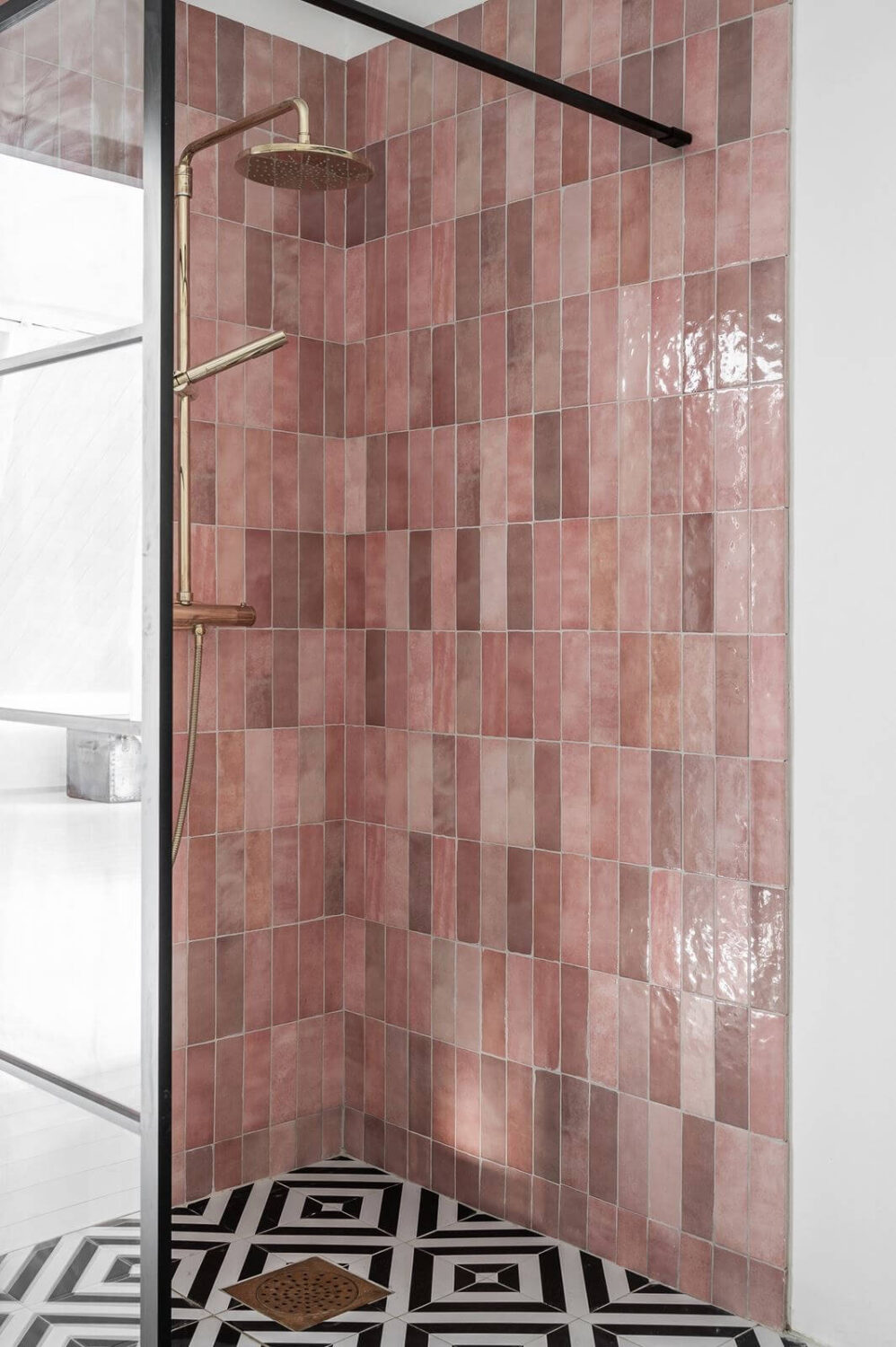 Don't be afraid of color. These pink bathroom with vertical wall tiles shows that.
Unclutter Your Bathroom
Adding many bath products or decor items clutter up a space. And therfor it will make a bathroom look smaller. Think a bit more like Marie Kondo; "does this bring me joy?" and remove all things you don't really need. Less clutter means more space.
See also: simple bathroom design ideas
High Narrow or Undeep Cabinets
This is again a plea to use the height of the room. Instead of using a low, deep cabinet. You can add a narrow, not deep but high cabinet instead. This will clear up walking space in your small bathroom which you not only need but also make a bathroom look bigger.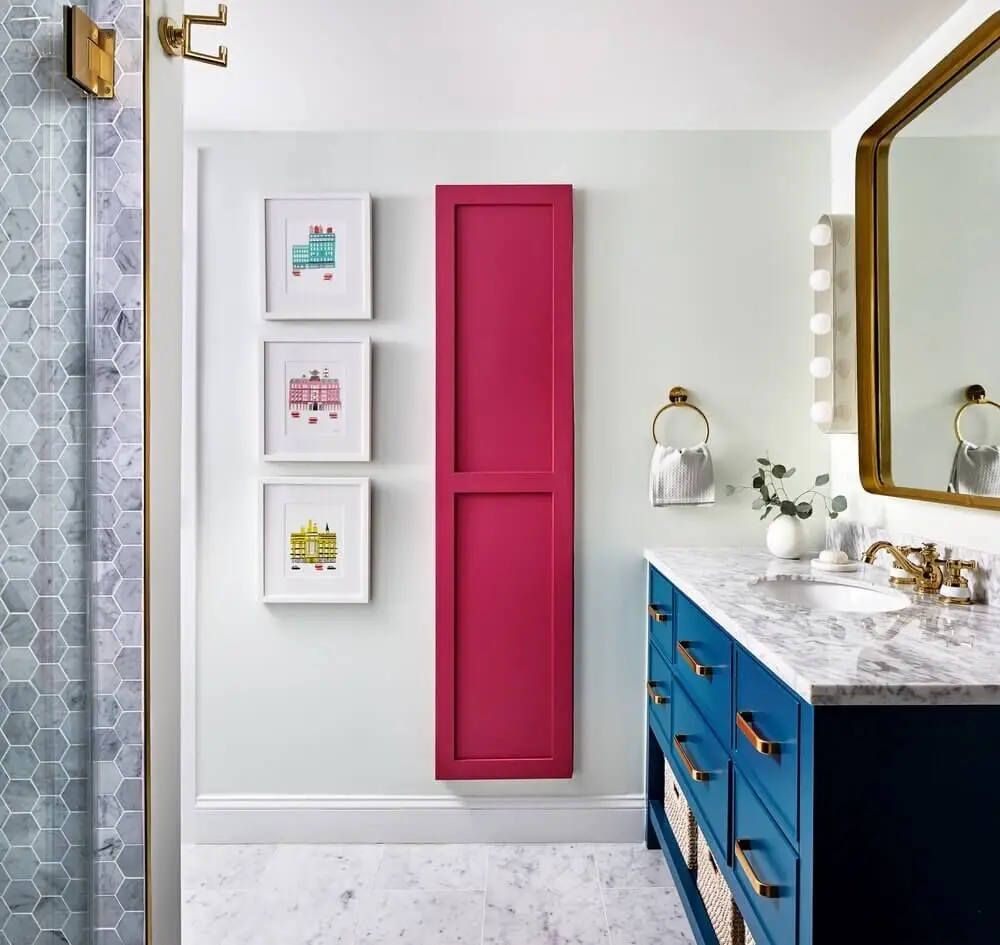 This pink cabinet in a bathroom design by Zoe Feldman is a good example. And not only did she use a high, undeep cabinet. It is also a floating furniture piece which clears up even more space.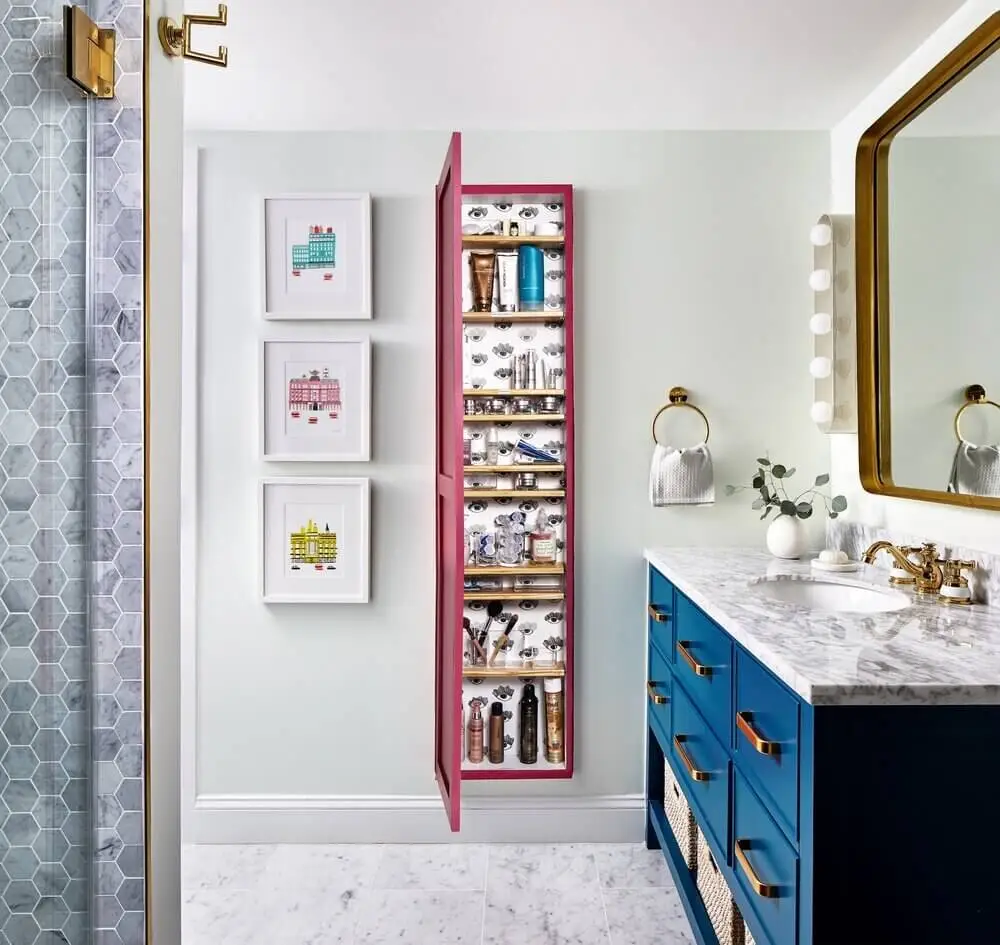 Use the Space Above the Toilet
The space above the toilet is often forgotten when you design a bathroom. But it is such a perfect space to add storage.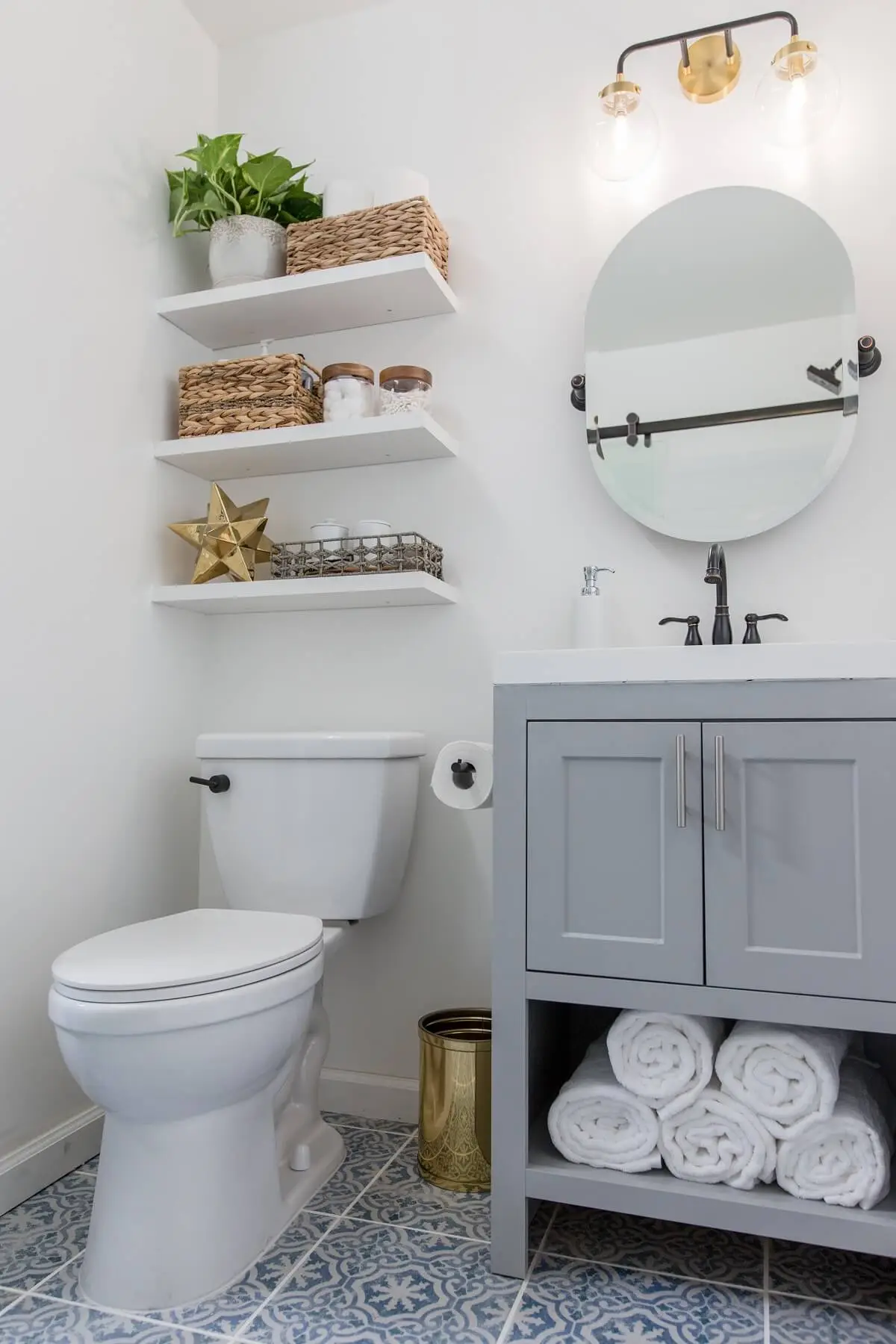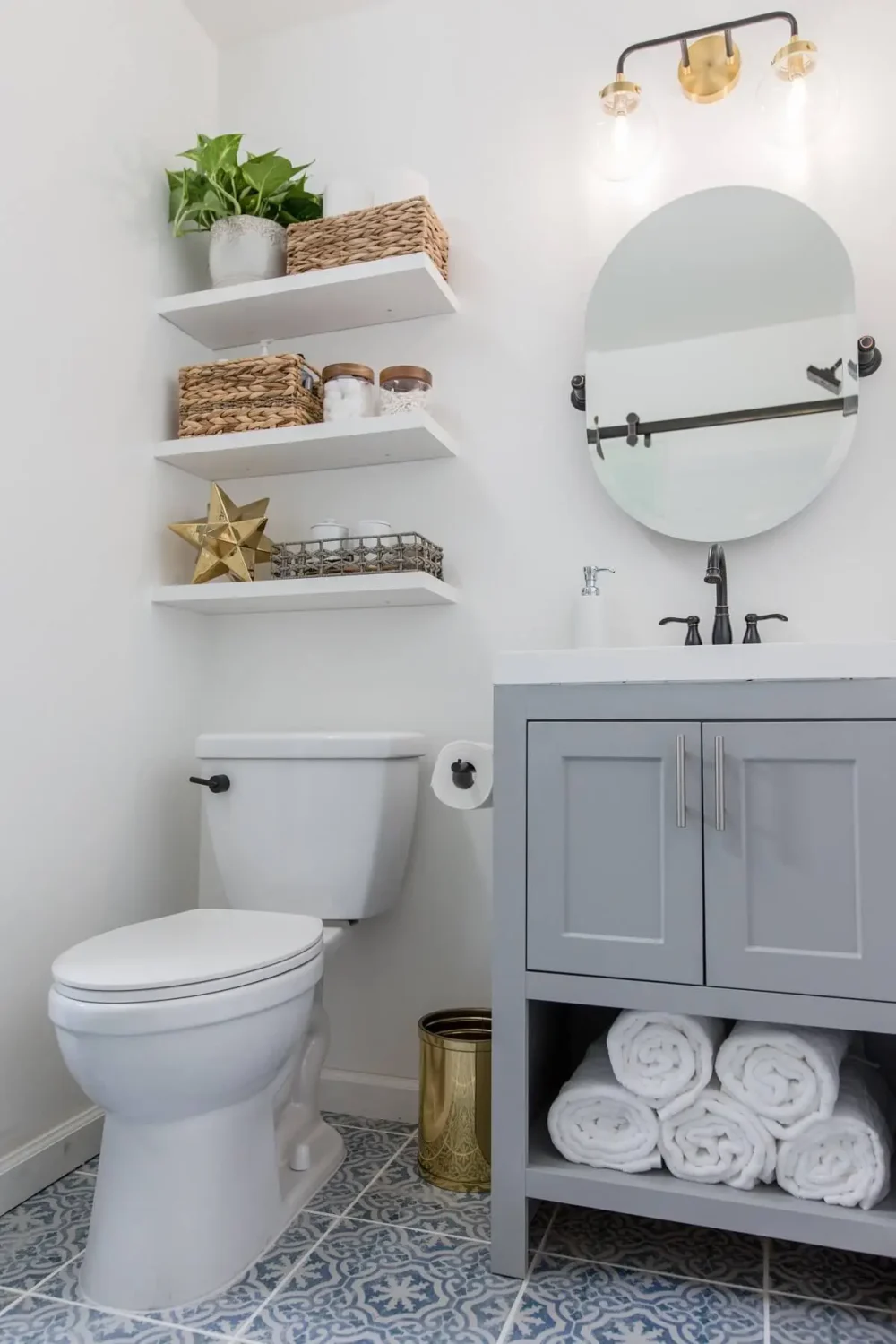 Shelves above the toilet and bathroom vanity with open and closed storage. (photo: Mr. Kate)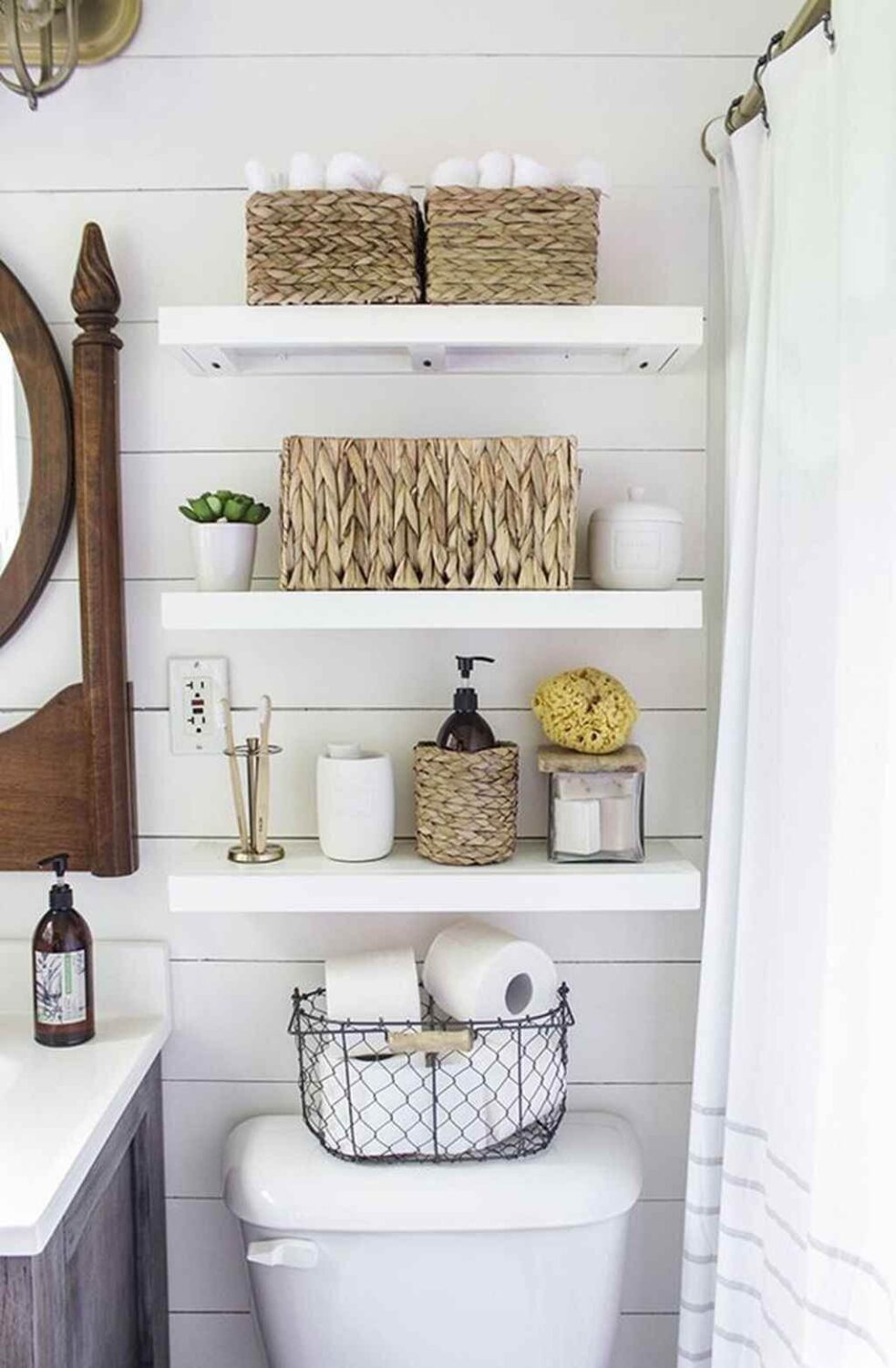 These shelves are beautiful and practical. But when you live in a rental apartment you might now be allowed to drill holes in the walls. You can buy many over toilet storage solutions, which you can just put on the floor.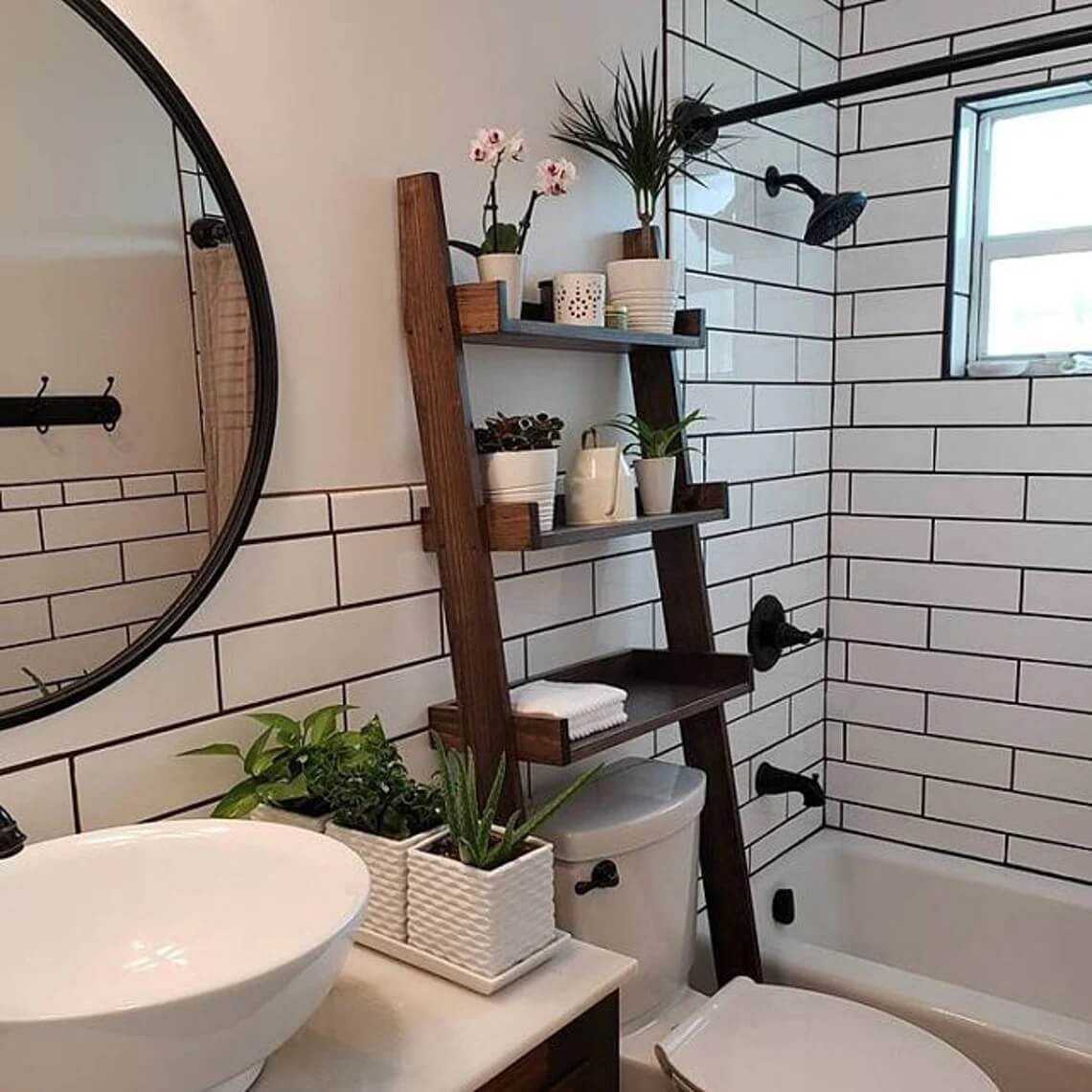 These warm rustic shelves can be bought on Etsy (*affiliate link)
Use the Corners Wisely
Step away from the regular measurements in a small bathroom and use the corners more cleverly.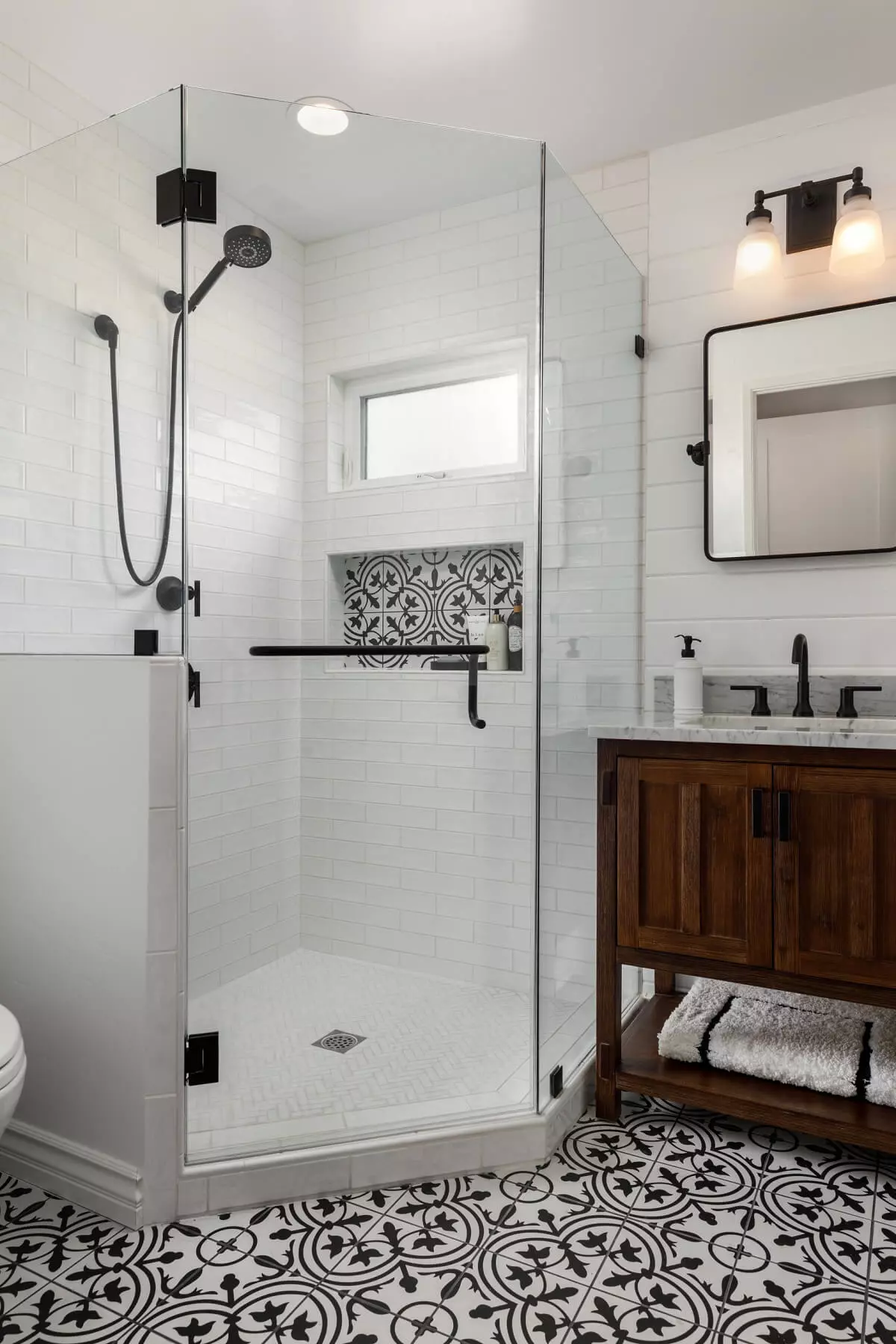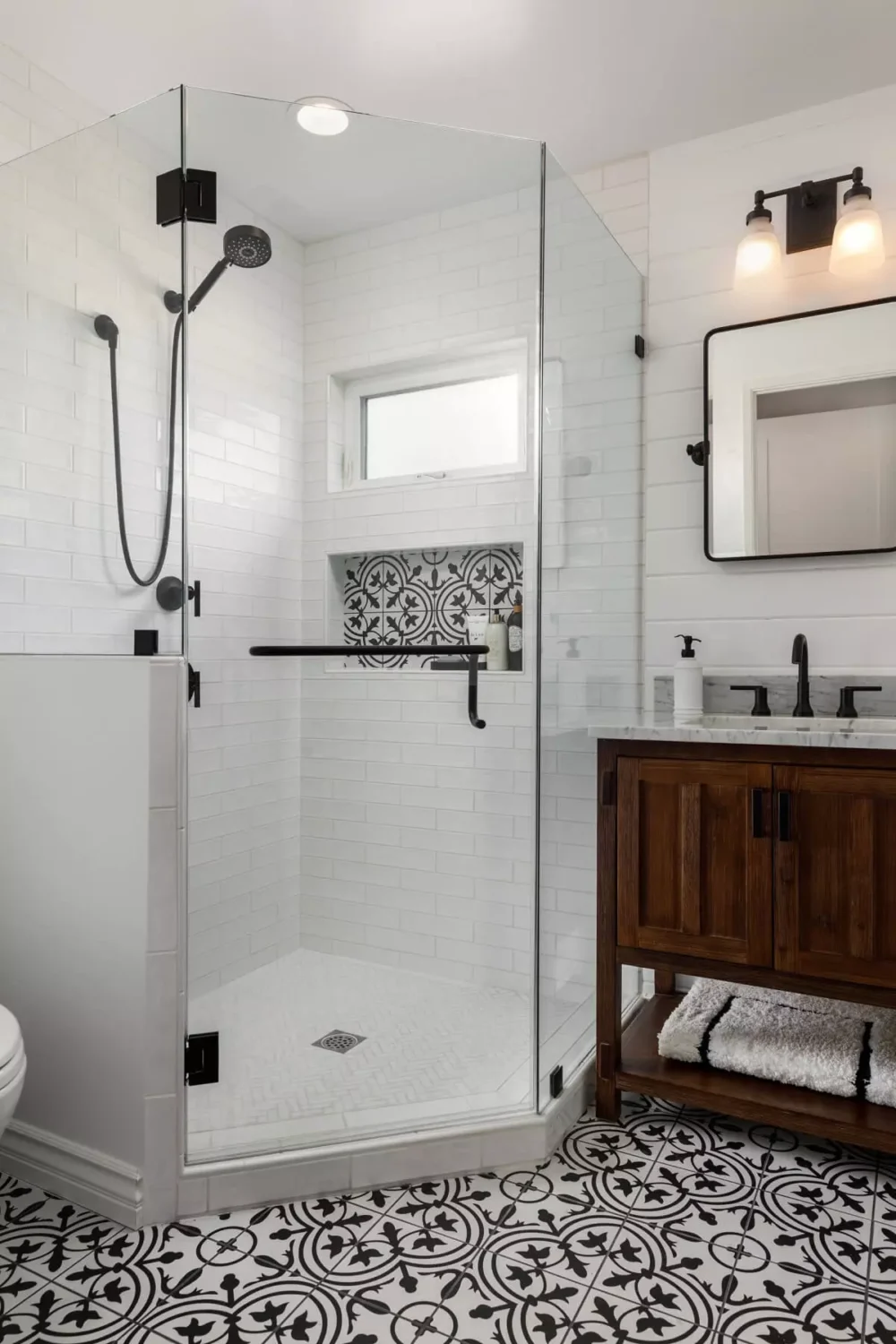 A great example of using the corners wisely is in this bathroom. Instead of a square shower, they added this shower shape which opens up space. (photo: Morey Remdeling Group)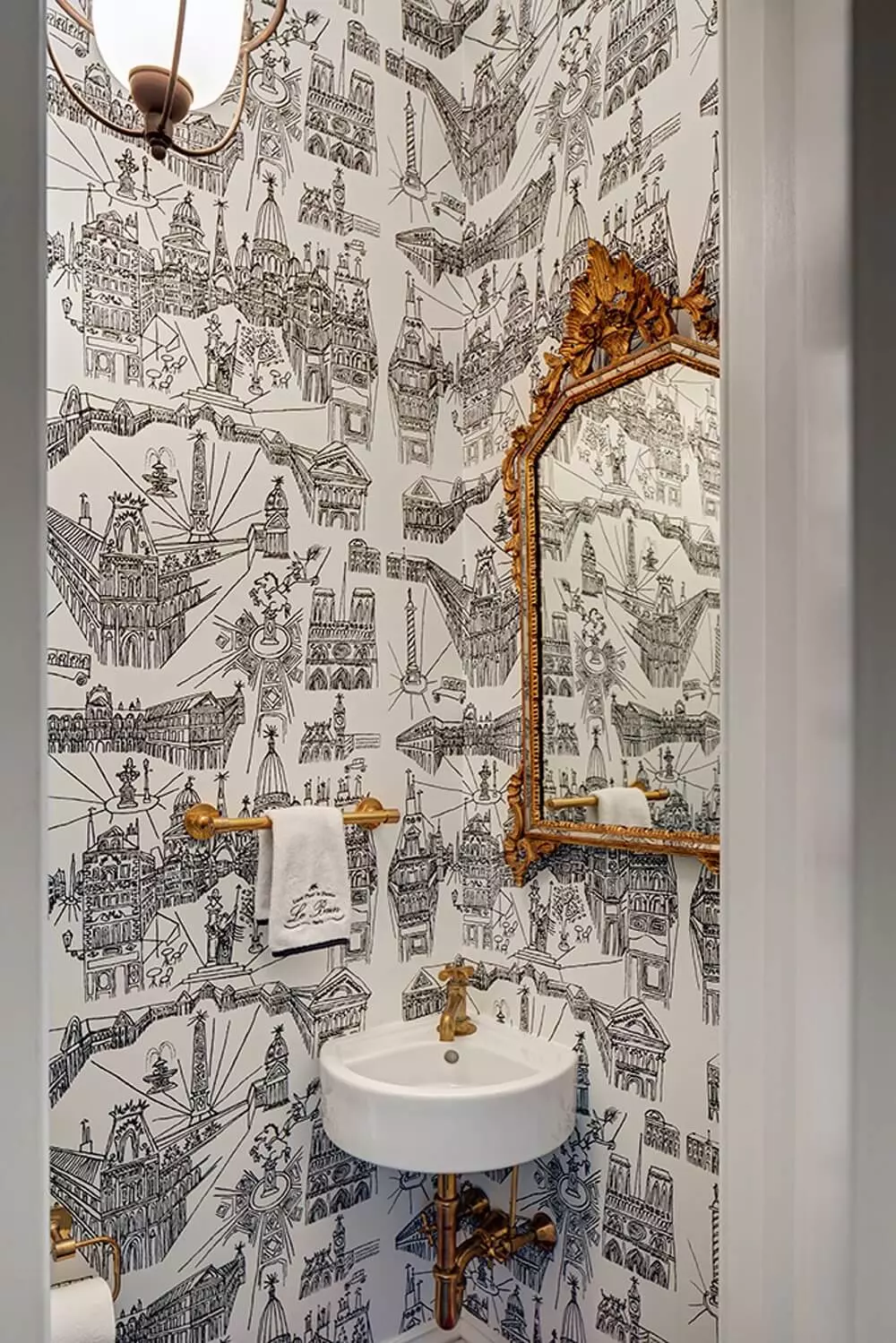 You can also put the wash basin in the corner (photo: CWB Achitects)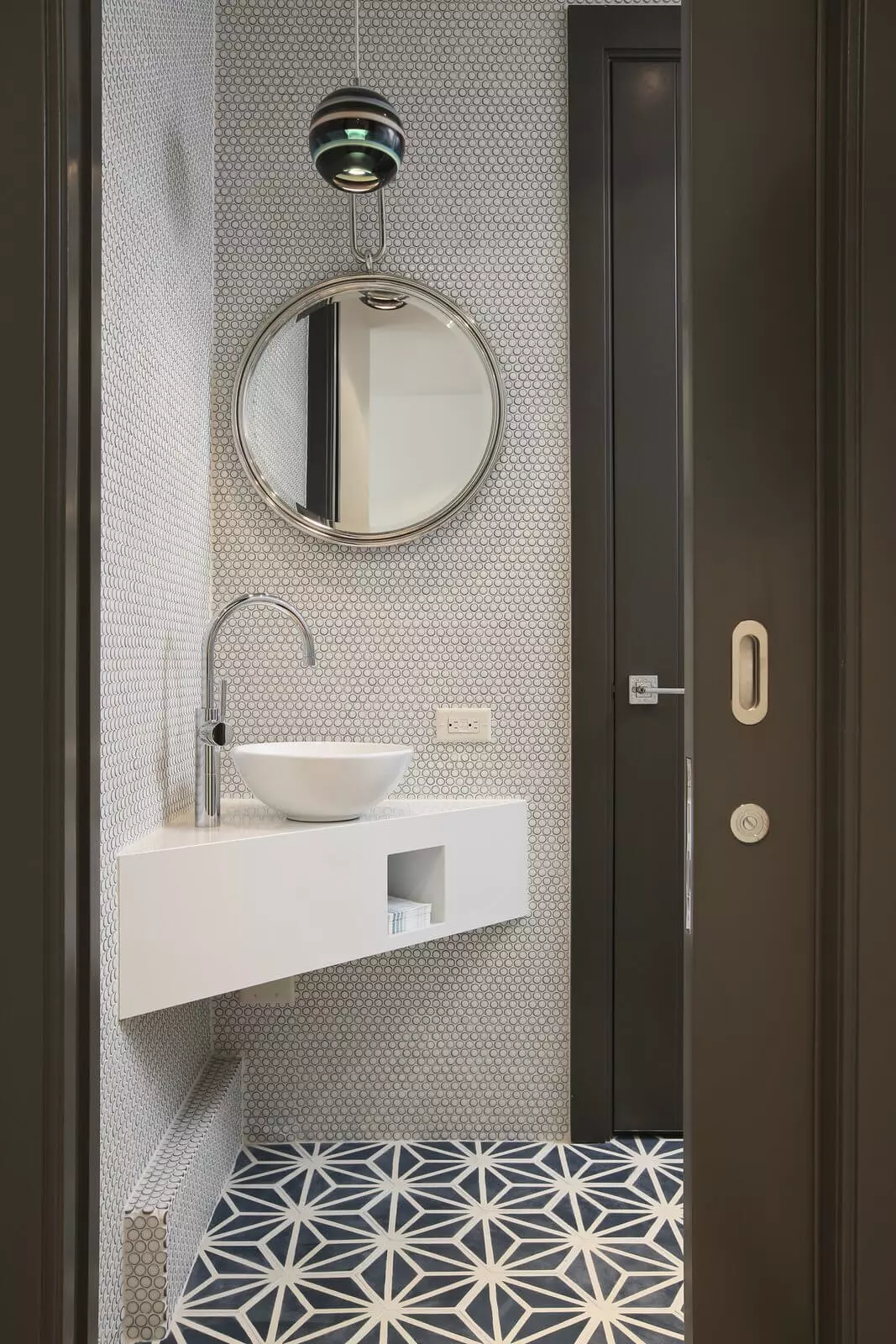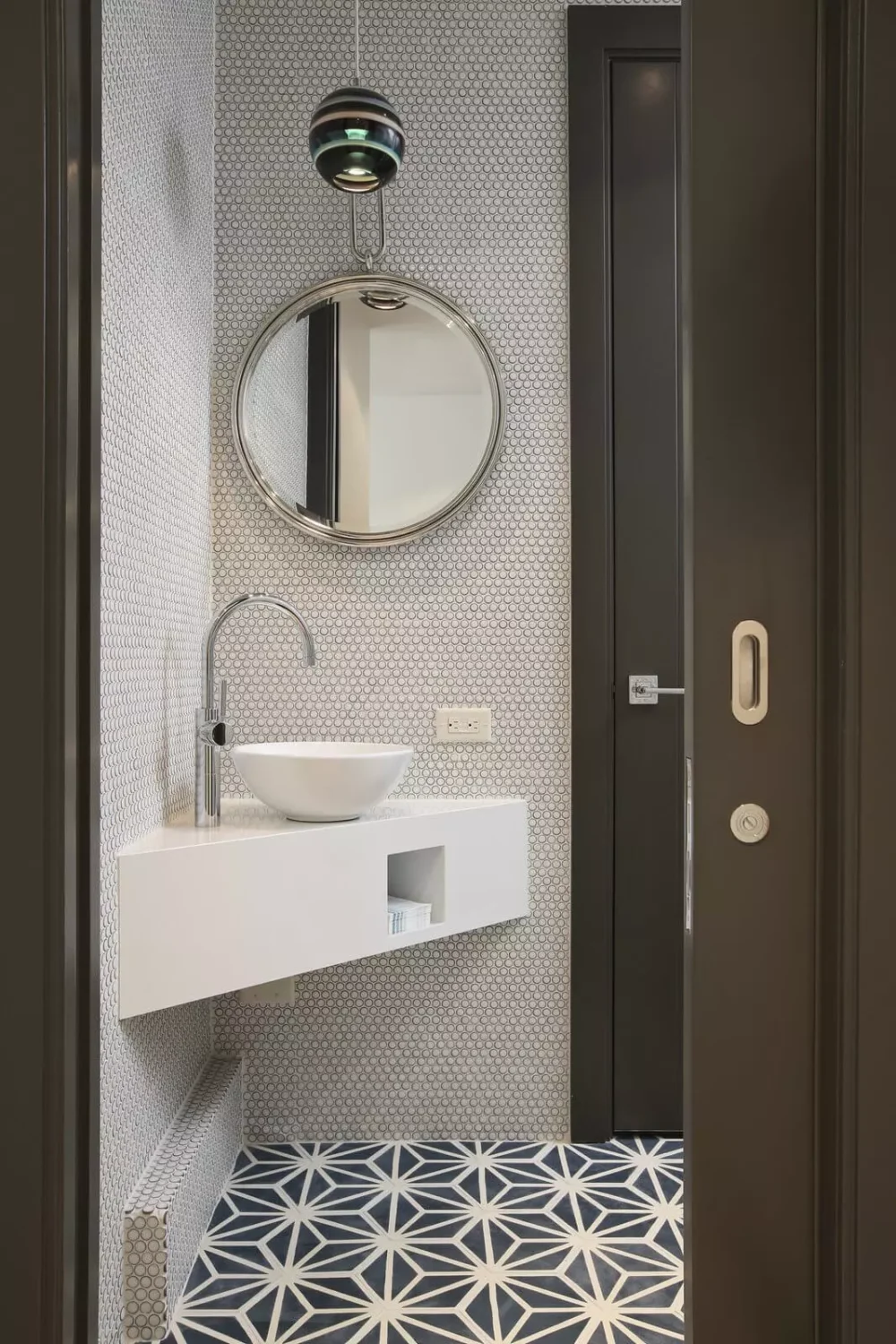 Small Bathroom Ideas: Low on Space, Big on Style
All these tips on creating more space in your small bathroom are great. But now let's take a look at some small bathroom ideas for even more inspiration.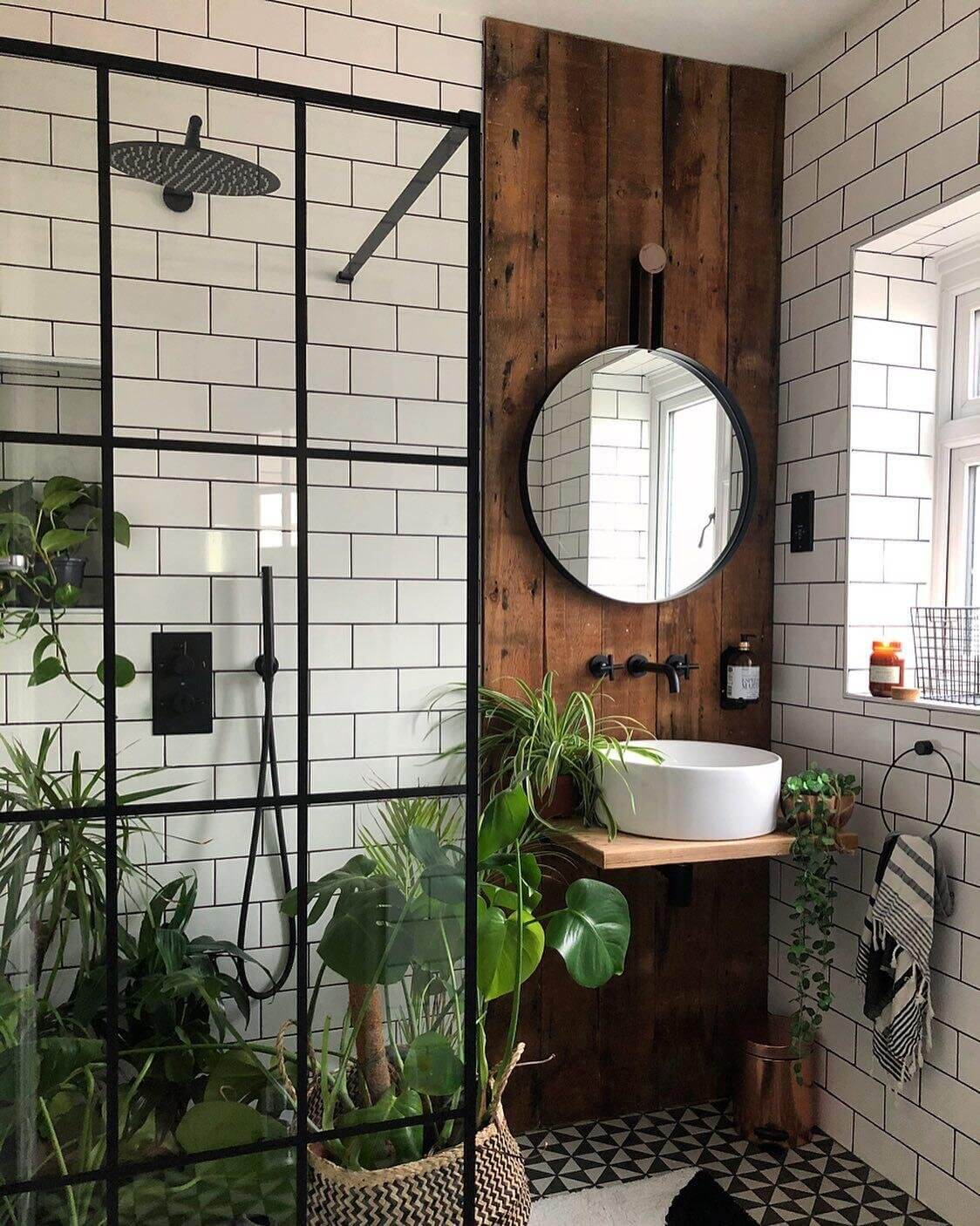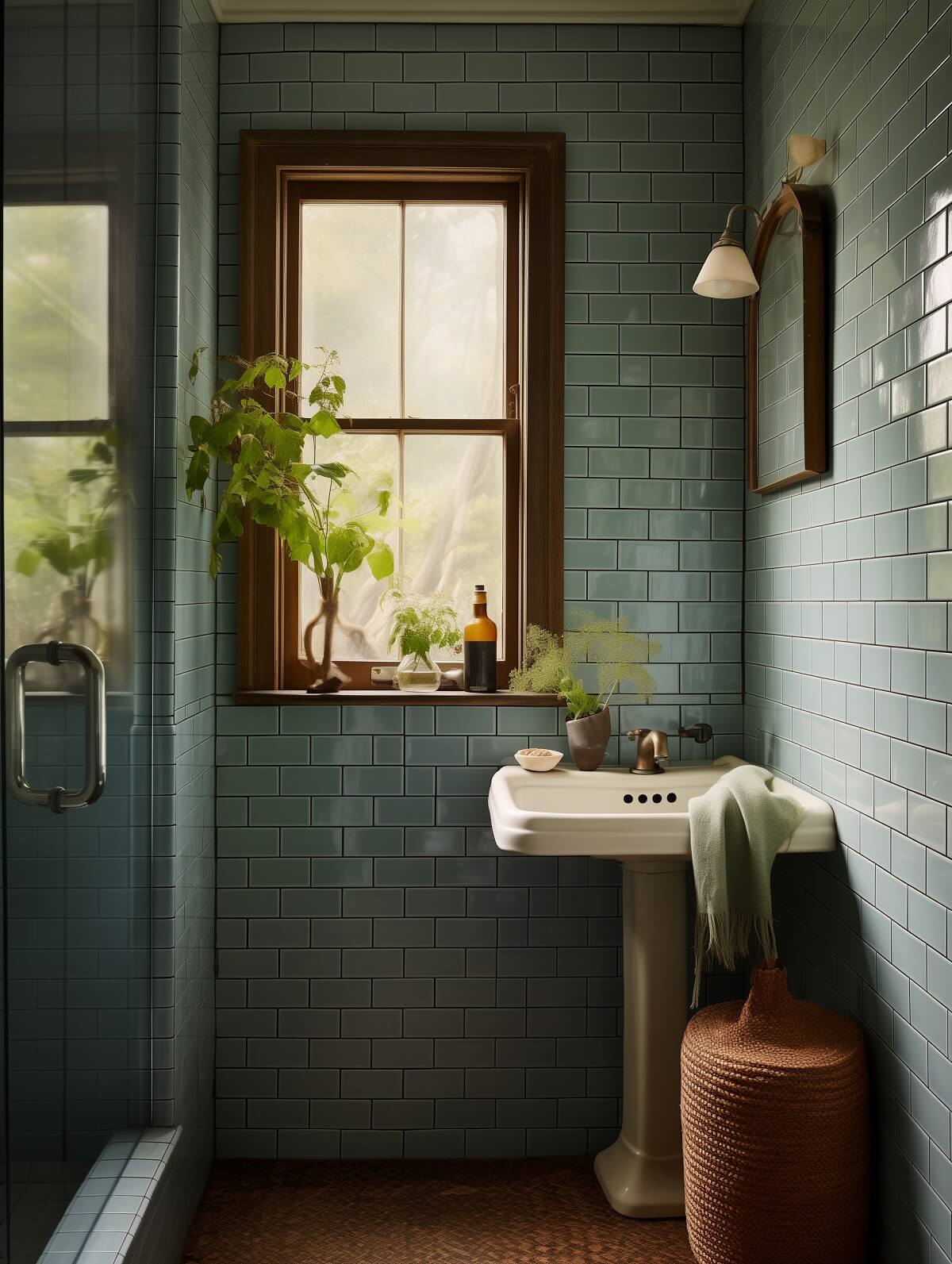 Small Colorful Bathrooms
Most people will say that light colors make a room feel bigger, and of course this is true. But by adding color to your small bathroom you can show your personality ánd it gives the bathroom a cheerful look.
(photos: Liz Engelsen, Douglas Friedman, Old Brand New, Lupe Clemente, Williamsburg Hotel, Lance Gerber, Ditteblog, House of Chais, Hunker, Lupe Clemente, Andreas Mikkel Hansen, Skandia Maklarna)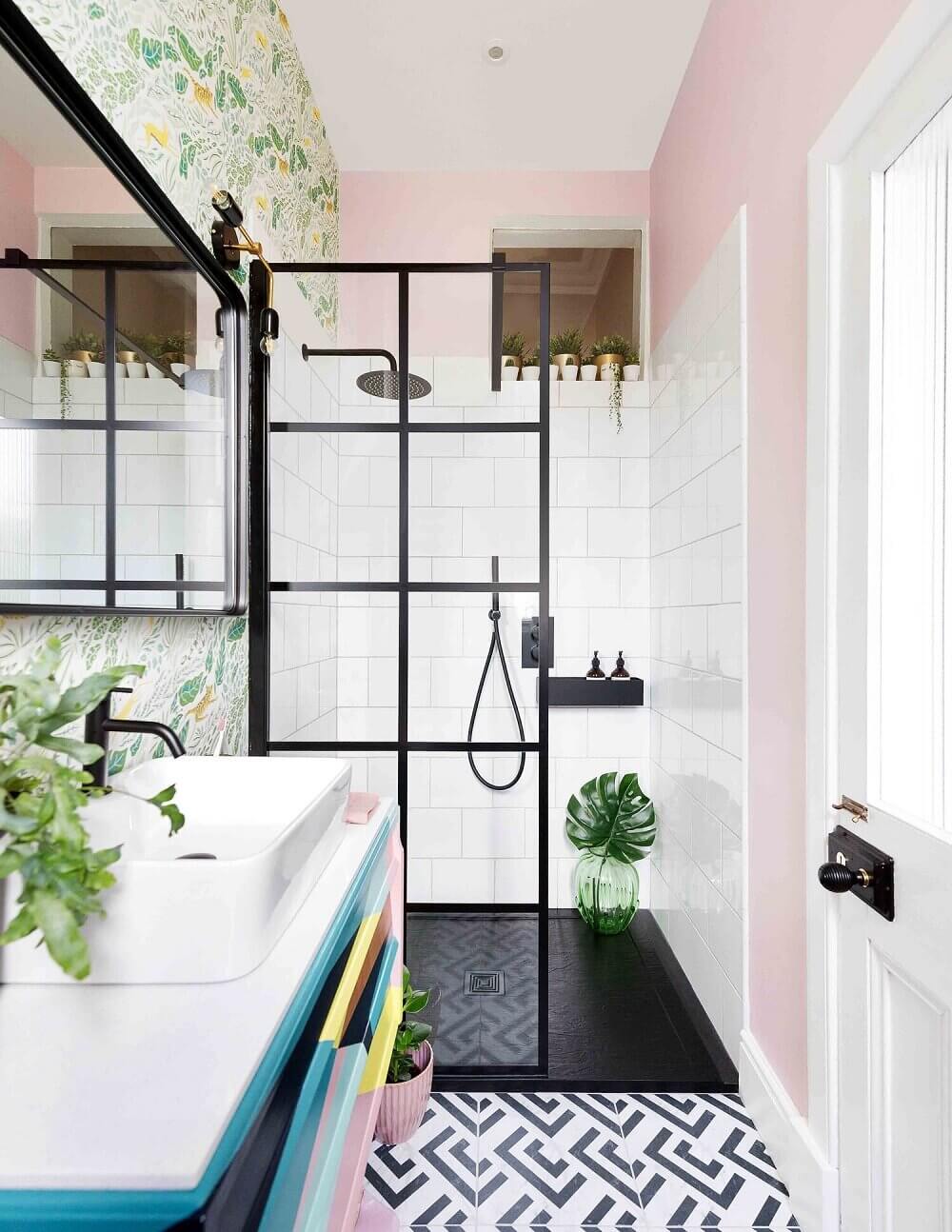 Pink walls, green wallpaper and a colorful vainity. Combining colors in a small bathroom never looked so wonderful.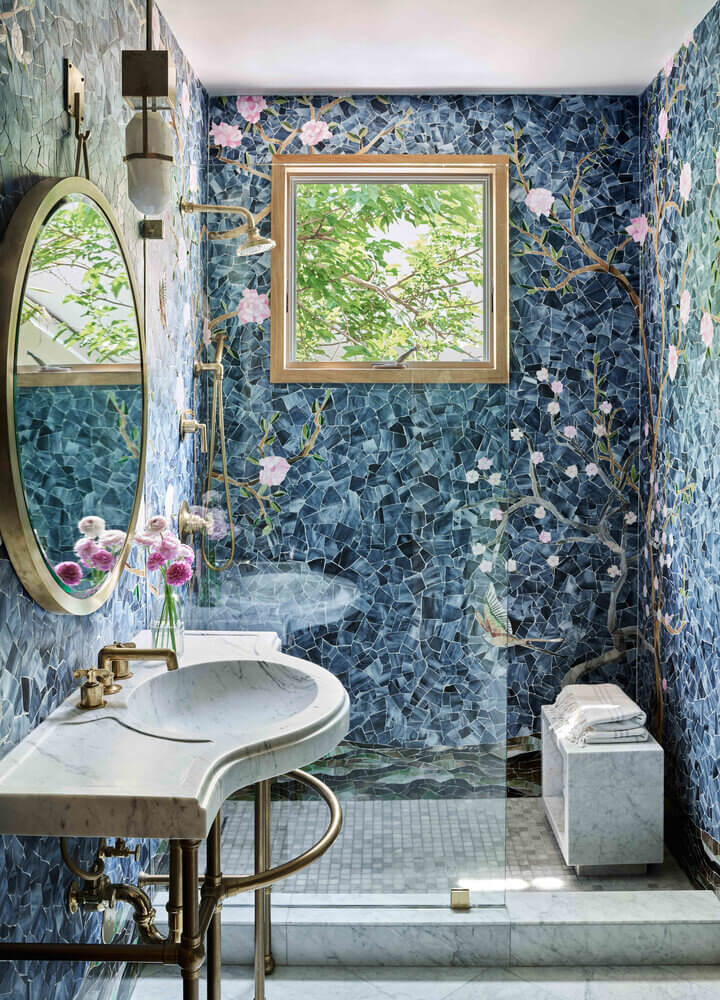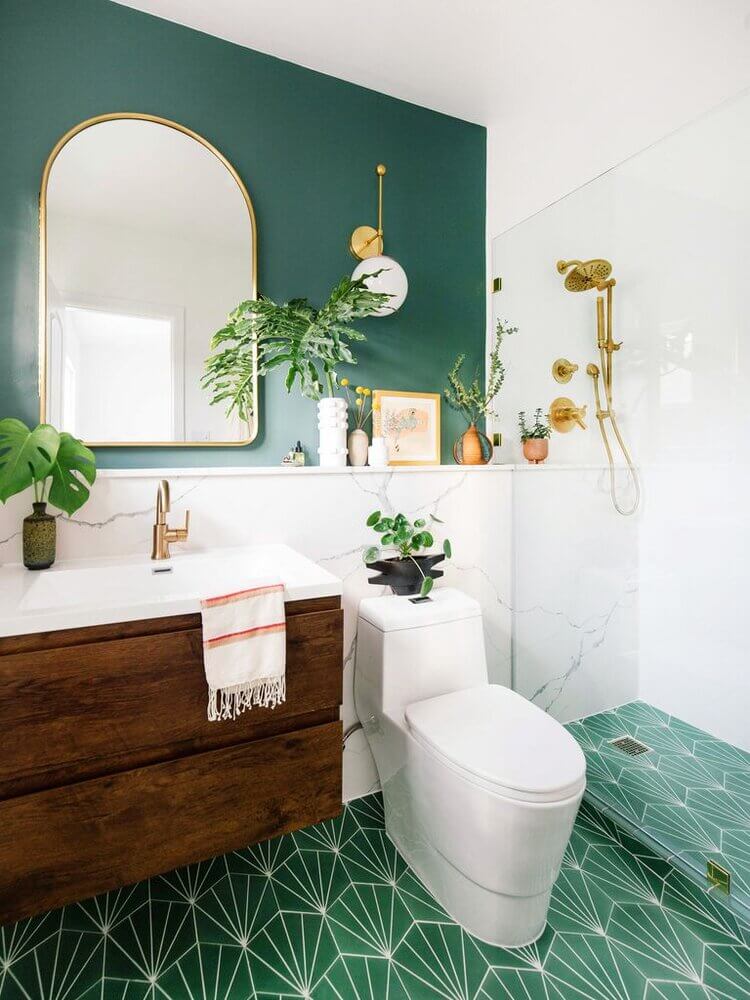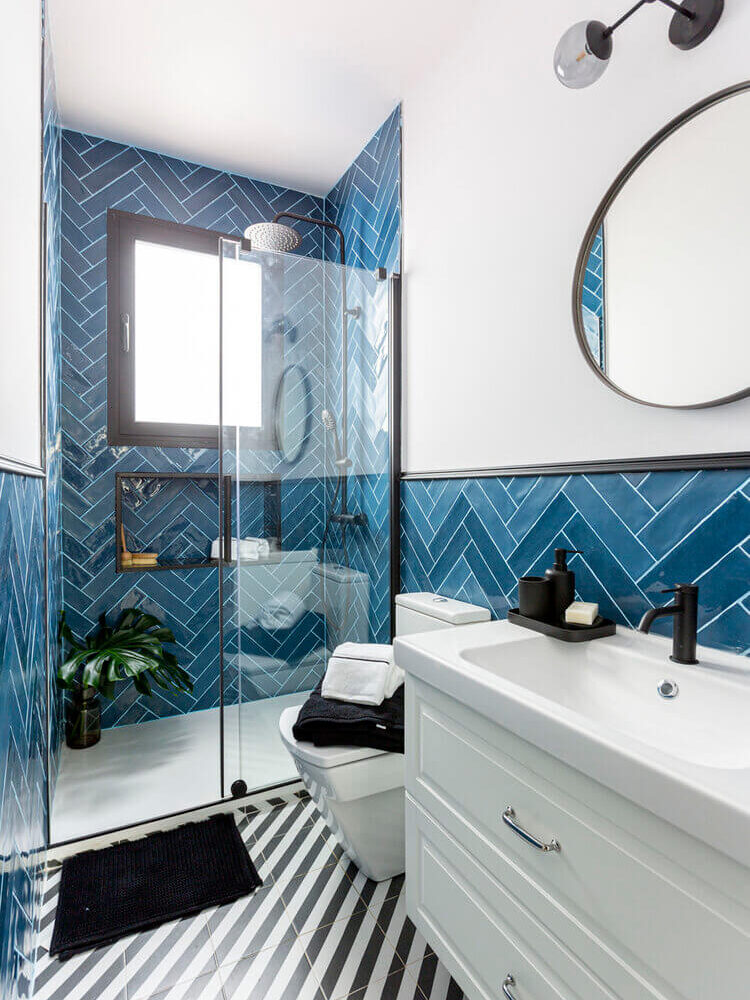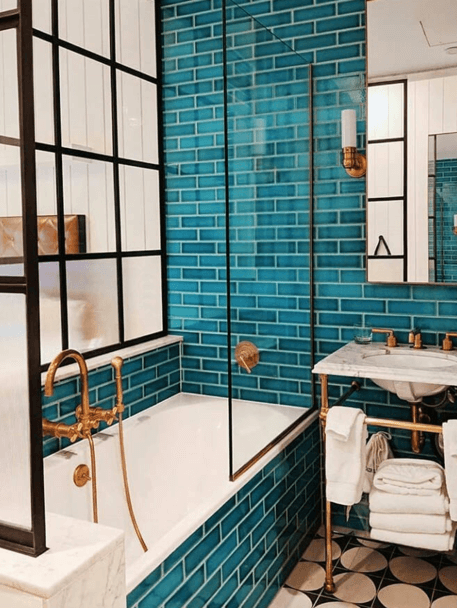 Blue and green tones are nice natural colors for a small bathroom. You can opt for a subway tile or herringbone pattern. Or you can turn your bathroom wall into a small artwork. In the first image, they created a rose pattern with blue and pink bathroom tiles. So pretty!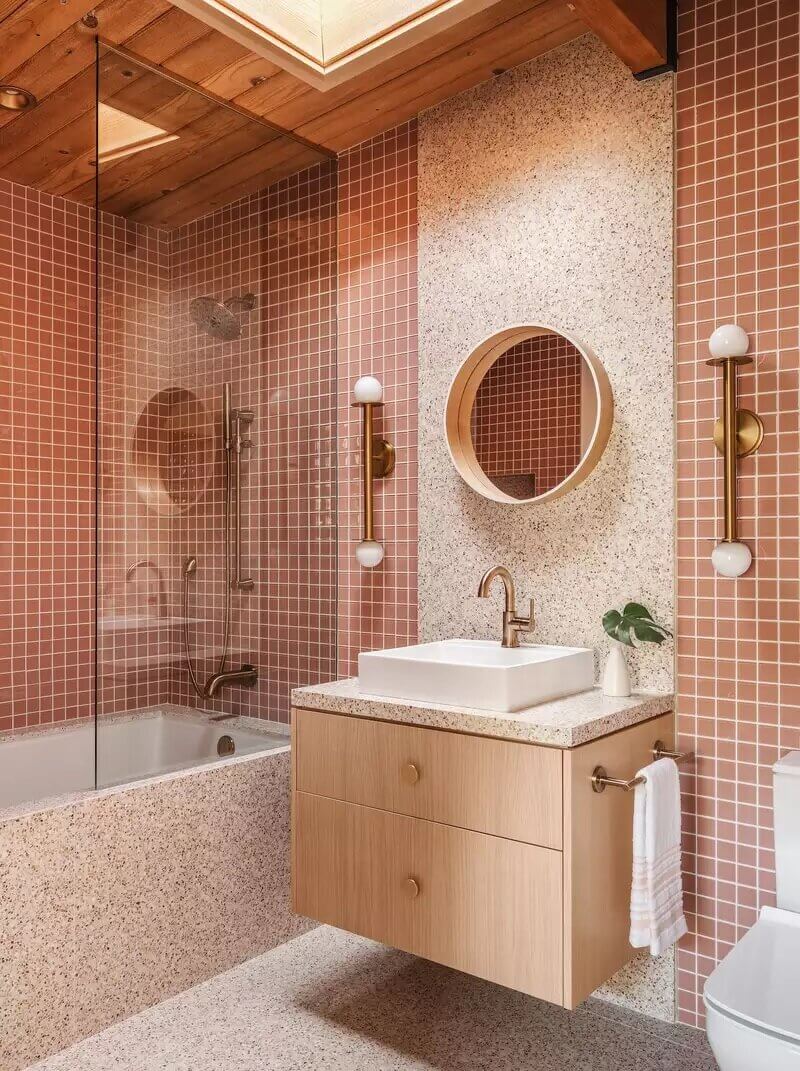 Pink and green is a wonderful color combination. Add some black touches and your small bathroom gets a cool look.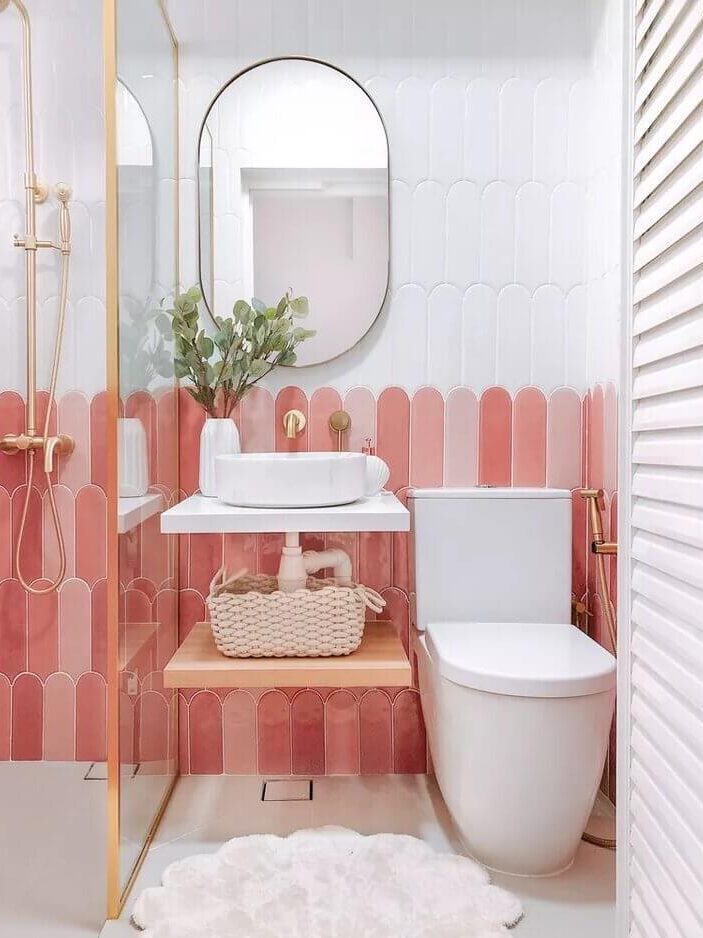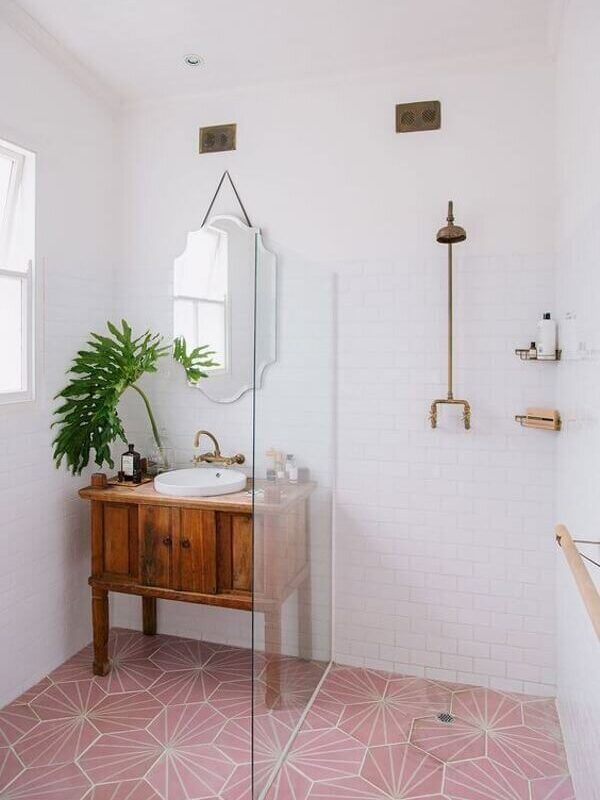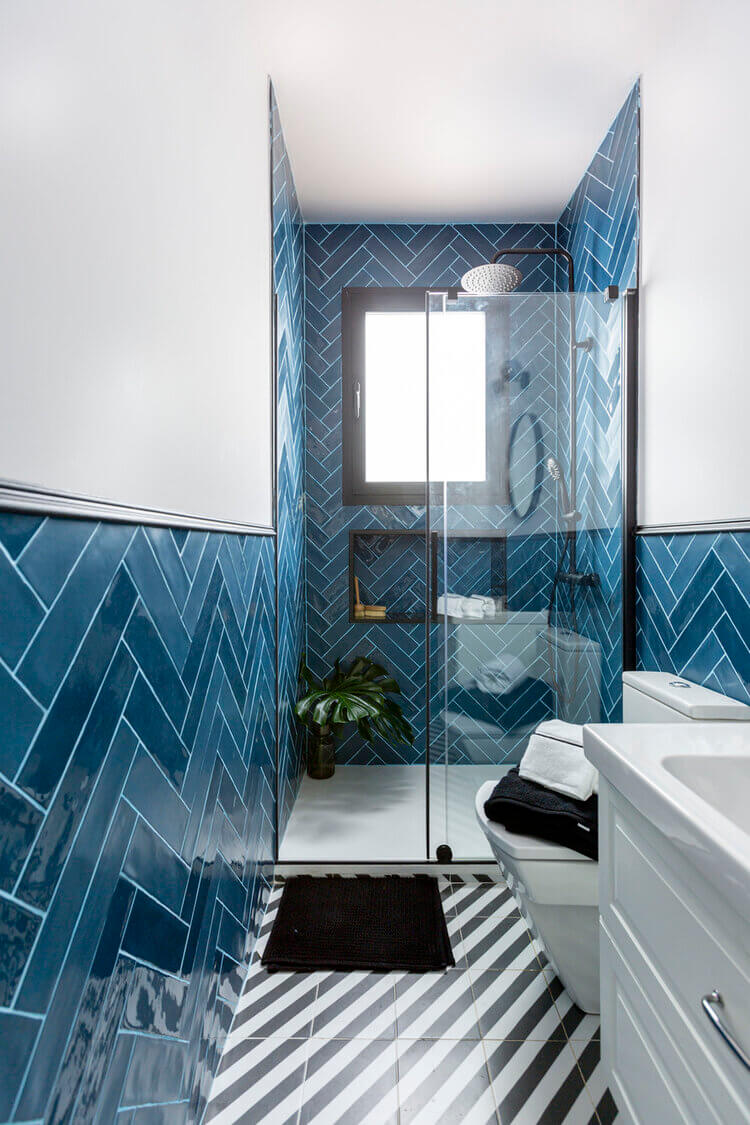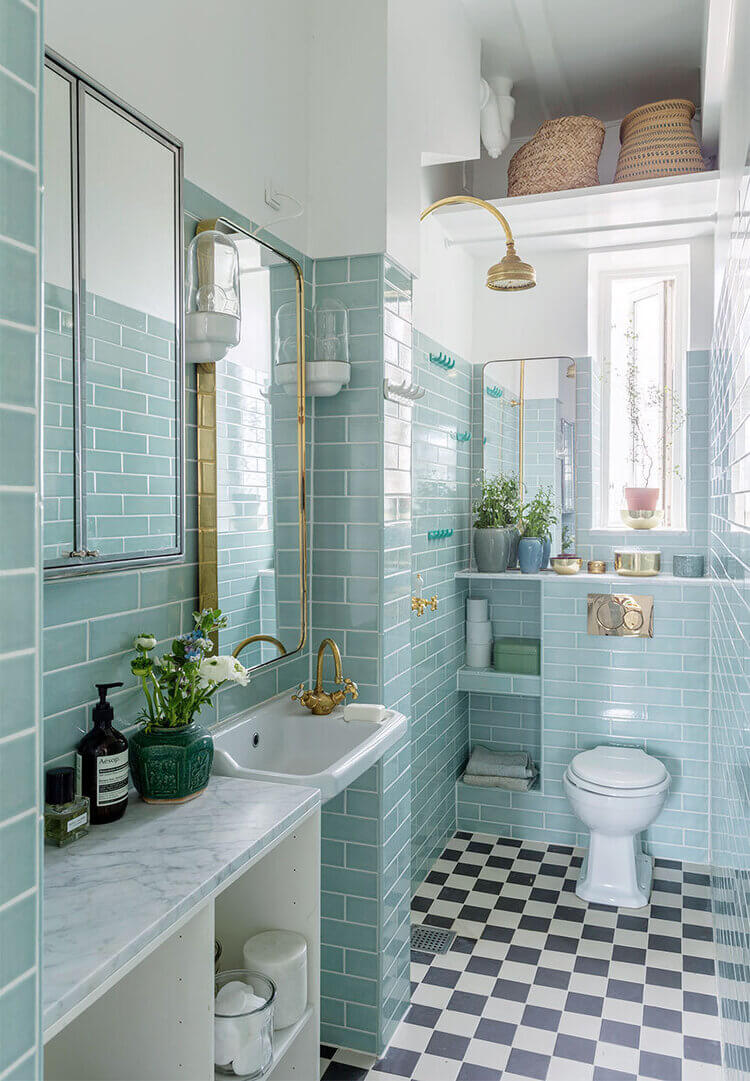 While most people will choose a lighter color shade for a small room. The tiny bathroom below shows that you can also go a bit darker. This small bathroom has beautiful green tiles and a large mirror to make the small space look a little bit bigger.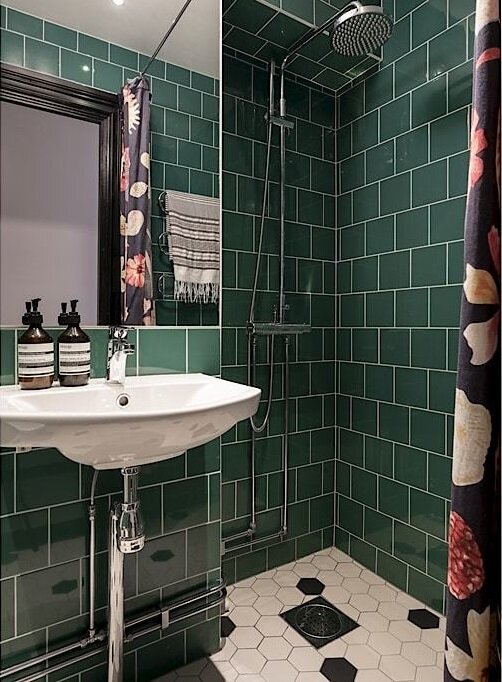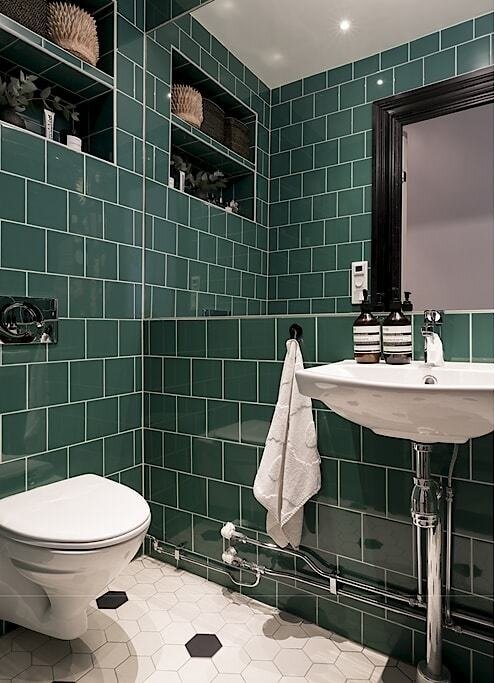 Small Bathrooms with a Bathtub
Can you have a bathtub when you have a small bathroom? Yes of course! There are several ways how you can incorporate a bathtub into a small bathroom.
First of all, a huge bathtub is lovely but you can also buy a smaller bathtub so it fits into your small bathroom. And of course, you can opt for a shower/bathtub combination if you want to have both.
(photos: @domsli22, Kerry Lockwood, Johan Spinnell, xx, Nesting with Grace, Chris Snook, Kate Spiers, Nooks, Jeremy Bitterman)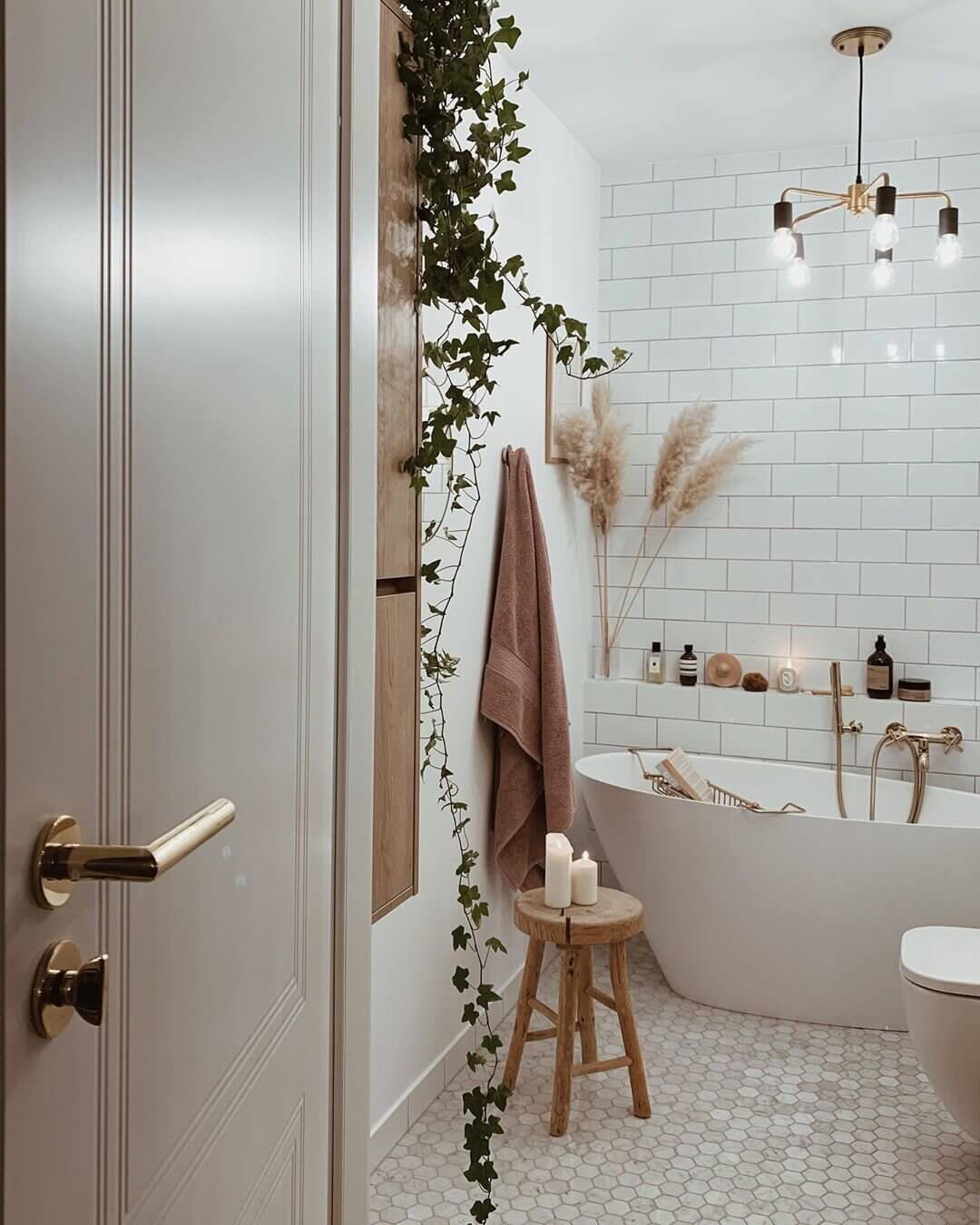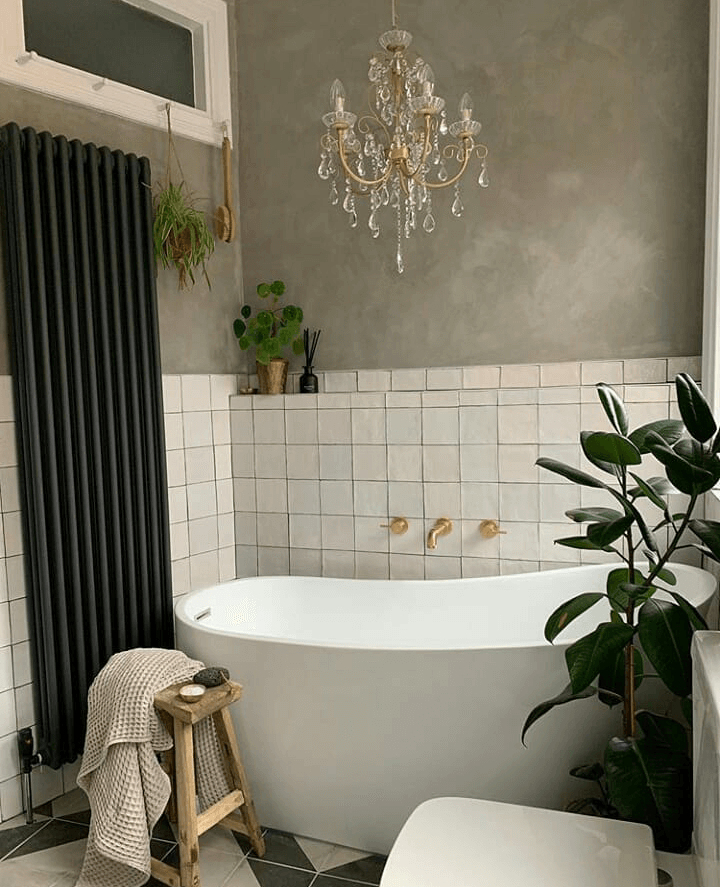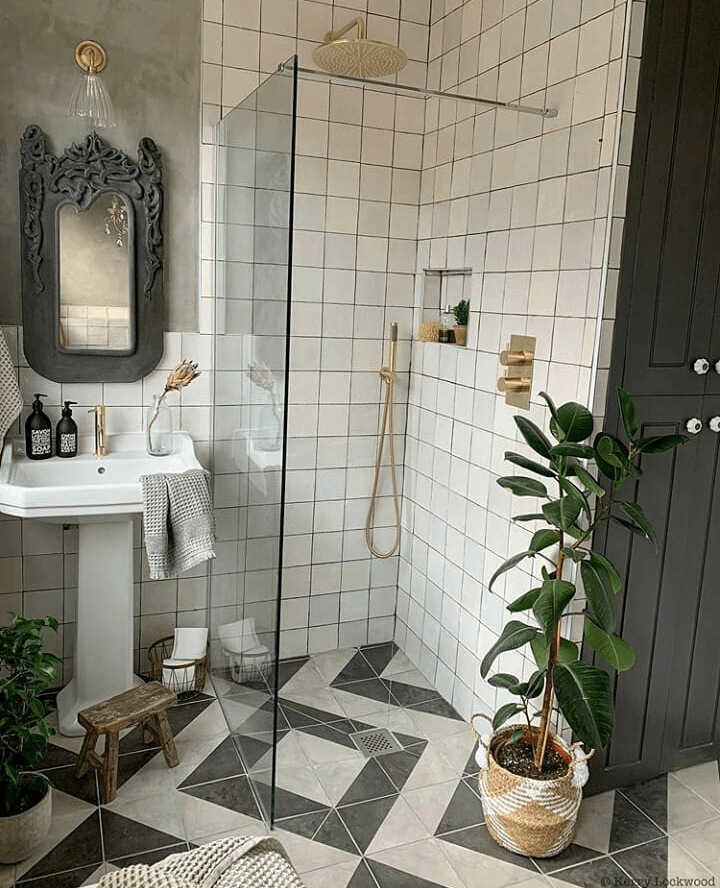 The bathroom above is one of my favorite small bathrooms. The space belongs to blogger & stylist Kerry Lockwood who completely remodeled her rental bathroom into this beautiful space. The bathroom is small but it has a shower and a bathtub.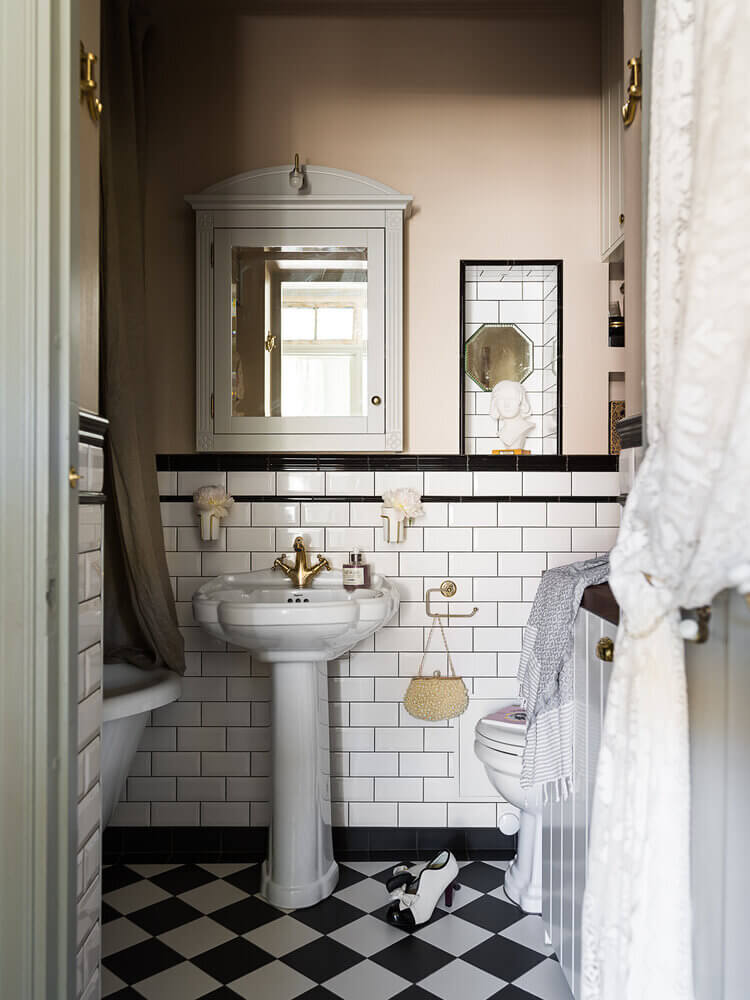 Above: A tiny bathroom with bathtub in a romantic vintage aesthetic with soft pink walls and black and white tiles.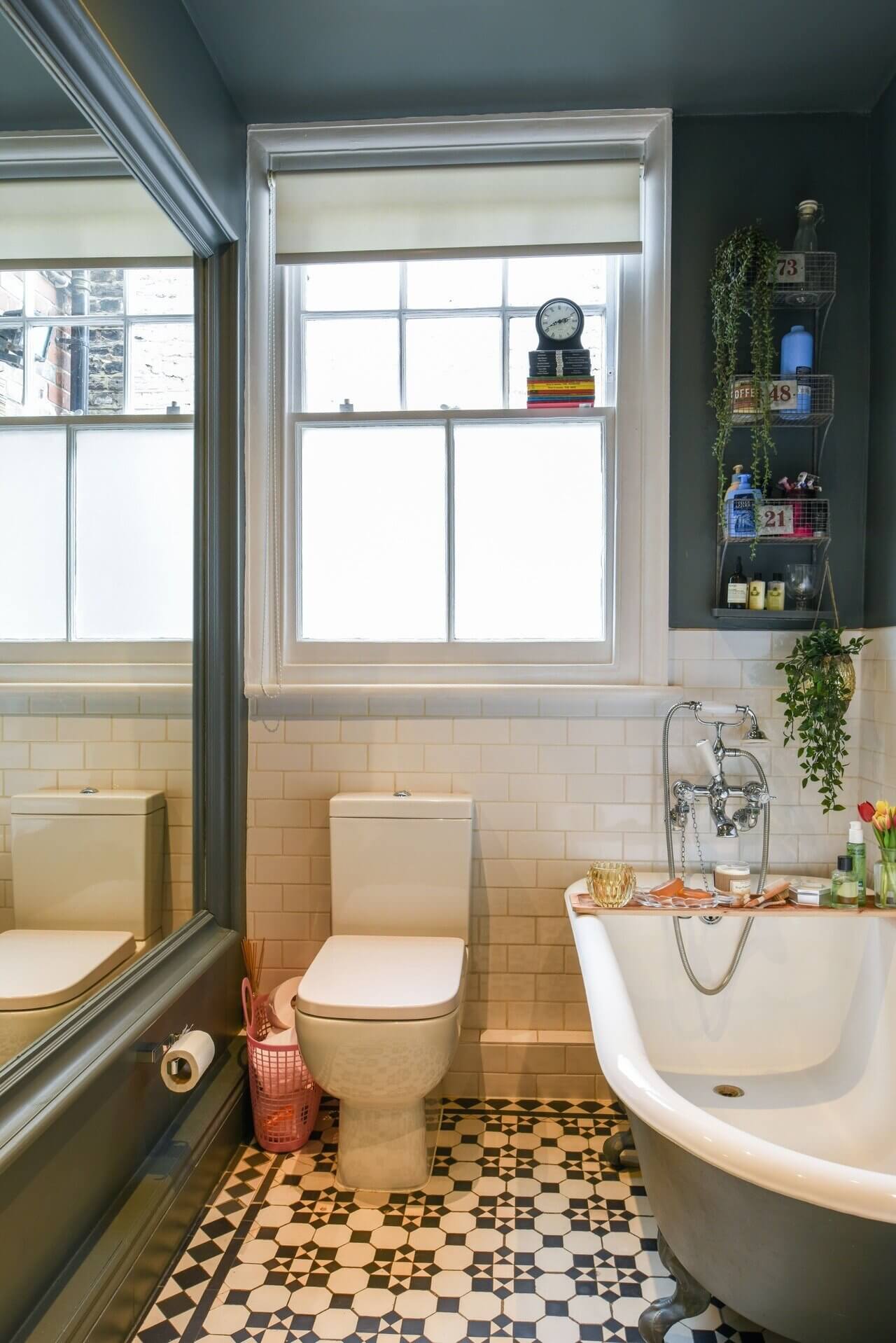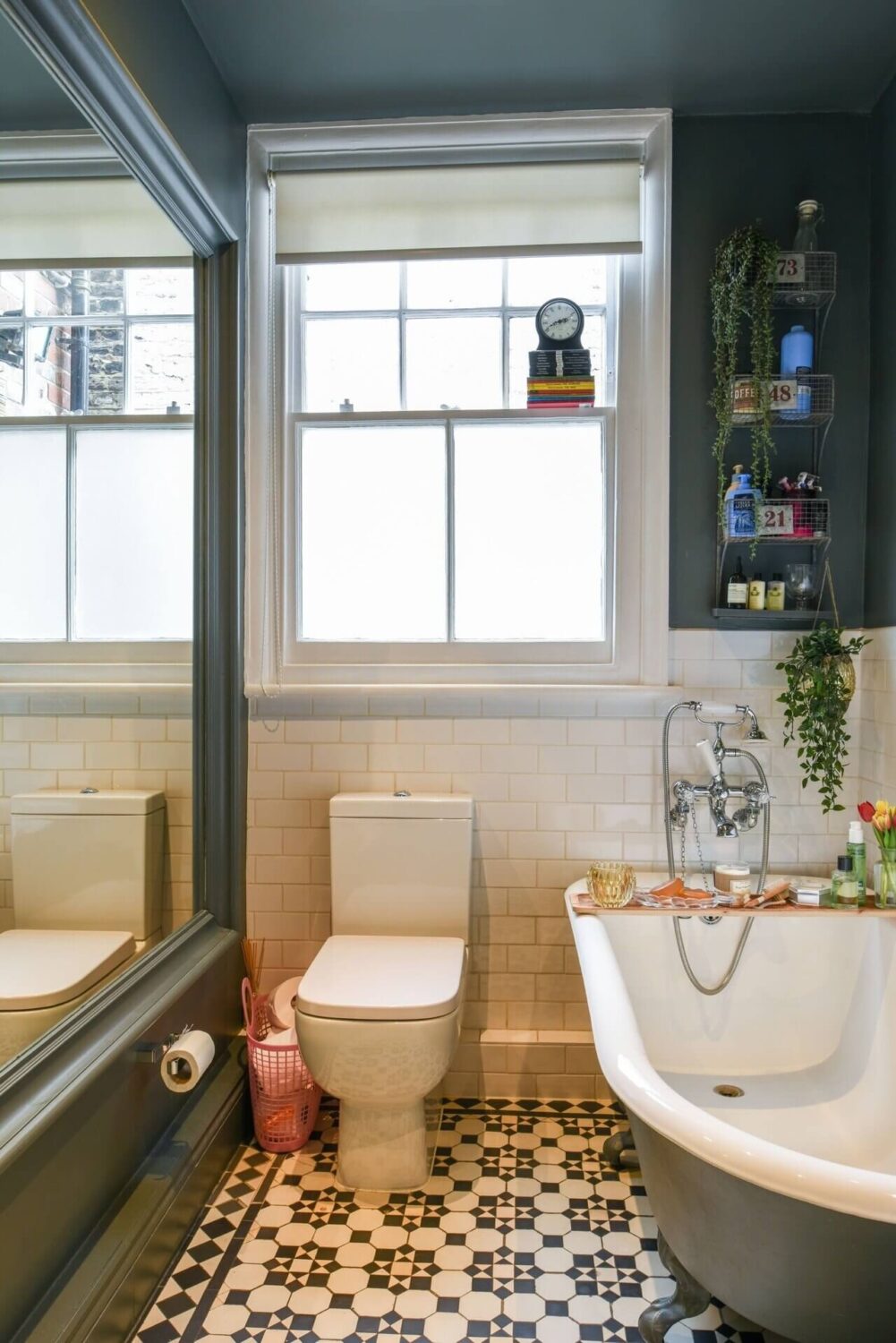 A small bathroom with bathtub that uses a large mirror to make it feel larger and reflect light. By doing this you can also add darker color tones
Above: A small black and white bathroom by Nesting with Grace where the bathtub also serves as a shower. The wooden cabinets under the sink add a lot of storage.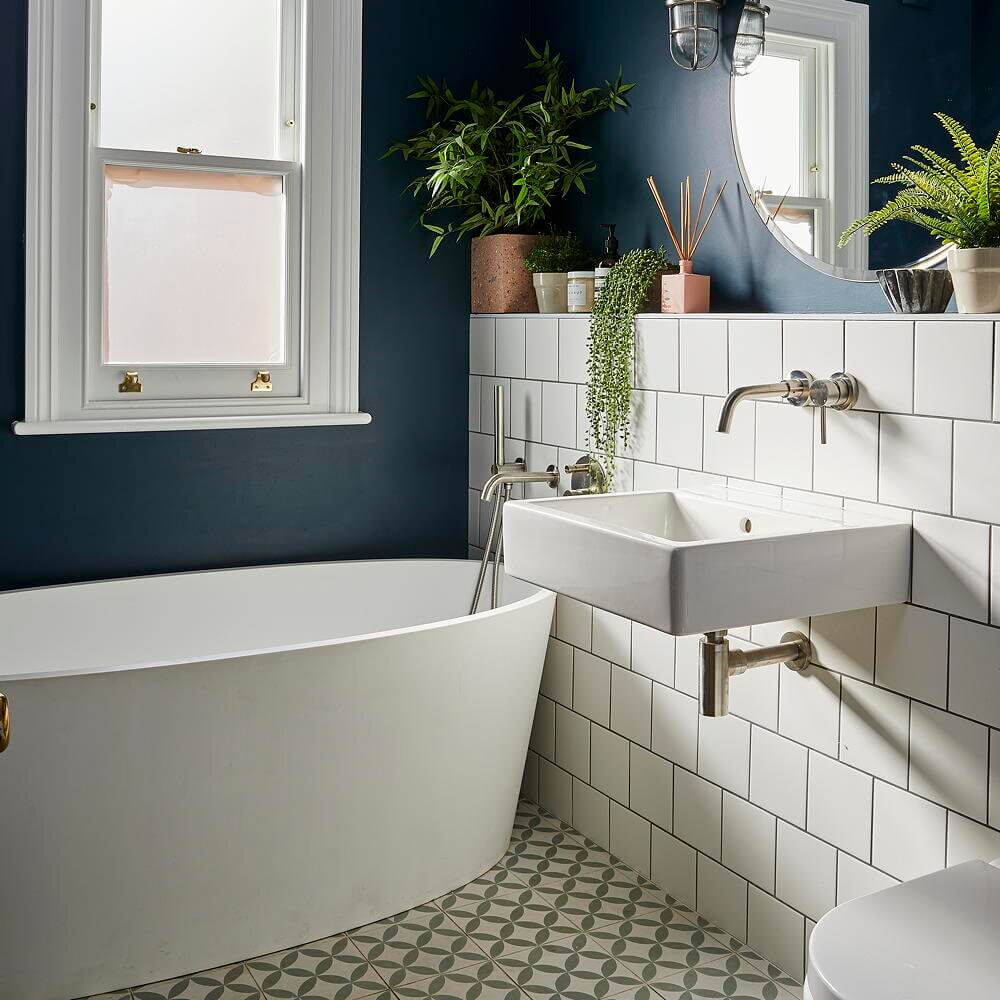 A small bathroom in a fresh modern look, with a bathtub, white tiles and blue walls
Influencer Kate Spiers transformed her outdated bathroom into a millennial pink dream space. By putting all appliances on one side the small bathroom feels larger. This way she could add a bathtub and a separate shower. The pink tiles bring a cheerful tone to the space.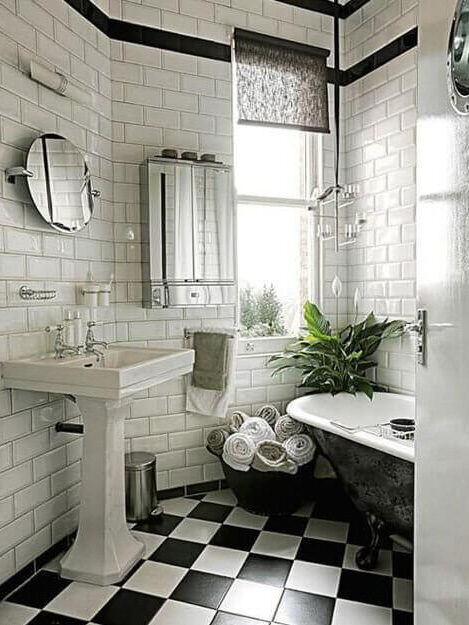 A Small Bathroom with A Slanted Roof
Oh boy.. do you have a bathroom that's already small but also has a slanted roof? No worries! A slanted roof in your bathroom doesn't have to be a problem. You just have to be a little more creative with your space. (photos: Susie Lowe, Boukari, Boukari, Daniella Witte)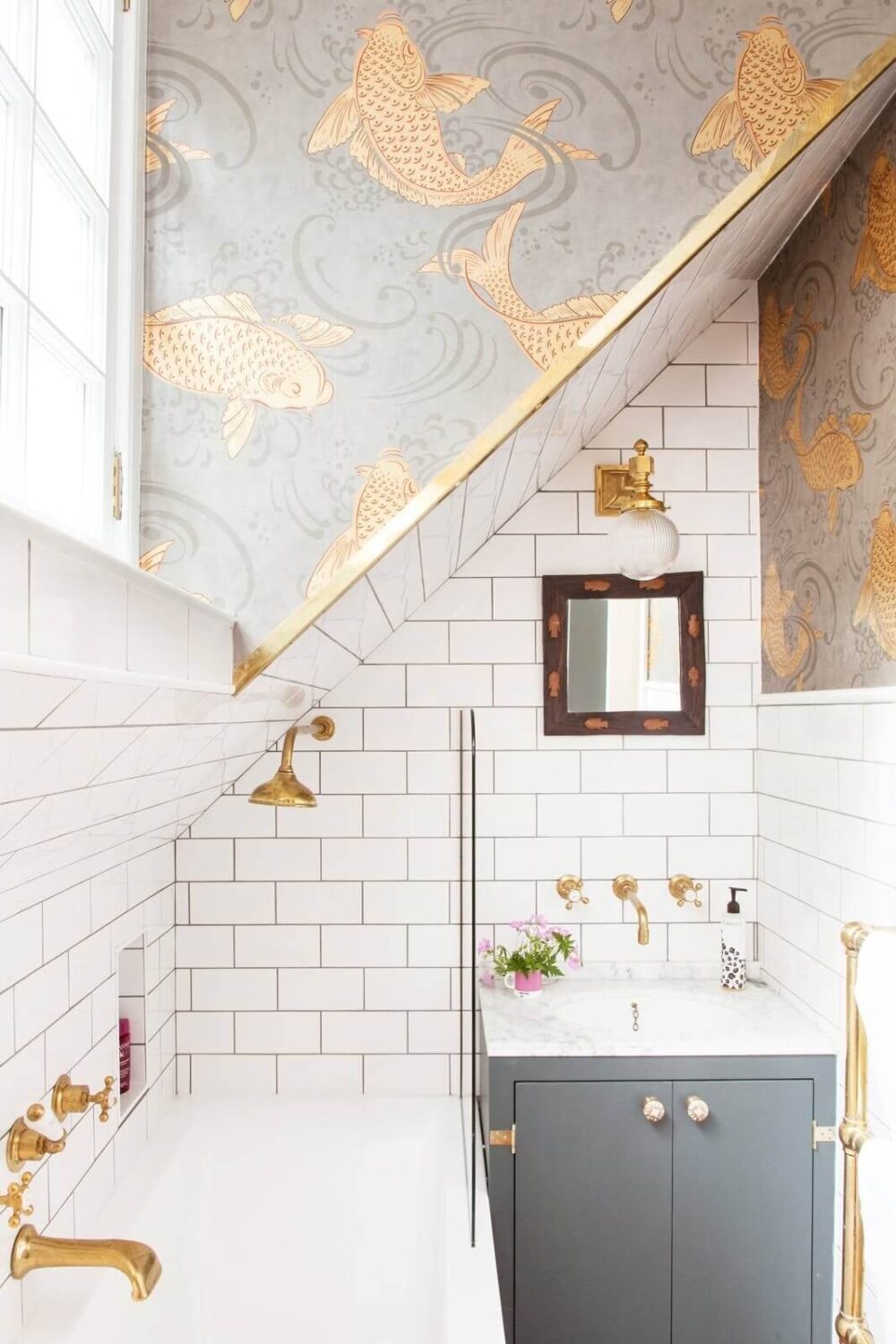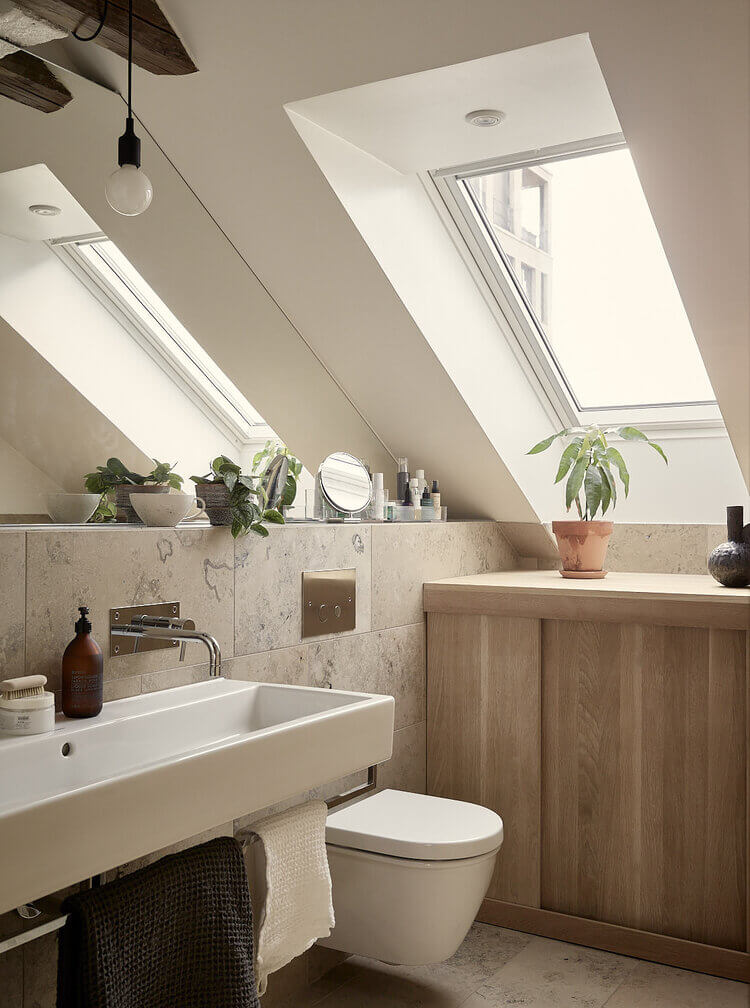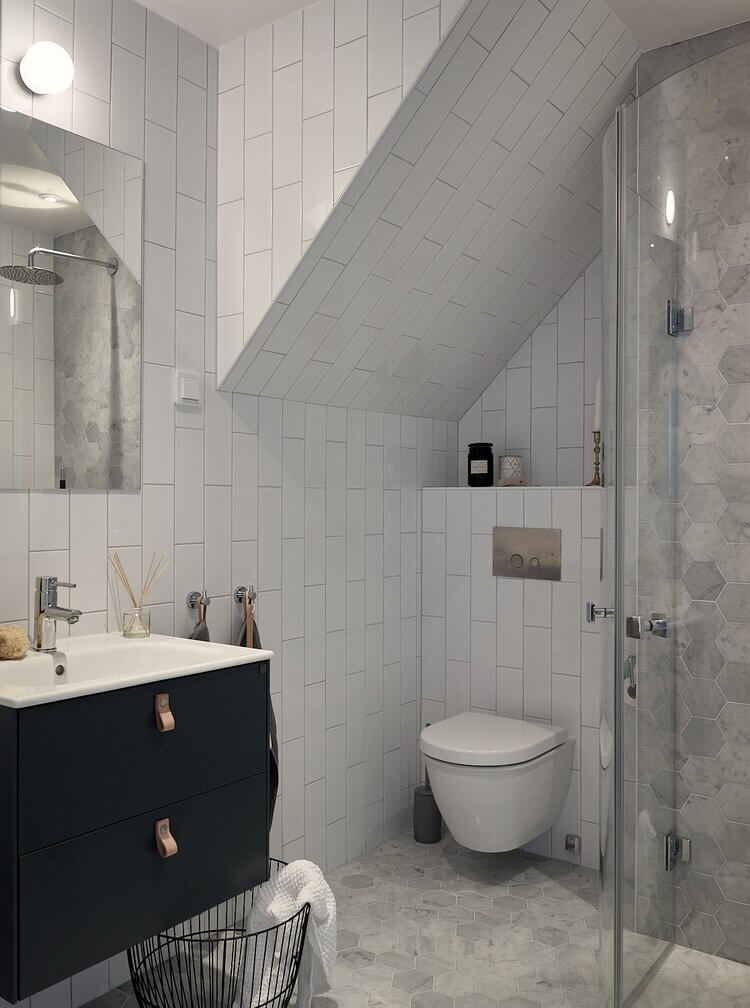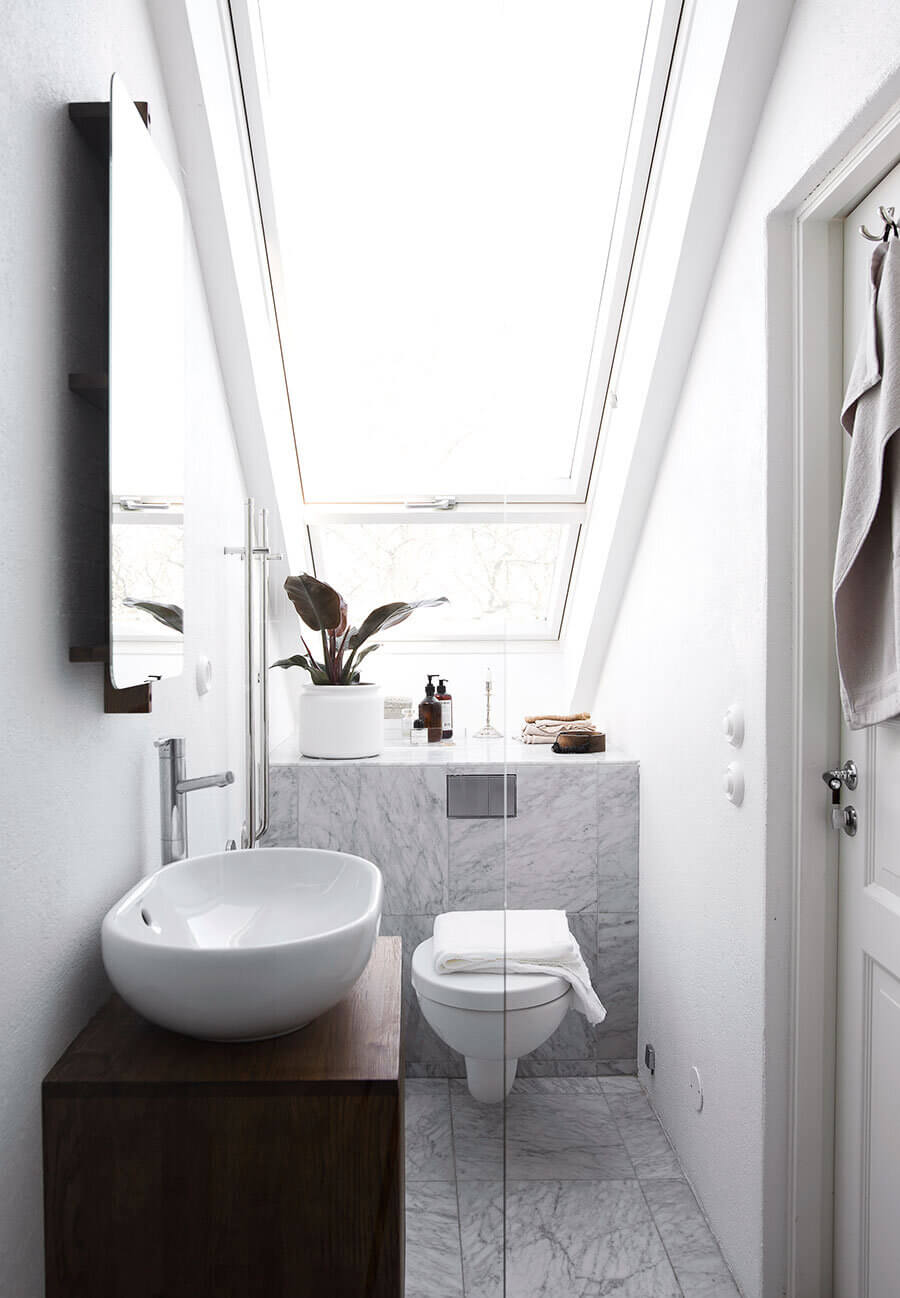 Small Monochrome Bathrooms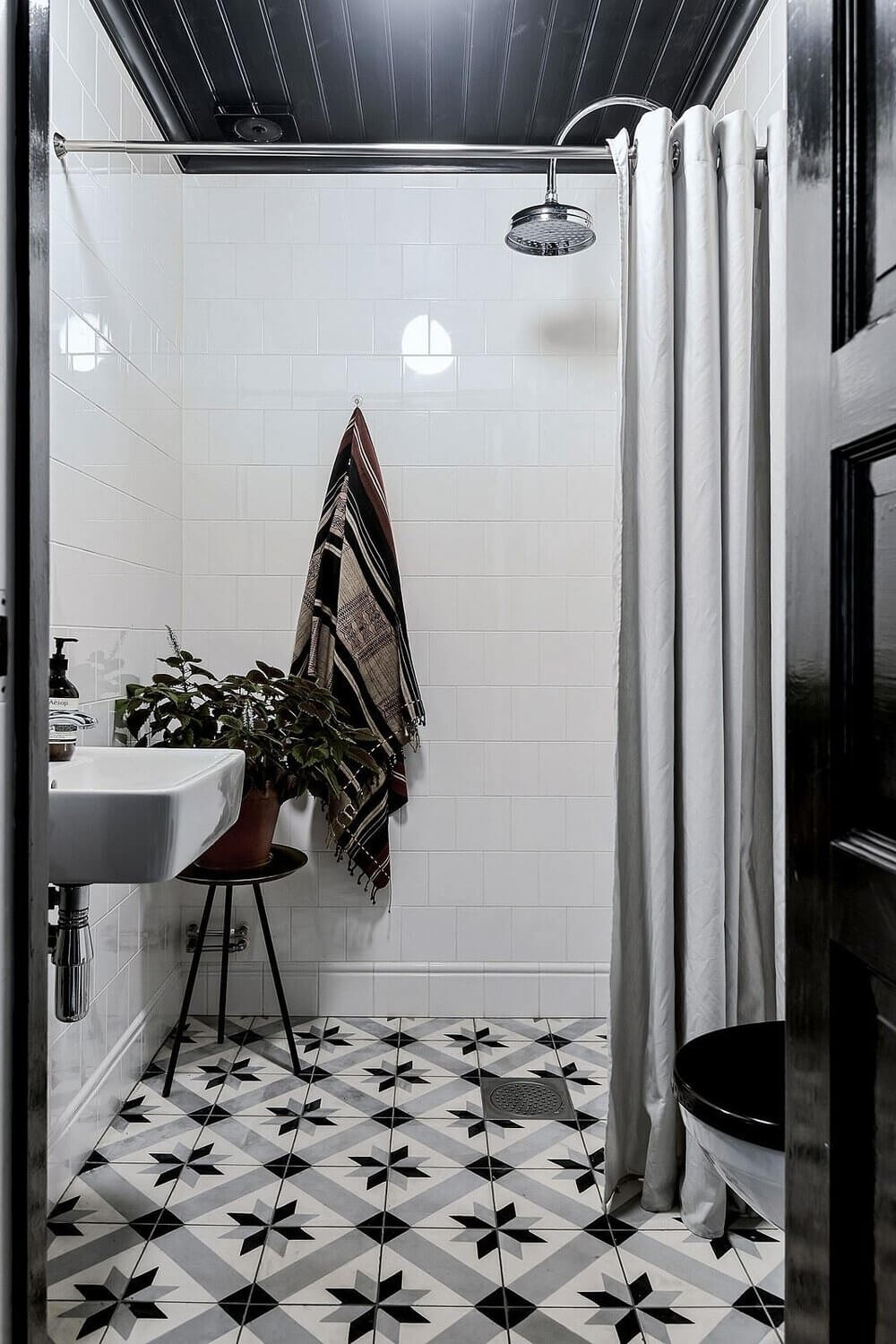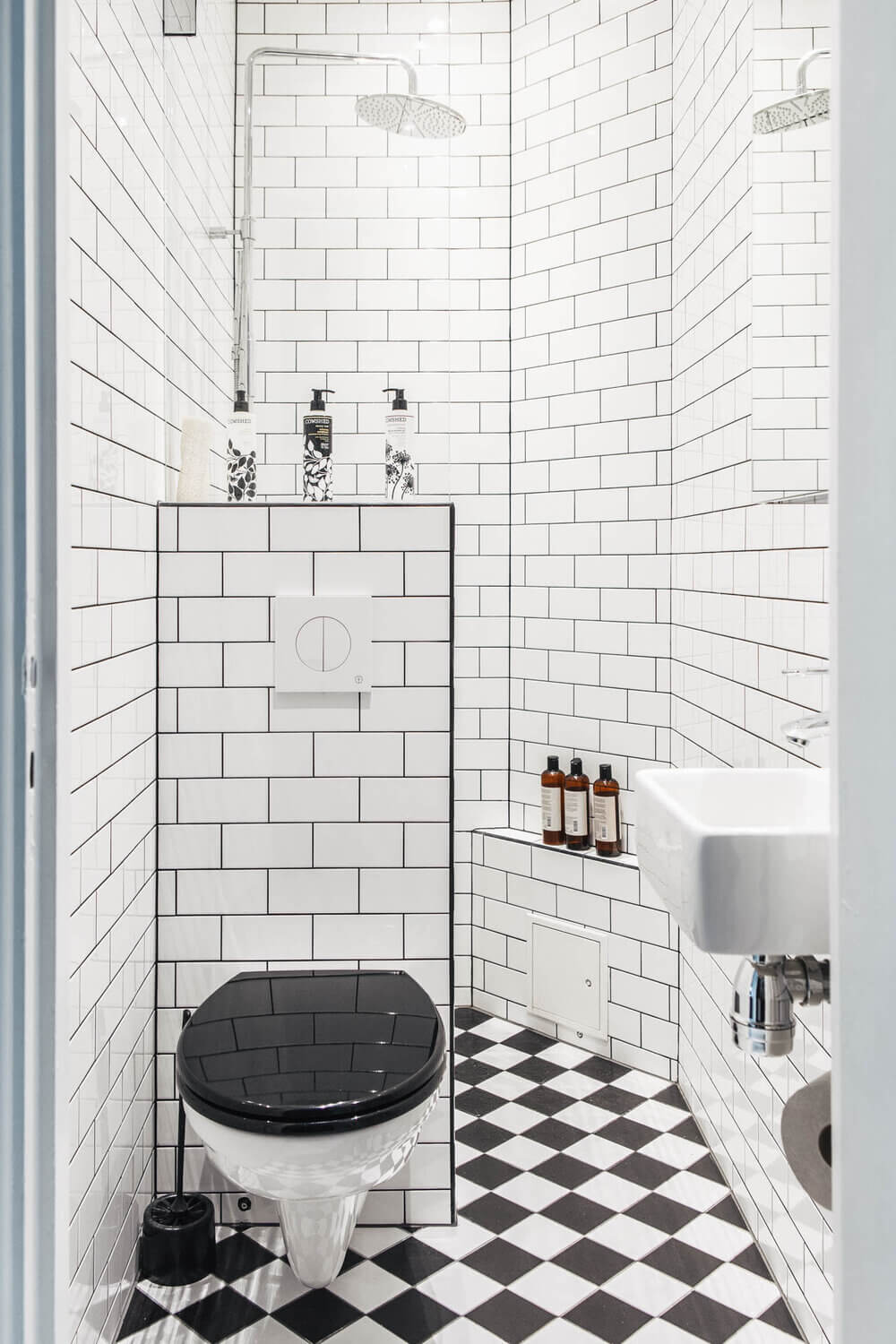 These tiny bathroom show that a monochrome look for a small bathroom looks amazing. Get creative with the tilework to add interesting touches to the room.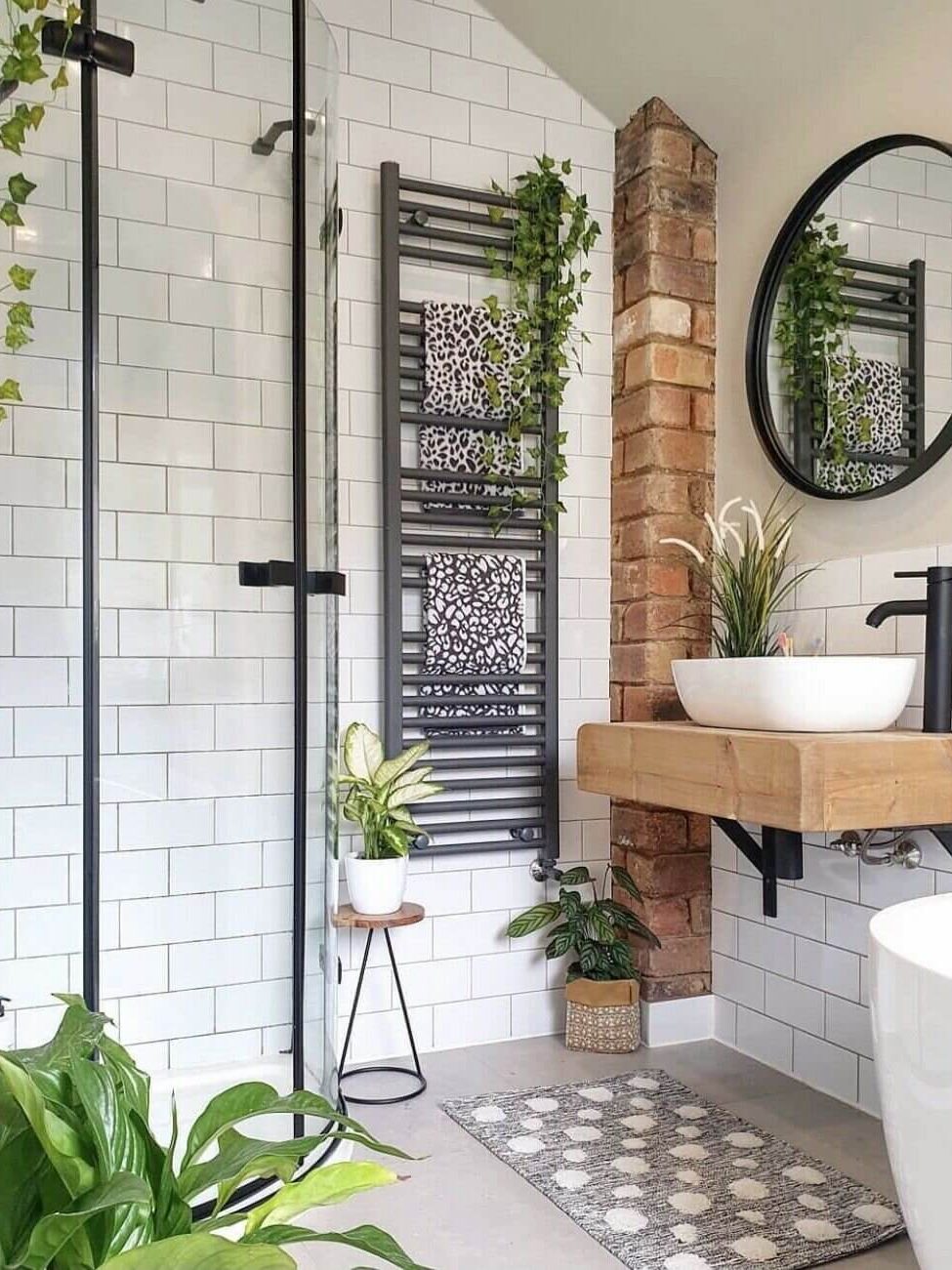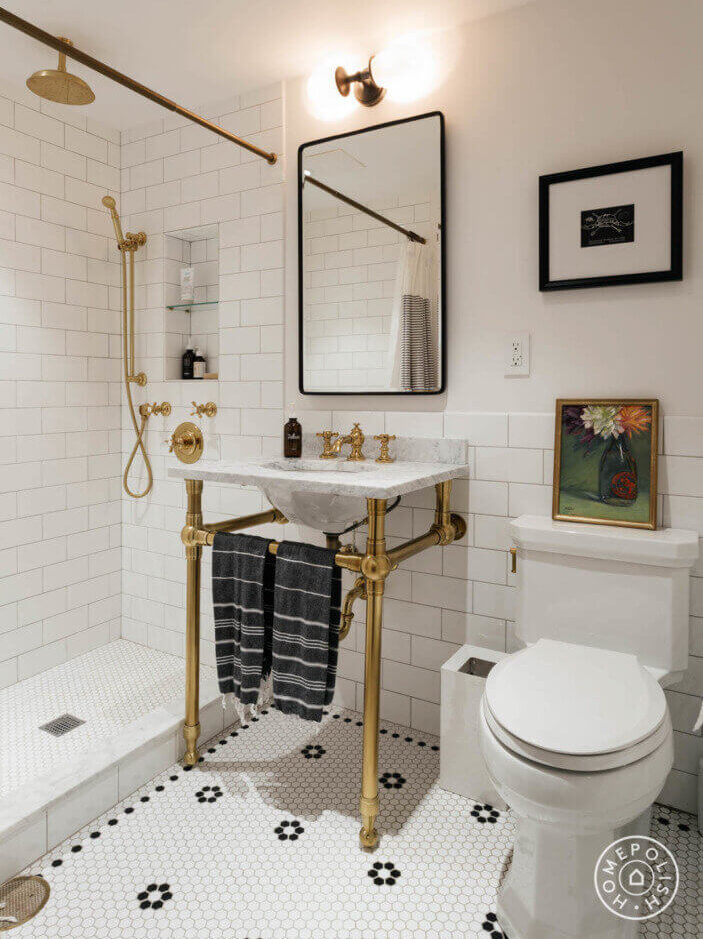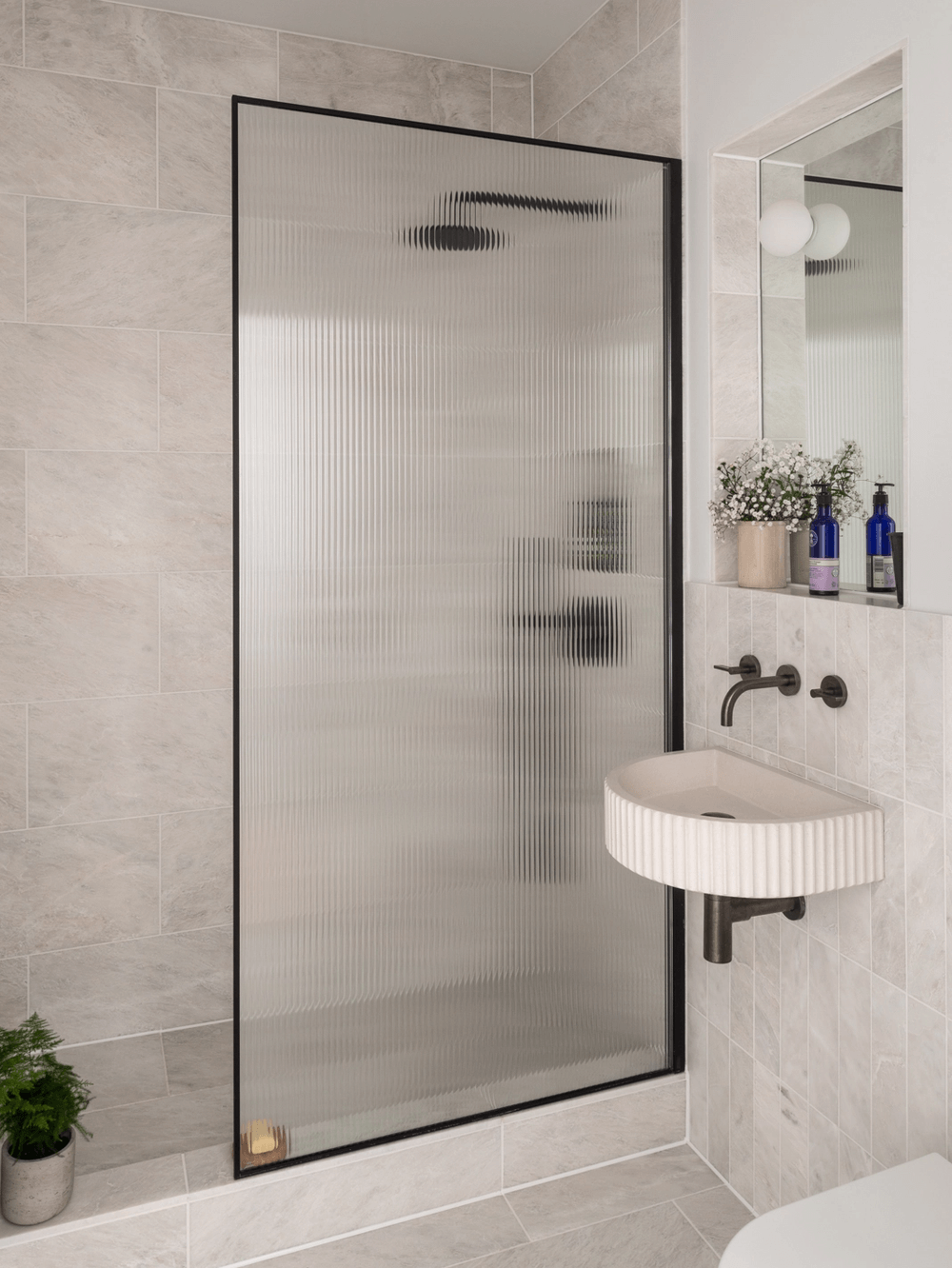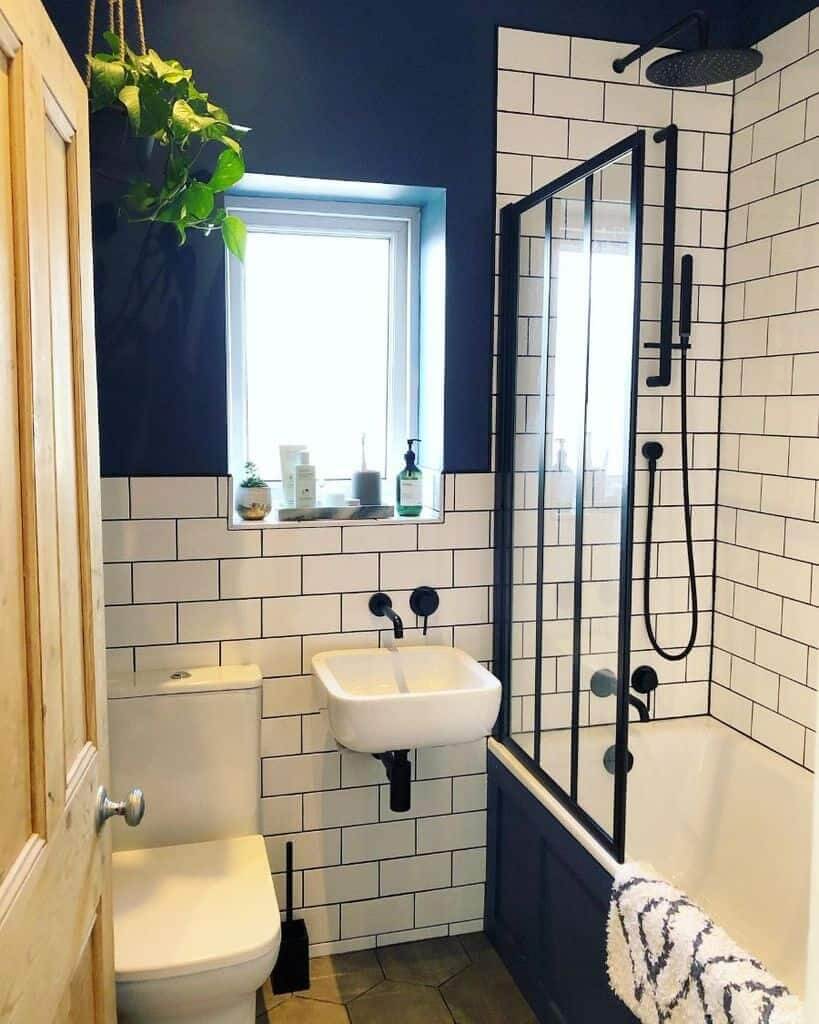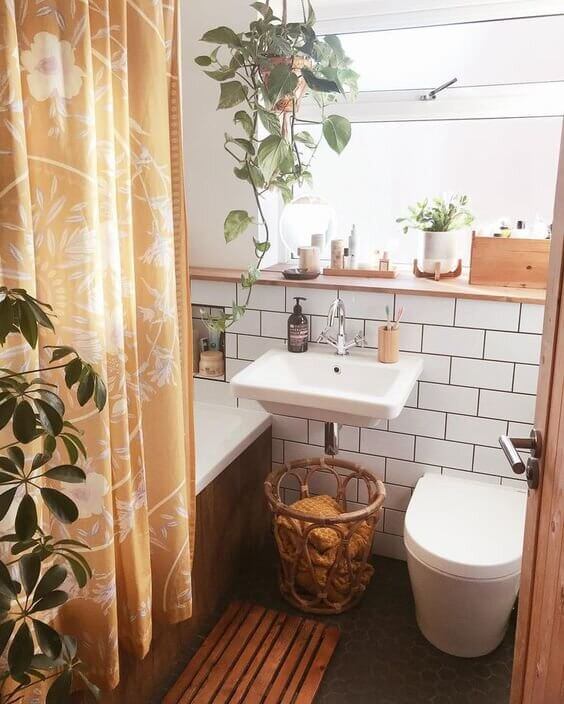 Now you see, a small bathroom design doesn't mean you can't have everything you want in a bathroom. Small bathrooms are stylish and you can create a relaxing spa in your own home.
Pin 60 small bathroom ideas for later