Inspiring Bathrooms With Geometric Tiles
Bathrooms come in many shapes, sizes, colors, and styles. Lately, I have been seeing a lot of geometric tiles in bathrooms and I'm a fan. The look of your bathroom can change dramatically by using the right tiles.
Geometric floor tiles are something you usually see in a bathroom (or kitchen) but now I also see more and more great geometric wall tiles in the bathroom. Most of the time you would choose either floor ór walls otherwise you might get a geometric overdose, but if you do it well you can spice up both floor and walls in a cool pattern.
In this post, I show some of my favorite bathrooms with geometric tiles I've seen lately. From monochrome herringbone patterns to colorful designs there's bathroom inspiration for everyone.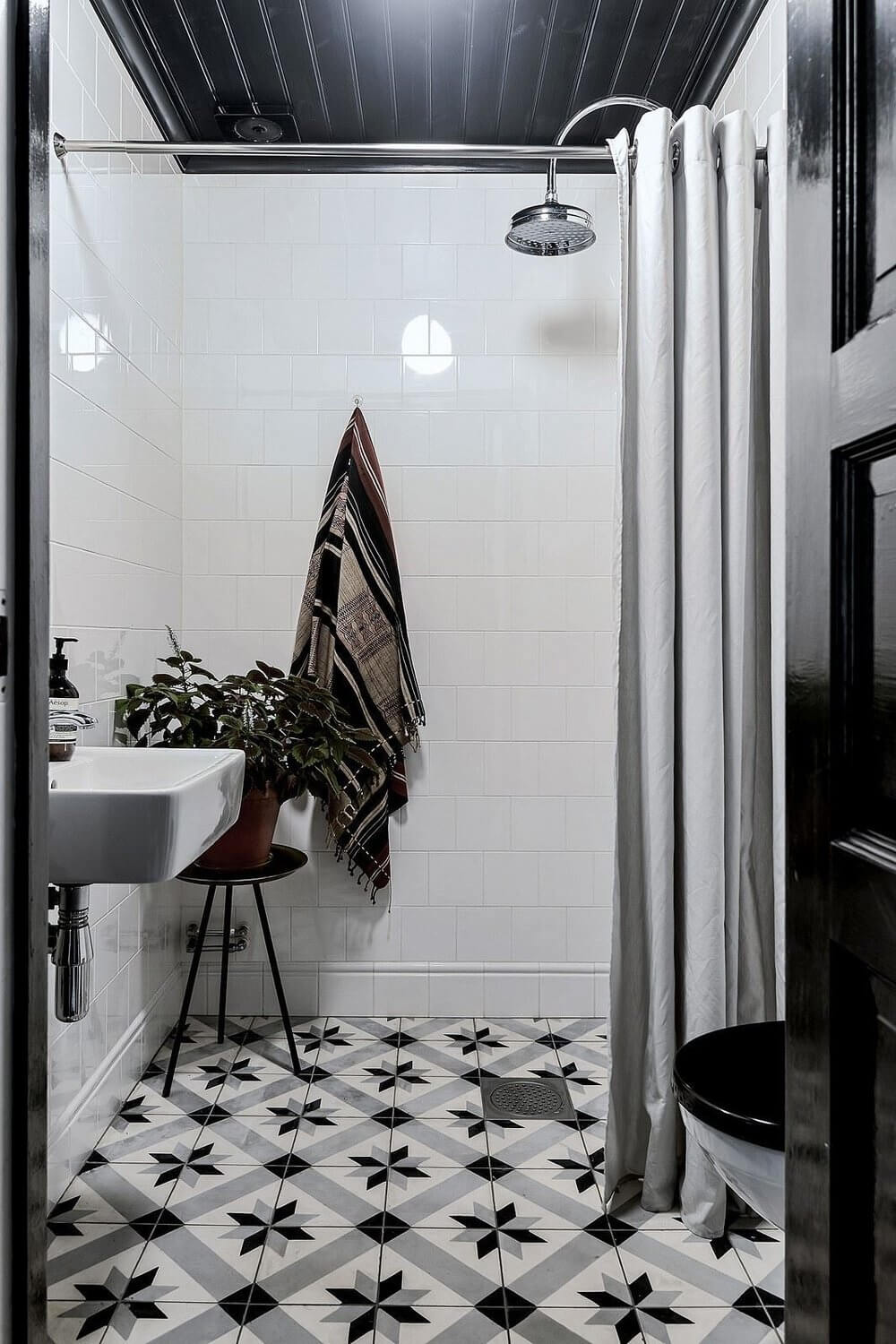 A monochrome bathroom look with black, white & grey geometric floor tiles and a black ceiling (photo: Bjurfors)
Black & white and blue geometric bathroom tiles. On the first picture you'll first notice the floor tiles but the black wall tiles seem to have a herringbone pattern for making it a little bit special.
These pictures show you can go as wild or mild as you want. From floor to ceiling geometric tiles to half-tiled walls or only geomteric floor tiles.
(photos: Melissa Keller, pinterest, Petra Bindel, Lucas Allen)
Go colorful with retro-style floor tiles (photo: Romain Ricard)
Don't be afraid of color in your bathroom. And make it extra special by using geometric tiles. (photos: Mosaïque Surface, M.E. Tile, Double G, Elizabeth Roberts)
A retro look in this bathroom by Wescover
photos: Jenna Wright (see home tour here), Emily Gilbert, Sköna Hem, Megan Taylor)
A bathroom with an industrial look and geometric tiles (photo: Alan Jensen)
photos: pinterest, Yvonne Wilhelmsen, Paul Raeside, Marco Ricca)
A black and white bathroom with geometric tiles (photo: Stephanie Powell)
Pink & green (photos: Pinterest & Kast Concrete Basins
A small bathroom with geometric floor tiles (photo: P. Wessel)