A Spectacular Modern Black Loft in London
A former Victorian warehouse in London has been redesigned into apartments, but when you look inside one of these homes you cannot believe its historic past.
This modern loft is located on the top two floors of the warehouse where a glass extension was added to create a stunning blend of old and new architecture.
When you look inside the home you won't be surprised that this is the home of creative people. It is furniture designer and architectural artist Juliano Cordano and his partner Jose-Luiz Moura, who transformed this space into a stunning modern loft.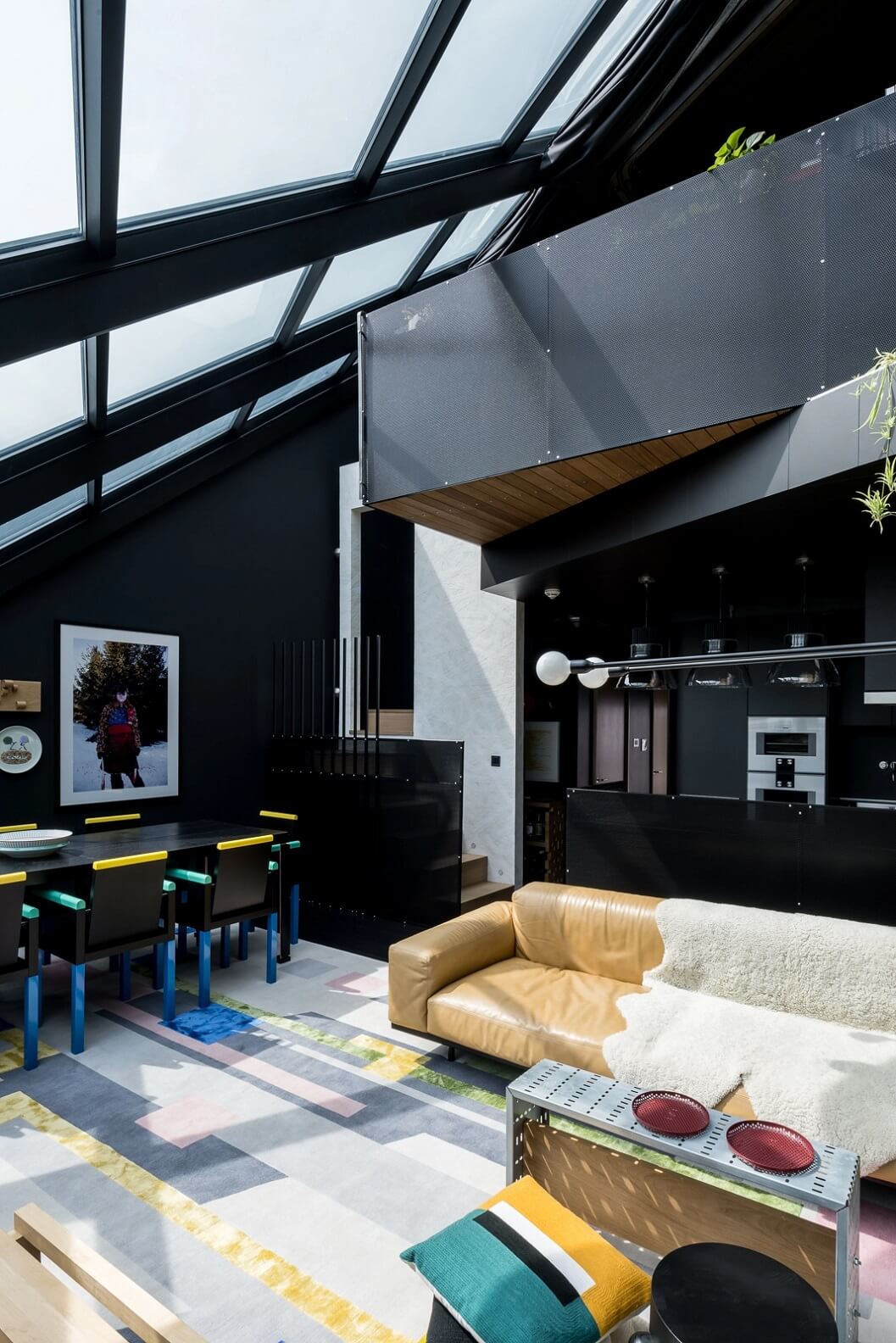 Juliano and Jose-Luis used a bold palette of meshed and rusted steel, Iroko and engineered oak and combined this with primary color accents.
Dark colors could be used since the glass extension floods this home with natural light, making it an inviting space and not gloomy.
They both love entertaining, so a large dining table that seats 8 is a central point in the living space. They also create a small but fun guest room (which you will see later) so their guests can stay overnight.
Set behind a partition made of black steel mesh is the modern Bulthaup kitchen. The steel mesh makes sure it's partly hidden from the sitting area while still creating a social space where you can cook and entertain at the same time.
A soft yellow curtain hides the main kitchen appliances. A clever and inexpensive way to hide the kitchen when you have an open-plan living/kitchen space but don't want your kitchen to be visible from the living area.
The master bedroom lies on the top floor. It has a metal headboard and a bespoke Iroko cabinet.
The dressing room includes a spiral staricase which leads to the roof terrace.
The primary colors return in the bathroom and is combined with stainless steel and white tiles.
The bathroom has much storage space behind bright yellow doors and drawers.
On the same floor as the living room, did they create this guest room with bunk beds. The guest room can be closed off with a soft yellow curtain.
The modern loft in London is currently for sale at The Modern House.