A Spring Bedroom Refresh with Magic Linen
You might have missed it with everything going on in the world right now but Spring has officially arrived. Spring means new beginnings and now that we're spending so much time at home, this might be a good moment to refresh your house and get it ready for the warmer and sunnier months.
The easiest way to do this is to add a few simple changes in your home decor. Step away from the dark & moody color tones and start using lighter, colorful hues to bring that cheerful spring feeling into your home.
For us the bedroom is the most important room in the house. In a world where we're constantly connected and where the pressure of doing more and work harder can become overwhelming, the bedroom is the place where you can recharge. This is your private space which should be decorated in a calm way, perfect for recharging your batteries. And a good night's sleep is essential for that.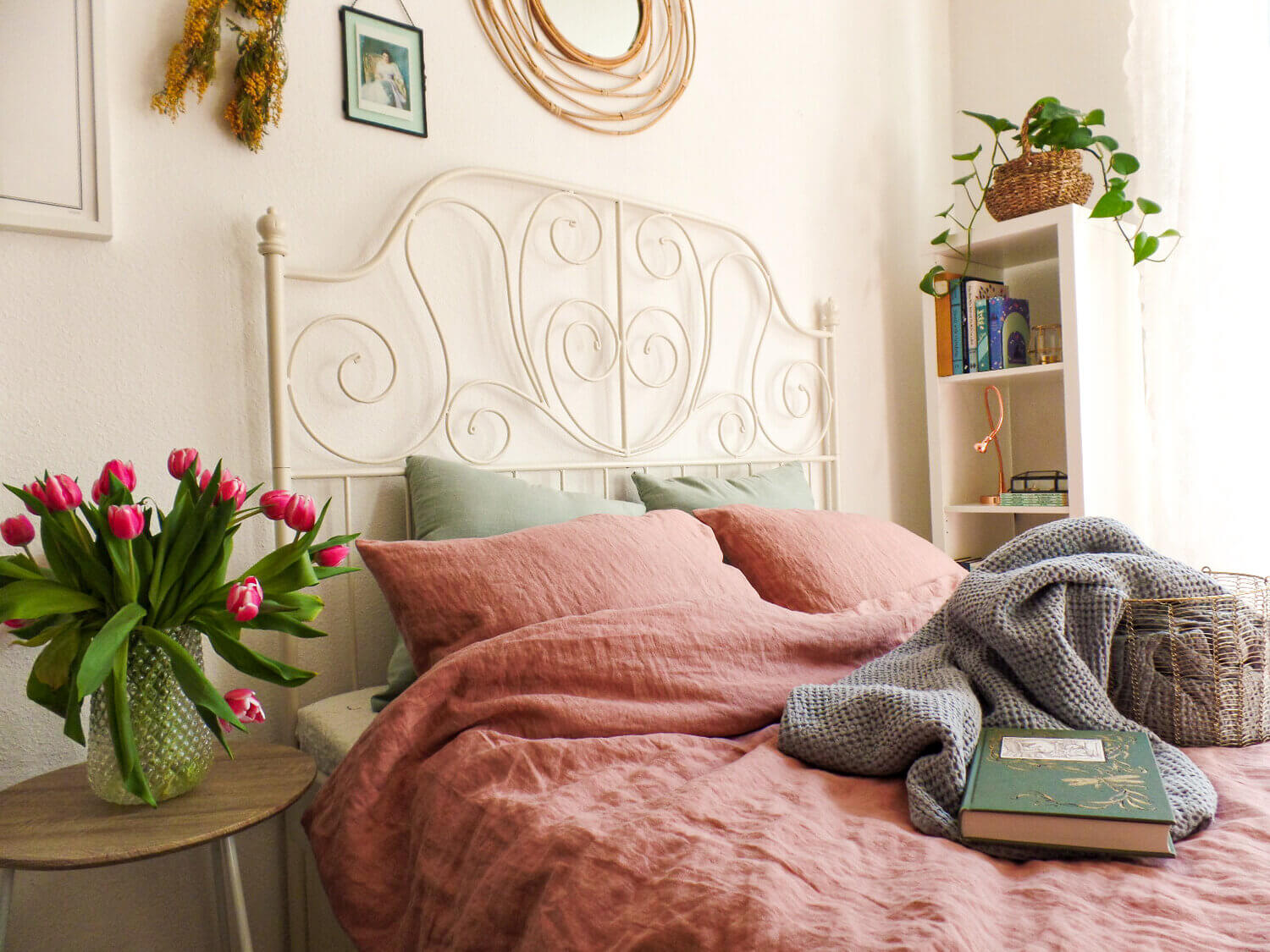 To give your bedroom the upgrade you deserve and to help you get a good night's sleep we recommend linen bedding. There are many advantages to linen bedding:
Linen is highly absorbent. Which means it can absorb up to 20% water before it will start to feel damp
Linen is breathable. Which means is releases moisture fast and it's a natural insulator meaning it will keep you warm in winter (because it retains your body heat) and cool in the summer
Linen is hypoallergenic, so it's perfect for people with sensitive skin or allergies
Linen bedding are more durable compared to cotton
And beside these advantages, linen also gives your bedroom a high quality look.
We have teamed up with Magic Linen to give you a taste of their beautiful linen products that will give your home a luxurious new look for spring.
Magic Linen is a family business based in Lithuania that designs beautiful linen products. Each Magic Linen product is carefully designed and handcrafted with close attention to detail in their own factory in Vilnius. And all Magic Linen products are Oeko-Tex certified, which means that they are free from harmful substances and chemicals.
Magic Linen offers a wide range of high quality products for your home such as bed linen, bath linen and kitchen linen but they also offer linen clothing, which is comfortable and stylish and therefor perfect for the warmer months that are ahead of us. The linens are designed in a range of colors from calm neutral to bright, colorful hues. So whatever your (interior) style, there's a Magic Linen product that will suit your life.
For us spring means pink & flowers, so to brighten up our bedroom we choose a rust pink duvet cover and neutral greys to compliment that beautiful pink hue. The light grey is perfect to create a lighter spring look and the warm dark grey gives just a little extra touch of cozyness to the room. The linen bedding is soft and extremely comfortable, you definitely feel and see the quality upgrade.
To see the entire Magic Linen collection you can take a look at their website. Magic Linen offers free worldwide shipping. Most items are made-to-order and can take anywhere between 1 and 2 weeks to craft. Some items are stocked in their warehouse and are ready to ship upon purchasing (our products were delivered less than a week after placing the order!)
Tips for getting a good night's sleep:
Remove digital devices from your bedroom and limit screen time before you go to bed (read a physical book instead or write a journal to clear your head)
Make sure the air in your bedroom is fresh by opening windows during the day (or night if you prefer that)
Add plants for clean air and a natural look
Stick to a sleeping schedule (and be careful with sleeping in on days you don't have to work)
Limit the time you spend in bed during the day, your body might no longer recognize when it's sleeping time and when it isn't
Limit your food intake before going to bed
In a time of self isolation it can be hard to keep up a healthy lifestyle but good health starts at home and these simple tips can not only make your home look wonderful but it can also help you get a healthier sleeping pattern which you will instantly feel during the day.
*this blog post includes gifted products from Magic Linen, all thought and words are our own