A Charming Arts and Crafts Cottage in the English Countryside
Living in an English cottage is the dream for many people. No wonder, as these homes are often packed with charm with cozy rooms, historic details, and a lovely garden that is set in the beautiful English countryside.
This three bedroom cottage is located on a historic street in the English county Surrey. the house is built in the late 18th century and still features original details. Lately, the English cottage has been restored by conservation specialists M Squared.
The cottage has a typical cottage vibe with raw wooden floorboards, a historic kitchen, slanted ceilings in the bedrooms, and a lovely green garden.
Through the front door you instantly walk into the warm sitting room. The walls have been painted in a green shade and a cozy fireplace with wooden beam sits in the center of this lovely room.
The room features a beautiful wooden partition wall that divides the sitting area from the music room at the back of the room.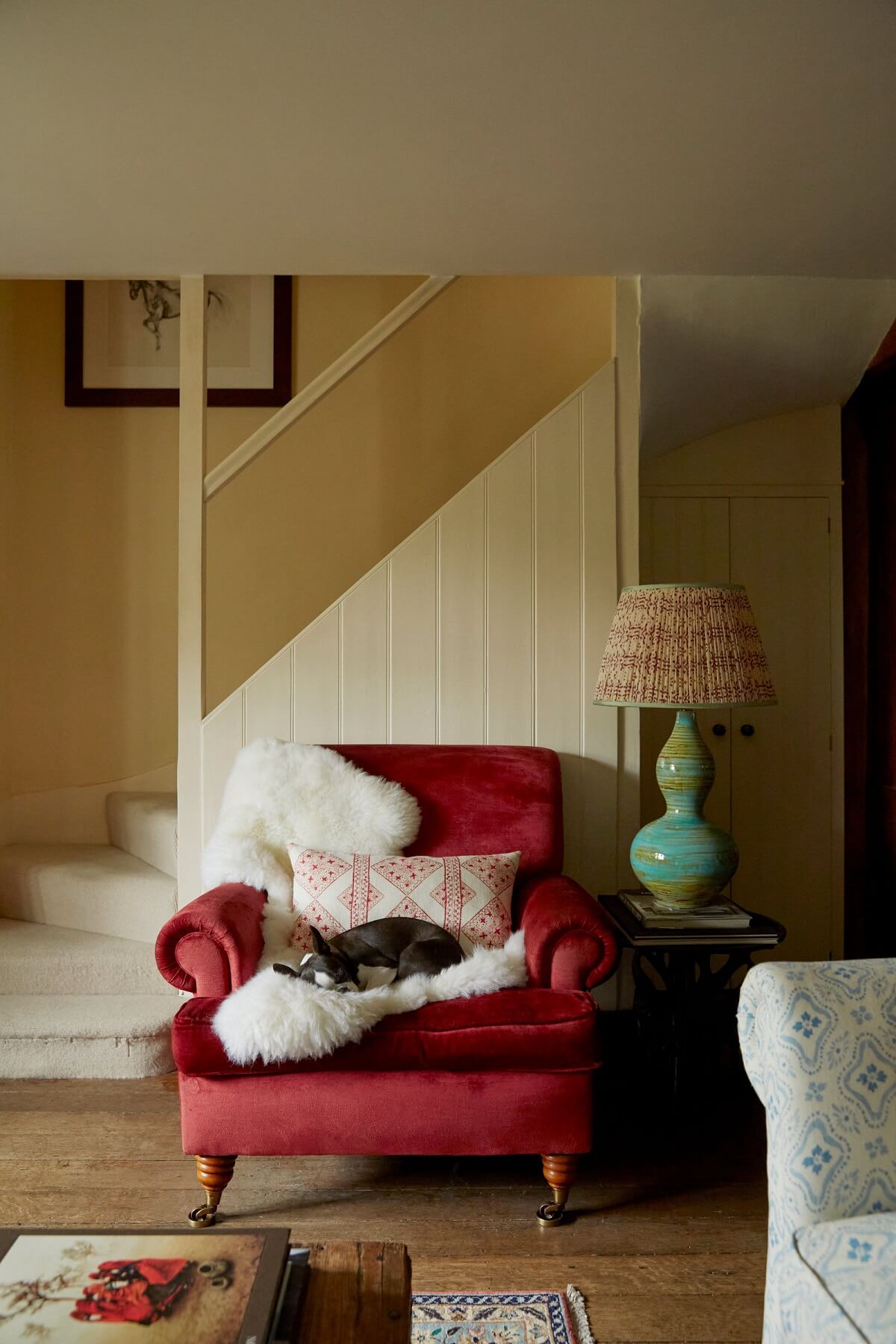 the house has no hallway, but the front door can be covered up with a curtain in the same fabric as the curtains at the window that overlooks the front garden.
The back room is now a music room with a built-in bookcase and a grand piano.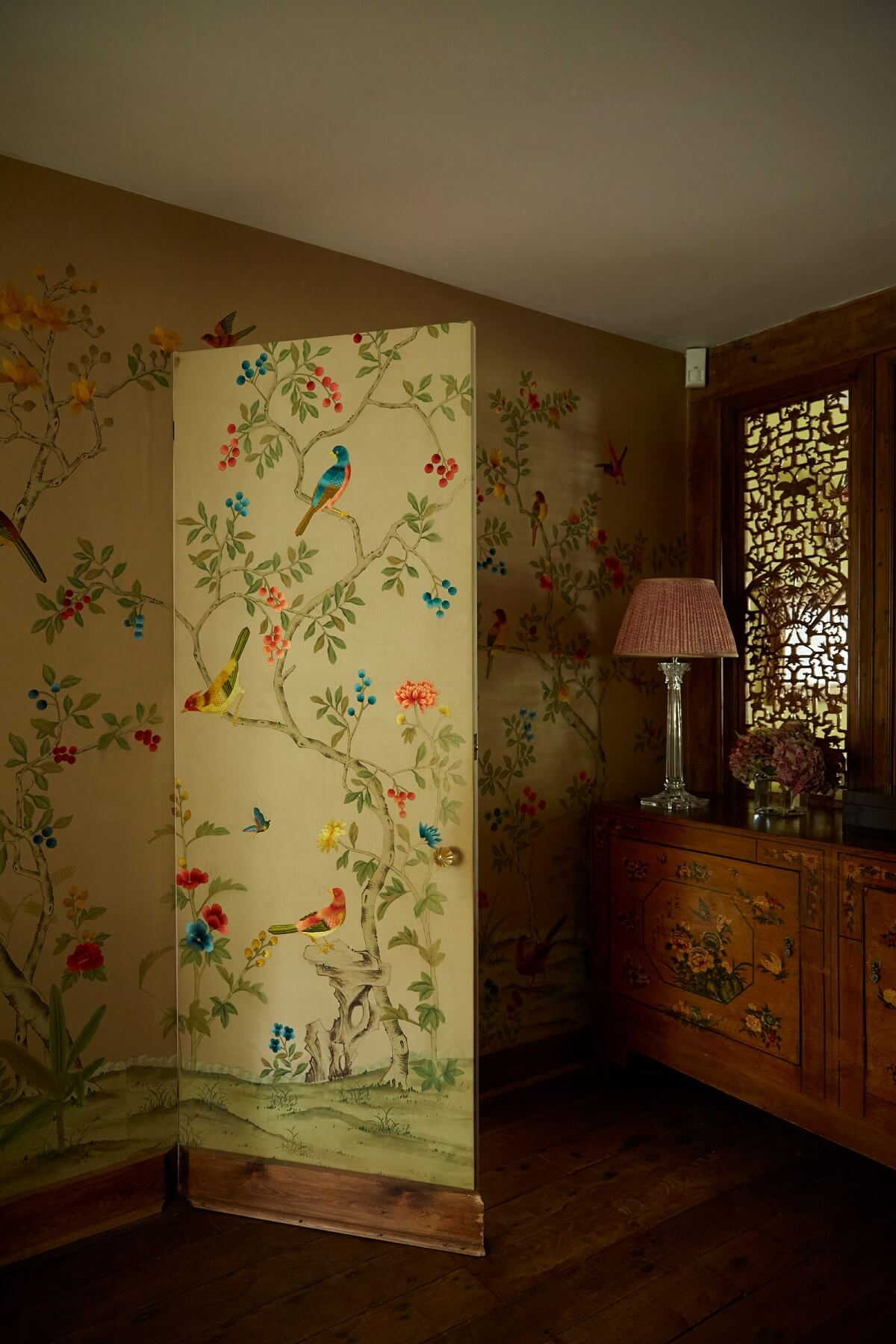 The wall on the opposite side has beautiful hand-painted murals by Fromental. The jib door leads to a study.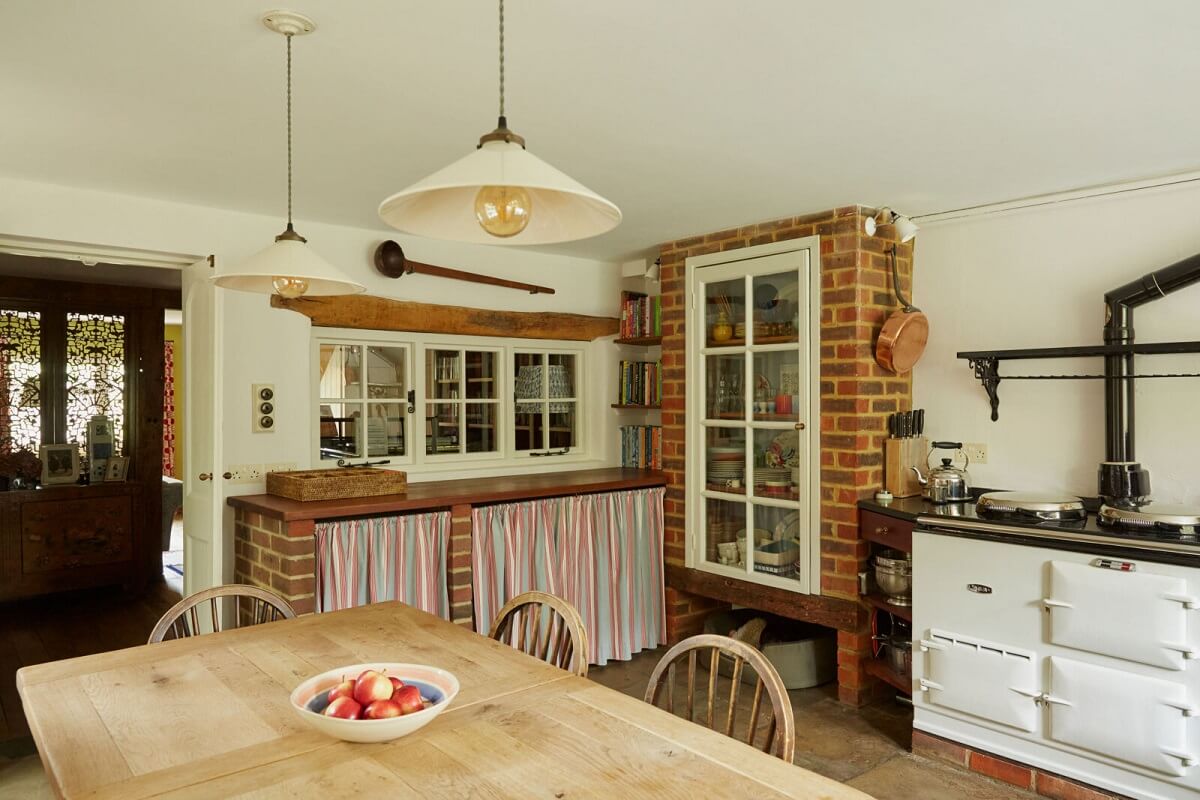 At the back of the house sits a spacious rustic kitchen with an AGA stove and exposed brick walls. On the floor lie local flagstones that are 200 years old.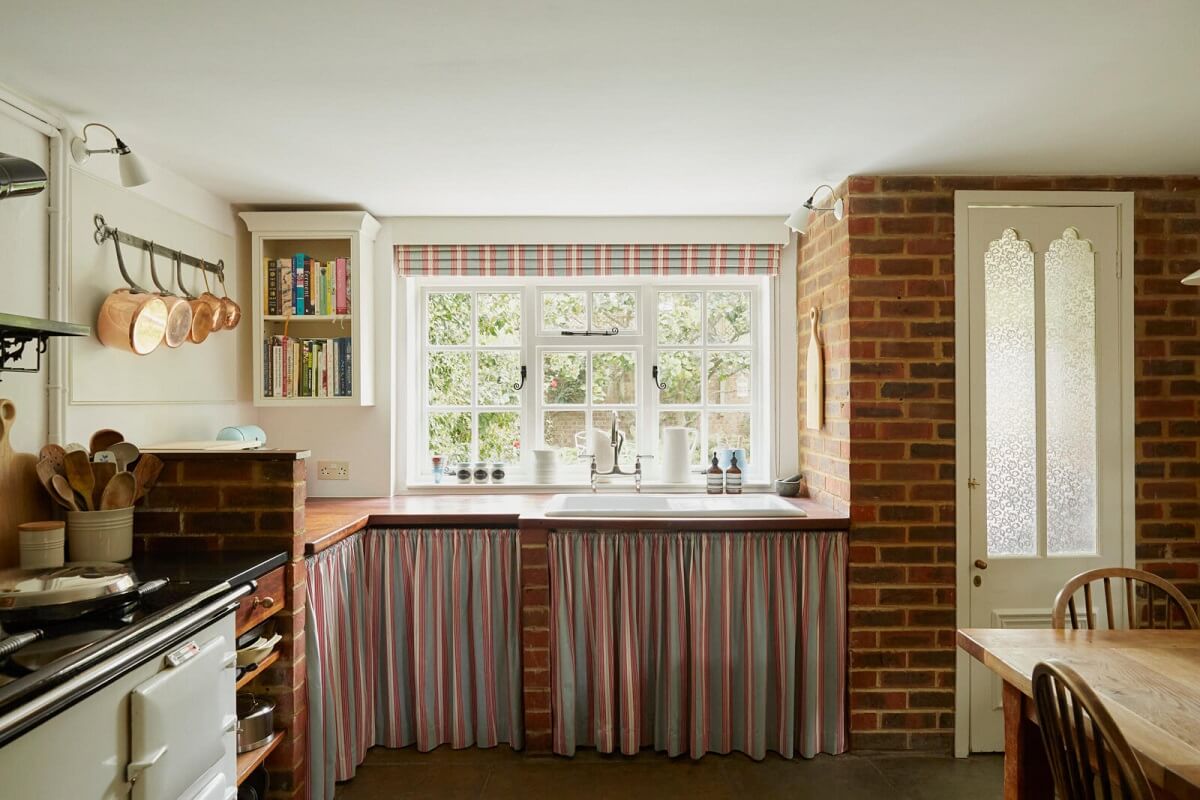 Coloful sink skirts add to the country kitchen style. The door on the right leads to a pantry.
The downstairs home office has a double desk and the walls are painted in a warm yellow shade.
The cottage has three bedrooms and two bathrooms. This bedroom is painted in a lovely pale blue shade.
Under the slanted ceiling is a small built in wardrobe. The wooden floorboards add a charming touch to the room.
The master bathroom has a clawfoot bath, marble-topped vanity, and a reclaimed French hexagonal terracotta tile floor.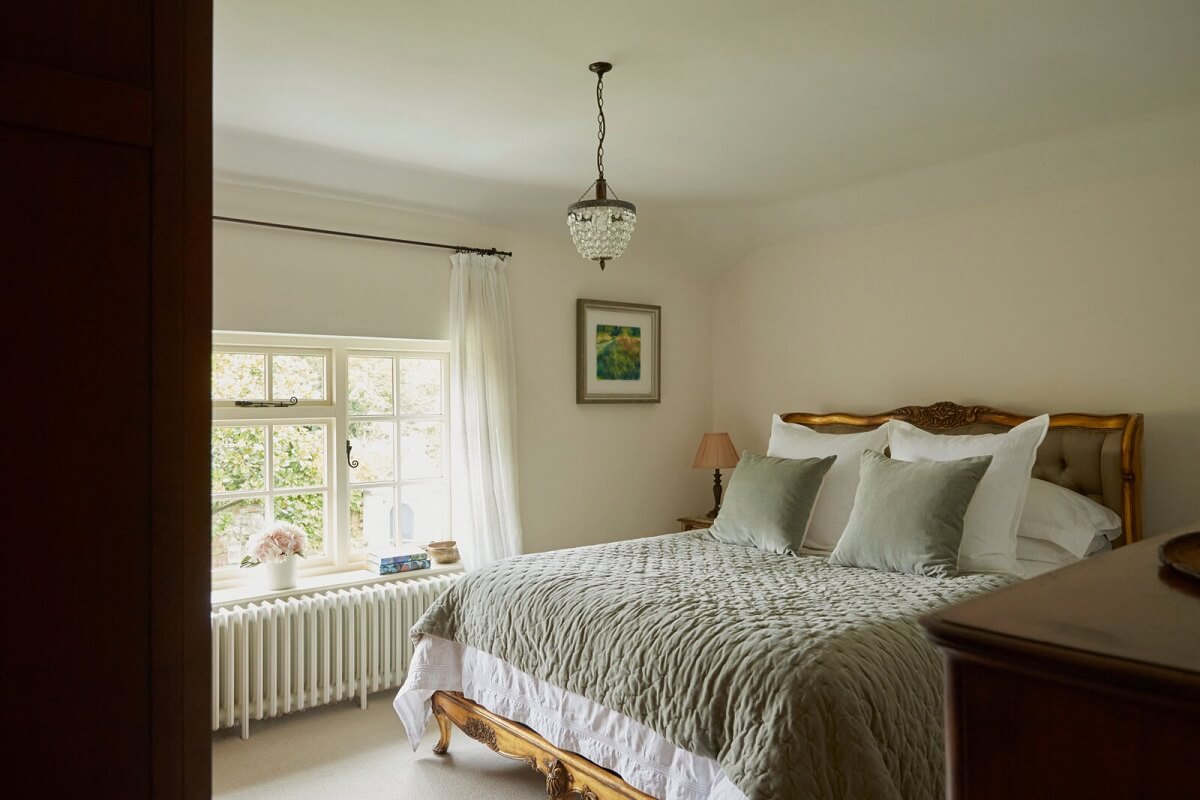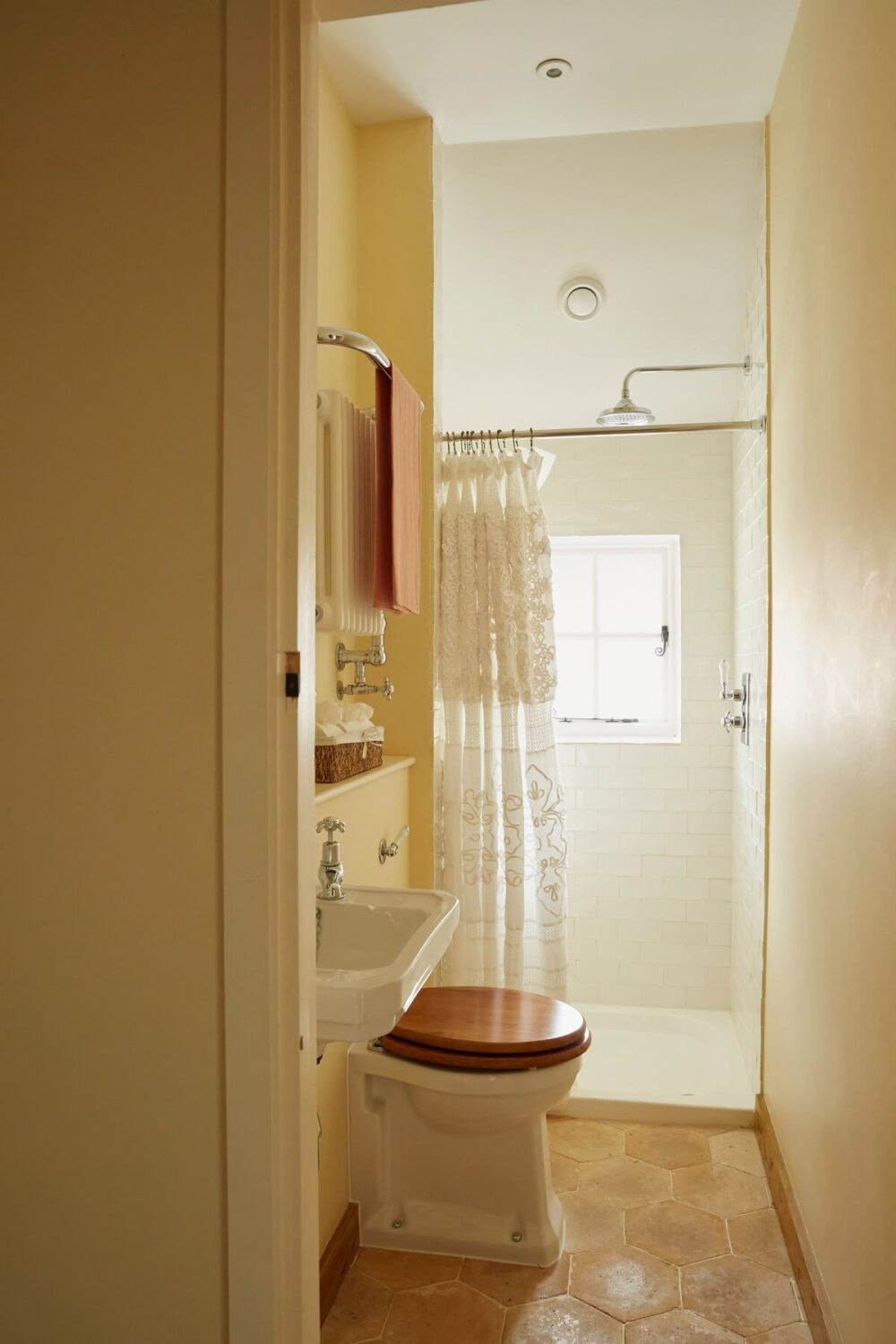 The cottage has two gardens, at the back is a covered terrace with shade provided by climbing roses, campsis, holboellia latifolia.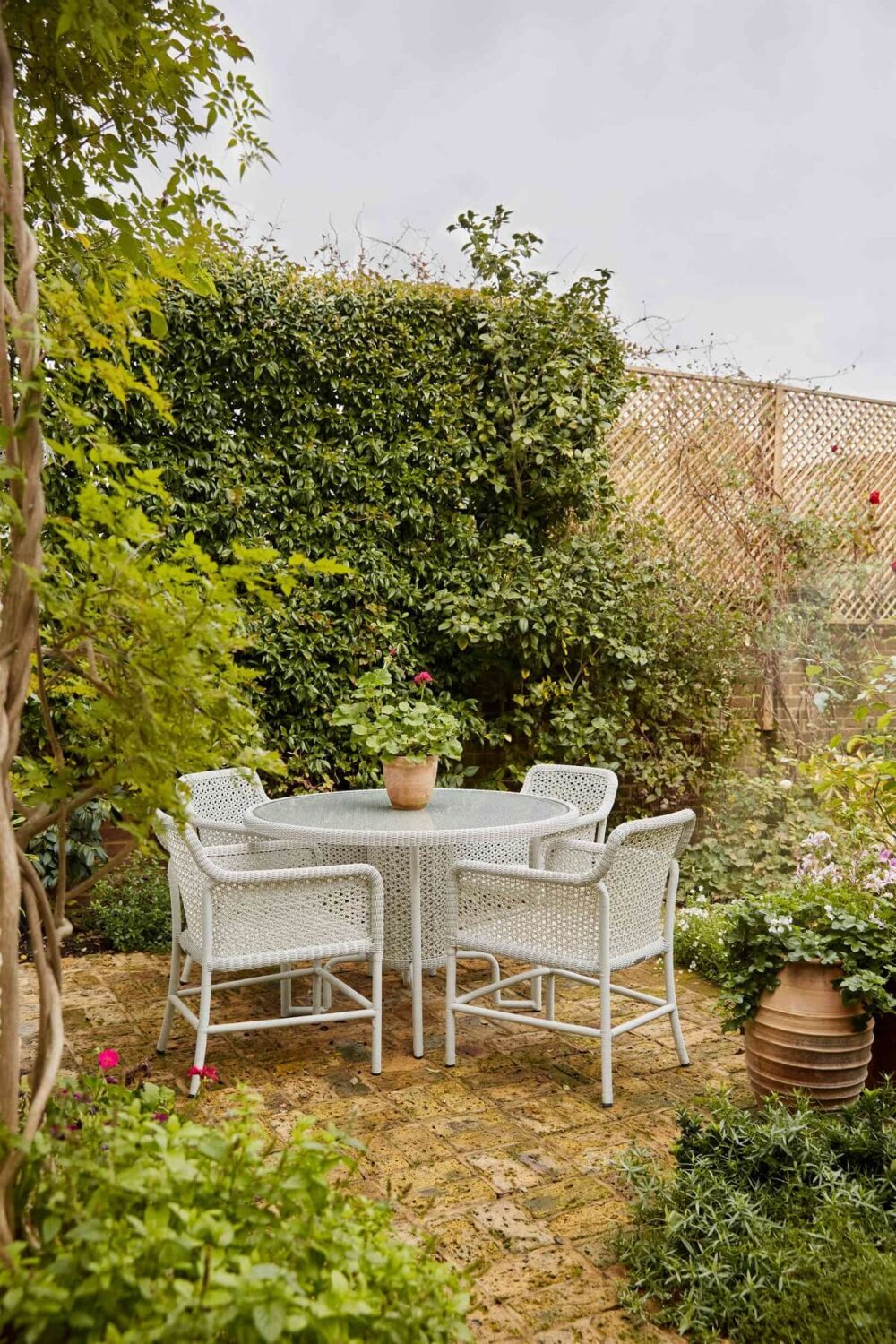 Well-established roses, hydrangeas, daphne-clematis, herbs and euonymus hedging border a circular lawn, and an elegant summer house sits in the corner.
This Arts and Crafts cottage in Surrey is currently for sale at Inigo