Benjamin Moore Color of the Year 2022: October Mist
Benjamin Moore have chosen October Mist as their Color of the Year 2022. October Mist is a wonderful calm sage green color shade that will work well in every interior.
Forget about white or grey. Sage green is the new neutral that adds a natural but calm color to your interior. The sage green hue October Mist is also a diverse color. And it can easily be combined with other color shades for a natural ór vibrant look in your home.
To help you find the right colors that you can combine with October Mist. Benjamin Moore have also released a Color Trends Palette for 2022. The color palette consists of 14 color shades (including October Mist) which can be used for endless color combinations.
Whether you prefer a calm natural look for your home or if you like to experiment more with different color combinations. This Color Trend Palette by Benjamin Moore can create the room of your dreams.
In this post I will show you how to decorate with sage green like Benjamin Moore's Color of the Year "October Mist".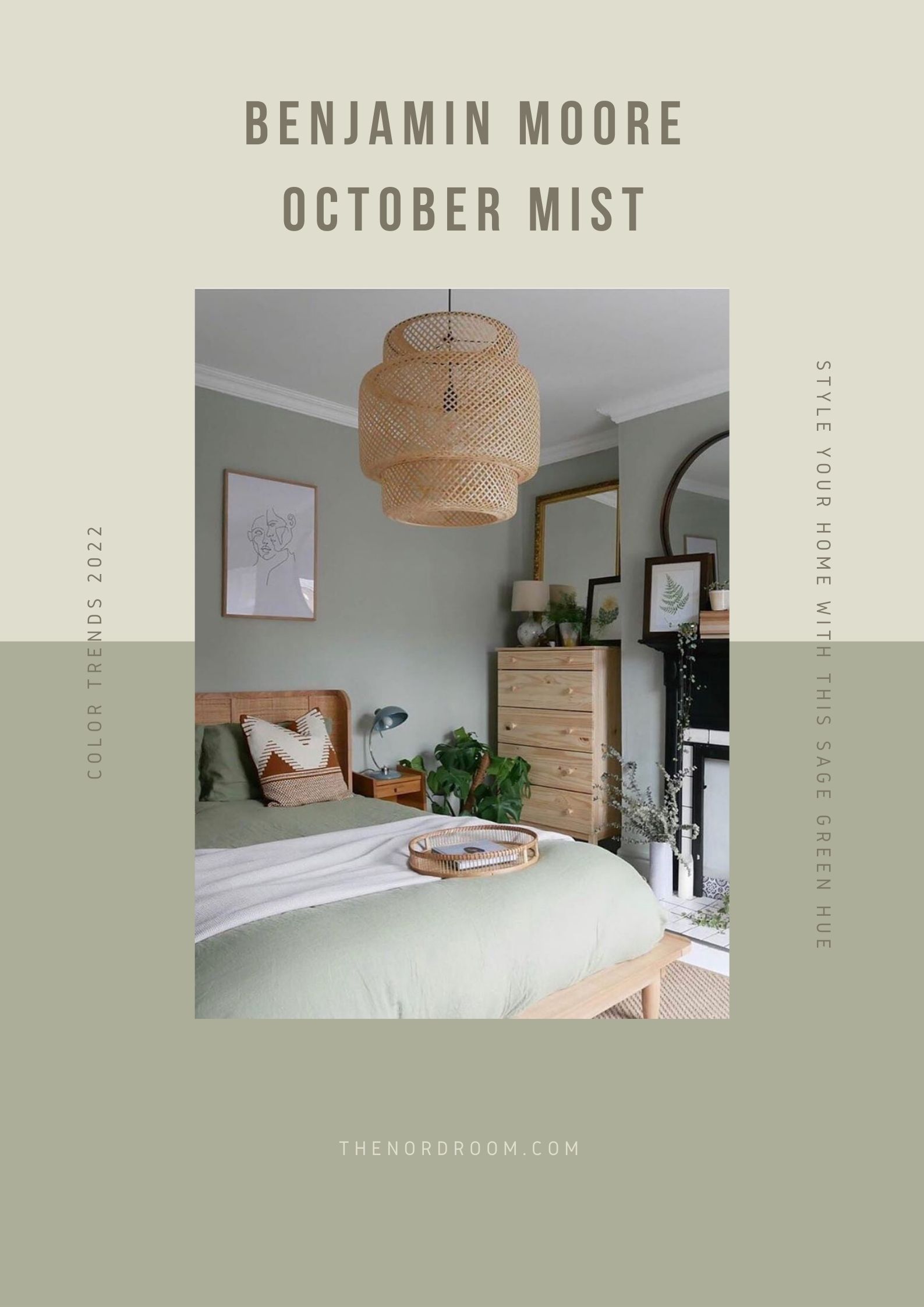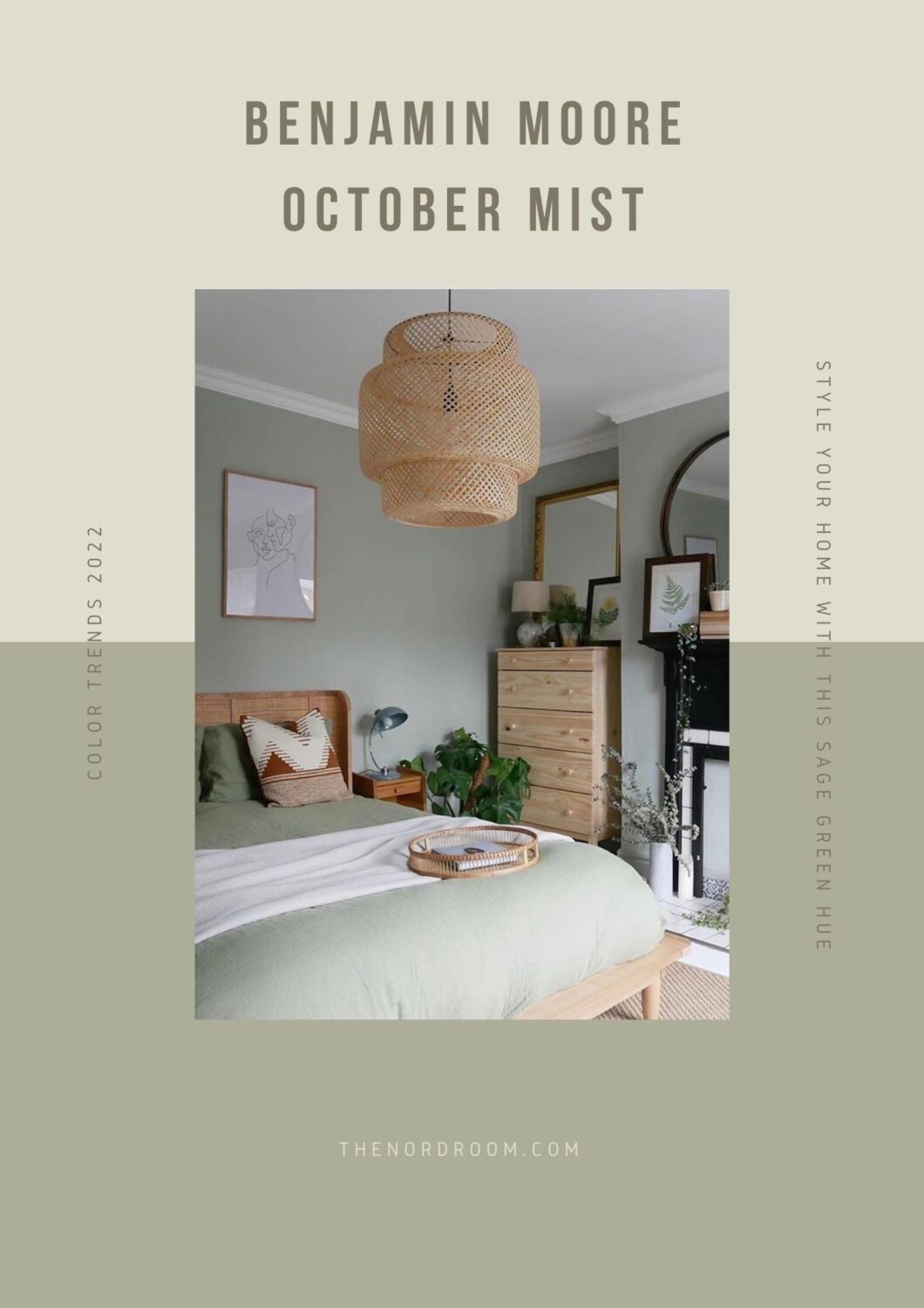 Benjamin Moore October Mist is one of many Colors of the Year 2022. To see all home color trends for 2022 you can read the Color Trends blog post (opens in new tab)
Sage Green Walls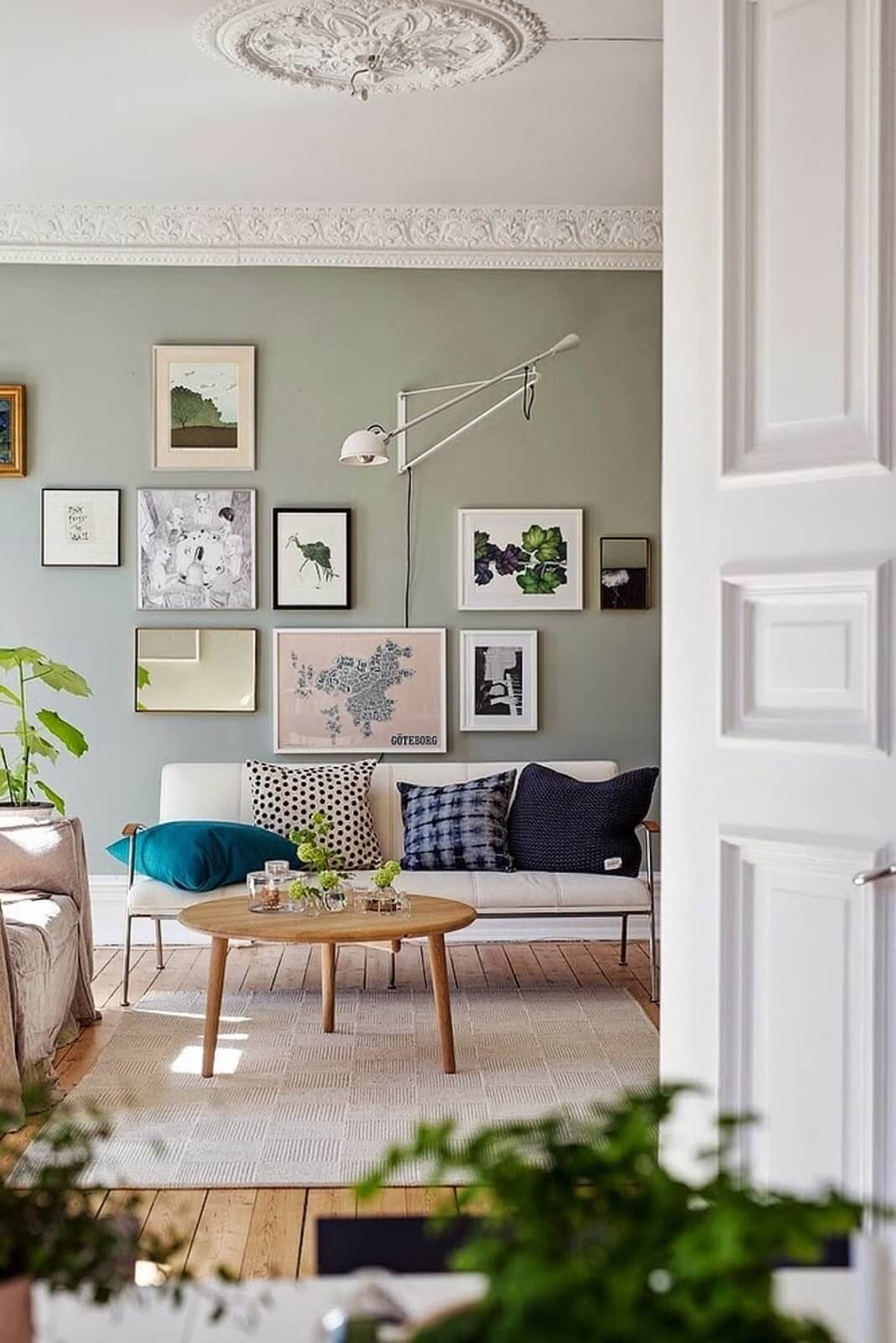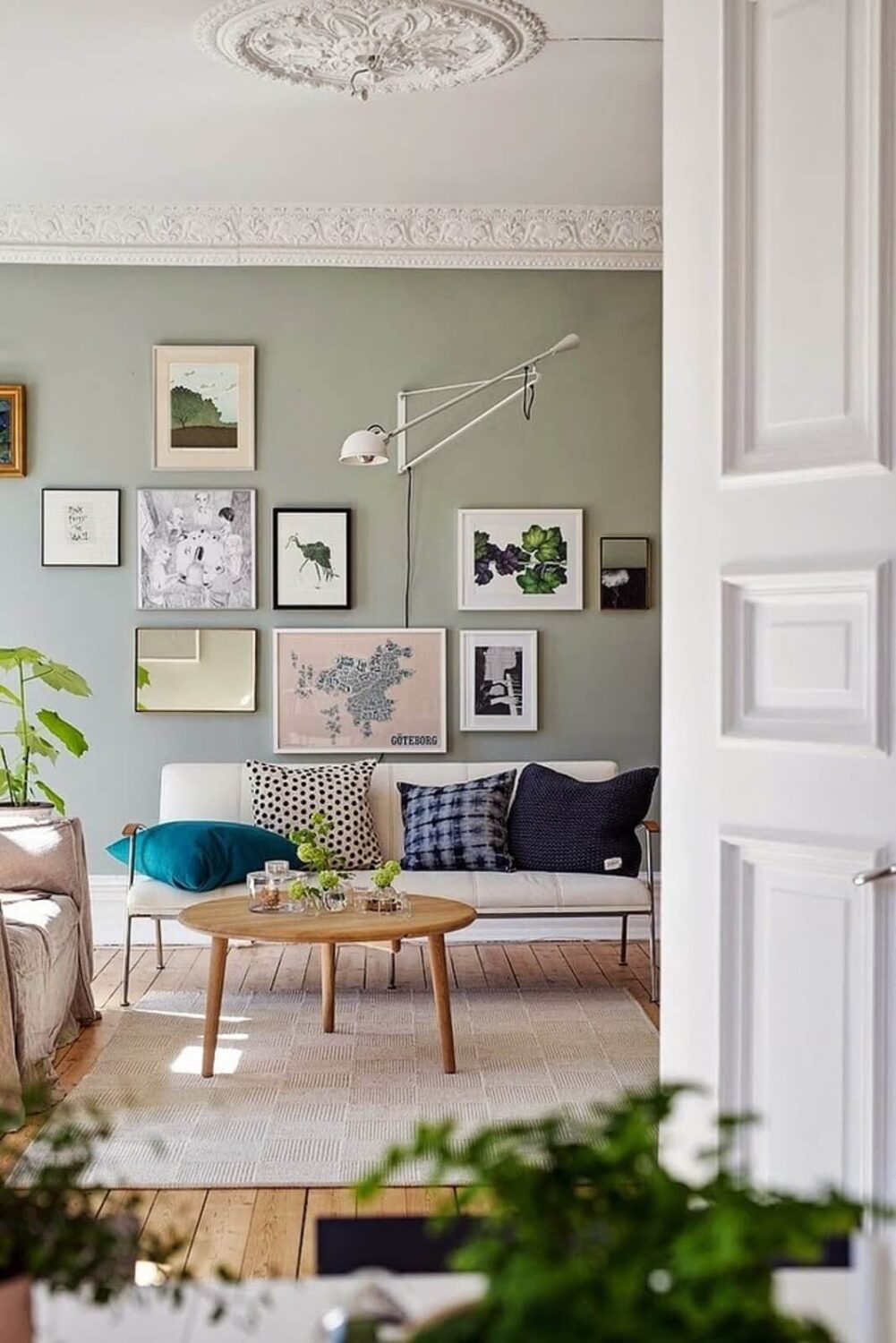 As you can see in this Scandinavian living room. Sage green is the perfect natural base to decorate your room with. Combine it with natural materials and a gallery wall and you have created a calm colorful living room.
Interior designer Holly Marder used sage green for a home office. Combined with white furniture and natural decor it creates a classy look.
Because sage green is such a calm color tone it is also perfect for the bedroom. In this bedroom by Ave Styles the half-painted sage green wall is combined with warm earthy textures.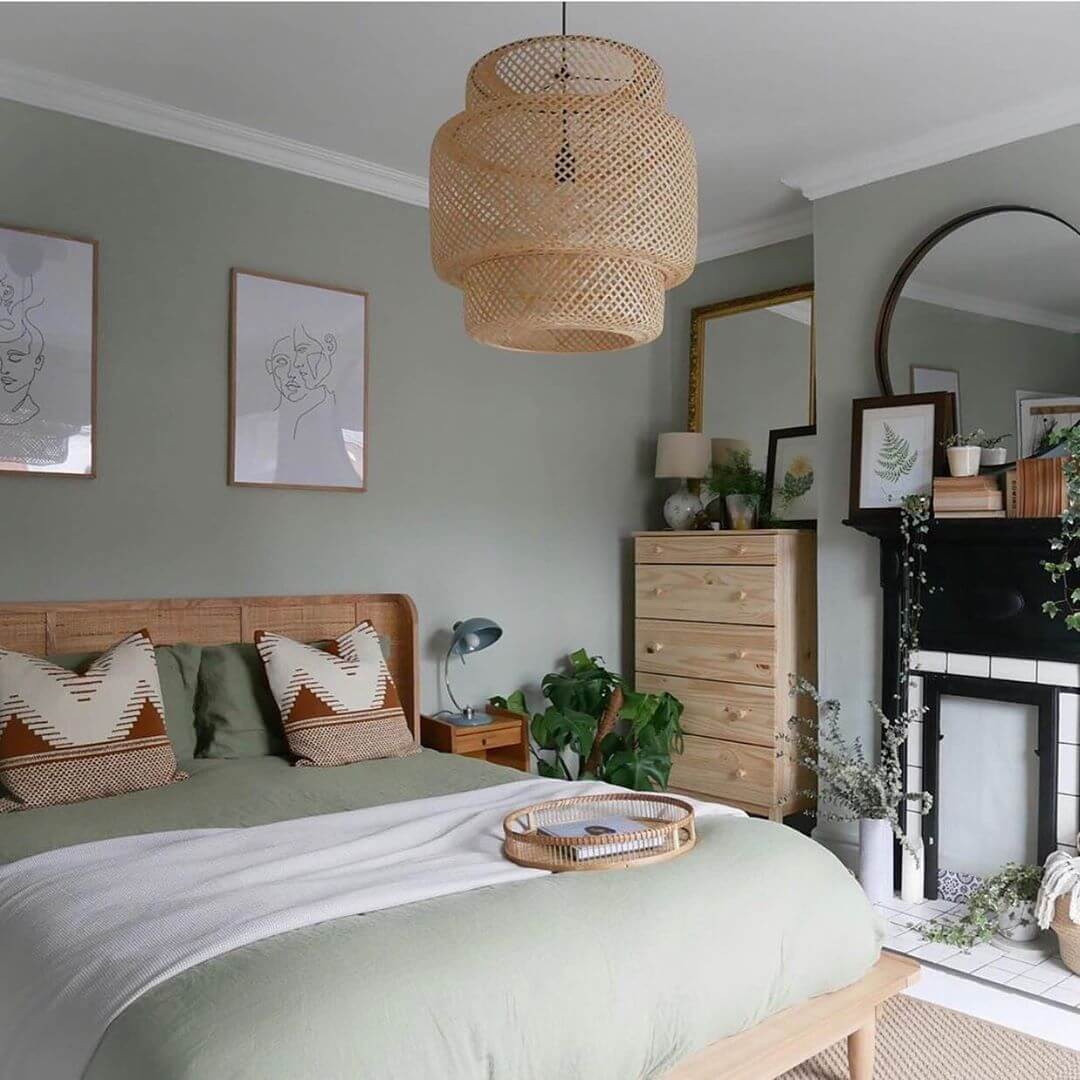 The owners of this bedroom truly embraced the sage green trend. Not only the walls but also the bedding is in this natural hue. They combined it with natural materals for an extra natural look (photo: this 1870s house)
Sage Green Furniture
Influencer Kate Spiers has added sage green built-in bookshelves to her living room. The arched bookshelves are such a wonderful statement piece in her home. I get jealous every time I seen them.
She combined these green bookshelves with a yellow velvet sofa (you will read more about color combinations later on in this post).
See also: Kate Spiers' Beautiful Glasgow Flat
An all-green look for this Shaker kitchen with green walls and green cabinets.
See also: Green Kitchen Design Inspiration
Sage Green Home Decor
For a subtle, natural sage green color pop to your home you can opt for green home decor. From pillows to art or bedding. It's an easy low-cost way of adding this trending sage green color shade to your home.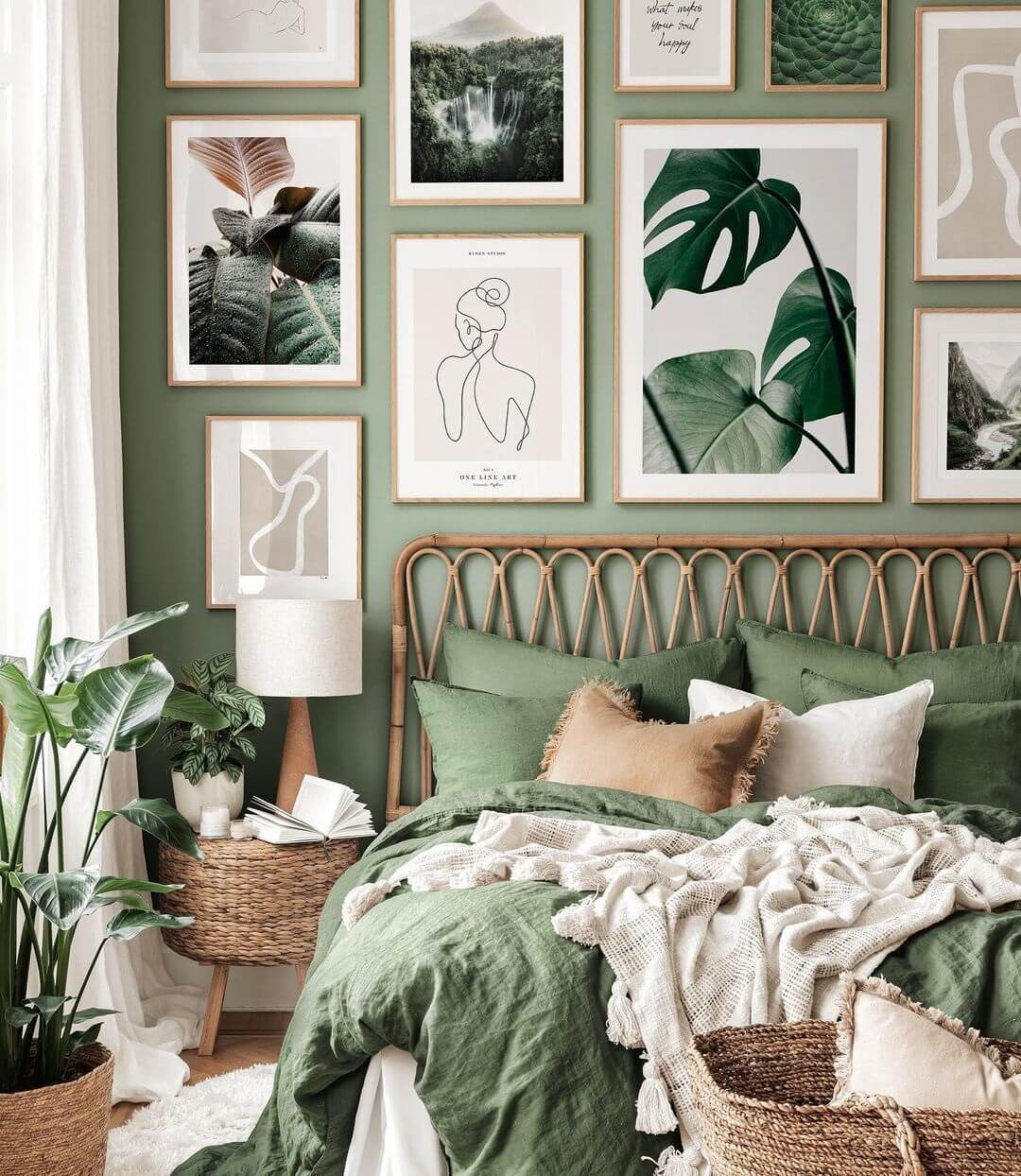 It doesn't get much greener than this bedroom with green wall, green bedding, green art ánd plants. I really love the artwork in this bedroom. For affordable art for your home you can take a look at online stores like Desenio or Posterstore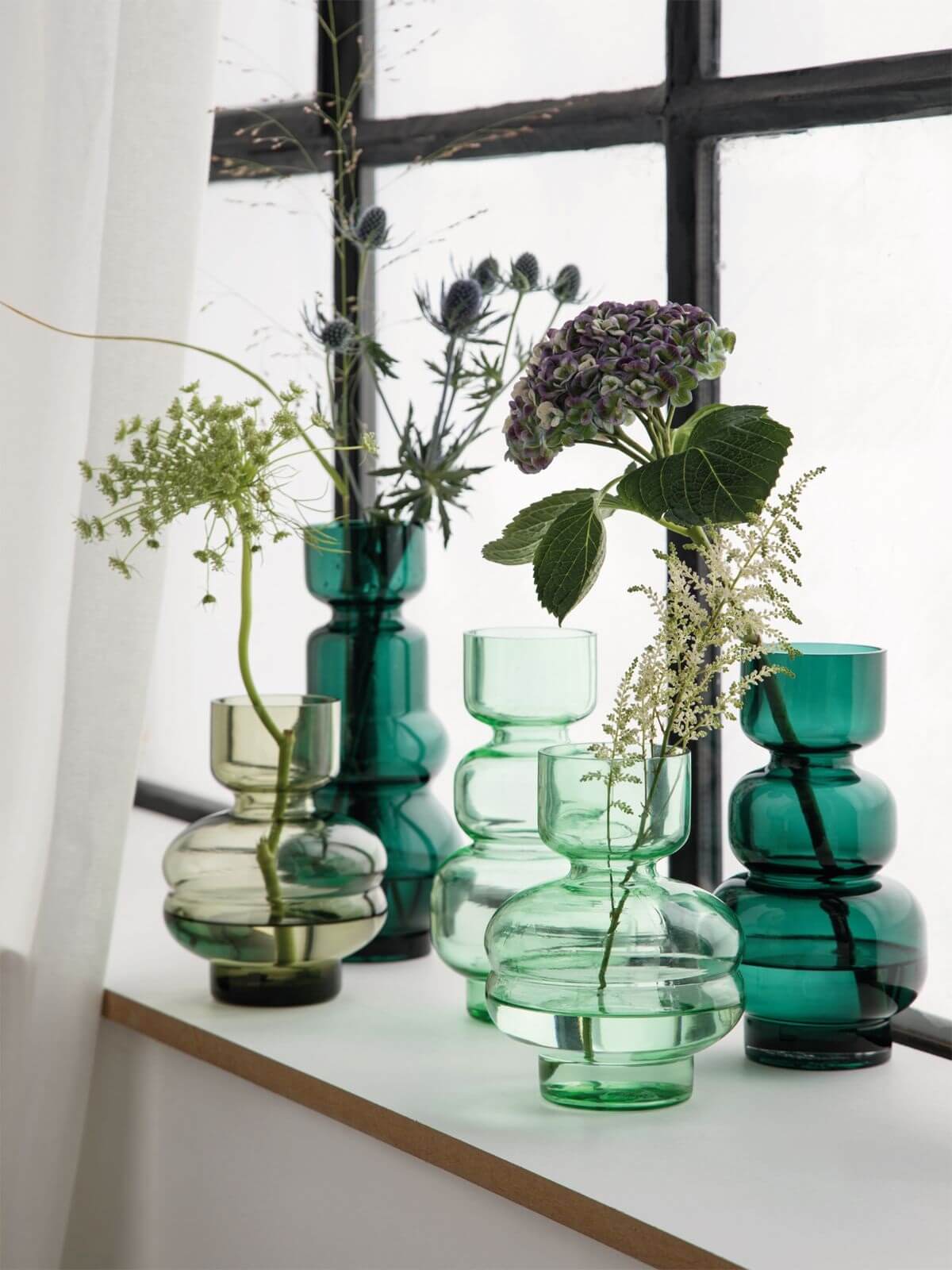 Mix and match with green vases, for a playful green look.
For a double natural touch you can of course chose plants as your sage green color touch.
What Colors Go With Sage Green?
Luckily Benjamin Moore has released a Trending Color Palette with 13 other colors that work extremely well with October Mist (Benjamin Moore's Sage Green Color of the Year 2022).
With these colors you can create a variety of home styles. From a vibrant room using pale yellow and blue. To an all natural look using the green tones. Or a warm interior using the earthy red color hue.
Sage Green and Warm Red
For a warm look to your room, you can combine sage green with a warm earthy red. You can add the red with paint but you can also think about red materials such as terracotta. Designer Heidi Caillier used a terracotta floor in her kitchen with sage green cabinets.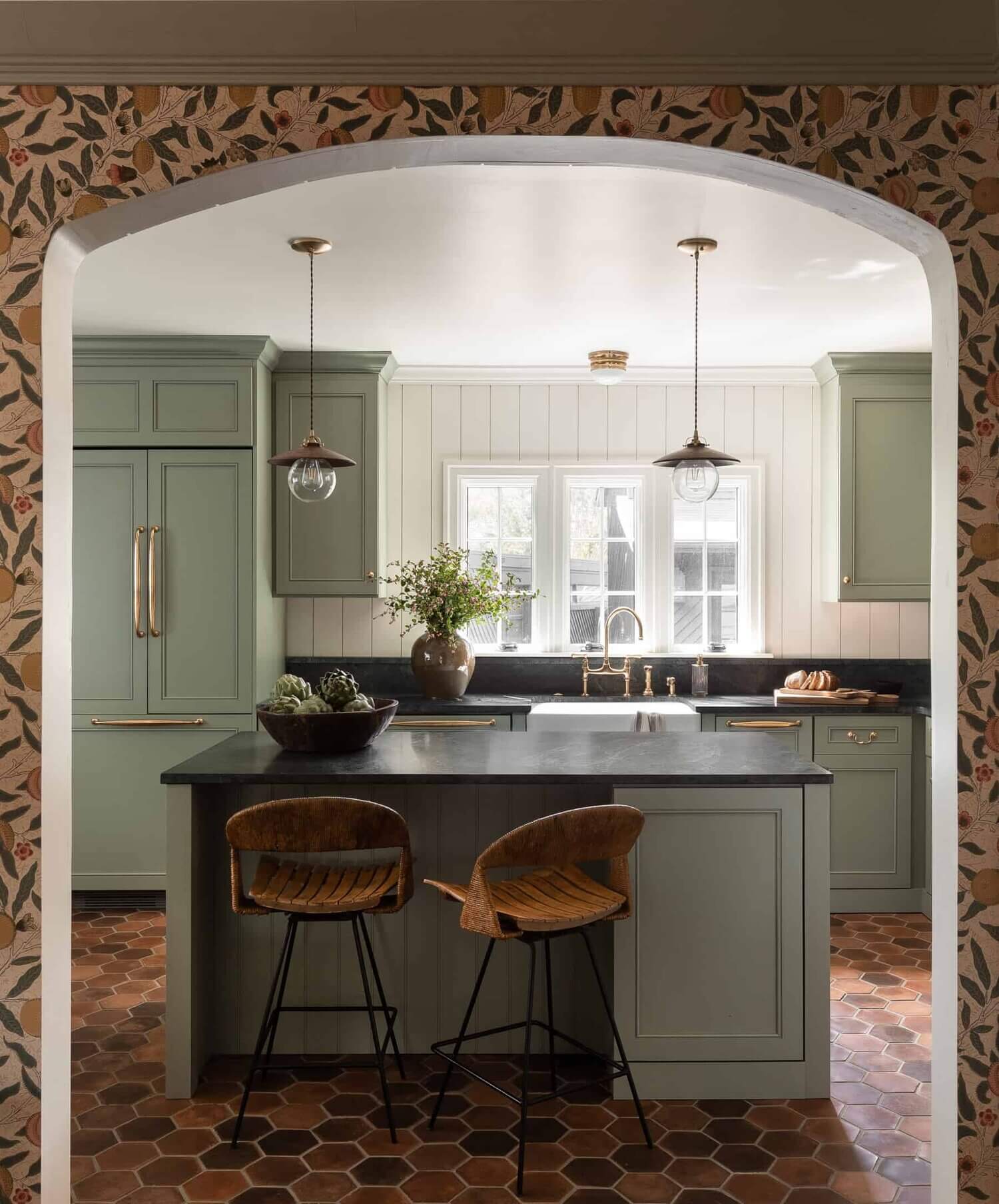 Take a look at Heidi Caillier's Washington home for more soothing color combinations.
Sage Green and Yellow
For a bright cheerful look in your home you can combine green with yellow. You can make it as bold or subtle as you want. But with yellow sofa's being very trending right now, a combination of green walls with a yellow sofa is a winning combination as you can see in this image by Dulux.
A subtle yellow color pop in an all-green-bedroom. Yellow cushions and throw add a cheerful touch to this all-natural bedroom look.
Sage Green and Pink
Pink and green is always a winning color combination. You can combine Benjamin Moore's Color of the Year 2022 October Mist with a subtle pink hue for a calm colorful room.
A pink base with green accents in the sofa (photo: Posterstore)
Green and White/Grey
Of course you can always combine sage green with white and grey hues. We have already seen that in the home office designed by Holly Marder above. But also in this white and green bedroom by Posterstore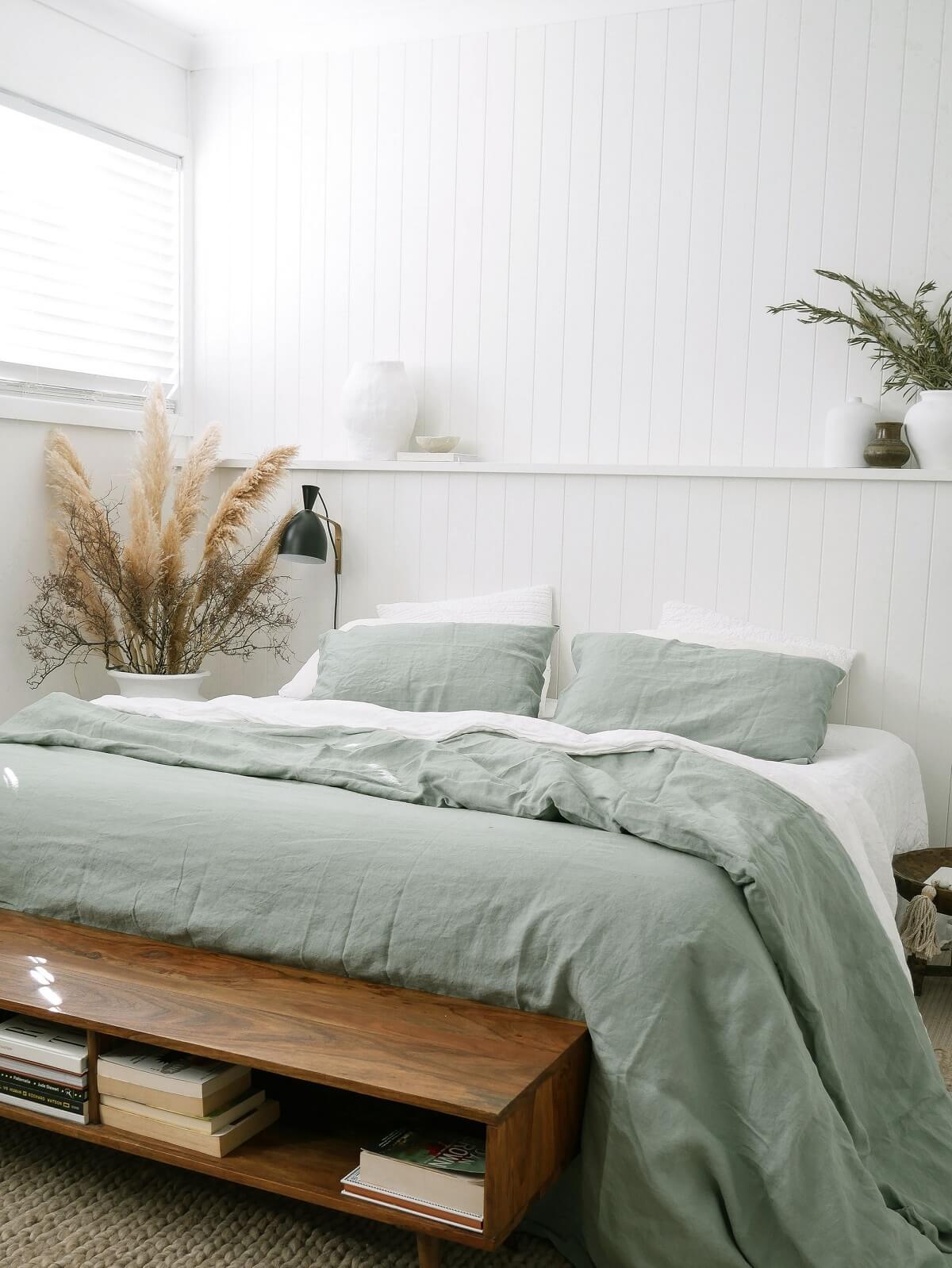 Now you see how you can style Benjamin Moore's October Mist Color of the Year 2022. This sage green color is such a versatile and beautiful hue that you can incorporate it into your home in many ways.