A Colorful deVOL Kitchen by Clarence & Graves
I'm sure you remember the Wes Anderson-style basement kitchen with mint-green windows. It's one of the most famous kitchens that has been published on The Nordroom. The owners of that kitchen have relocated to the countryside, and with that comes a new colorful kitchen design.
Clarence & Graves have moved from London to Bruton in the English countryside. And for their new countryside kitchen, they have, again, teamed up with deVOL Kitchens to create a beautiful room.
The new kitchen is a wonderful blend of bold color combinations, rustic elements, vintage designs, and a classic kitchen design. Let's take a look at this colorful new kitchen from Clarence & Graves in combination with deVOL.
photography by deVOL Kitchens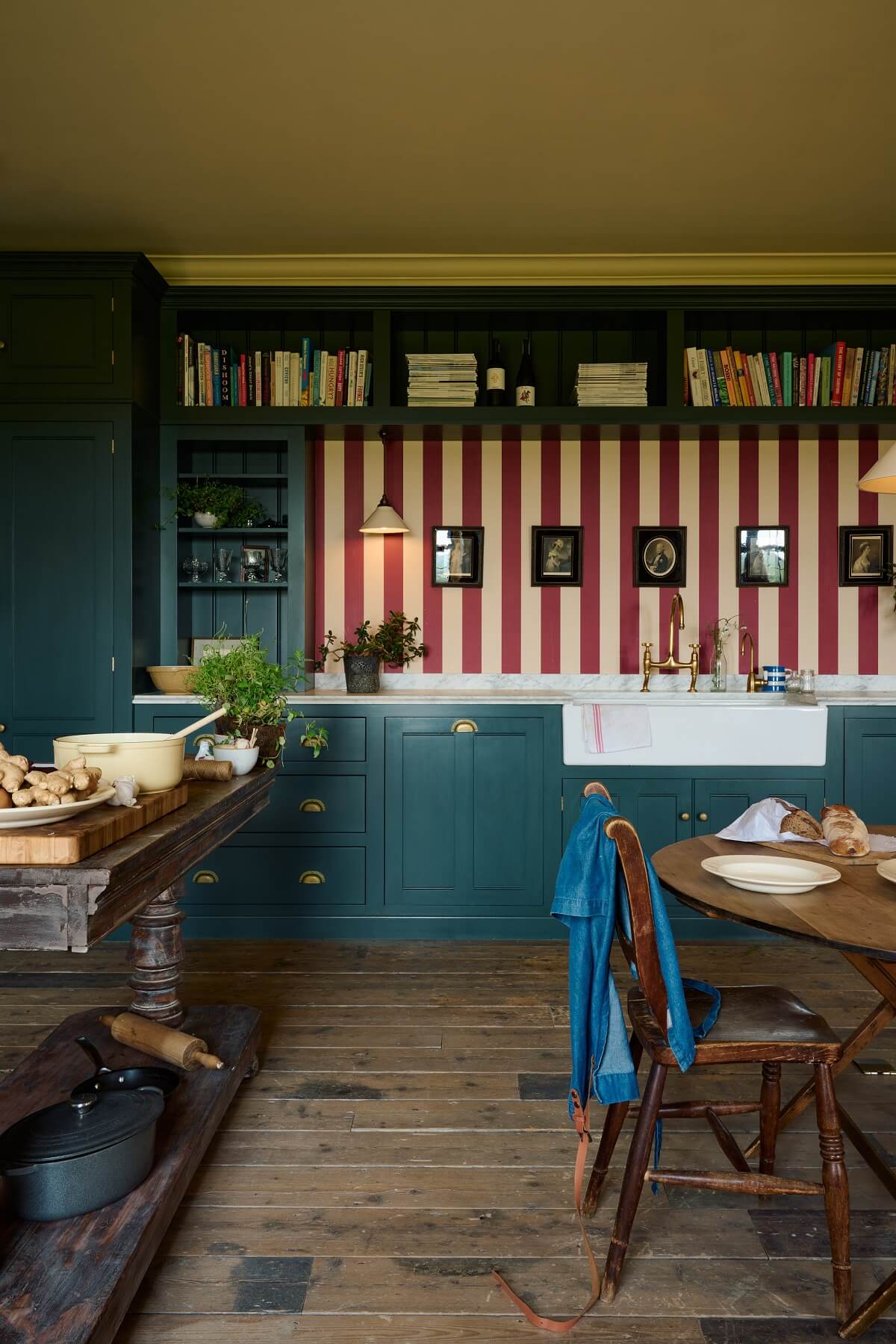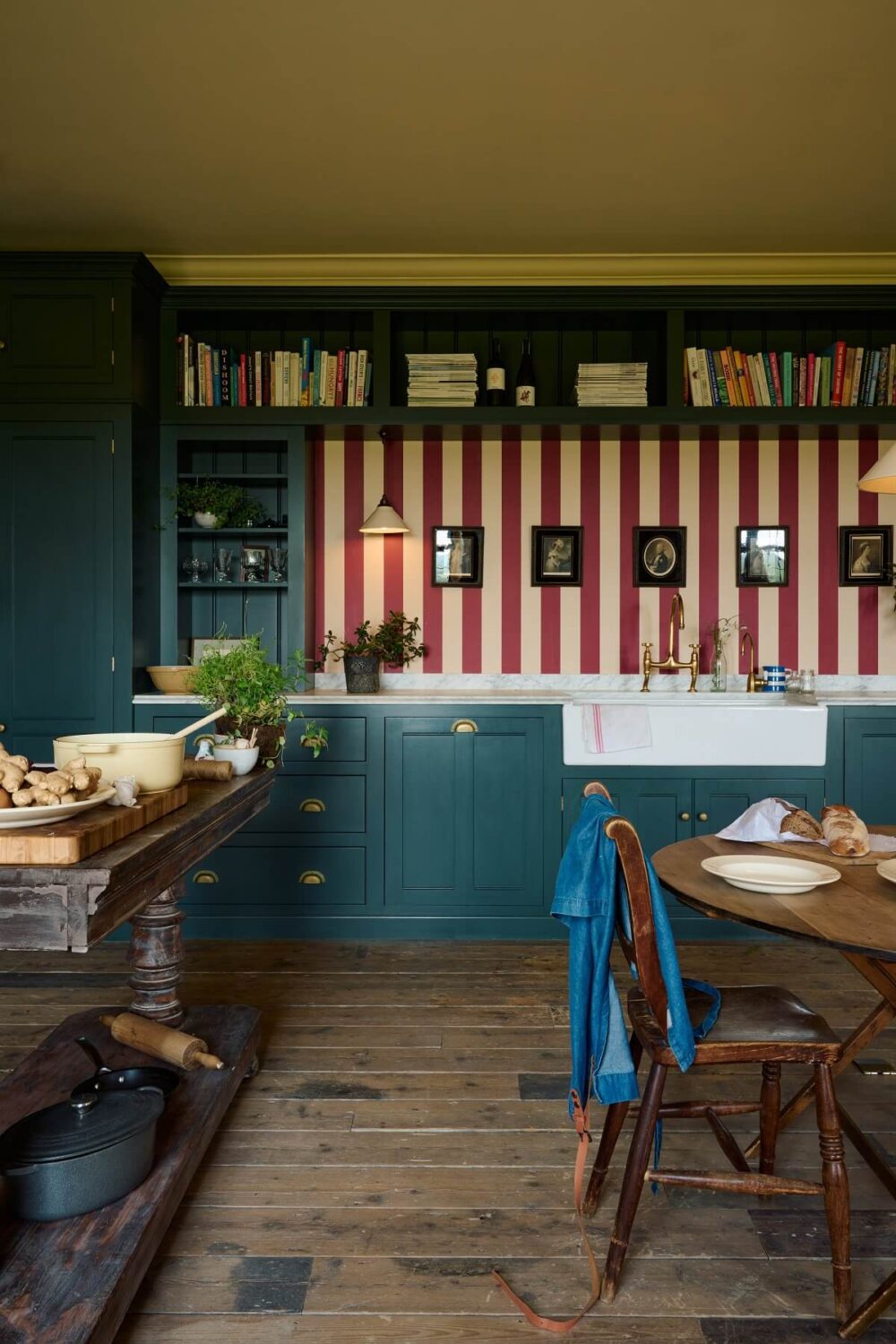 One wall of the large kitchen is fitted with deVOL Classic English cabinets. It was designed to feel traditional, functional, and most of all comfortable and perfectly proportioned for the room.
Central in the kitchen stands a round vintage table. This table makes sure the room doesn't feel too formal and stiff. deVOL also sells a round wooden table: The Vineyard Table, that works in any kind of room.
The blue kitchen cabinets and blue/green stove are combined with wonderful warm yellow walls.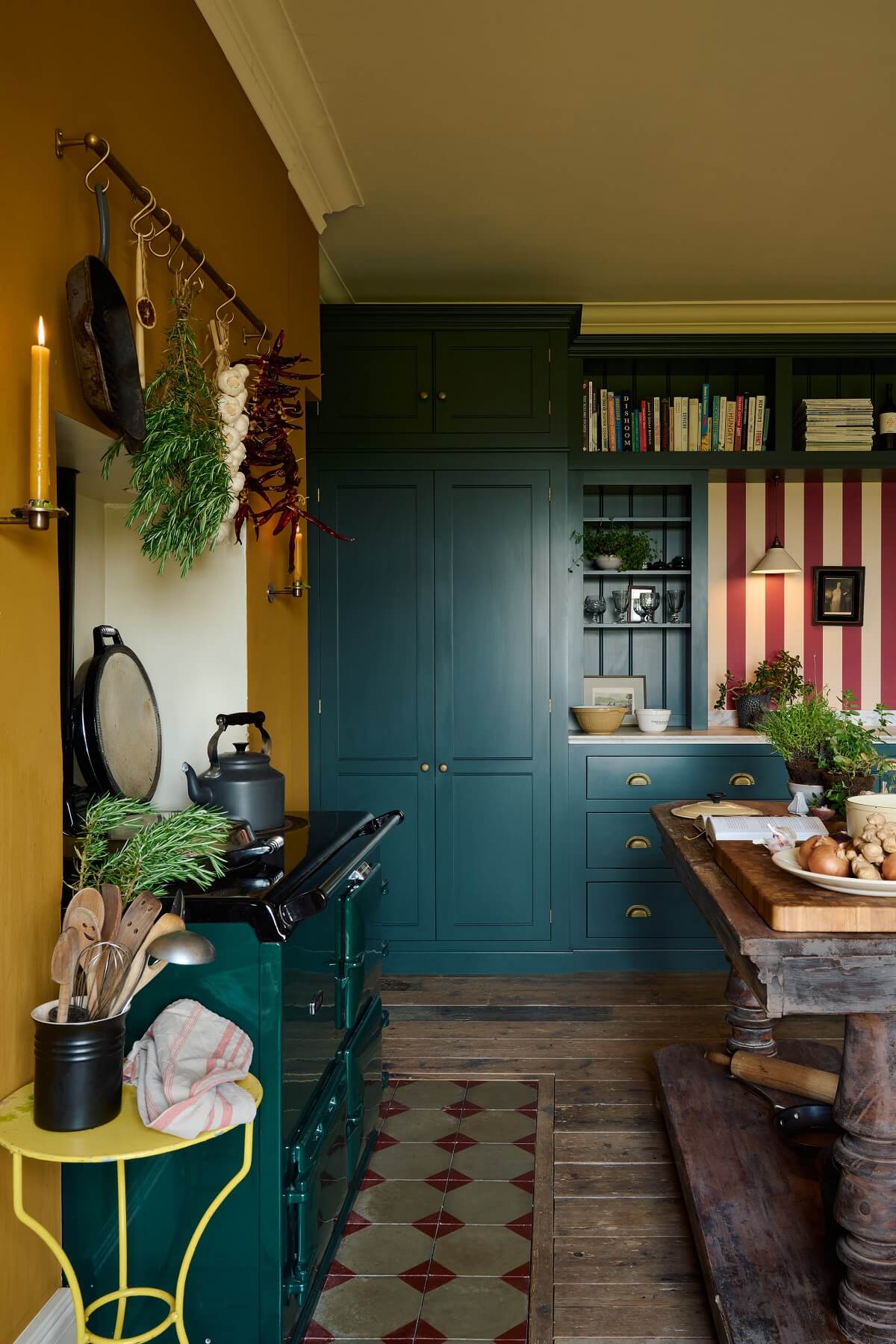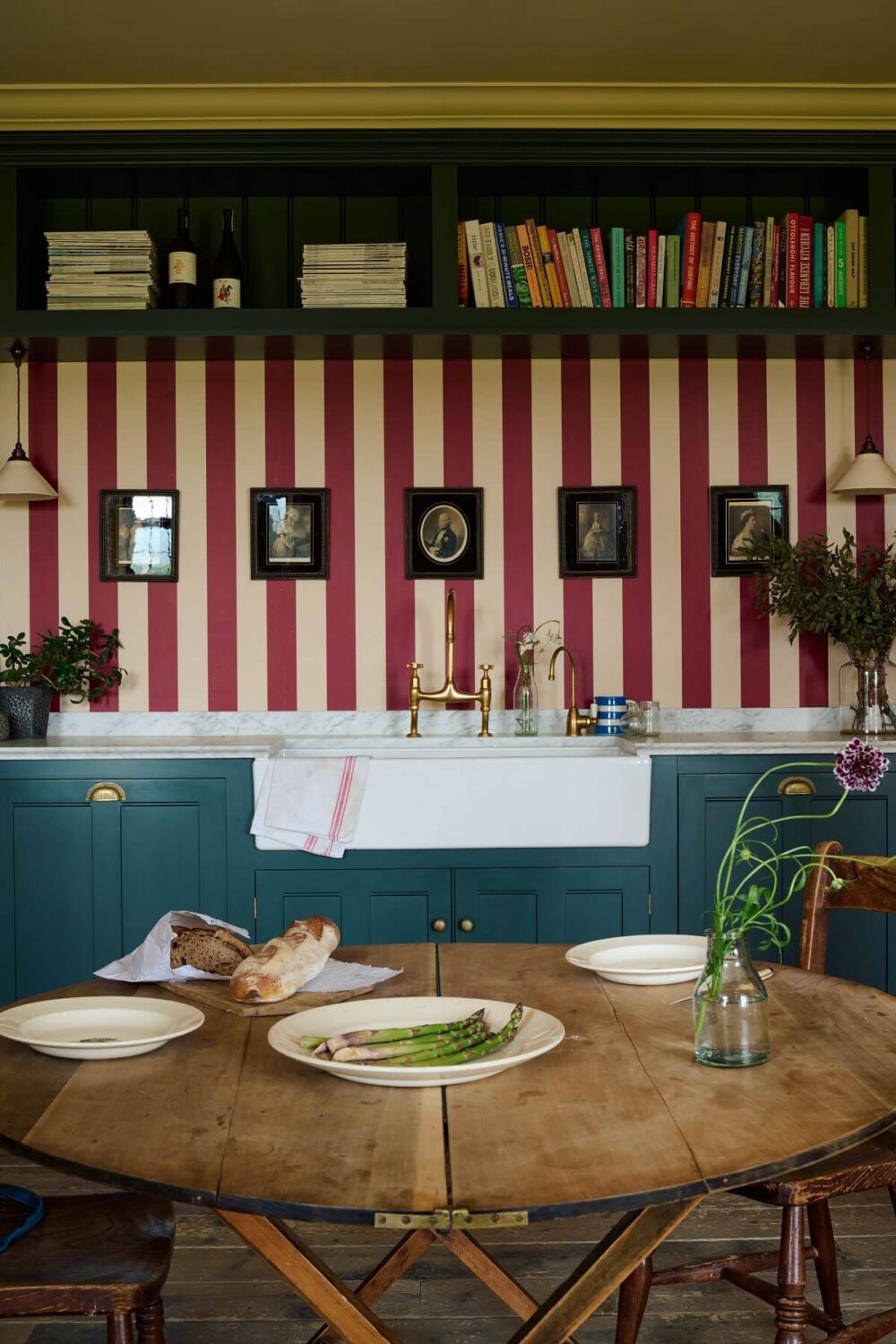 Even more color has been added through the red and white striped wallpaper. On each side hangs a deVOL Creamware Pendant.
Spalding striped wallpaper by Ralph Lauren adds a fun color accent to the room.
The walls have been painted in Muga, and the kitchen doors are painted in Caddie, both by Paint & Paper Library.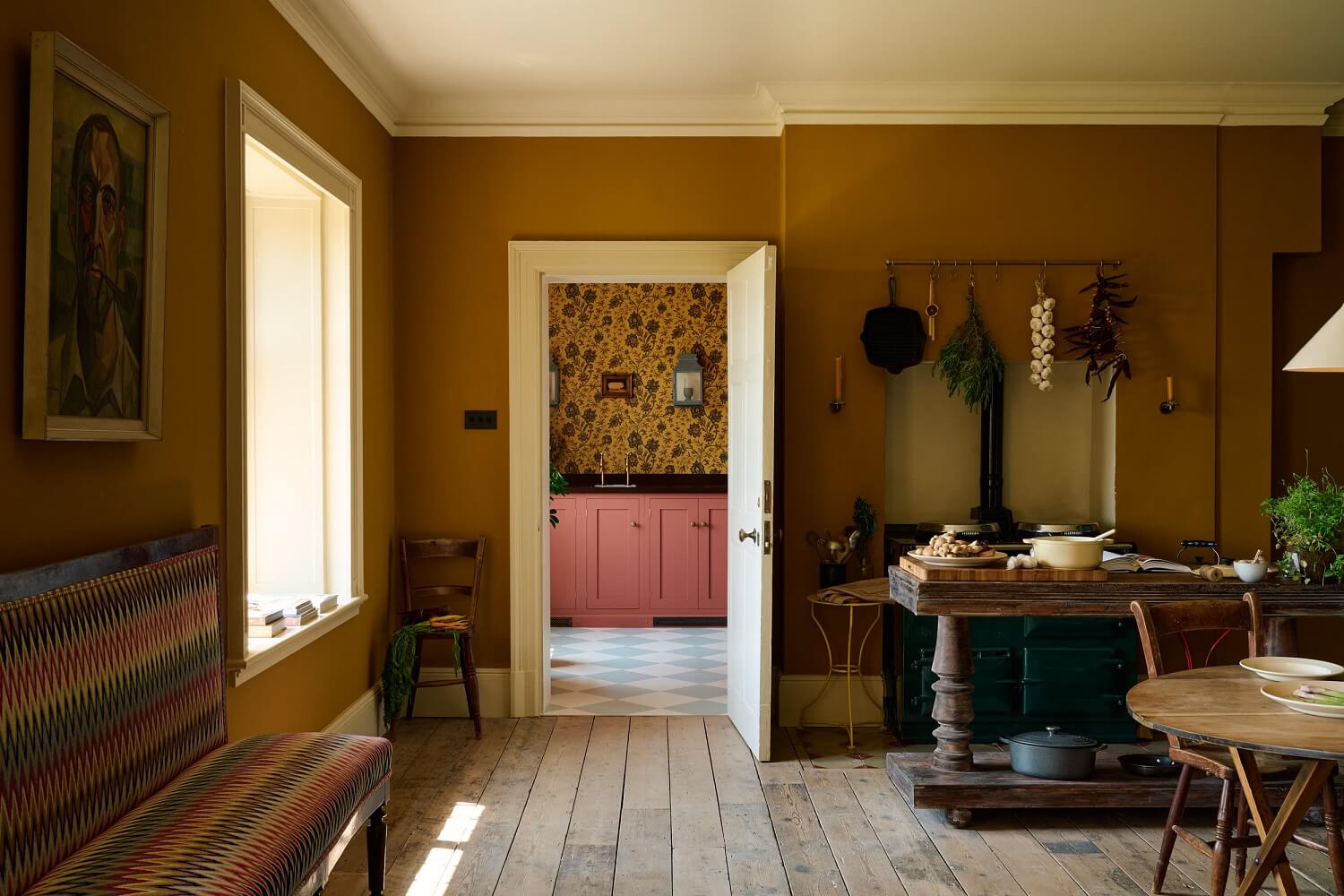 Stepping through the door next to the stove, you enter the terracotta pink utility room.
They also used deVOL cabinets for the utility room, though this time, they opted for the Shaker-style cupboards. The cabinets and the walls are painted in a bespoke terracotta pink color. The wall behind the cupboards is decorated with the House of Hackney 'Indienne' wallpaper.
Take a look at the full home tour here or see their previous kitchen design: Wes Anderson Meets Provence in a London Basement Kitchen. And for more deVOL Kitchens, you can take a look here.