A Grand Family Kitchen in an English Country House
In a Victorian house in Surrey, a former playroom has been turned into a grand family kitchen by interior designer Maddalena Minerva. With a large floorplan, high ceilings, exposed wooden beams, and many windows, this room is perfect to house a comfortable kitchen that is the heart of a busy family home.
Interior designer Maddalena Minerva worked for interior decorators Rita Konig and Rosanna Bossom before she set up her own interior design studio last year. But the start of Maddalena's interior design career started in kitchen design with the renowned English company deVOL Kitchens.
The kitchen has to be practical and beautiful for a large family of six (plus a range of cats and dogs). And with a history at deVOL, it will come as no surprise that Maddalena turned to their kitchen and furniture collection to design this welcoming space.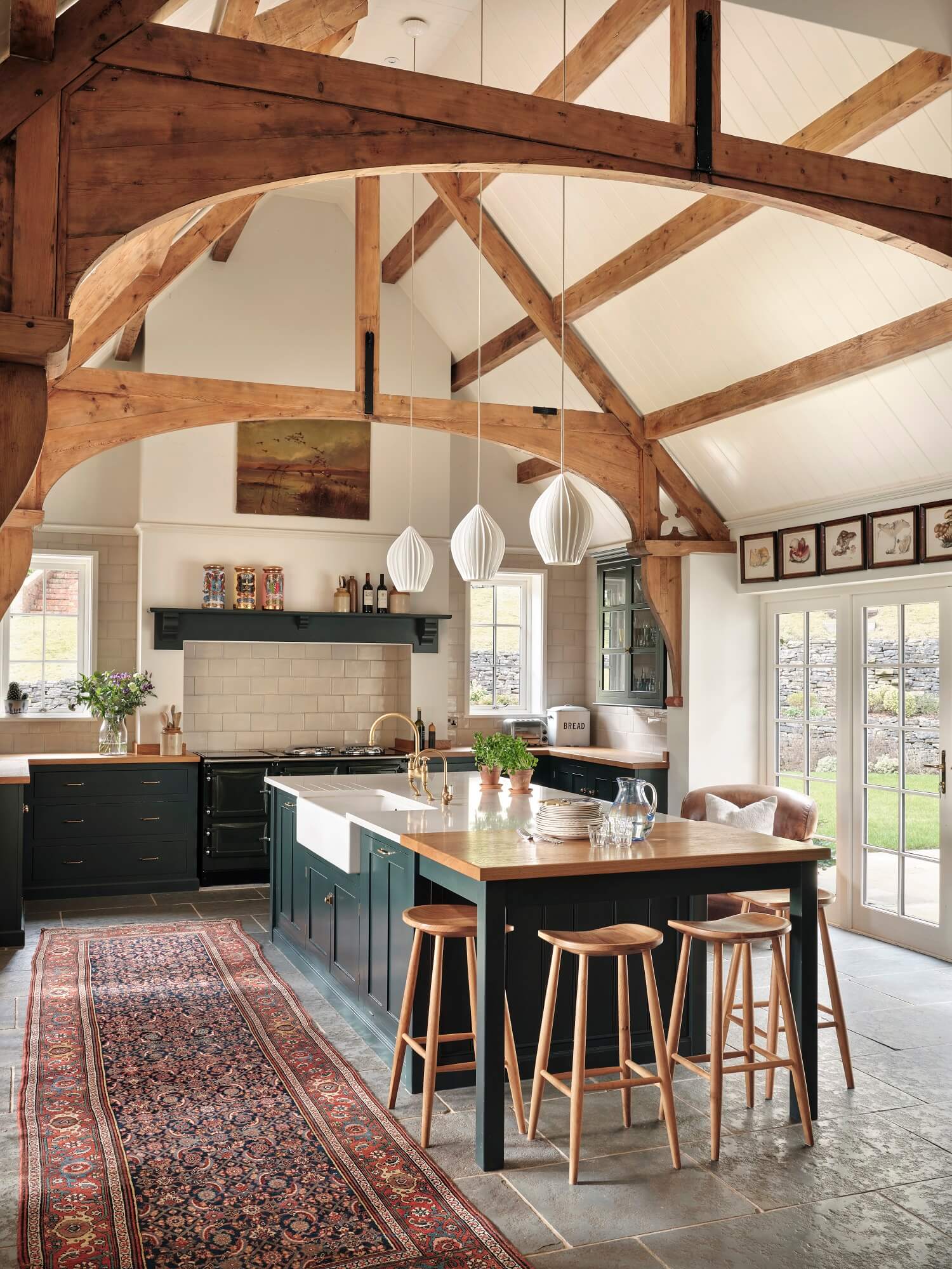 The bones of this room with a vaulted ceiling and exposed wooden beams already add a lot of character to this grand space. And to make this room feel like an inviting space, Maddalena added vintage rugs, leather armchairs, and cozy textures to the kitchen.
The warmth of the exposed beams can also be found in the work surfaces for which she used rustic oak. The kitchen island work surface is Silestone.
Central in the room stands an impressive 3 and a half meters kitchen island. The island is multifunctional as it not only provides work surfaces but also storage and a breakfast bar at one end. The breakfast bar with its wooden surface and deVOL Bum Stools creates a more open feeling that makes the island feel less bulky.
An extension in the kitchen houses the dining table with a built-in bench and deVOL's Peg Leg Table and Bum Chairs. The dining area is bathed in sunlight thanks to the many windows but it is also practical as the lift-up bench seat provides extra storage.
For the cabinets, Maddalena choose the Classic English Kitchen by deVOL in an equally classic deep green hue. With so much storage in the island, pantry, and bench there is no need for upper cabinets. However, one glass cabinet was added to display the finer earthware.
On the floor lies the Tumbled Antiqued Ash Limestone Tiles by Floors of Stone. This is a perfect kitchen floor choice for a much used country kitchen.
The green of the cabinets work perfectly with the aged brass fittings and the garden outside. The lights above the island are the Fin Pendant by Original BTC.
A little nook in the kitchen is used as a walk-in pantry to add extra storage. The shelves and cabinets are painted in the same blue shade as the kitchen cabinets which are complimented by handmade Emerald Green London Tiles.
If you're looking for an English country-style kitchen remodel idea then I cannot think of a better example than this kitchen designed by Maddalena Minerva. Many thanks to Maddalena for sharing this kitchen with The Nordroom. And if you want to see images of the sunny yellow utility room and hallway you can head over to the deVOL website.
And if you want to see more deVOL kitchens inspiration, you can head over to this page that features all deVOL kitchens that have been posted on The Nordroom.
photography by Astrid Templier