31 Practical Kitchen Flooring Ideas For Your Home
When you're designing a kitchen the main focus often goes on the layout and kitchen cabinets style. However, the kitchen flooring is probably the most important aspect of designing a kitchen.
Your kitchen floor is not only very visible (so you want it to look nice), but it also gets used more intensely than most floors in your house. Therefore it's important to choose the right floor for your kitchen.
A kitchen floor must be durable, easy to clean, and safe when wet. And if you're design-minded you want the floor to be stylish and a great fit with the rest of your kitchen design.
A wide range of flooring ideas will work in a kitchen. From natural stone tiles for a traditional kitchen design to sleek marble for a modern kitchen, and wooden floors for a warm kitchen look or if your kitchen is in your living room and you want one flooring type for the entire space.
This post will show you stylish kitchen floor ideas that look great and last a lifetime.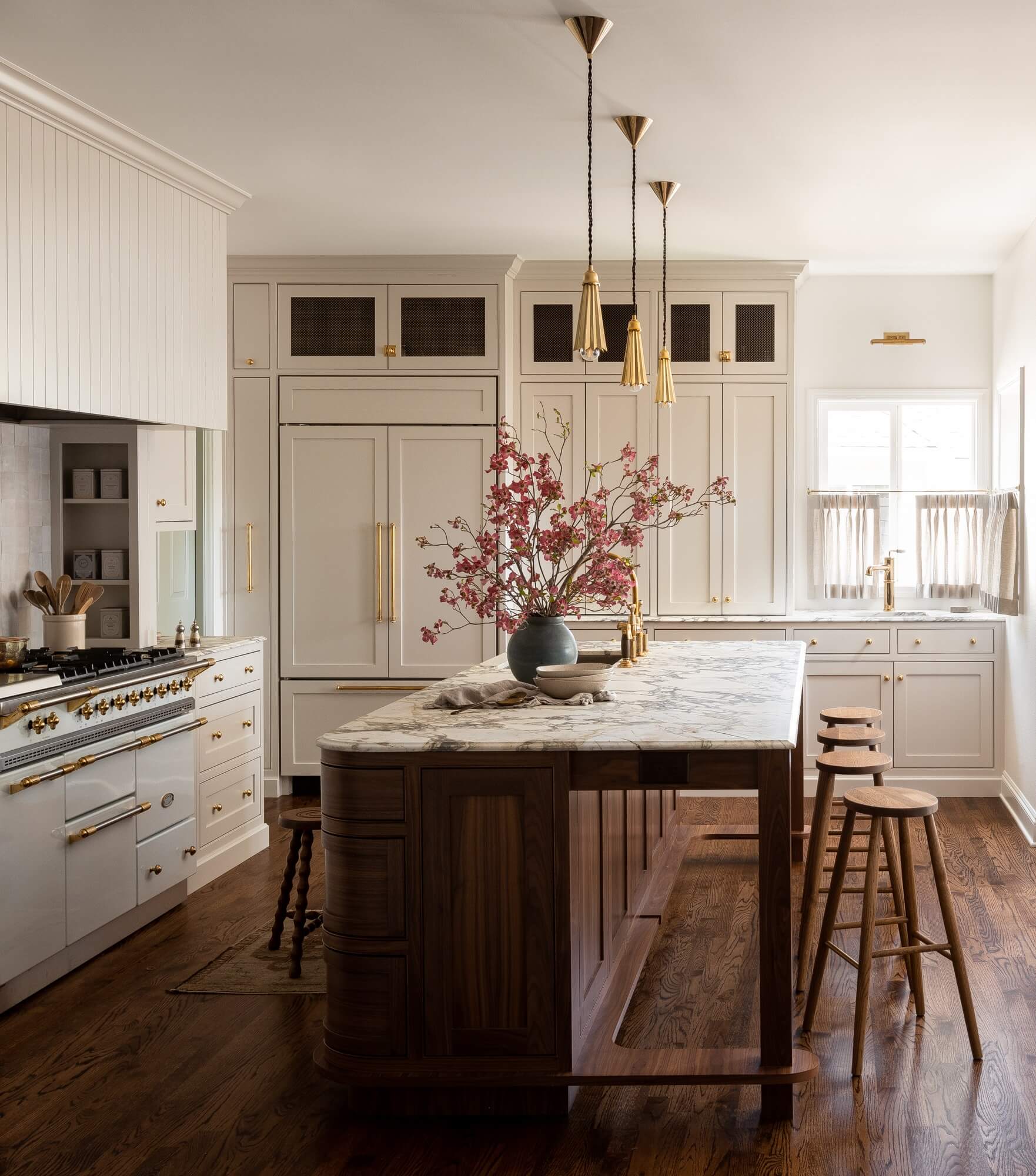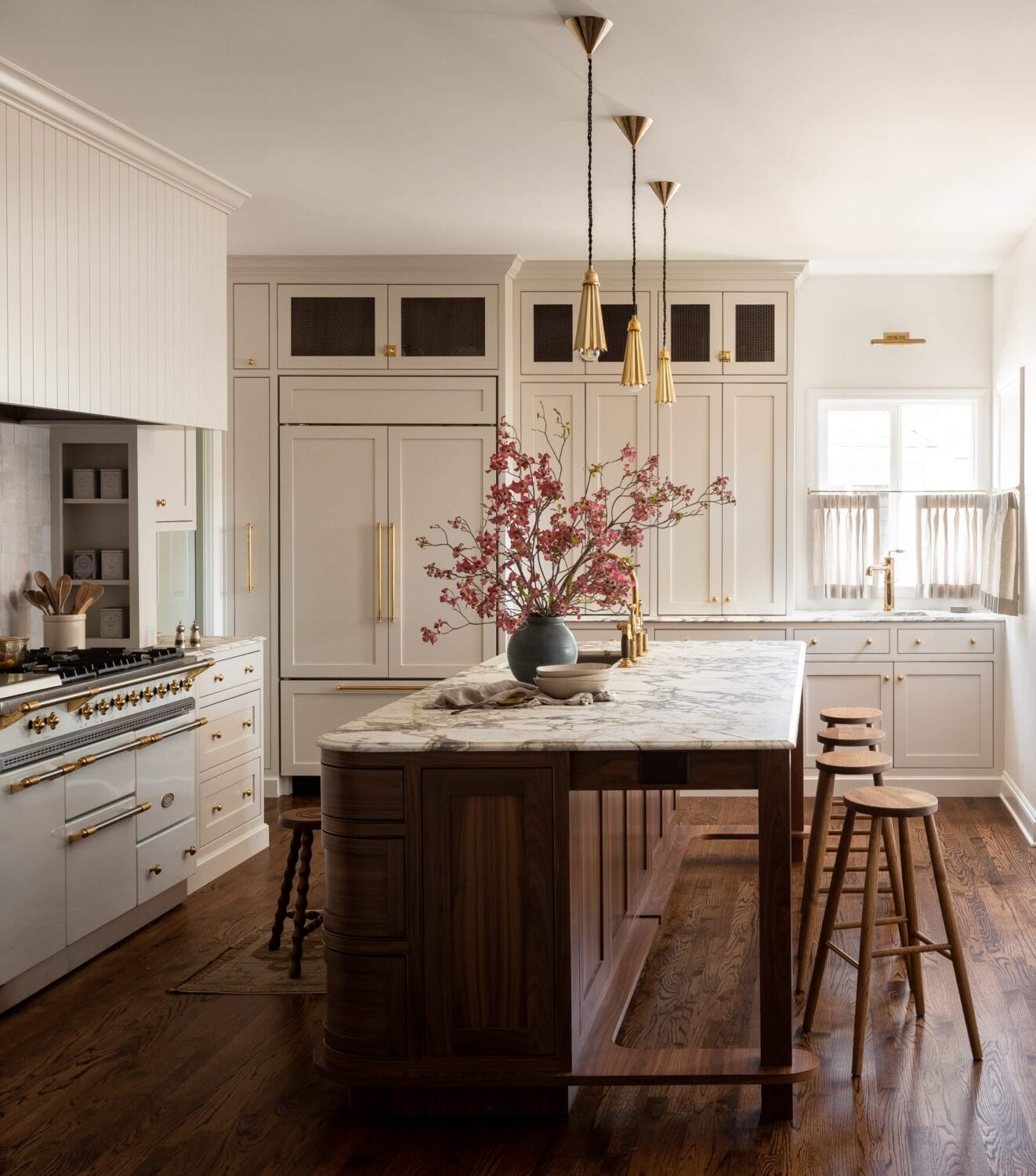 Tile floors
Tile flooring is the most popular choice for a kitchen floor. Tiles are easy to clean and come in so many shapes, colors, and patterns that you can find a tile floor that works for your design style. Tile flooring is made of several materials, each with its own look and qualities.
Ceramic tiles
Whatever your style may be, you can find a ceramic tile that you will love. The tiles are made in a wide variety of styles (even a wood or stone look), colors, and patterns. You can also choose between different finishes, such as a matte tile finish and a gloss tile finish. 
However, ceramic tiles are more porous than porcelain tiles, making them stain easier, and they can wear easier than porcelain tiles.
The black and white checkerboard ceramic tiles give this white Scandinavian a classic look, especially in combination with marble worktops.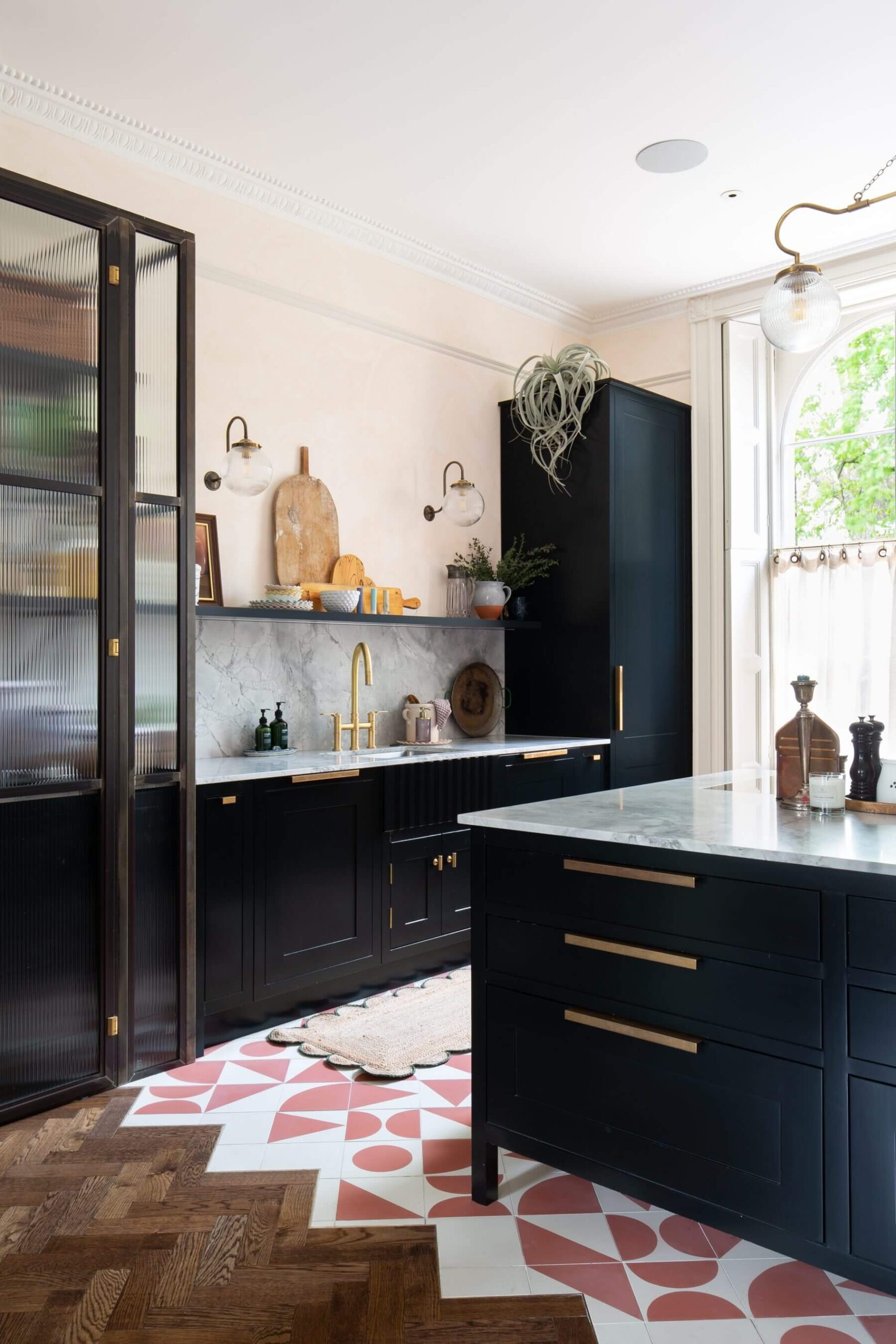 You can create different zones using two flooring types, as you can see in the room above. In this Georgian home they added tiles with geometric patterns in the "wet area" of the kitchen and a parquet floor in the rest of the kitchen space.
This is a good idea if your kitchen is located in an open-plan living and kitchen space. Or if you want to separate the cooking area from the dining area in a closed kitchen.
Porcelain tiles
Porcelain tiles are, on average, more expensive than ceramic tiles. But they come in the same variety of styles, colors, and patterns.
Just like ceramic tiles, porcelain floor tiles are easy to clean and easily maintained. But they are also extremely durable, water resistant, and hard to damage. The downside of porcelain floors is that they are very hard (and therefore less comfortable) and cold. 
These Mora porcelain tiles have an oak look and are inspired by traditional English oak wooden floors. It adds a warm touch to your kitchen but with all the advantages of tiles.
This modern white kitchen has simple but stylish light gray porcelain floor tiles by Regal.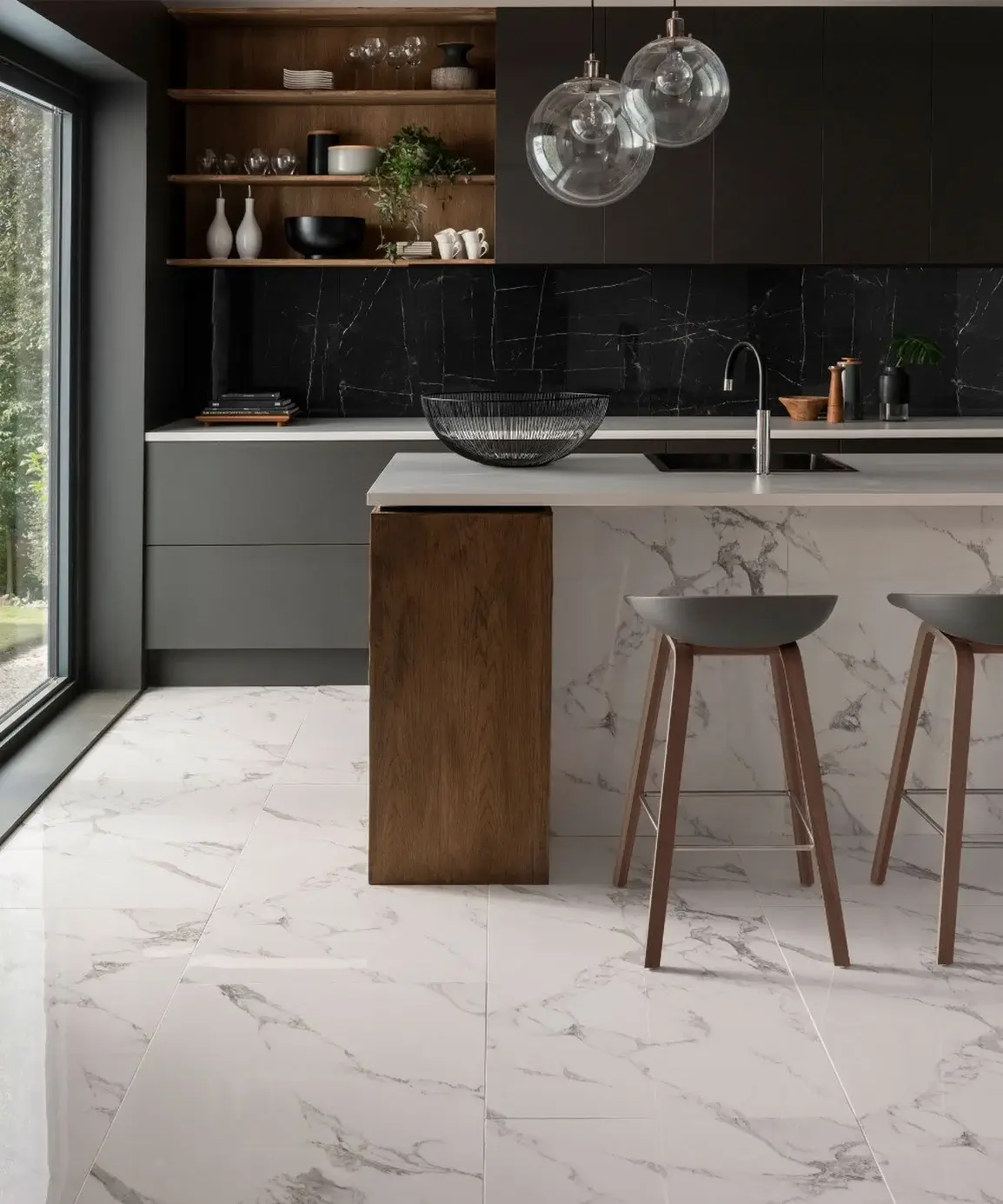 If you want a luxurious-looking kitchen, you can opt for marble-looking porcelain tiles like these Calacatta marble tiles by Torrano.
Terracotta floors
Terracotta tiles are a type of ceramic floor tiles. Terracotta tiles are made from a specific type of clay that gives the tiles their reddish color. The tiles are porous, so they need to be sealed to avoid stains. However, terracotta is less expensive than most ceramic tiles, and when they are properly looked after, they can last a long time.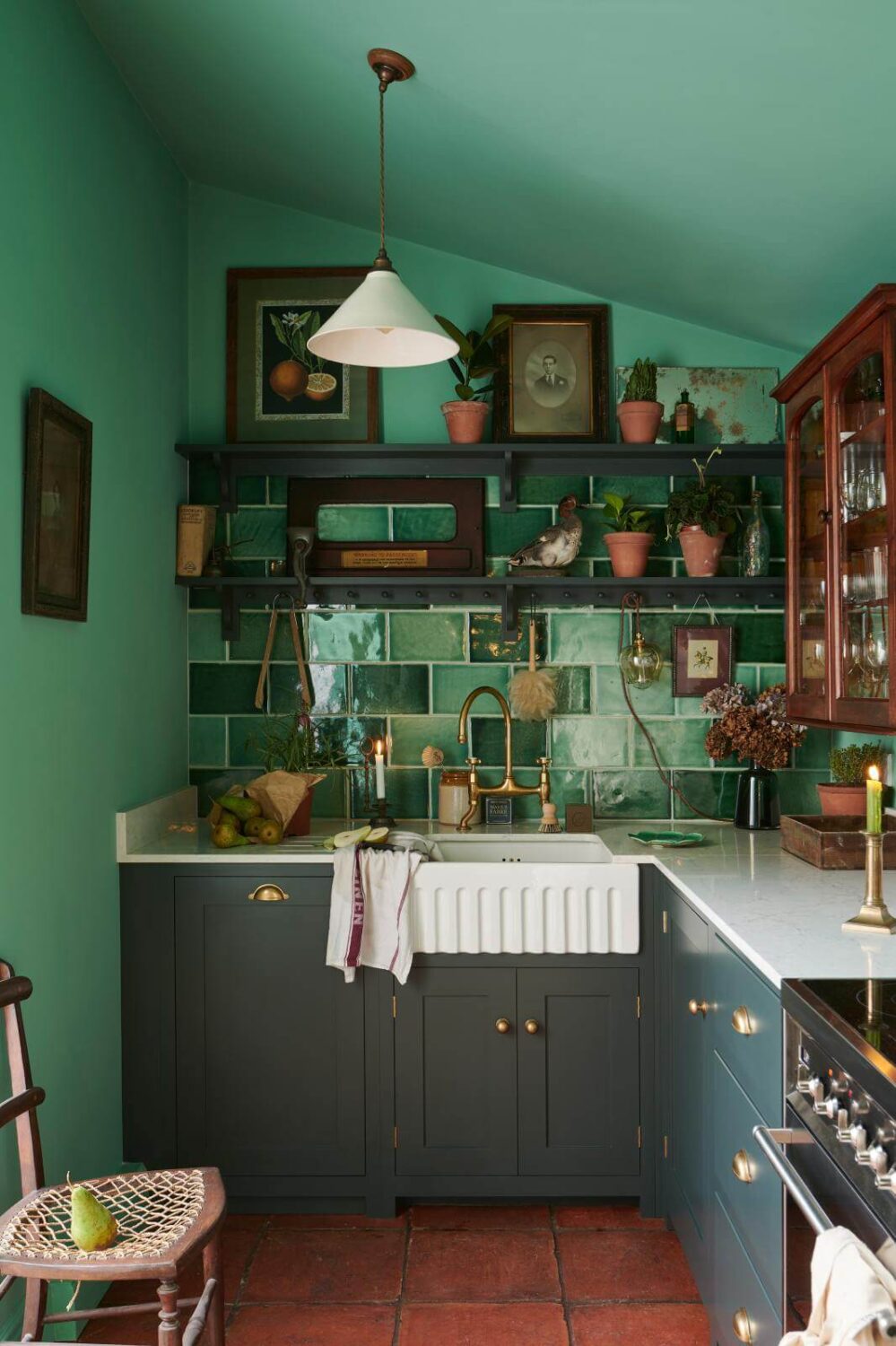 Terracotta also looks great in a smaller space. The terracotta tiles add a warm natural touch to a green and blue kitchen.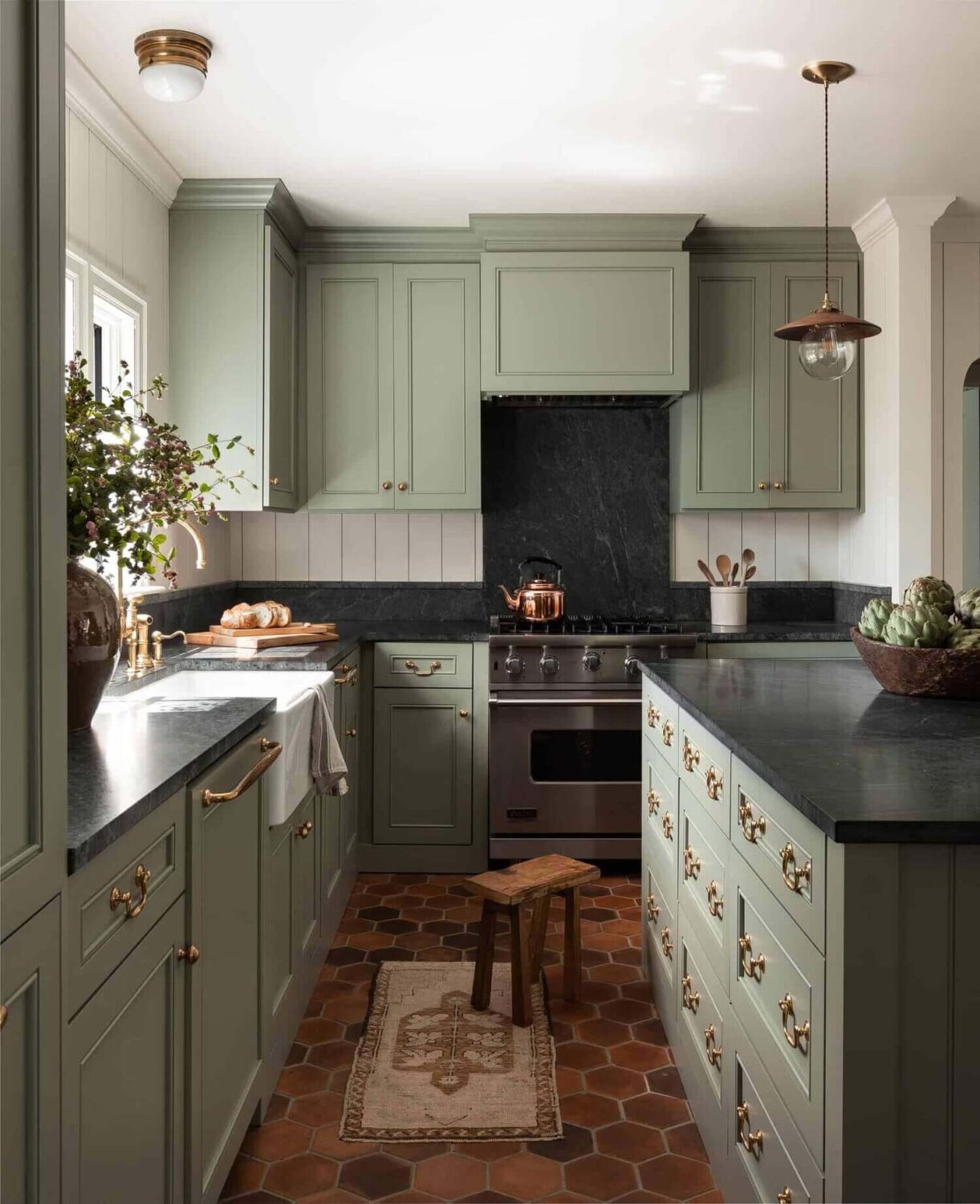 Right now, one of the most famous kitchens on the internet is this beautiful green kitchen in interior designer Heidi Caillier's family home. On the floor lie stunning hexagon terracotta floor tiles. Adding to the natural look of the kitchen.
Natural stone floors
Natural stone floors like granite, marble, and limestone are very popular choices for kitchen floors. The stone tile floors add warmth, character, and style to a kitchen.
Natural stone tiles are easy to clean and, therefore, a great choice for a kitchen. However (just like terracotta floors), stone tiles are often more porous, so they need to be sealed to prevent staining. 
Like porcelain floor tiles, these stone tiles are also hard and cold, making them less comfortable.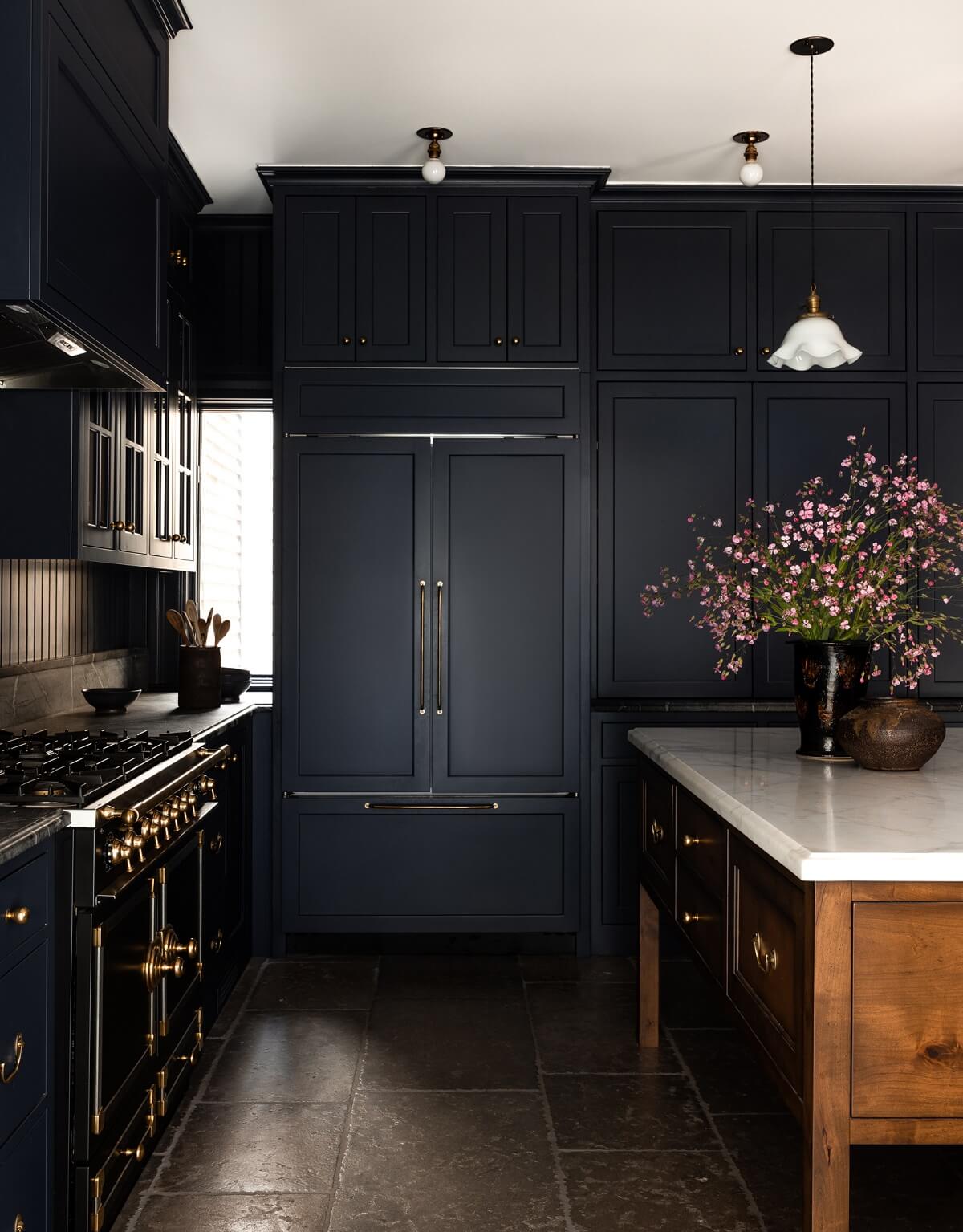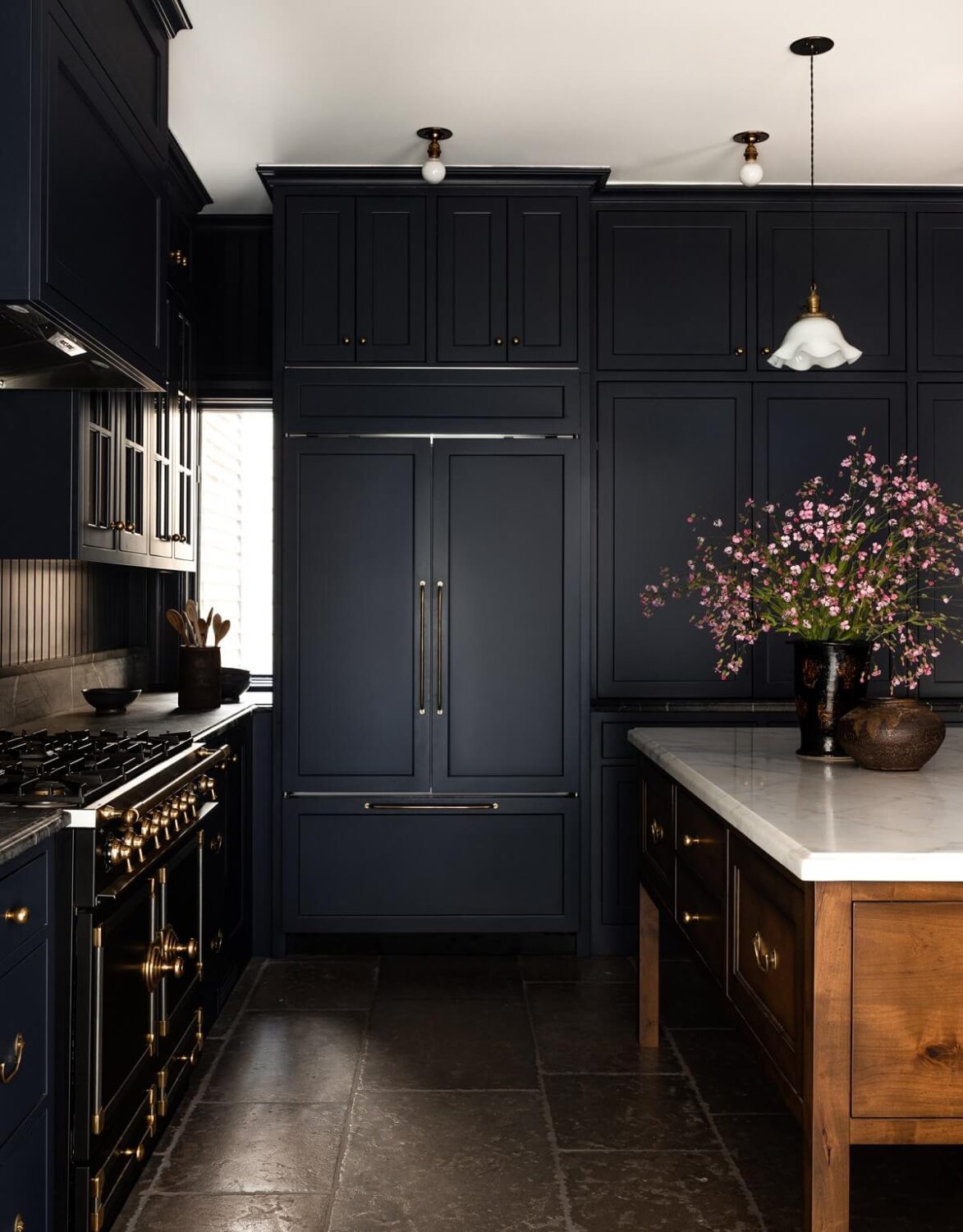 This San Francisco home, designed by Heidi Caillier, uses limestone floor tiles in combination with a dark blue kitchen. It creates a classic and warm look in this kitchen.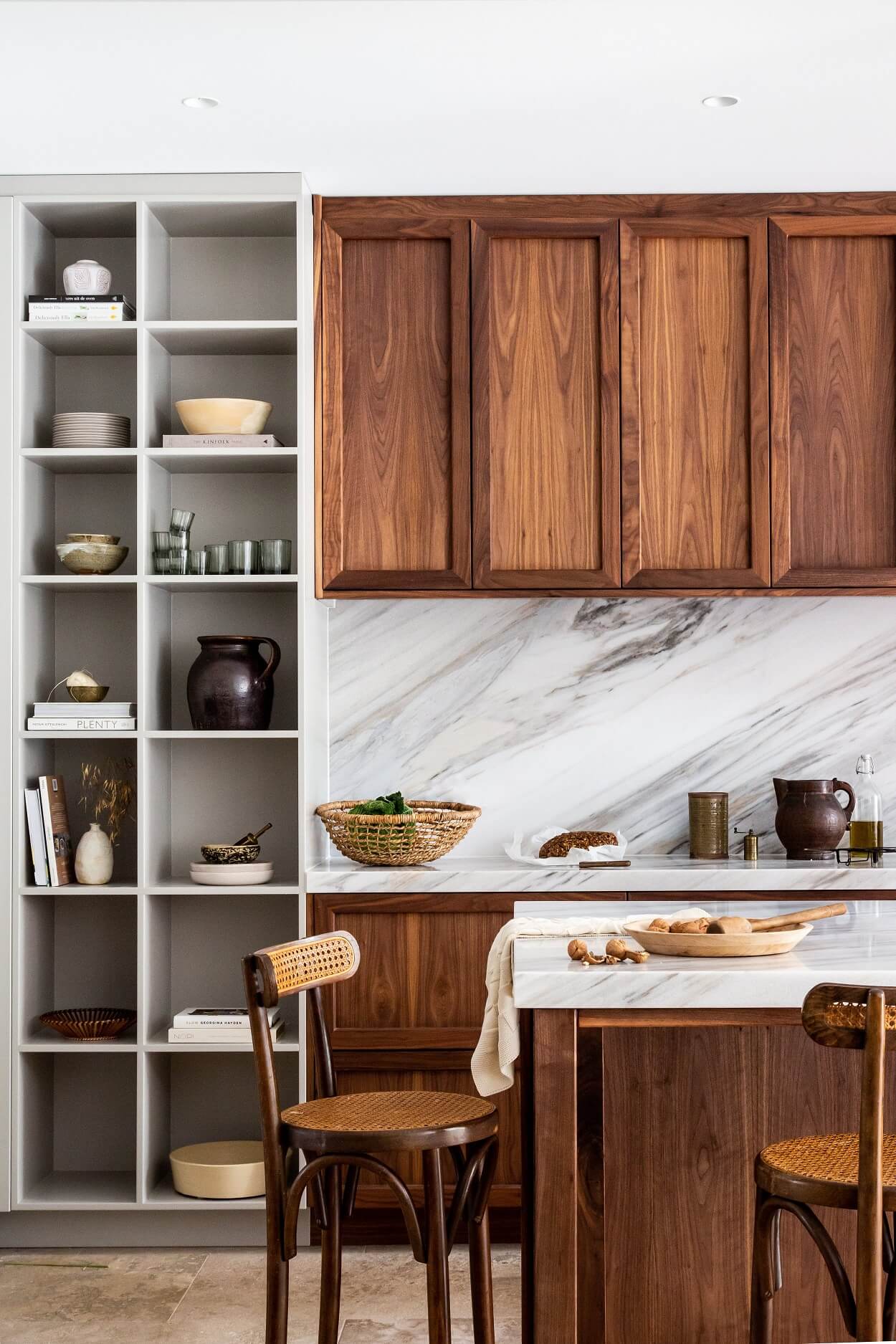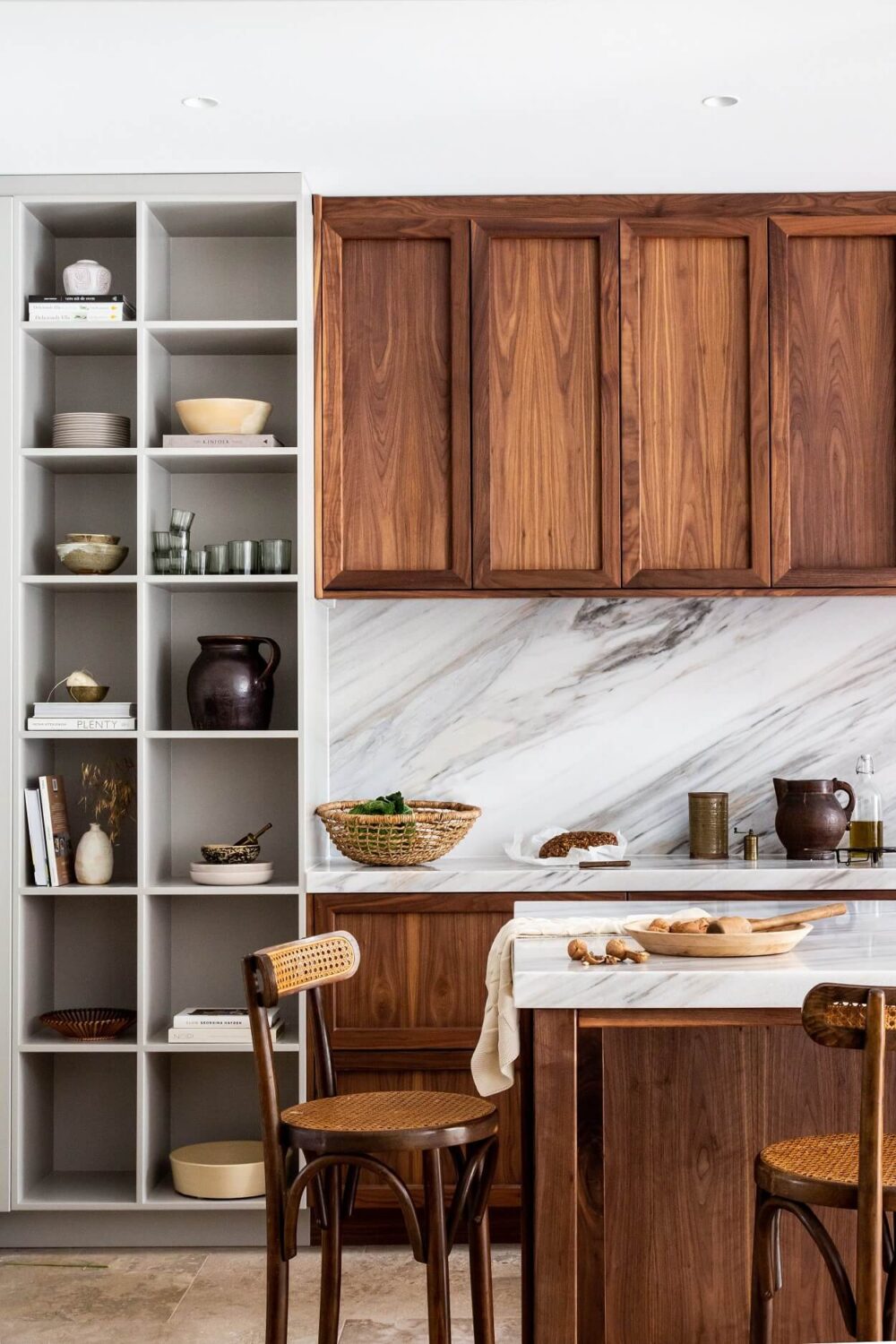 On the floor in this kitchen with walnut cabinets lie flagstones quarried from the South of France. They add warmth, texture, and a sense of history and tradition to the space.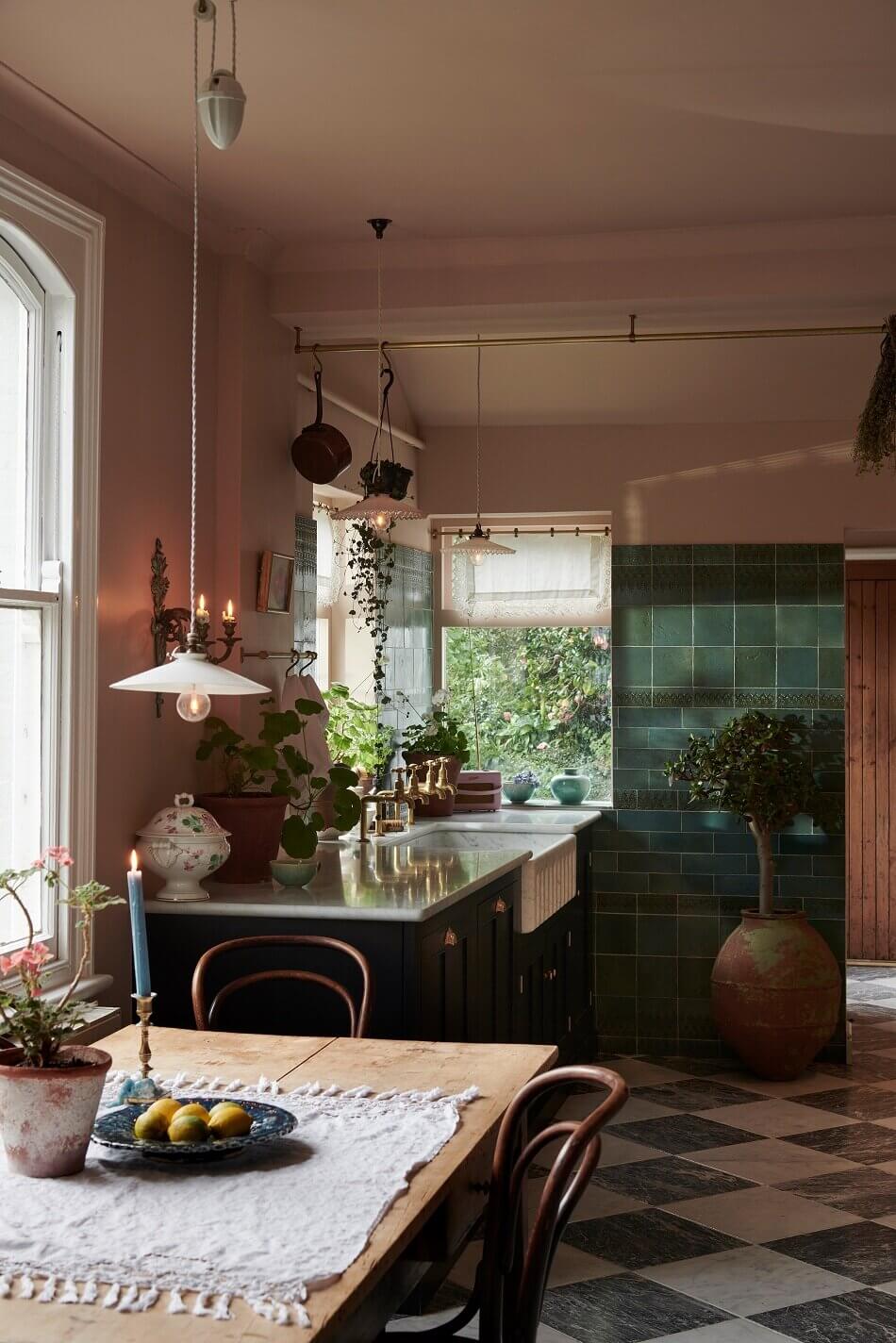 Helen, the Creative Director of deVOL, added a checkered marble floor by Floors of Stone to her Mediterranean-style kitchen. The floor tiles have tiny flecks of pink in them, which works perfectly with the rest of the kitchen color scheme.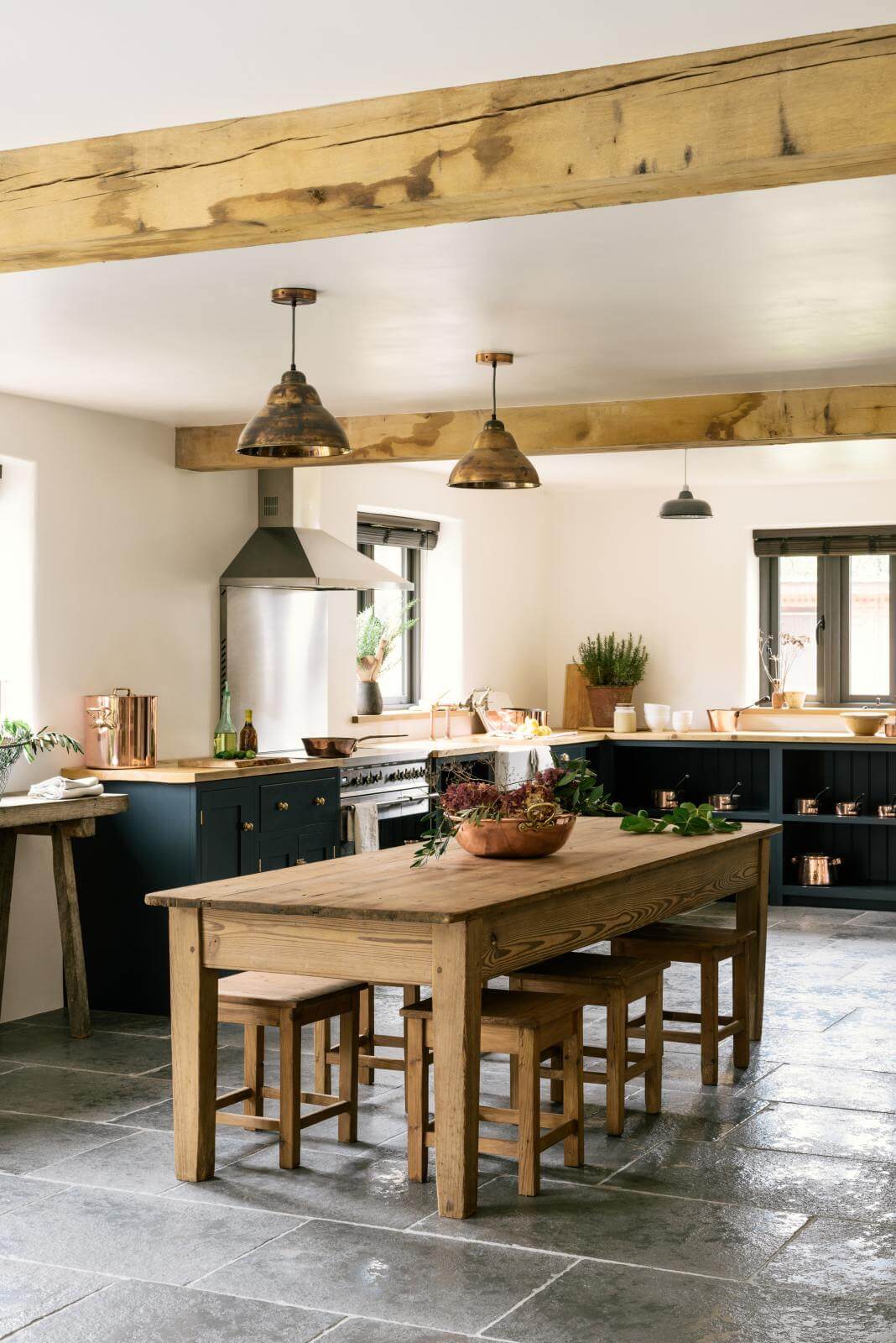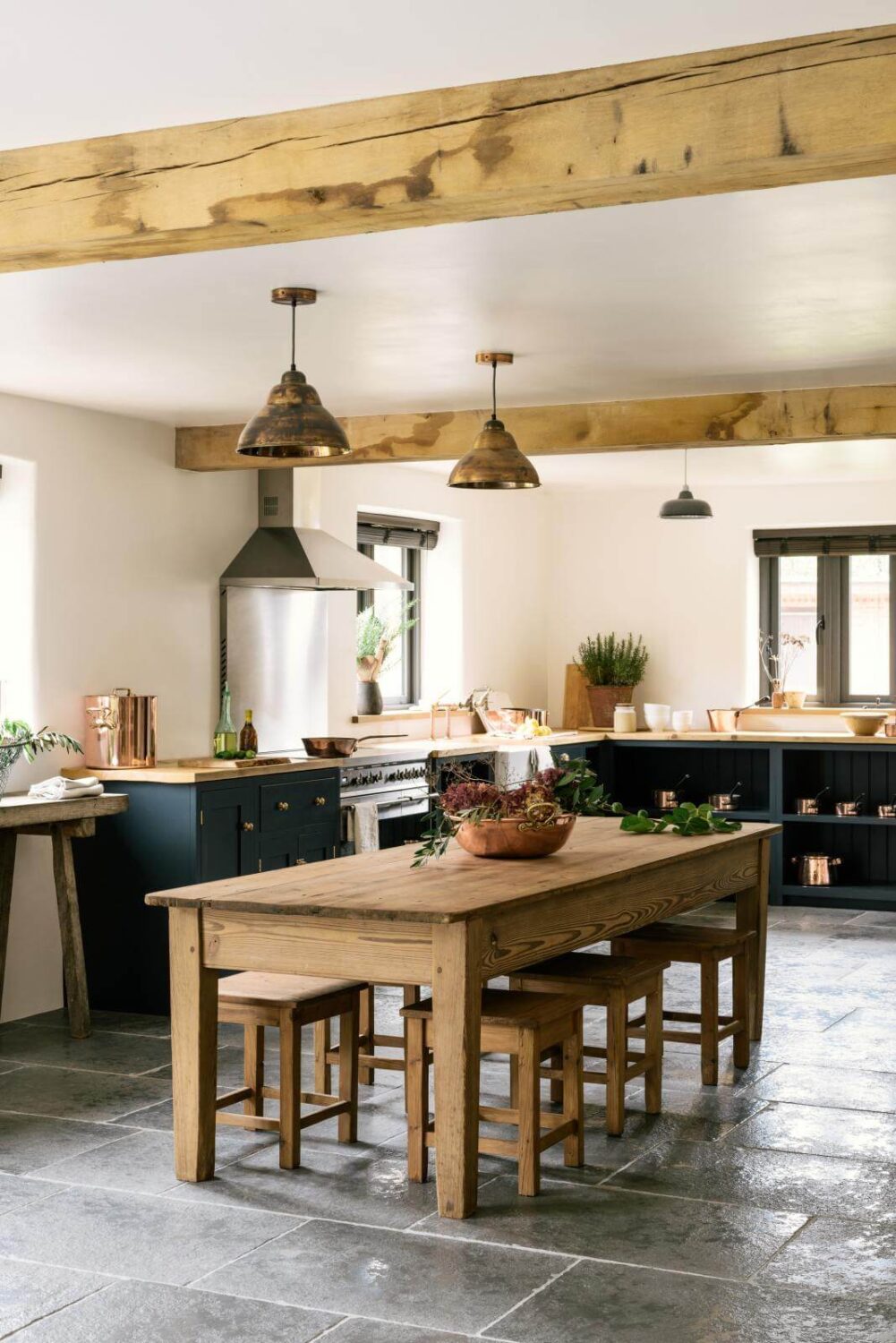 This deVOL farmhouse-style kitchen has limestone floors from Floors of Stone.
Terrazzo Floors
Terrazzo tiles are made by mixing marble, granite, quartz, or glass chips into a cement binder. This durable floor type is water resistant and doesn't stain easily once it is sealed properly, therefore it's an ideal choice for a kitchen floor. Because you make terrazzo by mixing several materials you can choose a look that suits your kitchen style the most.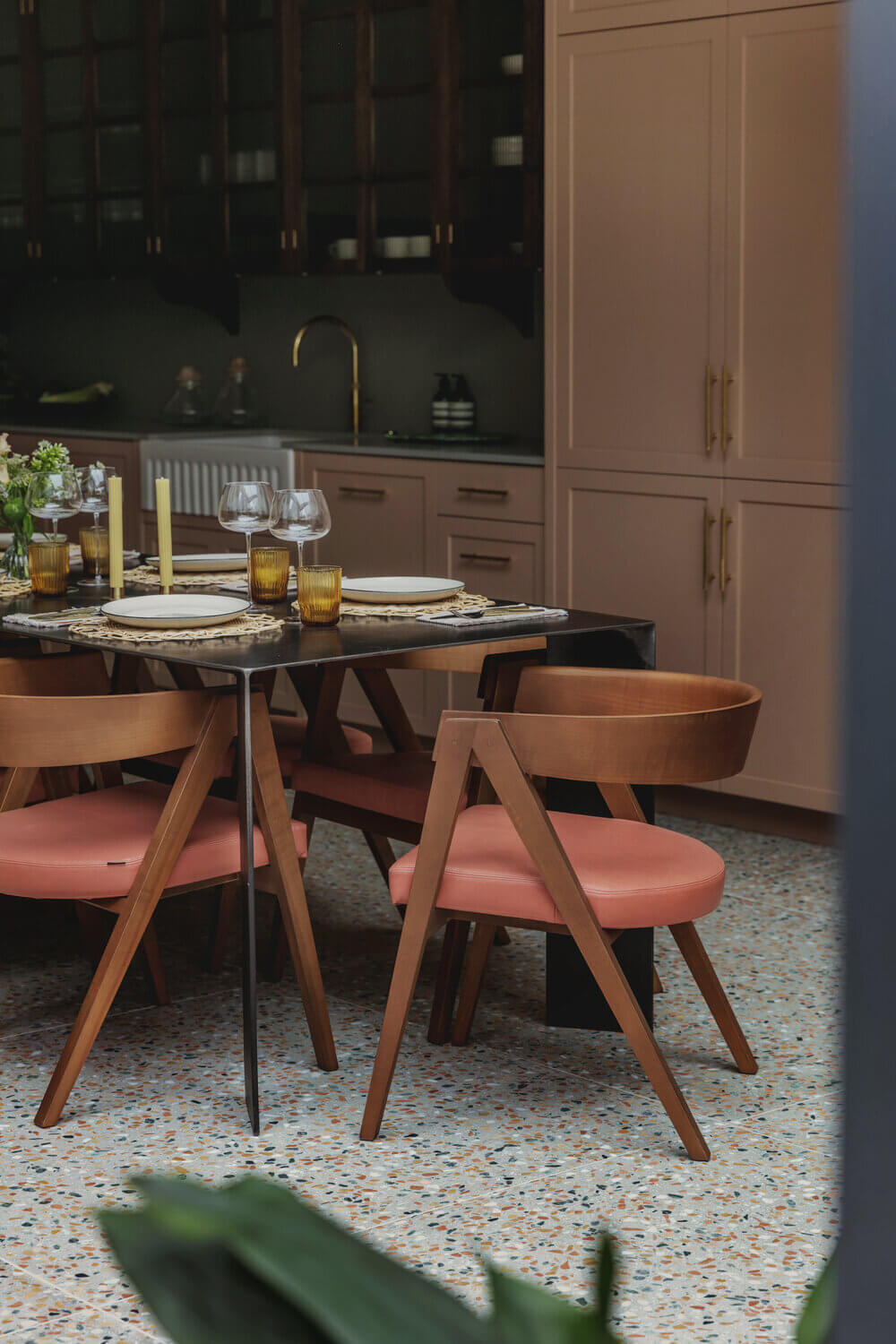 The pink kitchen designed by Studio Duggan has colorful terrazzo tiles mixing the pink of the cabinets with orange and blue specks in the floor tiles.
But you can definitely go bolder with terrazzo tiles, as this wonderful kitchen shows. Large flecks in the terrazzo add a wonderful element to this kitchen.
Concrete floors
You can choose concrete flooring for a modern or industrial look in your kitchen. Concrete is an extremely durable and hard-wearing flooring, making it perfect for a kitchen.
Concrete can be installed in a variety of finishes, from polished concrete to dyed concrete. Though concrete is also cold underfoot, this is easily fixed by combining it with underfloor heating.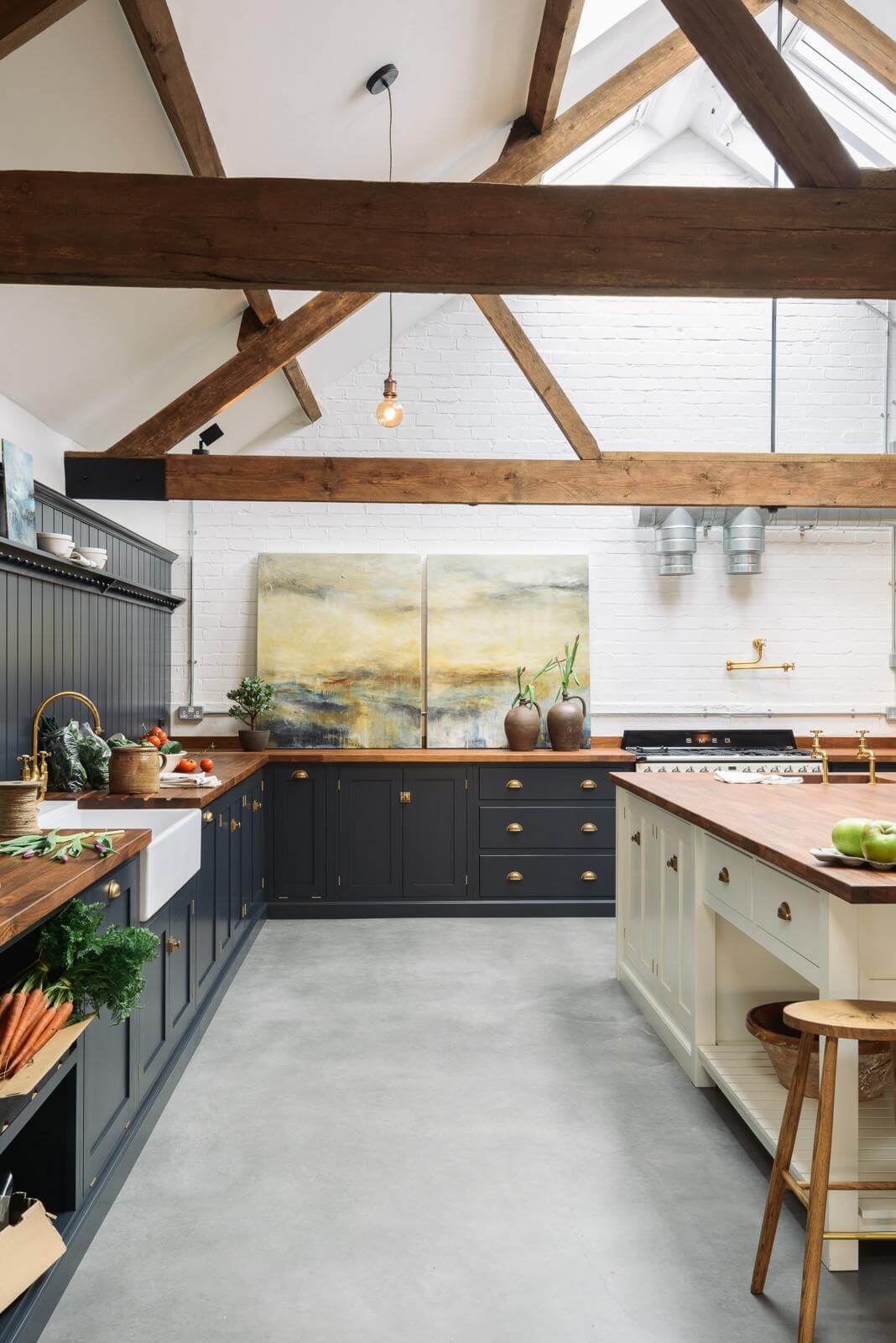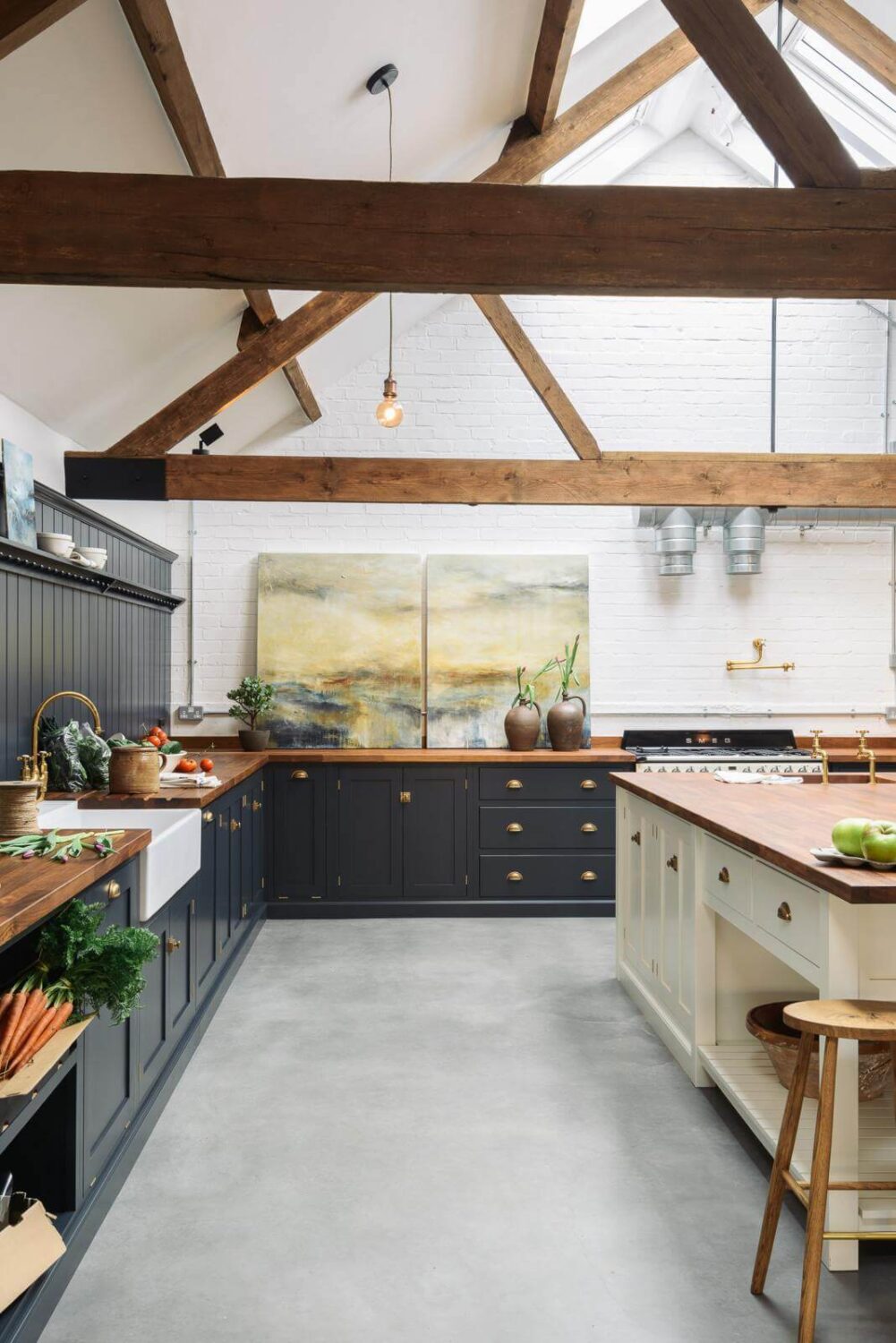 Concrete floors are diverse, and they can work in a modern home but also in combination with classic interiors, as you can see in this deVOL kitchen. This kitchen is a wonderful blend of industrial and country chic styles with Shaker kitchen cabinets, exposed wooden beams, and a concrete floor.
Sleek, modern, and bright. A concrete floor is combined with a minimalistic Scandinavian kitchen with white cabinets and a kitchen island.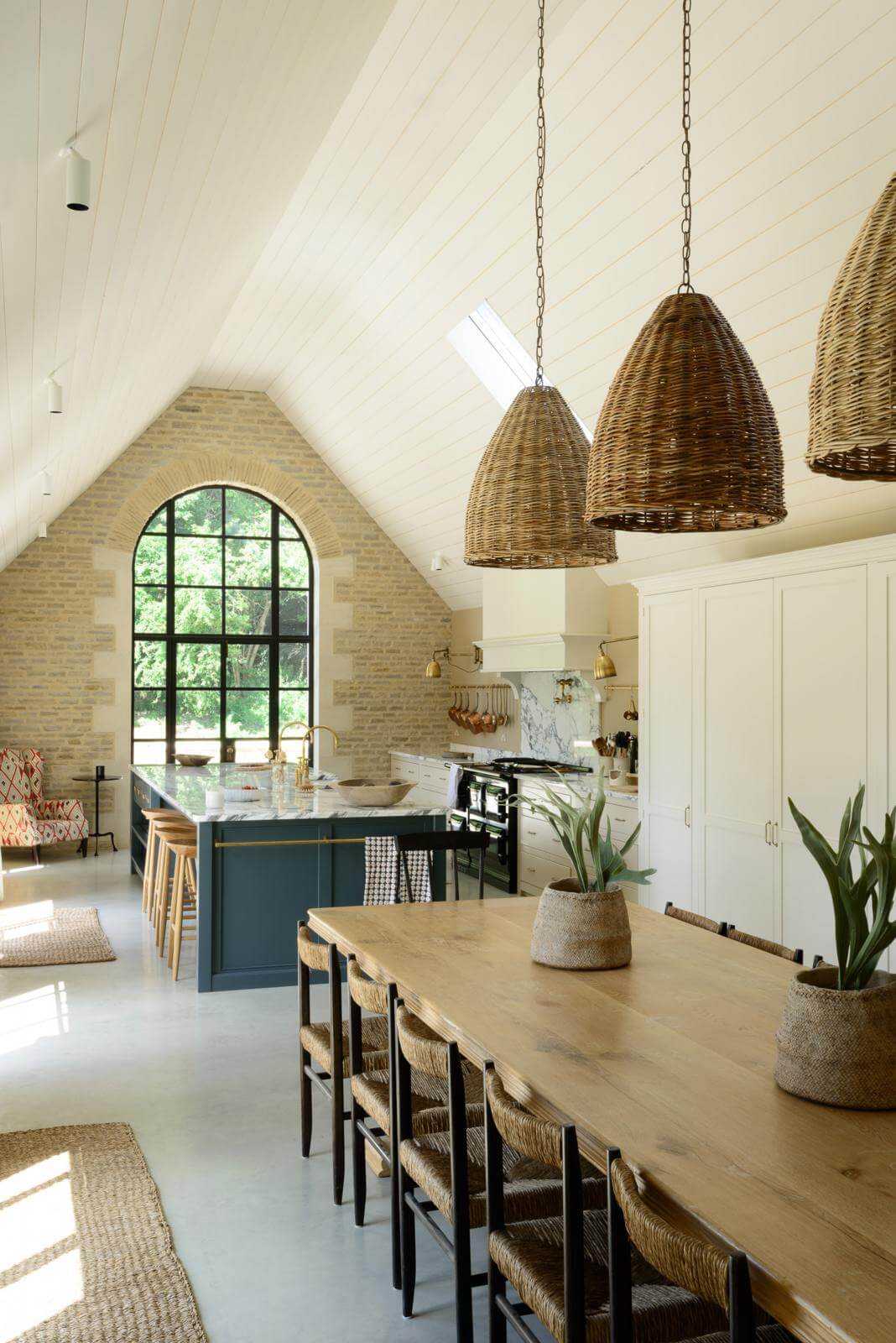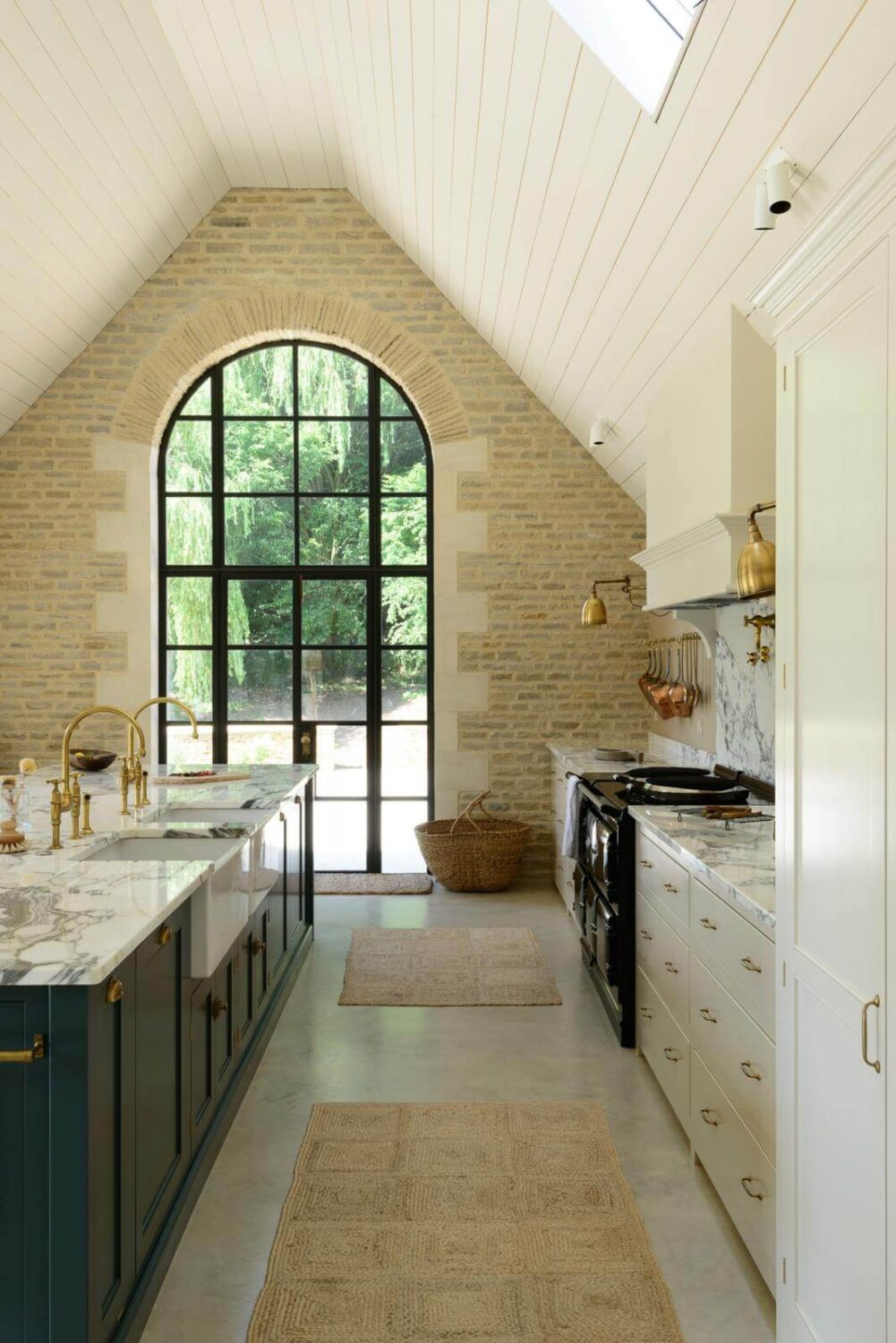 The open-plan kitchen and dining room in a Cotswolds barn has a Classic English kitchen with Arabescato Corchia marble worktops and a polished concrete floor. Jute rugs and wickers pendant lights add a natural tone to the space.
Vinyl floors
Gone are the days when vinyl flooring is something to run away from. Today, vinyl flooring is a stylish option for your floor. And thanks to its water-resistant, durable, and easy-to-clean quality, it's the perfect floor choice for a kitchen.
You can find vinyl floors that look like wood, tile, or natural stone if you like that style (but are more affordable). And vinyl also comes in vibrant colors and shapes making it very easy to create your dream floor.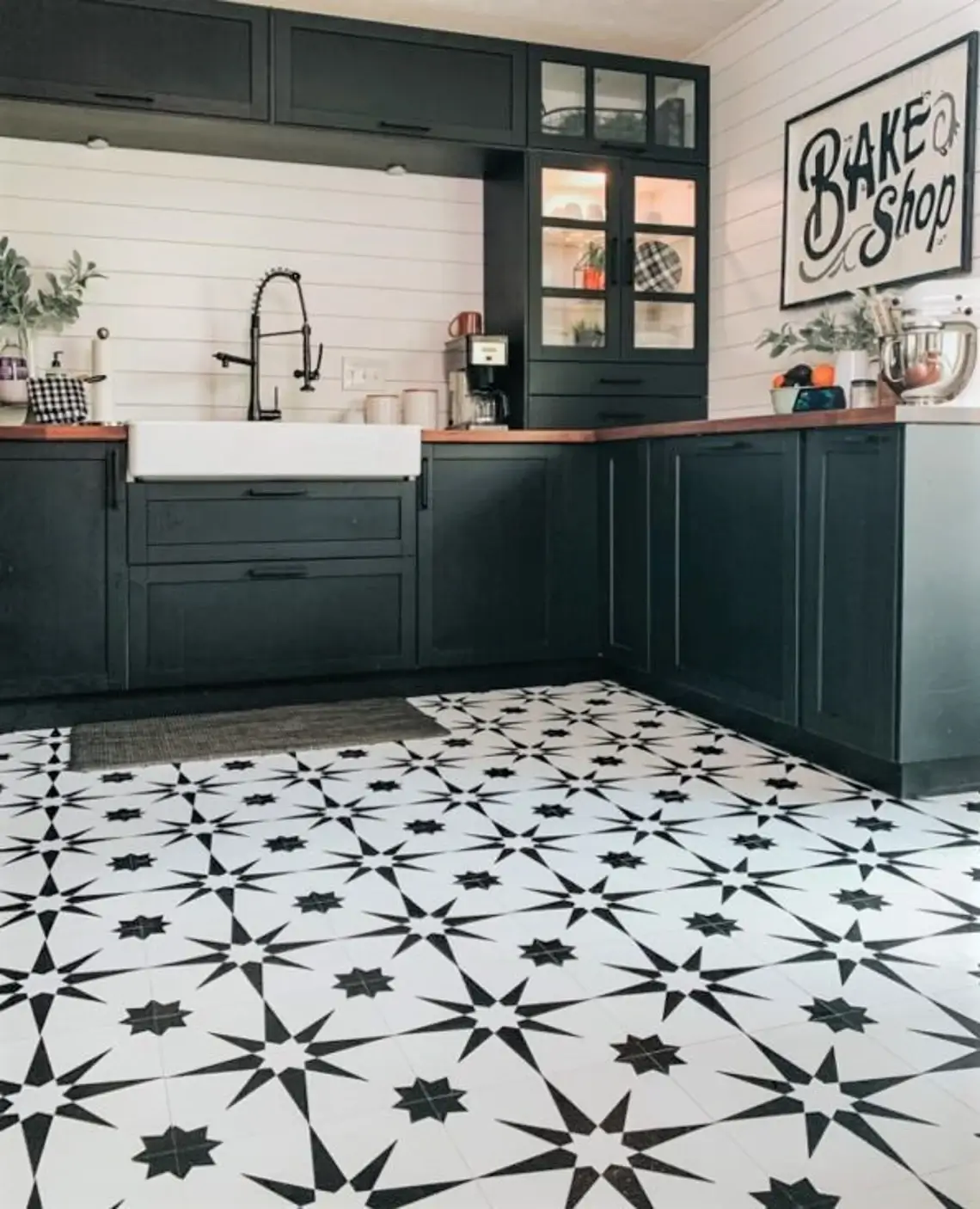 These handmade peel-and-stick vinyl floor tiles from Monster are simple, stylish, and affordable.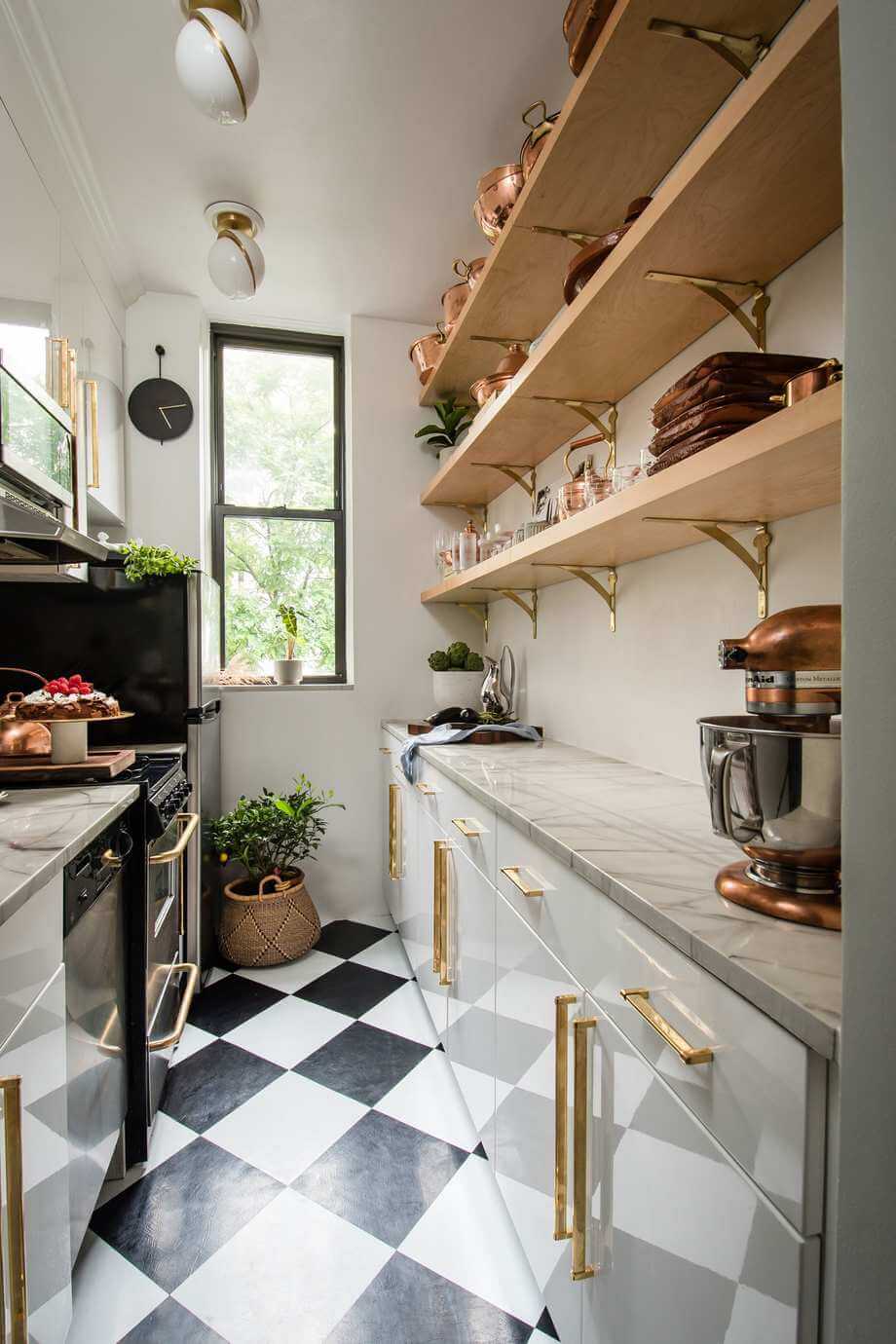 The small galley kitchen in Natasha Nyanin's New York studio apartment features perhaps the most classic and affordable kitchen floor option: a black & white checkerboard vinyl floor. You can never go wrong with such a kitchen classic.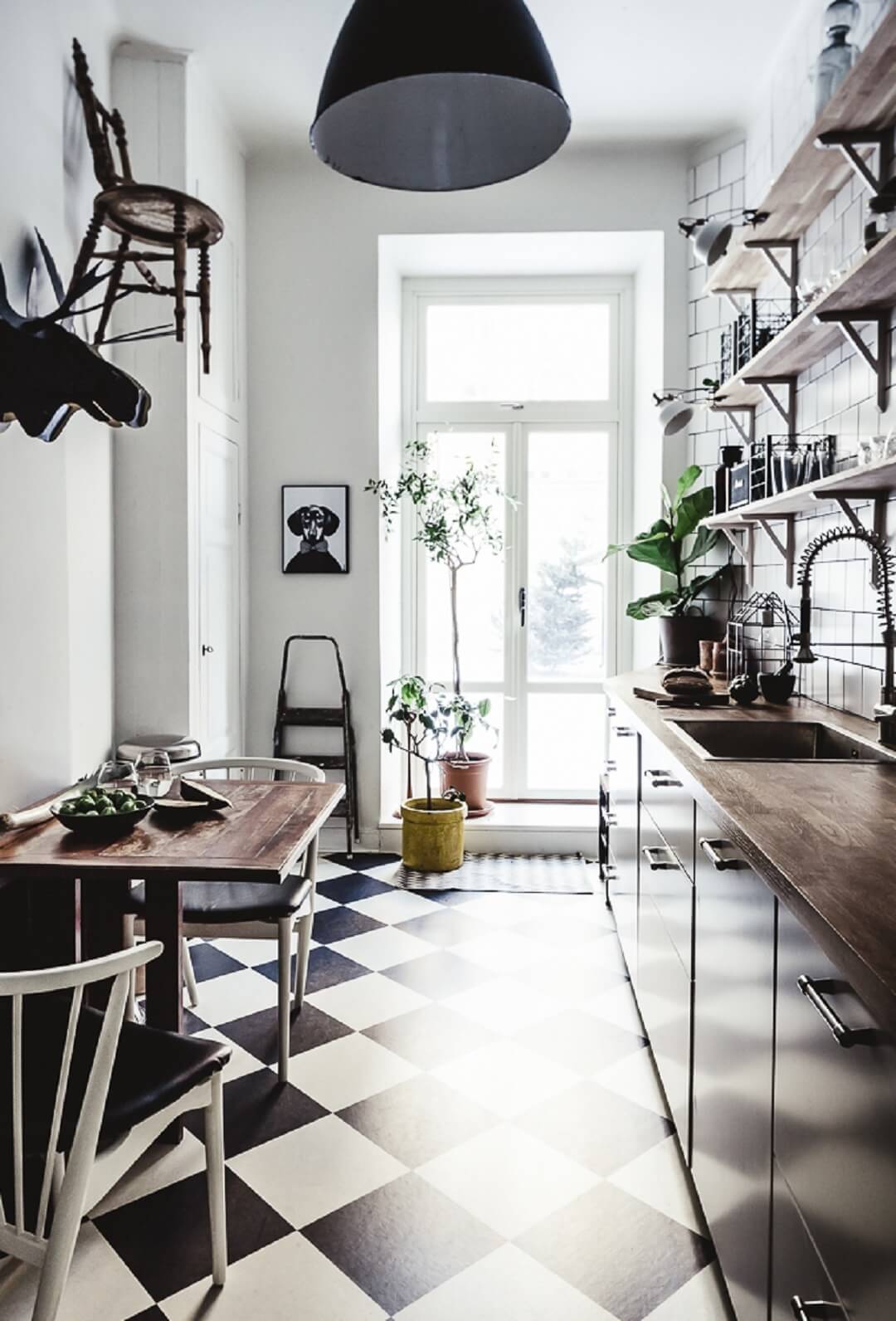 Hardwood floors
Hardwood flooring adds a warm tone to any room, but it's not the easiest flooring choice for a kitchen. Wooden floors are easily damaged and don't mix well with water, but if you look after them carefully you can choose a hardwood floor for the kitchen. 
Real wood floor planks are a good option if you have an open-plan home layout where the kitchen and living room are in one space. You can add wood planks in both the kitchen and the living area for a harmonious look.
The hardwood kitchen flooring in this Bedford home adds warmth to the kitchen with white cabinets and soapstone worktops.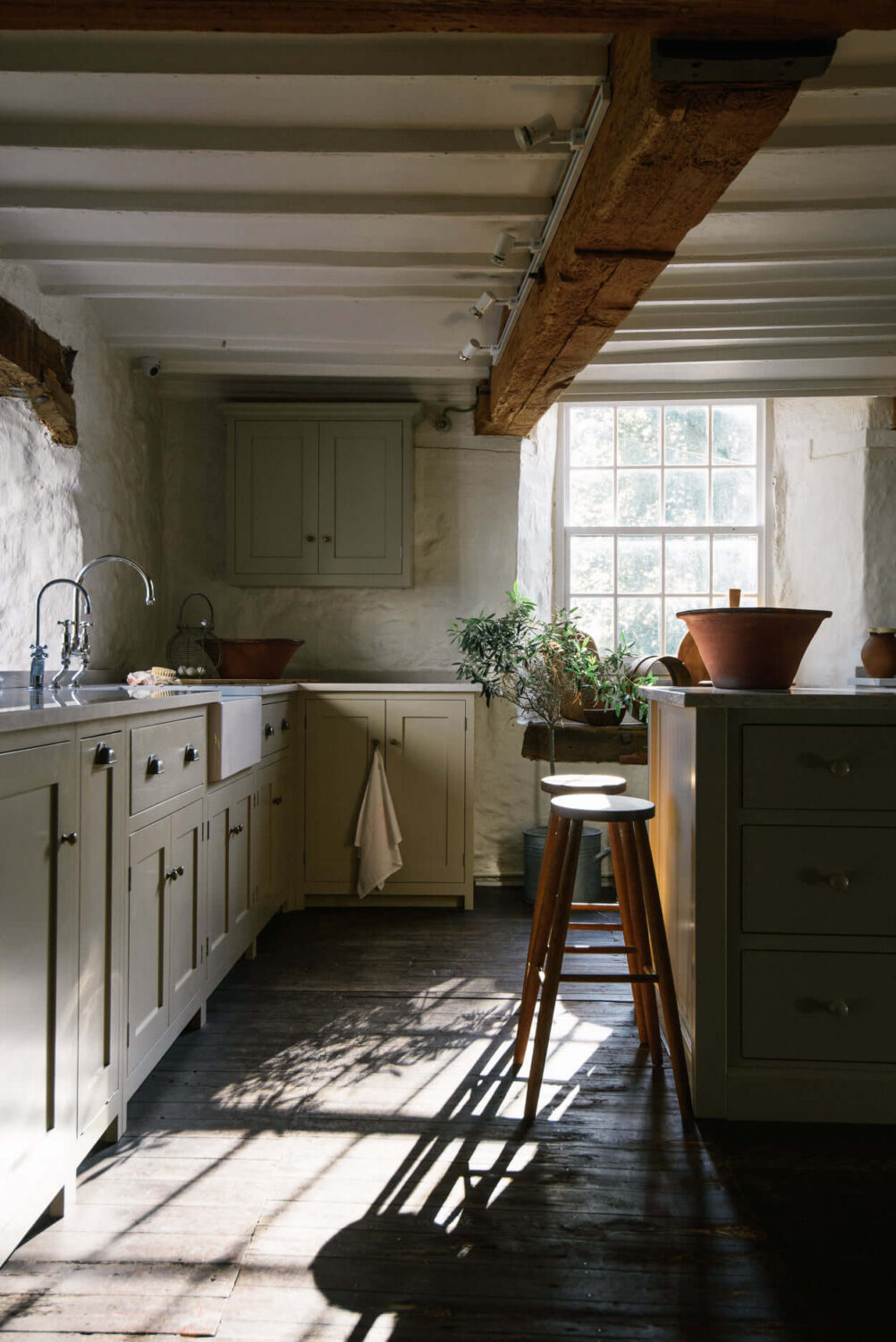 If you live in a historic home you may be blessed with historic wooden floorboards. Don't hesitate to leave them in a kitchen as they give a fantastic natural, historic touch to a kitchen, as you can see with this dark wood floor.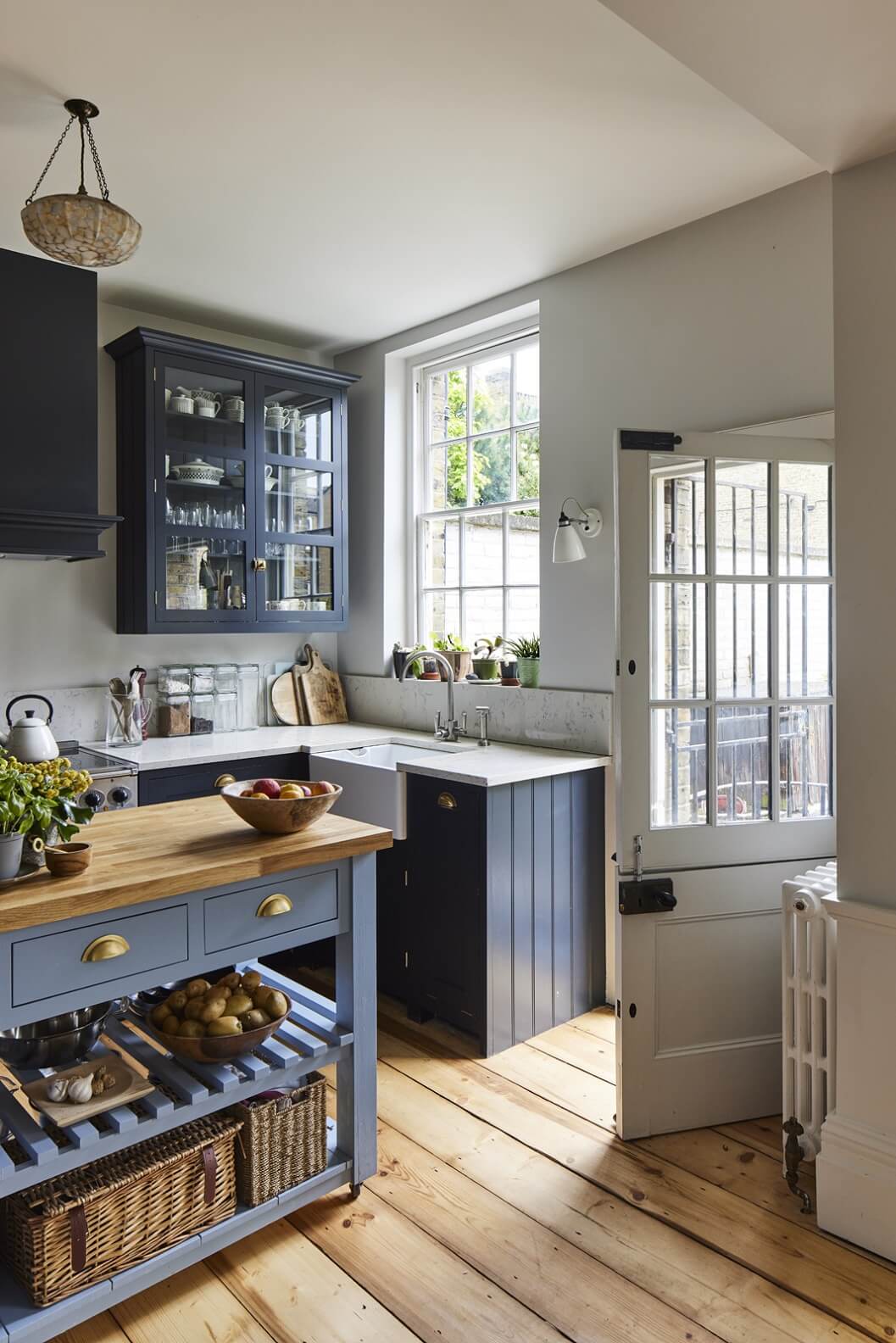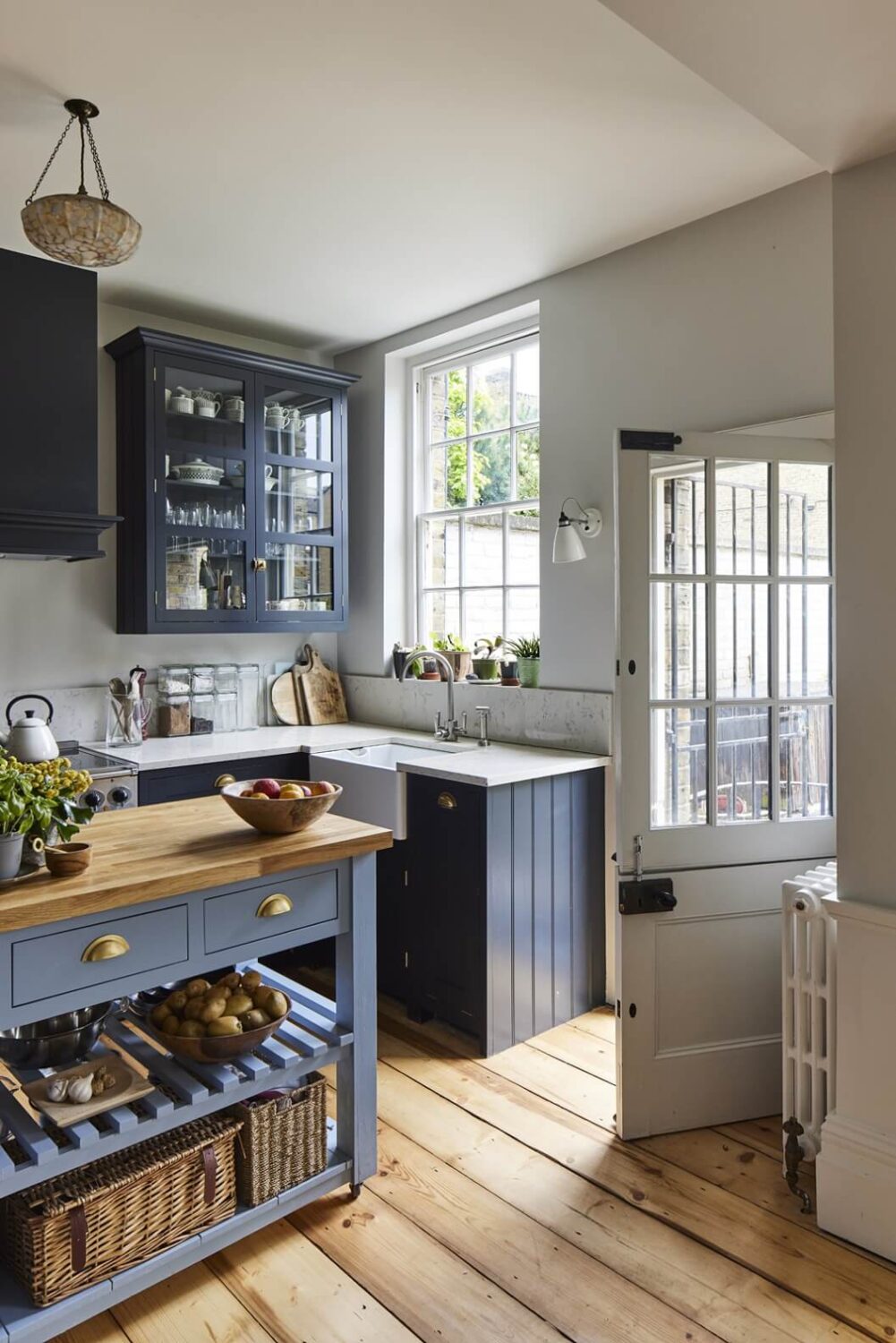 The wooden flooring with the large planks at so much character to this blue kitchen in a historic London home. The great thing about such original wooden floorboards is that you can leave them bare or you can paint them.
Painting a kitchen floor is an easy way to change the look of your kitchen, but make sure to use to add a clear coat layer to avoid water damage. But even then, it is less durable than most kitchen flooring options. In the kitchen above, designed by Landed Interior, they painted the wooden floor in a fun and classic checkerboard pattern.
Laminate floors
Laminate flooring is a budget-friendly kitchen floor idea. You can get the appearance of wood or stone but for far less money.
Laminate looks good and is easy to clean, but you should pick a laminate floor with a water-repellent coating to avoid stains.    
Cork Floors
Cork flooring is a great sustainable material to use as a kitchen floor. Cork is made of the bark of a cork oak tree, and they are available as tiles, planks, and (in recent years) waterproof tiles making them a great option for a kitchen. And as cork is made of natural materials they are also a healthy and environmentally friendly choice, plus they add a natural look to your kitchen.
Guggenheim Architecture + Design Studio created an organic and contemporary look in this kitchen with solid oak cabinets and a cork floor.
Linoleum Floors
A linoleum floor is made of natural raw materials and, therefore, a sustainable flooring choice. Linoleum can be bought in many colors and laid out in a pattern suited to your home style. Linoleum comes with a protective surface treatment, but cleaning must be done with a neutral cleaner not to damage the floor. Another option is a Marmoleum floor, a CO2-neutral resilient floor covering similar to linoleum.
The homeowner of this kitchen made careful choices regarding to the materials she used in her home. She opted for a sustainable black linoleum floor in combination with light blue kitchen cabinets.
Resin Floors
Resin floors are a hardwearing plastic surface that is created by mixing ingredients for a highly durable finish, making them ideal for spaces that get a lot of traffic, like a kitchen. Resin floors are easy to clean, durable, and add a modern look to your home.
They are also versatile, as you can pick your favorite color whether you want to add bold colors to your kitchen or prefer a minimalistic white or black floor.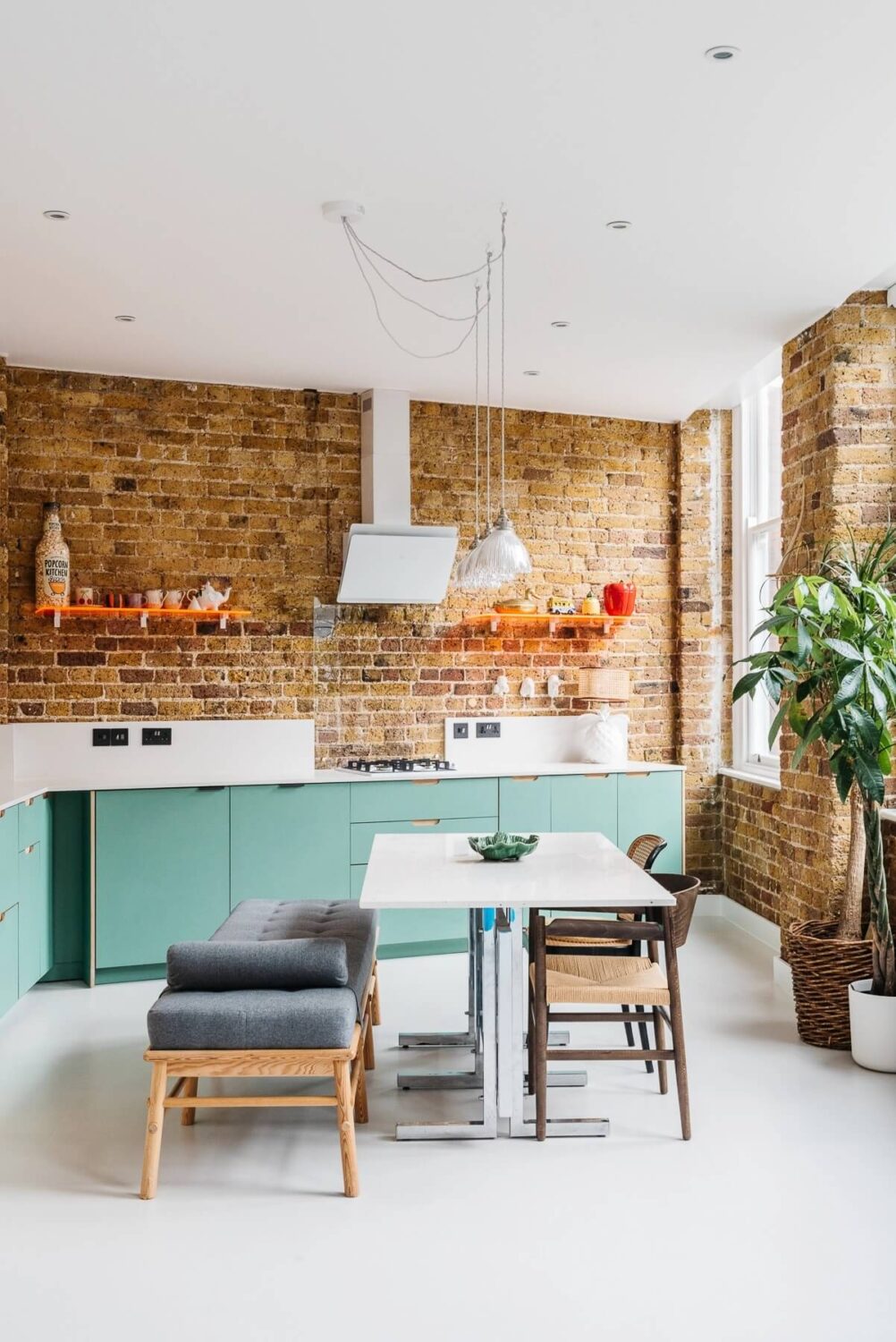 This warehouse apartment in London added a Resin floor. The white floor adds a sleek modern look, and it reflects light to create an even brighter space. They combined the floor with green and orange kitchen cabinets.
Bamboo Floors
A bamboo floor is rather similar to hardware floors in terms of positives and negatives. However, if sustainability is high on your design agenda, bamboo is a better option. Bamboo is a type of grass that only takes five or six years to mature and is ready to be harvested (unlike trees, which need several decades).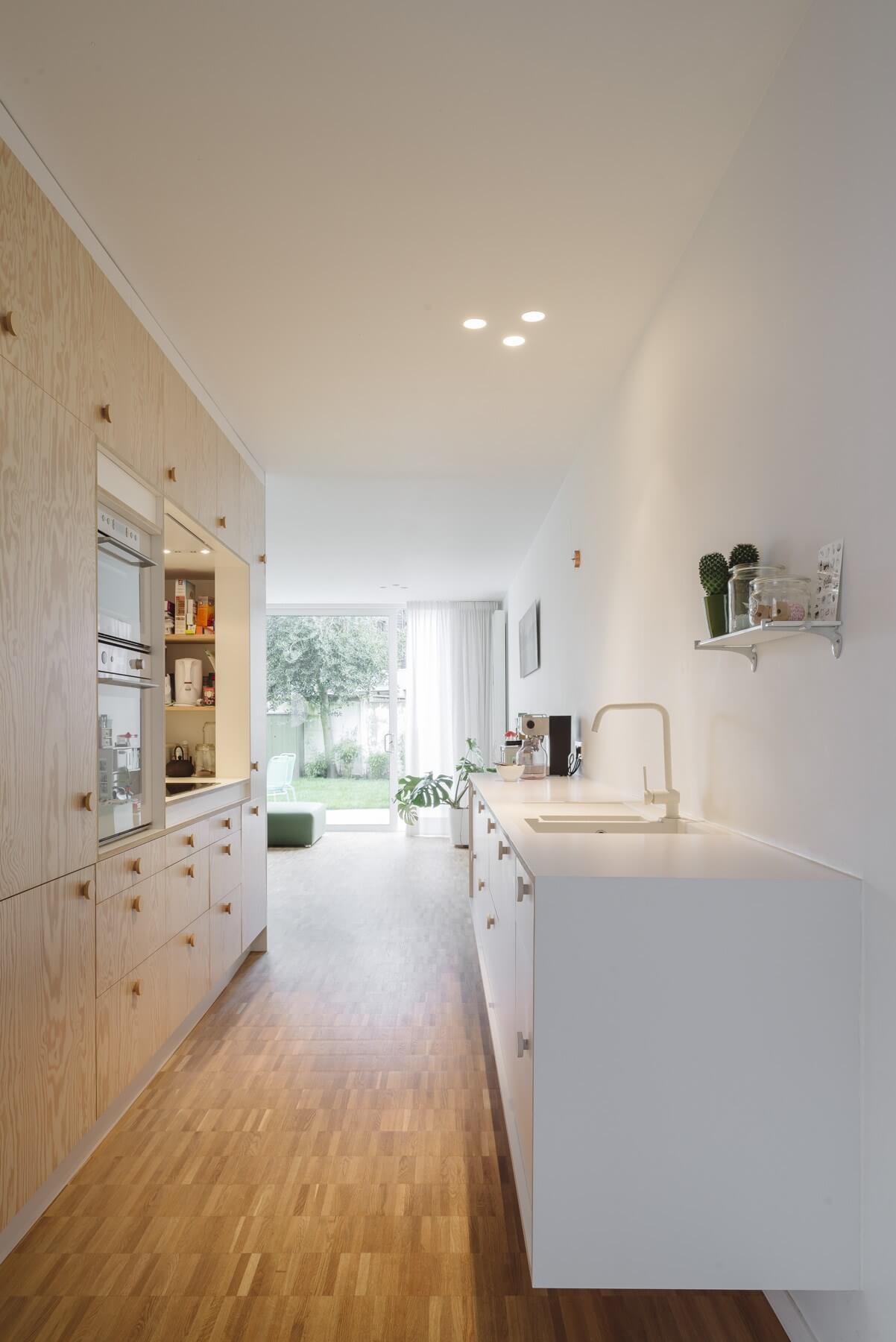 This modern kitchen with floating cabinets on one side uses sustainable bamboo flooring.
What Is The Best Flooring For Your Kitchen?
The best option for your kitchen floor depends on many things: the space, your favorite interior design style, your budget, your focus on sustainability, and more. But no matter your style or budget, there are many great options to use in your kitchen. I hope that these kitchen flooring ideas help you choose the perfect floor for your kitchen.