A Classic Nordic Apartment Decorated with Modern Furnishings and Color
We're heading to Sweden, Stockholm to be precise, to tour a beautiful apartment. The home has recently been renovated blending period features with contemporary furnishings.
Thanks to the renovation, the turn-of-the-century apartment now has a social open plan floorplan. The 108 square meter (1162.5 square ft.) home has two bedrooms and two bathrooms.
The owners also didn't shy away from color both in the wall paint and in the furniture. In this home, you'll find blue kitchen cabinets, green walls, and green armchairs. It's a beautiful home that perfectly shows how you can blend period features with modern design.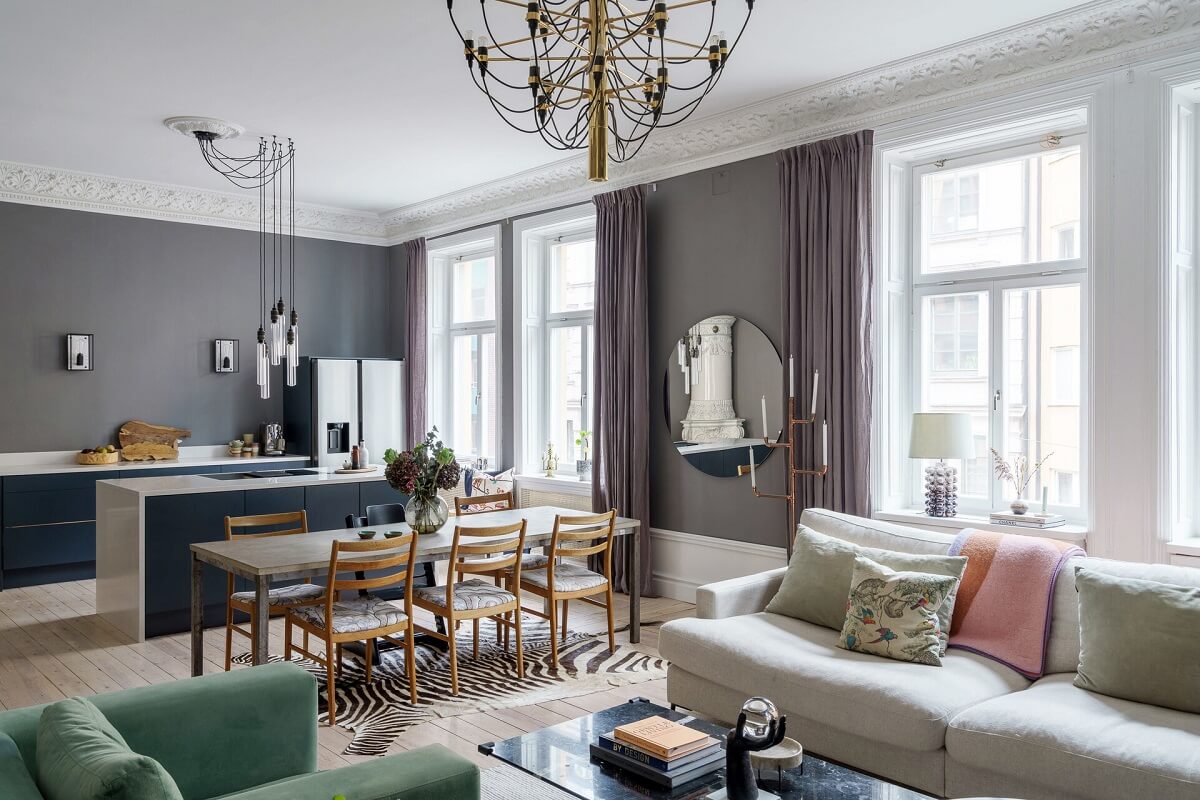 The living space is one big open plan room with plenty of space for a comfortable seating area, a dining table, and a modern kitchen with island.
Luckily, period features have been preserved. On the ceiling you can see beautiful ornaments and the hoem features three original Swedish fireplaces one of which can be seen here in the sitting area.
Built-in cabinets provide plenty of storage in the sitting room and add a stylish spot for the television. The furniture is modern classic with a Flos chandelier and floor lamp and black marble coffee tables.
The base of the room is neutral with gray walls and a wooden floor. It really gives the furniture a place to shine.
A subtle color accent is added to the room with purple curtains which is a great color to in combination with gray.
We've already seen green and purple in this room and now we can add blue from the modern kitchen cabinets.
Without upper cabinets, the kitchen doesn't dominate the space. And with three kitchen blocks, you have plenty of storage and work area. In the kitchen, we can also see another original and ornate fireplace.
The master bedroom is painted in a vibrant teal blue shade.
Both bedrooms face the courtyard. The kids bedroom is painted in a calm green shade and has an en suite bathroom.
photography via Lagerlings