Green Tones and Wallpaper in a Charming Swedish Home
In a charming location just south of the city Stockholm stands this charming house that has been lovingly restored by its current owners. The house dates back to the 1920s and during the renovation, the owners tried to recreate that 1920s feeling.
Luckily,, the wooden floorboards in the house have been preserved which already adds character to the home. And to further recreate that 20s vibe, they decorated the home with floral wallpapers and green tones.
It's not a big home, only 92 square meters, but it has lovely rooms also thanks to the decor. On the ground floor you will find a generous kitchen and a living room. Upstairs, are two bedrooms and a bathroom. The first floor landing is also big enough to house a small home office.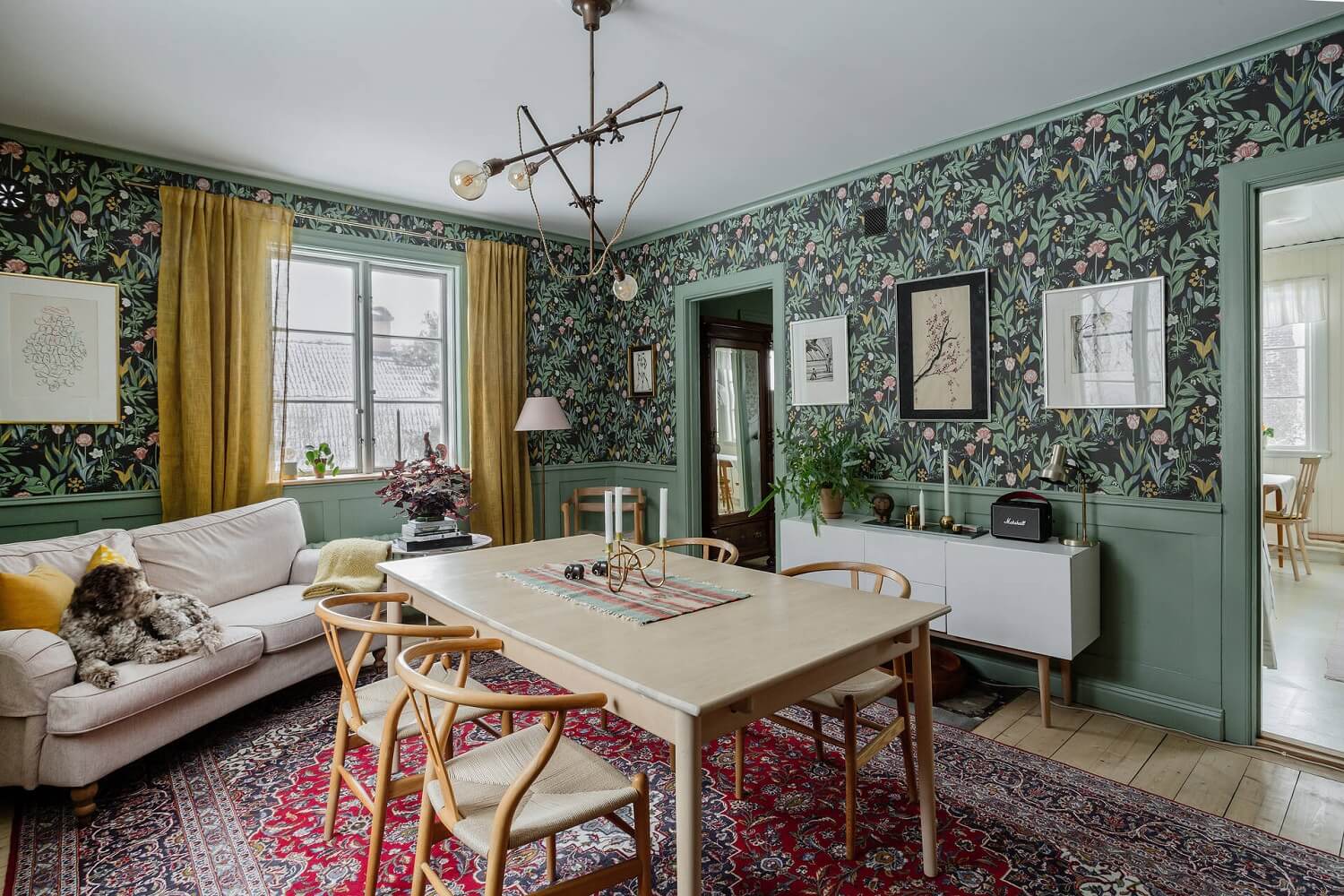 The first thing you notice in the living room is the wonderful floral wallpaper. The room is completely decorated in the "Spring Garden" wallpaper by Boråstapeter.
The wood paneling in the living room is painted in a lovely green shade that can also be found in the wallpaper.
I love that the owners aren't shy with color and patterns in this living room. So they also added a large paterned rug in red and blue tones and to complete the look they added yellow curtains and pillows for a cheerful color accent.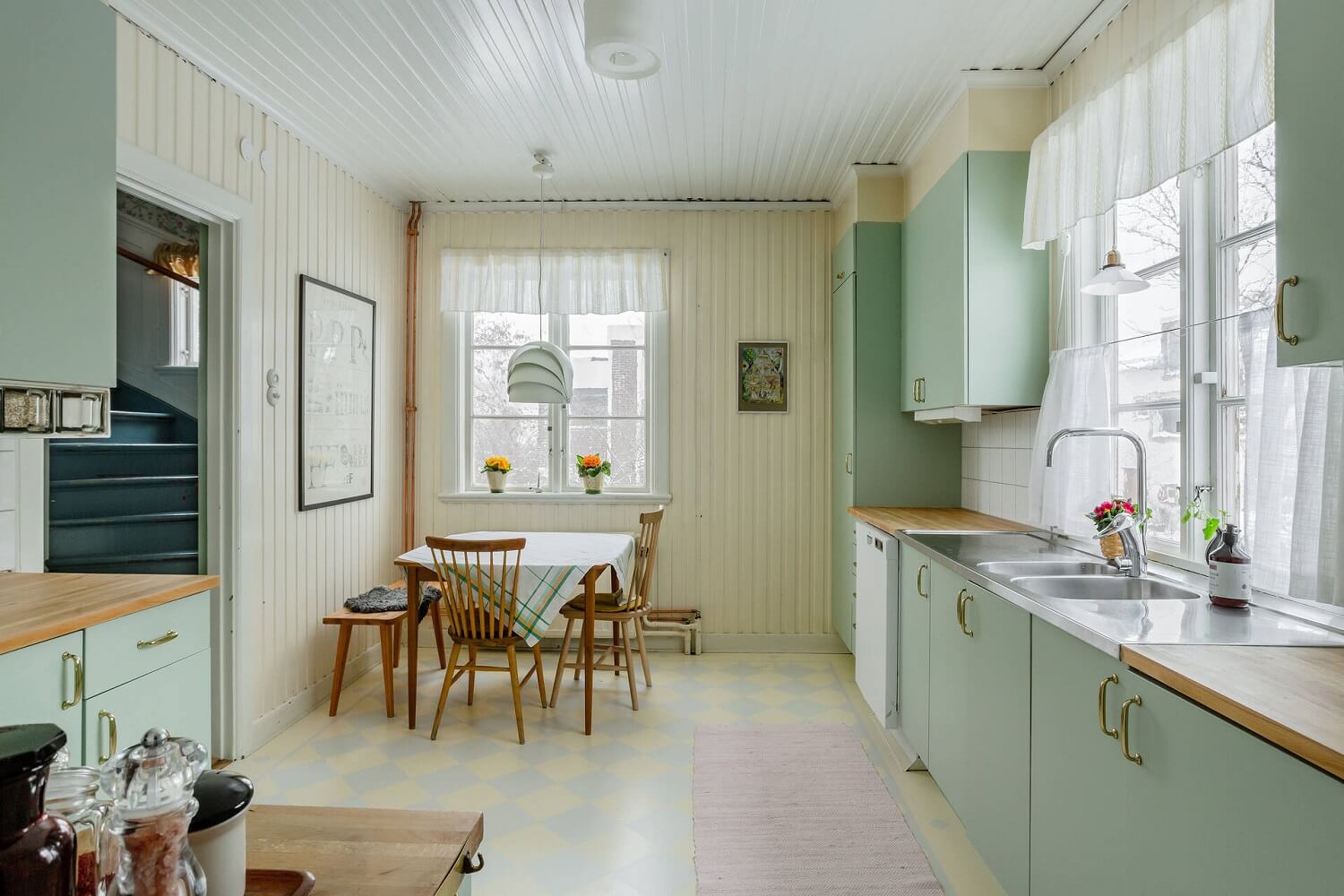 The kitchen can be accessed through the living room and the hallway. The color palette is more muted in this room with mint green kitchen cabinets and a subtle yellow and blue checkerboard floor. The yellow color on the floor returns on the walls.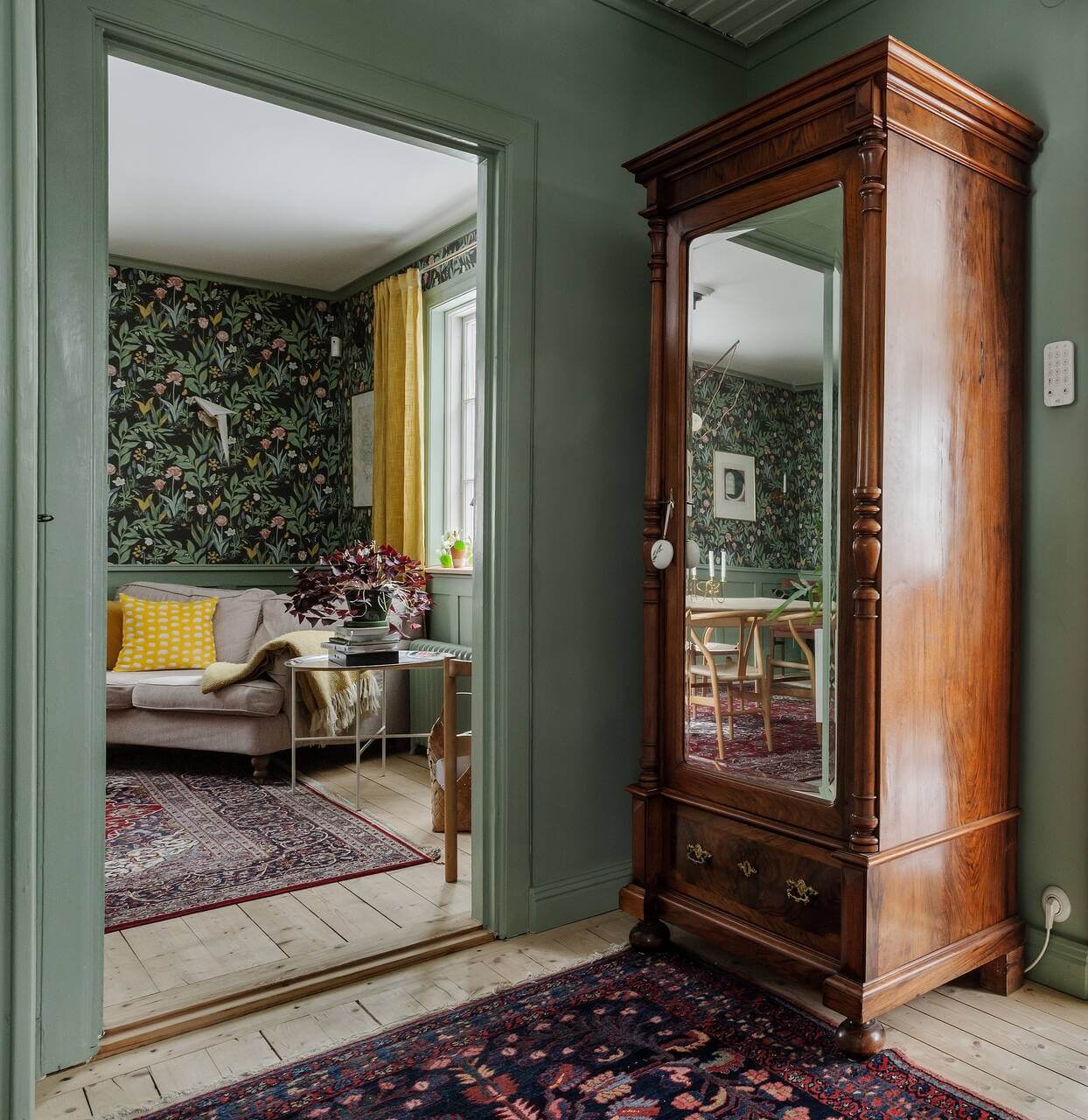 The hallway is decorated with William Morris wallaper and painted in a mint green color. A dark blue stairs lead to the first floor with the bedrooms and bathroom.
The master bedroom is painted in a light gray/green shade. Two built in wardrobes create a little niche where you can perfectly place a double bed.
The Swedish fireplace adds old charm and warmth to the room.
William Morris' Daisy wallpaper that decorated the hallway on the ground floor is also added to the first floor landing. This landing is big enough for a small home office with a beautiful vintage desk.
The second bedroom is now a kids bedroom that is painted in a gray shade with a purple undertone. They added a built in bed with underneath storage and shelves to maximize the space.
The classic bathroom has a shower that is tiled with green Guatemalan marble tiles and it's closed off with an industrial steel and glass door.
This home close to Stockholm is now for sale at BOSTHLM