A Green deVOL Kitchen Combined with Plaster Pink Walls
Kitchens can be extravagant, big, and the centerpiece of the design of a house. But sometimes, you want a functional, calm, and still beautiful kitchen. And that's what we can see today.
In Crouch End, an artsy and leafy village in London stands an old Victorian terrace house with a new kitchen. The room used to be a second living room with a small galley kitchen tucked in the corner. But with doors leading straight to the garden, this room lends itself perfectly to a full kitchen that can be opened up in the summer months for outdoor dining.
For the design of the kitchen, the owners went to deVOL. They choose the classic English cabinets that are painted in a stunning bean-green tone. The classic cupboards work perfectly in the historic room with the plaster pink walls and ceiling.
photography by deVOL Kitchens
The layout is simple. The l-shaped kitchen houses the sink, the cooker, the American-style fridge, and the pantry. A kitchen island sits in the center which provides extra storage and a breakfast bar.
Hand-aged deVOL copper tops the entire back run of this kitchen. The copper runs all the way up to the backsplash and also inside the sink. Copper is not only practical but it also adds a warm shine to the kitchen.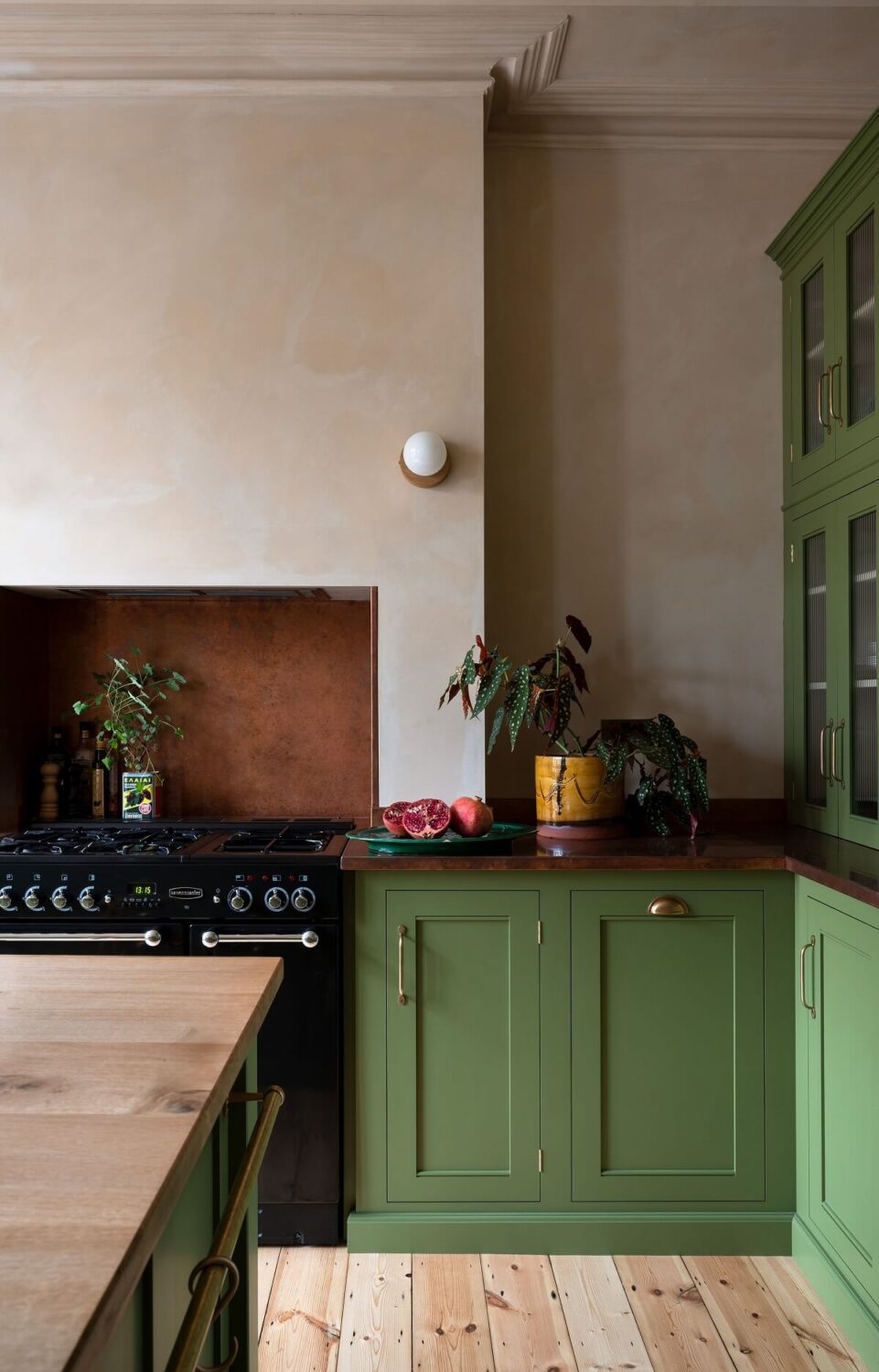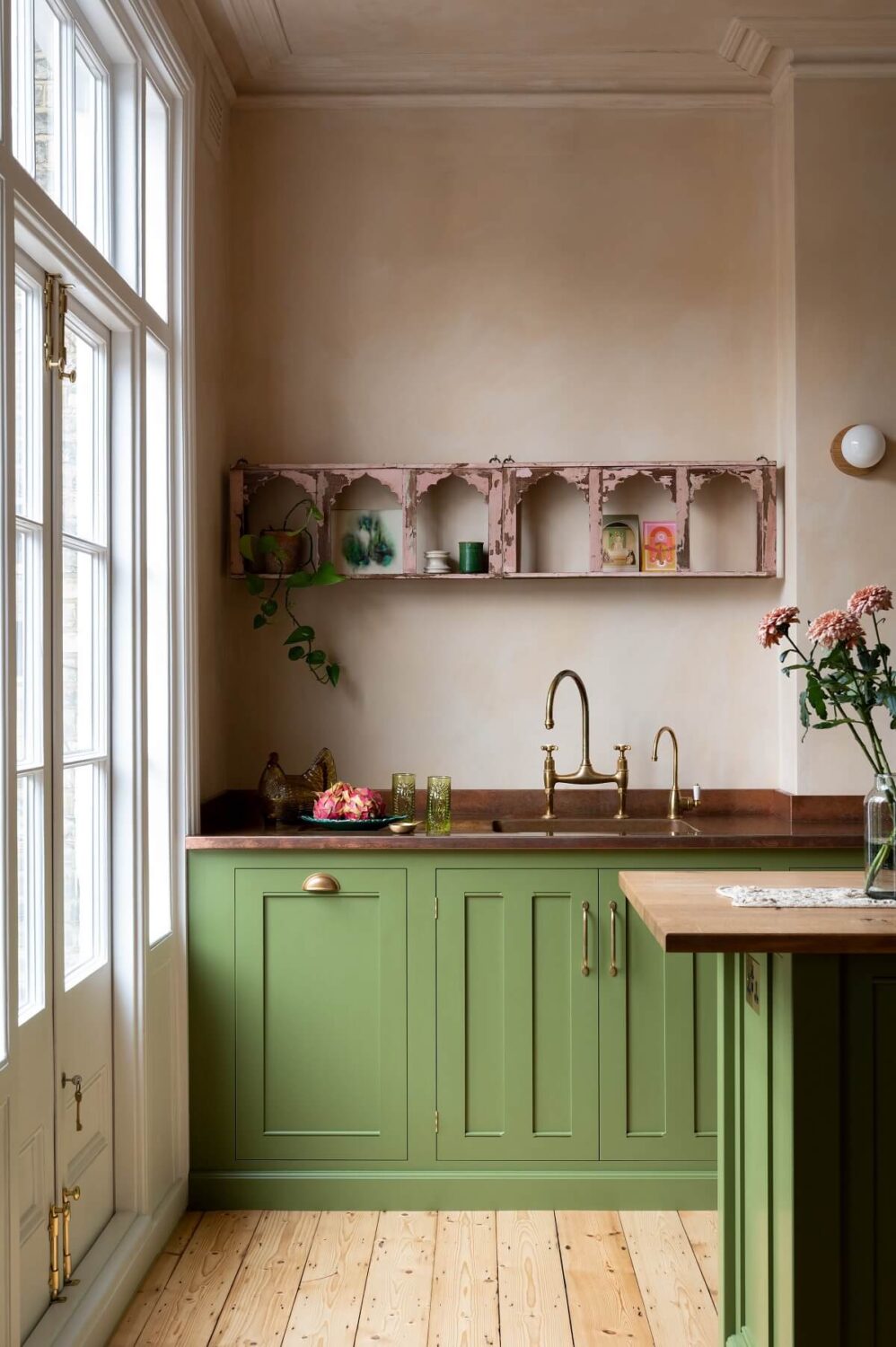 High cabinets are added on one wall to keep an open feel in the rest of the kitchen. To the left are the double doors that lead to the garden.
The room has high ceilings, so there is plenty of space to go up with the kitchen cabinets. They opted for a combination of closed and reed glass cabinets. It's nice to switch things up with open and closed cabinets; reed glass hides the items in the cabinets just enough to make them look uncluttered.
The large double doors next to the fridge hide a pantry with spice racks and drawers.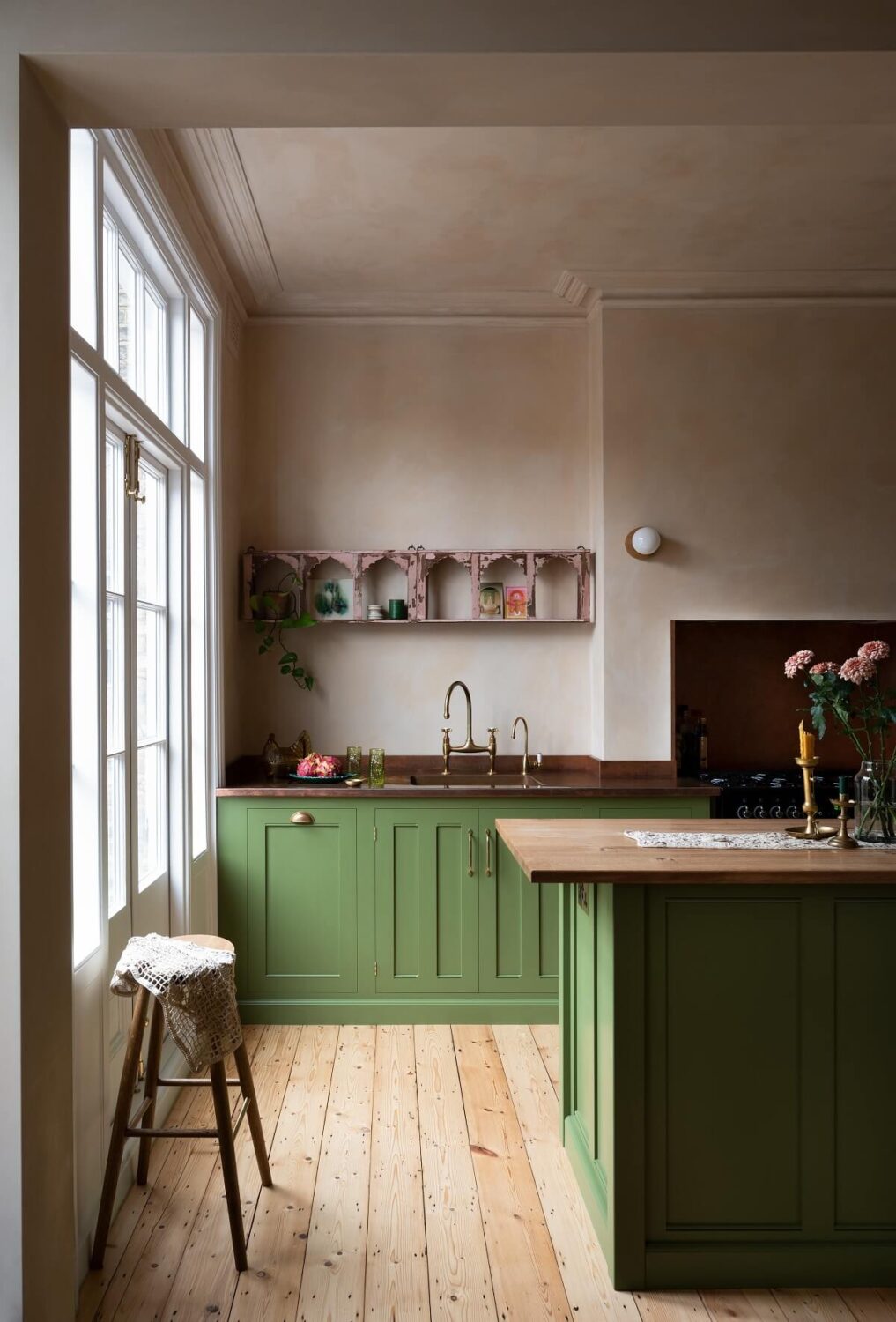 Plaster pink walls add a soft aged look the a room which is beautiful in combination with the historic architecture. And pink is an excellent color choice in combination with green.
Do you want to see more deVOL Kitchens? The Nordroom has plenty, just click on this link to see more from deVOL.