A Stylish Nordic Apartment with a Pink Bedroom
A well-preserved 19th-century apartment has been carefully renovated to create a modern home with light-filled rooms. The apartment is of modest size with a floorplan of 57 square meter, but the home has two generous bedrooms and an open plan living room.
While the bright rooms are decorated with a modern look, you can still see original features in the home, like ceiling rosettes and high baseboards. And every room in the house is light thanks to the generous ceiling height and arched windows.
The layout of the home in unique. Instead of a closed master bedroom, they have removed parts of the wall and door to create more spacious rooms in combination with the hallway that houses the wardrobes. So despite the modest square meters, it actually feels very spacious.
The open-plan living space is an inviting room with a place for a seating area, a dining table, and a good size kitchen. String shelves next to the sofa provide a stylish storage solution in the relatively small room.
The kitchen is designed with stylish black cabinets that are combined with a wooden worktop to add warmth. Open shelves above the cabinets provide storage while also maintaining a spacious feeling in the room.
As mentioned before, the owners removed parts of the walls and door to create a more spacious bedroom, as parts of the hallway now feel like part of the bedroom.
The master bedroom is a serene room with greige walls that add a pink undertone to the space thanks to the light flooding in. Attached to the master bedroom is a sunny balcony.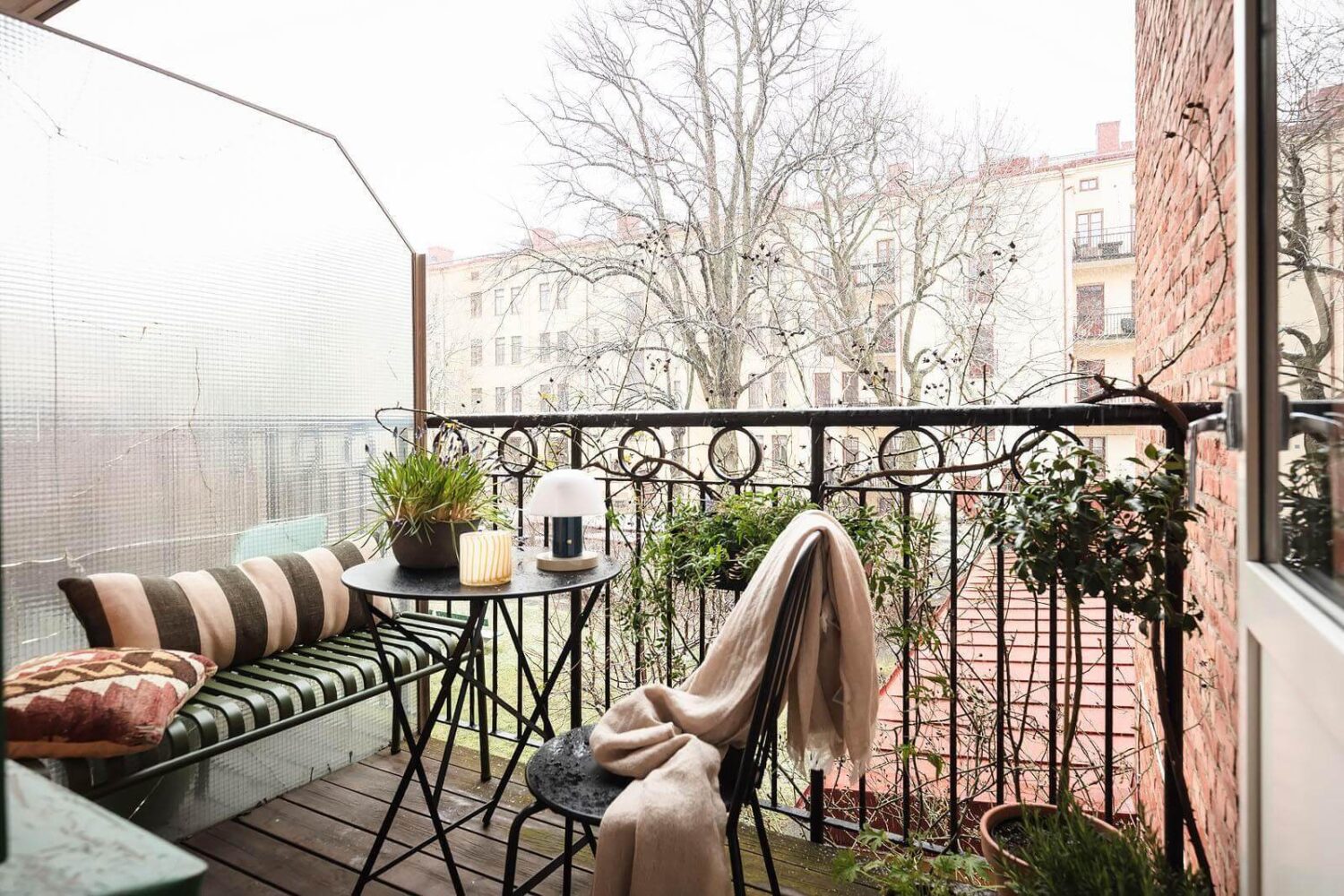 Despite the open layout, the bedroom feels like a private corner of the apartment. In the hallway is plenty of space for built-in wardrobes.
The smaller bedroom is now used as a guest bedroom and home office.
Every room in the apartment is painted in soft color tones, which looks beautiful in combination with the natural light flooding into the rooms.
styling by JosefssonLjung and photography by Anders Bergstedt for Nya Kvadrat