A Small Gray Attic Apartment in Sweden
This beautiful Scandinavian attic apartment is on the top floor of a newly built apartment complex. The small home is designed in typical Scandinavian style with a monochrome color scheme and stylish furnishings.
With a floor plan of only 34 square meters and slanted ceilings, it must have been challenging to design a functional home, but the owners of this apartment certainly managed to create a wonderful small home.
Part of what makes this small home so stylish is the high quality of furniture and materials. Material choices such as limestone, wooden floors, and granite ceramics give this home a luxurious look.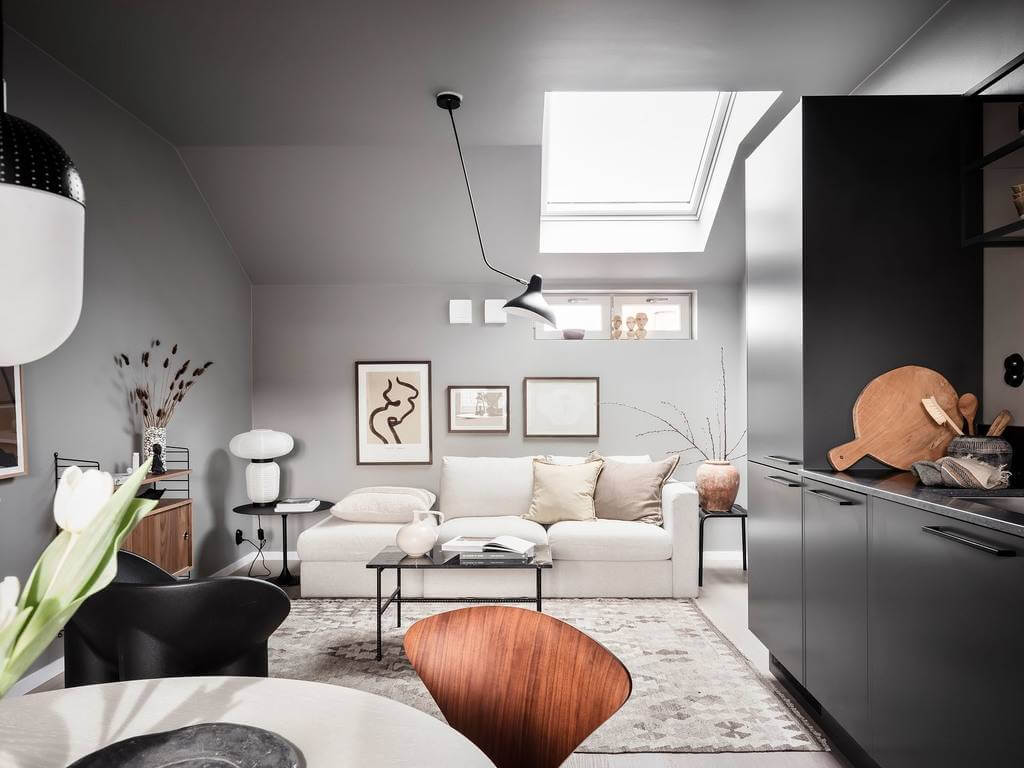 The entire home is painted in a light gray tone, which is a daring choice as there isn't much natural light coming into the home, but in this case, it certainly works.
The apartment has a flowing floorplan without internal doors, but it has a clear living and sleeping area.
Despite the small size of the home, it has a proper kitchen with sleek gray cabinets and a dark worktop. In such a small space, I wouldn't add upper cabinets to the kitchen to keep it as spacious feeling as possible. In this kitchen, they added an open shelving system to add storage without losing the spaciousness.
As the apartment is located on the fourth floor, you have a great view of the city from the kitchen window.
There is no door between the living room and the bedroom, but the furniture in the bedroom is placed in such a way that it isn't visible from the living room.
It's very snug, but the space under the low ceiling is just big enough for a double bed. Ochre yellow and brown tones in the decor add a warmer tone to the gray room.
Built-in wardrobes are added to the bedroom. Next to the wardrobes is a door that leads to the bathroom.
Simple wall hooks provide extra storage space in a small room when you don't want to clutter up the room with a clothing rack or a chair.
photography by Entrance Mäkleri