Layered Textiles and Dusty Colors in a Nordic Apartment
In an up-and-coming neighborhood in Gothenburg Sweden stands this lovely apartment in a historic 19th-century building. The renovated home is decorated in a warm Scandinavian style with layered textiles, art, and soft color tones.
The one-bedroom apartment still features original ceiling ornaments but the decorating style is more modern with plenty of art, nice colors on the walls, and furniture in a mixture of classic and modern styles.
The living room is a lovely room with stucco, ceiling rose, and fine moldings. The walls have been decorated with plenty of artwork and on the floor lies a large shag rug that adds a lot of warmth and texture to the room.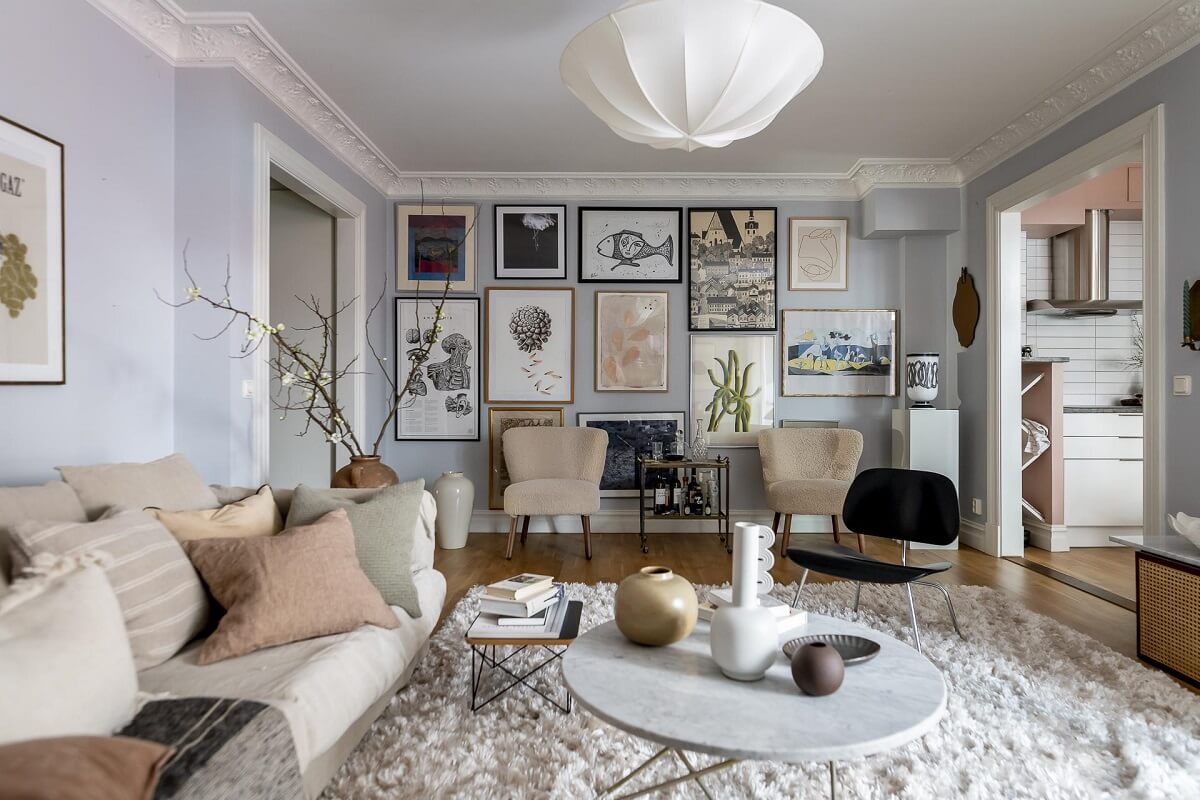 The walls in the living room are painted in Diskret Grå by Flügger. It's a lovely gray hue that looks almost like a pale blue shade.
The room has two comfortable sofa's with a linen cover. A vintage bookcase adds historic charm. The large pendant light is the Offwhite Umbrella pendant by Danish design firm Oi Soi Oi.
All the rooms in the apartment flow together, the wide doorway leads to the pink kitchen, and on the right lies a balcony.
Two teddy chairs by Zara Home stand under the gallery wall.
The kitchen has a modern white Kvänum kitchen with gray mottled limestone worktops from Kinnekulle.
The kitchen is the center of the home and is connected to the living room on one side and the bedroom on the other side. A round vintage dining table provides dining space for up to four people.
The room is painted in a beautiful soft pink shade that works very well with the white kitchen and vintage decor.
Next to the kitchen lies the small master bedroom. The walls are painted in a muted blue shade that is combined with soft pink bedding. The doorway leads to a small built in closet.
styling by Emma Fischer and Annica Clarmell. photography by Henrik Linden for Alvhem