A Modern Loft in a Converted School Building
Today we're taking a look into a former fashion school building that has been converted into a modern loft. The former school building is located in Amsterdam and has been transformed into a building complex with multiple apartments.
You enter the loft in a spacious hallway that includes glass wall dividing the entrance and the main living area. The open-plan living area can be accessed on either side of the glass wall and stairs. Four meter high ceilings and large windows on one side of the living room create an airy and light space.
The modular sofa is places in the center of the living area. On one side of the sofa you'll find the kitchen. The dark green cabinets add a calm colorful touch to the space. The kitchen island has stainless steel countertop and bookshelves on the sofa side.
On the other side of the sofa is place for a large dining table. Sleek black cabinets bring plenty of storage space to the living area.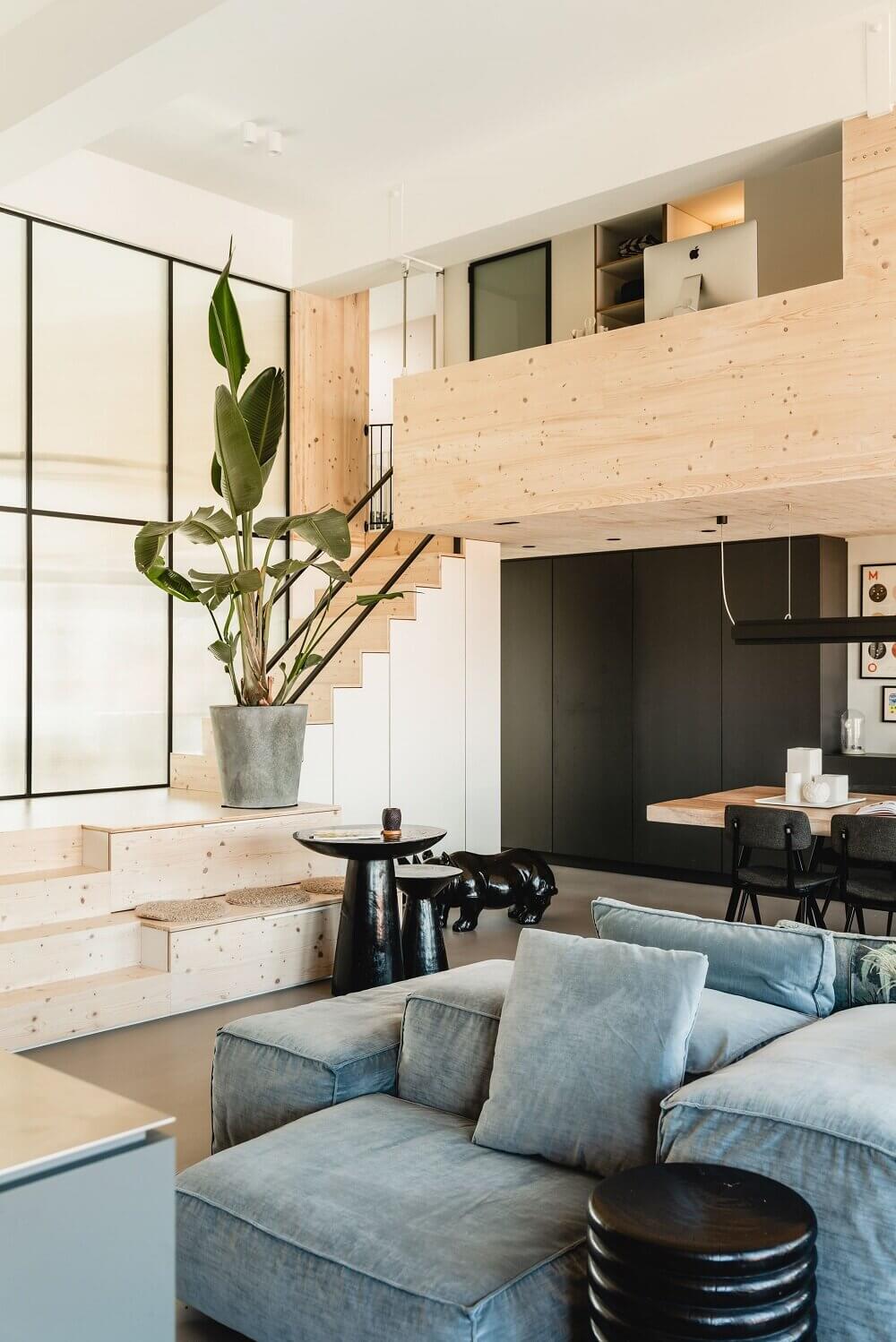 The CLT wooden top floors can be reached by a theatrical staircase that also have storage underneath. Both staircases lead to a "wash street" with sinks and (closed off) shower and toilet.
As you can see on the picture above and below one of the "wash streets" is also used as an office space with a lovely view over the living area.
One of the top floor landings (or "wash streets" as they're called on the floorplans). This one has a office space and loads of built-in storage.
The master bedroom with a window overlooking the living space below and a freestanding bath. The black wall adds a dramatic touch to the otherwise natural bedroom look.
The second first floor landing where you can see the sink with plenty of underneath storage.
One of the smaller bedrooms has no normal window but is lighted by a skywindow.
The 80sq. meter roof terrace has multiple seating areas. Here you can enjoy the sunshine all day long and has a great view over Amsterdam
The loft is for sale with JA! Jaap Admiraal Makelaardij for €1.250.000
See more converted buildings: