A Vibrant Colorful Townhouse in Bath
Today I'll give you a home tour with vibrant color combinations and impressive Georgian rooms. Sounds good? Located on one of Bath's most historic streets stands this impressive Georgian townhouse.
The townhouse is located on the park side of St. James' Square, which is he only complete residential square in the city of Bath. St. James' Square was built in the late 18th-century by architect John Palmer. The street housed many prominent historic figures including Charles Dickens in 1840.
Bath is the only UNESCO World Heritage city in England. The city was founded in the 1st century by the Romans, who used the city for its termal spa.
The house we see today will make you smile. With bright color pops in every room. From colorful walls, to colorful furniture and decor. With the kitchen as my favourite room of the house. I love that green color!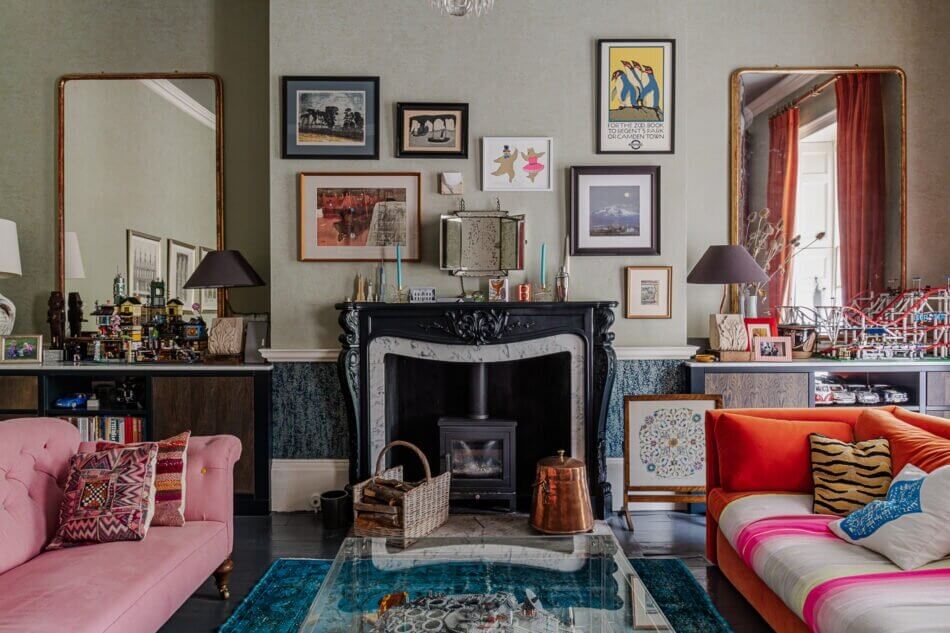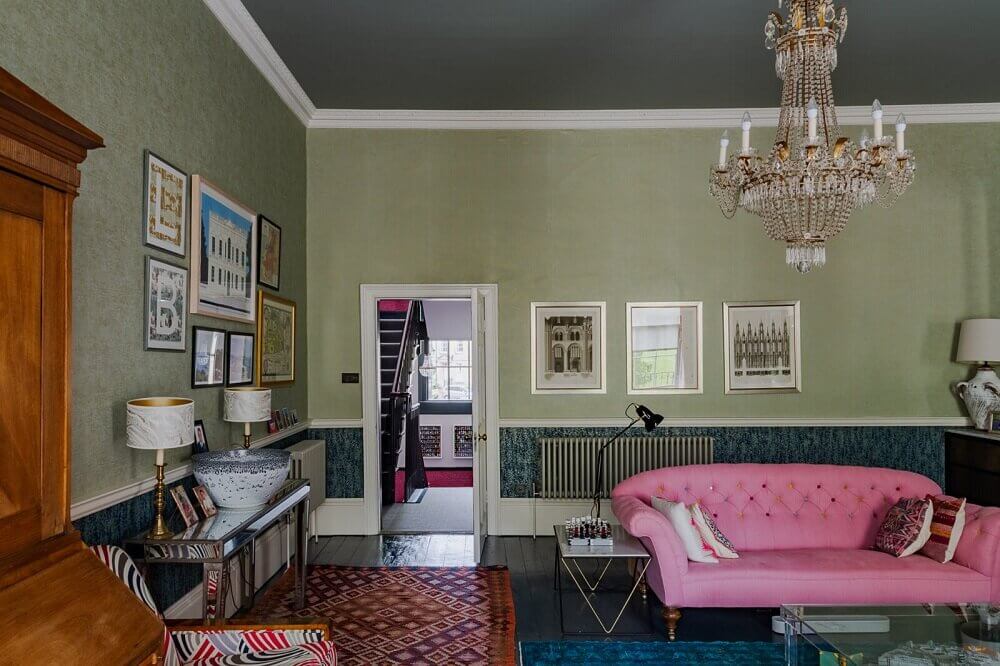 The townhouse has an impressive four(!!) sitting rooms. One of which is currently used as an office. This colorful room is the big drawing room on the first floor. Some vibrant color combinations can be seen here. The walls are relatively calm, but the color comes from te furniture. A pink and orange sofa sit opposite each other with on a blue rug.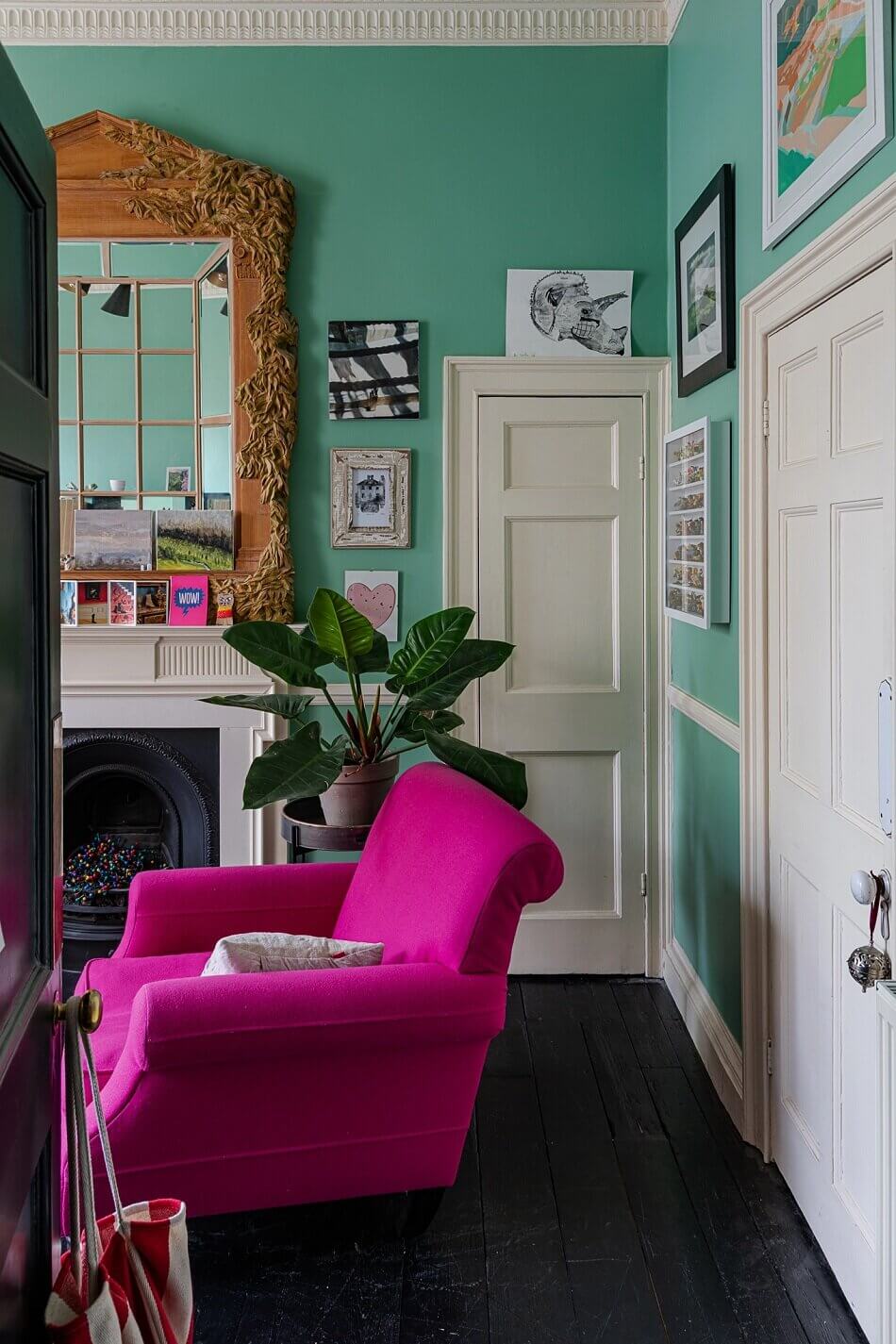 Green and pink in the small ground floor sitting room that is now used as an office.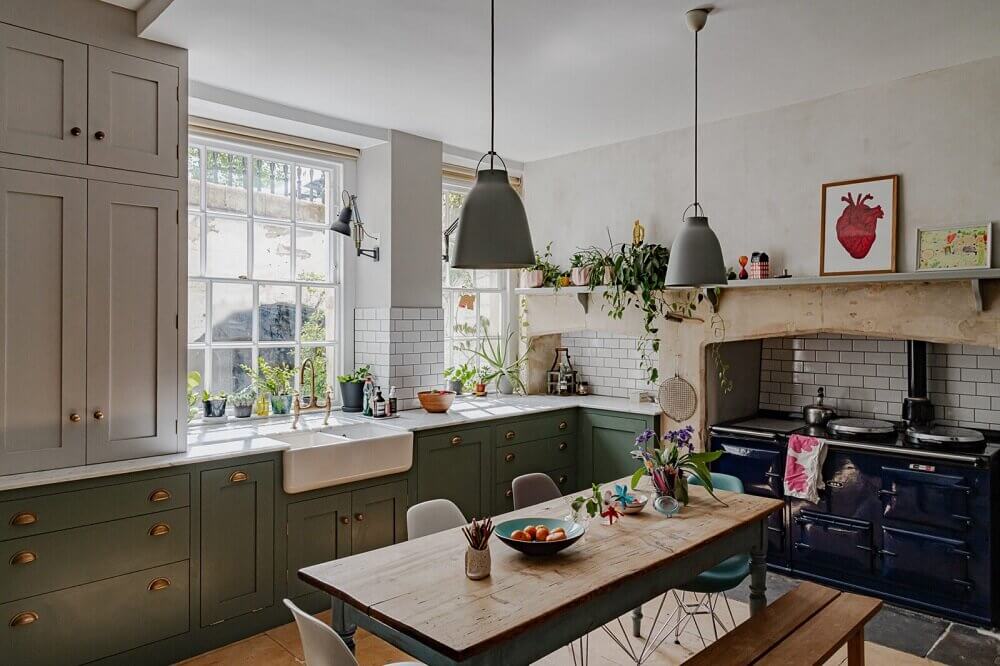 The kitchen is my favourite room of the house. The kitchen is located on the lower ground floor and has beautiful flagstone tiles. An AGA stove is the heart of the room. And a large built-in cabinets showcases crockery. This townhouse may have 4 sitting rooms, but I could easily spend all my time in this kitchen.
From the kitchen you walk through a small pantry into the dining room. In this room the love for green continues with teal-colored wood paneling. This is combined with a parquet floor and stone wall.
The dark family room on the ground floor which leads to a terrace.
A moody dark blue reading room sits on the first floor.
The townhouse has 5 bedrooms and 3 bathrooms located on the top 2 floors of the townhouse. Some bedrooms have built-in cabinets and one has an en-suite bathroom.
Of course there's also color in one of the bathrooms. A green bath adds a fun touch to this bathroom.
The private walled garden has several raised terraces. Residents of the townhouses on St. James' Square also have access to the communal gated garden in the center of the square.
Fancy living on one of Bath's most beautiful streets? You're in luck because this townhouse is for sale at Inigo for £2,750,000